It's been busy few weeks and I've gotten out of my groove. It's the end of the summer transition for my family, so while it's still hotter than ever we're back-to-school and trying to find our new school year routine.
Whenever I find myself in a season of transition like this and I can't spend as much time working as I'd like, I find that it takes a little extra push to get me back in the saddle. Being able to push pause on the blog and my businesses is one of the amazing perks of working for myself, but it's also one of the downfalls of being a solopreneur, too. There's no one else to pick up the slack when I'm in a busy personal season.
Note: this post contains affiliate links for your convenience. Read my full disclosure here.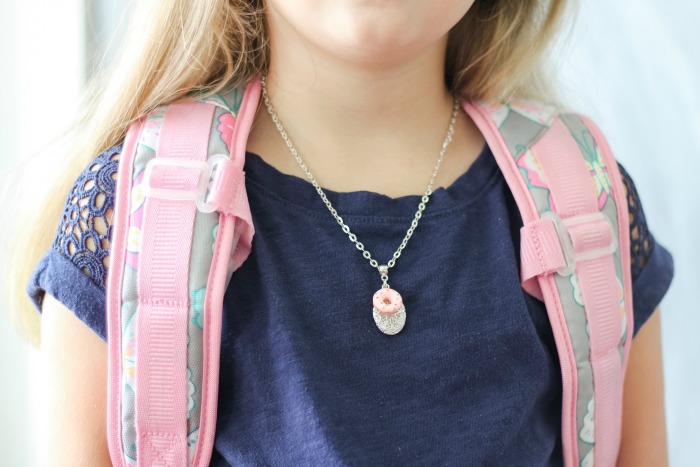 Adorable Kids Diffuser Necklace
Here are the big events that have taken place over the last 3 weeks:
Coach has gone back to work and football season has started. My hubby is a football/wrestling coach and teacher, so I had him at home most of the summer to help with the house and kiddos while I worked. This is his busy season now, so I'm pretty much parenting on my own until March.
Miss A started kindergarten! All. The. Feels!! Everyone told me that it would be hard. It seems like they will be little forever, but then the day comes to send them out into the great big world (of elementary school) and I wonder where the time went?I know that when I was pregnant for the first time, people told me that having a child is like having your heart live outside your body. I heard that, thought that I understood that idea and moved on. While I experienced love like I never had before when my children we born, I think the whole "heart outside your body" thing became really clear this last week when I walked my 5-year-old daughter into her new kindergarten classroom and handed her over to her teacher. Ad then, waiting for 20 minutes that afternoon for her to step off the bus. Y'all. It was like my heart was being ripped in two. And in a way, I guess it was.She's now been in school for 4 days and it gets easier everyday, but my heart still hurt a little bit when I dropped her off this morning. I can't even think about high school or college without tearing up!
The day after I sent Miss A to school, my mom came to help with the kiddos and I jetted off to my 4th Haven Conference. For all of you non-bloggers, this is a yearly conference in Atlanta, Georgia for bloggers in the Home and DIY niche. It is amazing every year, but honestly? This year was the very best! I don't know if it was the place I'm in, or if it was just that good, but I came home Sunday with a renewed love for my craft and my fellow bloggers. I'm going to write more about it later this week because I just want to share my heart. You can read my old posts about Haven here —>>> 2013, 2014, 2015.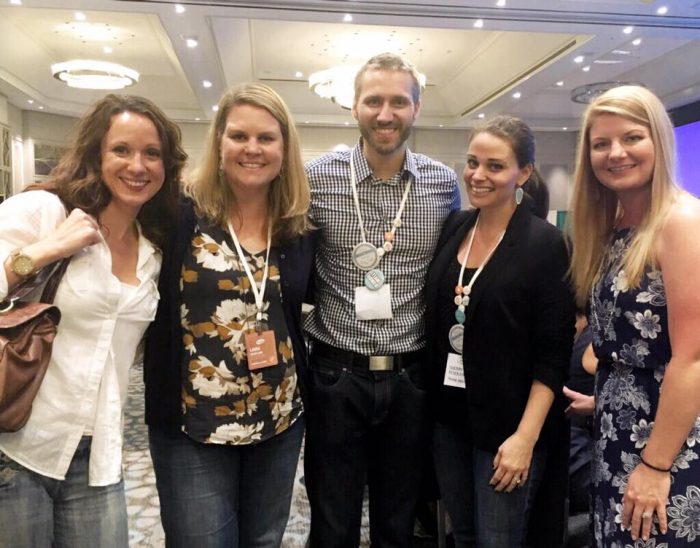 (L-R) Sarah from She Holds Dearly, Me (hi!!), John & Sherry from Young House Love (duh!) and Lauren from Bless'er House
In the past, during these transitions and personal life events, when I have to push pause on the blog for a minute, I would always beat myself up and stress about writing the next post and staying on top of my social media schedule. But as I've grown as a blogger, I find that I can now anticipate the seasons throughout the year and give myself more grace.
So what if I don't send out a newsletter ever week right on schedule? If you've been around long enough, you know that I'm hardly ever on a schedule. Ha! But even so, if I don't crank a new DIY tutorial out every single week, the world will keep on spinning. You, my sweet reader will still be here when I return. (Thanks for that!)
This life is all about seasons anyway. Some days it's time to buckle down and hustle my booty off. And other times I need to step back and pour into my family, take care of myself and gain a little perspective in the process.
Thank you for being here for the journey, my friend. I'm so grateful to share this space with you!
How do you handle balancing the ebb and flow of seasons in your life? Have you learned to give yourself the grace to move through them?
Get Instant Access to my Guide to Customize Your Home on a Budget
Grab your FREE guide for 10 Ways to Customize Your Home on a Budget: simple projects to transform your home from builder beige to a home with character and charm!