There are two words in the DIY world that make my heart sing! And those two words are "no" and "sew." Put them together and you are speaking my language! (So much so that I regularly collect no-sew projects to try around the house like here and here.)
I mean, I can sew, kind-of, in a sorta straight line. But if I can use a glue gun instead? Oh, boy, I am all in!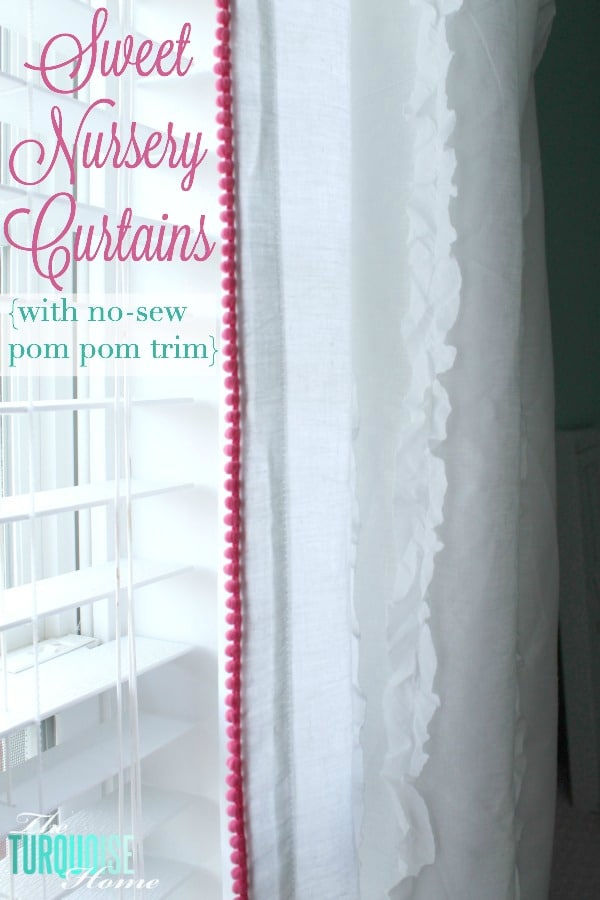 When I shared my girl's woodland nursery vision board a month or so ago, I had a few fabric swatches on there that I thought I would use to make curtains. Let me just tell you, the fabric selection has gone in a totally different direction. As I started to buy the fabric, I went on etsy and found several listings using this fabric that I thought I liked. And holy moly, it looked much brighter in those listings than in the fabric swatches online. So, I turned around and went in a totally different direction.
I went back to my inspiration pins and discovered that all of my very favorite nursery pins had window treatments with simple white or cream curtains. Ahhh, sometimes it pays to pay attention to those inspirational pictures that you've pinned.
So, it was settled. I was going to choose white, bright and airy cotton voile curtains for the baby's room. But I wanted to add a little fun detail to them as well.
First came the search for the curtains. I found these at World Market. They were the perfect price and the perfect size (they come in longer lengths), but they were out of stock when I was trying to buy them. Now they are back in stock and I almost wish I'd waited for them. You'll see why in a second.
So, being impatient and feeling like I need to get things done now before this baby comes, I ran to Target and picked up these sweet simply shabby chic curtains with ruffles.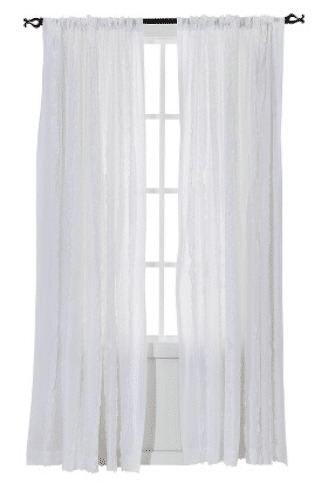 I'm not a super huge ruffle fan, but I thought it added a feminine touch to a not-super-feminine room. I ended up letting out the hem at the bottom and ironing it straight to give the curtains a little extra length. They only come in one length: 84 inches. And that's why I wish I'd waiting to the World Market curtains to come back in stock. But we're here now, so I kind of love them.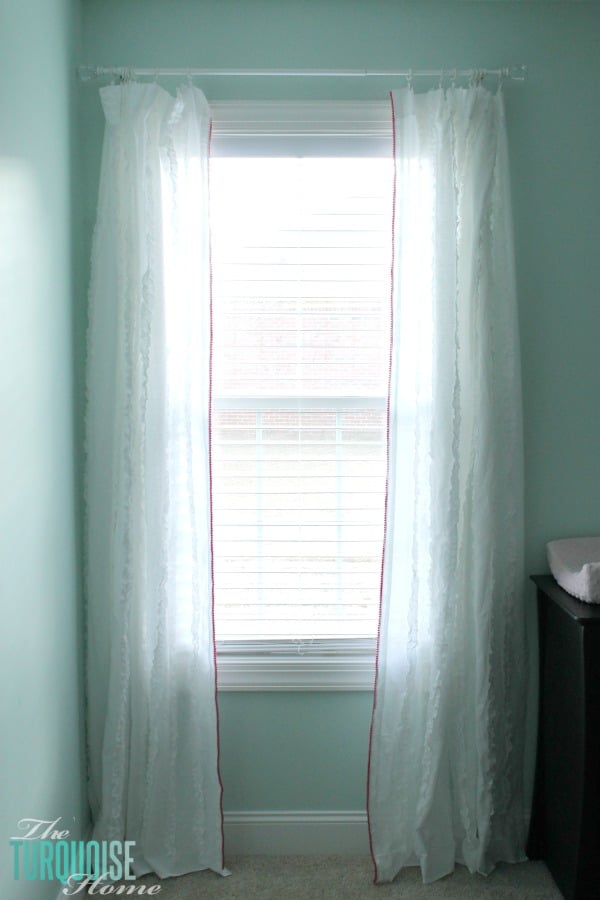 And even though I wish I'd had more length to hang the curtains higher while still touching the floor, I think it will look better one day when we add crown moulding to all of our bedrooms.
The curtain rod and rings are from Target, too. 🙂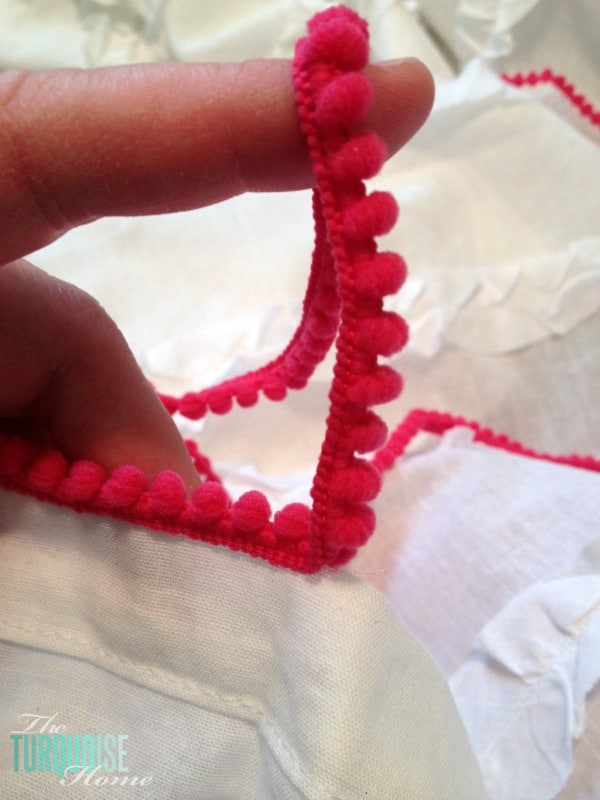 Ok, so once I got the curtains home and un-hemmed them, I grabbed some mini pink pom pom trim that I snatched up from etsy and hot glued it to the edges. It looks great! I would just add glue to a small section and then stick the trim on it, trying hard to use very little glue, but enough to keep it secured. I don't plan on needing to wash these curtains, but if I needed to, and the trim fell off, I could just glue it back on again. Right? Right!
It was so easy to add the trim and took me maybe 45 minutes to glue it on. Worth it for me not to have to drag my sewing machine out!
I love the pop of fun color that it brings to the simple curtains.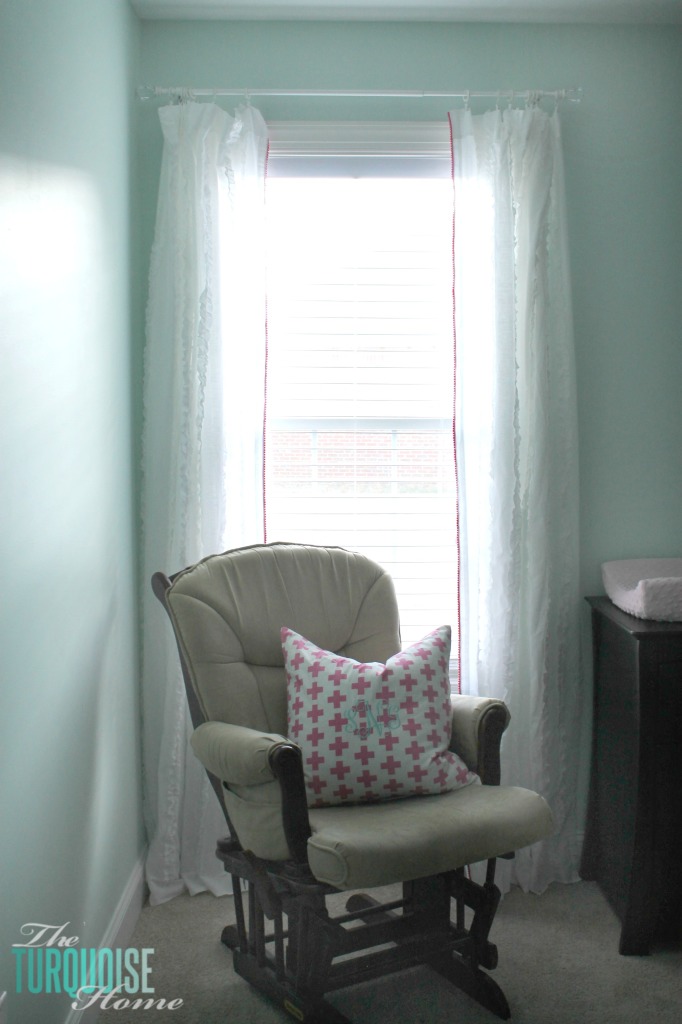 Here's a fun little sneakity peekity at some fabric I did choose for the room. My friend, Emily, (of the play room and barn door fame) sewed this sweet pillow cover for me with my girl's monogram on it. I just LOVE it!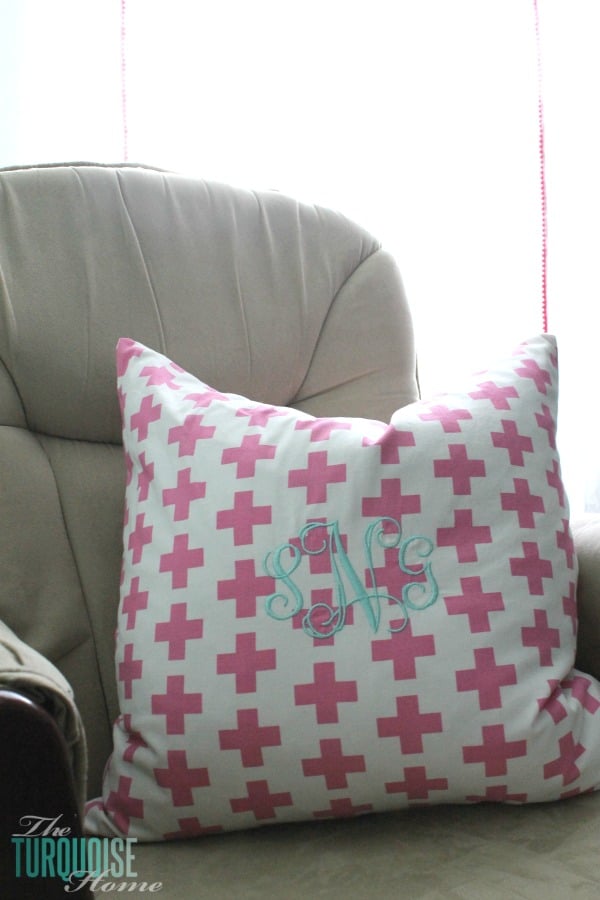 And there you have it! Your first look at her sweet little initials. I don't think I'll share her name on the blog because I've never shared Miss A's name before. But now you know her initials, so can guess until your heart's content. 🙂
Ok, one more thing is checked off the list for the nursery. I've been trying to finish painting her furniture, but I've got to throw a birthday party this weekend for Miss A. (Her birthday is still a month away, but I figured we'd better do it now before everything goes crazy!) I'll hopefully get to the painting next week while Coach is home for Thanksgiving. Fingers crossed!!
Baby Girl Woodland Nursery Projects
[catablog_gallery id="10856″ catablog template = "gallery"]
Don't miss out on the behind-the-scenes fun!
Disclosure: This post includes affiliate links, which does not mean you pay a penny more when purchasing through my link. It means that in helping you easily find some of my favorite products, I receive a small commission if you purchase. Thank you so much for supporting The Turquoise Home! {P.S. I only share products I truly love!}