The Best Garage Storage Ideas
These are some amazing garage storage ideas to help create storage space and clear out your garage to be used in any way you intend. You will have your space in tip-top shape in no time!
It's common to forget about the garage space because you don't have to stare at it every day… until you try to park your cars in the garage. 😳
I like to consider our garage as an extension of our home. It's a great space to add storage for outdoor toys, tools, coolers, and other equipment you don't have room for inside your home.
Oh, and our cars too, of course. 😉
When you walk into your garage, you may feel a little overwhelmed if it's full of stuff. It's okay because that's perfectly normal!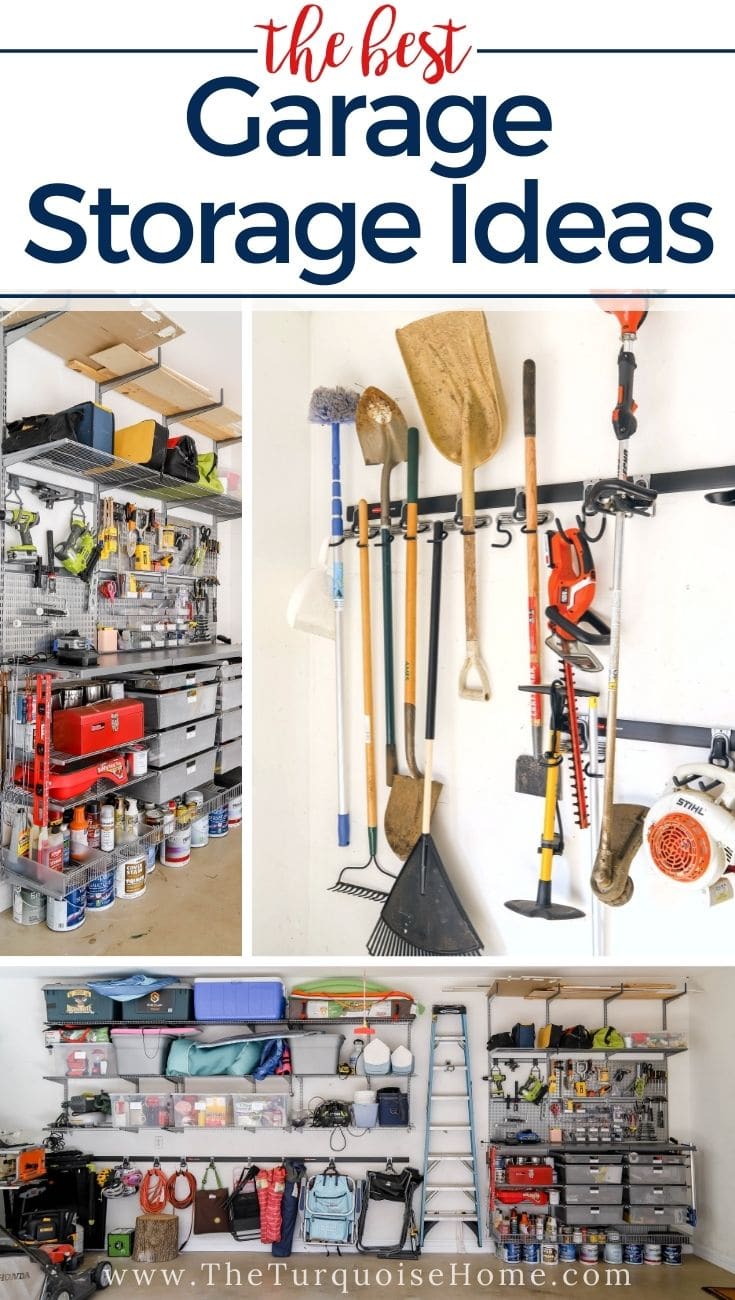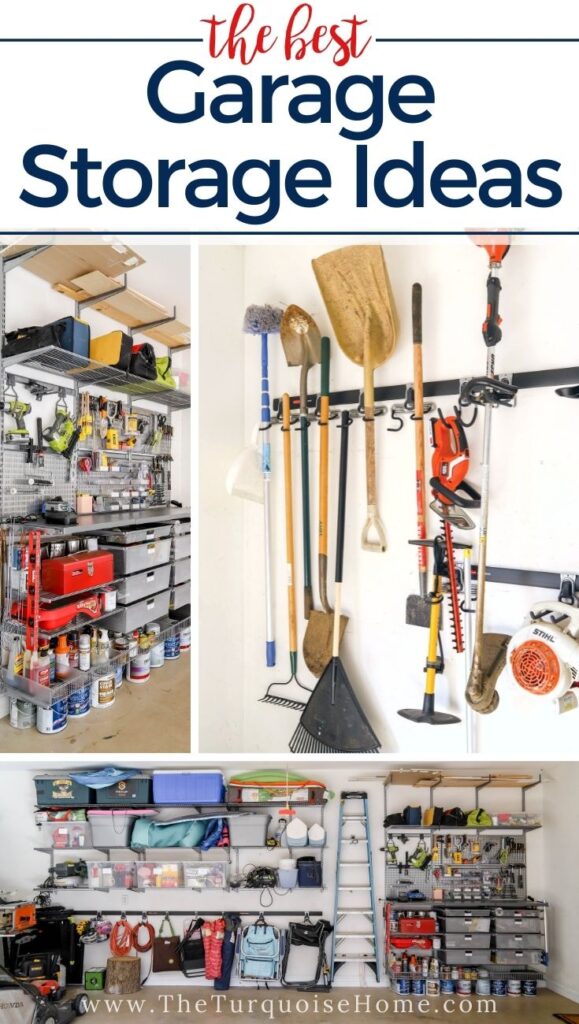 Garages tend to accumulate a lot of extra things you don't always know where to put. If you don't find the proper place for every item right away, it can really build up.
After you have everything in its proper place, you can enjoy your space and feel great about what you've accomplished.
When we finished our garage makeover, I wanted to share a bunch of tips for the best garage storage ideas. But it would have made that post incredibly long, so I decided to break it up for you!
Here are my best garage storage ideas for when you're tackling your own garage!
This post contains affiliate links for your convenience. See my full disclosure policy here.
16 Tips for Organizing a Garage with Storage Solutions
Obviously we have a large 2-car garage. So, we're blessed with a lot of space. But you can take these tips and apply them to any space you have!
Before you start, make sure you have a day or more to dedicate to this project. This usually takes me an my husband 1-2 days to get to a stopping place, so don't start this if you only have a couple of hours! You can read the exact steps we took to organize our garage here.
1. Pull Everything Out and Declutter
The first step before storing anything is always to declutter! Throw away anything that is broken or used up. And donate anything you don't use anymore. Be ruthless, as always!
As you pull things out, put things together that make sense to be stored together. This will help with the next step!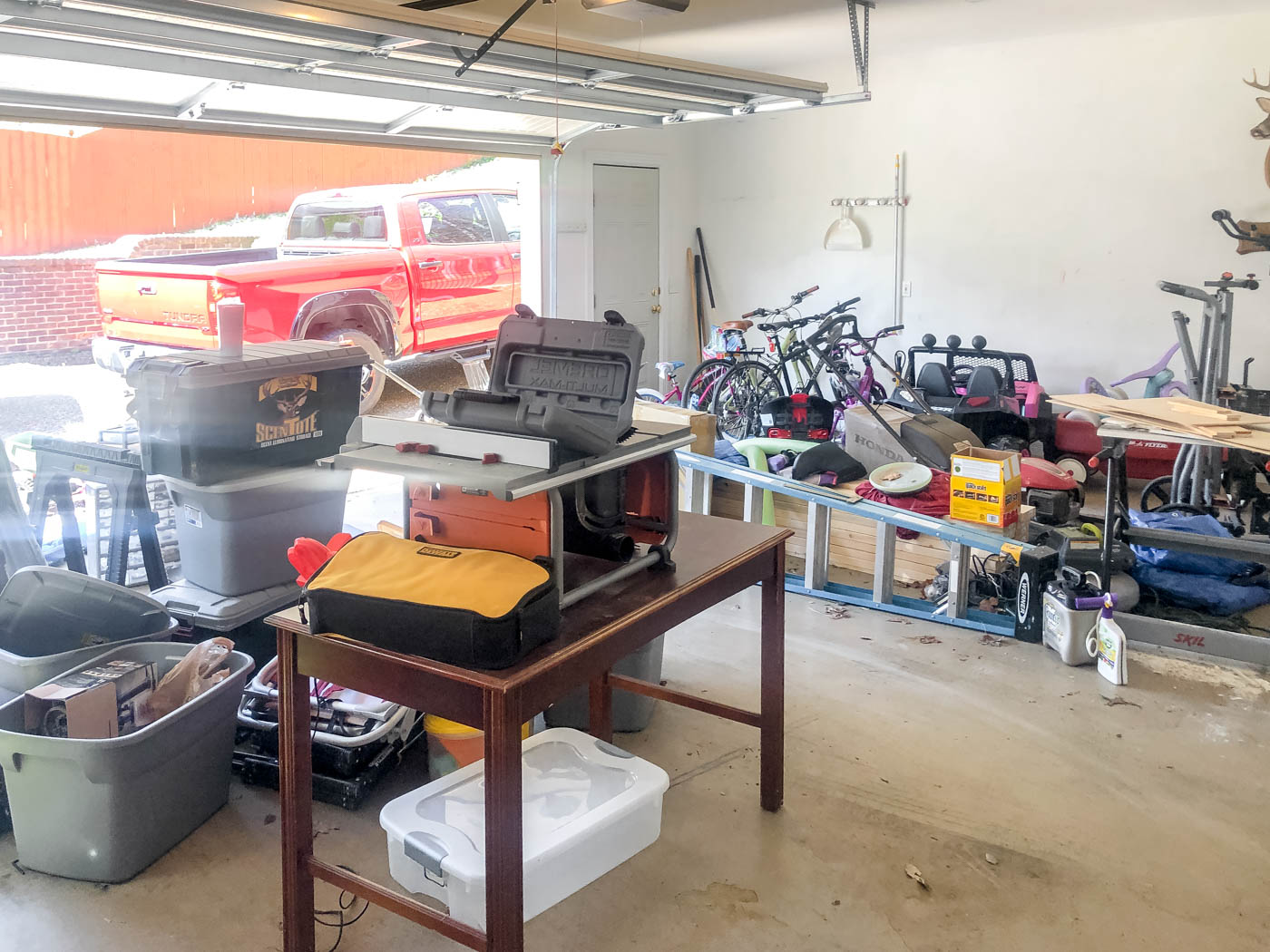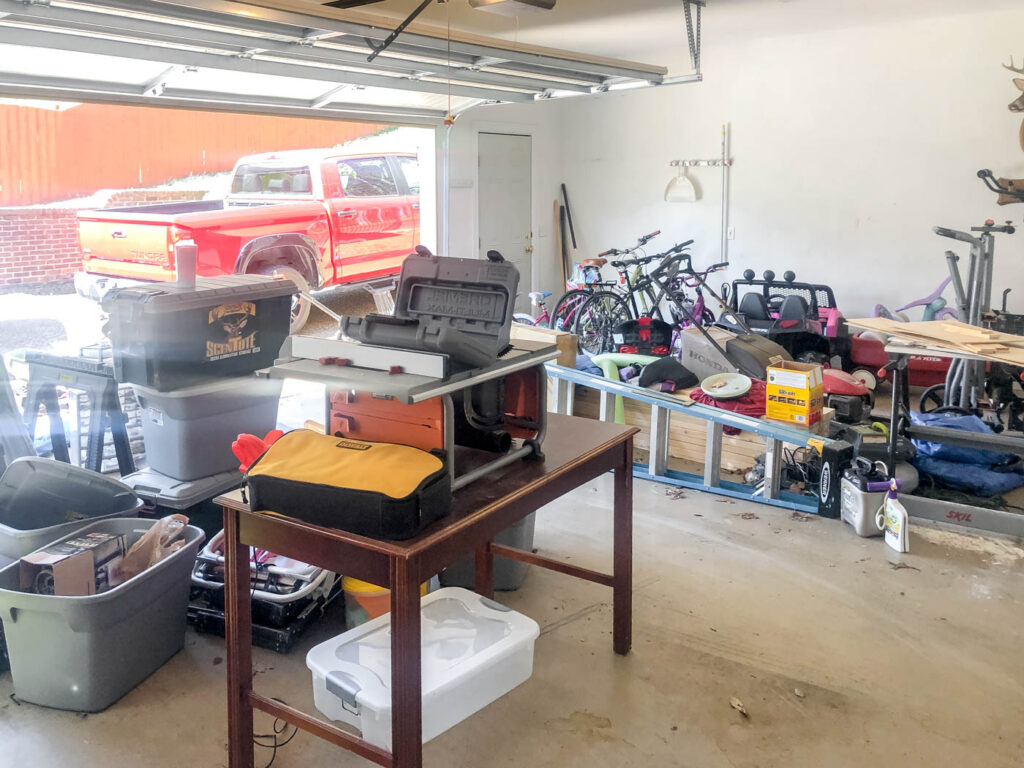 2. Keep Categories Together in Zones
When you take inventory of what's in your garage, you'll be able to see how many similar items you have. Make zones for each grouping and keep them all stored together.
These are the most common categories you'll find in a garage:
Tools (yard tools, painting tools, small household tools, power tools, etc.)
Toys (beach toys, lake toys, snow toys, sidewalk chalk, outdoor games, etc.)
Sports Equipment
Hobby Equipment (hunting, golfing, etc.)
Seasonal Decor
Gardening Gear
Camping Gear
Pesticides and Herbicides
Coolers
Ladders
Bicycles and Riding Toys
Outdoor Chairs
We keep most of our small tools on the shelf above our work bench station, hanging on the pegboard or in the drawers below.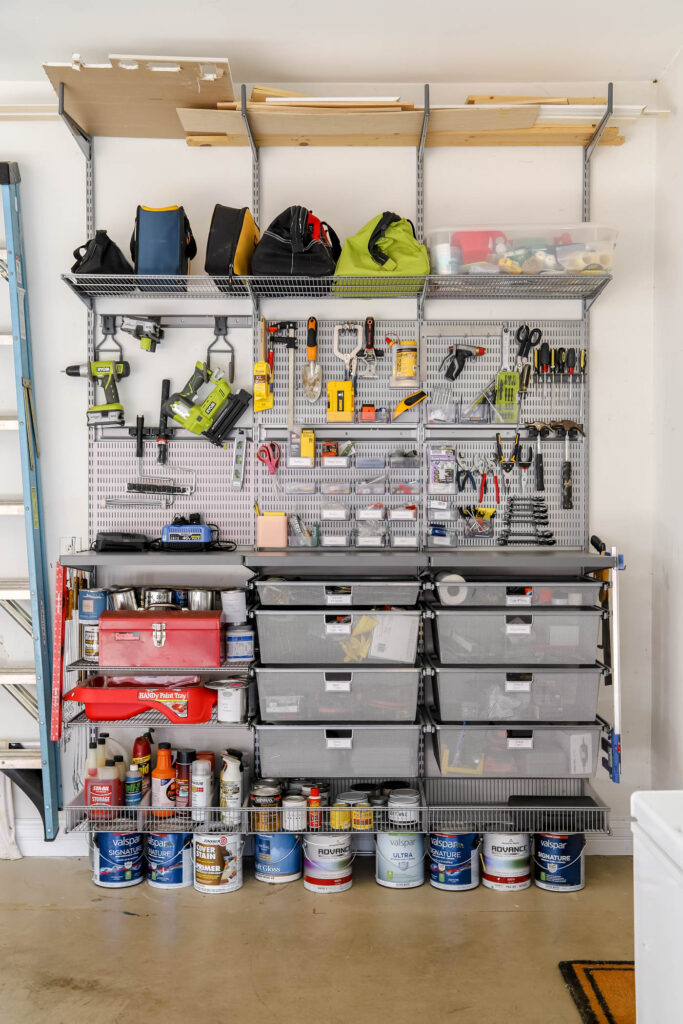 Shop Sources for My Work Bench System & Other Garage Storage Solutions**:

** I shared all of the details about this workbench at the end of my Organized Garage Reveal Post.
3. Utilize Vertical Space
Our garage had no storage, but plenty of wall space. So, we filled up the walls with as many shelves, hooks and track systems we could fit!
4. Install Shelves for Bins and Smaller Rectangular Items
Some of the best items to put on shelves include bins of similar items, like camping gear, beach gear, gardening supplies, seasonal decor, hunting gear and more!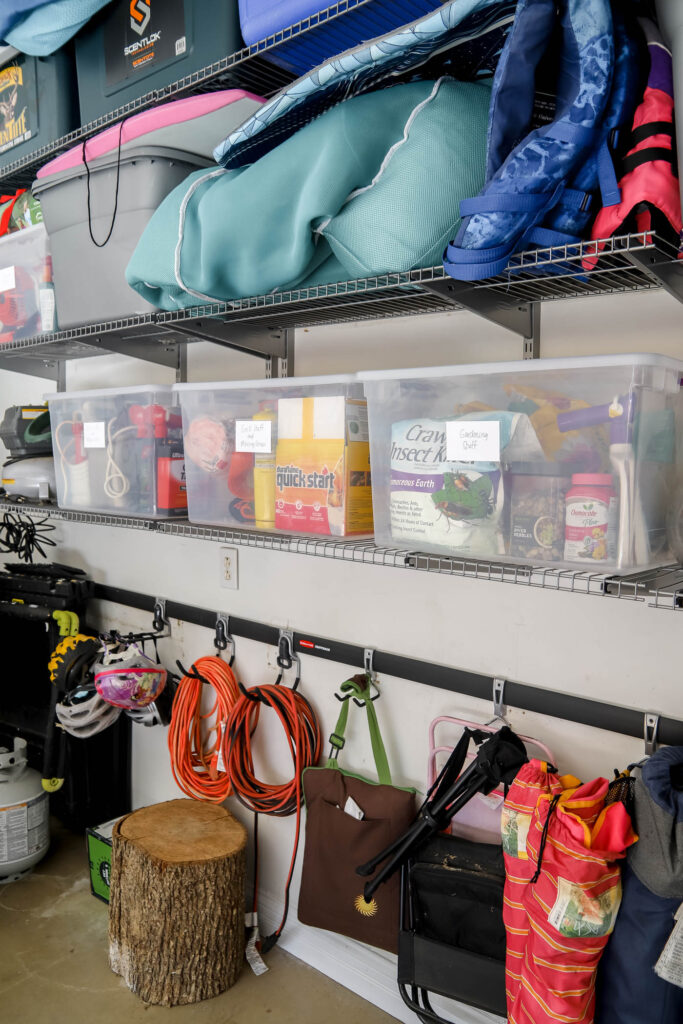 5. Use Hooks to Hang Up Large Odd-Shaped Items
I love a hook for ladders, bicycles, large tools, strollers, wheelbarrows and other heavy items! You can use hooks on or off a track system.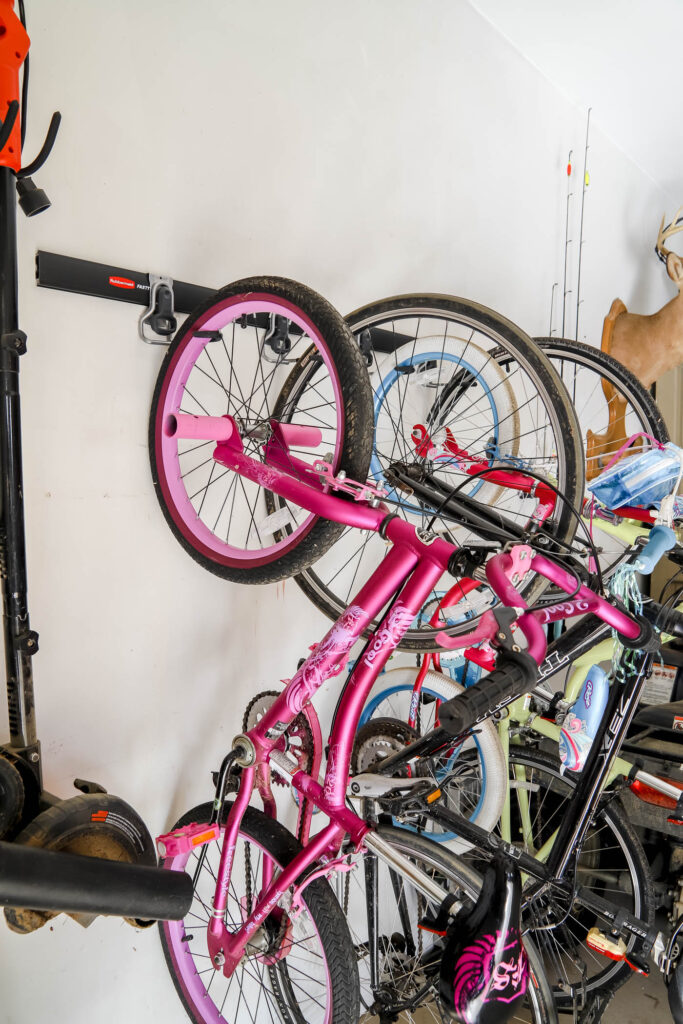 6. Utilize a Track System for similarly shaped large items
This is one of my most favorite garage organization tips!
We love the track system for keeping our long-handled yard tools in one spot near the garage door. We also utilized a track system below our shelving unit for outdoor chairs, bike helmets, bags and extension cords.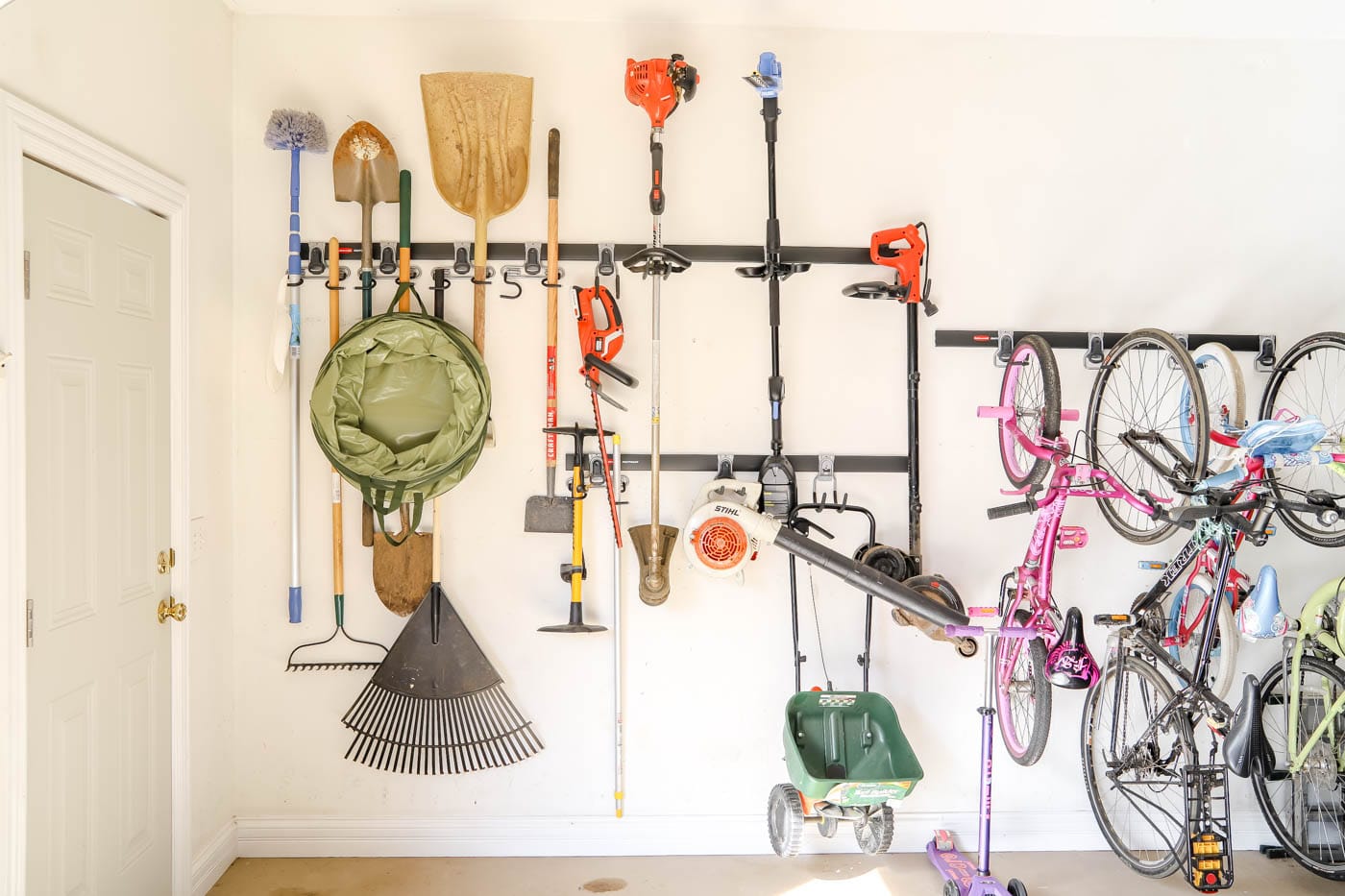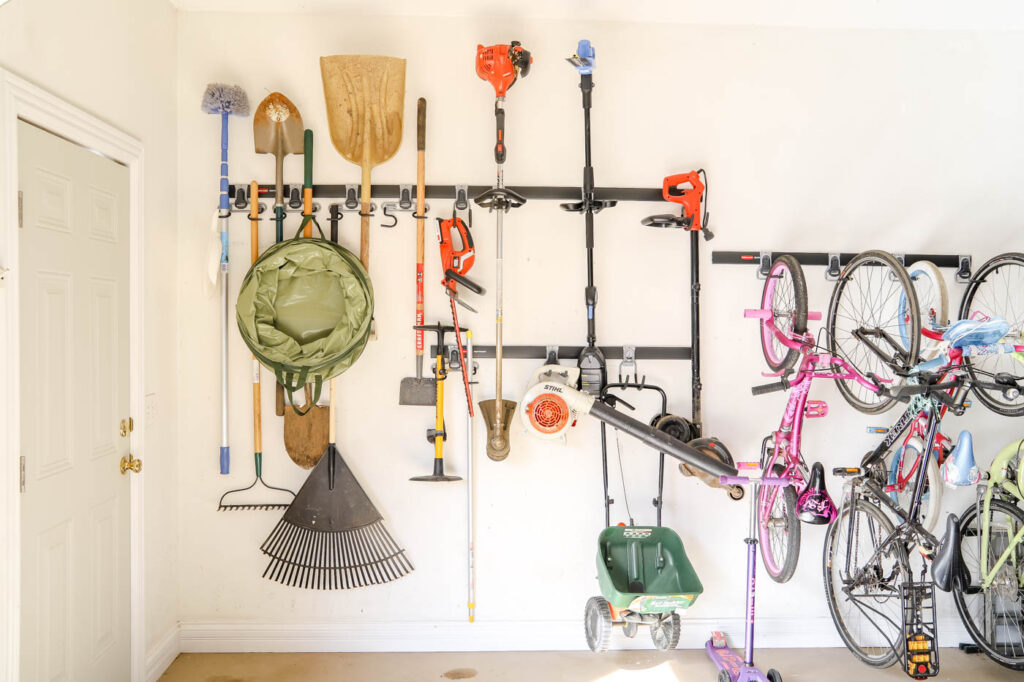 Shop Track Systems & Components:

7. Create a Pegboard System for light tools and small objects
You'll be amazed at all the ways you can utilize vertical space with a pegboard system. They are entirely customizable and can be changed as many times as you wish until you have it how you want it.
I LOVE that our pegboard system holds all of our small household tools, garden tools, nails, screws, anchors and more! It makes doing home projects so easy because everything is organized just steps outside the kitchen door.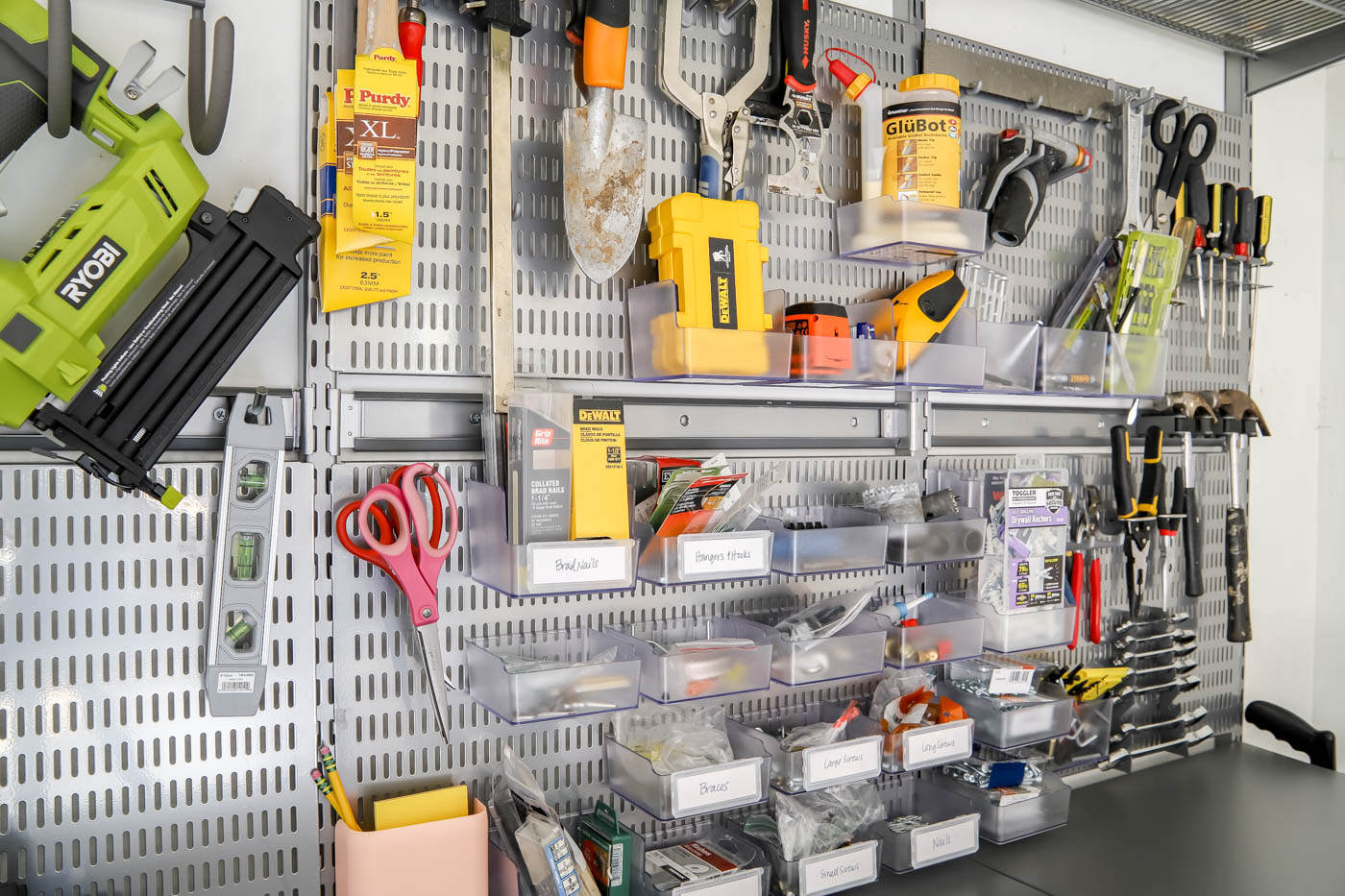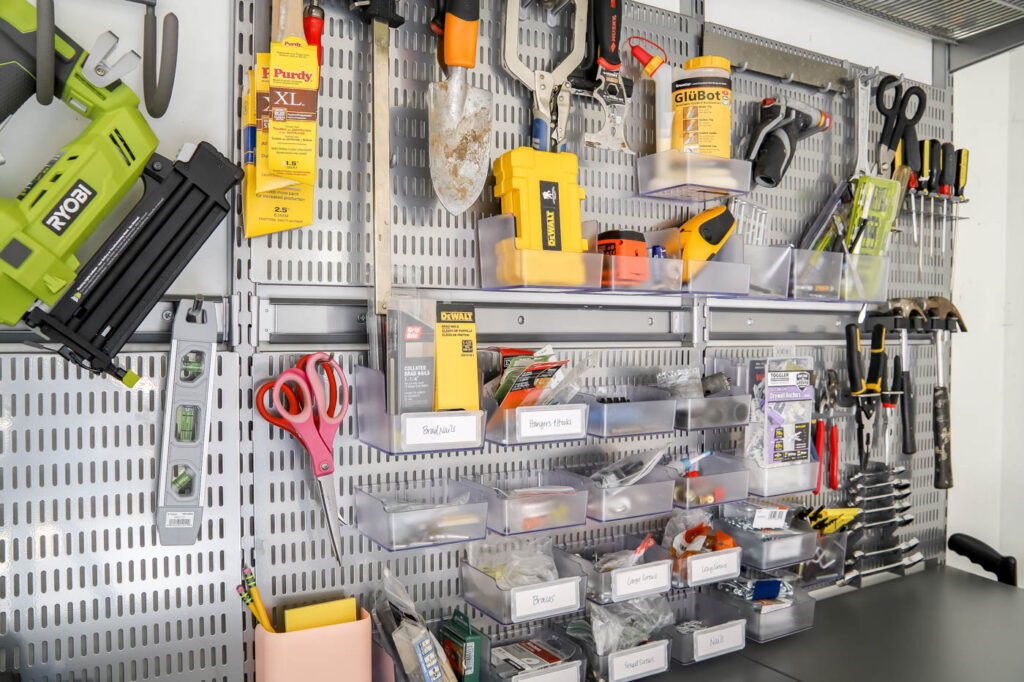 And the pegboard system makes it so easy to identify what we need so quickly because everything is on display!
Shop Pegboards and Components:

8. Store Seasonal Items Up High and Everyday Items Down Low
If you are pressed for space, store seasonal things on the top shelf or behind other items.
We keep my husband's hunting closet in the back corner of the garage and store things in front of it that we use more often or are easily moved. The beach items and snow items are up higher on our shelves!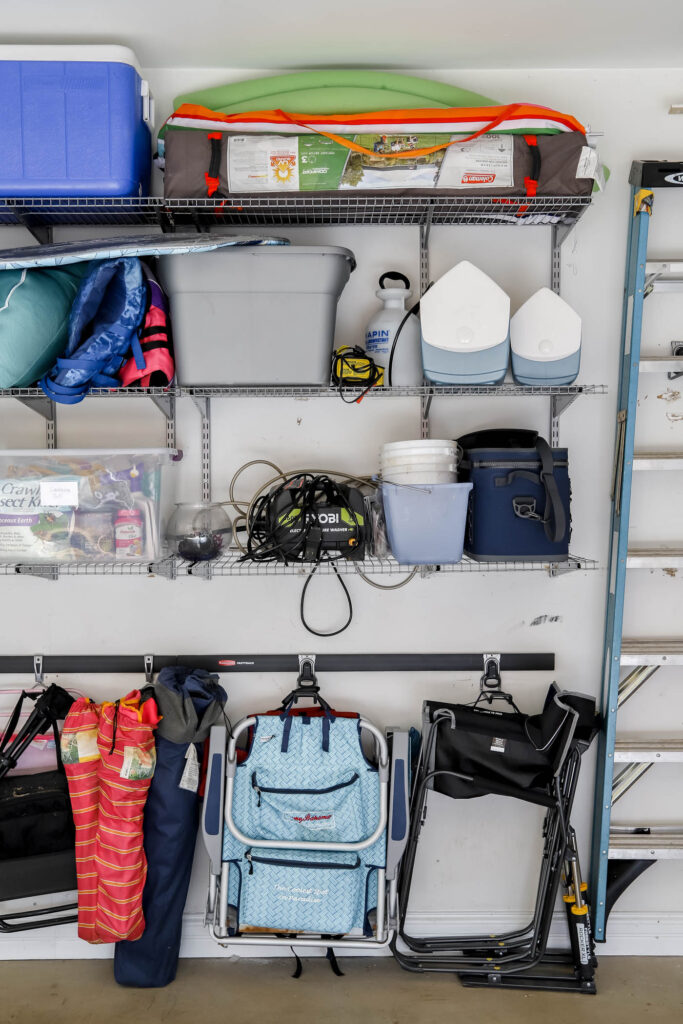 We use our smaller coolers pretty often, so they are lower on the shelves and close to the kitchen door.
9. Get Everything Off the Floor, if Possible
Opening up the floor space really helps to keep the garage clean! It's so easy to sweep out the floor or wash the floors when everything is off of them!
I was determined to get the golf clubs and beach/camping chairs off the floor. And I'm so glad I did!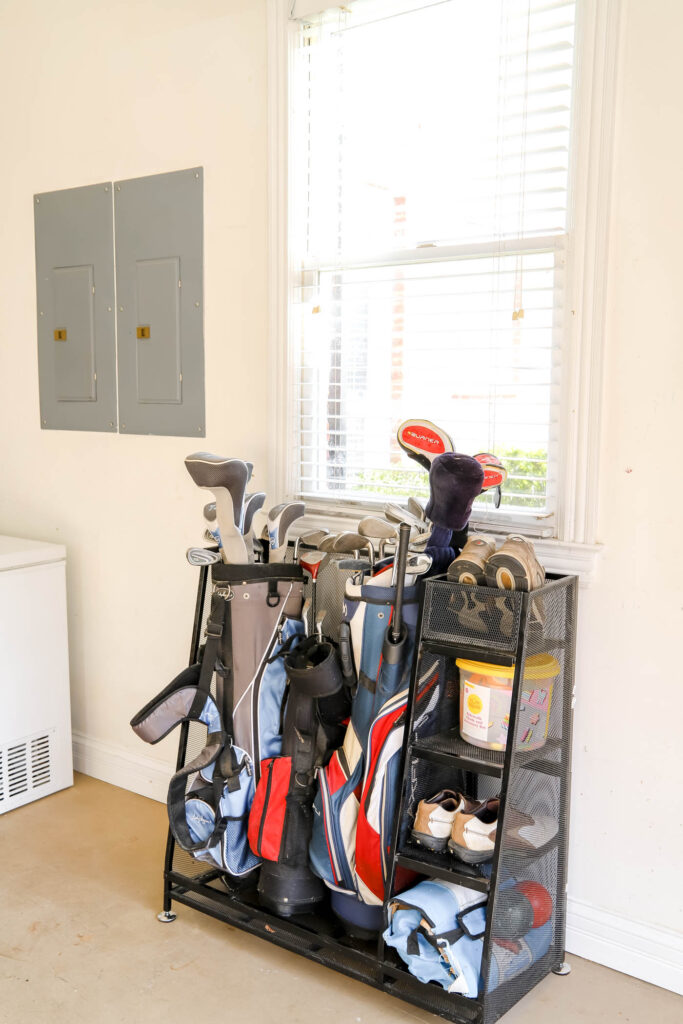 10. Corral Smaller Items in Drawers, Boxes or Bins
We used to have items just sitting on our open shelves, but when things kept falling over, I realized I had 4 different categories of smaller items. And it would be so easy to put similar items in bins together.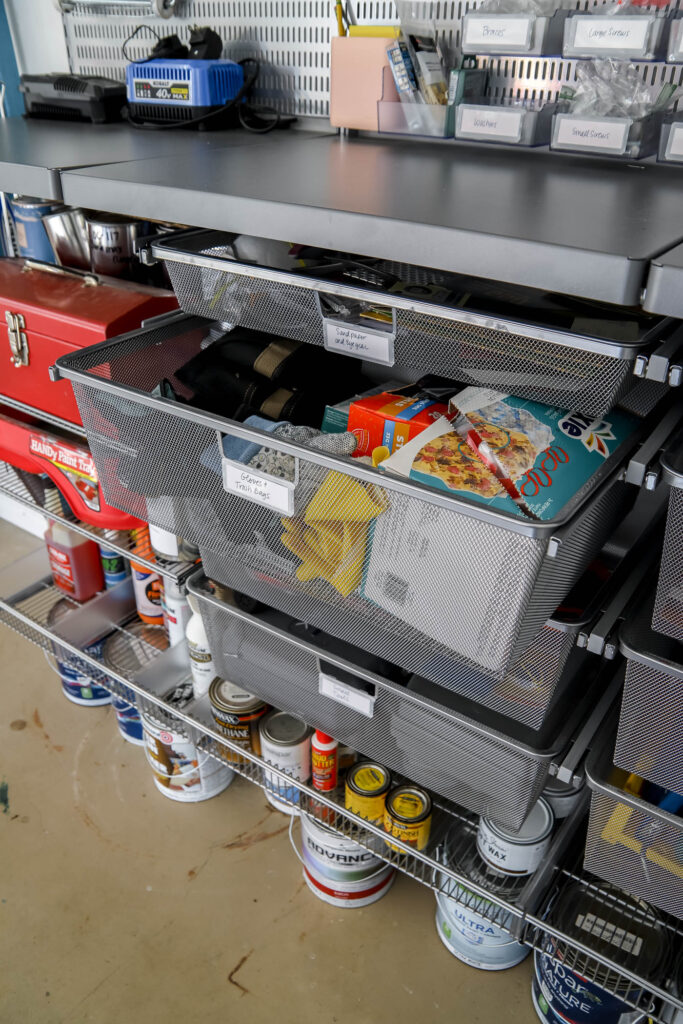 The same goes for drawers in my workbench. It helps keep the clutter under control when smaller items are put together in drawers or bins – and then labeled!
11. Use Clear Bins or Totes
This is a frequent debate: clear or opaque containers?? Opaque containers are prettier, for sure. But even with labels, I think it's easy to "lose" things inside an opaque bin.
If you use clear containers, you can easily verify what is in each one! I still label ours so my family knows what should go back in each box!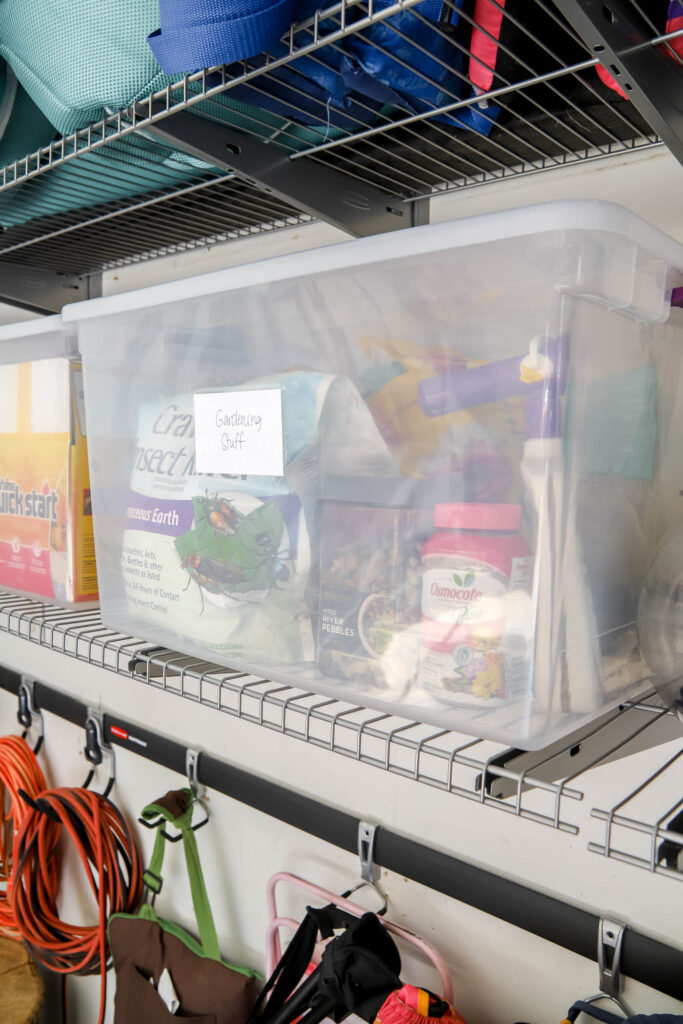 12. Label Drawers and Bins That Can Easily Be Confused
Even though I like to use clear containers, it's still a good idea to label them. This helps cuts down on time looking for something. It also helps everyone in the household be on the same page.
It's a whole lot easier for me to ask my husband to get the plant food out of the "gardening" bin on the shelf, than just ask him to grab the plant food from the garage.
But it's imperative to label items that can't be seen from the outside, like the drawers under my workbench.
13. Use the 5th Wall for a Small Garage Storage System
Some people include a storage unit hanging from the garage ceiling to make the most of a small space.
If you aren't lucky enough to have overhead storage space in your garage, you can make or install your own! They sell some fantastic overhead storage, and you can store items like your Christmas decorations, camping equipment, and even fishing gear.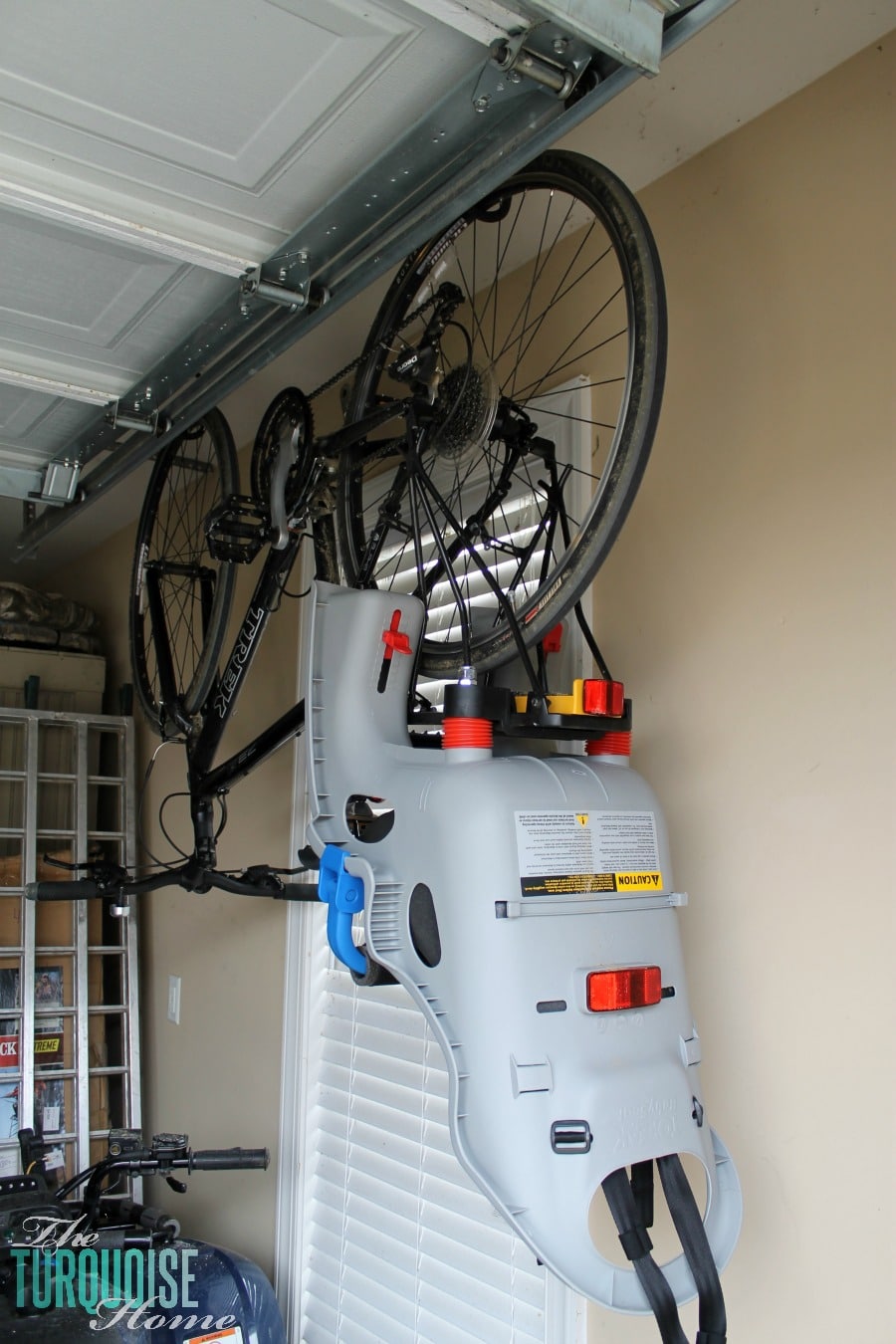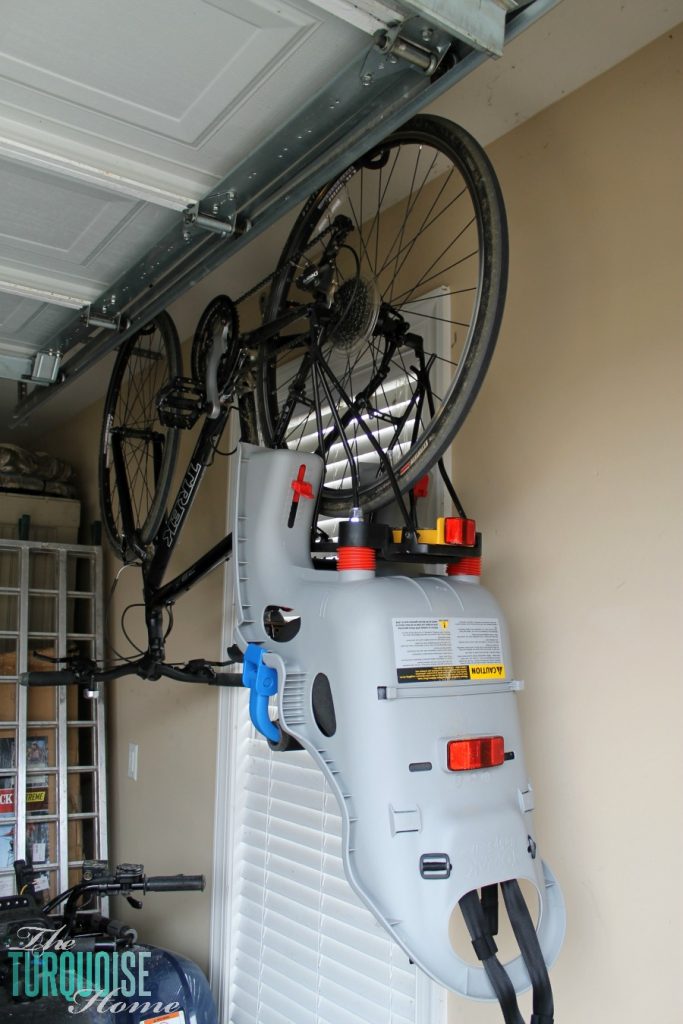 In our old, smaller garage, we utilized the ceiling space with bike hooks for our bicycles. I find it not as easy to access them if they are on the ceiling, but if that's the only space for them, it's a great idea!
It was a perfect way to get them up off the garage floor and help the garage feel less cluttered. My only note of caution is to make sure you have easy access to your bikes, or else it will defeat the purpose of having a bike in the first place!
14. Get Ladders off the Floor with Hooks
It's probably easier to just lean a ladder against the wall, but getting it off the floor will save space and keep it from falling over! I intentionally left a ladders-width of space between our shelves and the utility workbench area to hang our ladder.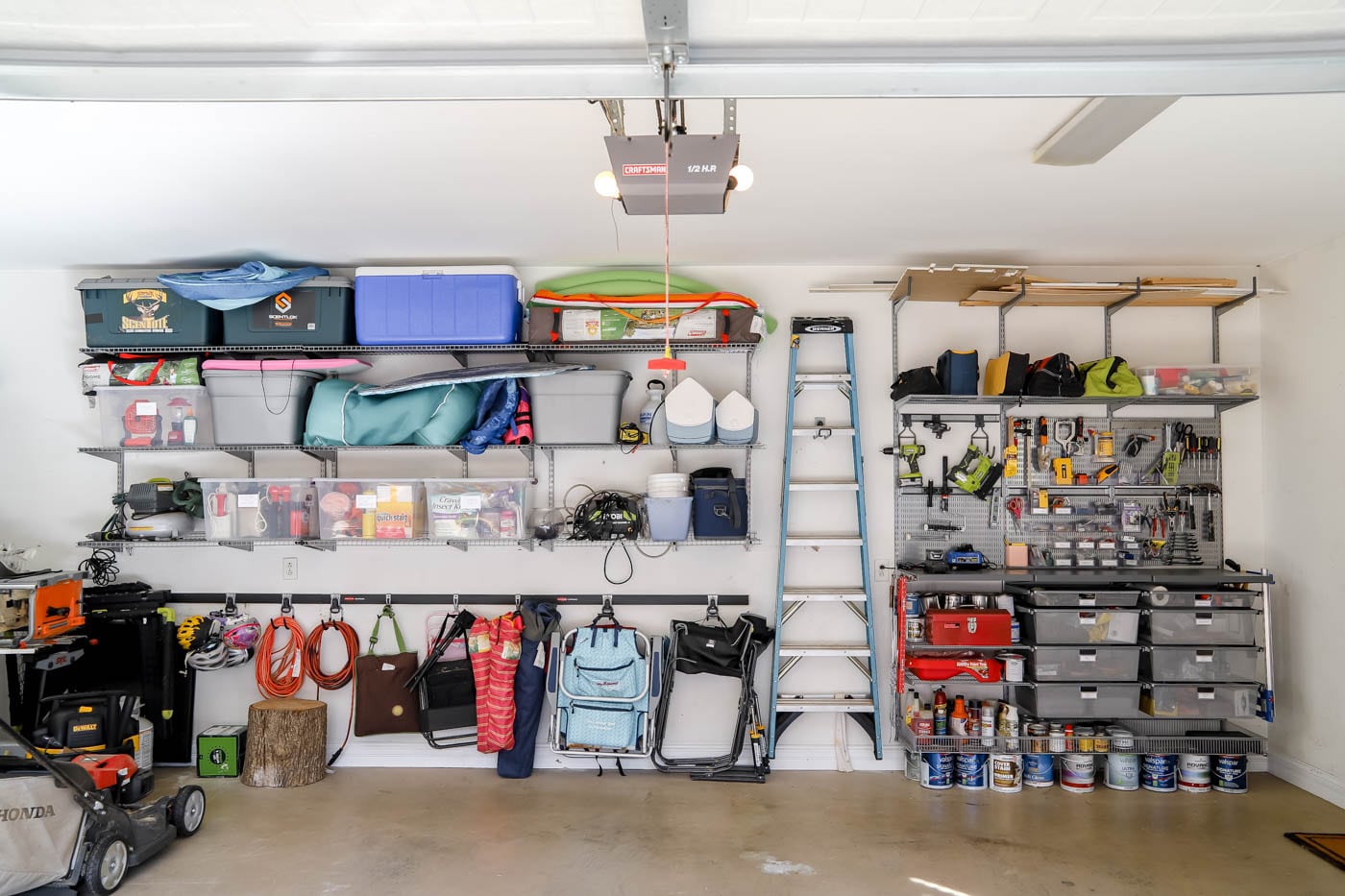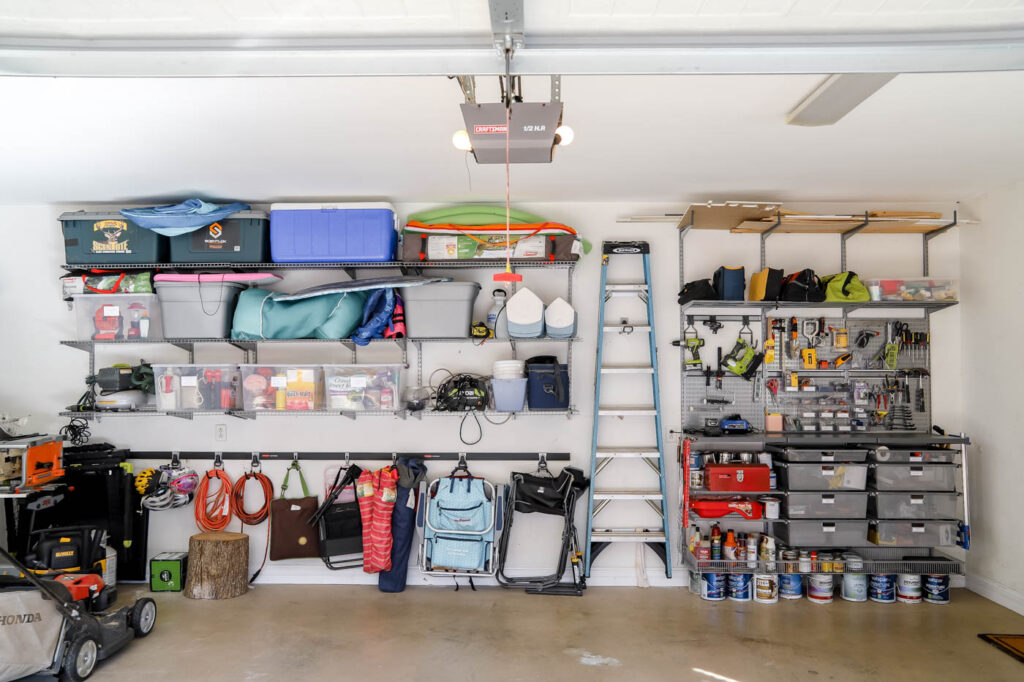 It's easy to reach there and perfect for using it when we need to access the top shelves!
15. Create a Workbench or Workstation
Inevitably you will need a spot to collect supplies for projects, do a small DIY project or fix something that is broken. I was able to utilize the space above our drawers and shelves, but below the pegboard for a work table.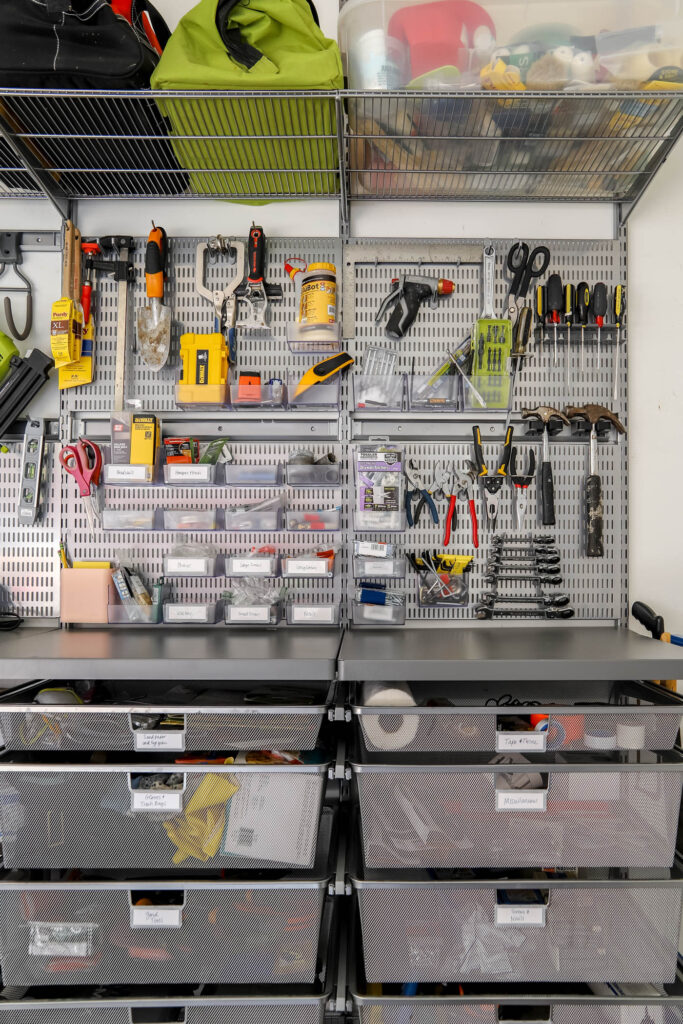 I actually raised the system up about a foot because our ceilings are 9.5 feet tall. And it's the perfect height for a standing workbench. But if you have a shorter workbench, you may want to incorporate a stool or chair!
I even added a magnetic pencil cup to my pegboard to hold pencils and post-it notes!
16. Keep Sports Gear in One Spot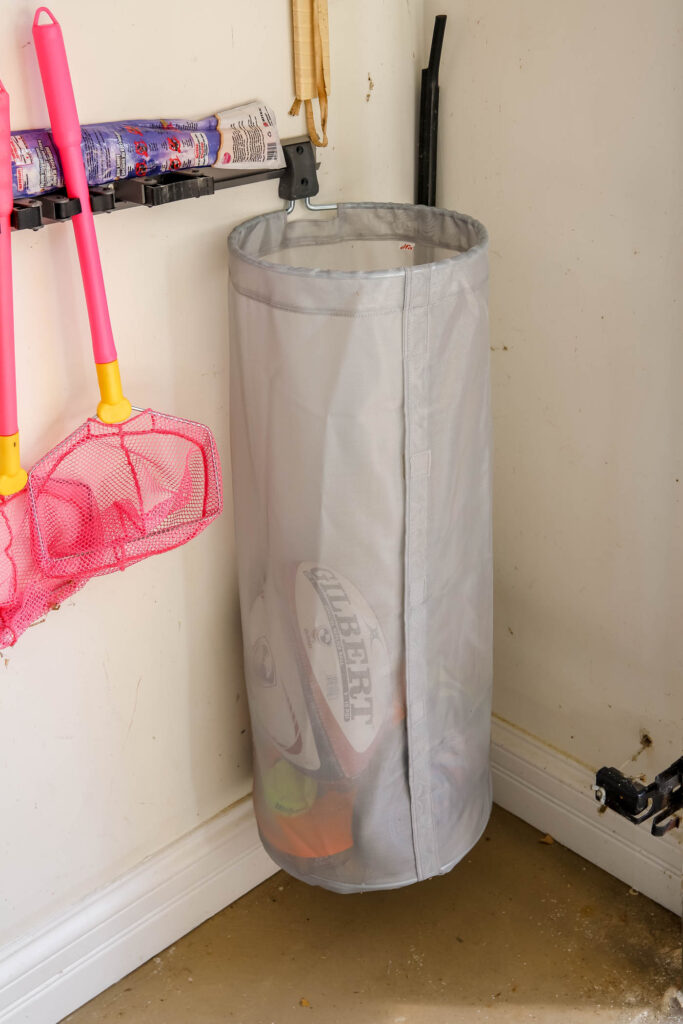 We don't have a ton of sporting gear, but we put the golf clubs, nets, kites and sports balls all together on one garage wall. The mesh storage bag is perfect for corralling footballs, rugby balls, basketballs and frisbees! The velcro closure in the front allows you to remove something from the middle without emptying the whole bag!
If we had tennis rackets, these large utility tool holders, would be the best thing for hanging them up!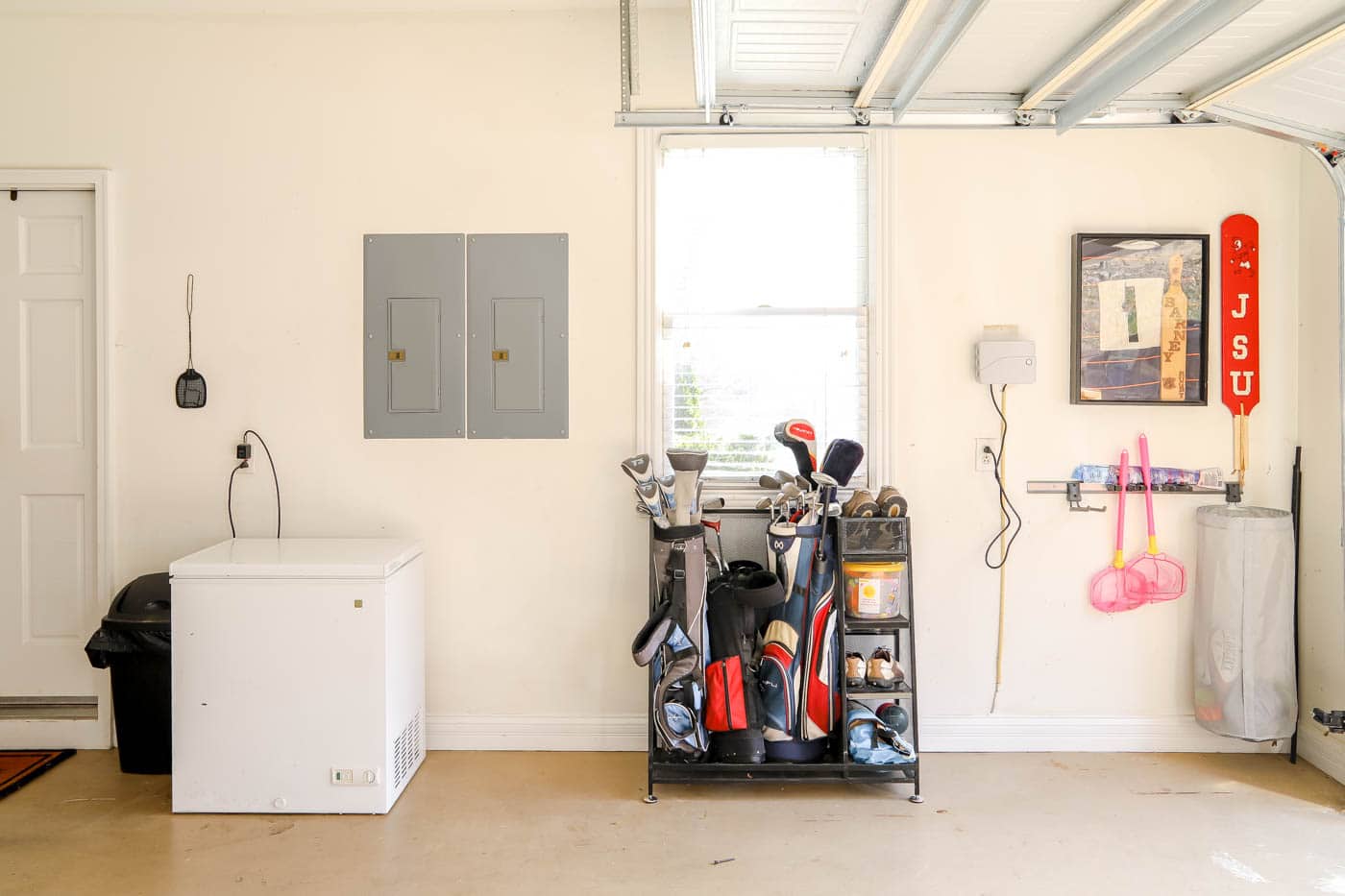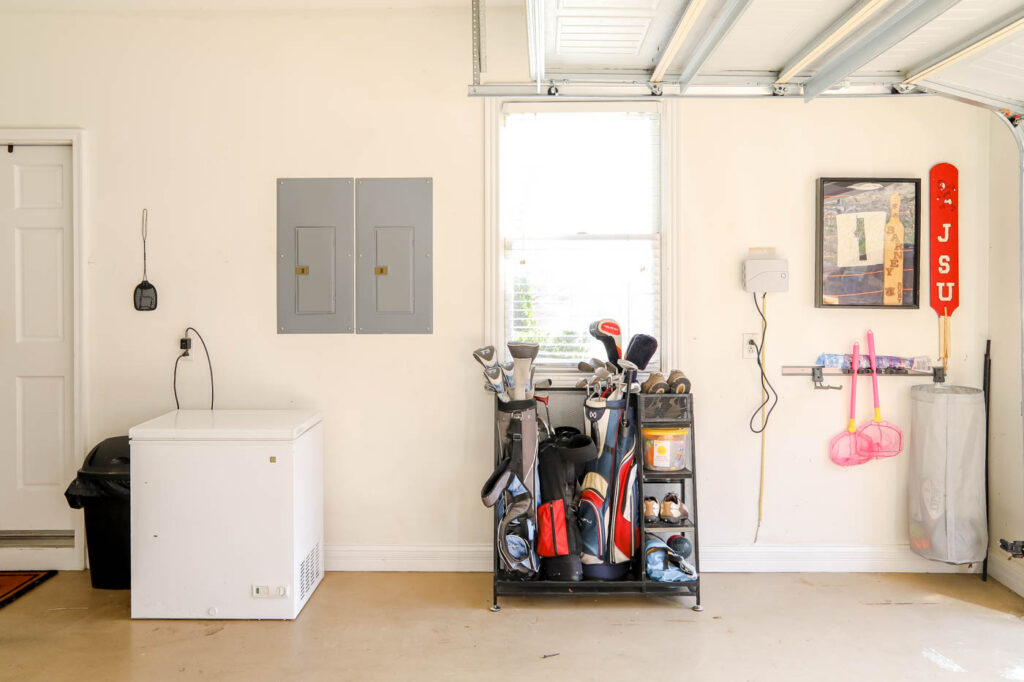 More Sports Equipment Organizing Systems:

---
So, if you are trying to take your garage organization skills to the next level make so that you open the door and NOT have an avalanche of stuff come out falling on you, I hope this helps!
If you are looking to organize and create storage systems in other parts of your home, check out this organization section on my blog! Once you have everything done, then you just need to keep it that way by putting everything where it belongs after you use it each time.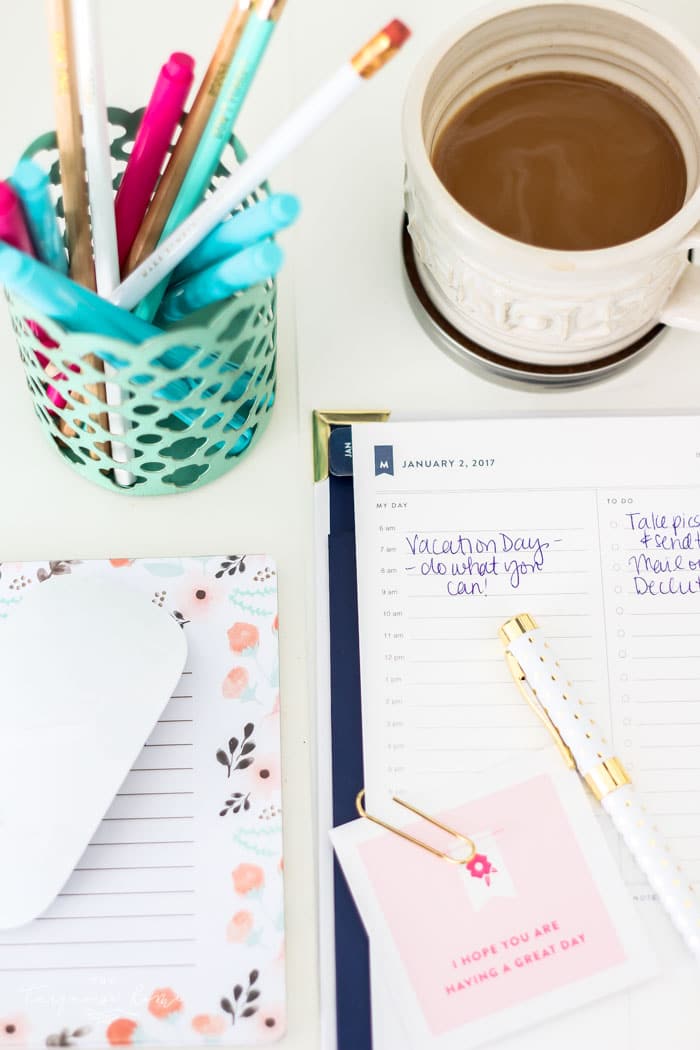 Tired of Feeling Overwhelmed?
Join the FREE 30-Day Decluttering Challenge & Find Peace in Your Home Again!
MORE POSTS YOU WILL LOVE: