DIY Scrapbook Paper Garland
Make this easy DIY paper garland with scrapbook paper. It would be so cute on any Christmas tree or hung on a mantel!
The Christmas trees are up over at The Turquoise Home! Now I'm just filling in the little details, putting finishing touches on the mantel and other horizontal surfaces. I'm trying to get it all done by this weekend so that I can clean up the house since all of the boxes of Christmas decor might just reach up and choke me with the mess!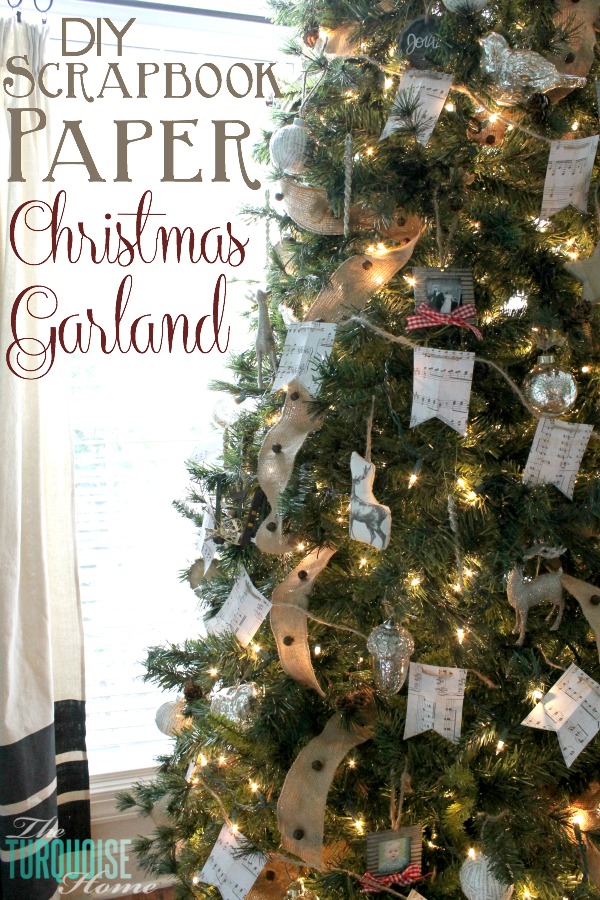 I have gone a totally different direction this year from last year and I am in LOVE with it. I'll share more about this when I do my whole Christmas home tour in December, but let's just say there's a lot of new decor around here, or old decor being used in new ways. (That's my favorite!!)
This is our 3rd Christmas in this house and the 3rd Christmas with a 9-foot tree in the front window. What is it about having a Christmas tree in the front window? It just seems so fun and magical to me. I hope the neighbors don't mind that my tree has been lit up in the window since the beginning of November. 🙂 #sorrynotsorry
It takes a lot of ornaments and other decorations to fill up a 9-foot tree, you know? And this year I think it finally feels full and complete. Part of that is due to my new scrapbook paper garland that I made last week. I LOVE how it is so cheap and easy to make and it is so stink in' cute!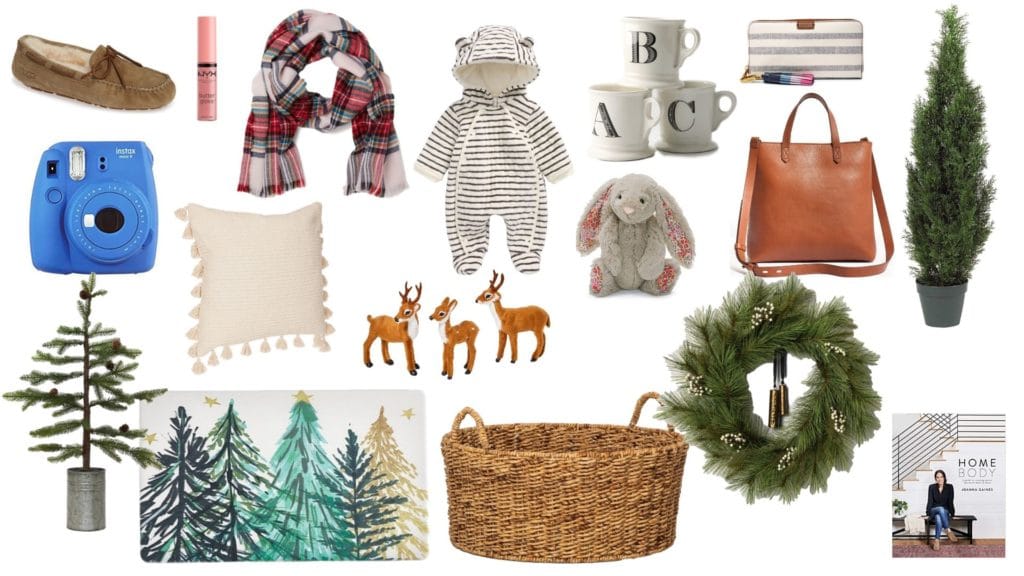 Shop Gift Guides for Everyone
& My Christmas Decor Shop
What you'll need for a DIY Paper Garland:
– Scrapbook paper (musical notes or whatever suits your fancy) – I bought mine on sale at Michael's for $.16/page. I bought 7 pages, so $1.12 total so far.
– Twine – I had mine on hand already, but it's cheap at any craft or big box store.
– Glitter – also had on hand.
– Scissors or cutting machine (I used my Silhouette, because it's so much faster than cutting by hand!)
– Elmer's glue
OK, so this was so easy and I thoroughly enjoyed watching the latest season of Downton Abbey while crafting late at night.
I didn't really take many pictures of the process. I bought the music note scrapbook paper at Michael's and used a Silhouette pennant design that I bought from the Silhouette Online Store a while back. If you have a Silhouette, then you can download it HERE. I arranged them on the page so that I could fit 9 on each page.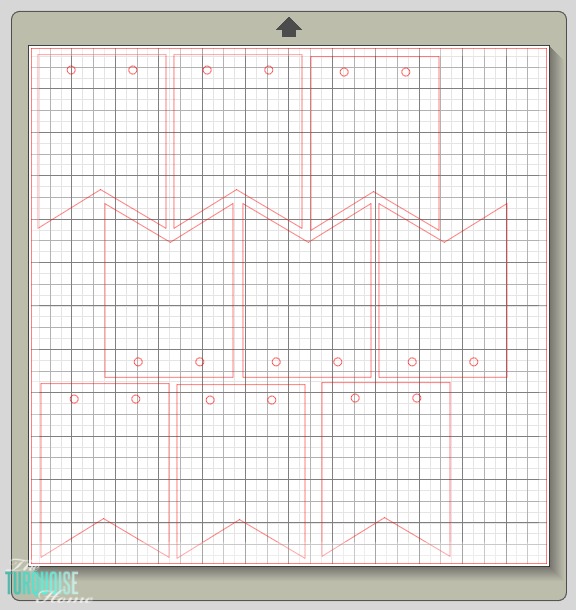 I used the printer paper cut setting and it worked great! It was pretty thin scrapbook paper.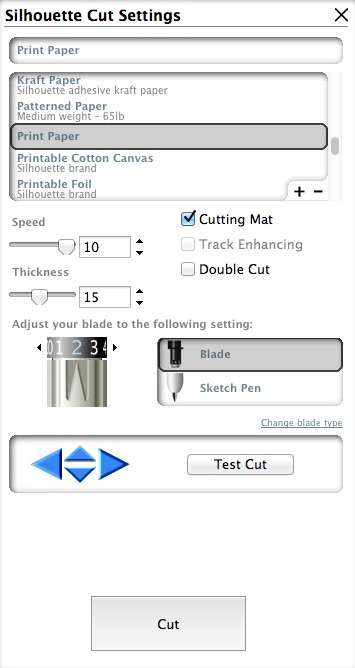 It would also be easy to cut these out by hand. They were about 3-inches wide by 4-inches tall. You could just hole punch the holes in the top for stringing the twine.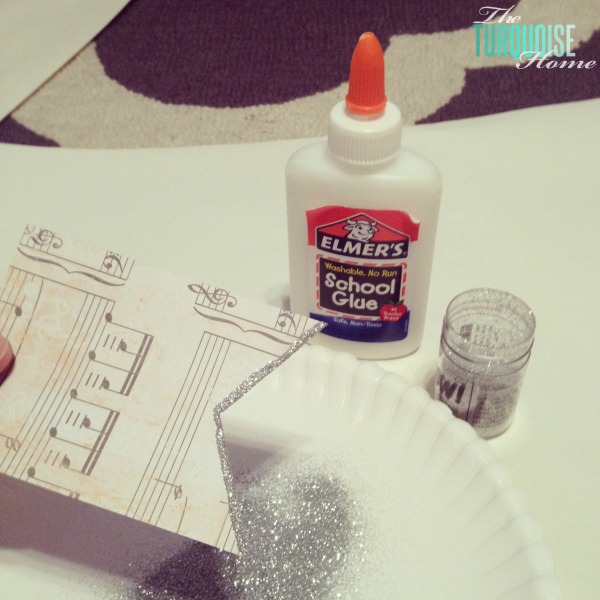 Late night Christmas crafting and alone time. #adiyintrovertsparadise – Instagram
I creased the middle of each pennant in order to give them some dimension. And then I took each one, ran a thin line of Elmer's glue along the bottom edge and sprinkled on some silver glitter.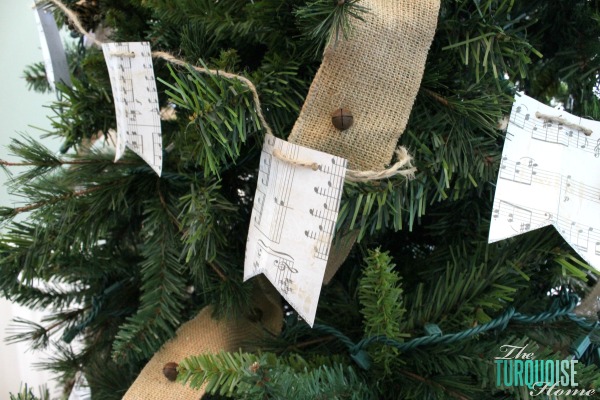 I thread twine through the holes and strung it up on my tree!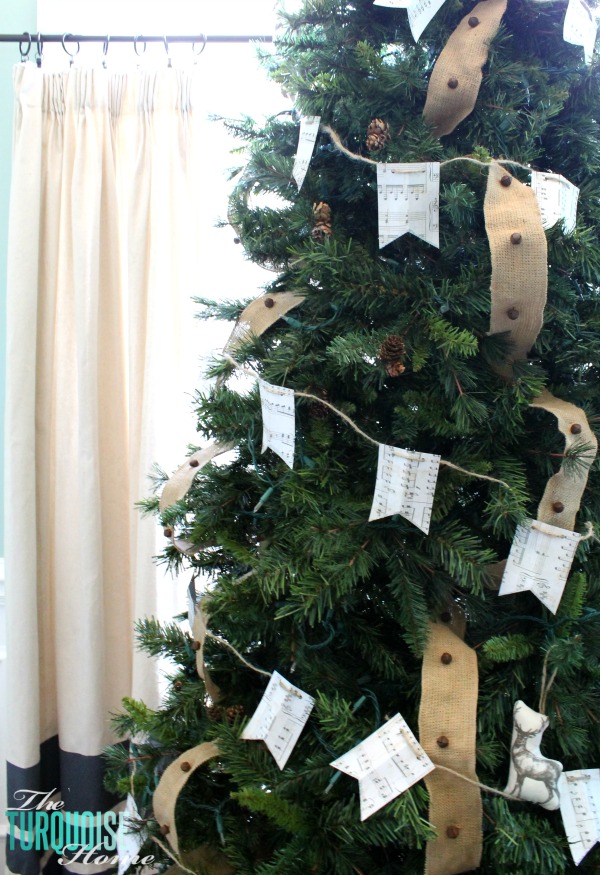 So simple and I love the look. You're even getting a sneak peek of my mostly decorated tree. 🙂
Don't you love that jingle bell burlap ribbon?? I wish I had bought more, because all 3 Hobby Lobbys near my home are already sold out. #lessonlearned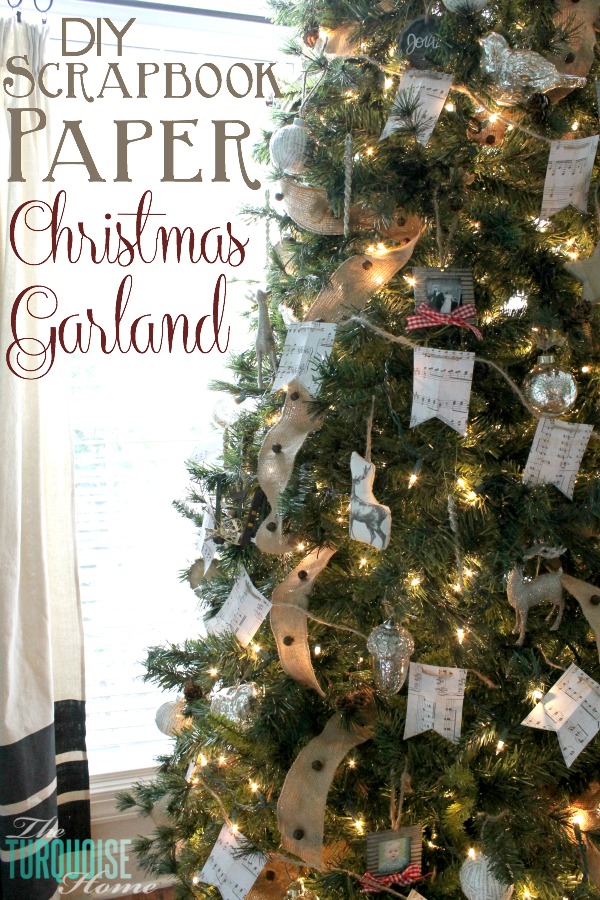 What simple, easy and cheap Christmas projects do you have on your to-do list??
More Posts You Will Love: