Ikea Spice Racks as Bookshelves
These Ikea Spice Racks make awesome bookshelves. You can put them together in just a few minutes, and customize them with any color or any way you want! And all for less than $5 a piece. Yay!!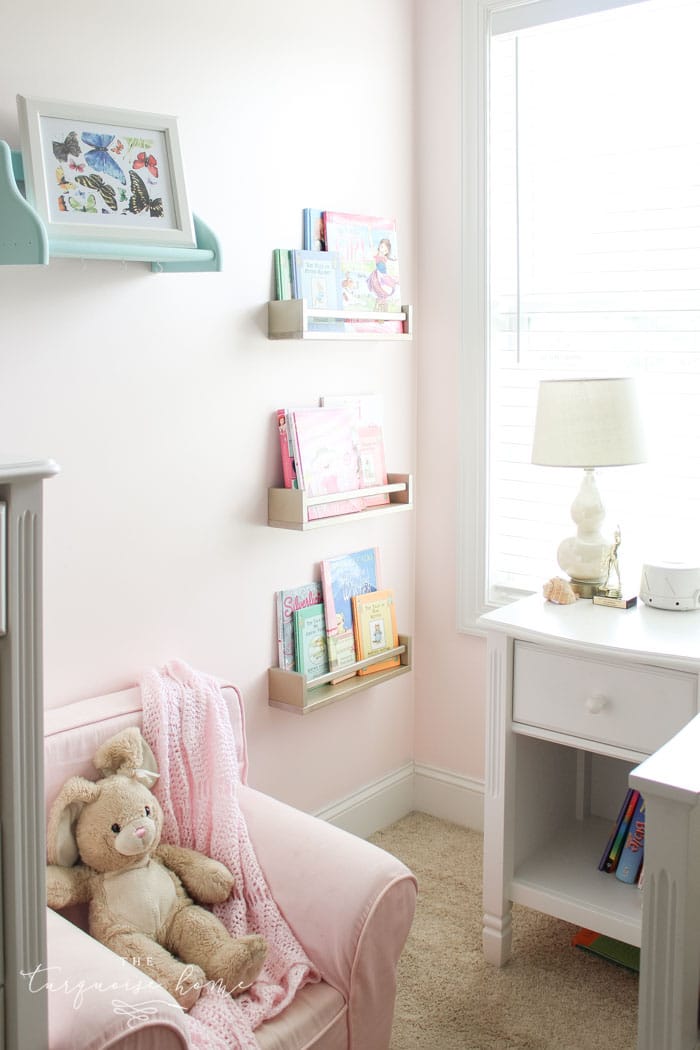 Ikea Spice Racks as bookshelves were all the rage, oh, probably 5-7 years ago. I remember when my oldest was born (and she's 6.5 now), not a single spice rack was to be located in a 1,000 mile radius of my home. Nada, nothing, zilch. I made several treks to the Atlanta IKEA, 3 hours away from me, over the course of several years and never one time did I lay an eyeball on these precious spice racks.
Everyone was buying them up and turning them into all of the bookshelves and coat hangers and caddies for their crafts. All.The.Things. for less than $5 a pop. What's not to love?
But with nary a spice rack in sight, I let go of my dream to have swedish-inspired bookshelves in my home.
Until recently when I realized the odd corner in my daughter's bedroom would make the perfect place for some bookshelves. It's a small, skinny corner with a blank wall and it could be useful to have some books there for a little reader corner.
This post contains affiliate links for your convenience. See my full disclosure policy.
So, evidently the fascination has worn off, because one of the last times I went to IKEA, I found these previously rare and unattainable spice racks. I promptly bought 3 of them, they then sat in my craft closet for a year! Story of my life!
If you know me at all, then you know that hardly anything happens very quickly around here. I'm a take-my-sweet-little-time kind of gal when it comes to projects. I hem and haw, and decide on things for forever.
But about once a year I get on a kick to finish up the projects I already have in my home. It usually coincides with a time in which I'm trying to declutter. Like in the fall, before Christmas and I'm trying to make room for the coming onslaught of toys and new things.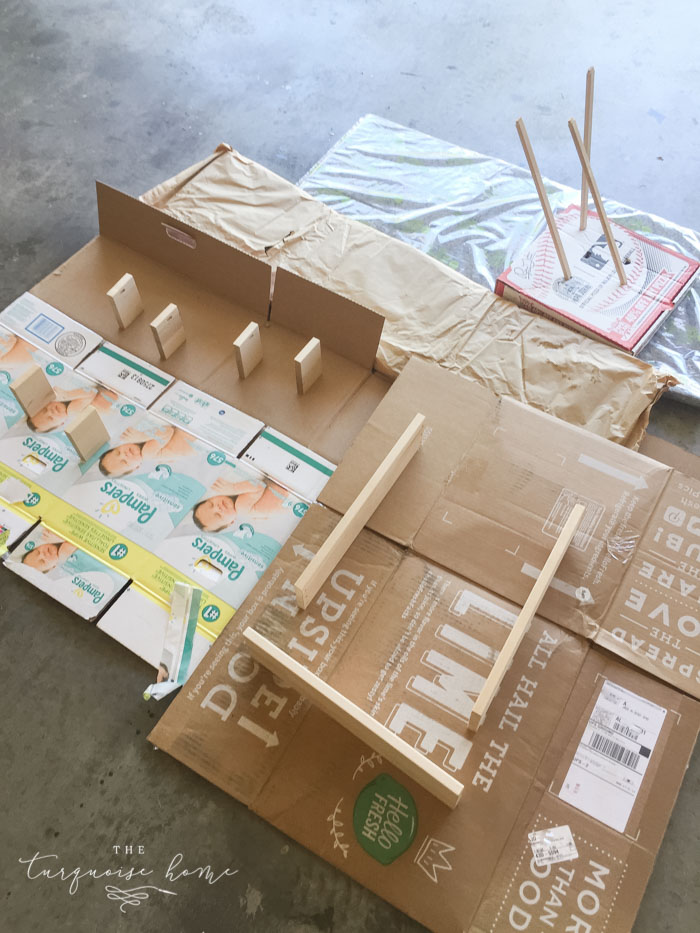 I pulled those spice racks out and laid all of the pieces out on my garage floor.
Then I gave them a quick 3 coats of Rustoleum's champagne mist spray paint, assembled them and had them hanging up in no time!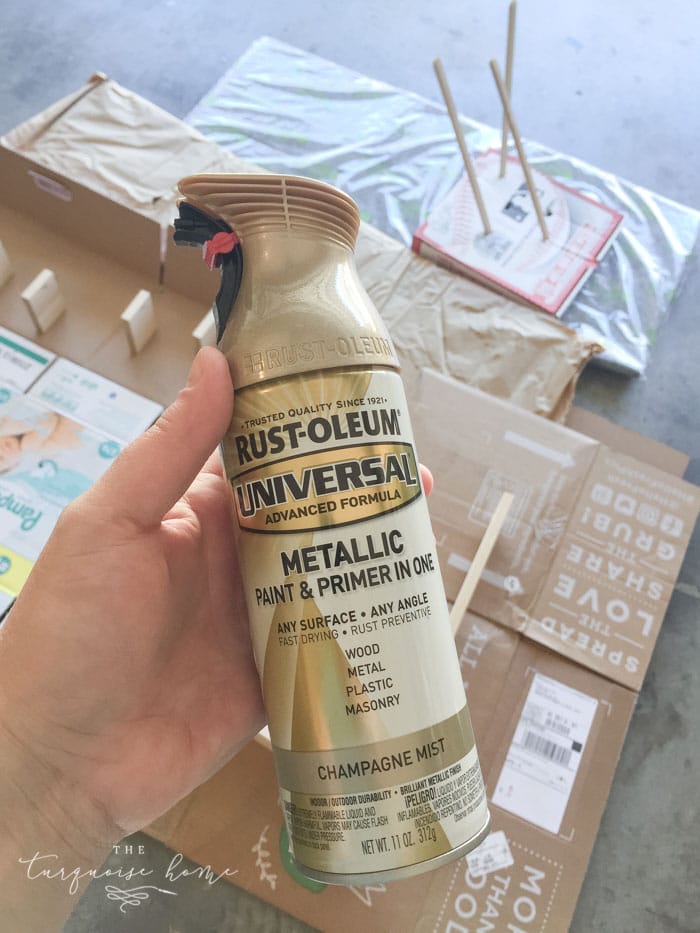 It actually took me about a day and a half with drying time and finding the time to work on it when the kids weren't around. But it was seriously so easy!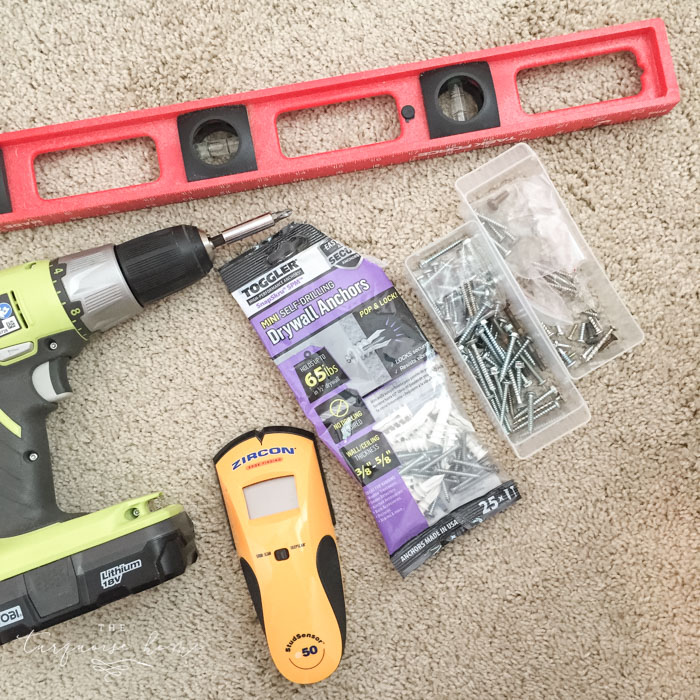 These self-drilling dry wall anchors are my favorite wall anchors around and they worked like a charm. I used my stud finder to find the stud, but it runs right in the middle of where I wanted to put the bookshelves. So dry wall anchors to the rescue!
Tip: Drill the screw into the wall where you want it to go, and then take it out and screw the anchor into the pre-drilled hole, then screw the screw into the anchor. This makes sure the anchor goes exactly where you want it to go!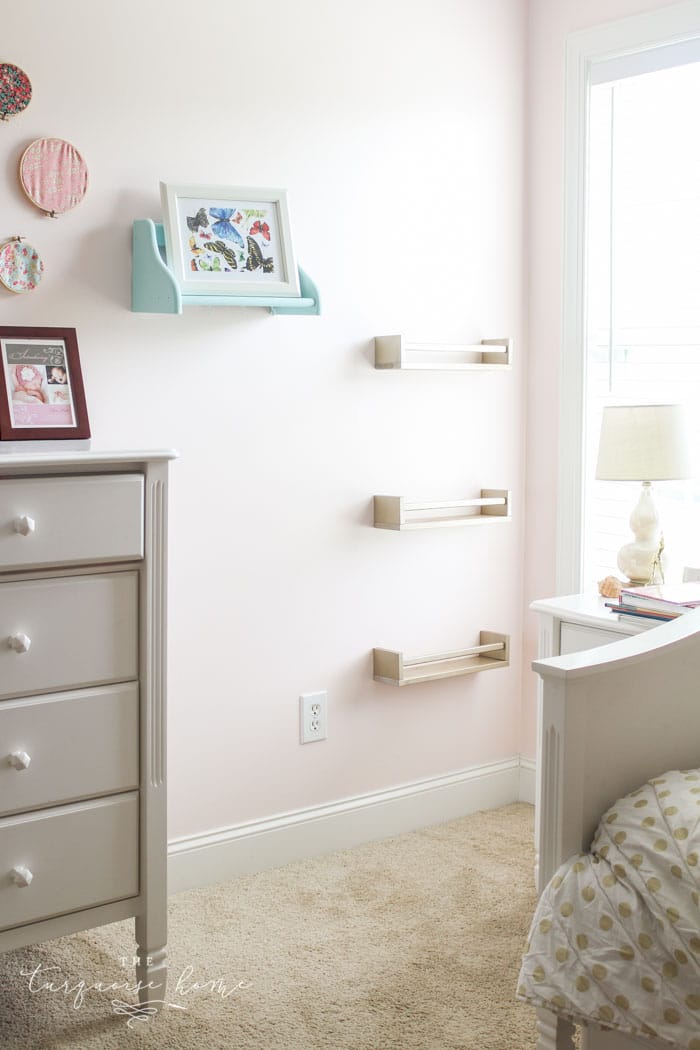 Aren't they perfect for this space, and cute, too? Rustoleum's Champagne Mist spray paint matched the colors in my daughter's room perfectly. I haven't shared anything in a while in her room because it's halfway changed between a big girl room and her nursery. I still need to change out some artwork before I share the new big girl room. Takes me forever, I'm tellin' ya!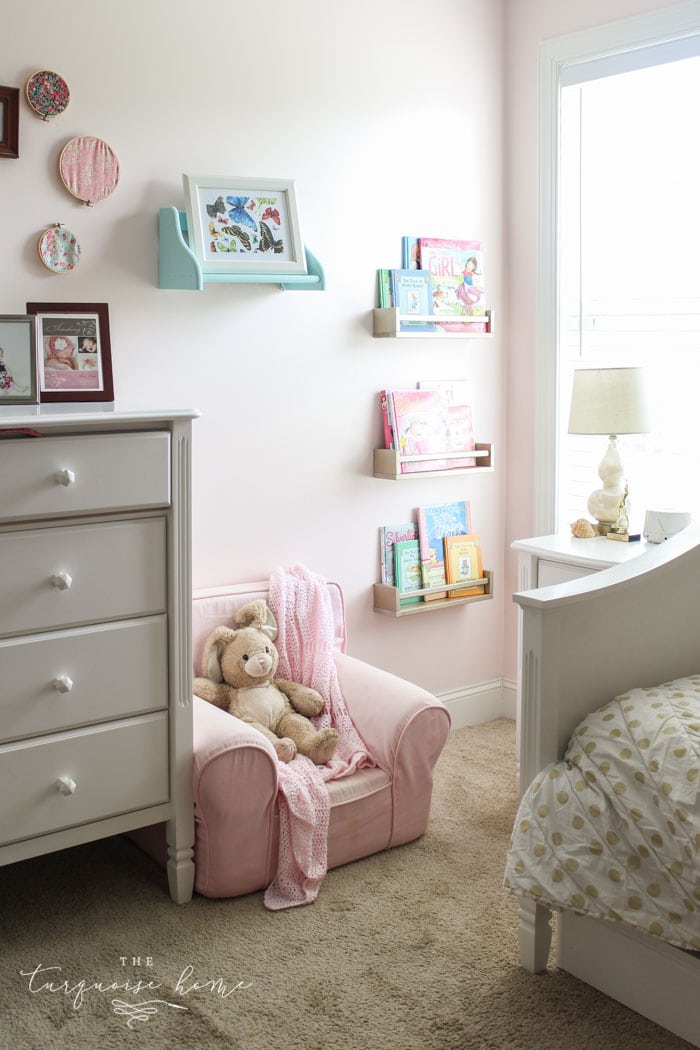 You can see just a peek of her gold polka dot bedding in the above picture, which is the Gold Dot bedding from Pottery Barn Kids, if you're interested. I think they only have the quilt in a toddler bed size, but it's half price at the time I'm writing it. (Whoop!) And the pillow sham is still available. If you want a larger quilt, they have a similar gold polka dot quilt at PBTeen!
We love this bedding and have had it for 3 years and it looks as good as it did the day it arrived. We have Pottery Barn bedding on all of our beds and we just love their stuff!
---
We've since moved into a new home, but the spice rack bookshelves came with us and were one of the first things I put up in the girls' room! You can see them below next to their bed. It's perfect for grabbing a book for stories at night!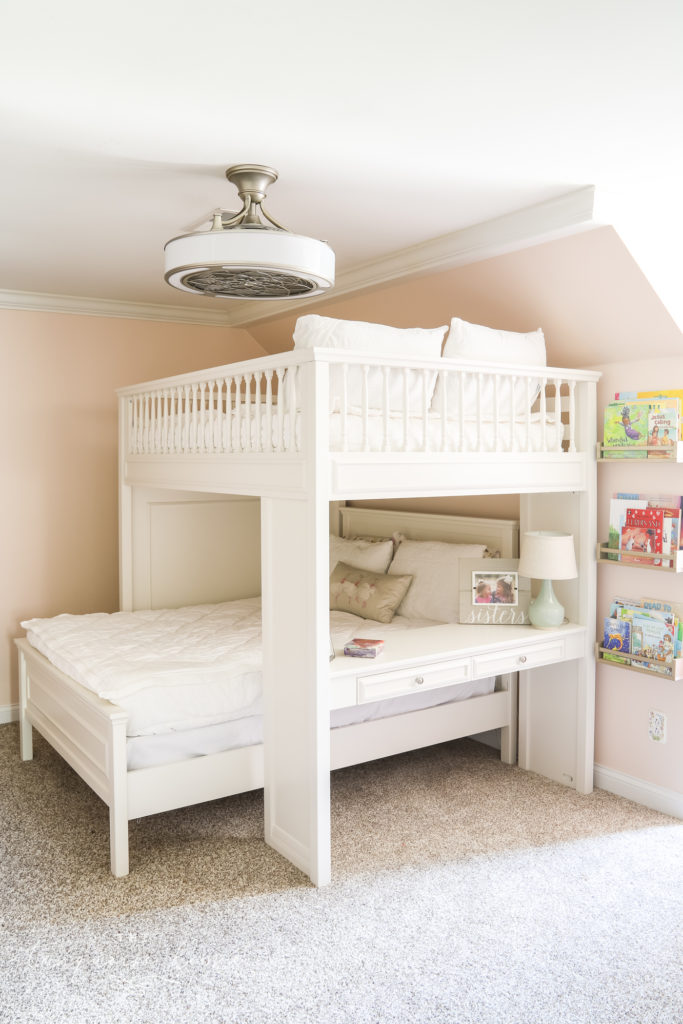 ---
Have you seen these IKEA spice rack hacks before? Do you have one in your home? Grab some today and make some function space in your home for less than $5 a pop.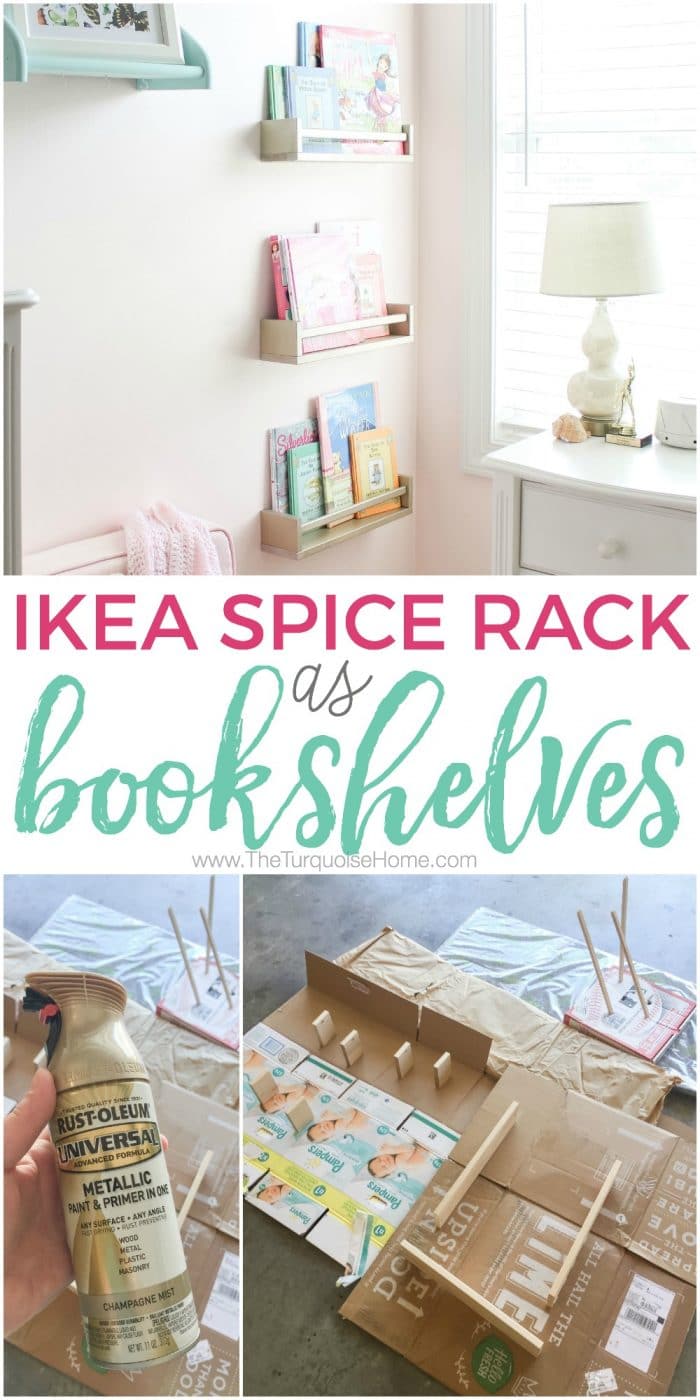 MORE POSTS YOU WILL LOVE:
SaveSave
SaveSave