Beautiful Gray Crib Makeover with Annie Sloan Chalk Paint
I'm finally able to get back to working on Baby girl's woodland nursery. Yay! I really thought I would get her nursery done before she got here, and I did nail down my vision and got a lot of things in place. But I was a long way from done when she finally arrived. I was too busy working on Christmas, birthdays and just getting ready to, you know, have a baby.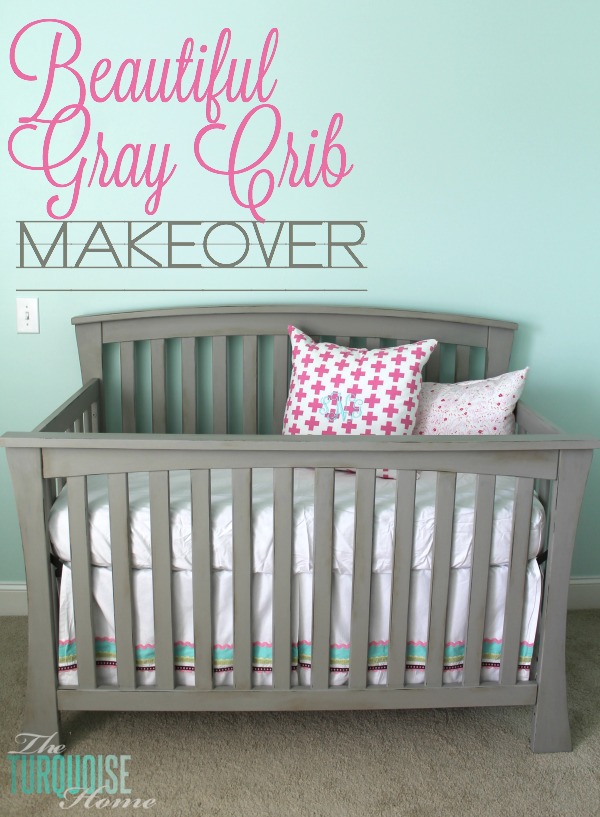 This is the crib I bought when Miss A was born, back before I had any idea what a vision board was or how to plan for a cohesive look in a room. I just went and picked out a crib and a matching dresser. I knew my husband liked dark wood furniture, so that's what I picked. It's a very nice, well-made crib and I like the clean, simple lines, but I didn't love the dark wood color.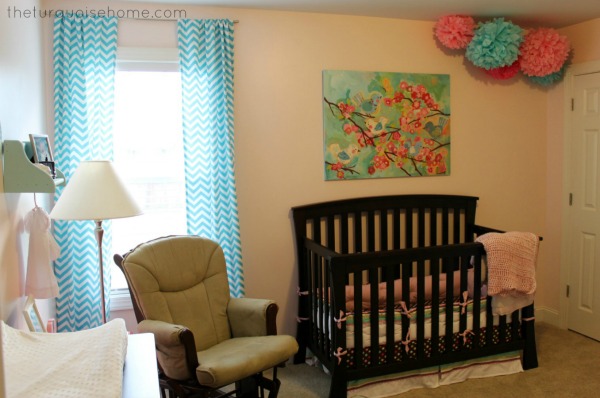 Miss A's Pink & Turquoise Nursery
It also had bite marks all along the rails. 🙂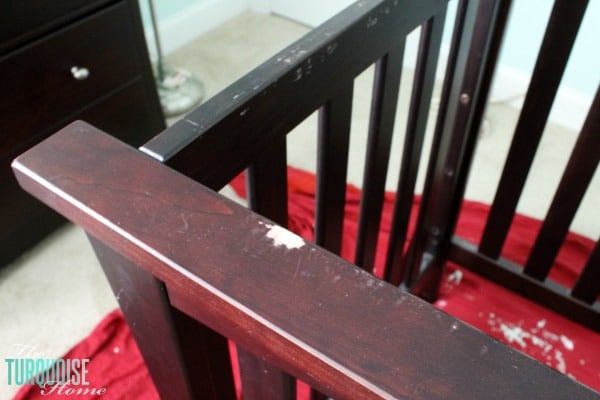 So I decided to paint it with Annie Sloan Chalk Paint. I already had the French Linen, but I thought it was a little too dark for the crib. I wanted to lighten it just a little. So, I mixed 1 part Old White with 6 parts French Linen to make a new lighter and softer color.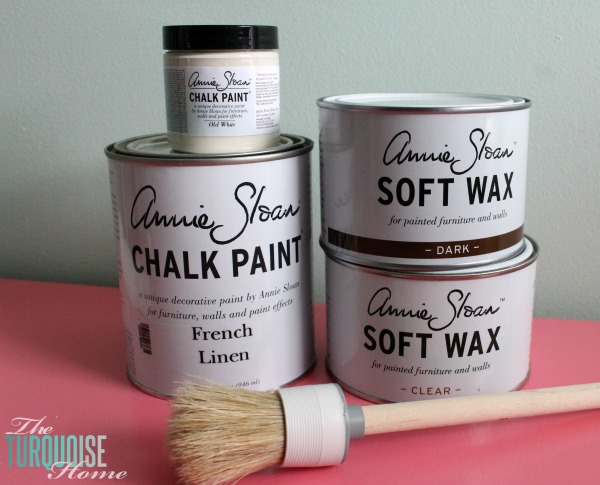 While my mom was here taking care of Miss A while I was in the hospital, she graciously finished painting the crib with the Chalk Paint. I know some people complain and say that it's no time saver to use chalk paint. People rave about how easy it is since you don't have to prime the piece, but you still have to wax it, which means there is still two steps. Personally I love the little to no prep needed when using chalk paint (I'm super impatient) and I love that it's more artistic than using regular latex paint. I can distress or not distress, keep brush strokes or not, apply white or dark wax or clear only. The creative options are endless and I love it!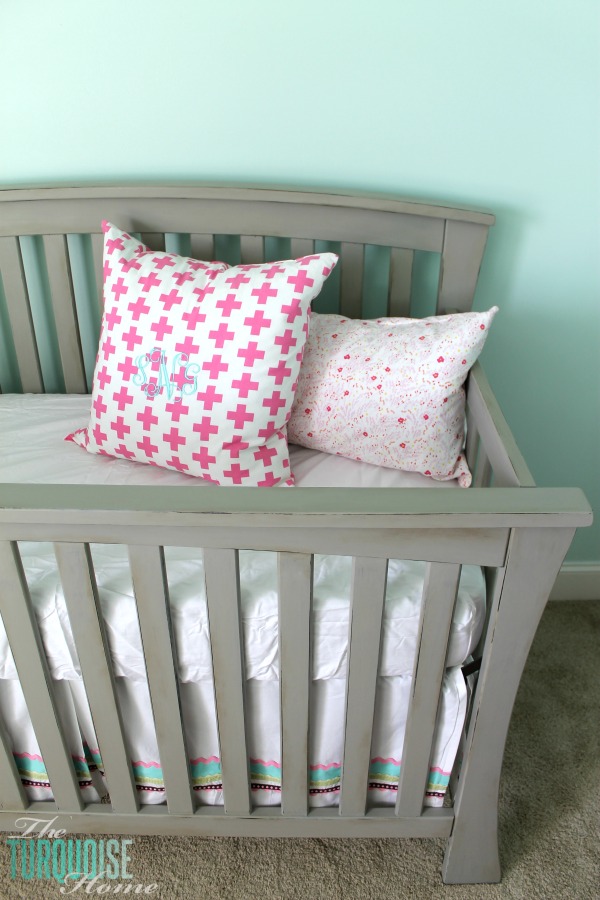 I've used chalk paint twice before with furniture: here and here. Both times I distressed the pieces. I had planned to not distress the crib, but once I got it all painted and applied the clear wax, I decided to go back and distress it some. I'm glad I did! It looks much better now.
And then I tried my hand at applying dark wax for the first time. I've read that it's more of an art form, kind of like the distressing. Since my crib didn't have a lot of crevices built into it, I tried to follow the distressed places with the dark wax.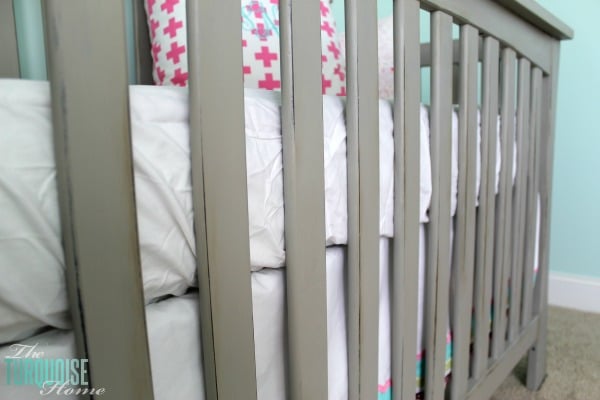 It's important to use a light touch when applying the dark wax. I used very little and it still was plenty. Here's an example of what it looks like when I just applied a tiny bit of dark wax. You can see it has a hard edge to it. But I wanted a more subtle look, so I went back over it with clear wax to blend it in some more. You can see the example on the right is very subtle, which is what I wanted.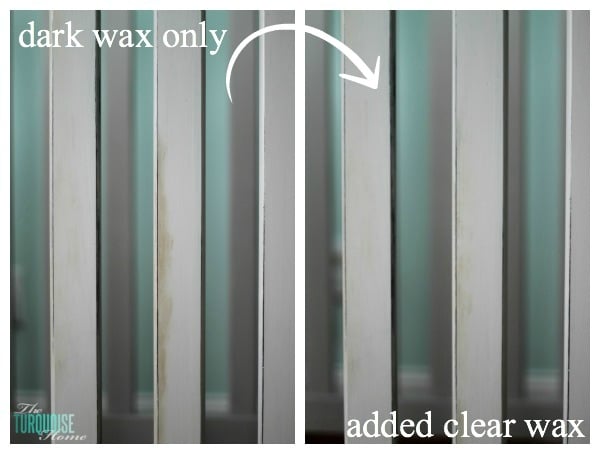 In the original vision board I made for Baby G's nursery, I included a beautiful antique gray crib from Restoration Hardware Baby & Child. I knew it was faaaaaarrr out of reach for me financially, but I wanted something along those lines.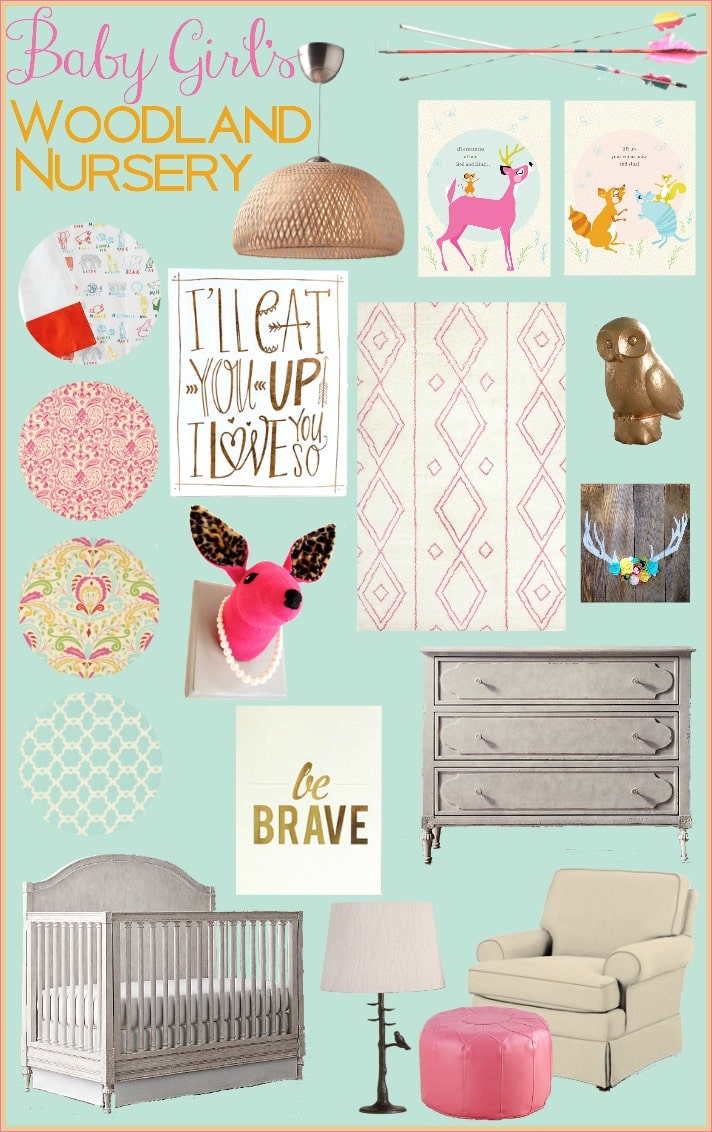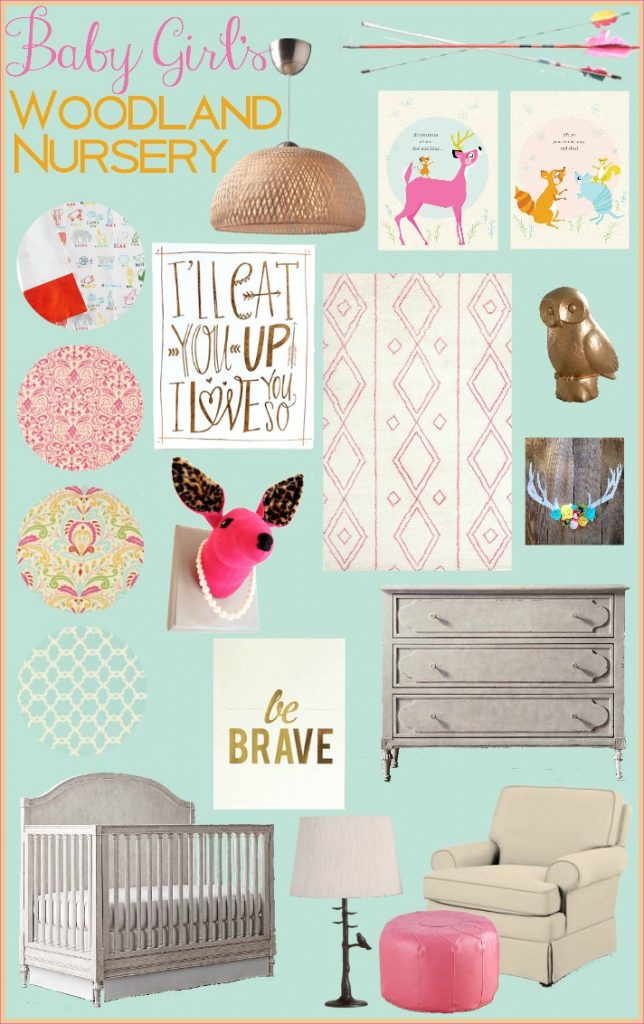 My makeover isn't an exact replica of my vision, but it's similar enough and I'm happy with it! That's what a vision board is for, giving a direction, but everything doesn't have to be exactly the same! My option cost $50 (with some paint items already on hand) as compared to $1,200. I'll take it!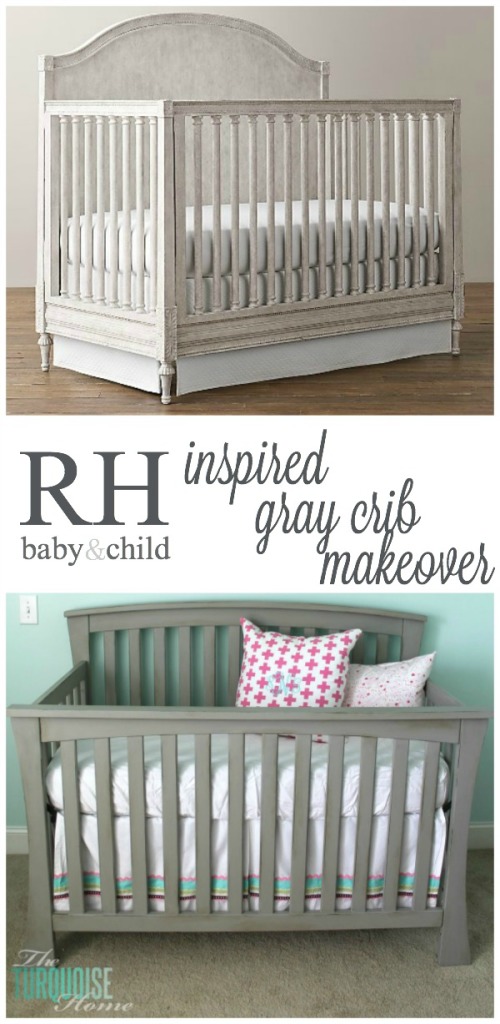 I couldn't help but lean the two pieces of art I already have framed and snap a quick picture. I have no idea where I'm going to put the art in this room. I've got a long way to go before I start hanging things on the wall, but I just love how they all look together.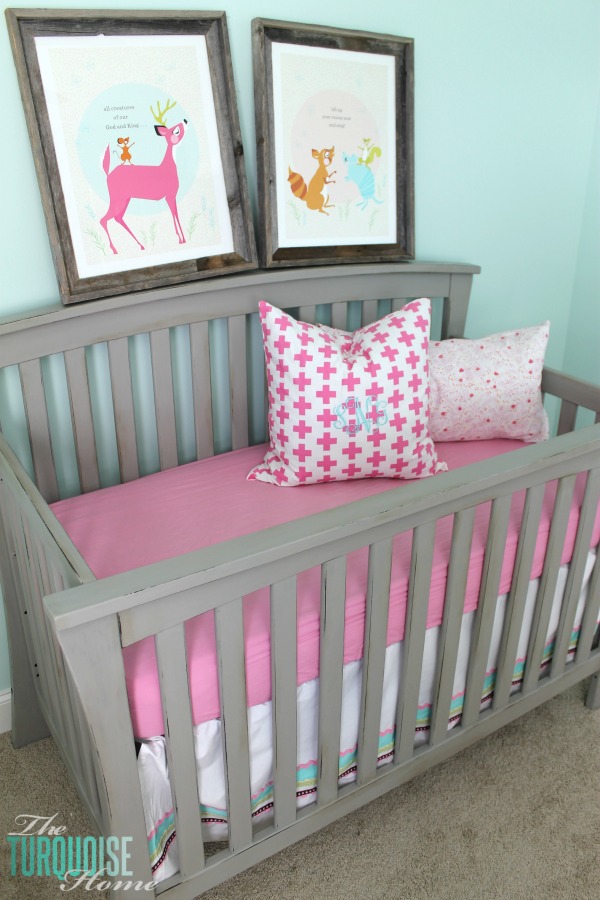 I love the rustic wood frames from Hobby Lobby with the crib finish. It's perfect! Now I need to tackle painting and waxing the changing table/dresser and a bunch of other smaller projects. It's the top of the priority list. And now that Baby G is getting close to a month old, I'm starting to feel ready to put her in her own room. When Miss A was about 4 weeks old I put her in her own room and she started sleeping longer stretches at night. I'm ready to try that with Miss G. 🙂
Updated: I was originally concerned about using chalk paint on a baby's crib, but the FAQ's at ASCP address this issue here. It's OK to use chalk paint on cribs or other furniture for children, but you want to wait the full 4-6 weeks to allow the paint and wax to cure before using the item. Also should be noted that pregnant women should not apply the wax. I waited until after I delivered Baby G to wax the furniture. 
More Posts You Will Love: