Welcome to Day 28 of the 30 Days to Less of a Hot Mess Challenge! We're decluttering, reorganizing and taking a breath of fresh air to create a home we love. If this is your first time at the challenge, you may want to start here at the beginning. Affiliate links used for your convenience.
**************************************************************
In addition to kid's toys, one area of the home that tends to need a lot of attention is kid's clothes organization. I've put several organization ideas into place over the years that help keep the crazy to a minimum. I've also had to work hard to find a good hand-me-down system since I have 2 girls whose birthdays are only 6 days apart. I hope these help keep the crazy to a minimum at your house, too! 😉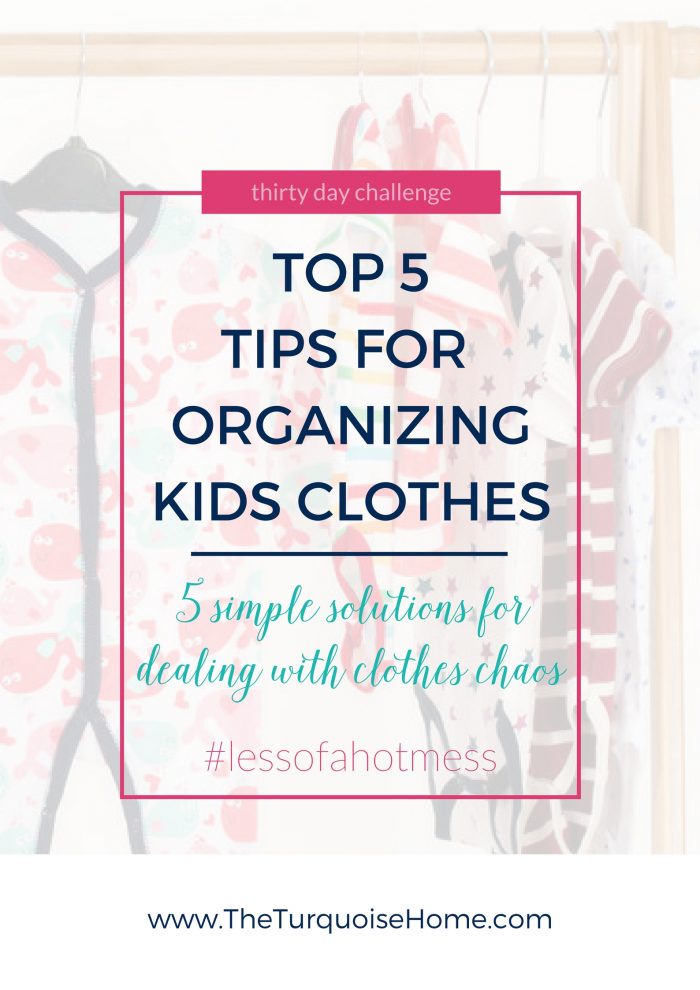 5 Top Tips for Kids Clothes Organization
1. Keep it Where They Can Reach It. Once reason that we installed the closet system in my oldest daughter's closet is that I wanted a place to put her clothes where she could reach them. Her underwear and socks are in the drawer in the closet that she can access easily.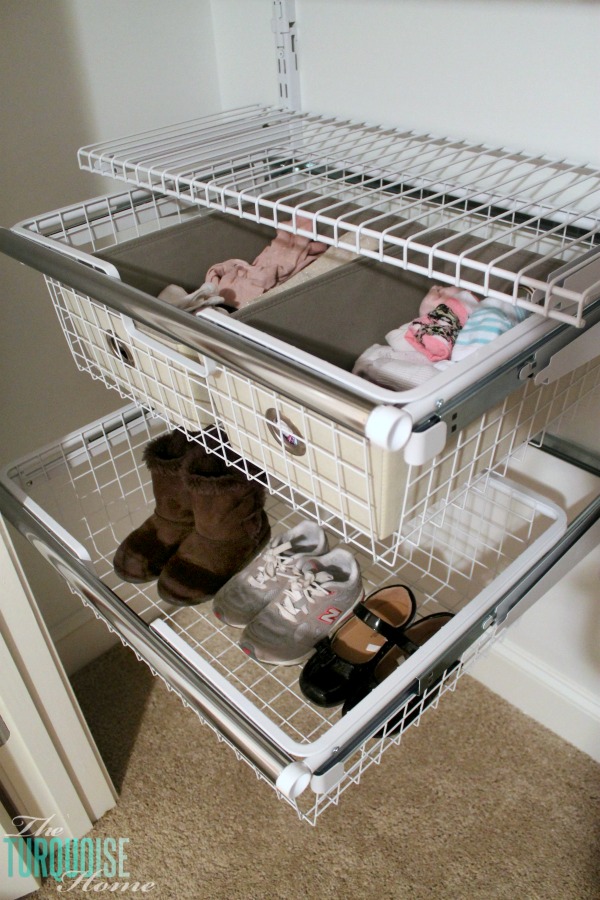 There's a lower hanging bar where I keep her dresses and nicer shirts. And then of course her pants and t-shirts live in the lower dresser drawers where she can reach them. It's wonderful that she can dress herself AND put away her laundry. 🙌🏻

2. Divide it up! About a year ago, I bought some drawer dividers for our drawers and it's been wonderful in my girls' rooms. Instead of having a jumbled mess in their drawers, we now have sections where specific pieces of clothing live. It helps just keep everything in the right place and we're not losing articles of clothing in the bottom back of the drawer anymore.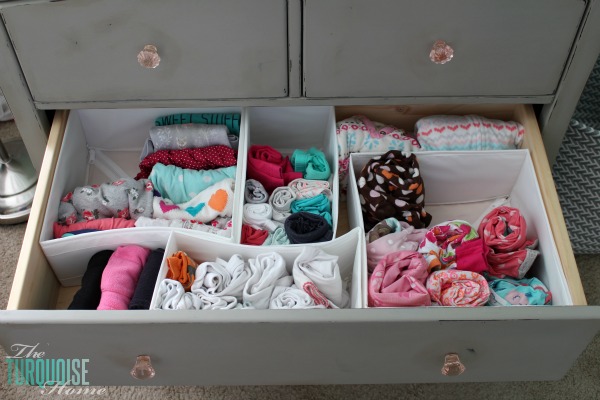 The Skubb Drawer Organizers from IKEA // How to Get Organized with IKEA
3. Set Out Their Clothes for the Week. If you really want to make your life easy and your child can put on her own clothes, set up a Days of the Week Closet Organizer in her closet so she can get up and put her own clothes on every day.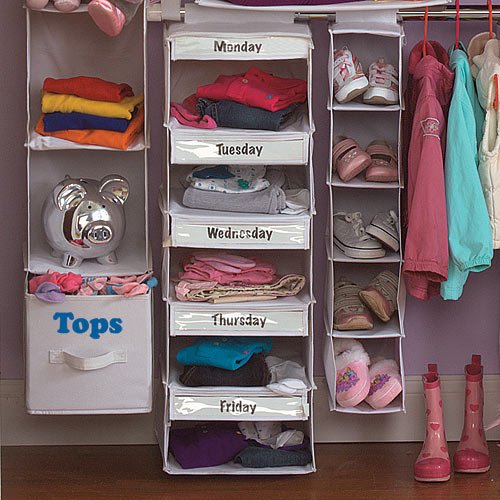 Days of the Week Closet Organizer (here and here)
4. Keep Storage Out of Reach. I know my daughter. She's a sentimentalist to the core! If she can find her old baby clothes (or just last year's summer clothes), she'll be pulling them out and reminiscing over them in a heartbeat. I keep the old clothes than I'm keeping for any potential future children high up on the closet shelves, out of the way and out of reach.
5. Create a System for Hand-me-Downs. This one is probably my biggest hurdle when it comes to kids clothing. (Well, besides curbing my spending habits, because it's hard to not buy every cute little thing for my girls!) I don't know about you, but I like to sell some clothes, donate some clothes and keep some clothes after each season. I recently had to tackle my younger daughter's closet because it was overflowing with old, too small clothes that I had just thrown in there.
Here's the thing. I am so grateful that I kept my oldest daughter's clothes. I saved a lot of them! All the while I kept thinking, it's highly unlikely that I'll ever have another daughter (I'm the oldest of 6 kids and the only girl) and it's SUPER highly unlikely that I'll have another daughter born in the same season. So, I just knew that saving her baby clothes would most likely be a waste of time. Well, lo and behold, my second daughter's birthday is 6 days before my oldest daughter's birthday and we have used the heck out of those hand-me-downs! So, if you have the space and plan to have more children, I encourage you to save the best ones.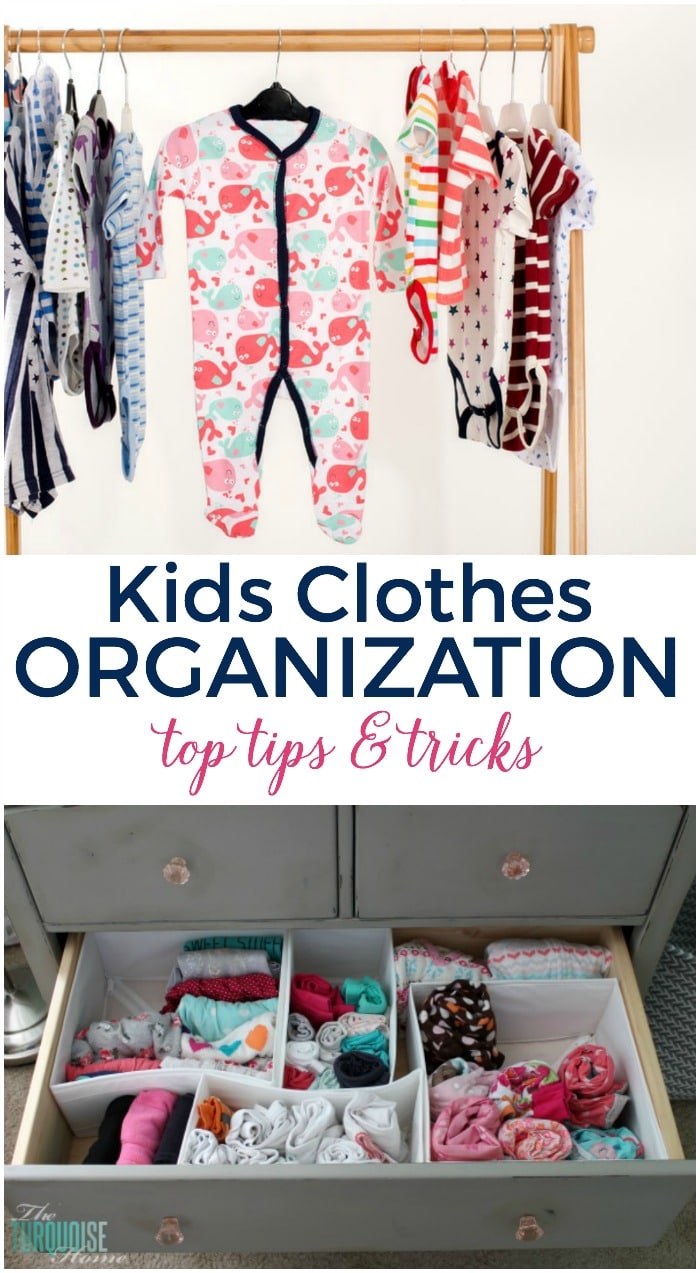 My Rules for Hand-Me-Downs
I sort my clothes into 3 categories:
The Trash Pile. Clothes that are stained or have holes in them go in the trash. I might give something away if it's only lightly stained, or may even keep it for the future child's run-around-the-house play clothes. But very stained clothes or torn clothes go bye bye.
Consignment Sale Pile. Clothes that I didn't love or use very much get sold at the consignment sale. I'm pretty brutal when it comes to this category. Clothes can lose a lot of value sitting in a bin up in a closet for years, so if I'm not 100% sure that I LOVE the outfit, it gets sold. I also will tend to sell something if it's been worn by 2 children already and it's an older item. Chances are, by the time it's pulled out of a bin for another child, we wouldn't want to wear it. Might as well sell it and recoup a little bit of money. Selling their clothes helps to earn money to buy the next season's clothes. I love, love, love selling my kids clothes at our local consignment sale. I encourage you to find a high quality one in your area.
The Keep Pile. The clothes that I do keep to pass on are my very, very favorites! I've found that I do enjoy buying new clothes for the next child, so I'll use my favorite clothes from the first kid and then buy more new clothes for the second kid.
Tip: One thing I almost always save, unless they are just torn up, is pajamas. Those things are expensive, and honestly who cares if they are a little stained or worn out? Nobody sees them except for the family when they are going to bed. 😊
Once I've selected my favorite clothes, I store them in plastic tubs in a closet. I used to store them in the attic, but I found that it caused them to yellow quickly. Really keeping the "keep pile" to a minimum allows me to keep them inside.
The Messy Work: Choose one child's room and work to declutter! Remove the too small clothes and create an organized system for the clothes they can wear and use. Remember to keep the clothing where they can reach it!
In the mess with you, Laura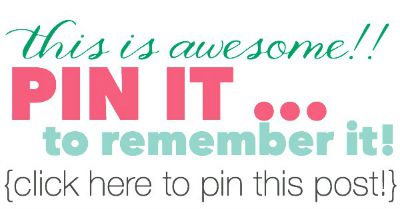 SaveSave
Get Instant Access to my Guide to Customize Your Home on a Budget
Grab your FREE guide for 10 Ways to Customize Your Home on a Budget: simple projects to transform your home from builder beige to a home with character and charm!