A Guide to Wall Trim and Wall Molding Ideas
Discover some new wall molding ideas to add to your home to increase the architectural interest with only a few DIY skills required.
Adding trim details to blank walls is nothing new, but it in fact one of the easiest ways to add architectural details to your home! And it can be an easy project to DIY, so even better for the home owner who wants to add character without breaking the bank.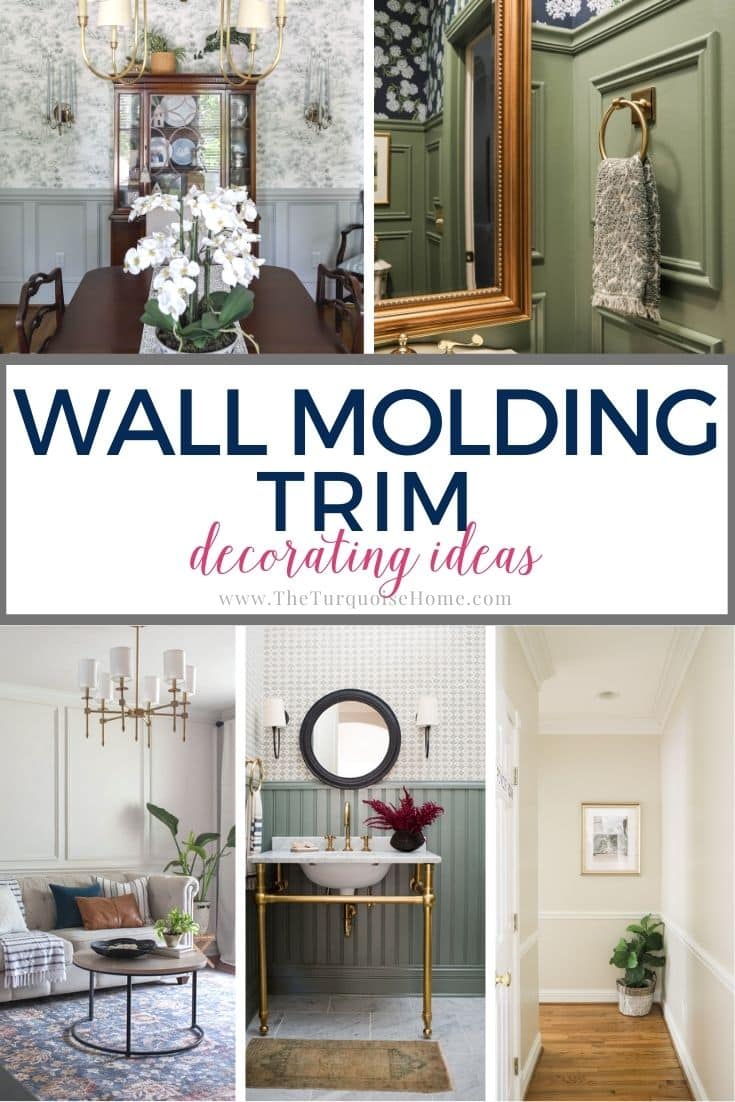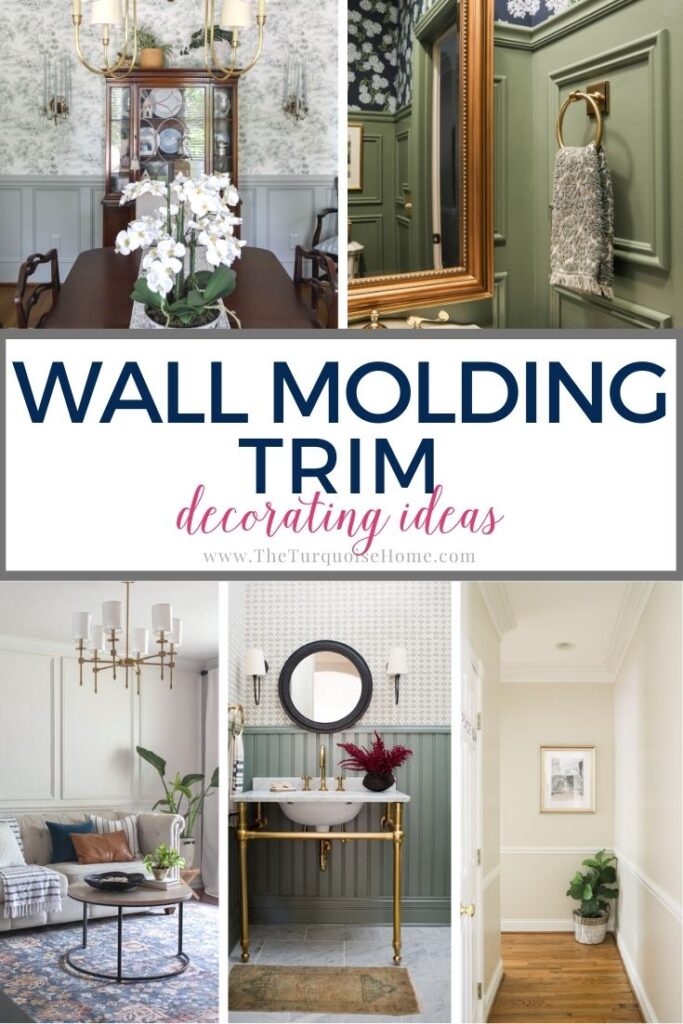 Wall moulding and trim ranges from the trim around doors and windows to the ever popular shiplap and board and batten. It runs the gamut from picture moulding to chair rails and can be as creative as you want to be!
The seemingly recent rise of the wall trim moulding is actually nothing new. We've long since seen the evolution of placing different types of moulding on walls as a form of architectural decoration.
Wall Moulding Trends in Interior Design
For the 2010's the big push was shiplap or vertical planks and board and batten. Shiplap was nothing new in 2010, but its rise to popularity was brought about by the Fixer Upper and Farmhouse movements. And while both of these wall treatments have their place (and always have), they've become less popular than it was back in the 2010-2020 decade.
And now the trends have shifted to include the more traditional styles like picture frame moulding, chair rails, wainscoting and more!
What is Wall Trim or Wall Moulding?
Well, there's a slight difference between trim and moulding. Wall trim is the general term used for any and all wood or other pieces places on a wall. It can include common usage like baseboards, window casings, crown moulding, etc. Many times the job of trim is to cover the gaps in construction.
Wall molding/moulding is a purely decorative type of trim that is used for ornamentation on a wall, like wainscoting, chair rails and picture frame moulding.
Wall trim and moulding are made out of any type of wood, MDF, plaster or stone.
Personal Experience with Wall Trim
In our previous home, I did my first DIY wall trim project when I added a board and batten to my expansive living room. The home had an open floor plan, and the board and batten helped to distinguish the space from the adjoining rooms. And it added a level of interest to an otherwise open, blank canvas.
I again added board and batten again in my girls' bathroom in our previous home. This acted as a hook system for their bath towels in a room that lacked storage. It was a beautiful way to incorporate the hooks on the wall in a fun, colorful way!
Then in my current home, I've added double picture frame moulding and a chair rail to give a powerful punch of color and interest in an otherwise tiny, plain powder room! The wall ornamentation packs a punch and gives the room a whole new feel.
My dining room in both my current and previous home, both have wainscoting. But my current home has much more elaborate and chunky wainscoting than my previous dining room.
Altogether, I've loved how adding some simple trim moulding to the walls can completely change the look and feel of a room.
Different Types of Trim and Wall Molding Ideas
1. Picture Frame Molding
This type of molding is named for the fact that it takes the shape of a picture frame. It can be as elaborate or simple as you want it to be. You can add multiple layers of picture frame molding or use it to divide up a room, as I did in our powder room.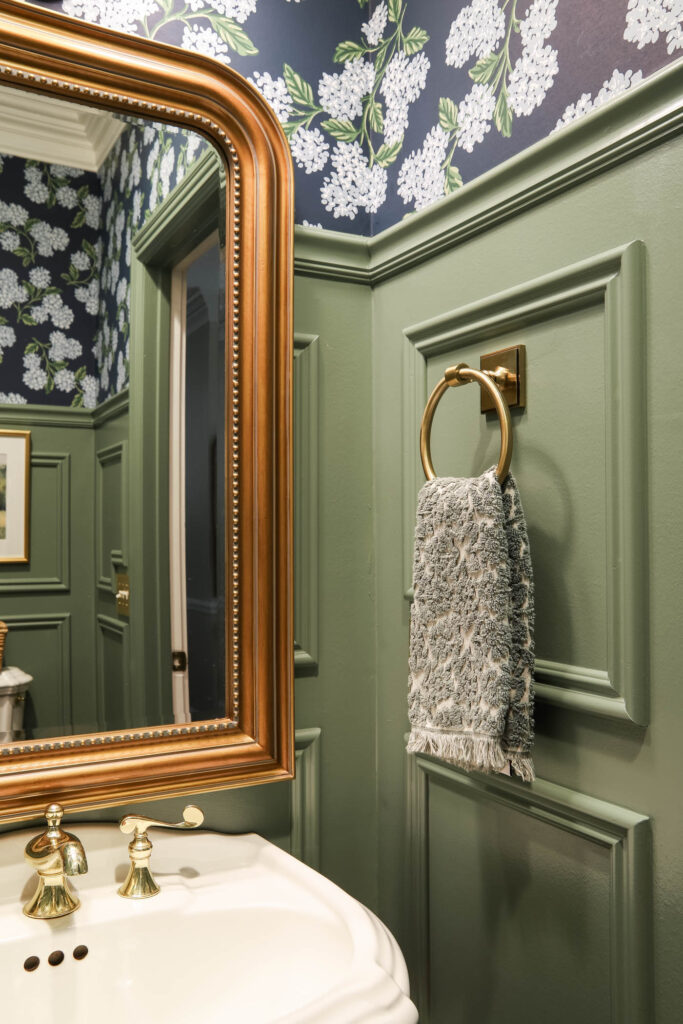 I used the two boxes in my powder room makeover to divide up the room and I topped the picture frame molding (tutorial) with a chair rail on top before I started the wallpaper above it.
2. Wainscoting
Wainscoting is a wall treatment typically along the bottom third of a room. It's often used in traditional dining rooms and classic homes. The most common way to install it is as a picture frame molding topped with a chair rail on the lower third of a room.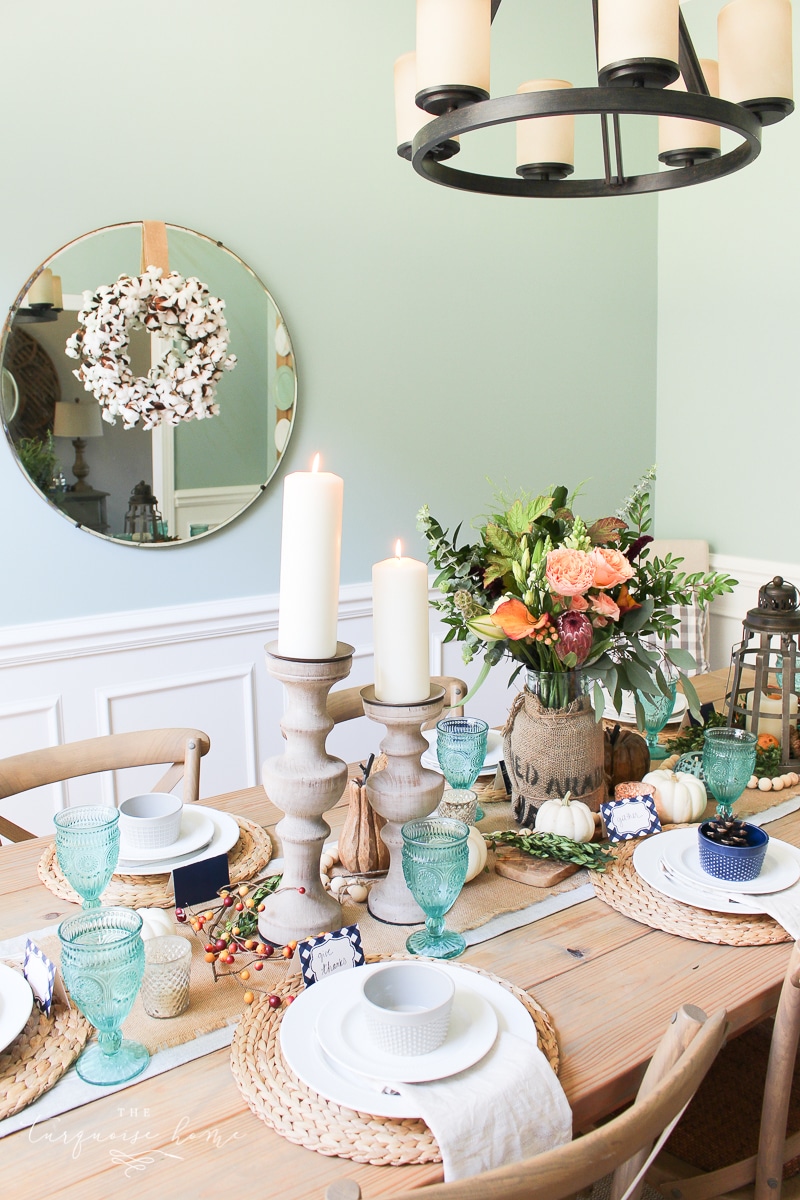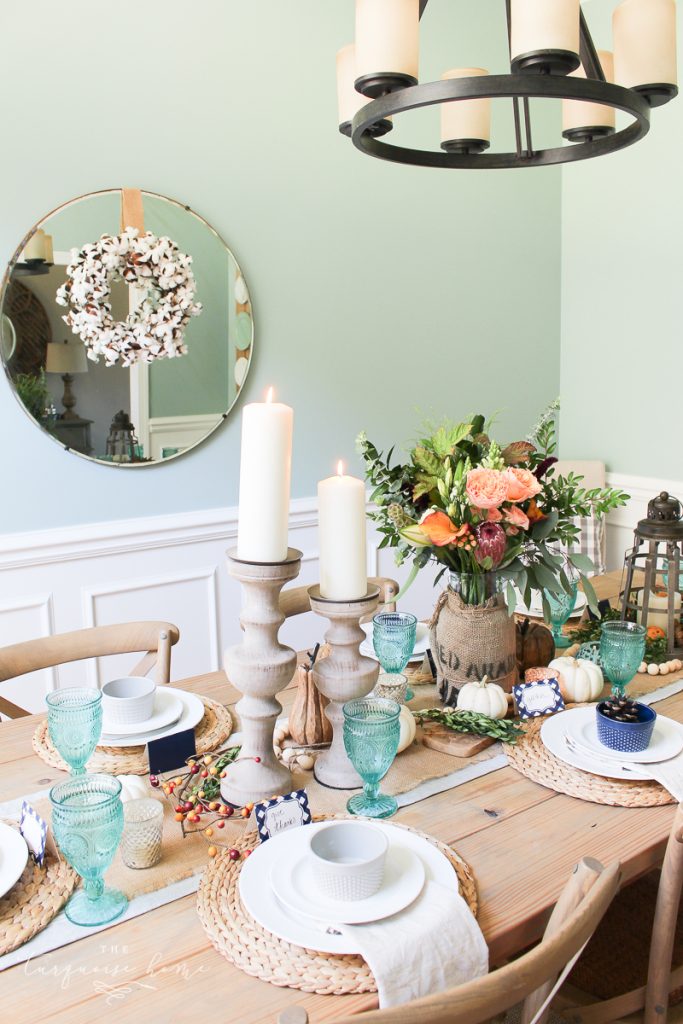 3. Raised Panel Wainscoting
This wainscoting is a bit bulkier then a regular wainscoting. It uses deeply beveled squares or rectangles in panels for a classic look. You would use 1 inch thick boards to make a framed pattern on the lower third of the wall, then trim the insides of the frames with decorative trim.
This post contains affiliate links for your convenience. See my full disclosure policy.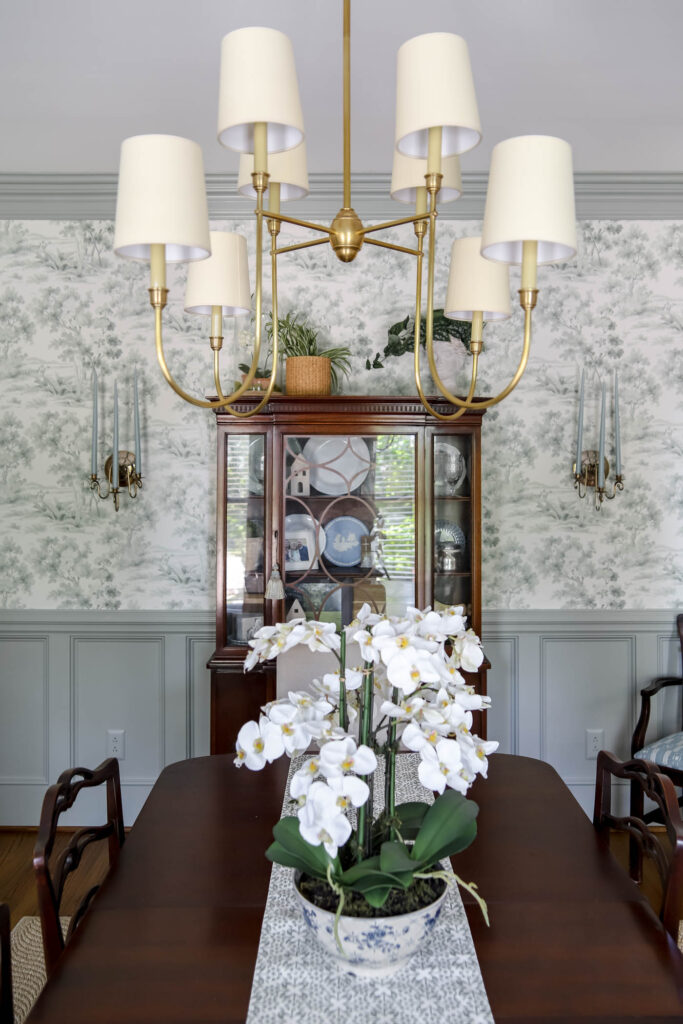 My current dining room boasts raised wainscoting.
4. Picture Rail
A picture rail molding is a simple wall molding idea placed horizontally around the perimeter of the room, a few feet from the ceiling. Originally people hung pictures from a picture rail molding so they wouldn't damage the walls. These days people will add it with or without the pictures!
5. Board & Batten
Board and batten gets its name for the boards you place on the wall with vertical battens placed incrementally along the wall. Adding a horizontal board or ledge trim to the top completes the look. It lends itself to a more casual vibe and less stuffy or formal than picture frame molding or wainscoting.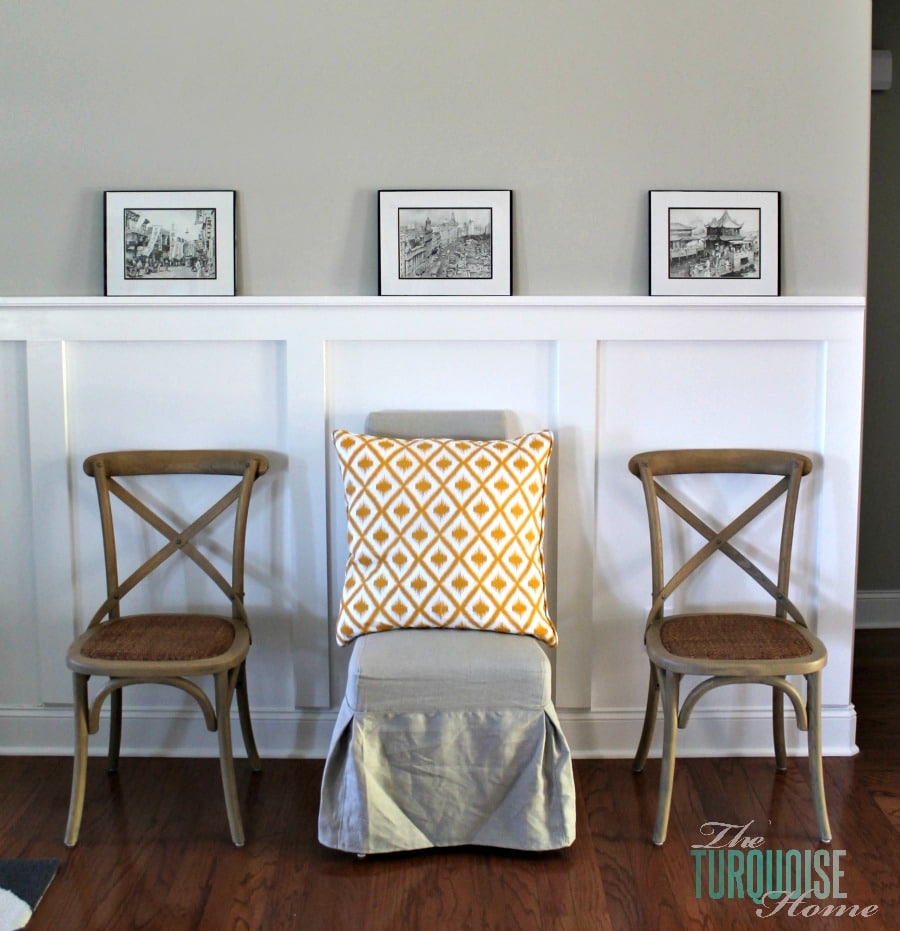 I used this architectural element in my huge living room in our old house. It was an open concept floor plan and the board and batten helped to define the space.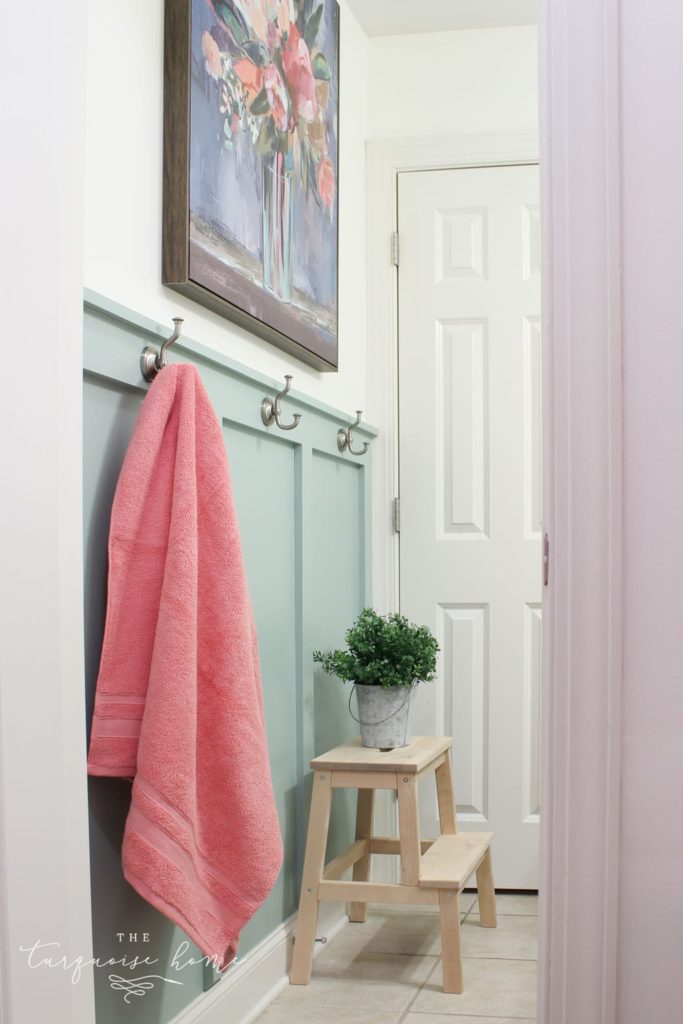 I also used board and batten to add interest to my girls' old bathroom. It gave me a place to put their hooks to hang their towels in the small space!
6. Shiplap or Vertical Plank
Shiplap has been so popular in interior trim over the last decade that in many cases it was confusing about exactly what it is.
So, what is shiplap?
Shiplap board are 4-inch+ wide planks with two rabbeted edges — one on the top, one on the bottom. The top edge of one board laps over the bottom edge of the 2nd board to make a flush joint, creating the grooved look. You can install it vertically or horizontally.
But you can also use vertical or horizontal planks to mimic the look of shiplap. Just install the planks with a small space in between and you will have a similar look without the cost!
7. Beadboard
Beadboard is a style of wood paneling characterized by long, continuous vertical grooves and raised beads spaced every inch or two. It originally was constructed of individual tongue and groove slats that created the beaded look. But now they are sold in solid panels for easier installation.
I'm planning to do a beadboard treatment in my laundry room makeover topped with a chair rail. The ceilings in my screened-in back porch have beadboard paneling as well as the half walls.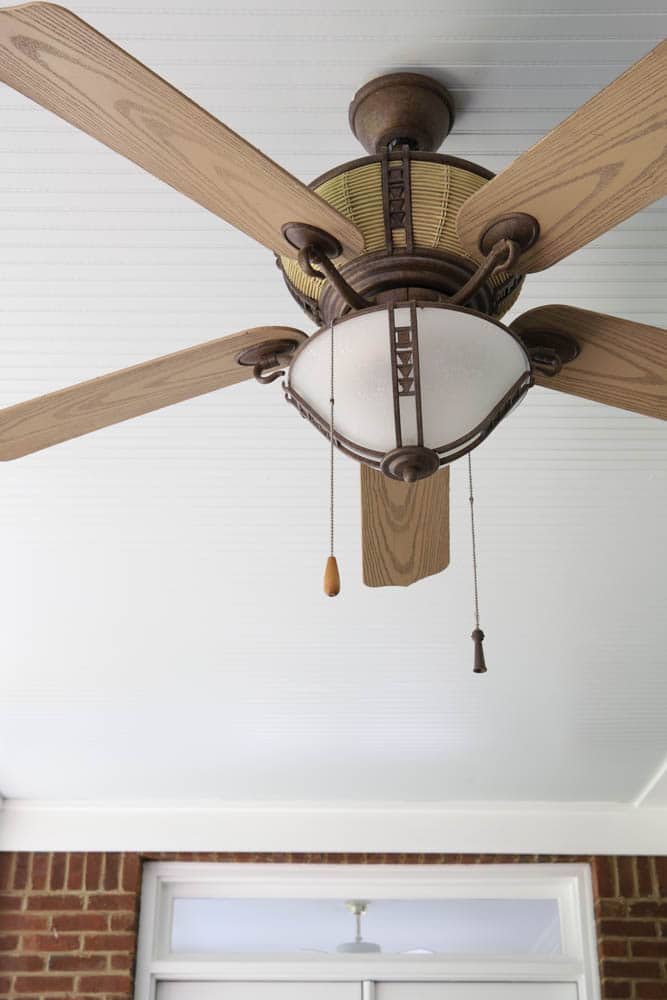 8. Chair Rail
This wall trim molding style is a very simple horizontal piece of trim about 32-36″ above the floor. Originally installers used it in homes to prevent furniture from scraping the wall. But over time it's taken on a more decorative role.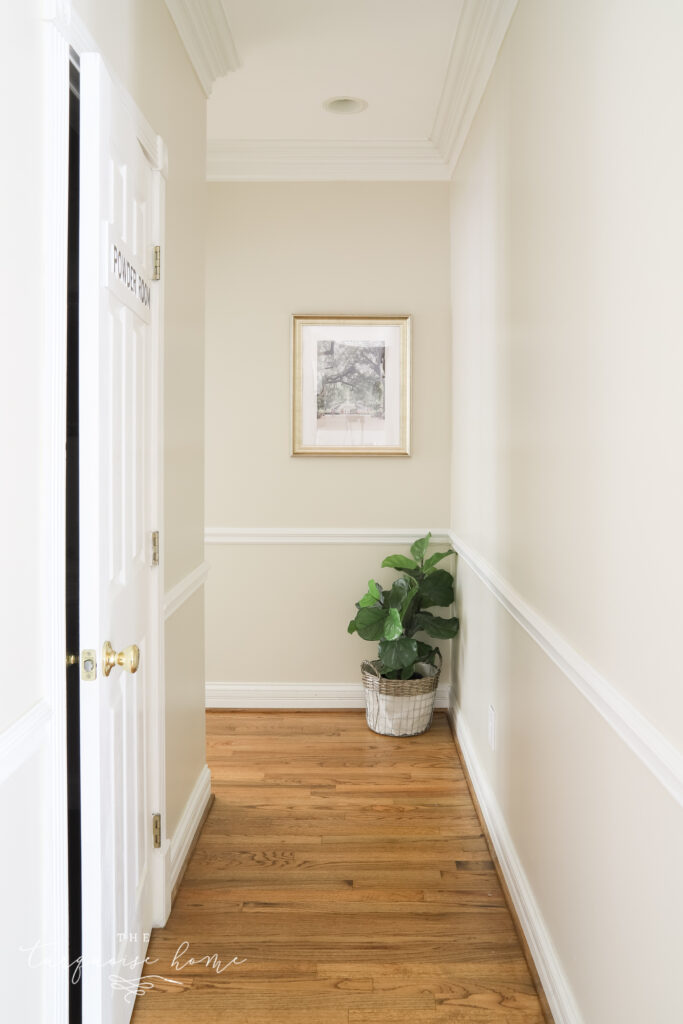 It can be used to distinguish between two different wall colors, wallpaper, and paint, or in my case, it can be used as a basic decorative trim for no reason at all.
Often times a picture frame moulding, wainscoting or beadboard style will be topped with a chair rail.
---
I hope you've found some inspiration for wall trim ideas to add to your home. I love how easy it is to add it with a few simple DIY tools and beginner skills. Be sure to see my picture frame molding tutorial if you want to try it for yourself!
More Posts You Will Love: