10 More Essential Tools for a Beginner DIYer
Many basic home projects and updates can be done by a homeowner with these 10+ beginner DIY tools!
When I started this blog, I had just moved into a cookie cutter, builder-grade foreclosure in need of a lot of personality. The only problem was we we didn't have any money to do anything. So, I taught myself how to DIY!
I started collecting tools for every birthday and Christmas, and taught myself how to use them so I could decorate my new home with as little money as possible. If you're looking for my top 5 DIY tools start here!
And these are the basic tools I collected over the years and still use today as I makeover my new home!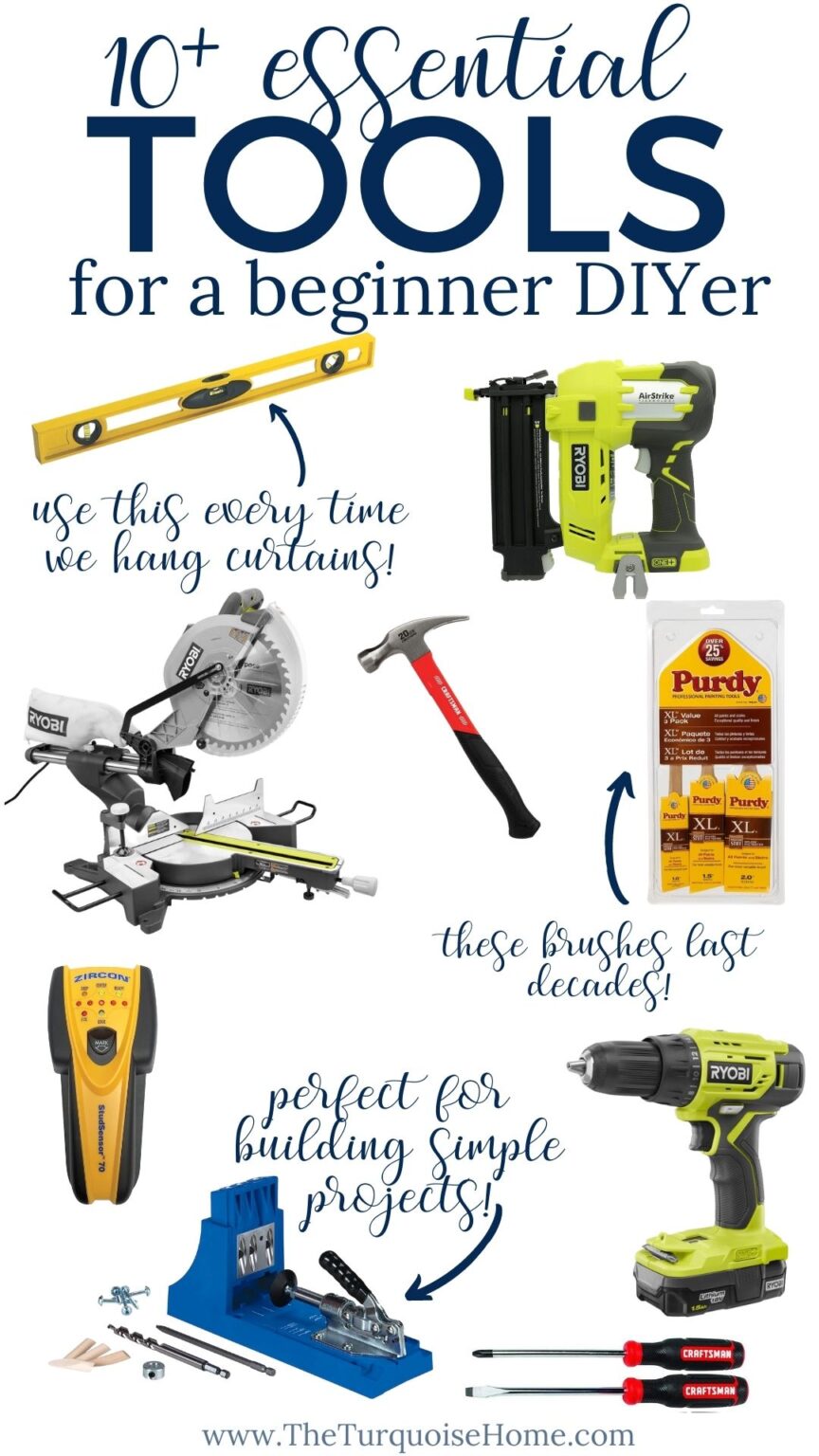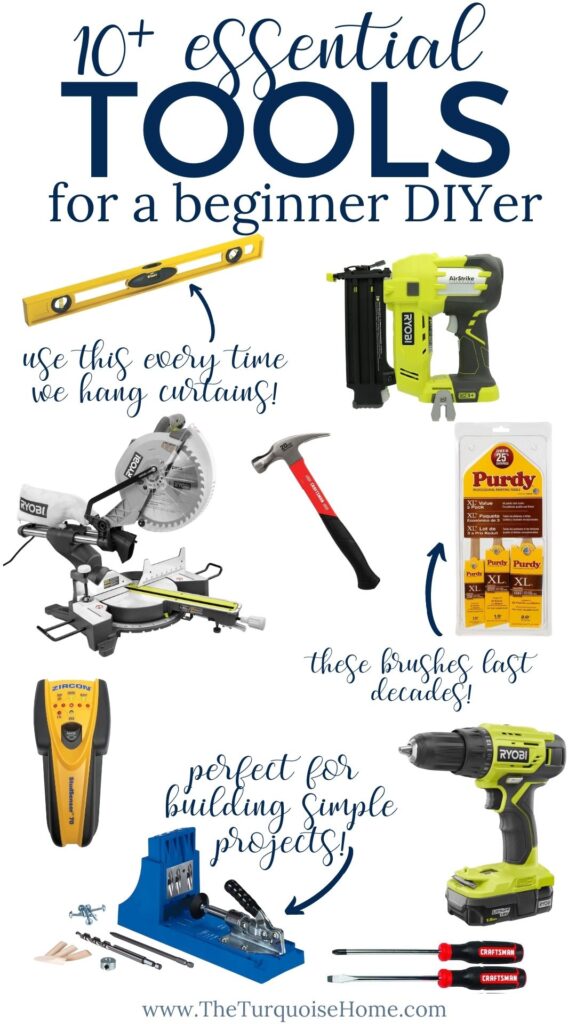 When I first started DIY projects, I upgraded a pair of $35 night stands, made a headboard for our bed frame, built a dining room table and matching bench. These tools really came in handy when we didn't have the money to buy from the store (or when I couldn't find what I wanted at a store).
While I may not build as much furniture these days, I love having these tools in my back pocket whenever I need them! They've come in handy recently when I bought a custom door for my dishwasher and when I put panels on the unfinished back of my desk.
This post contains affiliate links for your convenience. See my full disclosure policy.
10+ Tools Every Beginner DIYer Needs
I tried to think through all of the tools I use the most and how often I use them! These are the brands I personally use and love.
Both the drill and the hammer get the most use in my home. From hanging art to changing out lighting fixtures to painting walls and needing to remove outlet covers, you need a good drill for the most basic projects!
I've had my Ryobi cordless drill for years and it works like a champ!
It's obvious, but has to be included! I'm so thankful my parents gave me a tool set when I left for college. I've never been without one in my adult life!
I've shared to some great basic tool sets that would be perfect for a college student or a new homeowner! Click/Tap the images below to a shop a variety of price points. (How cute is the pink set? Or one that includes a drill!)

I love having a 24-inch level with a built-in ruler on it. It makes hanging art and picture frames SO easy! I used a laser level for my board and batten project in my living room. So, if you're attempting a larger project that needs a level, a laser level might be your best friend!
We use our screwdrivers for everything!
Whether you need to make a simple touch up, or paint an entire room, you cannot go wrong with a set of Purdy paint brushes. I've been using them since high school (2+ decades! 😳) and they last for years! I don't use anything else.
I wish I could have put this tool higher on the list, because after all of the basics of hammers and screwdrivers, this is one I couldn't live without! The Kreg Jig is such a great tool for any kind of building project. I've used it to build simple planters to my farmhouse dining table. It's such a great pocket hole tool!
The Kreg Jig 5 is next on my tool wish list. It's a great upgrade if you plan to build a lot of projects!
This was one of the very first tools I asked for for a birthday or Christmas. Sure, I had a circular saw and a hand saw, but I wanted something faster and easier! I started with a 10″ non-sliding miter saw, but quickly upgraded to this 12″ sliding compound miter saw. It was so handy when I did the board and batten in my living room!
You'll need these for so many projects!
I probably should have put this before the miter saw, but I love my miter saw so much more than my circular saw. But it's nice to have a circular saw for cutting larger boards, like plywood. And when you need to upgrade from your circular saw, a table saw is nice to have, too!
I've used this brad nailer so many times over the years, from building frames for my canvas art, to the board and batten projects I've tackled!
I have a heavy-duty brad nailer with air compressor, but I've had my eye on this cordless brad nailer for years and have so many friends who have it and love it! Definitely on my wish list!
If you plan on refinishing any furniture, or needing to paint cabinets, I love having an electric sander. It's so much easier and faster than sanding by hand!
These are great for patching any holes in the wall! I love this spackling compound for filling holes that goes on pink, but turns white as it dries. It's easy to know when it's ready to paint over.
And if you have a ton of nail holes to fill, I can't recommend this little compound and putty knife in one tool.
I grab my stud finder any time I'm hanging anything on the walls!
Drill bits come in handy all of the time when drilling for different things – from art to window treatments to TVs! These will come in handy for a variety of projects!
I could go on and on about my favorite beginner tools, but I think we'll start getting into the realm of advanced tool ownership if I don't stop now. 😉 It's been fun to learn how to use these tools over the years and I feel empowered to tackle projects on my own!
I hope you've found this list helpful! Do you think I've left out anything vital or have anything to add? Leave it below in the comments!
MORE POSTS YOU WILL LOVE: