Improve your productivity and efficiency by having a great organization system for your home office. Use some of these home office organization ideas to get started on your dream office right away.
Working from home may seem like a dream, but you know what is essential to make working from home successful? Having a well-organized home workspace! Whether you're using an entire room or a nook, setting up a workspace that not only looks amazing but is highly functional supports productivity.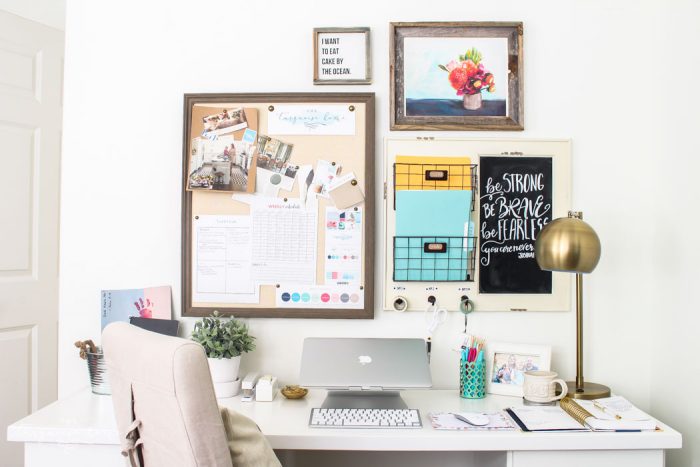 I can tell you from experience that having a messy, unorganized office prohibits creativity and productivity, because my office in our previous home was unorganized for the past year.
I got to the point where I hated to even go in there and would just grab my laptop and work on the couch. I'm so thankful that so far my new office has been much more organized and is a much better work space than before!
Every office has its fair share of files, papers, accessories, and general clutter. Without solid organizational systems in place, it's hard to keep your home office organized.
No matter what the size of your workspace, there are plenty of storage solutions that will help you stay on task while also keeping you organized and efficient.
This post contains affiliate links. See my full disclosure policy here.
Essential Home Office Organization Ideas
Need a little inspiration to turn your workspace into a well-running home office?
Keep reading for 8 clever office space organization solutions I have found to create a more productive workspace. From now on, every last pencil and paper clip will have a home.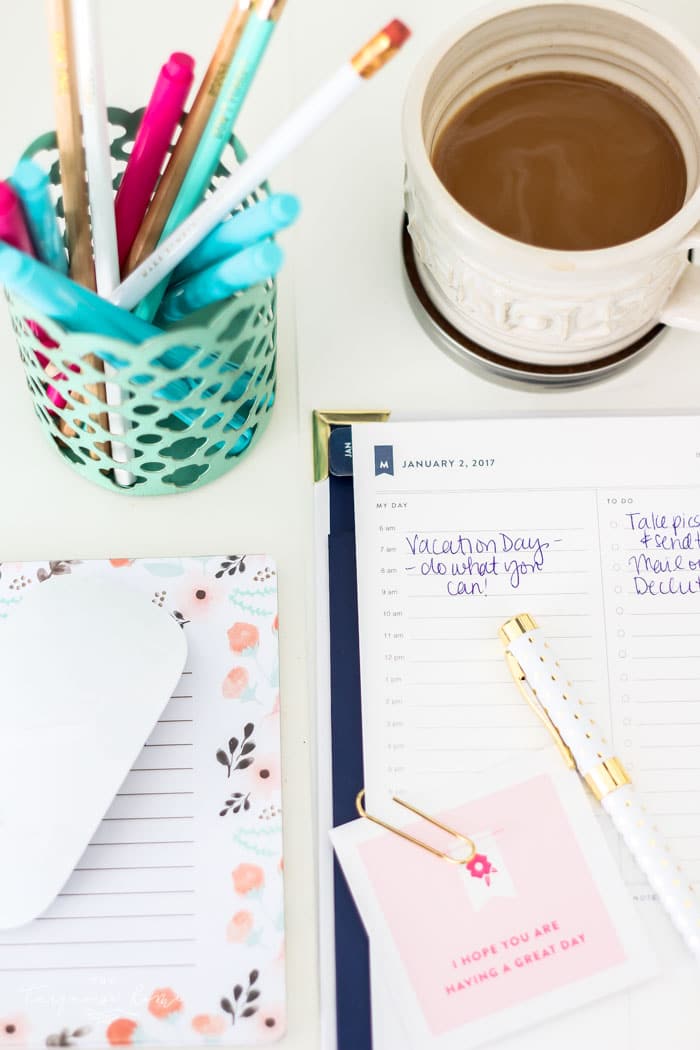 Tired of Feeling Overwhelmed?
Join the FREE 30-Day Decluttering Challenge & Find Peace in Your Home Again!
Create Ample Work Space
Who can get anything done without enough room to work?
In order to have a workspace that encourages creativity and productivity, you should have sufficient room on your desk for your computer or laptop, writing space, and any additional work areas that you need.
I love the long desk in this office because it has plenty of room to work and anything else you need to take care of, which is why it tops the list of office organization ideas. It's also crucial to complete your desk space with a comfortable desk chair to support good posture and prevent hunching over your desk.
Achieve this workspace with these items:
Create A Desktop Filing System
Paper piles accumulate because we don't always have the time to file away.
By creating a desktop filing system for your top 10 or so most used files, you can eliminate paper clutter from the desk and keep your work area usable. You can even use colored or patterned folders to add a little pizzazz to your office.
Achieve this functionality for your office with these supplies:
Utilize Your Wall As Storage
It's easy to pile up important to-do items on your desk with the intention of getting to it later.
However, piles like that only lead to clutter and losing track of items. To combat this habit, use your wall space to hang baskets designated for important items you need to take care of.
I love that an office wall organizer is a quick and easy system that keeps you organized and helps you STAY organized, while also giving you a visual reminder of what tasks (such as mail, bills, or other action items) still need to be done.
Here's what you need to create this wall organization system:
Or choose one of these pretty, yet functional organizers for your space:

Add Shelving To Create Space
Finding a bookshelf that fits your space and budget can sometimes be challenging. That's why I love this stackable crate shelf idea!
Whether you stack it tall, turn it sideways, or paint it, it's completely customizable for your space and design.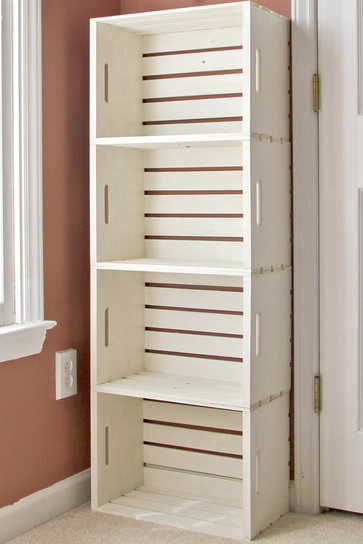 Here's what you need to use this system in your office:
I bought this little bookshelf for my previous office to house my printer, cable modem (hidden in the basket) and some pretty decor on top just to make me happy!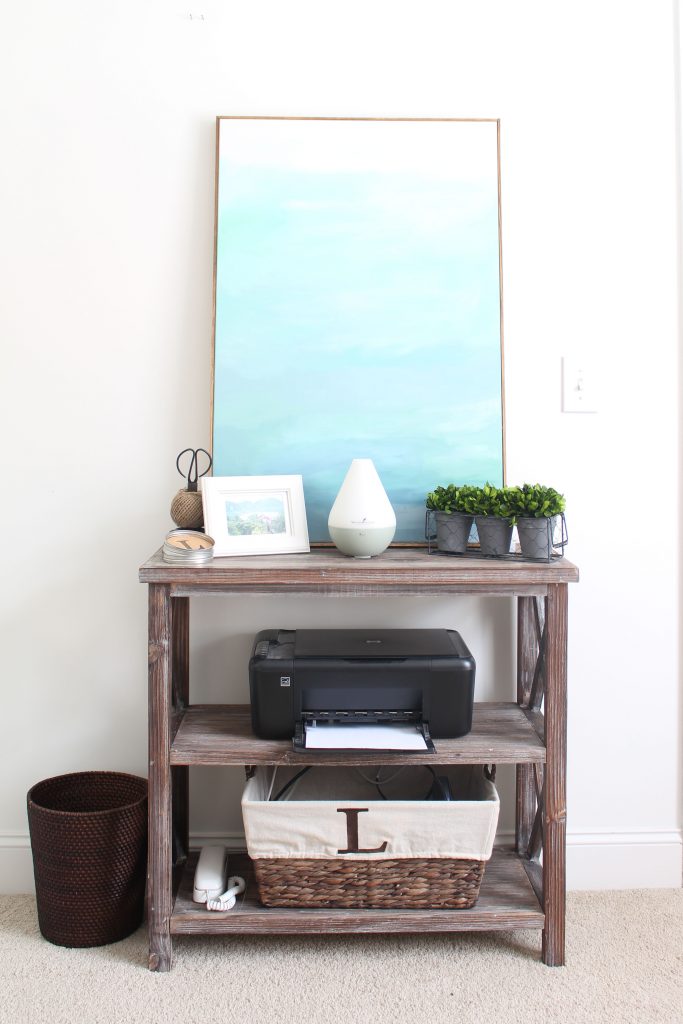 Put Together Some Organization Shelves
Shelves are one of my very favorite office organization tools because they are so versatile and functional. But if you don't have a great organization system in place, shelves can quickly become another pile of clutter.
Whether you have open shelves or shelves in a closet, you can use magazine holders to keep everything from magazines to colored printer paper.
I love the simple yet flexible efficiency this system provides. I also love that you can go simple or colorful with the design scheme – a beautiful and efficient office organization set up is my favorite!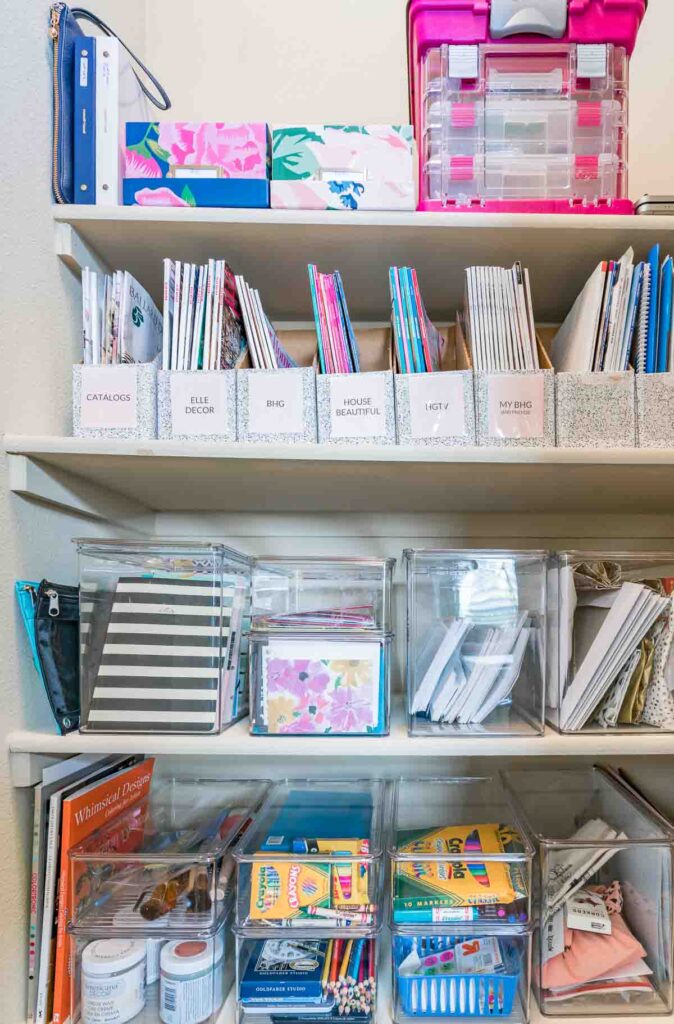 Here's what you need to make it work for you:
Make A Home For Those Desktop Items
Do you keep all of your pens and highlighters in the same coffee cup turned office cup from months(or years) ago?
Make your desk clutter-free and step up your office game with a cute desk organizer. You can make a DIY version or choose from a variety of options, all depending on the look you want while getting organized.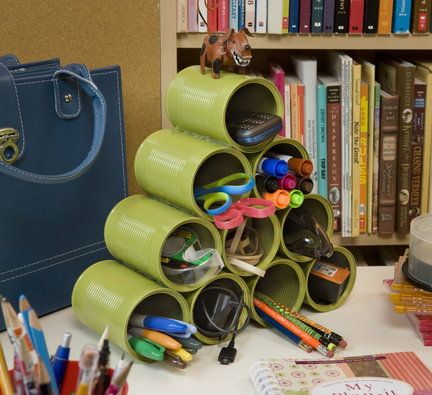 Here are ways to give all your office supplies their own space:

Design A DIY Paper Organizer
Are you are ready to tackle all the documentation, paper assignments, and other files?
If so, then this paper sorting desktop organizer would just rock! I love that you can find it in several colors or use contact paper to add a designer twist to your home office organization. You can also use your label maker to add a personalized touch so that you know what goes where at all times.
Here's what you need:
Put Together A Printer Station
Having an efficient printer station plays a big part in productivity and success in your small home office. Not only do I love this look, but I think it's such a great idea to have a printer area so that all my supplies are nearby and easy to find.
Here's what you need: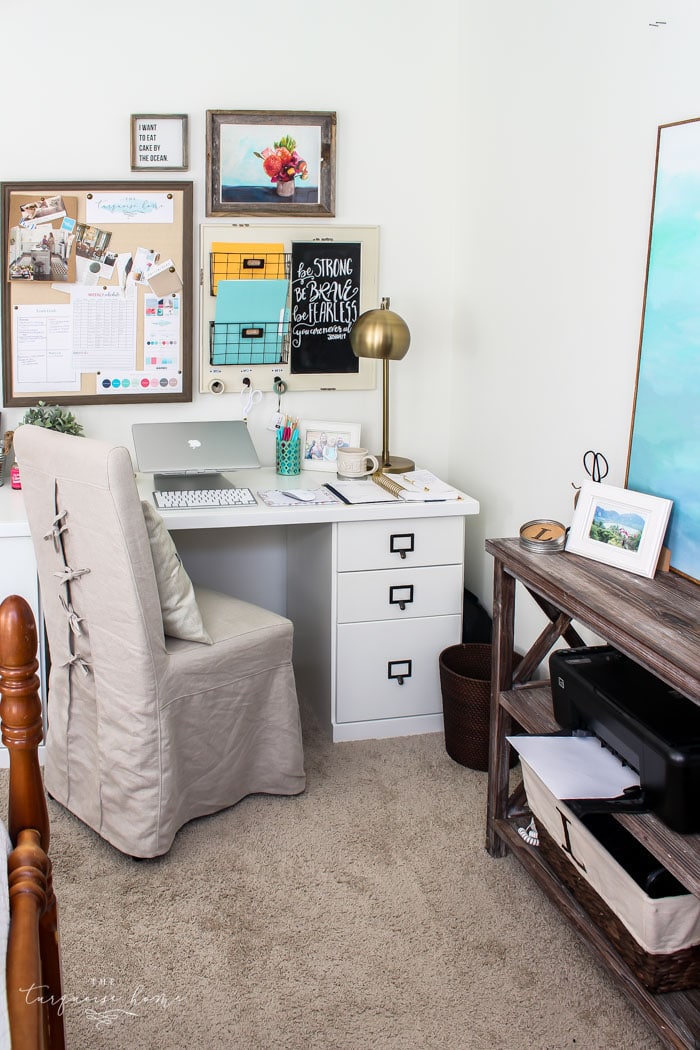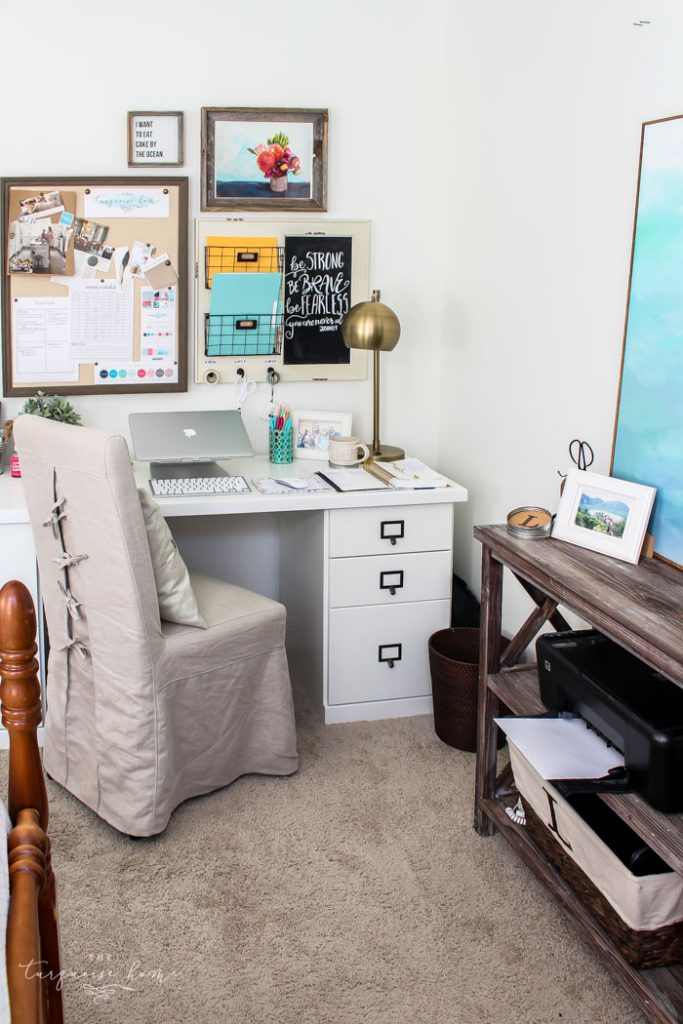 I created a printer station in my office years ago and it's been great! I moved it into the new house and it now sits right behind my desk, so that when I print something, I can turn around and grab it. Love that easy functionality!
More Organization Ideas
With these simple and effective home office organization ideas, you'll be more efficient and productive than ever!
If you are looking to expand and implement some more organization ideas in your home, check out some of these blog posts:
I so hope that these organizing tips have helped you! It's a daily struggle over here to stay organized, but the rewards are SO worth it! If you're having a hard time keeping your home in check, I'd love for you to join my 30-Day Decluttering Challenge for FREE! If you stick to it for 30 days, you'll learn habits that you will carry with you for the rest of your life! Come and join us!
MORE POSTS YOU WILL LOVE:


Get Instant Access to my Guide to Customize Your Home on a Budget
Grab your FREE guide for 10 Ways to Customize Your Home on a Budget: simple projects to transform your home from builder beige to a home with character and charm!