How to Organize Christmas Decorations
How you organize your Christmas decorations can make a huge difference when it comes to decorating the next year. Follow these tips for easy organization ideas and you'll be patting yourself on the back next November!
Last year I feel like I did the best job I've ever done organizing my Christmas decorations after the end of the season. I've always done a pretty good job of putting them away. But this year I was high-fiving my past me as I was taking the boxes out of the attic.
This system made it so easy to keep things organized as I decorated my house this year. I could easily decorate one room at a time and then take the empty boxes back up the attic.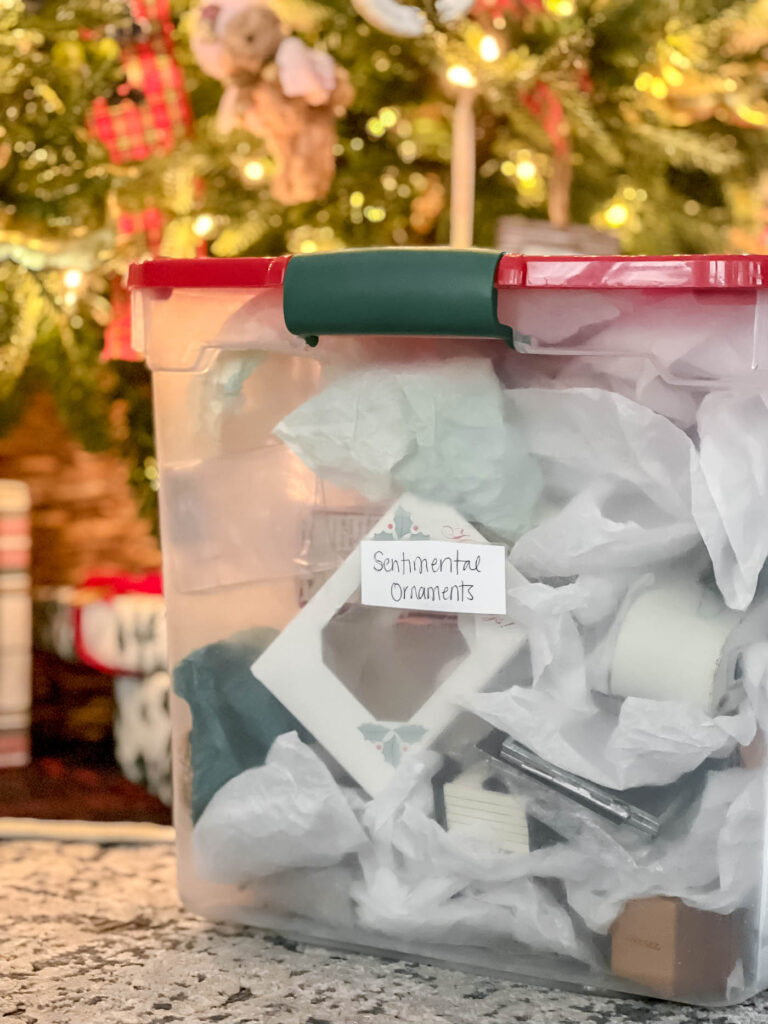 This post includes affiliate links for your convenience. See my full disclosure policy.
I will add that it took me many years to collect the right kind of storage items and perfect my system. So, don't get dismayed if you don't have it all figured out right away. I find that tweaking my system each year and adding a few items to my storage bin collection each year helps make it less overwhelming.
Order these items now and you'll be ready to take down everything by this coming weekend!
I love to be organized and help others get organized too! I've shared about how to organize a pantry and how to organize a messy garage. It's impossible to decorate when your home is unorganized, so I hope some of these ideas help you create a home you love!
Navigate this post easily by using the drop down Table of Contents menu below. And feel free to pin it for later, so you don't lose these ideas!
How to Store Christmas Decor by Room
The ONE thing I did differently last year that I had never done before is to…
Organize the Bins by ROOM!
It's so awesome to have my storage totes labeled with what room they go in, so my husband and I can take the boxes directly to where they need to go.
In the past, I had organized my stuff by TYPE. No ma'am.
So, all of the ornaments would go in one bin. All of the wall decor would go in another bin. And so forth and so on. It was super hard to put everything back in their boxes. Things always got left out and never made their way back into the Christmas stuff. It was a mess.
Some of these ideas will depend on how much Christmas decorations you have and how much storage room you have. I will say that since I have a lot more storage space in this new house, it's easier to implement this system. Before, I was trying to make everything as compact as possible to fit in my tiny attic. So, if that's you, I think you'll still find some things helpful.
Now I'll share how I do store each thing in the rooms. But if I just have a little decor, for say the bedroom or office, I'll put it all in one large tote and label it for the room. Now, let's get into the nitty gritty of the best way to store all of the items in your Christmas decor collection!
How to Store Artificial Christmas Trees
If the tree can fit in the original box, I will store them in the boxes they came in.
But I had trouble fitting my living room Christmas tree back in the box, so last year I invested in a Christmas tree storage bag for our large living room tree. The one we bought is really nice and has wheels, which makes moving it so easy! (I was able to move it upstairs to the attic by myself last year thanks to the storage bag!)
Be sure to check the height limit on whatever bag you buy, but I will say that I bought a 7.5 foot tree bag and my 7.5 foot tree fit with plenty of room to spare!
Organize Christmas Decorations: Ornaments
As I have more storage room now, I'm going to start separating my ornaments out not only by room, but by color and type. For example I'll have a box for each color and a box for wood ornaments and a box for sentimental ornaments, etc.
My biggest tip is to invest in hard sided CLEAR storage boxes for ornaments! I have tried all of the soft case ornament storage boxes and I've always had some kind of damage or they fall apart. And I've ended up getting rid of them all. So buy smaller plastic boxes like these for ornaments.
I have also found that the ornament separators that come with the boxes are too much trouble. Ha! I throw them away and just pack the ornaments in according to my system…
If I have glass or breakable ornaments, I usually keep their original packaging and just put them in the larger box. It's plenty to keep them protected. Otherwise, I wrap them up in bubble wrap or tissue paper and place them on top of each other. Obviously if you have shatter-proof ornaments, they can simply be tossed in. Just be sure to put your heaviest ornaments on the bottom.
Storing and Organizing Christmas Wreaths
Again, I love the hard plastic wreath storage containers. It's the best thing for keeping my wreaths protected and it's easy to stack them on top of each other! Just make sure they are large enough for whatever wreath you need to store.
If you need to slide them under the bed, though, these canvas wreath storage bags might be best!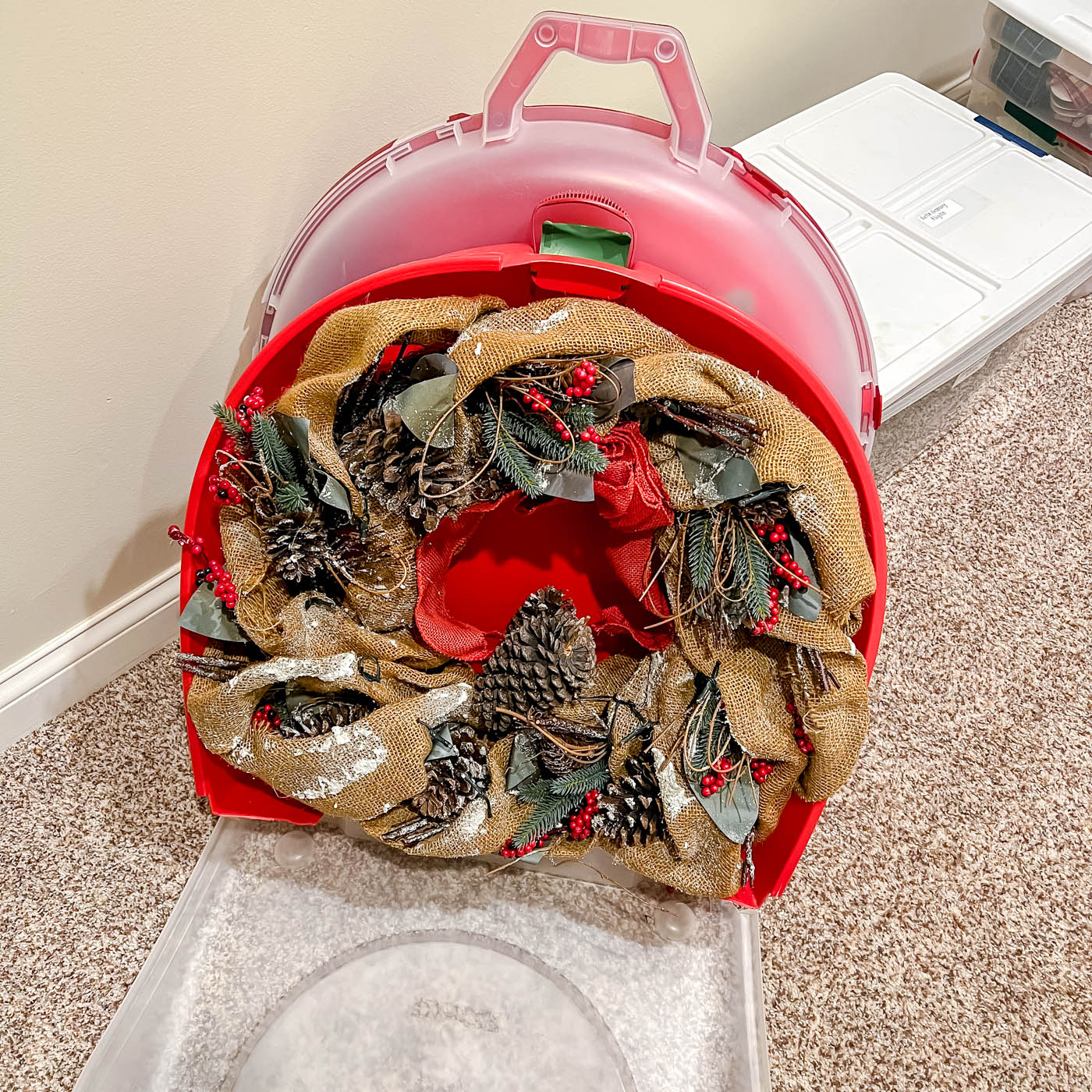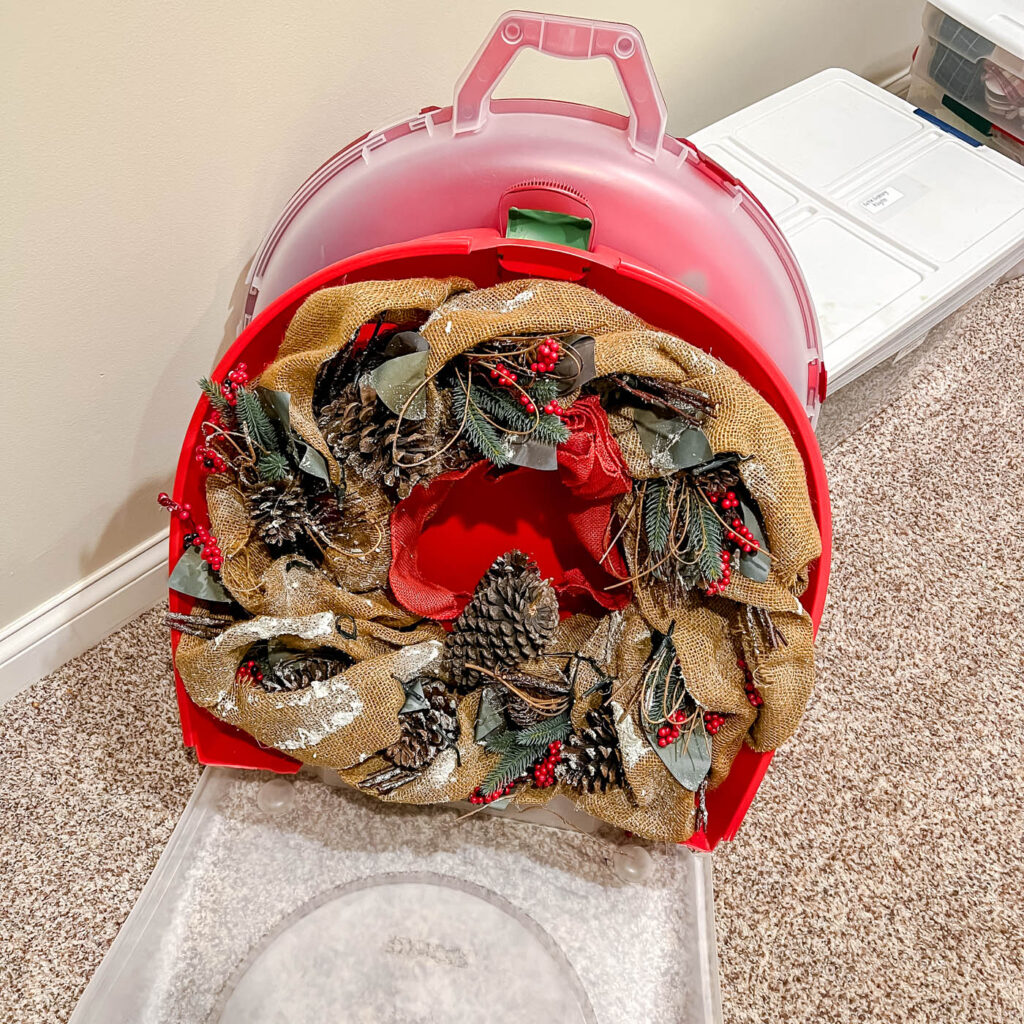 How to Organize Christmas Ribbon
Since I change up my ribbon each year depending on my color scheme, I store all of my Christmas Ribbon in it's own bin!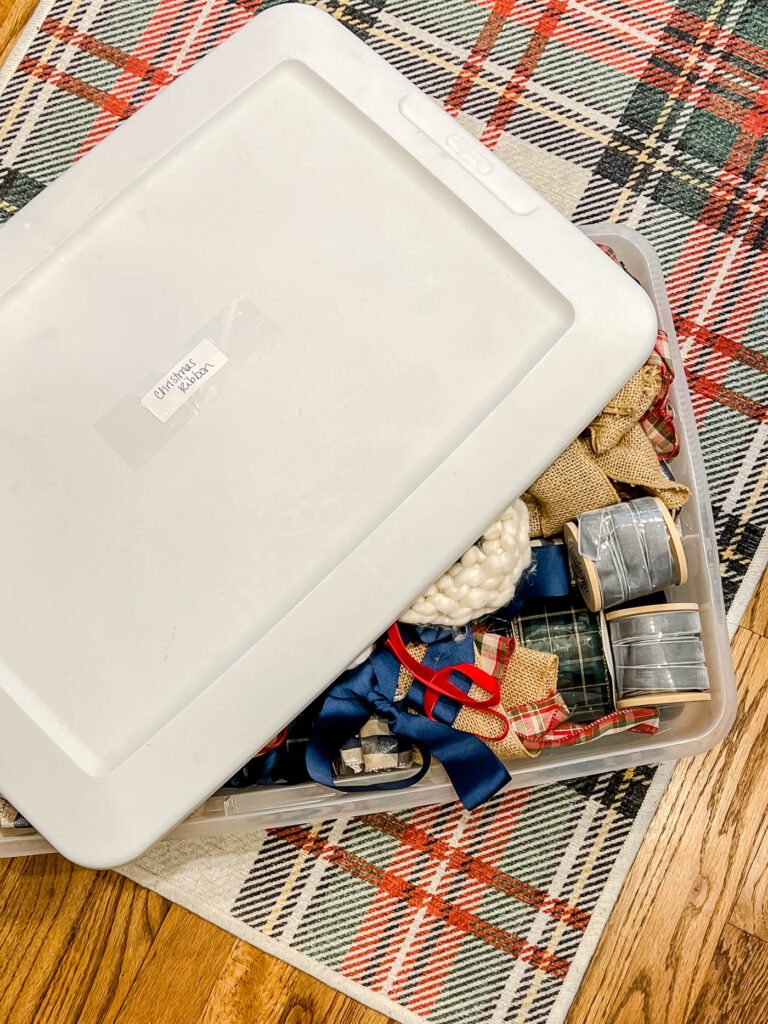 Organize Christmas Decor for Outdoors
All of my outdoor decor goes in their own large storage bins divided into these categories:
Wreaths
Garlands & bows
Lights – these light storage boxes are perfect for keeping light strands nice and tidy!
But they are all labeled "outdoor decor" as well, so I know those boxes go directly to the front door when they come out of the attic.
Tip: Anytime I buy large storage bins, I always buy the kind with the handles that clip over the top to secure it in place!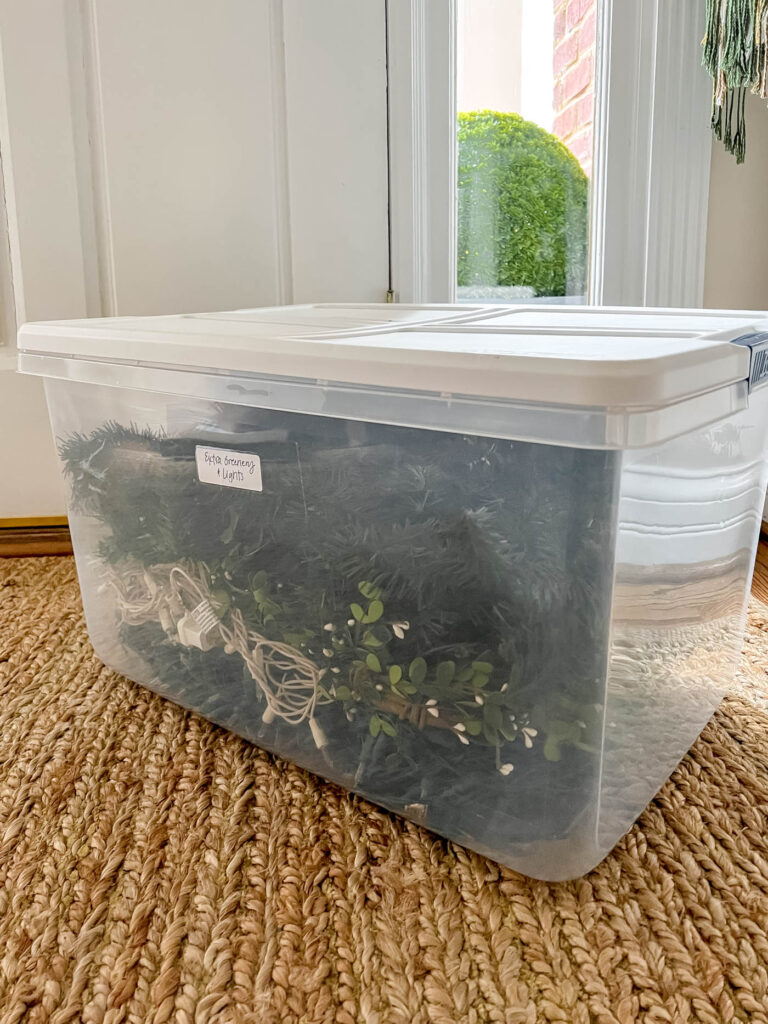 Gift Wrap Storage Ideas
One more area you might not lump in with organizing Christmas decorations is your gift wrap that you have leftover at the end of each year. I always over buy gift wrap and bows and save them for next year!
Last year I bought this hanging gift wrap storage bag to hang in my guest closet, aka wrapping central station at my house. And I love it!
If you need to put it under a bed or store it in the attic until next year, something like this under-the-bed gift wrap storage bag would be perfect!
Miscellaneous Christmas Decor
And the rest of the rooms that I have in my home have their own large Christmas decor totes: kitchen decor, dining room decor, bedroom decor, office decor and kids' rooms decor.
This 5-piece dinnerware storage set would be the perfect solution for storing those Christmas dishes!
I usually also have a miscellaneous decor box filled with stuff that floats around depending on the year.
Tap the images below to shop:

More Posts You Will Love: