Daily Simplified Planner Review & Favorite Hack!
Using the Simplified Planner for 6+ years has been a game changer! From meal planning to staying on top of my schedule, it keeps everything all in one place. I'm obsessed with it! Let me show you why.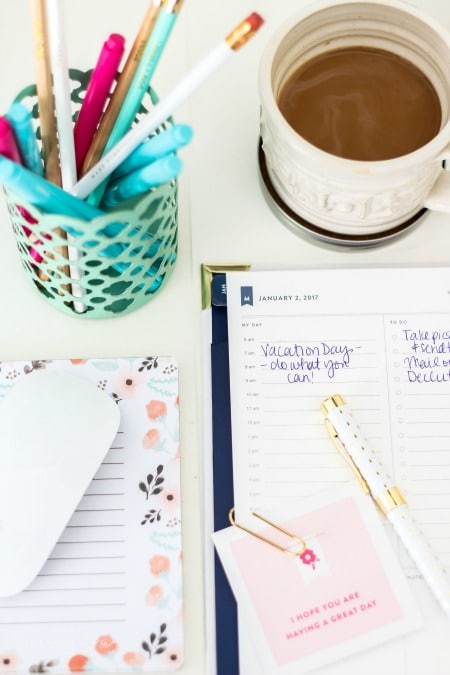 This post contains affiliate links for your convenience. See my full disclosure policy.
I am a pen and paper girl to the core. So, I've been using some type of paper planner for more than 2 decades.
And in 2015-16, I set out to find a paper planner that worked for my busy life. I tried all of the popular brands. But the ONE planner that stuck for me, and I have used every year for the past 6 years, is the Simplified Daily Planner from Emily Ley.
I found that it's the most simple (hence the name), which is perfect for using it however suits you best. There aren't a bunch of boxes to fill out or places to check off. But the beauty of that is that you can add to it if you find those things necessary.
Ready to find peace in your home again?
You can't decorate a home with clutter. Get started on your decluttering journey with 30 days of encouraging and helpful e-mails to keep you motivated!
They release new covers every year right before the academic planners launch in early spring. And then the calendar year planners are available for sale in September every year.
Updated for 2023: I am using the Navy Bluebonnets daily planner this year (2023), and I can't wait to see what new covers they release for 2024!
Daily Edition Simplified Planner Details
Simplified Planner Specifications
Calendar Year: January – December
Academic Year: August – July
Cover: 7″ x 9.25″ (1.25″ thick); weighs 2.5 lbs.
Pages: 6″ x 8.75″
Thick, 80 lb., pure white paper (high quality paper!)
Space for schedule, to-do, notes and meals
One day per page + shared weekend pages
Full month views
6 notes pages in the front
Hourly schedule from 6am to 9pm
4 pages of Simplified Prep-Work
Monthly Simplicity Tips
Simple color throughout
Includes a full-color insert with the image and story of the pattern
Superior ink-bleed resistance
Packaging, Cover and Binding
Sturdy, gold wire-o binding
Hard simple cover features gold foil accents
Protective gold corners
Navy interior
Pocket inside the front cover
Colorful, sturdy mylar tabs
Packaged with an all-new, informative insert booklet
Navy + gold keepsake box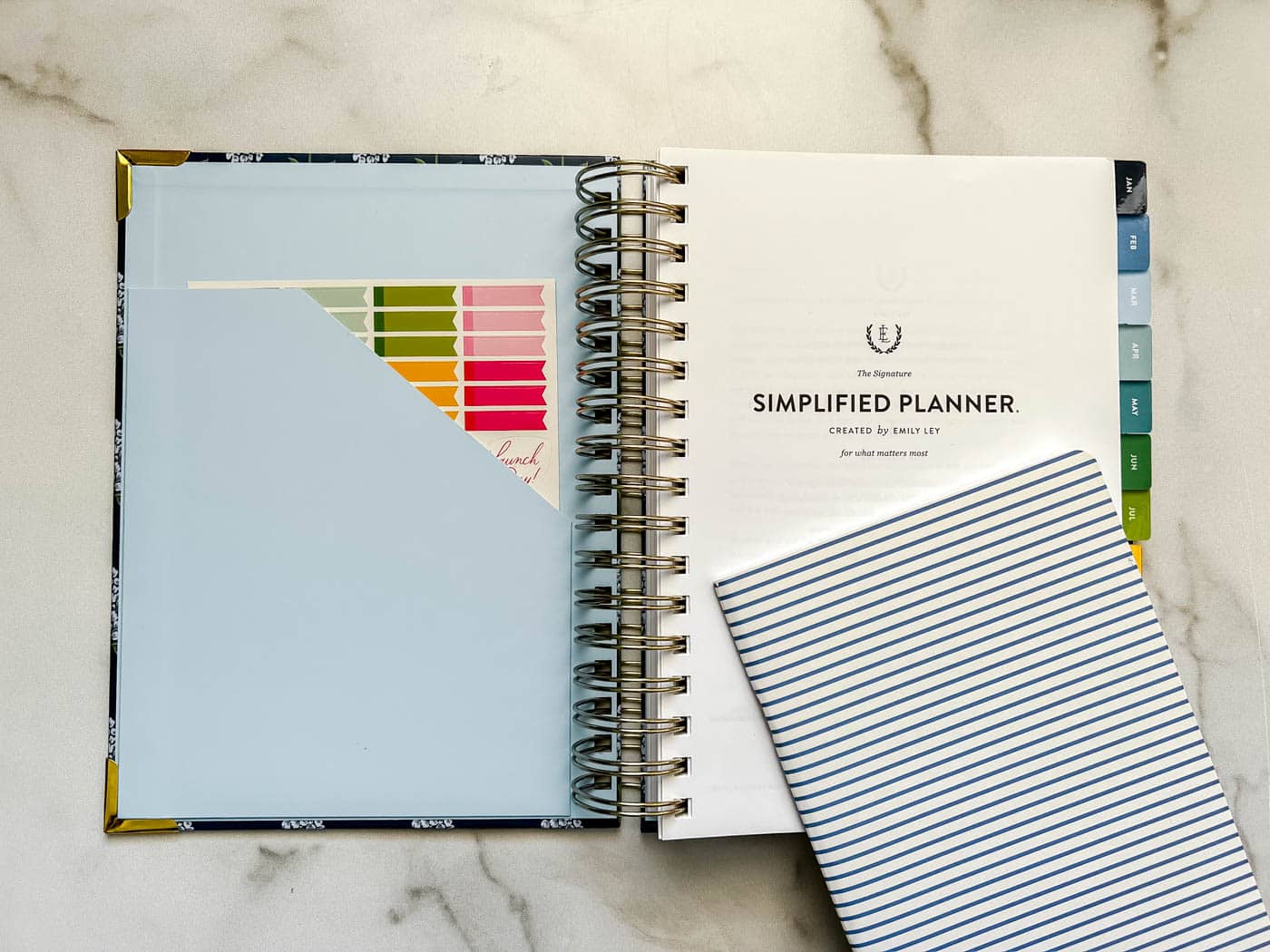 One thing I LOVE about this planner is plenty of white space for jotting down whatever I need to keep track of that day.
Extra Details
Each daily planner comes with a sticker sheet with colorful flags and fun stickers in a slim front pocket. You could add a mini notebook, a few more sticker pages and some receipts to the pocket, but not much more.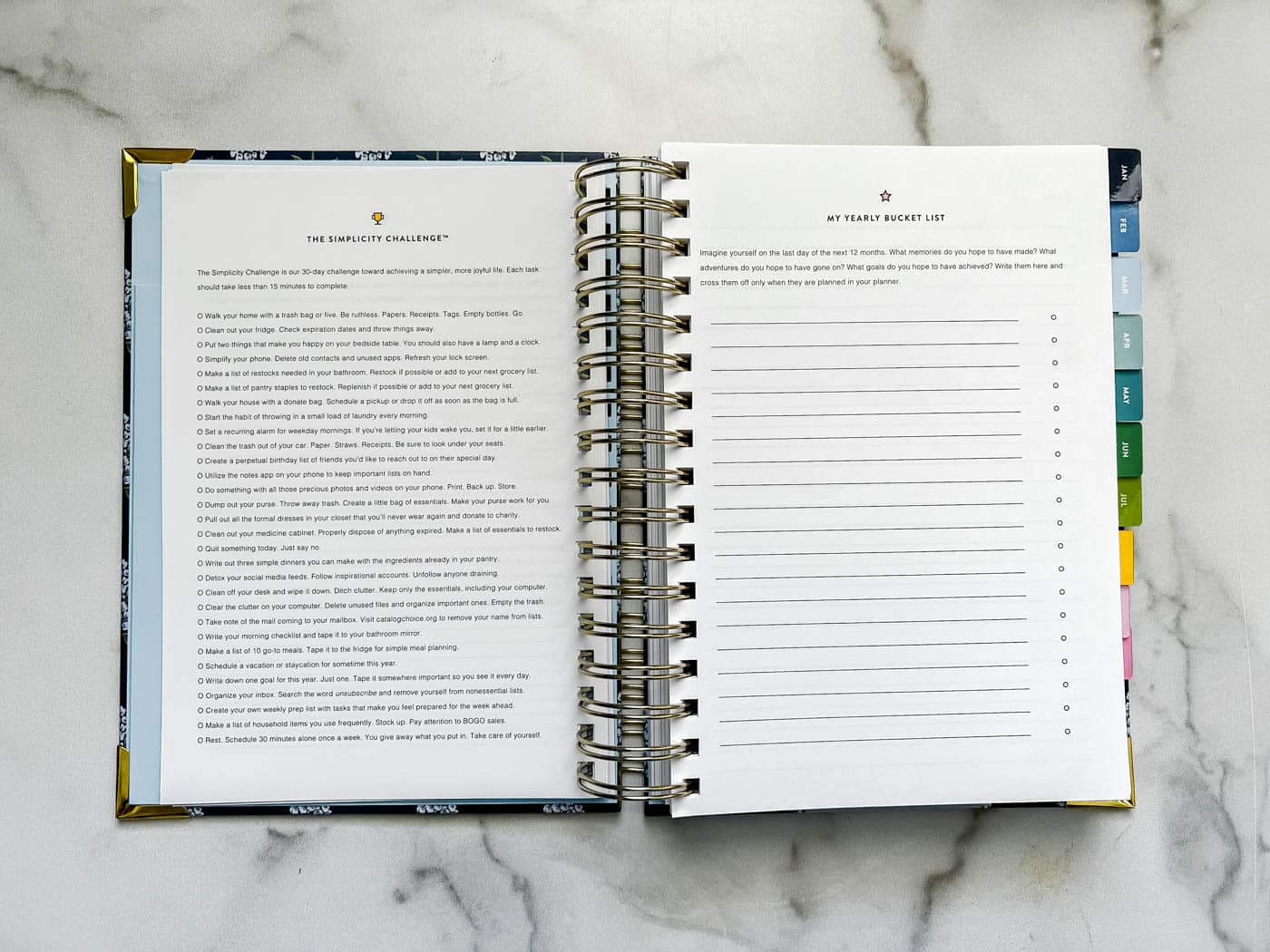 Prep Work & Simplicity Challenge
In the front of the planner, you'll find an introduction section that walks you through a prep work journey for the year and other essentials. These pages include:
The Process of Simplifying
How to Use Your Simplified Planner
Year-at-a-Glance
Holidays
Preparing for a New Year (Ideas for New Routines)
The Simplicity Challenge Checklist
My Yearly Bucket List
& Notes Pages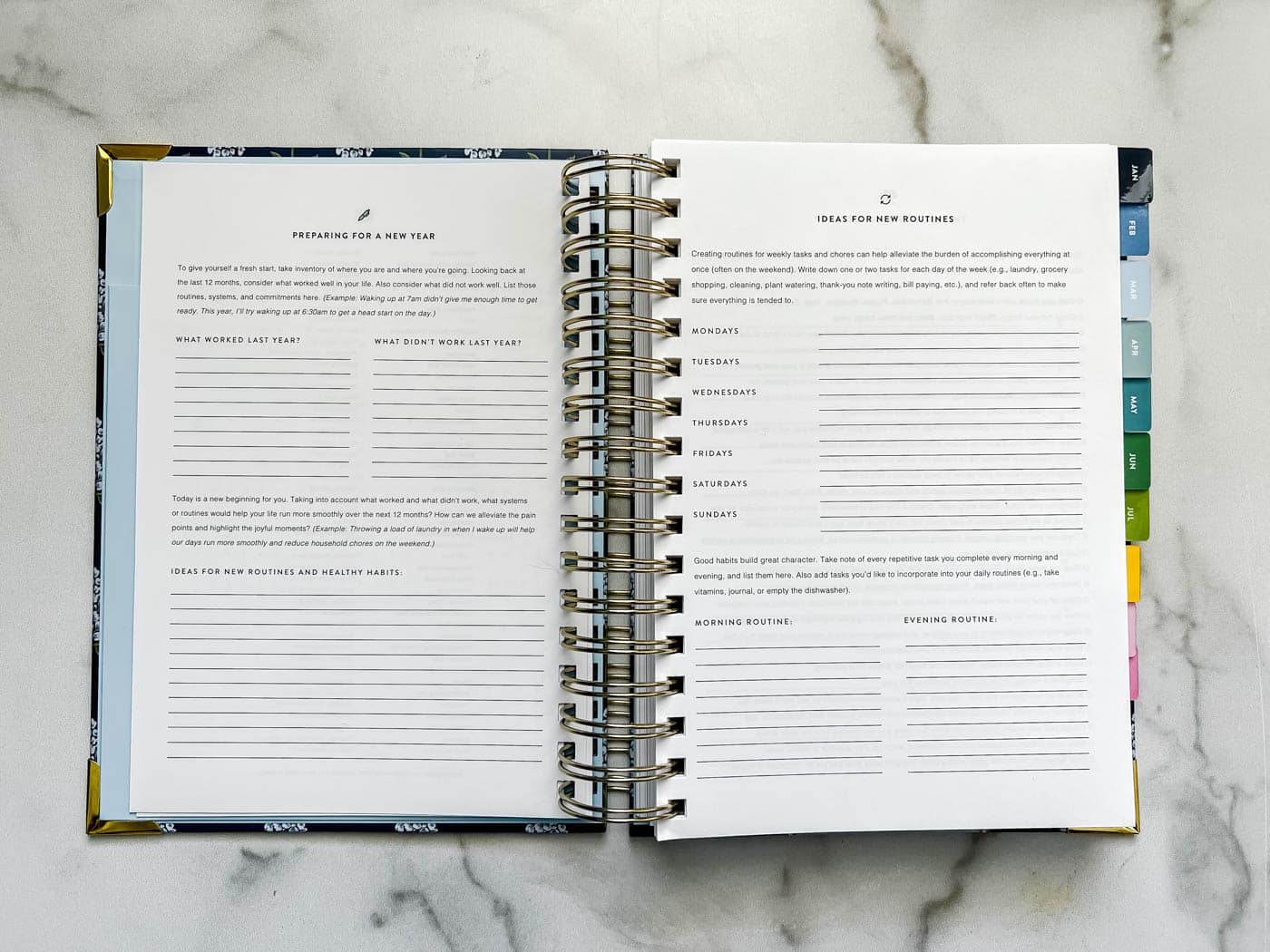 Simplified Planner: Monthly Spread
The full 2-page monthly spread is found on the monthly laminated tabs. There is a small notes section on the left for reminders or other notes to jot down. I love the simplicity tips at the top of the monthly spread, too!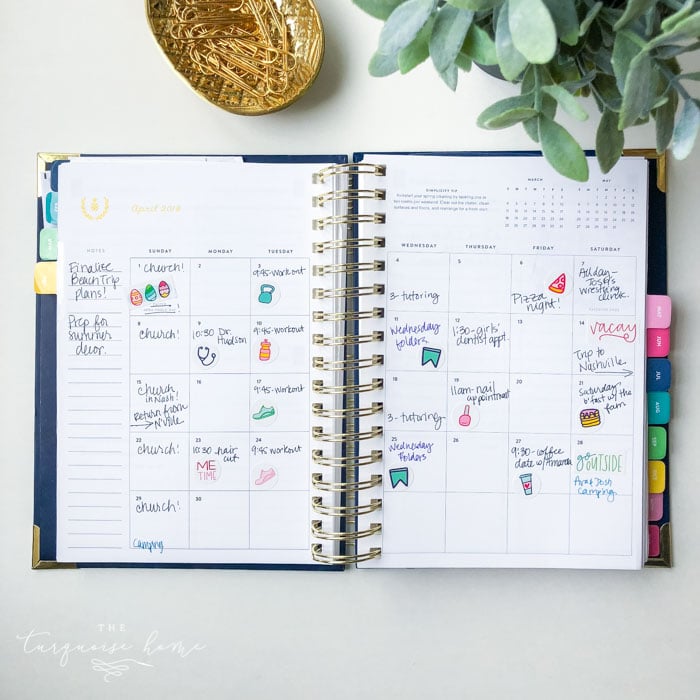 On the first day of each month (or before), I sit down and fill in all of my events/dates for that month.
This helps me visualize which weeks are busy and which weeks are a little slower. I get an idea of presents I need to buy ahead of time or events I might need to buy an outfit for. (Let's be real here – I go to very few fancy things, but in the off chance that I do, I'll be prepared. 😜)
I make notes of busy weeks when we might want to order a Hello Fresh box or have a slow cooker meal, or when we have a slower week and have time to make more elaborate meals.
I use my planner in conjunction with the Power Sheets goal-setting system. This is my fifth year using them, and it is an AWESOME tool for taking a large goal, breaking it down into chunks and helping you accomplish them one step at a time. So, I can't recommend those enough.
(I thought the Power Sheets would be overkill, honestly, that it would be TOO much planning and I wouldn't track my goals for the whole year. But I've been pleasantly surprised that I was way wrong. They are AMAZING and keeping me on track. 💗💓💕)
Simplified Planner: Daily Pages
Weekday Pages
The daily pages consist of two columns and one section at the bottom for notes. (These photos are from an older version, and the bottom section is no longer split into two. It's all one unruled daily block.)
The left column is the hourly schedule from 6 am – 9 pm. And the right column is a simple list for to-dos. This is where the simplicity comes in and I love it!
I love the blank note space at the bottom. I use it for noting what we're having for dinner, plus any other notes I need to jot down that day.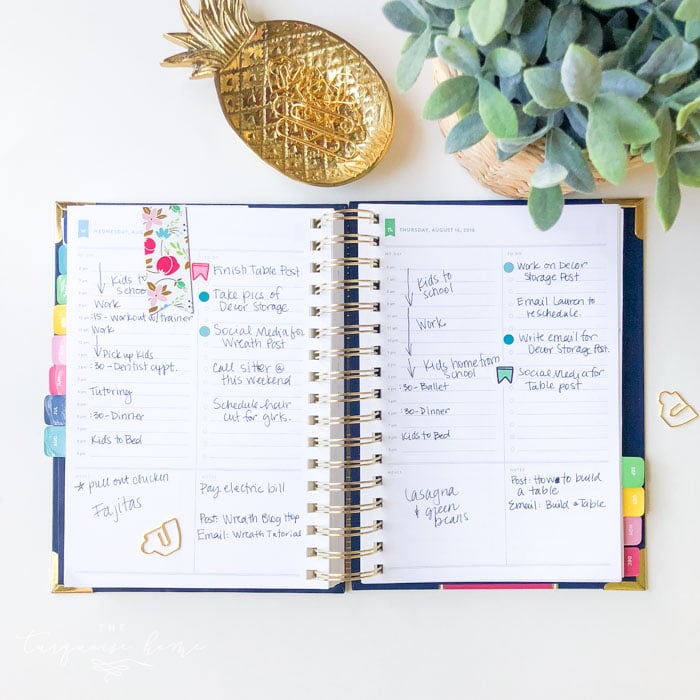 Weekend Pages
The Saturday and Sunday pages share one page with space for flexibility. And the Sunday to-do list has a few ideas filled in to get you started: meal planning, tidy up, write down tasks for the week and fill your tank. I love the reminders to help get ready for the week!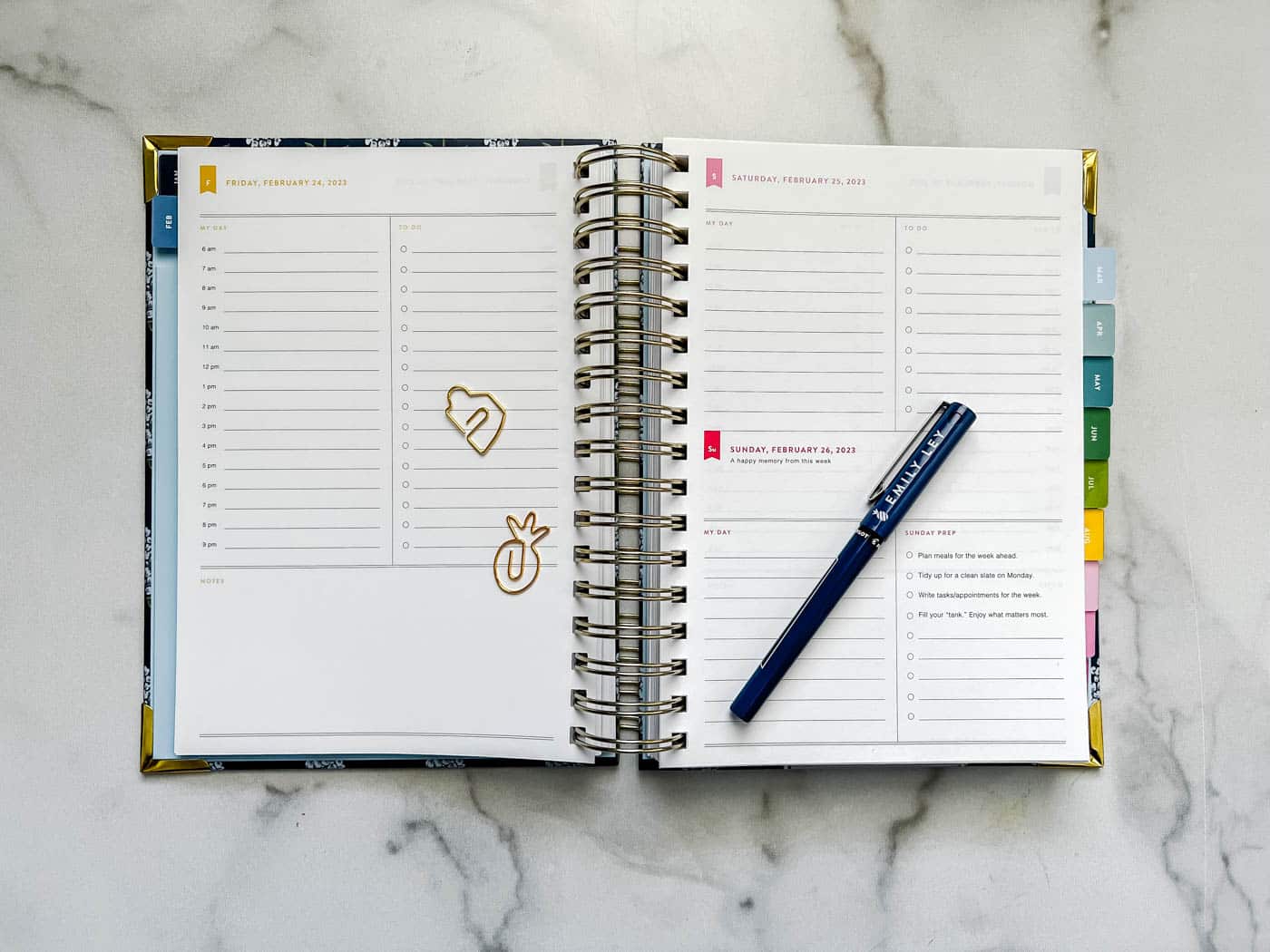 How I Use the Daily Pages
I keep track of my daily pages in two ways.
As I'm going through my monthly calendar, I will write events on the designated days and write down when I need to order something or do something specific.
And then secondly, I sit down every night before I go to bed and write down my schedule and my top to-dos for the next day.
This keeps my anxiety at bay and helps me go to sleep better knowing that I have everything written down. And it also helps me get focused quickly in the mornings when I sit down to work. I can clearly see what needs to be done first, second and third.
By the way, one thing I learned when I previously used another planner is that you should only prioritize your top three to dos each day. Something about 3 is doable and something you can accomplish in one day.
If you prioritize any more than 3 it's just too overwhelming. And when you accomplish those 3 things, at the end of the day you feel good and that you did what you need to do that day. Try it!
If I'm feeling fancy I will place a sticker next to those top 3's, but if I'm lazy or too busy I'll just make a star next to them or number them with my pen.
I find that I am exponentially more productive when I have my top 3 ready to go in the morning when I sit down to work.
Favorite Pens!
By the way, these navy rolling ball pens are HANDS DOWN my favorite pens, so I buy them in bulk and throw every other pen I have away. 😜
What I DON'T do with my Simplified Planner
Write down every little detail. I know my morning routine, so I don't write it out every day. Instead I use a blocking technique. I will block out a section for "work" and then write the main tasks in the to-do list. Any more detailed lists are kept in Asana for my team, the back-end of WordPress or in my notes app on my phone.
Color code. I don't have a special color coding system with different colored stickers or pens for each person, etc. If you love that, then you do you. But for me, that takes away from the "simplified" of it all. I do love their sticker books, but they are mostly for fun & simple decorating. 🎉
Keep it neat. I literally will write over every space on my planner. I'll use empty old pages as a place to jot notes from a conference call and quotes in the margins. Whatever I want! If I mess up something, I scribble it out. 😉
More Purchasing Options
I know the price point on the original Simplified Planner might be out of your budget. So, I'm happy to say there are other, less expensive options for getting your planner fix.
Target sells an Emily Ley x At-A-Glance weekly academic calendar planner.
Office Depot also carries some fun Simplified Planner binders, calendars and accessories.
But I prefer the flagship DAILY planner. You can't get it at any store, only at EmilyLey.com. I use the heck out of the daily pages and love the higher quality paper and binding.
Shop Simplified Planner Accessories on Etsy
Etsy is chock full of extra accessories in addition to the accessories already offered by Emily Ley. I keep my planner very basic, but I will show you a fabulous hack that I made at the end of this post.

My Daily Planner Checklist Hack
I try to be the most efficient during my limited work hours at home. And I recently found myself writing down the same daily and weekly tasks every day/week. It seemed redundant and I would forget or miss things because I didn't have a good system in place.
So, I set out to find (or create) a laminated daily to-do list that I could check off each day and wipe clean every night. Bonus: It would fit into my Simplified Planner.
It didn't exist, so I had to create my own!
What you will need: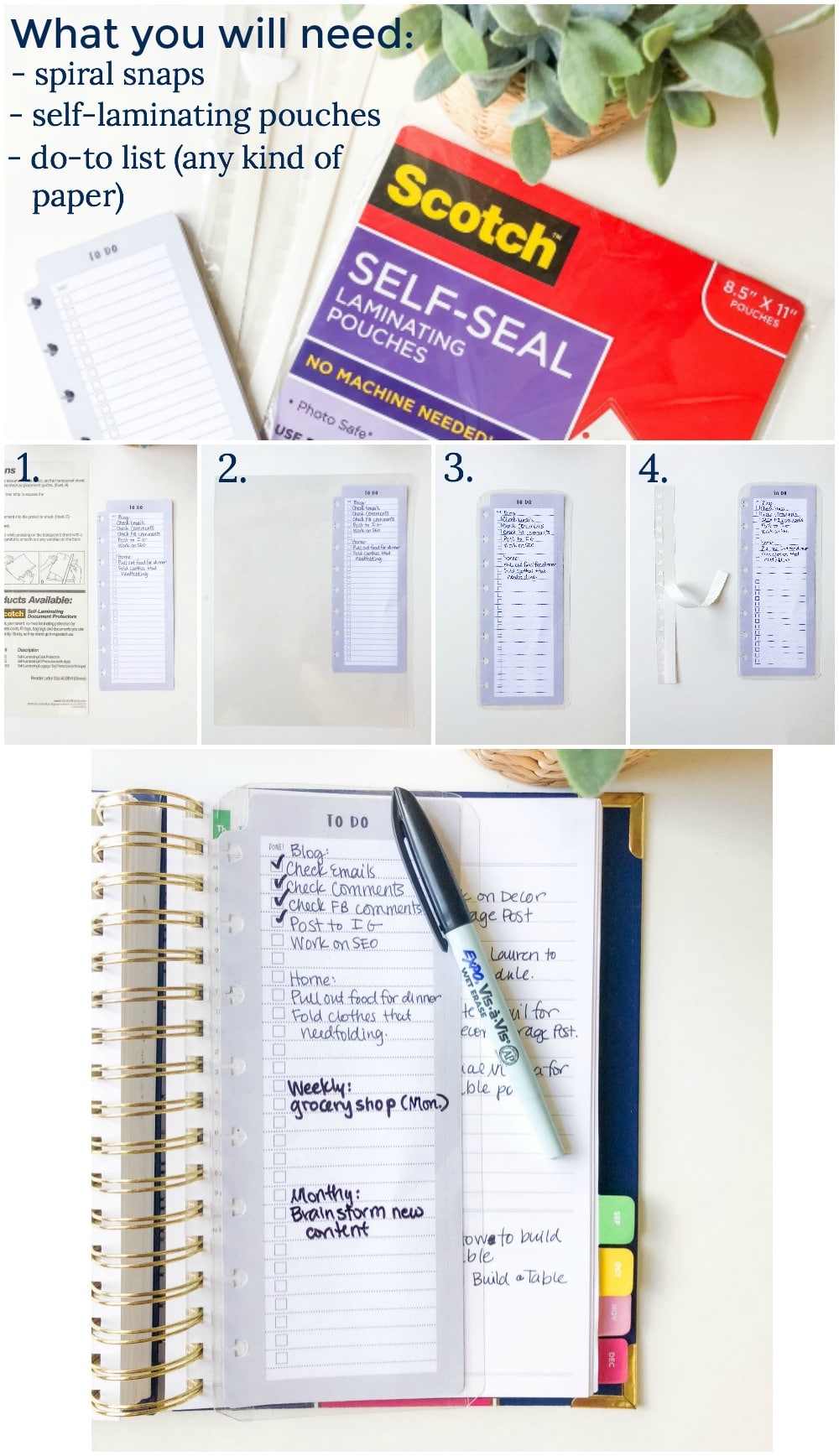 Here's how I did it:
Write down the daily MUST dos on your to-do list.
Follow the instructions in your laminating sheet and place the to-do list inside and press the edges down. Seriously follow the exact instructions for the sheet.
Trim around the to-do list leaving about a half an inch, room for the lamination to stick
Attach the laminated to-do list to the coil snap-in.
Place the to-do list in your Simplified Planner! It serves as a bookmark as well!
Use your wet erase marker to check things off and write new tasks at the bottom.
Use a damp paper towel to clean off the list each day and start over!
Final Thoughts on the Emily Ley Simplified Planner
I hope this review and how I use my planner to help you make a decision about your planner needs. I've loved the Simplified Planner for 6+ years now and I don't see myself changing … ever!
And, I frequently look at other planners to see if they are better, but they are all just so overwhelming. The last thing I need in my life is more overwhelm. I need something that will work for my schedule and be as simple as possible.
Additionally, I am obsessed with the covers of the Simplified Planners. They are stinkin' gorgeous works of art and I'm so excited to use my Navy Bluebonnets this year.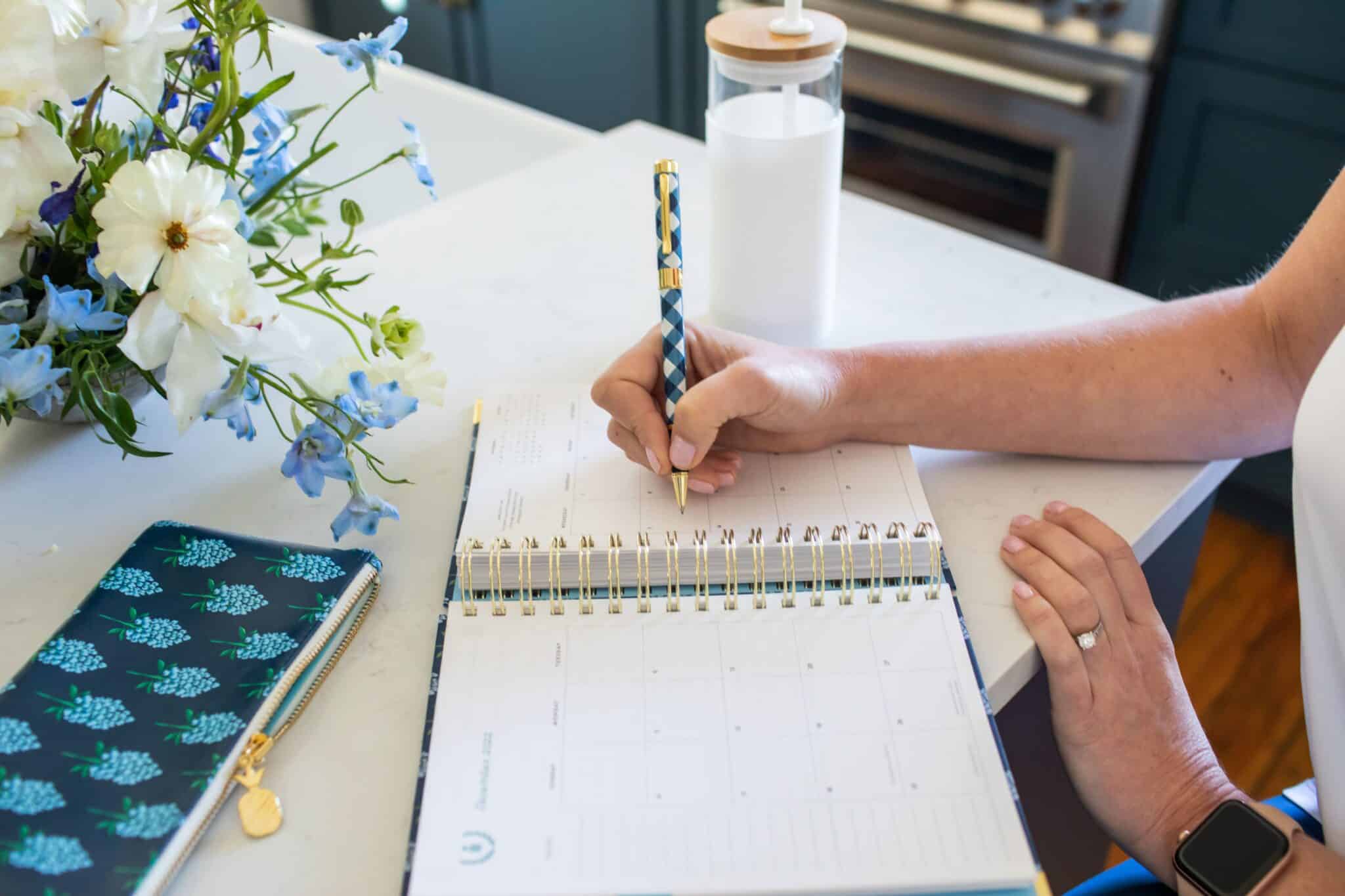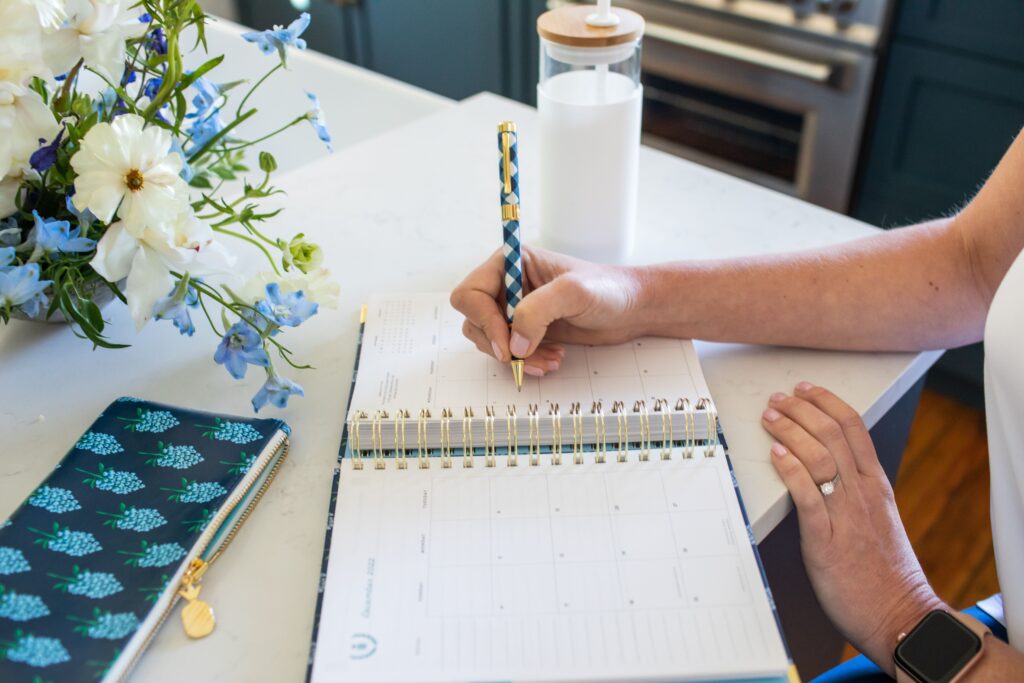 One more thing. I know that these planners are not cheap. I get it. You can run down to the store and pick up something for so much less than what you will pay for an Emily Ley planner. I hope that this review helps you find the right planner for you!
But let me just tell you that …
This planner will last all year without falling apart.
The quality is unmatched (smoothest paper ever!).
You are joining a community of their simplified sisterhood (not just buying a product)!
You will get tactical tools for living a simplified life!
Let me know which cover is your favorite (are you a traditional Happy Stripe girl or a fancy floral kind of girl??) and your favorite feature of The Simplified Planner in the comments below!
MORE POSTS YOU WILL LOVE: