Using my 5-step decluttering method, I cleaned out my decor closet and made it usable, efficient and even beautiful!
In the midst of feeling like all of my home projects are at a standstill, I've been doing some organizing in our behind-the-scene spaces. We're on the cusp of having the house painted, sod being laid, a garage organization makeover and finished kitchen makeover.
But while I wait on all of those, I decided to do a little spring cleaning and declutter a closet that had been neglected since we moved in a year and a half ago!
One of the things that sold us on this house was the storage spaces. After living with a house with very little storage space, I just wanted to be able to shove our junk in a closet and close the door. 😜 #homegoals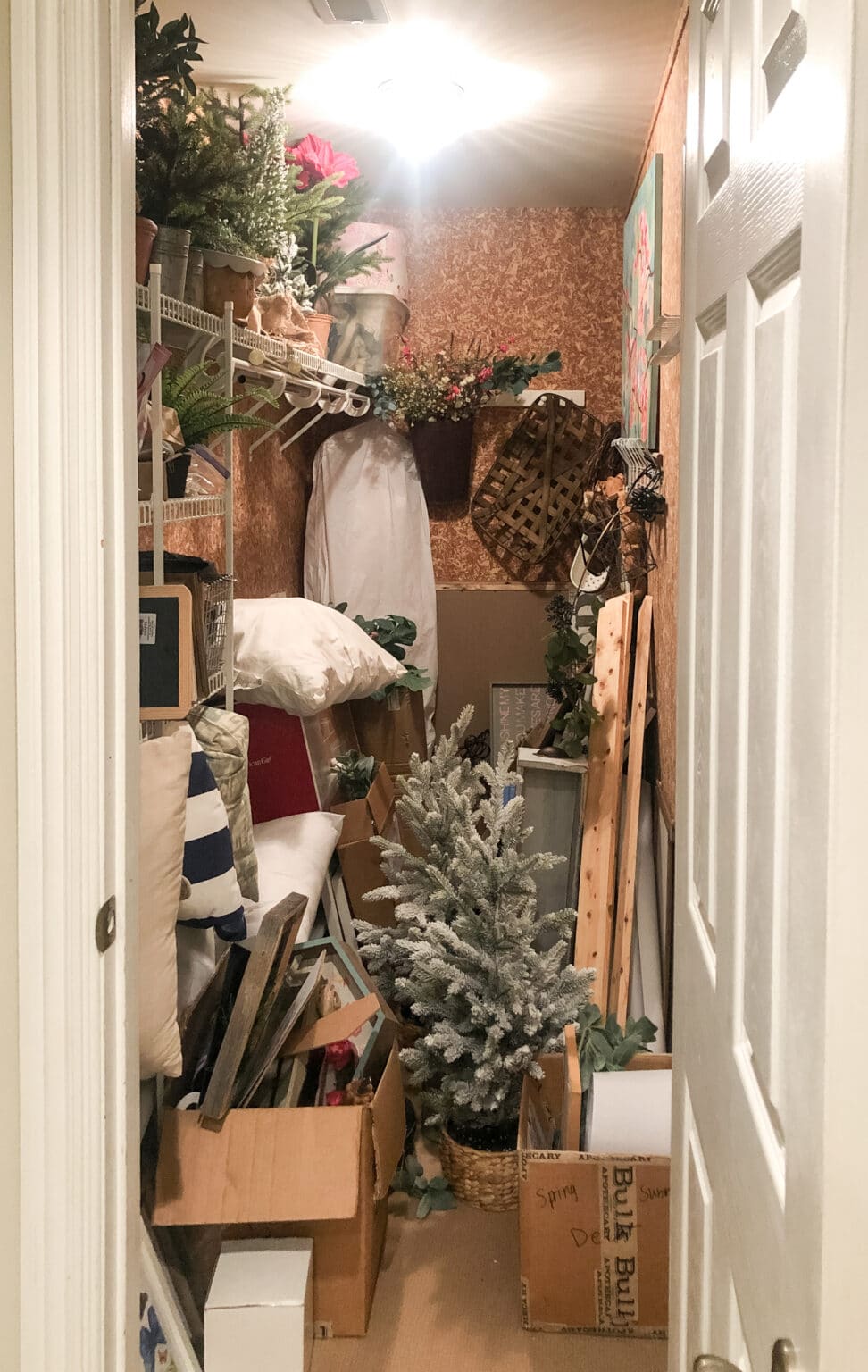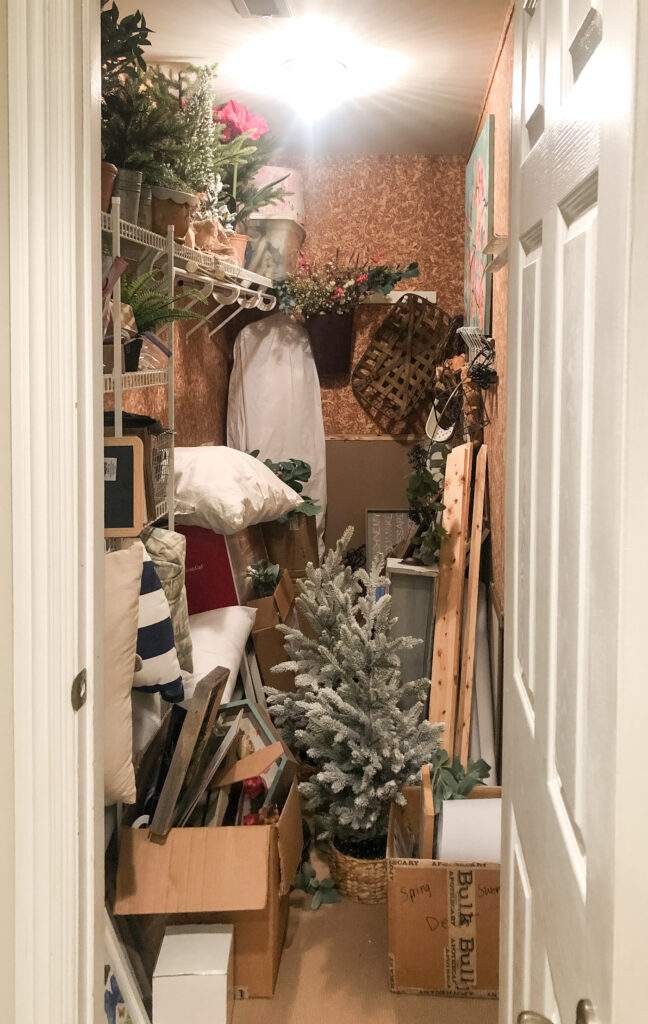 So when I saw this storage closet off of the loft area upstairs, I knew it would be the perfect spot for my decor closet. Some people might need this space for something else, but I have a decent amount of decor that I rotate in my home throughout the year, and I need a place to store it! (I built some shelves for a walk-in closet in our old house and stored my decor in there. But I had to keep other stuff in there, too. So, it was always busting at the seams.)
So, when we moved, I marked quite a few boxes for the "decor closet" and we dumped things and left them. I could access some of the items I needed, but it truly was a disaster and I could barely walk in there!
I decided it was high time I cleaned it out and whipped it into shape. If you want to see how I did it, step-by-step, I share my method for decluttering in this post: How to Declutter a Room in 5 Simple Steps.
When I took stock of the 10′ x 4′ closet and how I needed it to function for our family, I realized the old wire shelving system with a long hanging clothes rack did NOT meet our needs.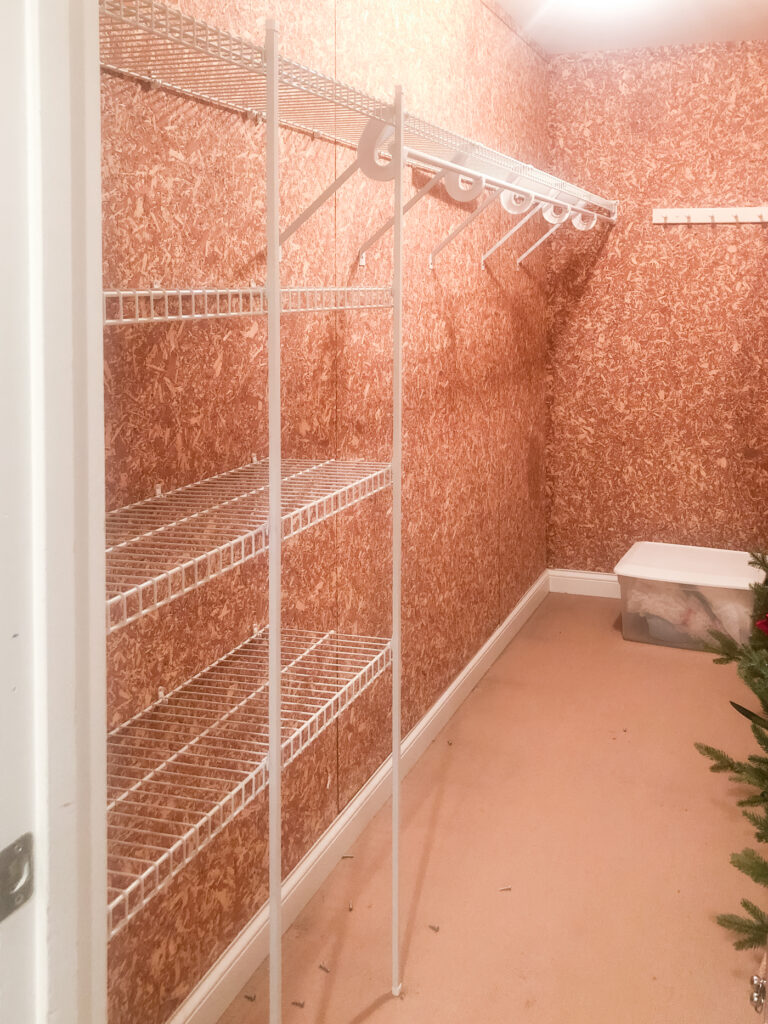 I really needed lots of shelving. So, I found some inexpensive bookshelves and measured my space. I found that I could fit 5 bookshelves in there with 4 on the left wall and one on the back.
I made the two bookshelves in the corner meet at the front of the bookshelves. So there's a small space at the corner of the room that is inaccessible. But I screwed in some thin plywood up over the top of the corner between the two shelves to keep anything from falling down back there.
While I had everything out of the closet, I removed any of my decor that I didn't want or use anymore. We're having a neighborhood yard sale this weekend, so it's the perfect time to declutter.
And here it is now! Tada!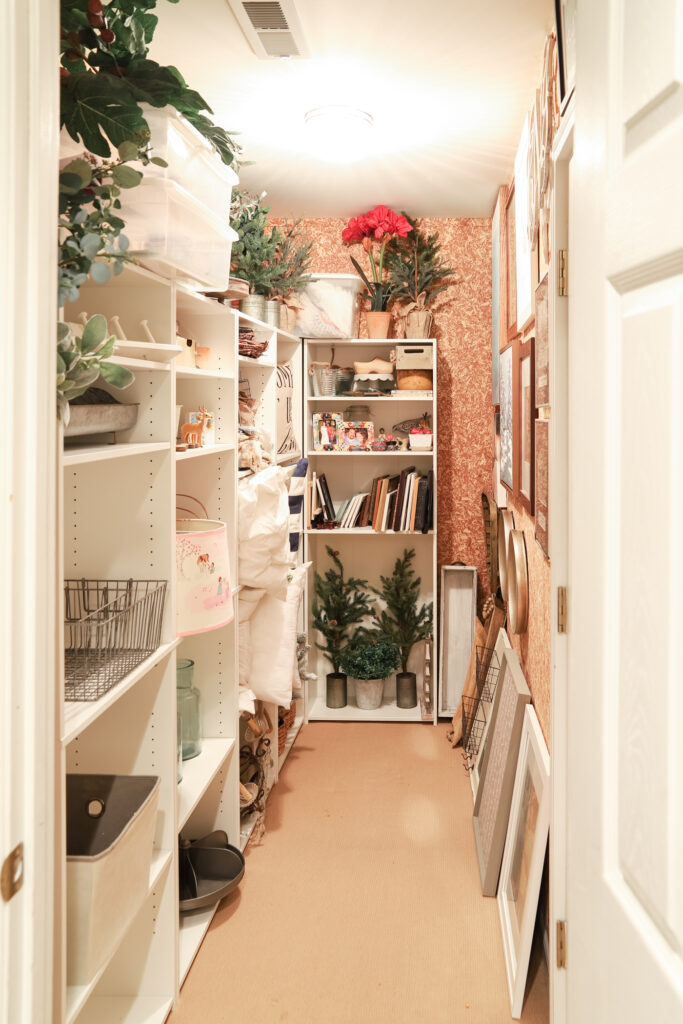 I can walk in there now! And see everything! 💃🏻 No more tripping over stuff on the floor and being frustrated that I can't find what I need. It's alllll there!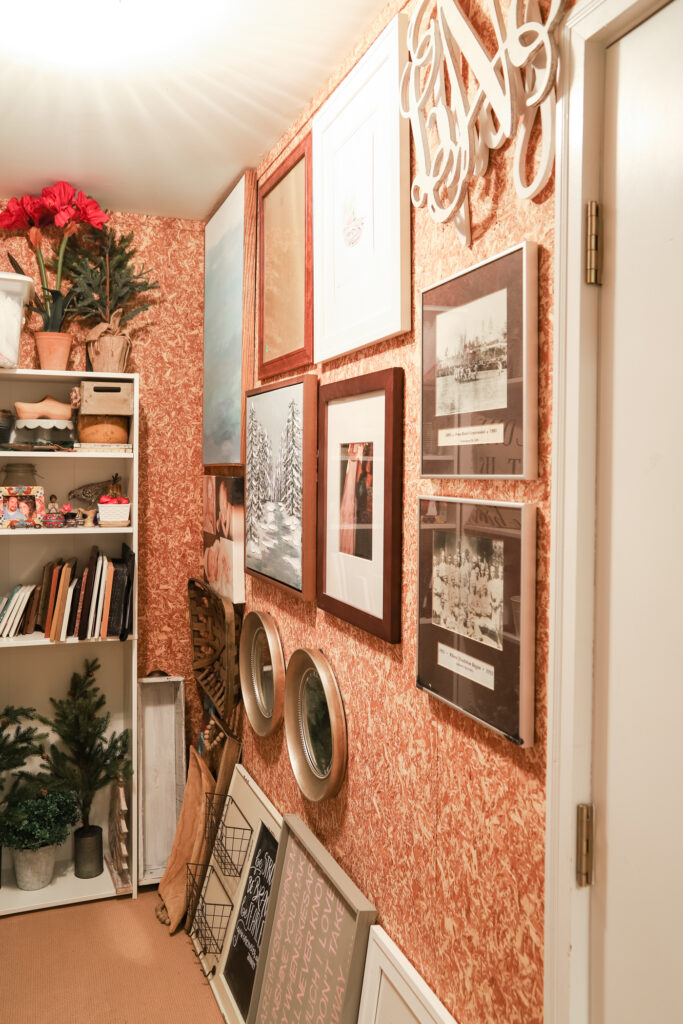 I'm a big fan of using all available space, so I hung up my larger framed decor on the wall across from the bookshelves. I even used a small space between the bookshelf and the door to hold some of my faux stems.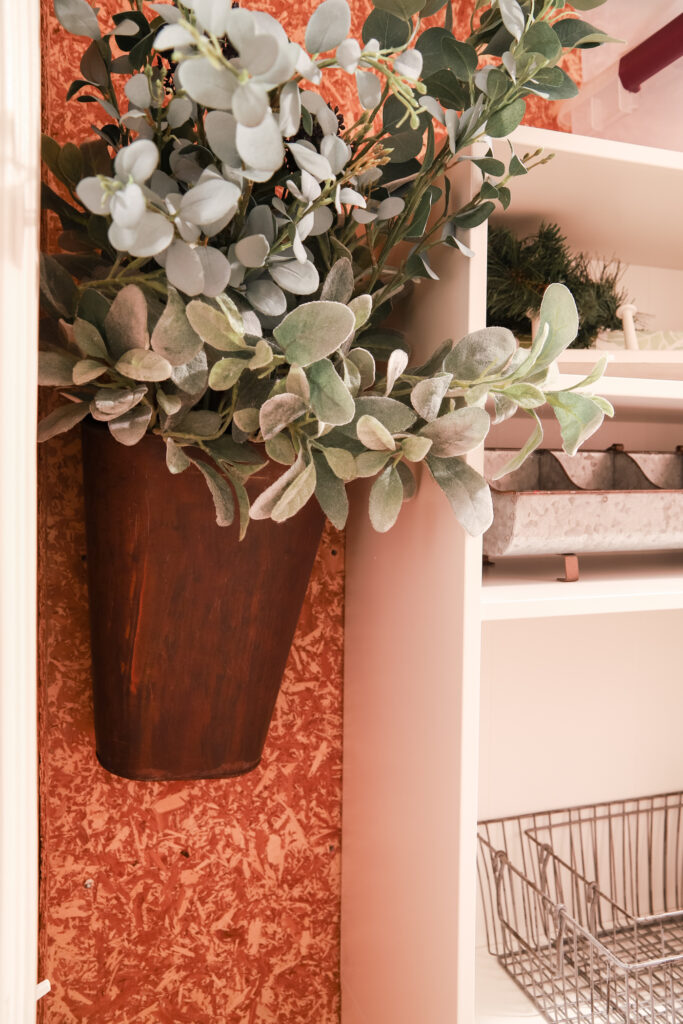 There's still more space on the bookshelves, so my hope is to get my spring/summer/fall seasonal decor out of the attic and put it in this closet. I've never been able to store my seasonal stuff anywhere other than the attic in boxes, so this will be nice. I'll be able to see it all in one spot and can get rid of the stuff I never use.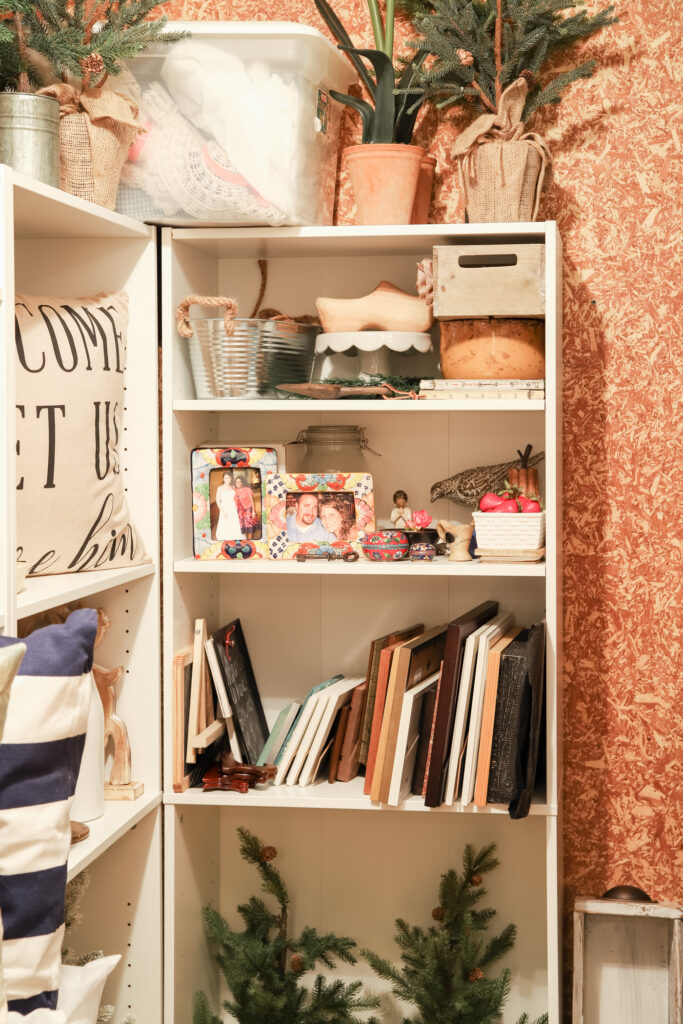 And while I wanted plenty of space where I could hide our extra "junk" in this new house, I still want it to be organized, efficient and easily accessible.
As I always say, having things organized saves you time and money. It creates a space for everything, which saves you time from hunting for things you can't find. AND it reminds you of what you have already and keeps you from re-purchasing things you already own. Winner/winner in my book!
What needs to be decluttered in your home? Tell me in the comments below!
MORE POSTS YOU WILL LOVE:
Get Instant Access to my Guide to Customize Your Home on a Budget
Grab your FREE guide for 10 Ways to Customize Your Home on a Budget: simple projects to transform your home from builder beige to a home with character and charm!