How to Declutter Your Home in 5 Simple Steps
Ready to declutter your home? Start with these simple 5 simple steps to get you started decluttering any room in your home!
It happens. You get busy and shove random items into a room and just close the door. You tell yourself that you'll think about it another day. Then days, weeks, months, even years, go by without dealing with it and the problem grows!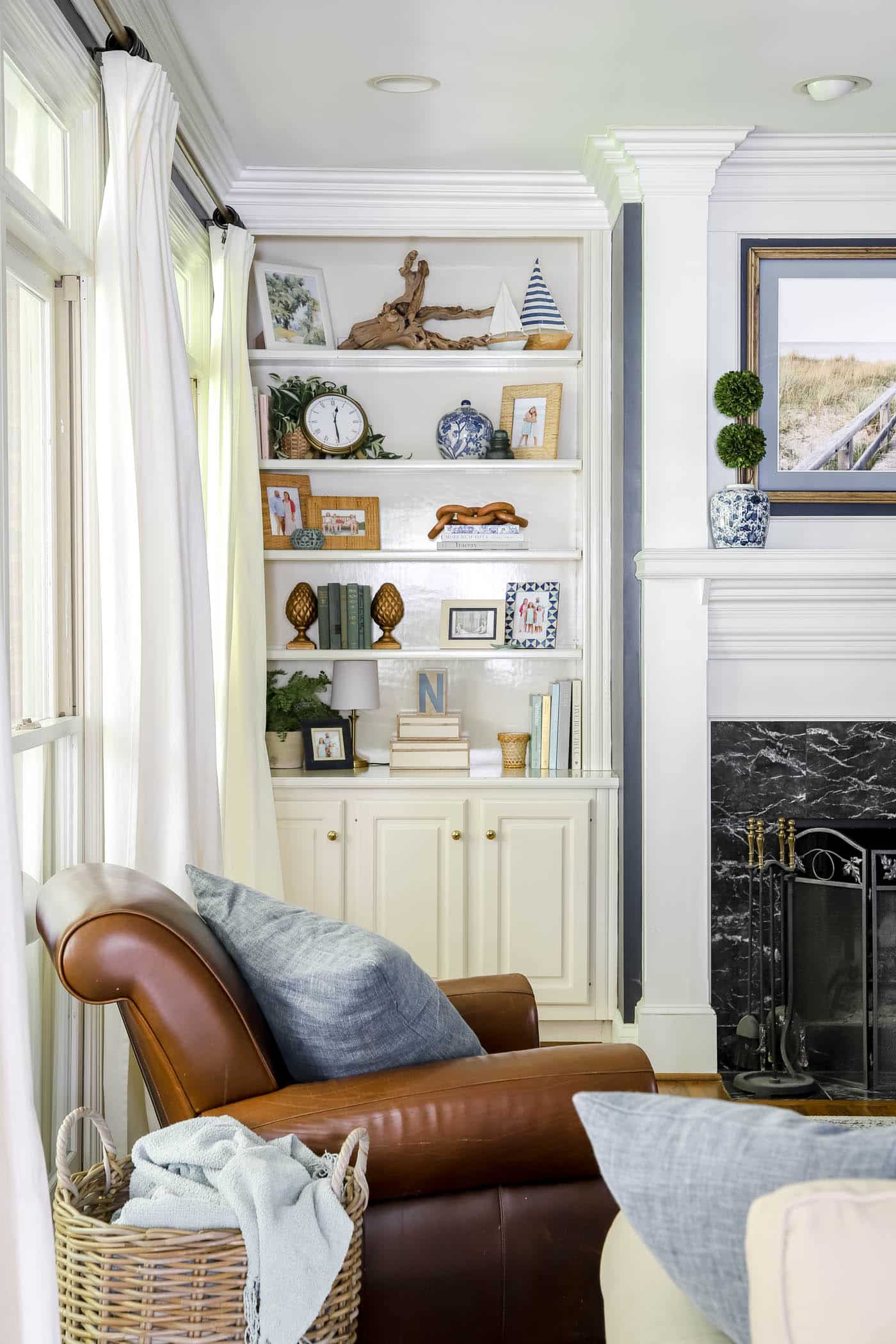 Clutter happens to all of us, and if we're not careful it can pile up, causing stress, anxiety and even more problems.
The truth is, it's hard to create a beautiful home when there's too much clutter. And I've been there! It's normal, but it's a simple fix that I'm going to share with you today.
I'm going to share 5 simple steps you can take to get your home decluttered very easily!
Ready to find peace in your home again?
You can't decorate a home with clutter. Get started on your decluttering journey with 30 days of encouraging and helpful e-mails to keep you motivated!
I'm using my old office/guest room as an example in today's post. But I've applied these same steps to every room, closet and drawer in my home. And they work!
My Cluttered Room: The Office/Guest Bedroom
Note: We have since moved from this home and now I have a new office. But this was my office in our old home!
If you've been following my 30 Days to Less of a Hot Mess posts, then you have caught wind that I've decluttered and organized my office! Yay! I can't wait to share all about that today.
My office is in a corner of my guest bedroom. The space pulls double duty, which can sometimes be a challenge. In the past I have had a hard time keeping it clean and guest-ready, so it really stressed me out. Honestly it just stressed me out to walk in there most days because it looked like this: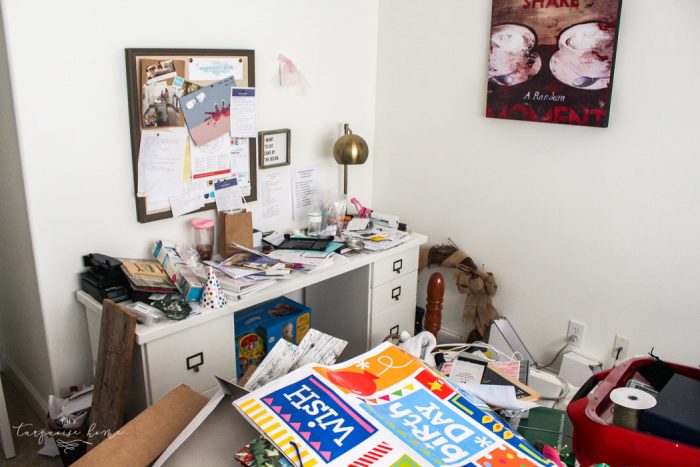 And here's another angle from the door …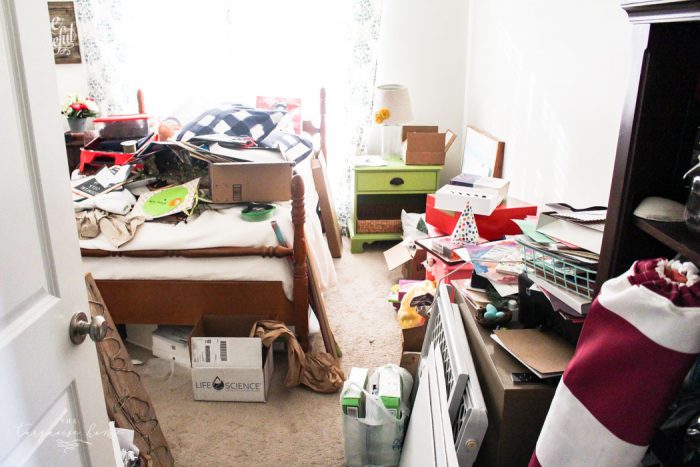 I certainly didn't want to work in there! (I'm trying to gloss over my embarrassment that I even shared those pics, because even my closest friends don't necessarily get to go in this room. 😬)
I always ended up working at the kitchen table or the couch or wherever I wanted, which was not very conducive for productivity and running a business. I need to have a room and work without the clutter.
So, my #1 New Year's goal was to declutter the whole room. The whole dang thing! I was tired of not being able to find what I needed and having to buy things I already had. I was tired of tripping over random junk laying all over the floor. And, I was tired of spending my time looking for things instead of spending them with my family.
This method works, my friend. And it will work on any room in your home. And in time as your work through your home and declutter your kitchen and your living room and get rid of clutter throughout, you'll reap the benefits of decluttering your life. Less stress. Less wasted time. And more time spent living your life instead of managing your things. It's really a win/win!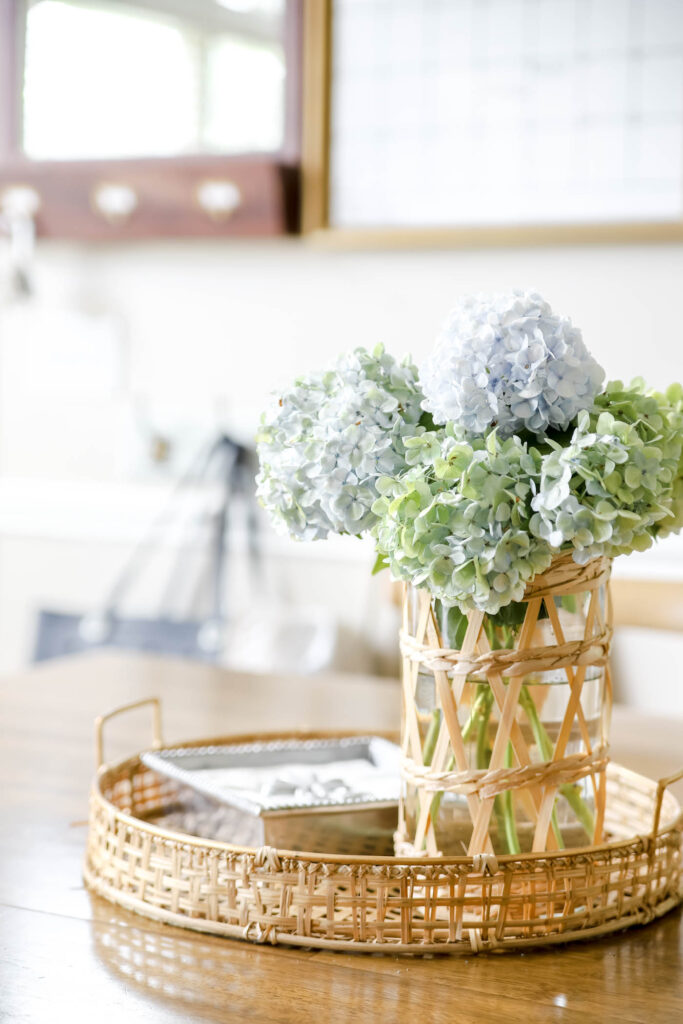 Before You Start: Decluttering Tips
1. Plan Your Timeline & Goals
Before you just jump into this massive project, set aside a day or two to get it done. If you only have 30 minutes, then use what you can, but set your expectations accordingly.
Write down your goals for the space. Do you want to see the floor, have a better work flow or have everything more organized when you're done?
Make note of the problem areas of the space. Is there a certain corner that collects clutter? What type of clutter is it and think about how to address it.
Set a date for when you plan to finish and how much time you have to dedicate to this project.

When I decluttered my garage, I knew it would take more than a day. So I set aside a week to get it done. But most rooms can be done in a weekend.
2. Set Timers
Don't try to work 8 hours straight on this project. Work in small increments and then reward yourself with a walk or a snack (or a nap)!
Set a timer for 15-45 minutes, then take a 5-10 minute break and come back for another round. You'll feel refreshed and ready to tackle another section of the room.
3. Create a Sorting System
Gather empty cardboard boxes and trash bag for your "donate," relocate", "recycle" and "trash" piles. This will keep you from making a bigger mess than necessary.
Throw away the trash immediately after you finish purging the room. And put the donate pile in your car. Make a note on your calendar for dropping it off at a donation center. Go through the relocate pile quickly once the room is finished.
4. Have Fun!
Listen to music or a favorite podcast while you work. Or turn on a favorite movie if you're in a room with a TV in it. But don't try to declutter in silence. That will have you quitting in a hurry!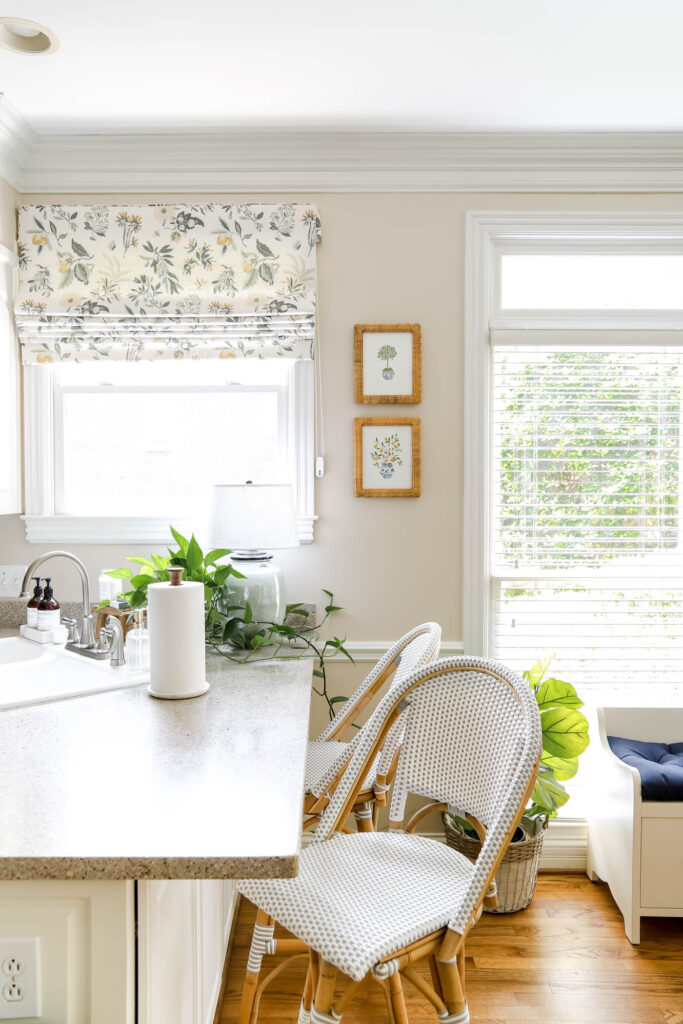 How to Declutter Any Room, Closet or Drawer
Once you're in the right mindset and have your timers and music ready to go, it's time! Choose your room, closet or drawer and let's get started!
1. Empty the Entire Space
Pull everything out! And I mean everything (except for the furniture, but you can do that too).
Things will look so much worse before they look better, but trust me on this. You want to touch every item that is coming or going in that room (or closet or drawer or space). This is key!
Use the sorting method with one box or bag for each category: trash, donate and relocate.
Have the donation and trash boxes set up as you bring items out of the room. That way, you can quickly toss them in if you already know you want to get rid of them.
Everything else can stay in the pile and you'll deal with it in the next step.
I even cleaned out the drawers and closet. It was all gone. I promise that you will purge more and throw away more if you touch it all. Here is some of my stuff in the dining room; this wasn't even all of it!
2. Consider Your Needs for the Room or Space
Once everything is emptied from the room, take a look around and decide if the layout and organizational systems are working for you.
I analyzed the furniture layout and reorganized it a little bit. If you want to get rid of something or add something, or rearrange your storage spaces, then this is the time to do it!
In my office, I left the desk in the corner, but I moved the bed over to the opposite corner so that there is more floor space.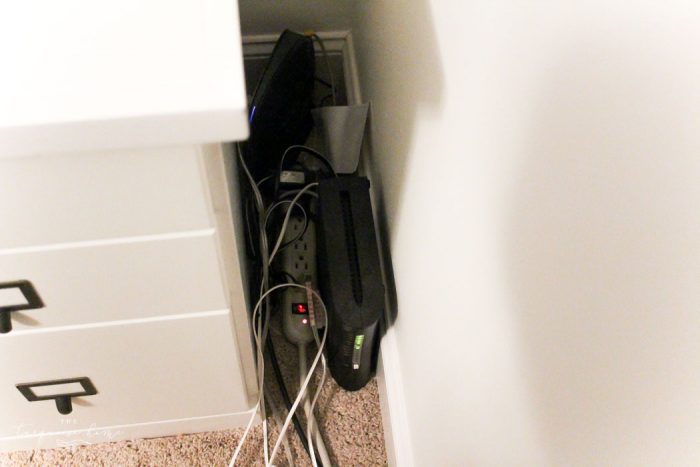 I also realized that the extension cord, modem and router weren't working for me in the corner of the room. They were plugged into the middle of the wall next to my desk, so it was just unsightly! And I got rid of my brown filing cabinet (see this post), so my printer needed a home as well.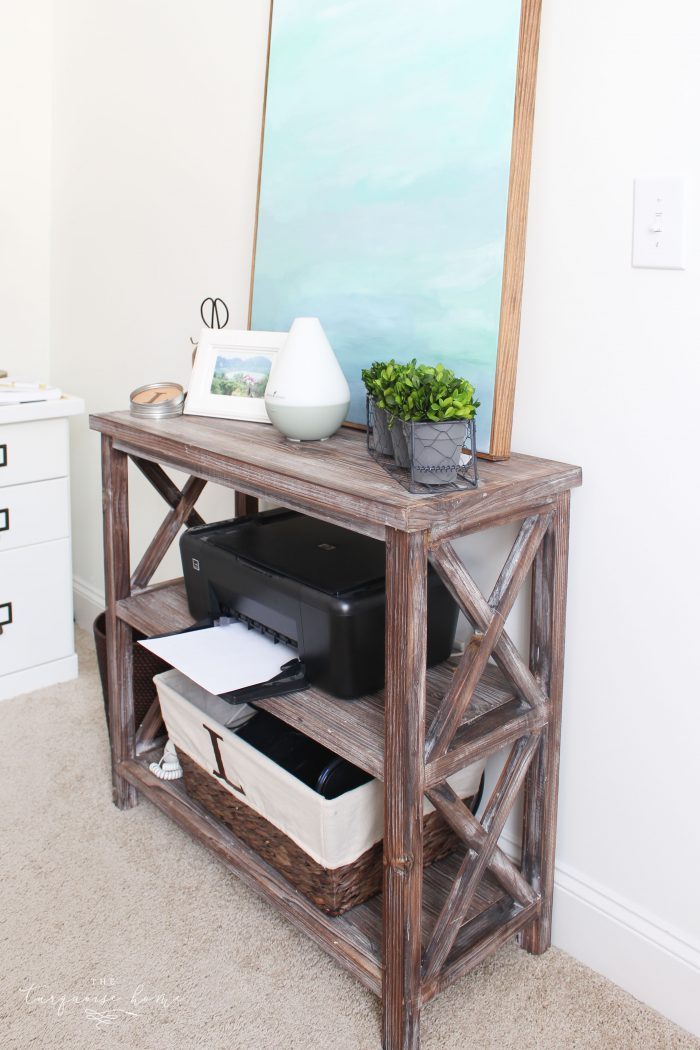 I found this gorgeous small table that fit my needs perfectly. The new monogrammed basket fit nicely on the bottom shelf and holds all of my electronics that used to live in the corner.
And my printer found a new home, too! I'm so happy with how it looks now.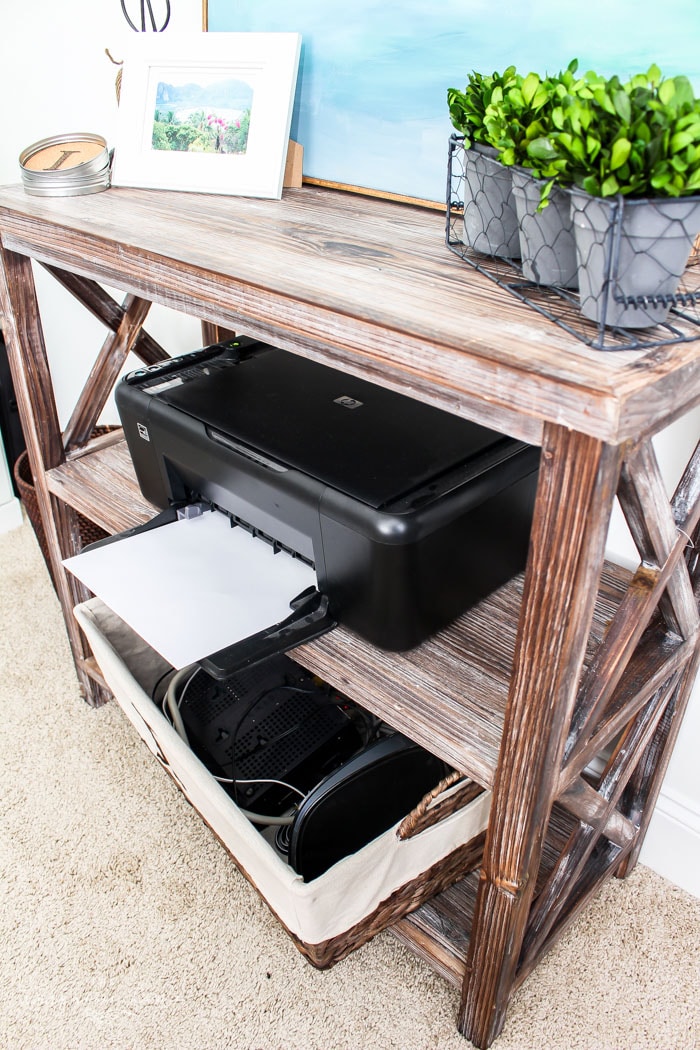 Rethinking your space to fit the items you need to keep is a key part of organizing your home to work for you.
3. Group Like Things Together
Once I've pulled everything out, analyzed the furniture and finished the initial trash and donations, I start grouping like things together.
I put all of my ribbon in one pile, all of the notebooks in one spot, all of the office supplies in another.
And slowly, but surely, I grouped everything with something like it. If something didn't work into an obvious category, then I made my own miscellaneous pile.
And at the end of the day if I still couldn't figure out a category (place) for it and it didn't spark any joy, then I got rid of it.
4. Ask Yourself Two Important Questions
Before returning anything to the room, you'll want to ask yourself two important questions about each item you still have.
Take notes from Marie Kondo and ask yourself, "does this item spark joy?"
I like to take it a step farther and ask, "do I use this?"
If you're anything like me, then you may struggle with this step. Here are some key phrases that mean something does NOT spark joy.
I was going to use this later for something; I just can't remember what it was.
"Aunt Sandy" bought this for me, so I can't get rid of it, even if it's been sitting in the back of my closet for 7 years.
But we might need it someday. (If you don't use it, get rid of it!)
It's a perfect good, working lamp, so I hate to get rid of it. What if I decide to change out all of my lamps tomorrow??
I think you get the picture. If you ask yourself if you should keeping something and your yes is not a resounding yes, then I'd question whether or not it brings you joy.
If you have to hem and haw about keeping something, then it needs to go. You will feel so much freer and won't remember what you got rid of 30 minutes after you've dropped it off.
If you're still struggling to get rid of something. Place it in a storage container and put it in a closet, then set a reminder on your phone for 6 months down the road. If you still haven't needed it or have forgotten about it when the reminder goes off, let it go.
5. Put it all back in a way that makes sense!
Nail down a vision for how you want the space to work for you! And the put things back in place in an organized and thoughtful manner.
It's ok if there is empty space. Let your home breathe and don't rush to fill it just to fill it with something.
I have rearranged the closet tremendously from its original state, but I'll share that in another post. I want to share my new office corner with you in its pretty and organized state!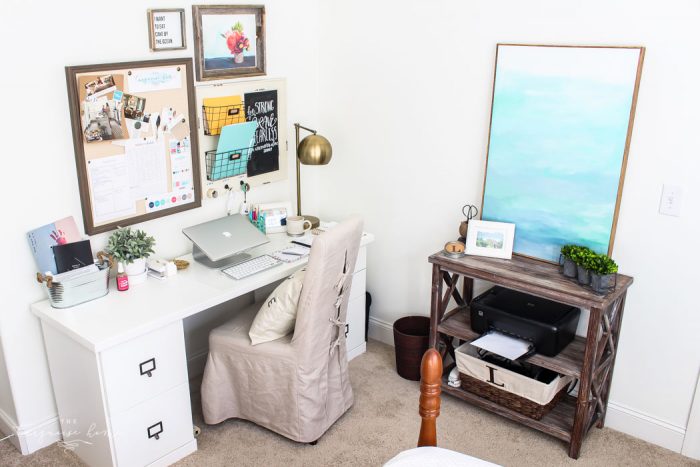 Gah!!! I'm just so obsessed with how it turned out! I love, love, love how pretty it is and how functional it is all at the same time! (Don't mind the bed post in the picture, I'm going to replace it soon!)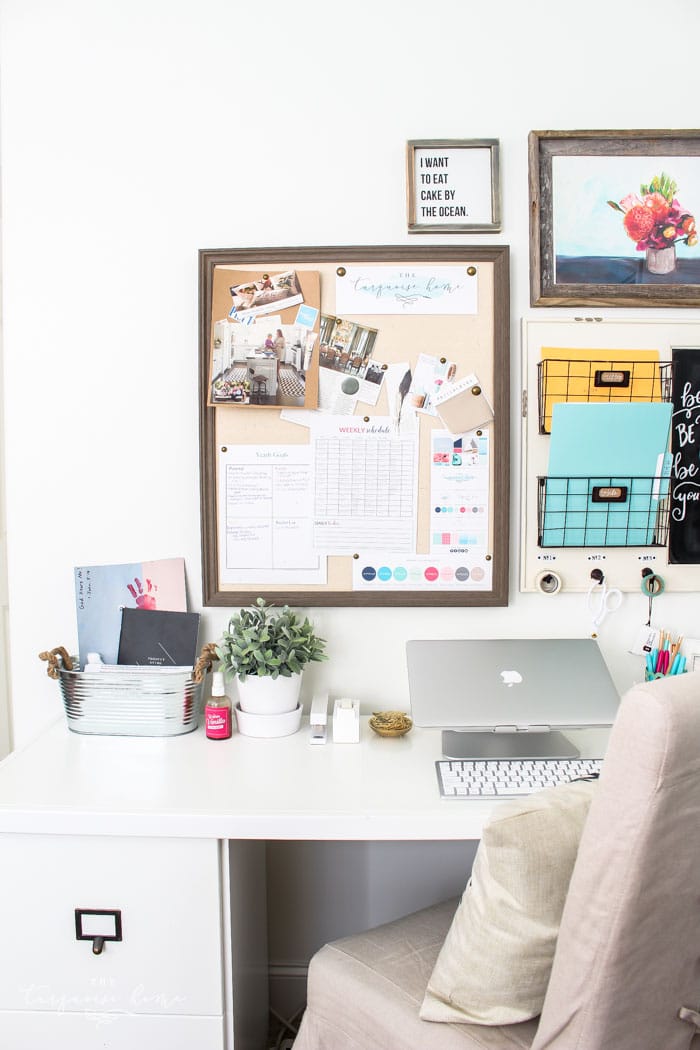 Yay! I can't believe that this is actually my work space and that it's actually organized with everything I need and love and nothing more. So absolutely fun. It's quite freeing to not be cluttered and able to find everything I need. I have plenty of room to spread out and get my work done.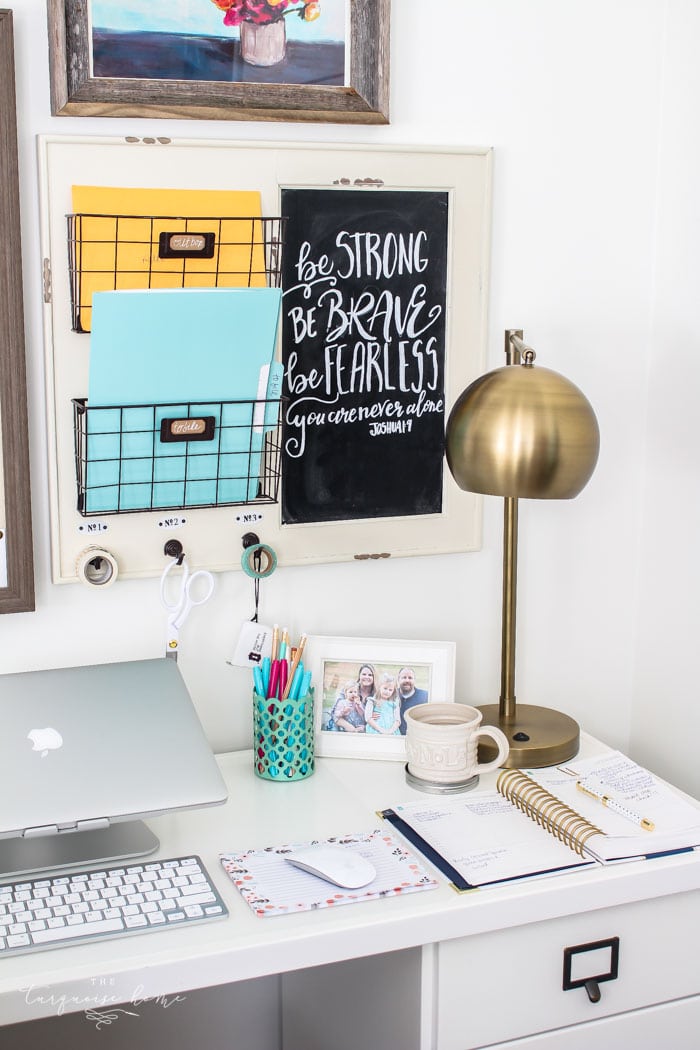 How to Keep Your Home Clutter-Free
After you've pat yourself on the back for a job well done, it's time to set up systems for keeping your home functional, beautiful and clutter-free! We might have to do a room refresh here and there, but let's not do this whole thing again. Right?!
1. Throw Away Trash Immediately
If you see something that is trash, have a habit of taking it to the trash can right then. I make a habit of when I walk out of a room, I look around to see if anything needs to be thrown away or taken out of the room. And then I take it with me as I go.
2. Tackle Piles Quickly
If you start to see piles take shape, attack them quickly and with a vengeance! No growing piles, here!
Having a cleaning crew come to my home regularly keeps me accountable when it come to piles. I highly recommend it, if you can find room in your budget.
3. Set Aside Regular Time to Declutter
Either once a month or once a week, schedule a little bit of time to declutter a space in your home. Maybe one weekend a month, tackle another project or do a refresh on a room you've tackled before. This will keep it from getting out of hand again!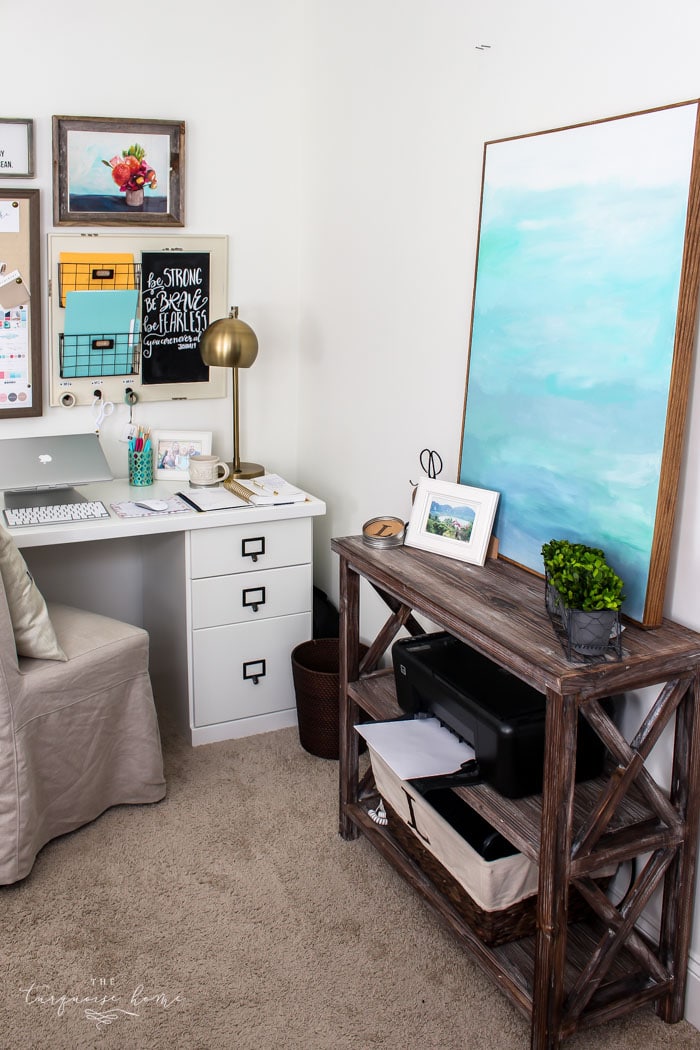 Take the 30-Day Decluttering Challenge
If you are committed to decluttering your home, I would love for you to join our 30-day decluttering challenge! You will receive one e-mail each day for 30-days (with some rest days built in) and after you're done, you'll be amazed at your home! Join me!
Ready to find peace in your home again?
You can't decorate a home with clutter. Get started on your decluttering journey with 30 days of encouraging and helpful e-mails to keep you motivated!
More Organizational Posts You Will Love:
SaveSave