A family command center is the key to keeping a busy family organized! And I have found for you the best family command center options for you!
Hi friends! I've been working through my next phase of decluttering (read more about that here) using the book, The Life Changing Magic of Tidying Up. And I'm focusing on organizing my books and papers right now. #sendhelp #papersfordays
This quest to organize my whole life has led me to create a command center for our family. In the past I've kind of stuck my nose up at a command centers, thinking that I didn't need one. I could just tape a calendar to the side of the cabinet and call it a day. But as I looked more carefully at my clutter problem, I realized that I do need a place to process the many important items that pass through our doors on a daily basis.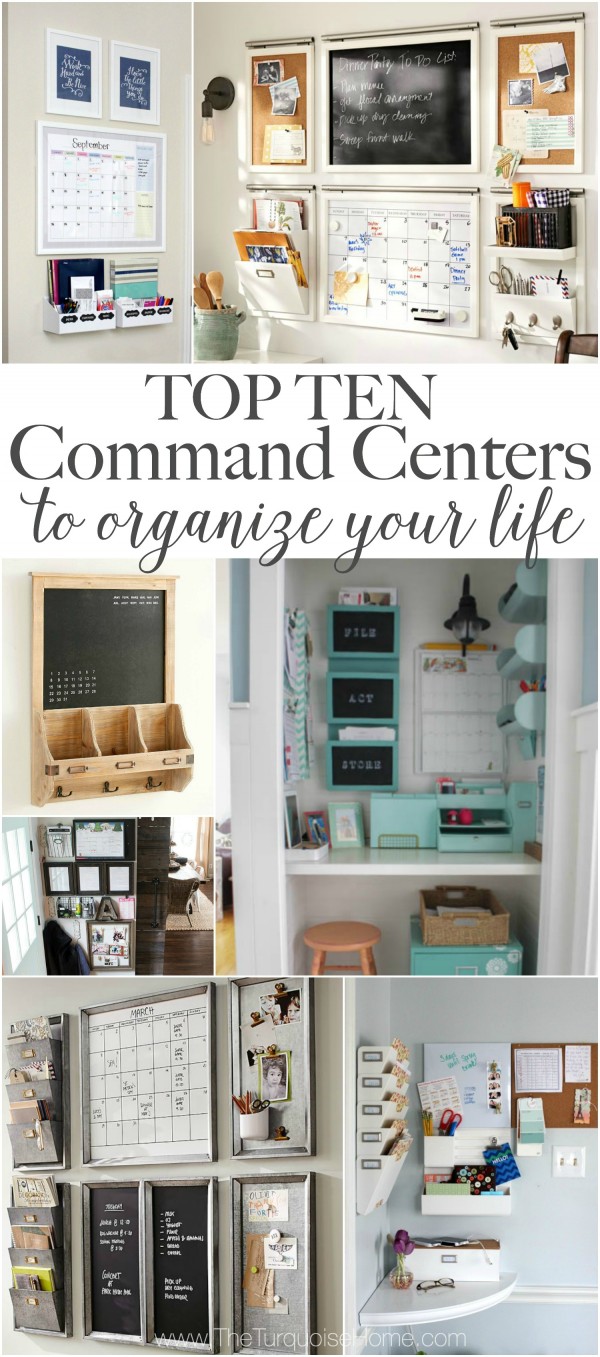 It's the age-old adage, "A place for everything, and everything in its place." Yep! It works better than way apparently.
So what exactly is a command center? Well, it's a designated space in your home that can be modified to fit your family's needs. It usually includes a family calendar, a place for file folders (which hold papers, receipts, incoming mail, etc.), chalkboard for messages, a magnetic board for important notes, a menu plan, hooks for keys, a place to recharge electronics and possibly even a family binder.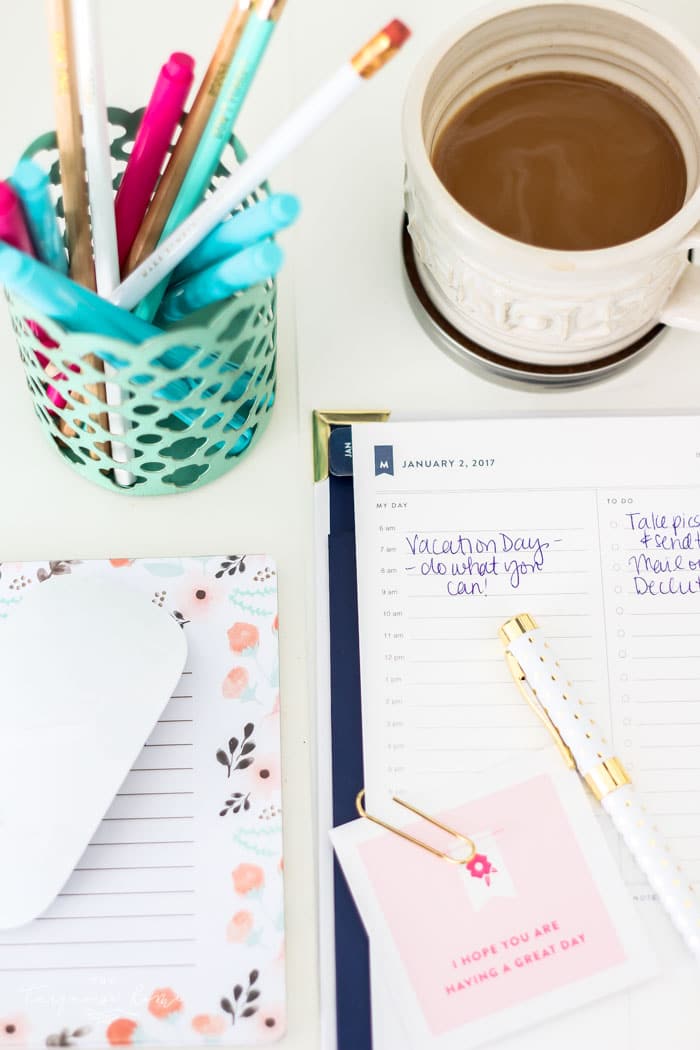 Tired of Feeling Overwhelmed?
Join the FREE 30-Day Decluttering Challenge & Find Peace in Your Home Again!
Now, obviously you will want to create a command center that is perfect for YOUR family. My personal command center doesn't need a hook for keys or a a chalkboard.
I'm still working on my command center. I was planning on sharing it today, but it's just not quite ready yet. I took pictures and everything, but it's missing something. So, hopefully I'll share it soon.
Update: My command center is done! See it here! AND we recently did a 30 Days to Less of a Hot Mess Challenge. If you need some accountability and ideas for decluttering and organizing your home, click here!
Top 10 Family Command Centers to Organize Your Life
In the meantime I've spent a lot of time researching and reviewing other command centers, so I thought I'd share some of my favorites for getting your life organized.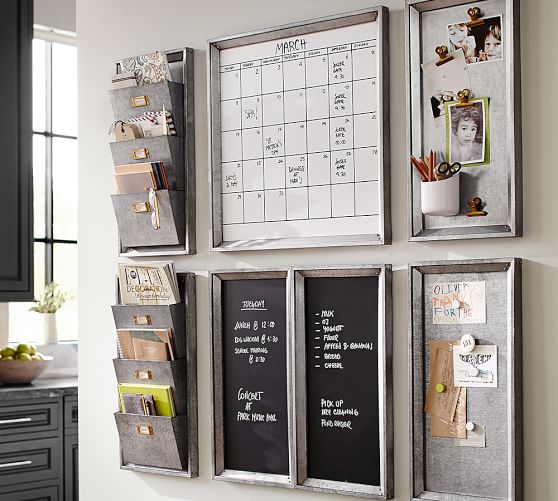 1. Galvanized Modular Wall System – can we just take a moment of silence right here and now for this gorgeous wall organization system? I mean, if this was in my budget it would be coming to mama. I absolutely LOVE it.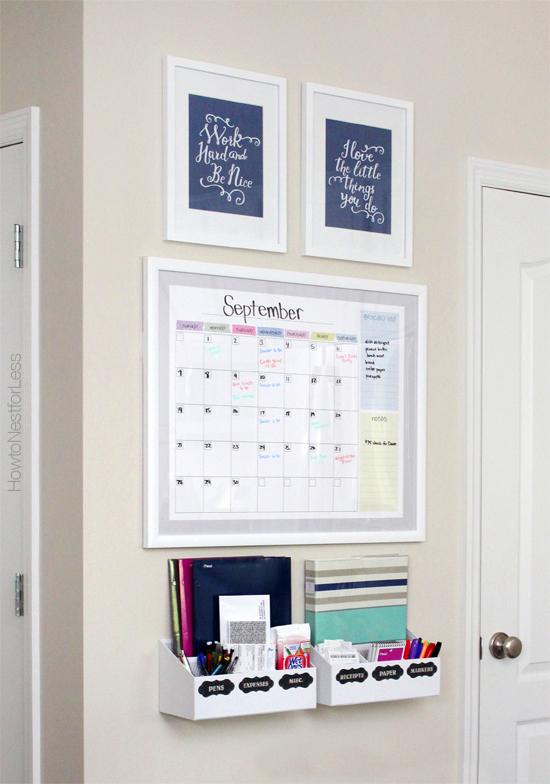 2. Simple, DIY Command Station – This kitchen command center from Erin at How to Nest for Less, is much more my price tag with some DIY elements included – like the awesome desktop storage, turned wall organizers. Genius! It's budget friendly, too, coming in at $75 for the whole thing! (Find similar desktop organizers here.)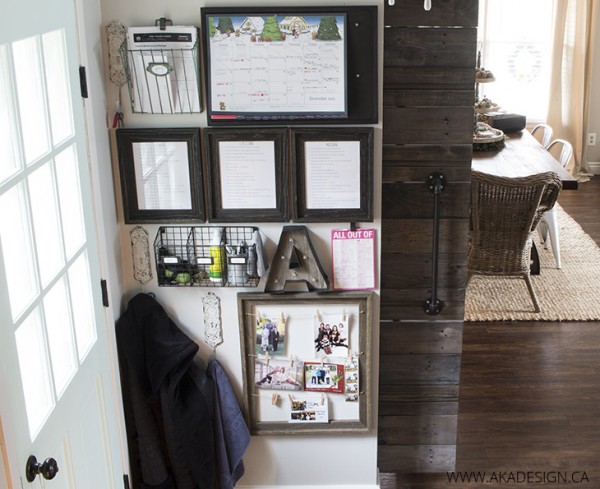 3. Gallery Wall Family Command Center – Do you have a skinny, tall wall near the door you use most often? If so, it may be the best place for a full-sized, gallery wall family command center! Shannon from AKA Design revamped her space with all kinds of organized and functional goodness. I love those wire baskets and the rustic marque letter.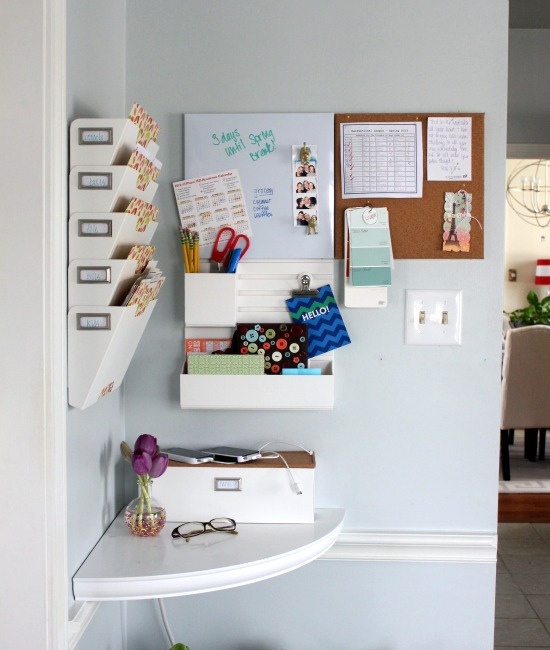 4. Corner Command Center – If you have an empty corner somewhere, then this is such a great use of otherwise wasted space. Check out this cute corner shelf very similar to Cassie's from Hi Sugarplum!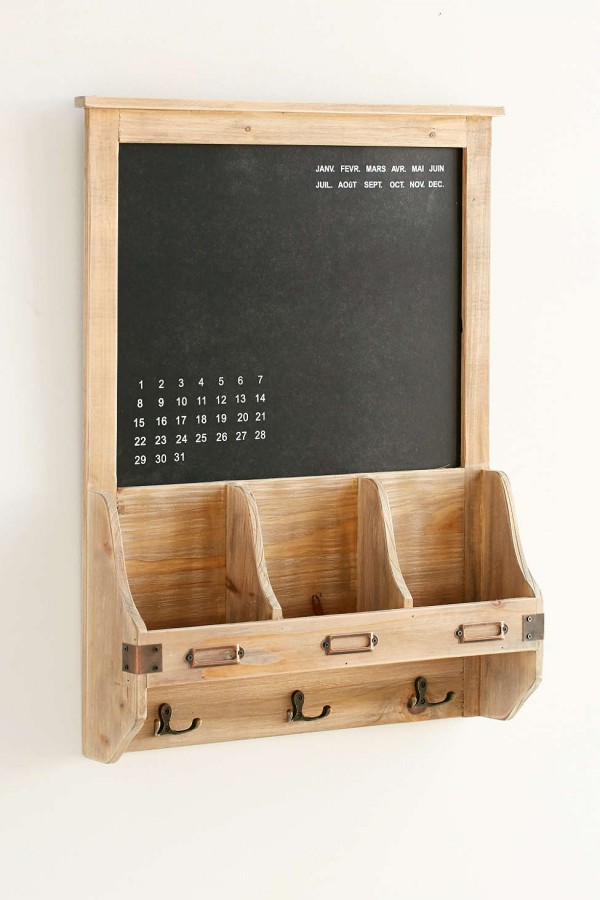 5. Small Space Command Center – If you're short on space (and budget) then this one stop station will do the trick! Perfect for hanging keys, sorting mail, leaving message or making a dinner menu plan.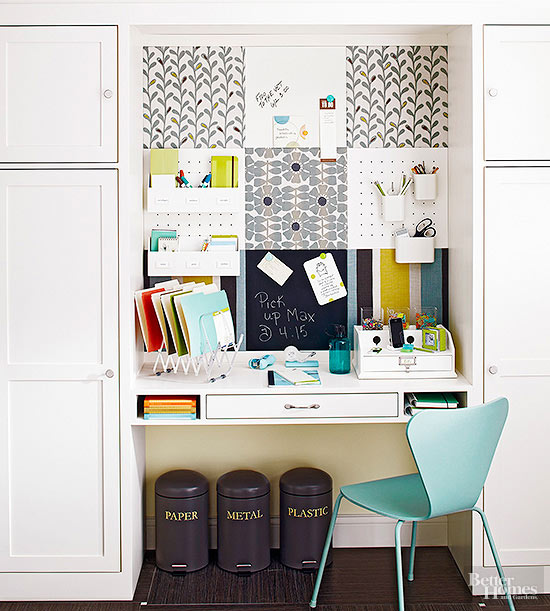 6. Small Desk Command Station – Or what about a small space that's not a hallway or corner? You may be able to set up a small desk for your command station. Even a closet for your office (see below), otherwise known as a cloffice. Look it up. It's real. I keep trying to figure out how this will work in my kitchen, but I think it will be too crowded.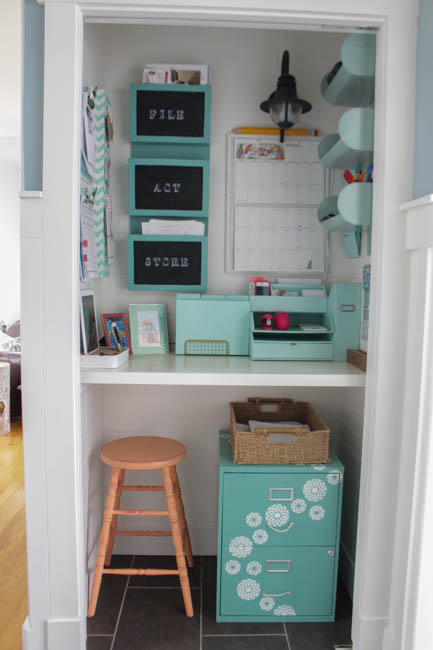 7. Closet Command Central Station – Speaking of a cloffice, I love this closet command station makeover from Krista at The Happy Housie. I wish I had a spare closet like this to use for mine! I especially like those pretty aqua desktop organizers from Staples. And how cute is that filing cabinet?? I have one in desperate need of that transformation!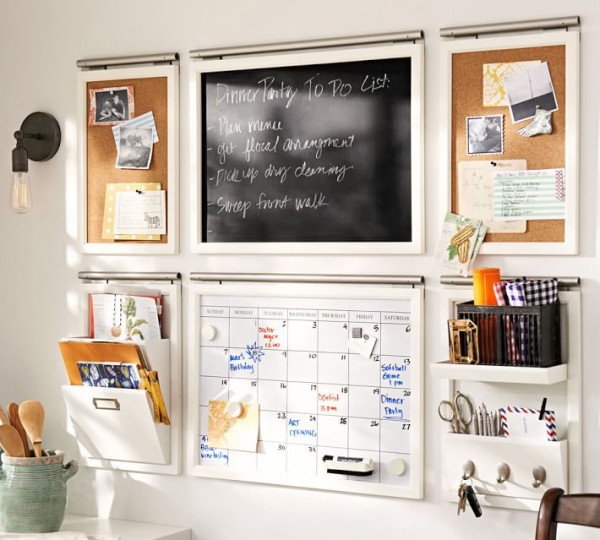 8. Modular, Interchangeable Daily System – I think I've wanted this Pottery Barn organizational system for as long as I can remember. I still don't own one, but maybe someday in my office. I love how you can change it around depending on what you need. If there's one thing that's certain about organizational systems, it's that they will change and evolve as the seasons of your life evolve. This particular system will evolve with you!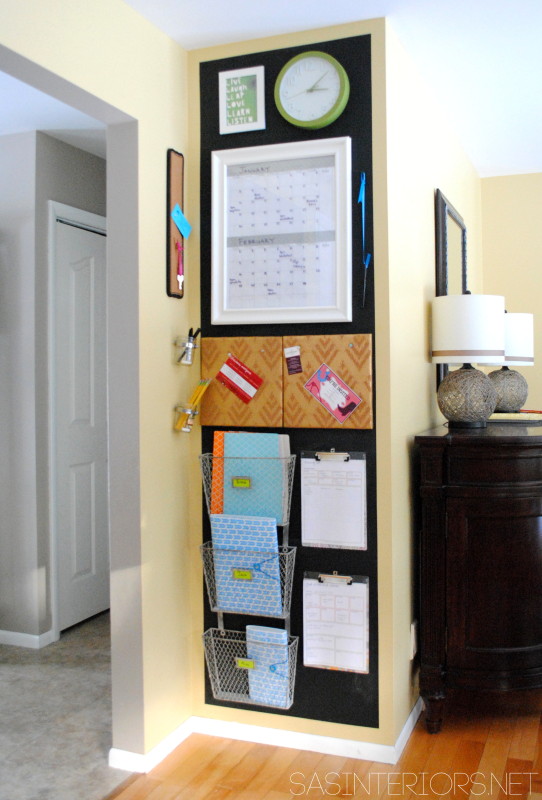 9. Chalkboard Family Command Center – I love how Jenna's chalkboard wall/family command center has morphed over the years. (See the previous point on organizational evolution.) As her family's needs have changed, she just changes her wall. Brilliant! And I love how the chalkboard frames out the space giving it definition and purpose.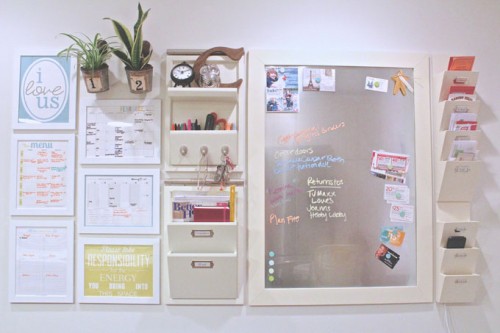 10. Family Command Center with Printables. You're going to love this one because she has used some really helpful and cute organizational printables. I'm going to use this one (or one like it) to keep track of our weekly menu plans. I normally just write it on a piece of paper and leave it on the counter, but I'm going fancy now. 🙂 Like this menu planner printable. So cute! Or you can find a ton of organizational printables HERE.
There you have it! So many options to get your life organized. Now that I have a command center of my own, I see how valuable they are. Instead of leaving everything on the counter or shoved in a drawer, things are nicely organized and everything has its placed. I highly recommend them. I'll be sharing mine soon!
MORE POSTS YOU WILL LOVE:
SaveSave
Get Instant Access to my Guide to Customize Your Home on a Budget
Grab your FREE guide for 10 Ways to Customize Your Home on a Budget: simple projects to transform your home from builder beige to a home with character and charm!