How to Organize a Linen Closet
Don't settle for a cluttered linen closet. Gather linen closet organization tips from top organizational bloggers!
A linen closet is an interesting thing. It's probably the smallest closet in your entire home. This means it is the absolute perfect place to begin an organization project.
Not only will you likely be able to finish linen closet organization in a day or less, but you will also be to finance your project for free or inexpensively.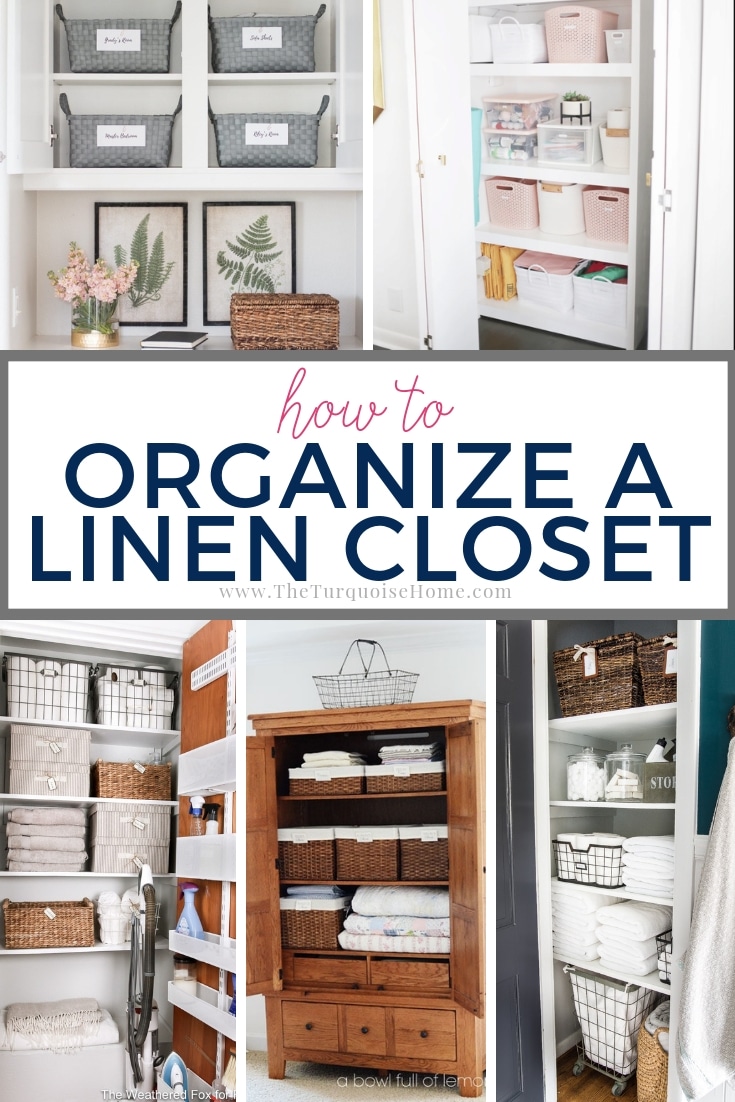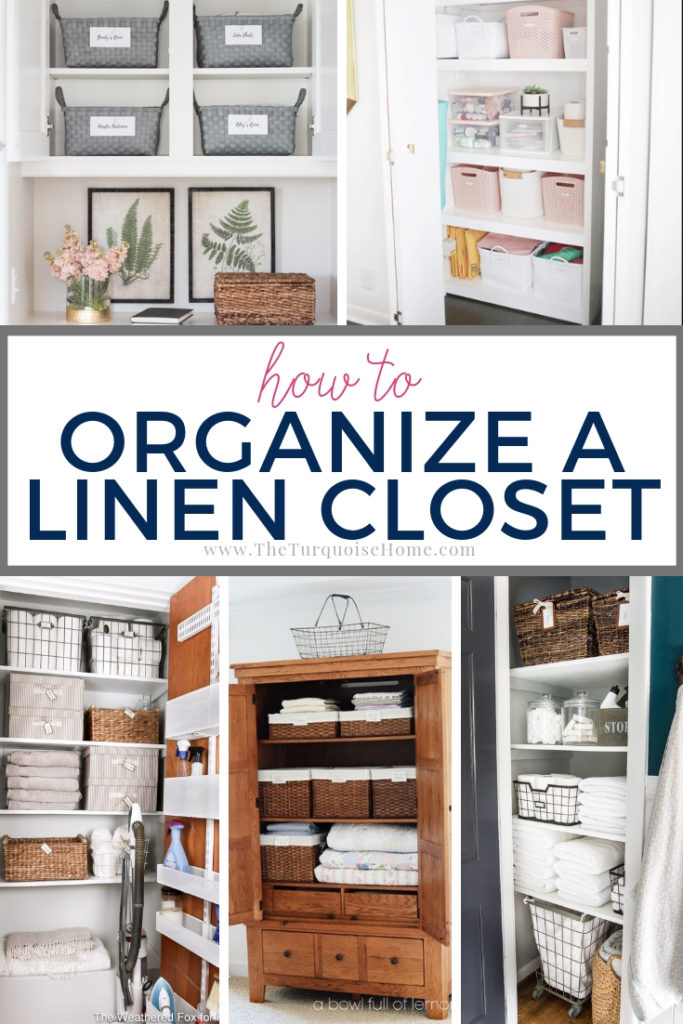 My home has one teeny little linen closet in my master bathroom. Our second (and only other) bathroom only has under-the-cabinet storage space. So, our master bath linen closet pulls a lot of weight around here.
Ideas for How to Organize a Linen Closet
I gathered some amazing closet organization ideas to see how others keep their linen closets in check. Here is how to organize a linen closet according to some of my favorite bloggers!
This post contains affiliate links for your convenience.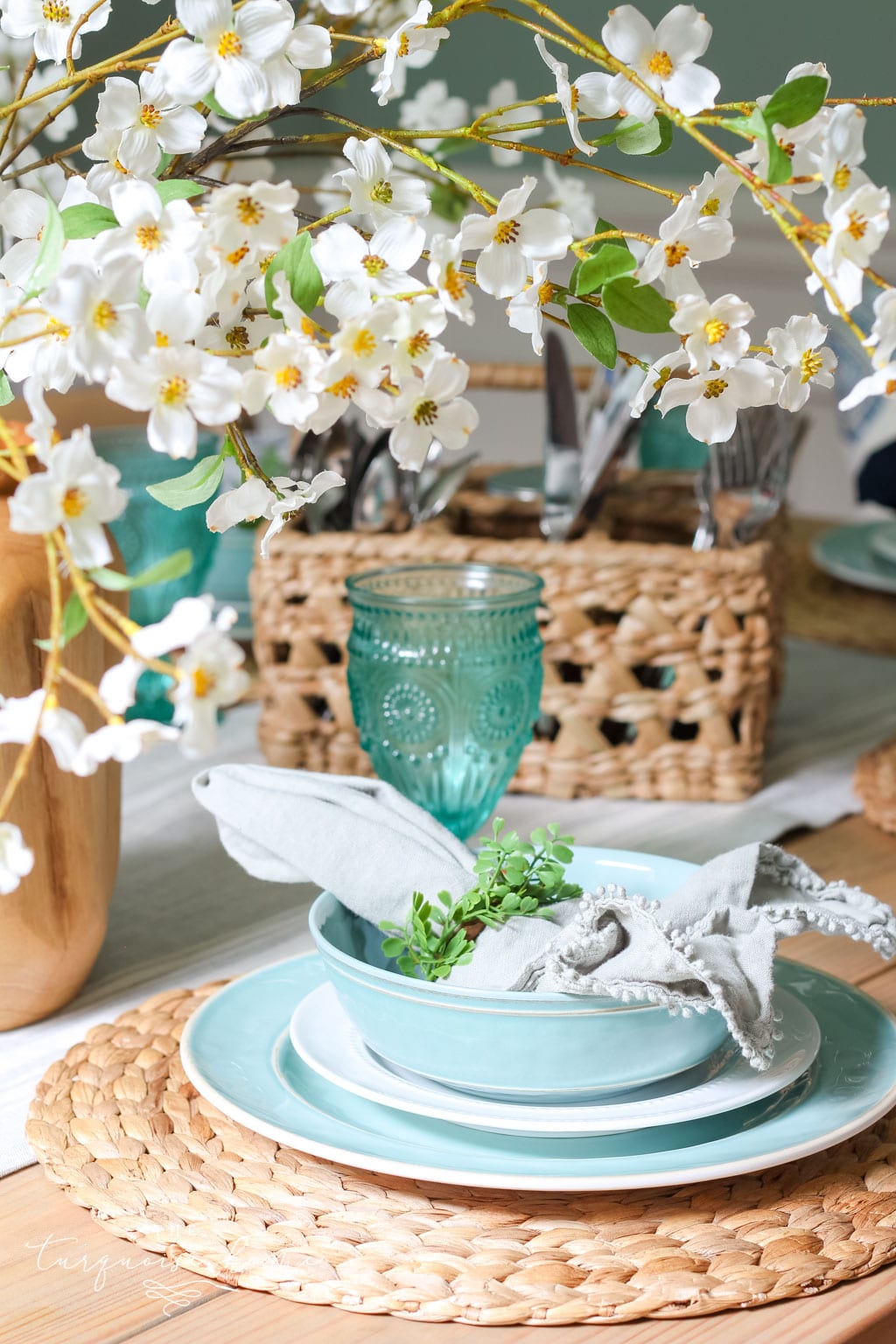 30-Day Decluttering Challenge
Want to bring peace into your home? Join me for a 30-day FREE e-mail challenge
This pretty in pink linen closet from A Beautiful Mess is one of my favorites. This closet is packed to the brim with functionality while still looking lovely. You can re-create this look by grabbing a few of these super cute blush pink woven baskets. Another trick from this closet is to keep smaller items together in see-through tubs – and label everything!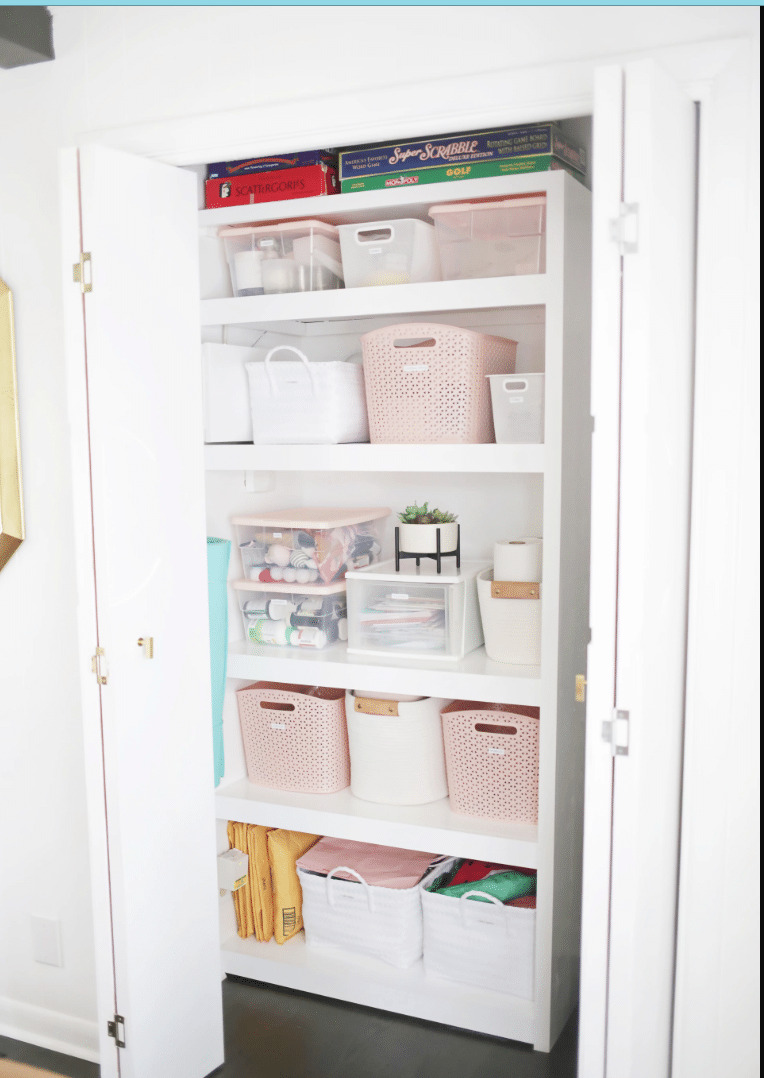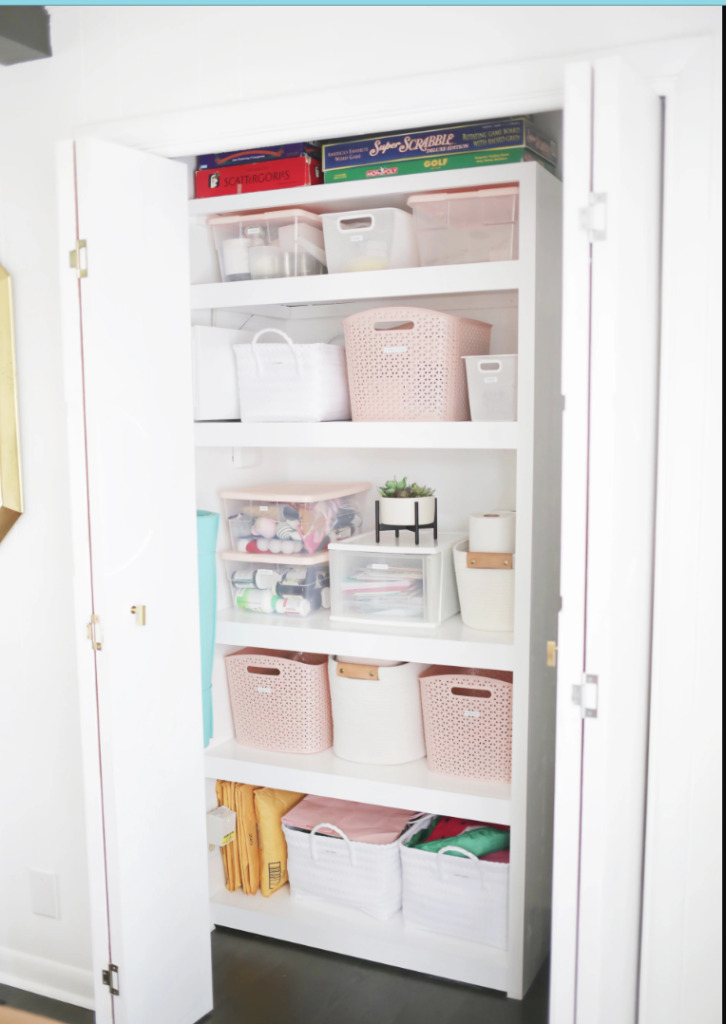 No linen closet? No problem! If this post is making you feel a bit left out, you are not forgotten!
This is a beautiful example from A Bowl Full of Lemons that shows how you can easily add a linen closet to any room and keep it organized too. Whether or not you have a linen closet, you can use similar baskets to keep your items corraled.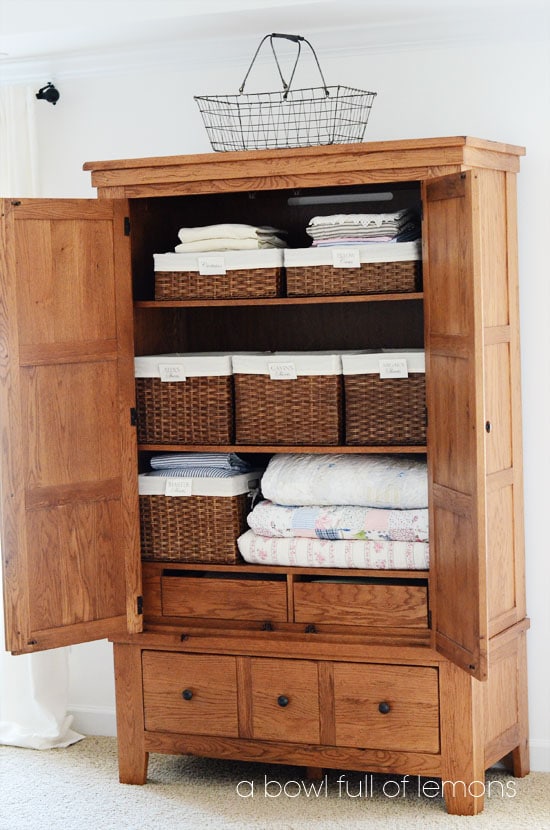 Linen closet organization has never looked so good as when linens are tucked into gray baskets neatly and prettily labeled, just like this space from A Thoughtful Place.
I love the way she styled the open shelf too. The glass vase with gold leaf (similar here) and the framed leaf prints keep the entire space looking clean and modern. You can grab a similar art piece on Amazon if you'd like to recreate the look.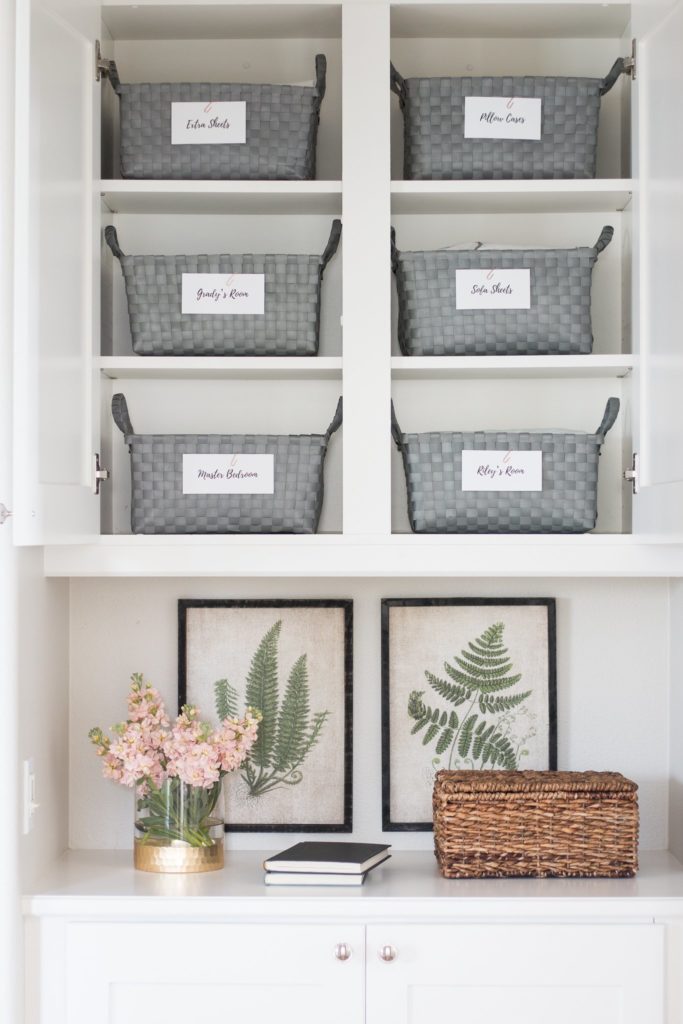 Lauren from Bless'er House fills her closet with some of my favorite things: glass containers, wire baskets and stacks of fluffy, pristine, white towels. If you are excellent with folding linens (darn those fitted sheets!), consider recreating this look while learning how to organize a linen closet.
I love how she set up her supplies as well. Recreate the look and grab a galvanized cleaning caddy and some glass storage jars so you can see your items at a glance.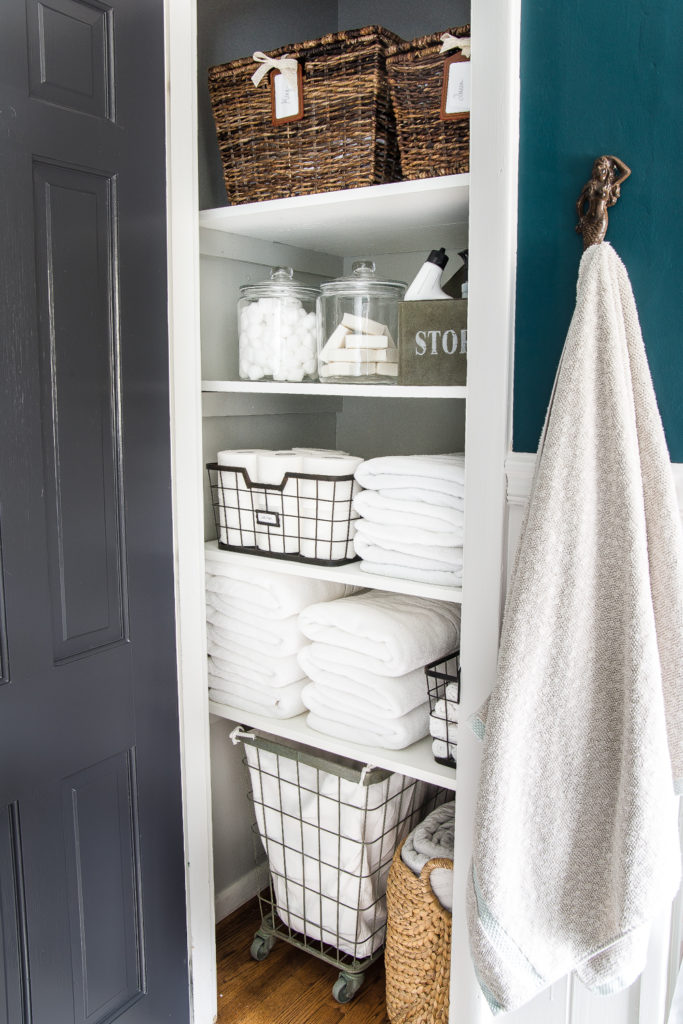 If you've been wondering how to organize a linen closet without purchasing any supplies, this post from The Sunny Side Up is a great starting point. I like how real this closet looks—just a bunch of folded linens, towels, beach towels and sheet sets. If you so feel inclined, follow her lead and add a few bins with supplies at the top.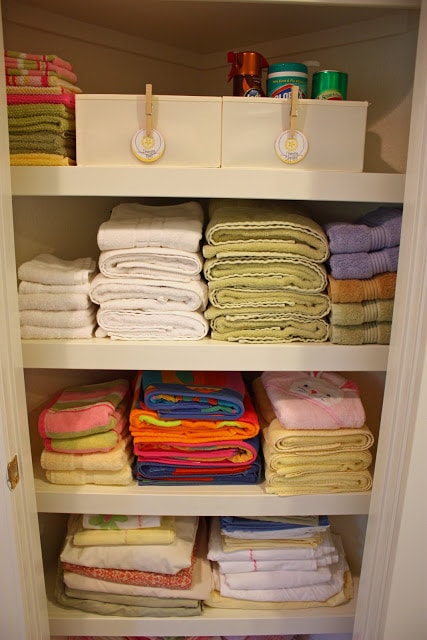 This project from Be My Guest With Denise is a great linen closet organization project if you have a lot of cleaning supplies along with linens to store in a small space.
If you are intrigued by her set up, you can get a similar look by purchasing a rack for behind the door. Grab a round laundry hamper and a small shelf with a top to keep your linen closet organized easily!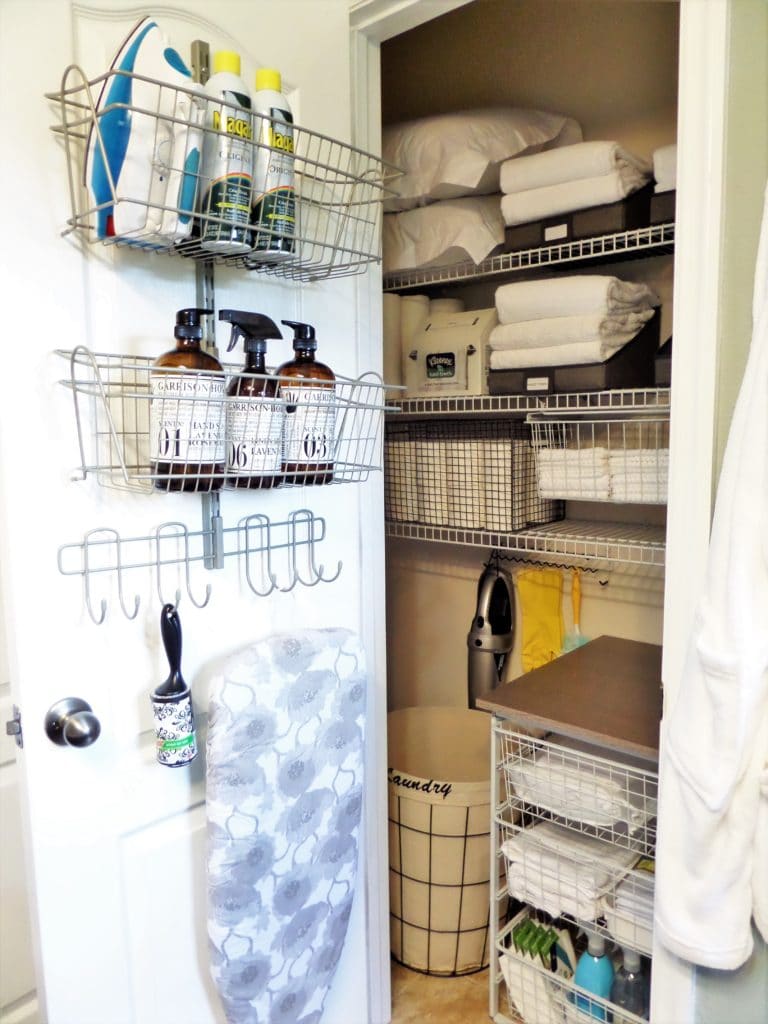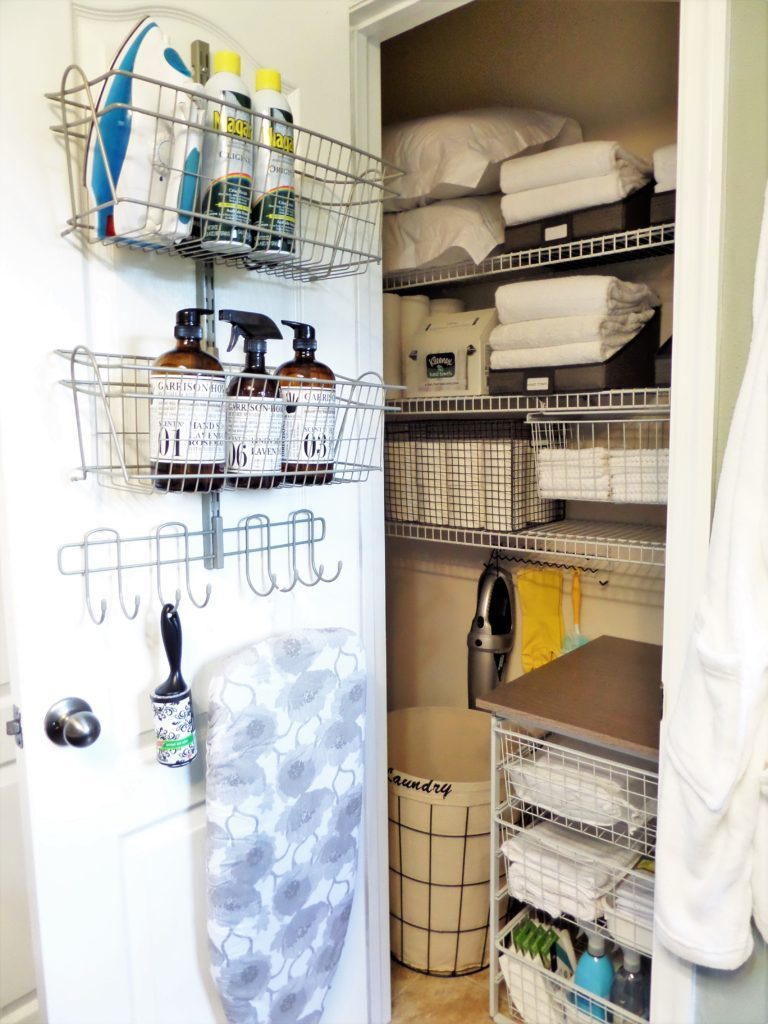 This gorgeous linen closet from Sarah Joy Blog is exactly the right inspiration needed for your own project. I love the combination of storage bins and folded towels and that beautiful bin for corralling toilet paper.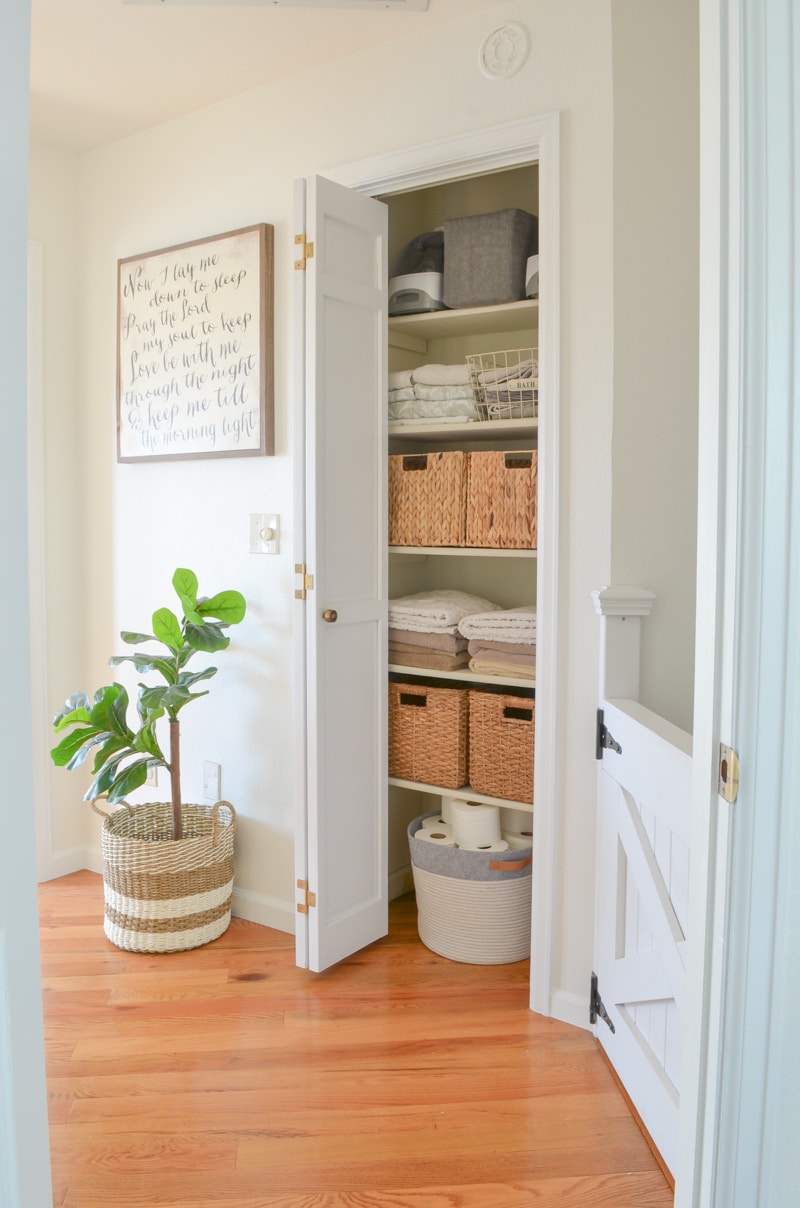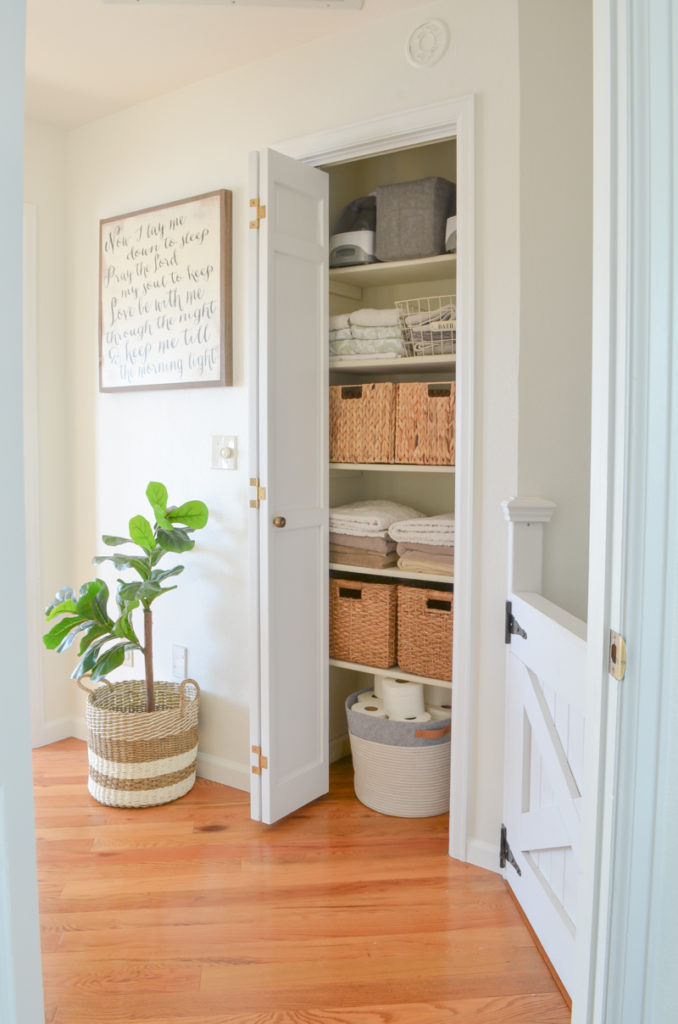 Yet another inspiration piece for learning how to organize a linen closet is this beautiful closet from Blue I Style. She pulled together this look by using all Ikea supplies. There are some good options on Amazon available too if you are far from an Ikea (or if a trip out just sounds exhausting). Find similar green boxes with lids here or green bins without lids right here.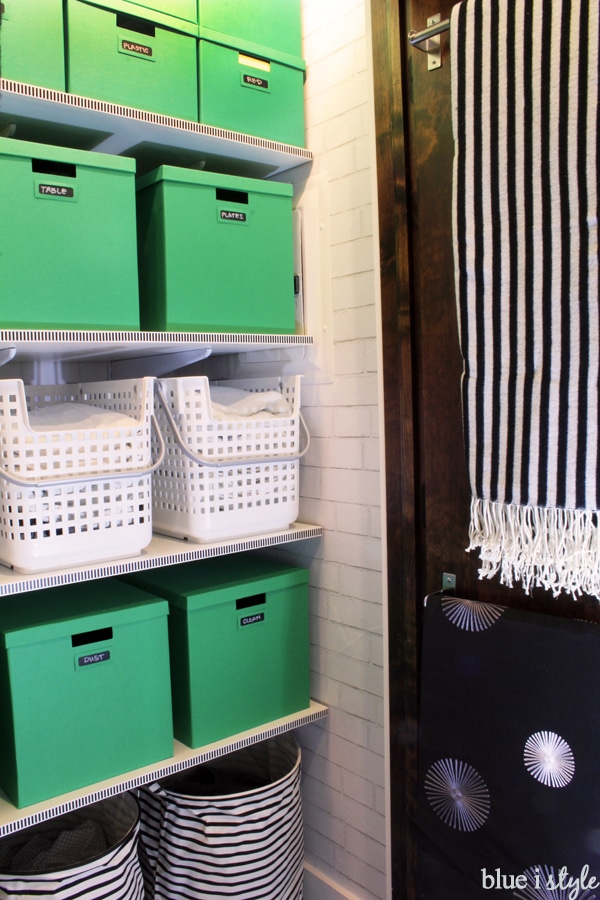 The Creativity Exchange did a fantastic job putting together an organized linen closet. To make your linen closet look nice, you'll need a lidded plastic bin plus some bins without lids. And if you want to grab a stack of super fluffy white towels, that's not a bad thing either.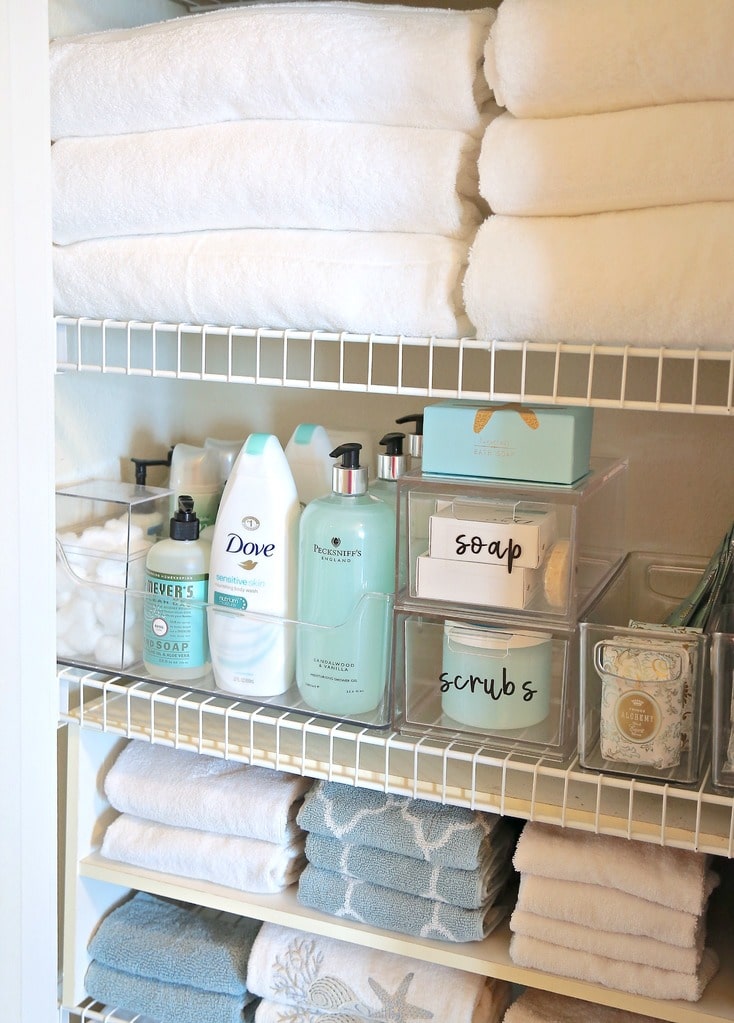 Looking for ideas about how to organize a linen closet? Simplicity in the South fills this space with super practical ideas paired with pretty finishes. I love how coordinated her linen closet looks with less-often-used pillows and blankets stored on the top shelf! I haven't thought of using shelf dividers but I just ordered some for my closet—brilliant!
And so smart to utilize the back of the closet door with an ironing board hanger!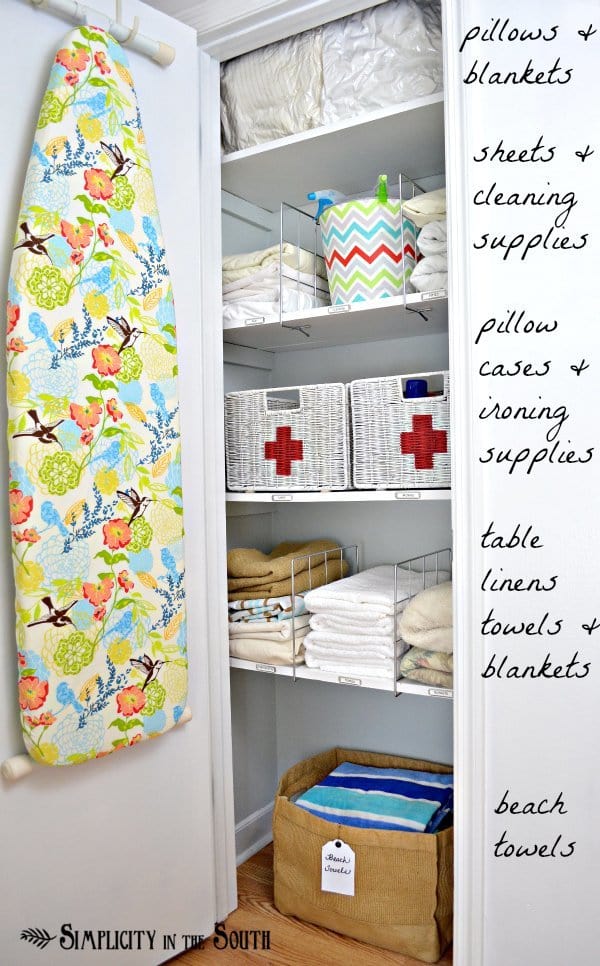 A simple and pretty way to organize a linen closet from Clean Mama! She shows just how much of a difference a basket can make. Grab some dark brown baskets along with some labeled black tags and call it a day.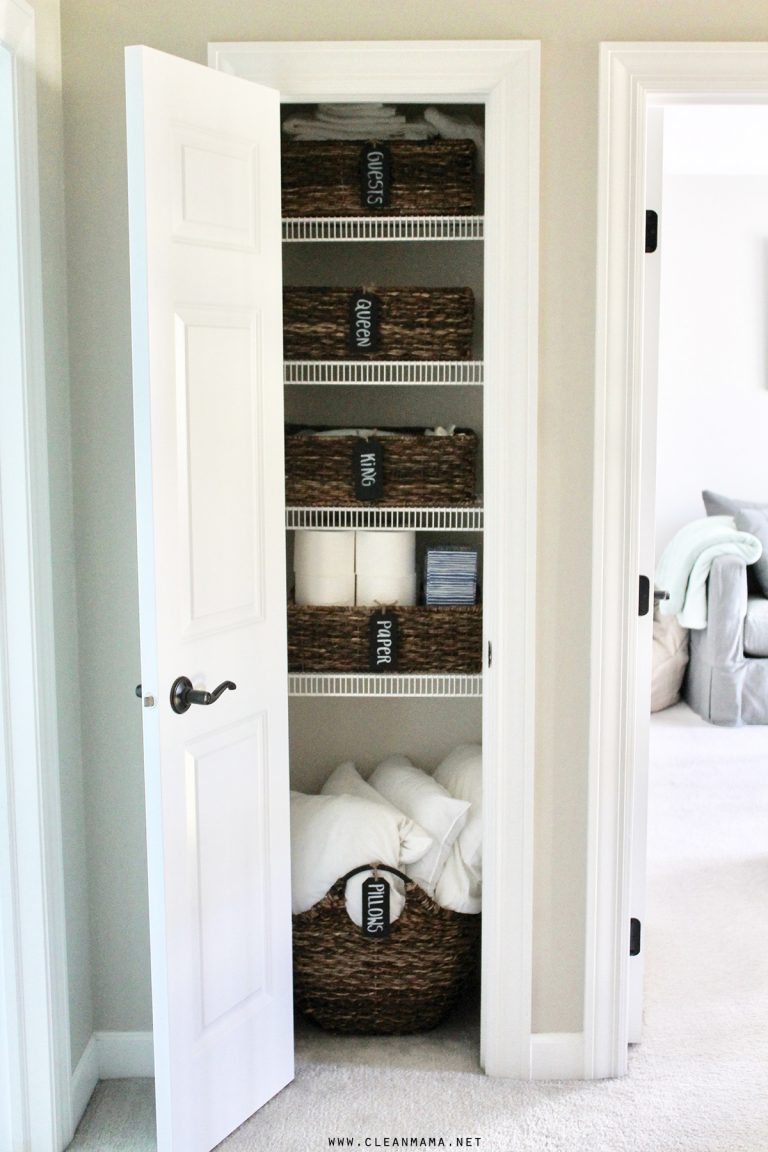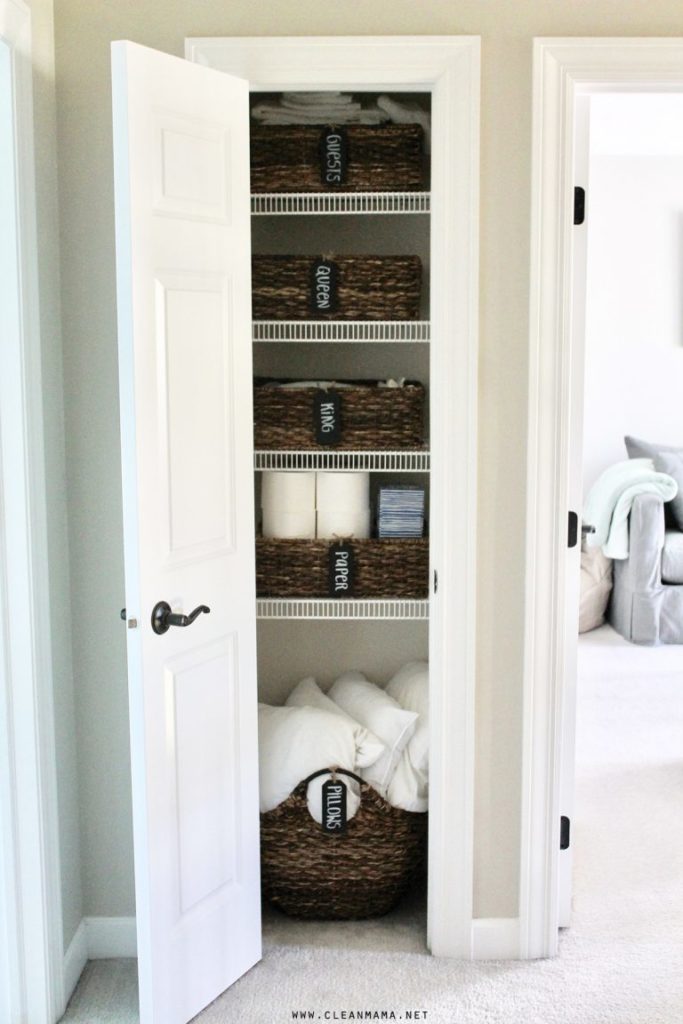 This post from Happy Family Blog is filled with tips about how to organize a linen closet. She first begins by purging all unnecessary extras, then grouping like items together. Her use of magazine holders are totally brilliant!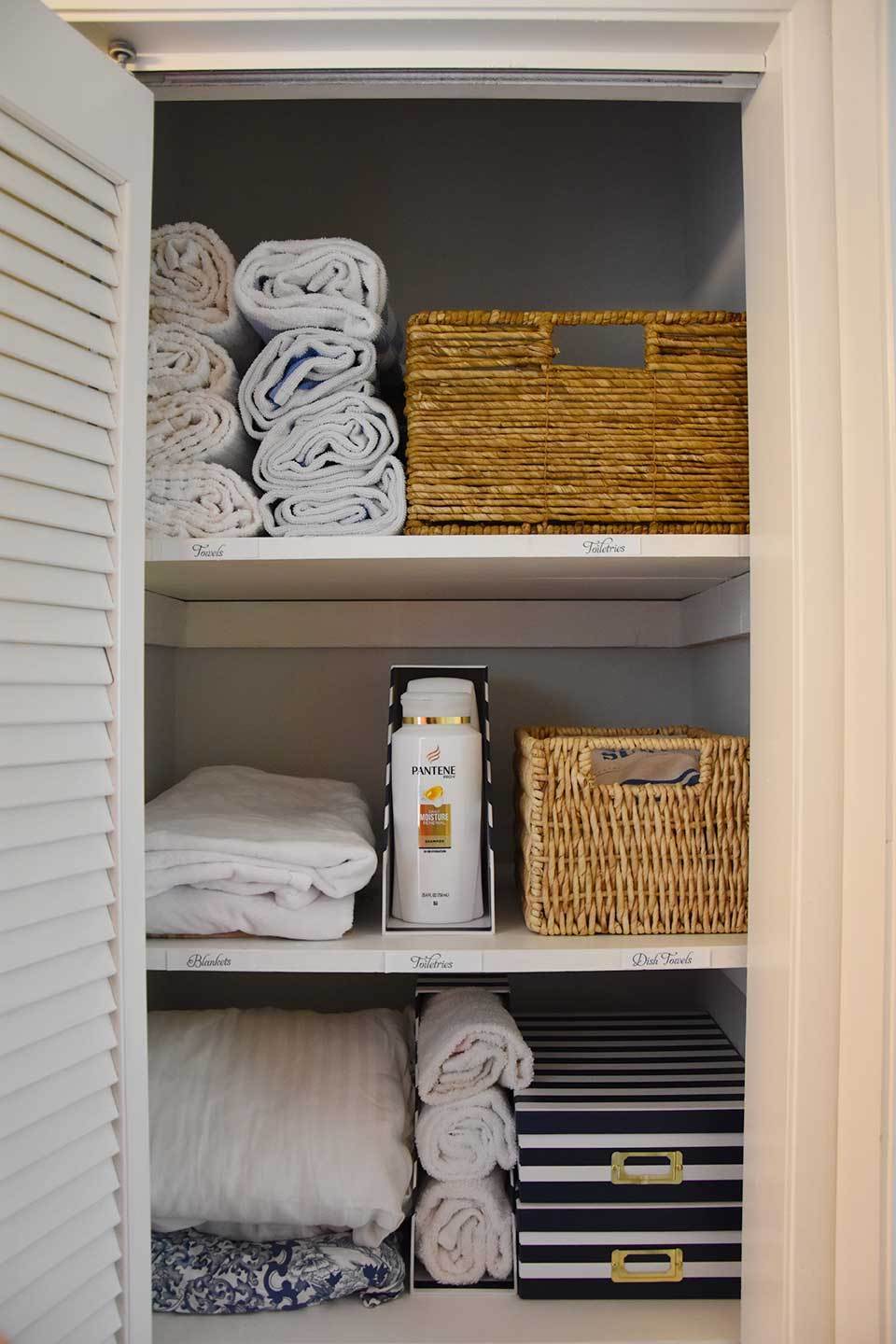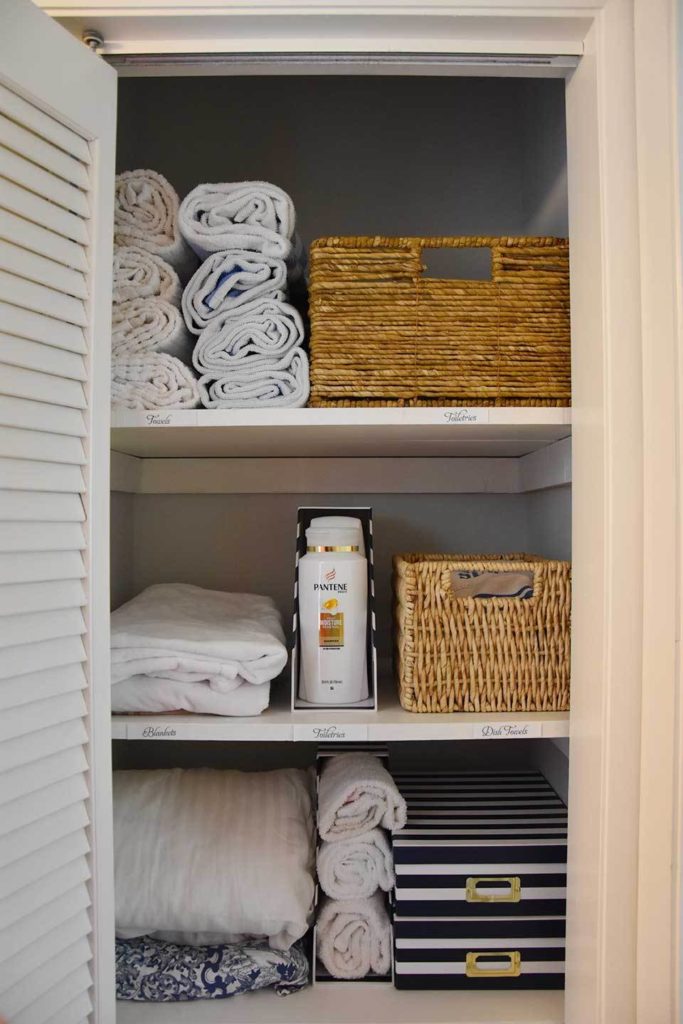 There is something about this linen closet organization project from the blog From Great Beginnings. It reminds me of a spa. Grab baskets like the one she uses and put everything up neatly.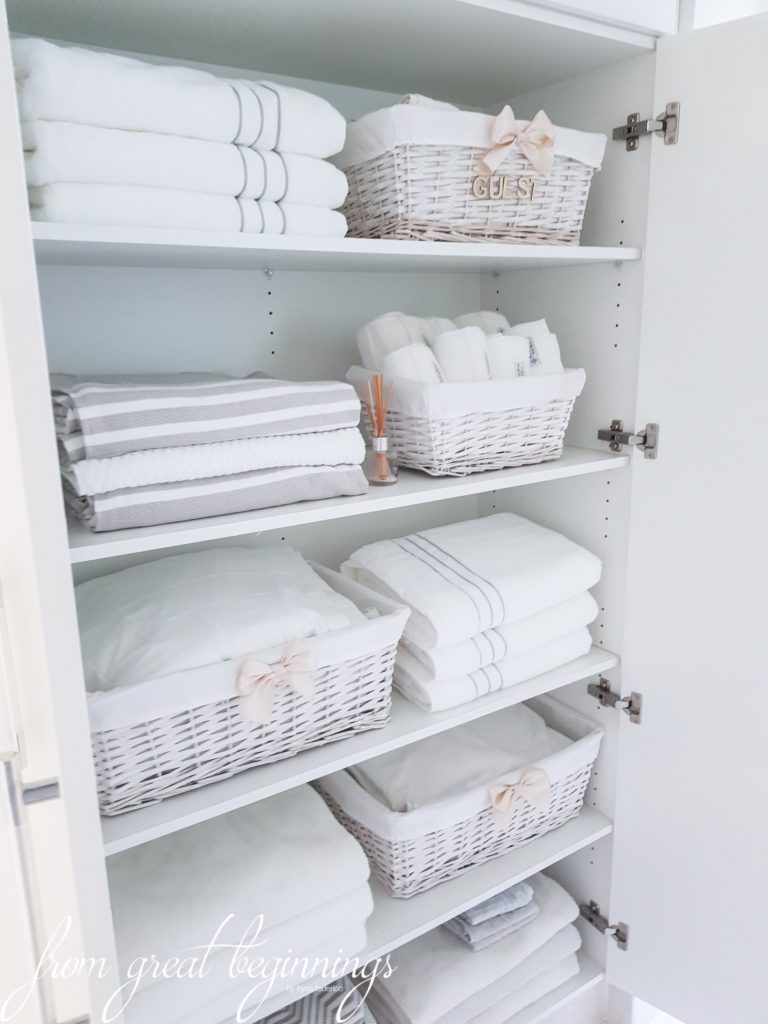 Last, but certainly not least is this beautiful linen closet from Remodelaholic. I love the neatly labeled bins and boxes neatly. Plus, I really want to order a back of the door organizer with adjustable shelves like this one now!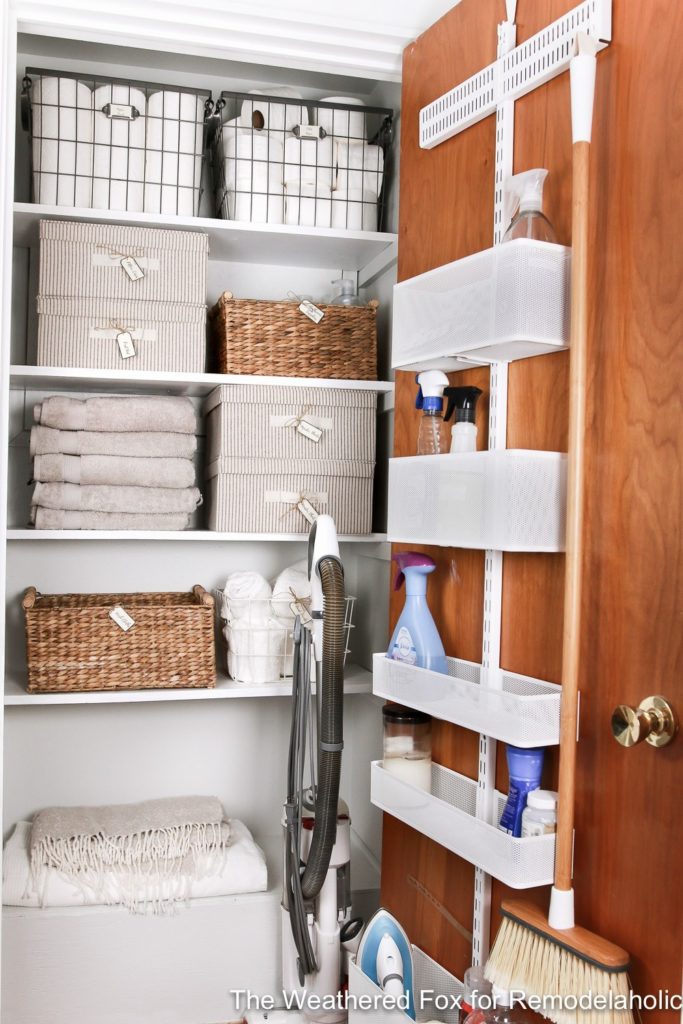 Phew! Don't you just feel like emptying out your linen closet, buying some bins and getting to work? Which one of these linen closet organizing projects do you like the best?
MORE POSTS YOU WILL LOVE: