Christmas Decorating in the Living Room
Even though I Coach pulled the Christmas boxes out of the attic on November 1, it's taken me a while to put all of the finishing touches on my decor. And since it's my blog and I didn't sign up for any holiday home tours this year, I can play by my own rules, which is my favorite way to play anyway.
Ha! #funlittlefactsaboutme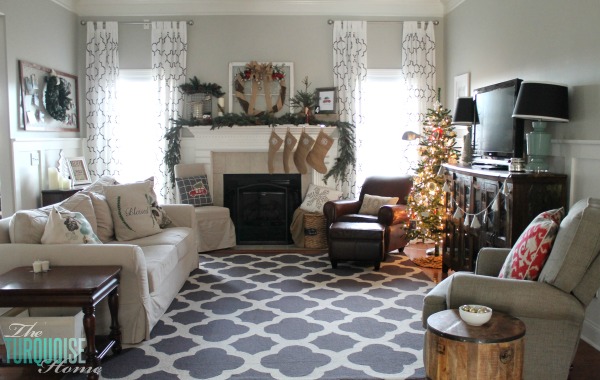 So, instead of one big, all-inclusive home tour this year, I'm going to take you room by room and bit by bit. I shared all of the details of my Christmas mantel already, so you'll want to check that out if you haven't already. This year I've combined Christmas decor of the past with some new purchases.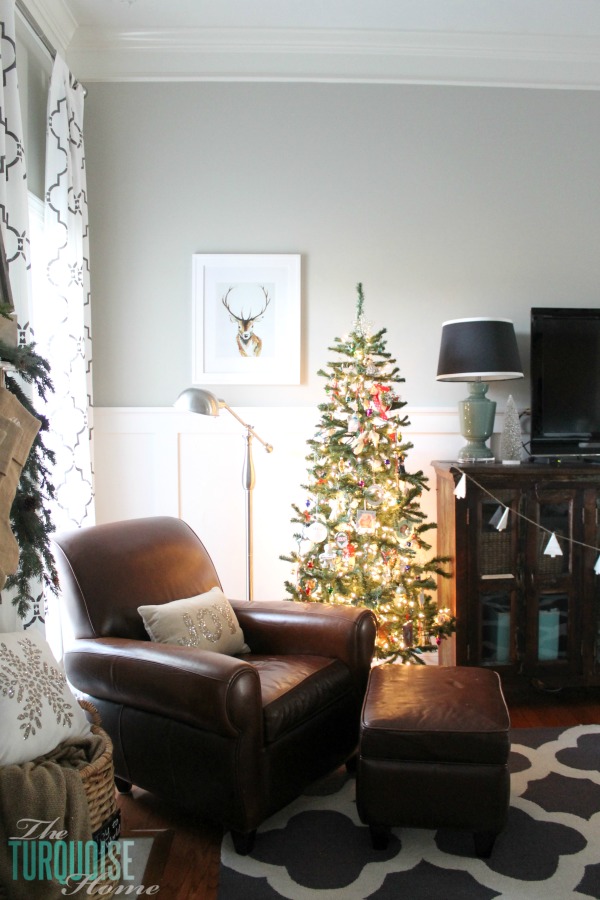 Anything I bought this year, though, I put it through the winter decor test. What is that? It's the "will this work as winter decor after Christmas is over?" And if the answer was yes and I loved it, then I bought it. If not, I left it on the shelf. I plan on leaving up most of this decor through the winter.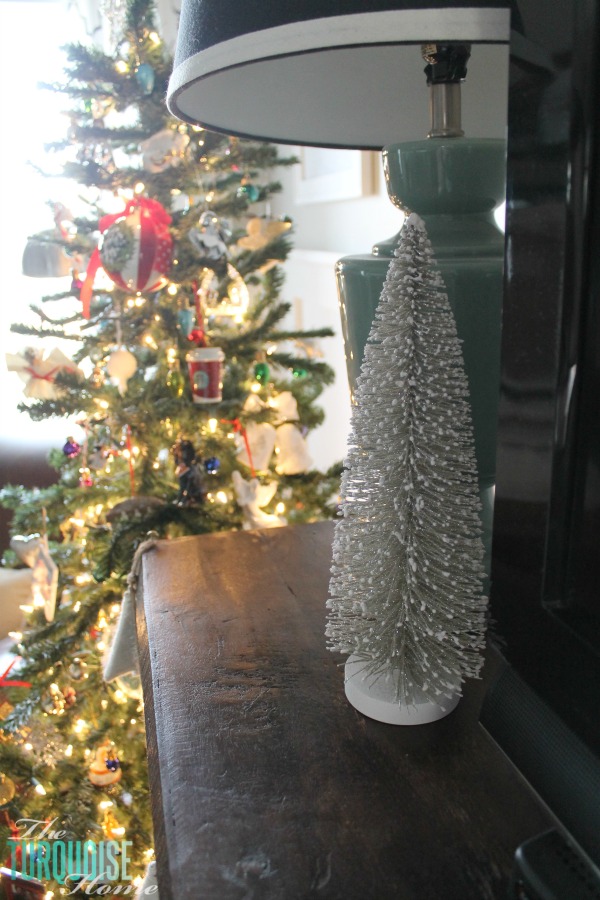 I'll take my Christmas trees down in January, but being home with a new baby in the coldest months of the year, I kind of like need some pretty decorations around me. And I won't have time to take it all down anyway. So, there's the trick. Decorate for winter with a little Christmas splashed in and you'll be set until March rolls around! #lazydecorator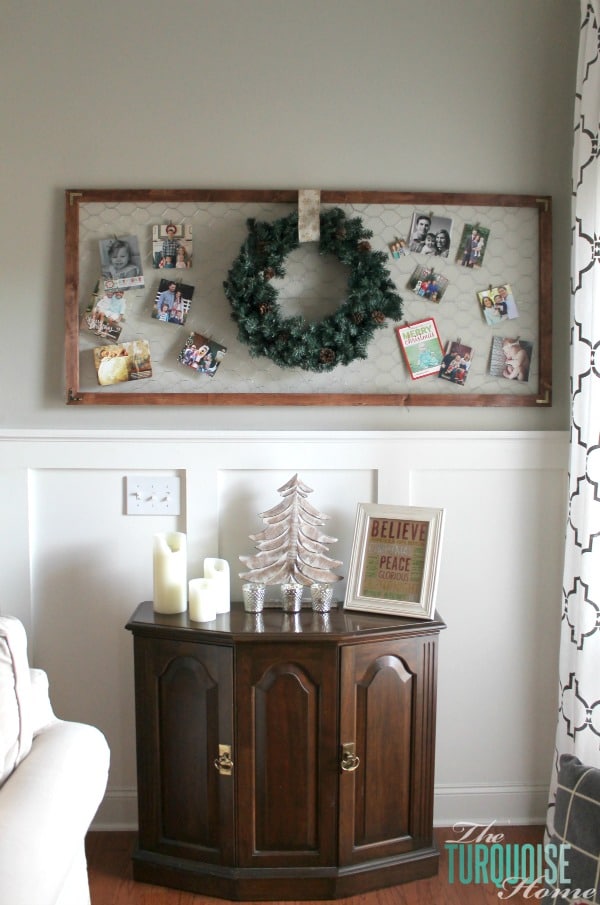 One of the two DIY projects I've done this Christmas is the chicken wire Christmas card holder. I absolutely love it! I've been wanting to make some kind of Christmas card decorative holder for the past few years and when I saw this tutorial from Lolly Jane, I knew it would be perfect!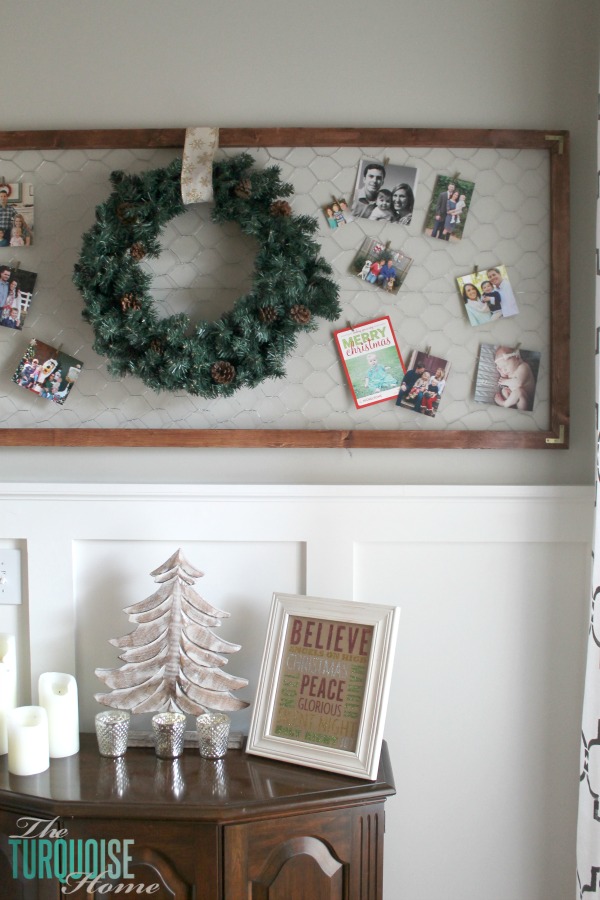 They have the full tutorial on their blog HERE. Mine is 5 feet long by 2 feet wide and I followed most of their tutorial. I did make the corners angled and changed the size for my space, but otherwise it's the exact same thing. I used my new favorite small project staining cloths that I also used for my harvest sign on my fall mantel. They make staining small projects soooooooo easy!! And I bought these cute mini gold clothespins for pinning up the cards. Too cute!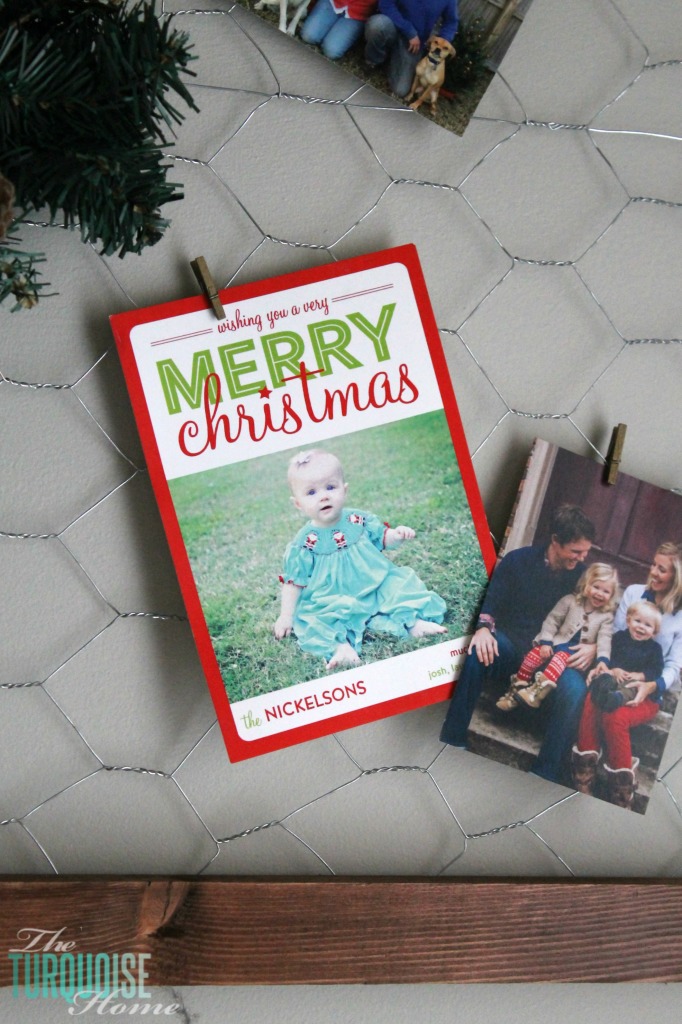 I think I'll keep it up year 'round and use it to display all of the beautiful family photos on it, like I have done on the side of my fridge the past two years.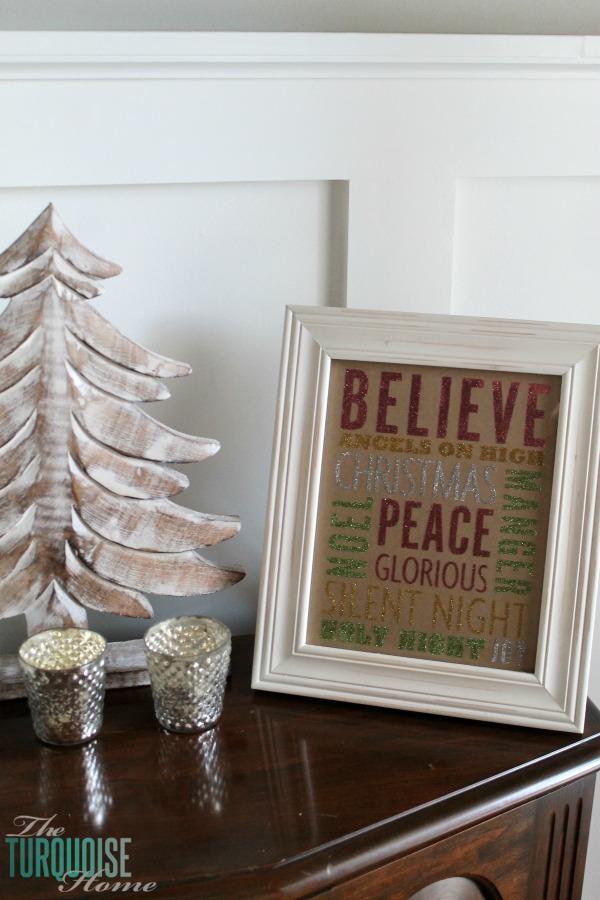 I made this glittery Christmas subway art last year with my Silhouette and double-sided adhesive paper.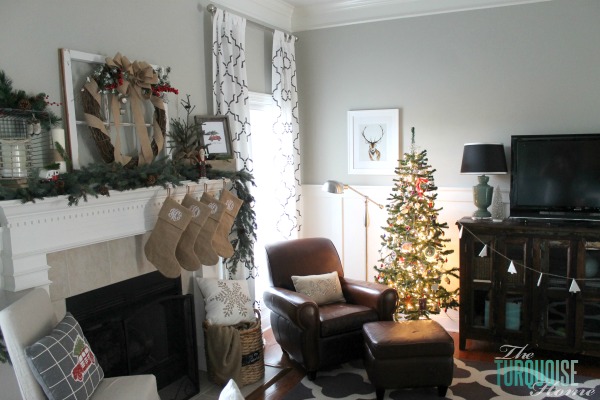 When I was looking for new wintery art to put in my white frame in this corner, I couldn't help myself from buying this sweet buck watercolor from Craftberry Bush. She is amazing! And I may end up with her gorgeous art all over my home. You'll see lots of her work all over the blog world and it's no doubt that her business will keep growing. She's so talented!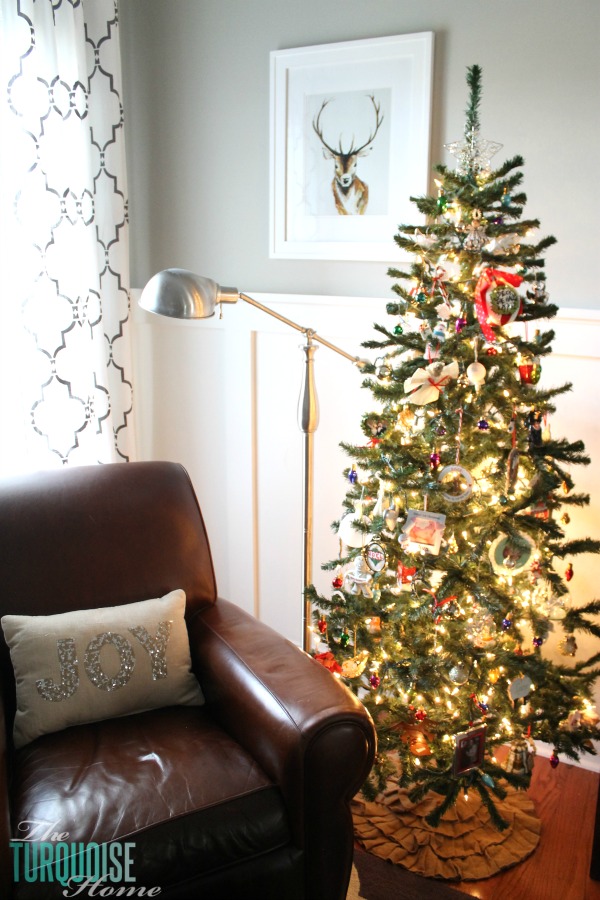 Oh, and did you notice my new ruffled burlap Christmas tree skirt?? Guess what? I didn't DIY it. I bought it … from … Amazon! For less than $20. Amazing steal and I LOVE it. Sometimes it pays NOT to DIY. 🙂
OK, I'm going to hush and let you look at the rest of the room without interruption. #maybe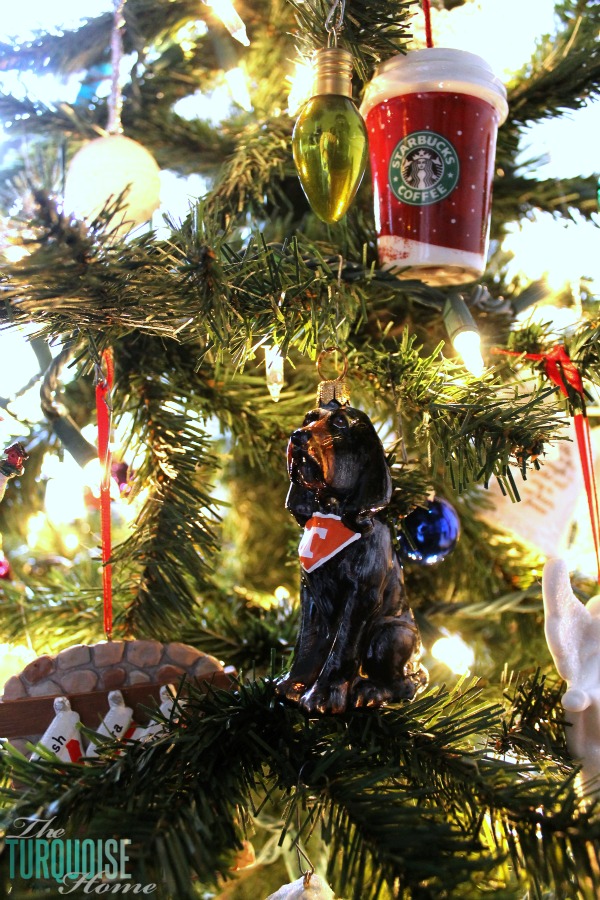 OK, one more tidbit. This is my only new ornament on my little tree full of personal ornaments and family memories. My mother-in-law gave it to me and I love it since I'm a University of Tennessee grad. Go Vols!!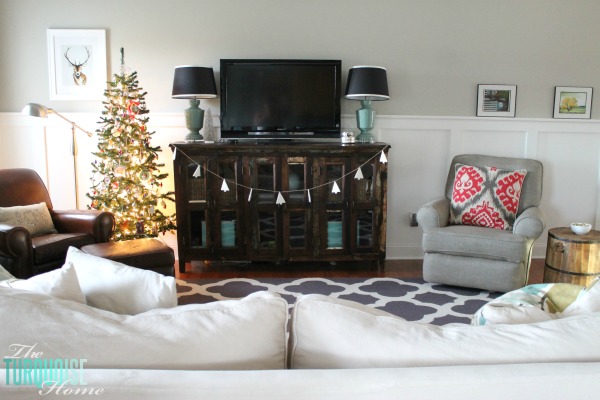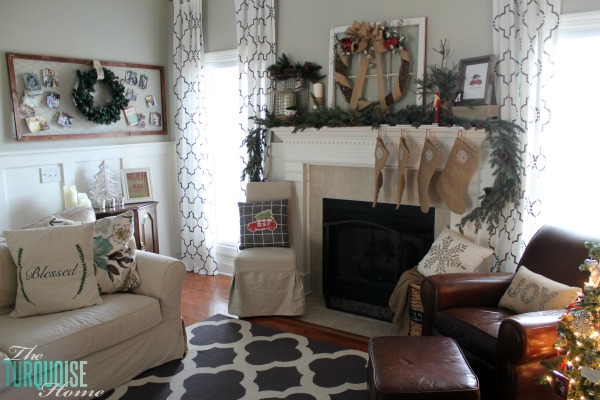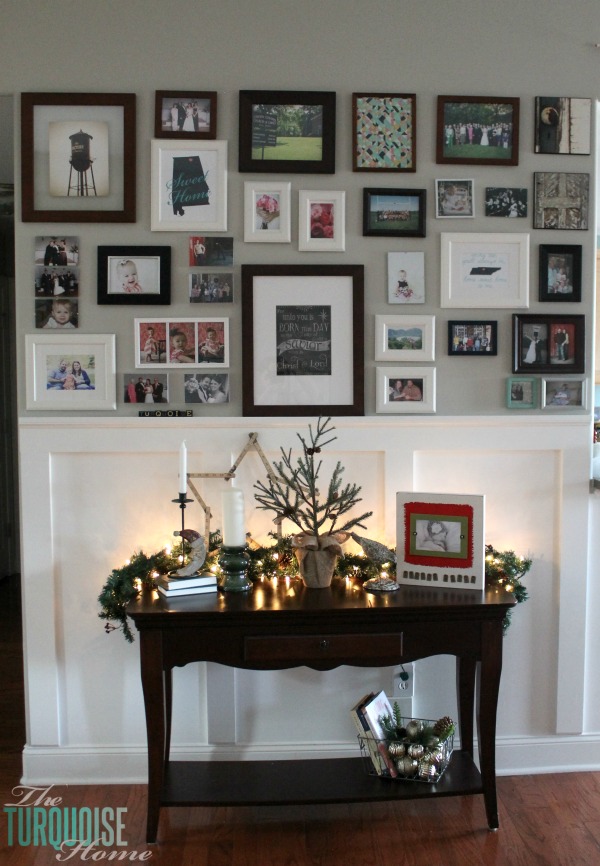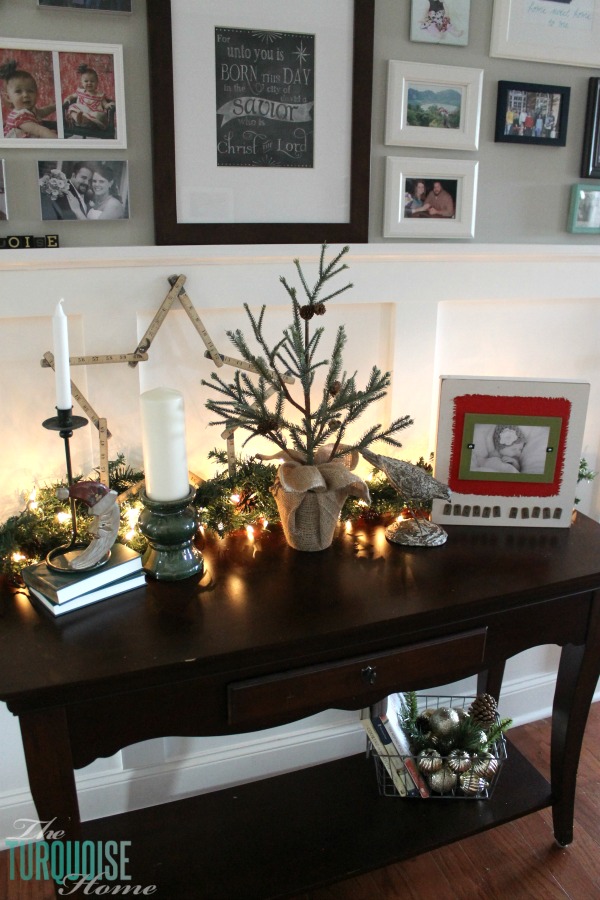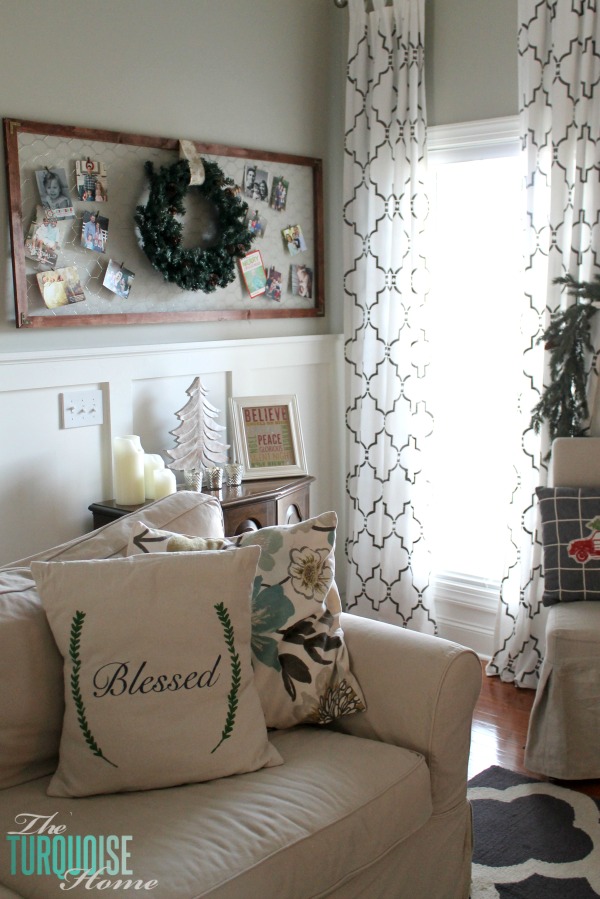 It's so cozy and warm to curl up with a cup of hot chocolate every night and wrap presents or work on this blog. I sit in that new rocking recliner and work away by the light of the Christmas tree. Oh yeah, did you notice the new recliner? That's my Christmas present so that I can rock the new little one in the living room. I love it and love that it looks like a club chair and not an overstuffed leather recliner. 🙂 (Not that there's anything wrong with those!)
So, do you decorate strictly for Christmas, or do you decorate for winter in December and leave it up until the first signs of Spring?
Sources:
Joy Pillow – Target (they've sold out of this already, but here's a similar one)
Sparkle Snowflake Pillow – Target
Buck Watercolor – Craftberry BushWhite Tree Garland – Target
Blessed Pillow – DIY
Stenciled Curtains – DIY
Rug – RugsUSA
Burlap Ruffled Mini Tree Skirt – Amazon
White Glittery Bottled Brush Tree – Target
Blanket basket – Target
Burlap monogrammed stockings – Mint Julep Monograms
Red Christmas Beetle – Craftberry Bush