Primary Bedroom Christmas Decor
Adding primary bedroom Christmas decor might seem a bit over the top, but it's nice to wake up to the glow of the Christmas tree. It makes everything cozy and festive!
It's a little late in the season to be sharing much more inspiration for decor, but I wanted to share this room with you because we finally purchased a bed frame! We've never had a bed frame before in our 12 years of marriage. We slept on a metal frame with a DIY headboard for many years. (The nightstands are still my old DIY project.)
This post contains affiliate links for your convenience. See my full disclosure policy.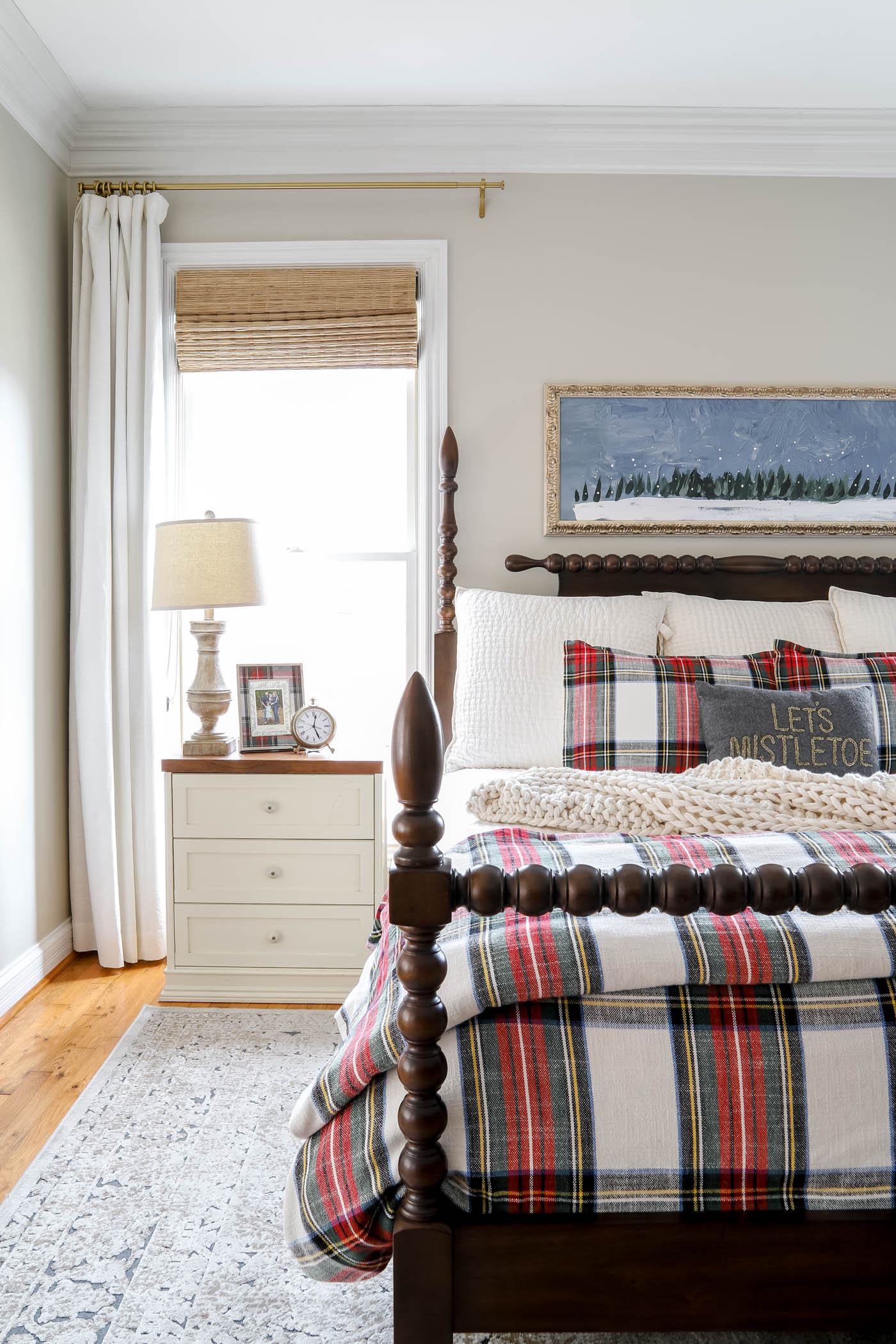 And then we got two XL twin beds on adjustable bed frames a few years ago. And ever since then I've been saving and searching for a bed. Last year I even made a design board for making over the bedroom. But that bed sold out before I ever bought it. And honestly my design style has changed since then. So, I'm glad I didn't ever buy that bed.
READ: How to Make a Bed Like a Pro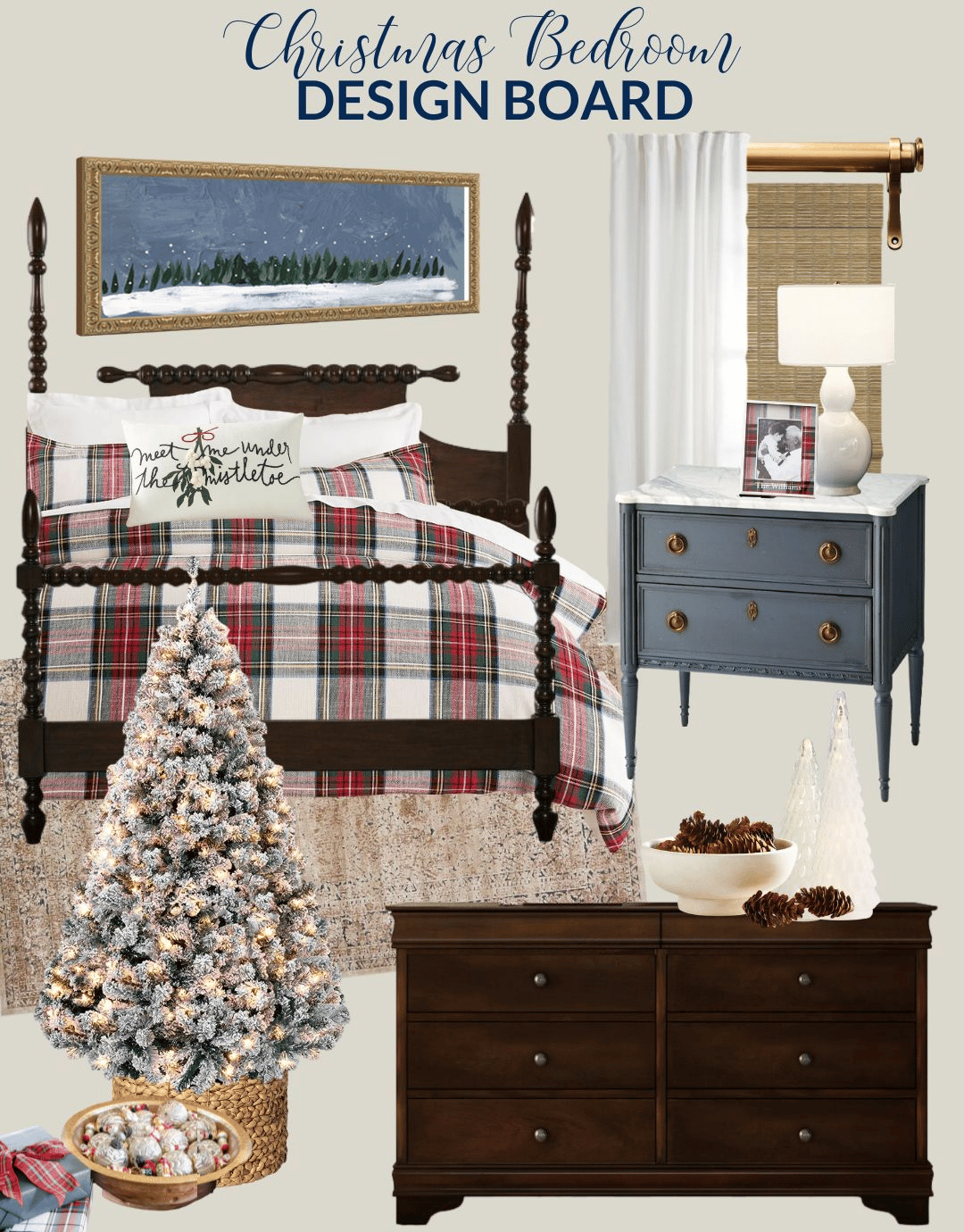 I decided to embrace the furniture we already had, which was my husband's when we got married. And I bought a bed that was cheaper and more the style of our home. Yay! I really love it. It just sits around the adjustable bed frames. We just didn't install the slats that came with it, and it works great! The beds still adjust with no problem.
So, it's fun to finally share that new item with you!
But back to the Christmas decor. 🙂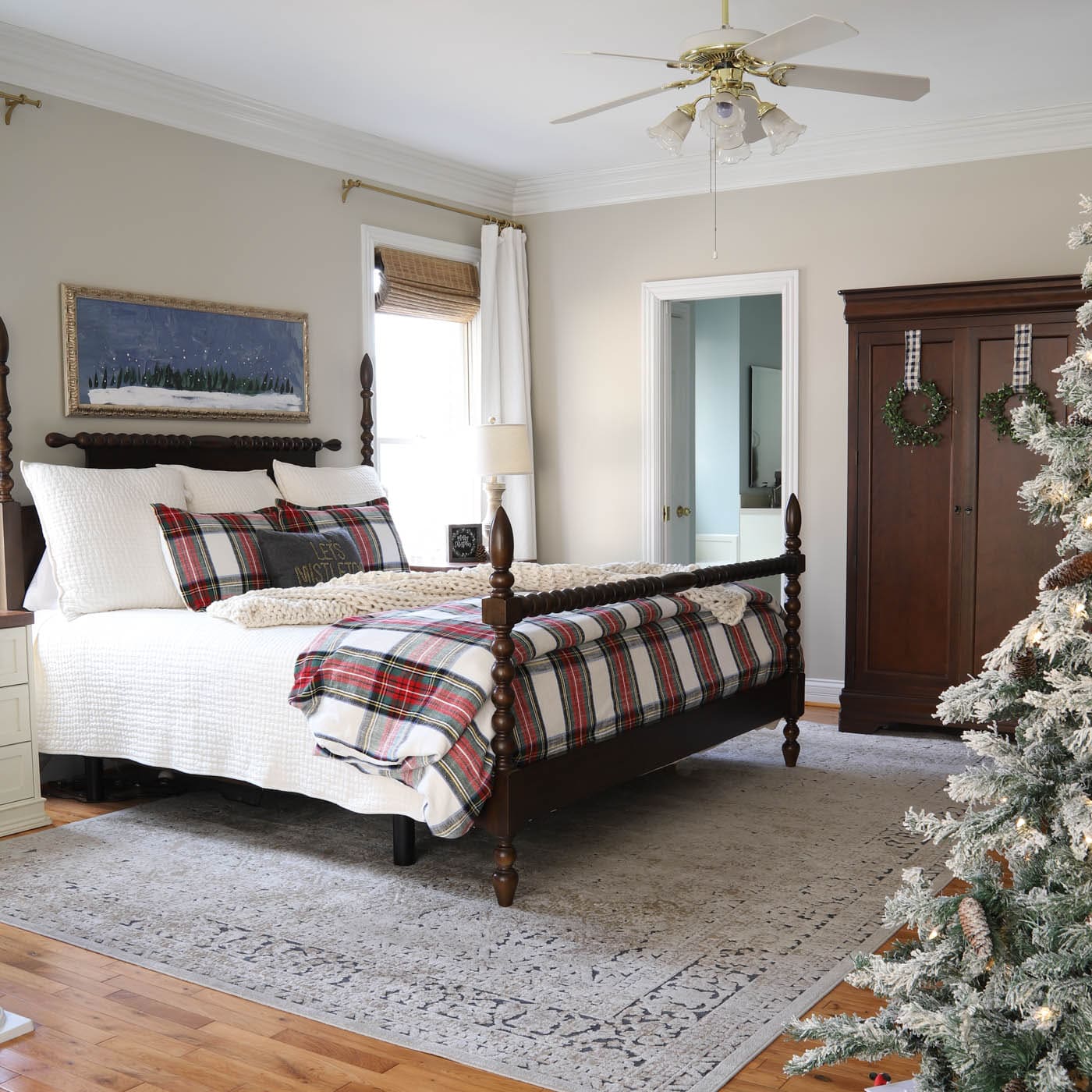 It all started last year when I HAD to have this plaid duvet cover and shams last year. I was so determined to get the set that I drove 2 hours one way for ONE sham. Nuts, but super fun!
Last year we had the tree and bedding and that was it. But this year I knew I would replace the art above the bed with this gorgeous Petite Pano Pines art. It's so perfect and I'll keep it up there until spring. (I'll change the bedding back to my blue bedding after Christmas, which will go perfectly with it in the winter.)
The flocked tree is back again this year, too. Although more than half of the lights are burned out. I spent 3 or more hours yesterday trying to fix the lights. And I replaced more than 100 bulbs, but I still can't get the lights to work. It's a pretty cheap tree, so I may just replace it next year or wrap it in extra lights. We'll see.
And what a lazy way to decorate – instead of putting ornaments ON the tree, just set them in a bowl next to the tree. Perfect, right?! Ha.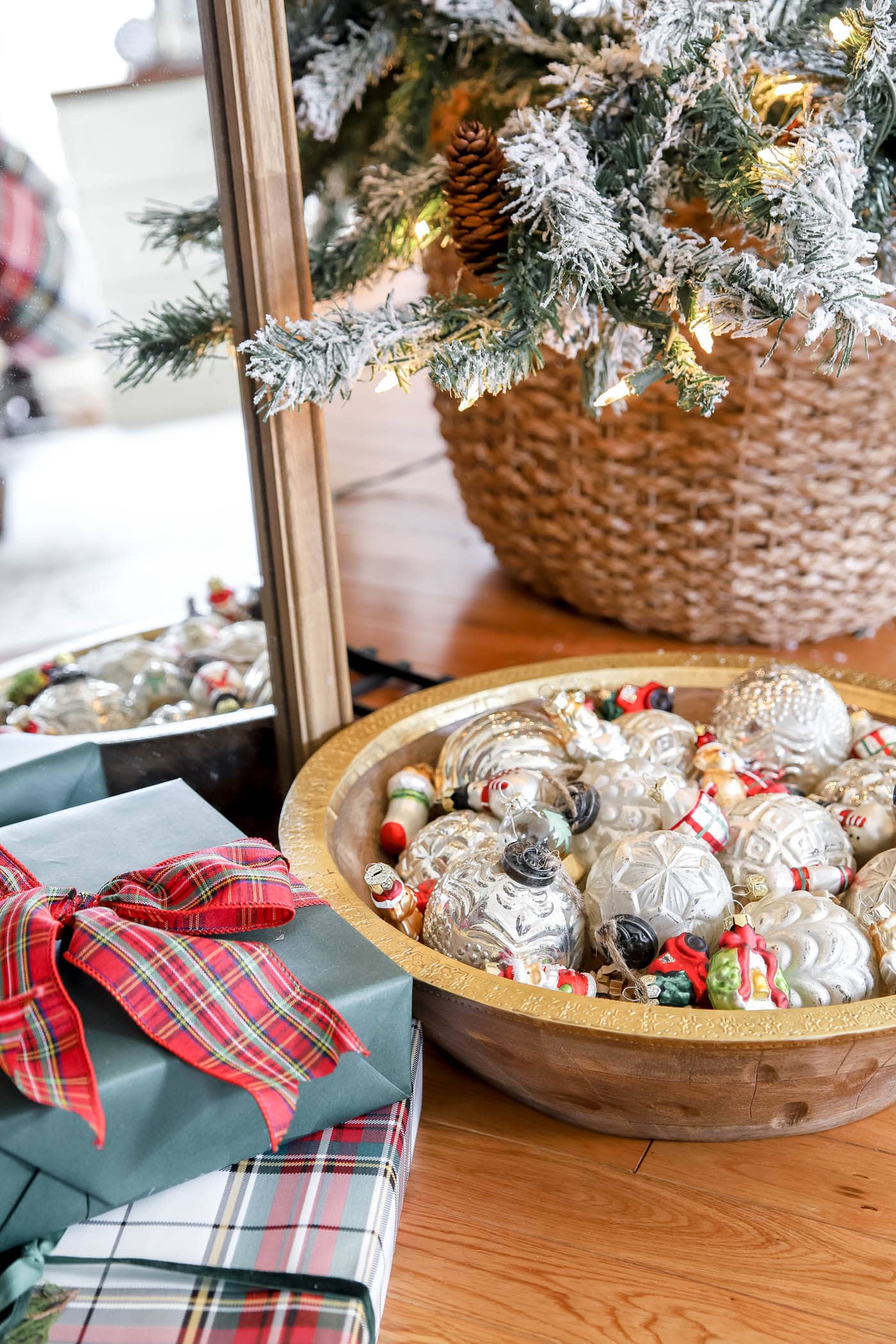 I had this wood bowl in the dining room, but then I saw a picture on the store website with these mercury glass ornaments and vintage style mini ornaments (no longer available) in the bowl and I had to replicate the look in my home. I think I'll use the ornaments on a tree next year. But for now, I love walking by as they shine with their little reflection from the tree lights. So adorable!!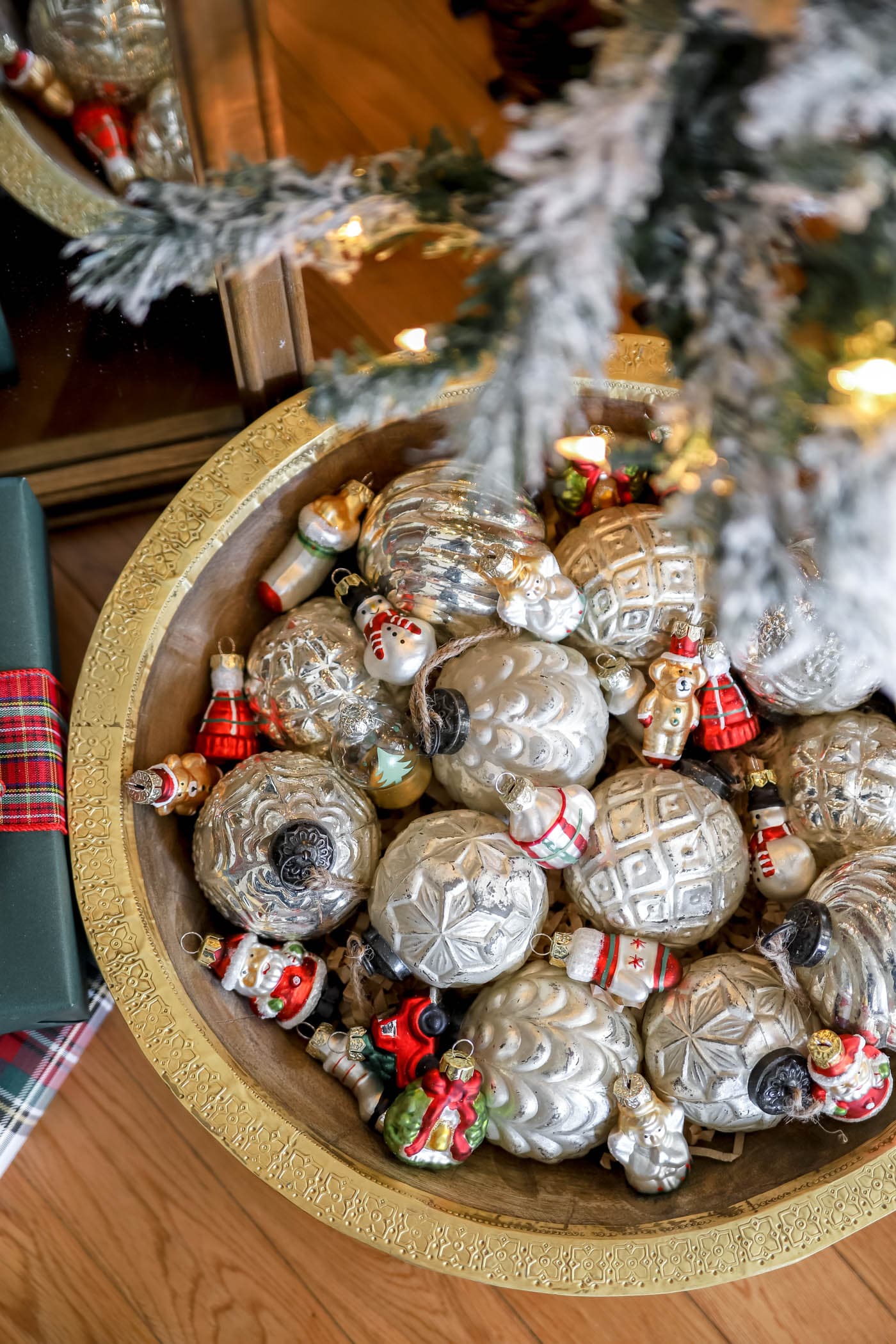 Wood Bowl with Gold Gilding | Mercury Glass Ornaments | Vintage-style Mini Ornaments | Plaid Ribbon | Plaid Wrapping Paper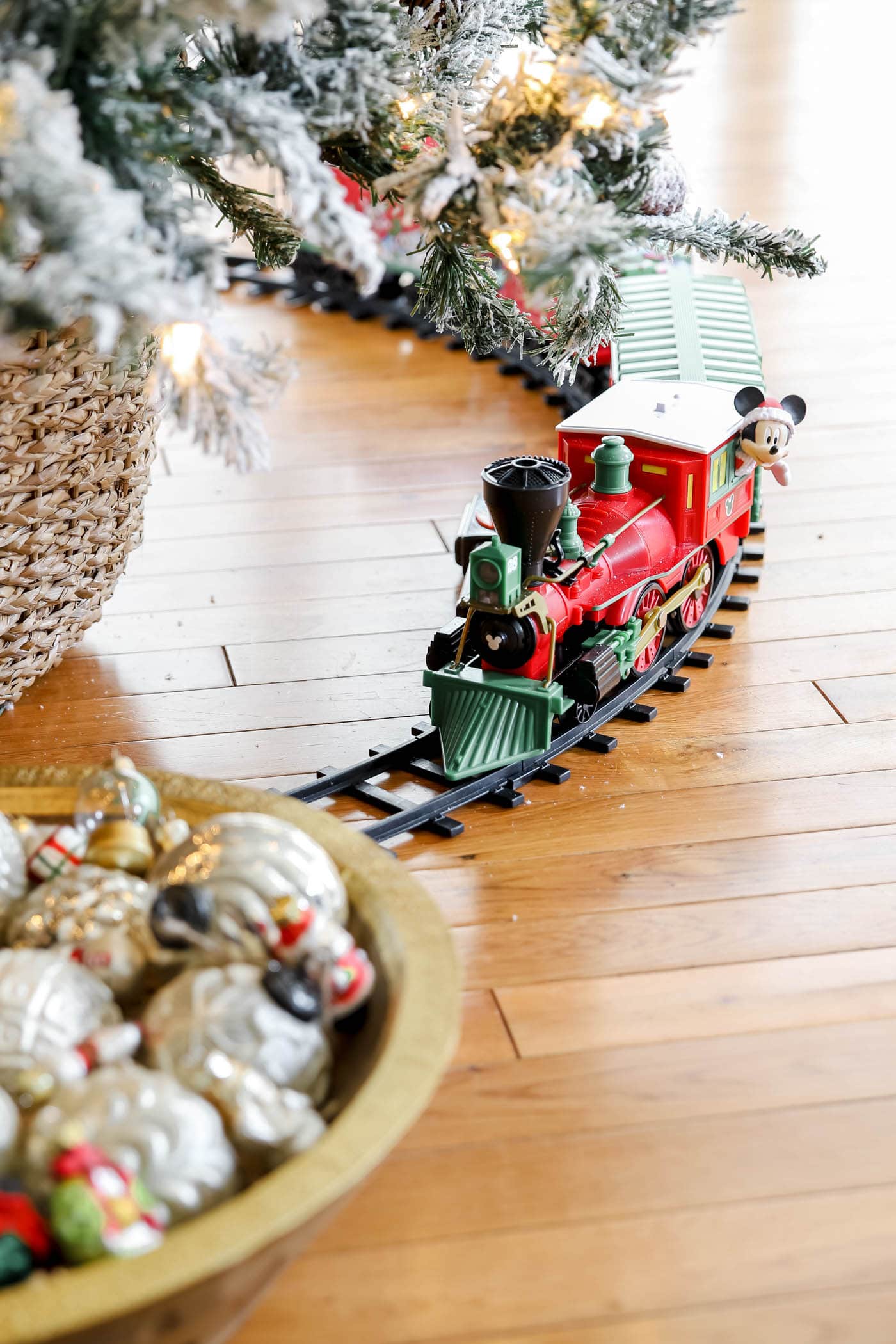 It might seem weird to have a Mickey Mouse train set under the tree in the master bedroom, but it's the only place I had room and didn't have a tree skirt. The girls love to come in here and play with it, so it works for us! (And I hate to not put it out every Christmas. It was my youngest daughter's main gift – the ONLY thing she wanted for Christmas – when she was 3.)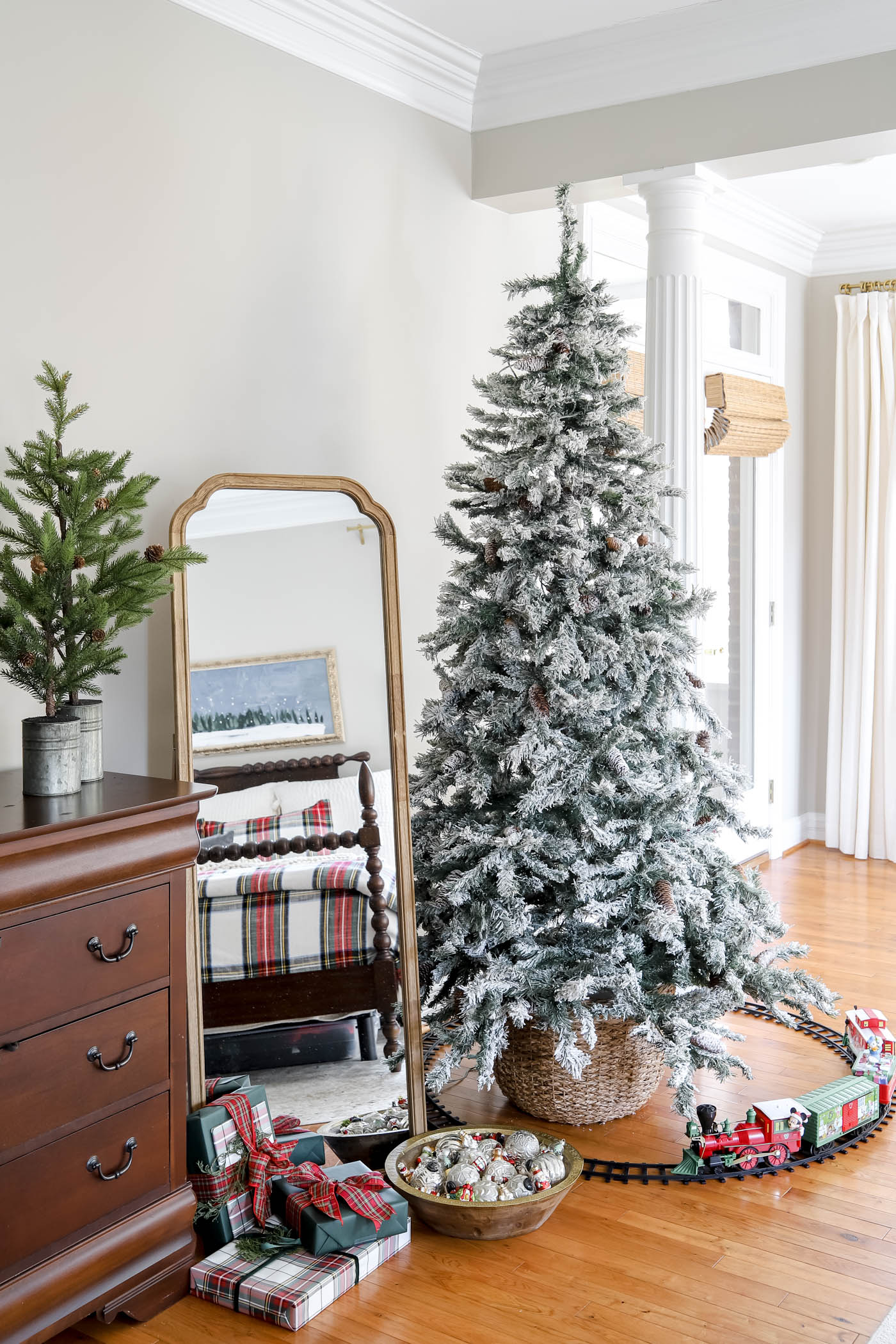 Everything else is simply leftover greenery and decorations from my Christmas decor stash.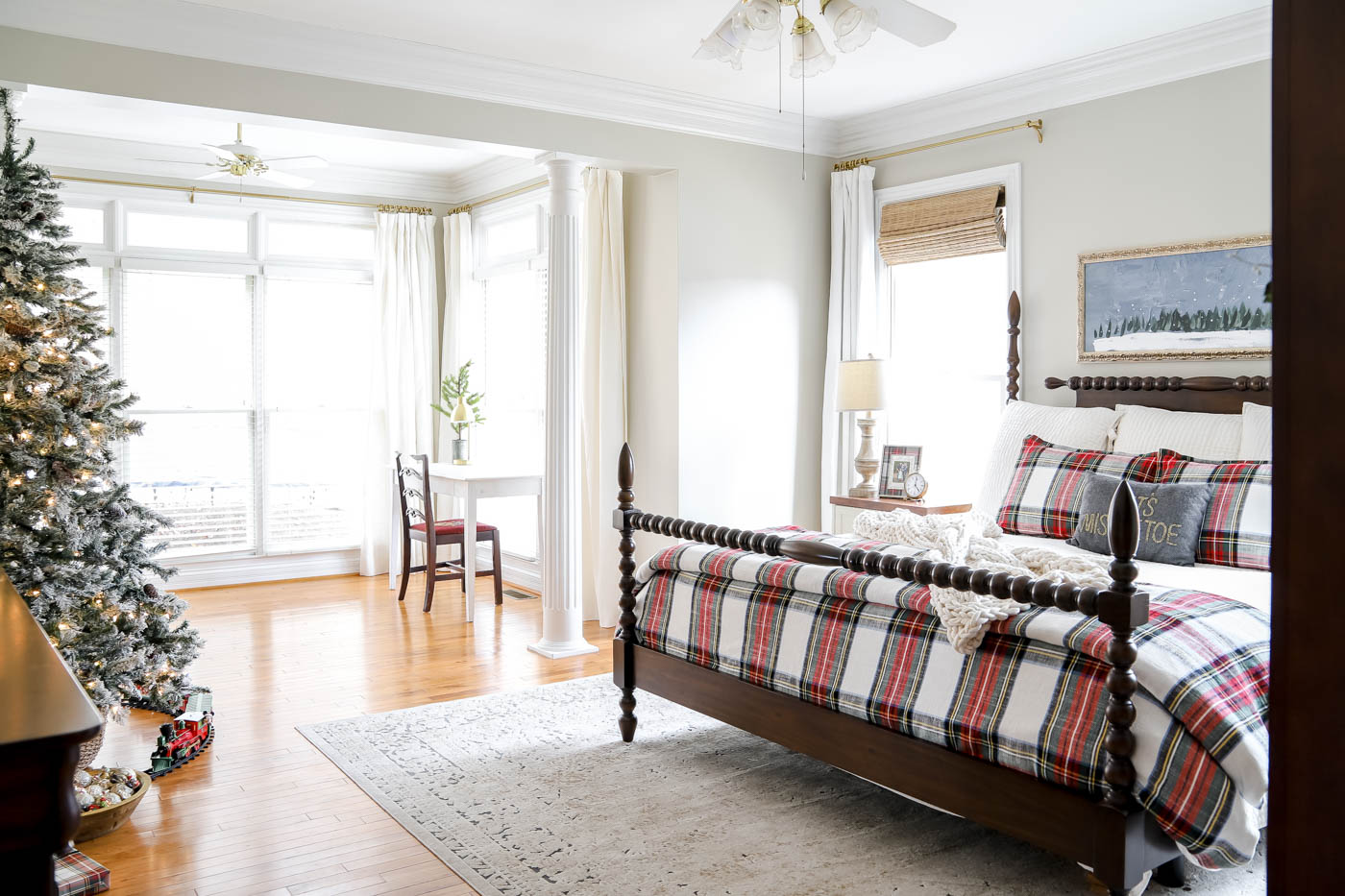 As you can see, I need to add furniture to the sitting area of our bedroom. It's basically an extra work space leftover from the crazy 2020 year we had.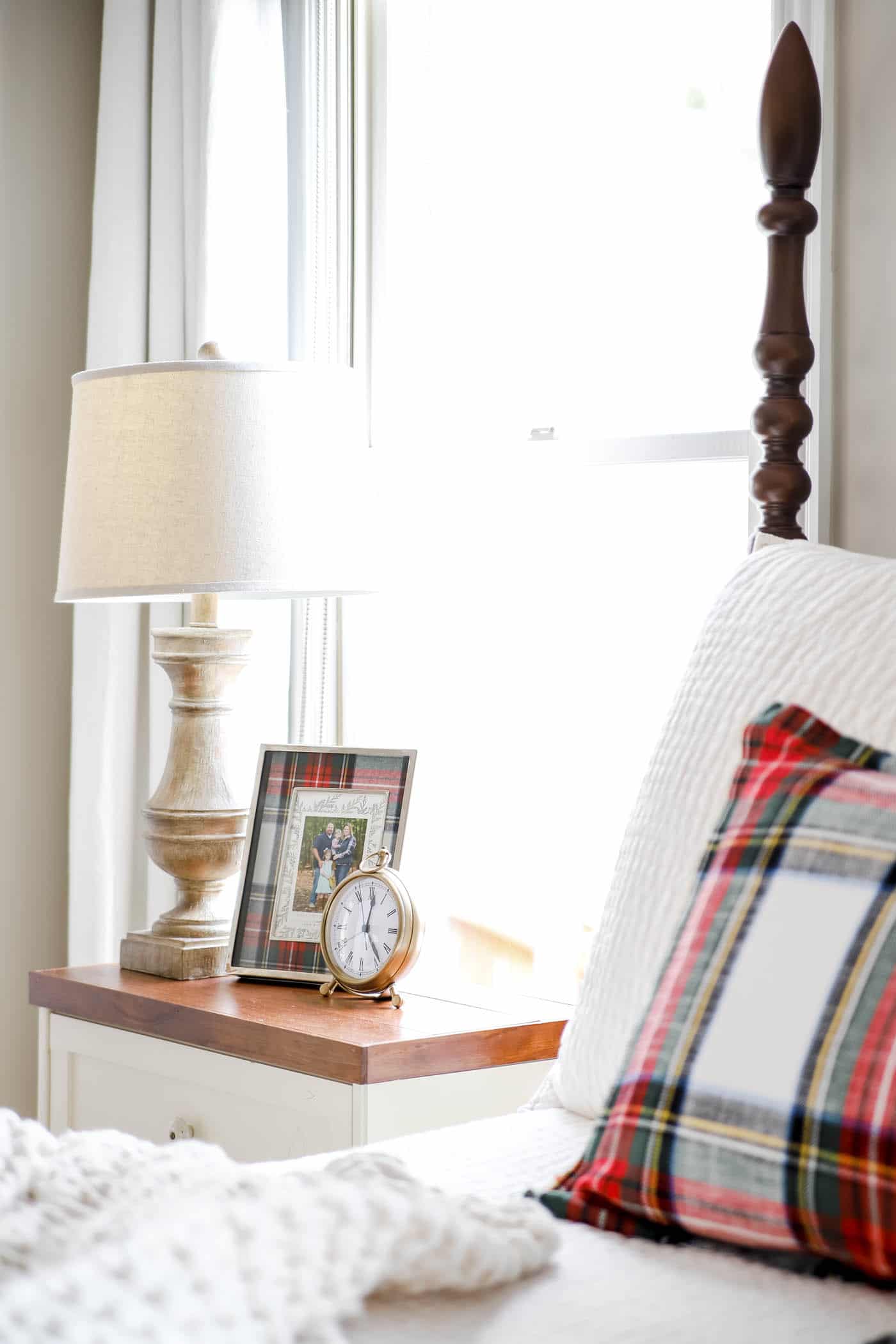 SOURCES: Petite Pano Pines Winter Art | Four Poster Bed | Stewart Plaid Bedding | Pick-stitch Quilt & Euro Shams |  Let's Mistletoe Pillow (no longer sold) | Ivory Linen Curtains | Brass Curtain Rod | Bamboo Shades | Lamps (old from HomeGoods) | Dresser | Flocked Christmas Tree | Basket Tree Stand (learn my Christmas tree basket trick) | Plaid Picture Frame | Brass Pocket-Watch Clock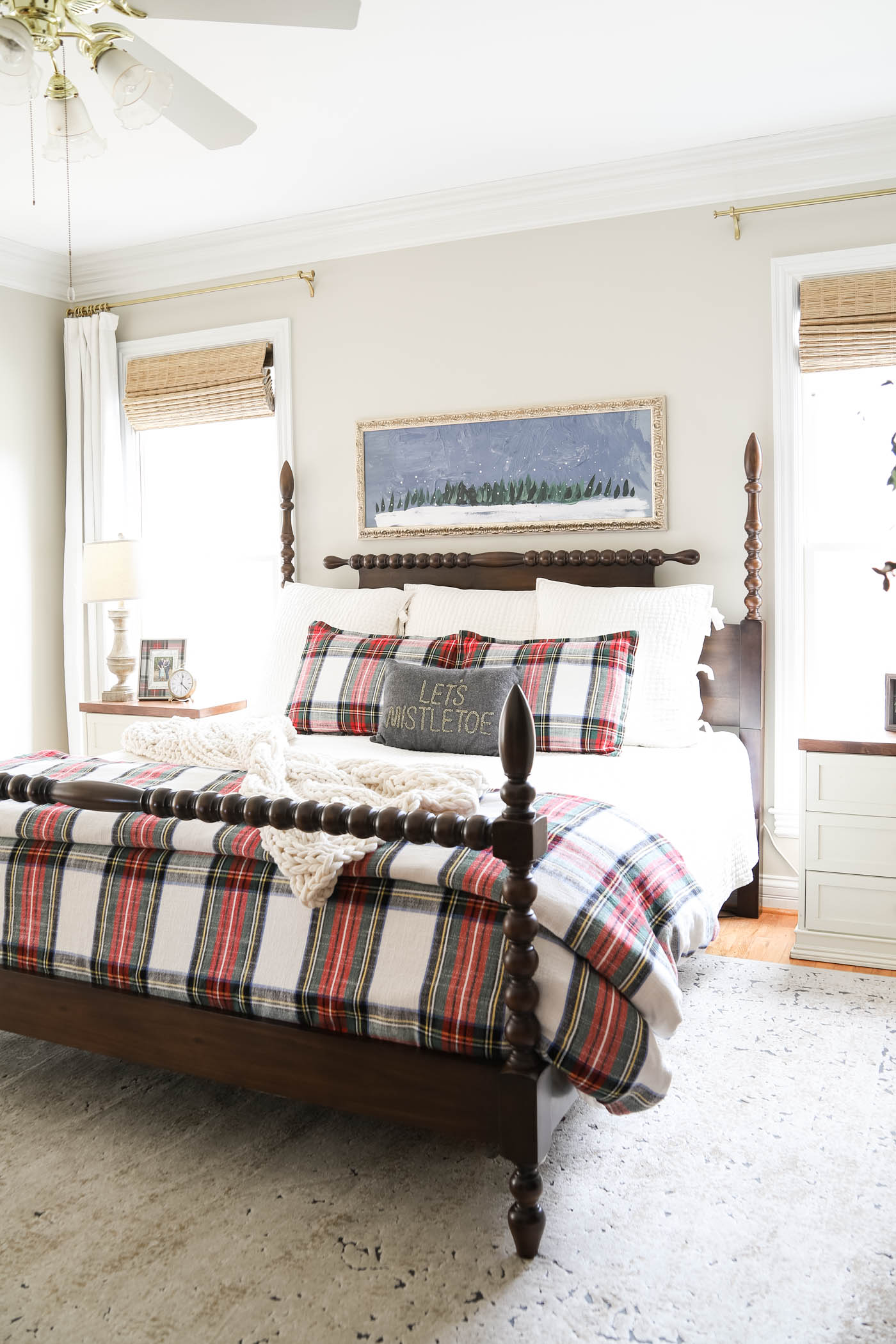 Last year I also decorated the girls' bedroom, which you can see in this bedroom Christmas decor post. They now have separate rooms, but the tree is back up in my older daughter's room.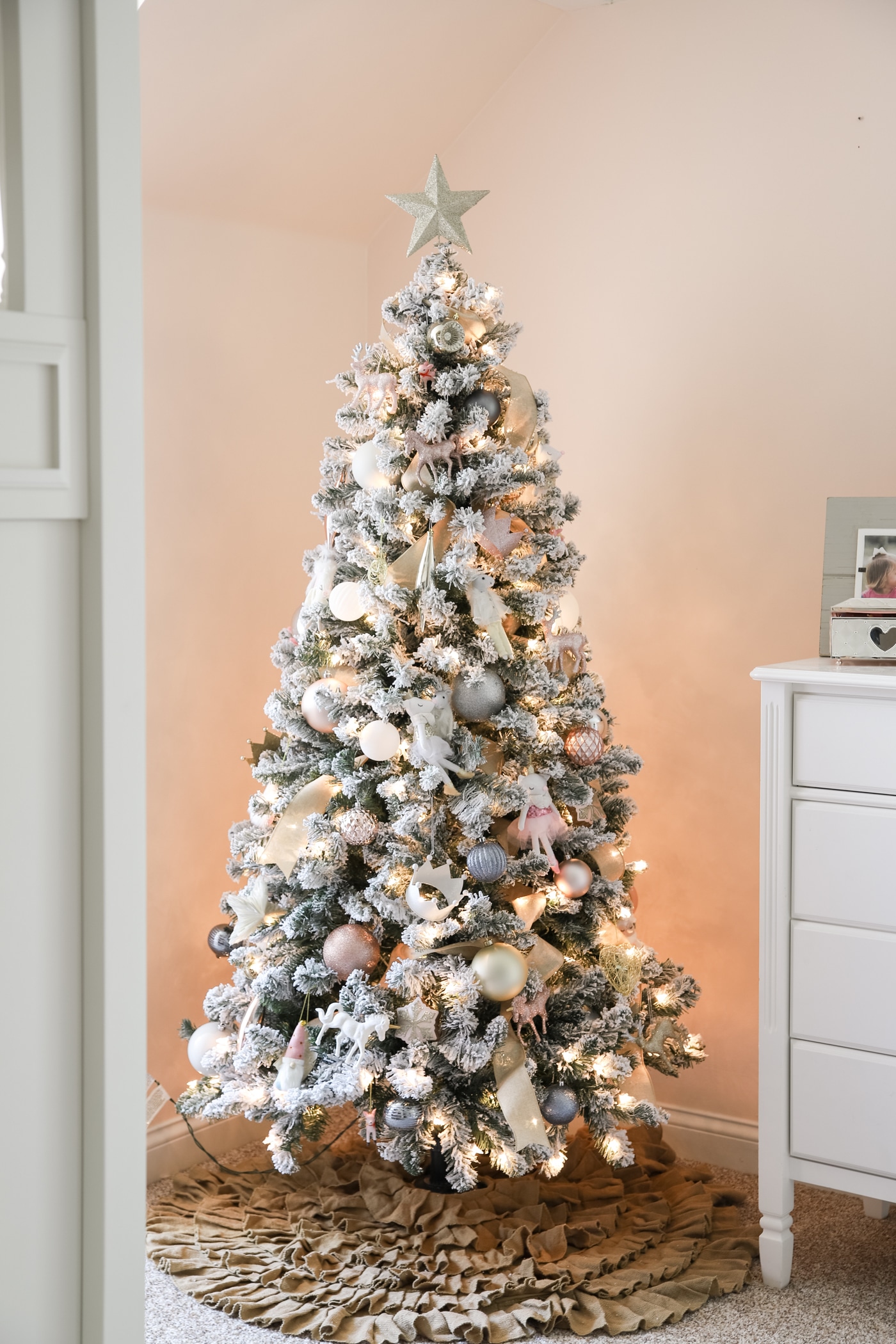 And my younger daughter got a smaller tree this year. All of their decor basically looks the same as last year, so I didn't take new pictures. My younger daughter's room hasn't been touched since we moved into the house, so I'll share whenever I finally do a makeover in there.
For now, we enjoy the glow of the Christmas lights in the bedrooms, and my plaid bedding on the beds. I say, decorate with what makes you smile. And this for sure makes me smile.
Do you decorate your bedrooms for Christmas?
MORE POSTS YOU WILL LOVE: