Welcome to the next stop in my Christmas home tour: the dining room and my big Christmas tree! I think this is the first year where I've really loved my big Christmas tree.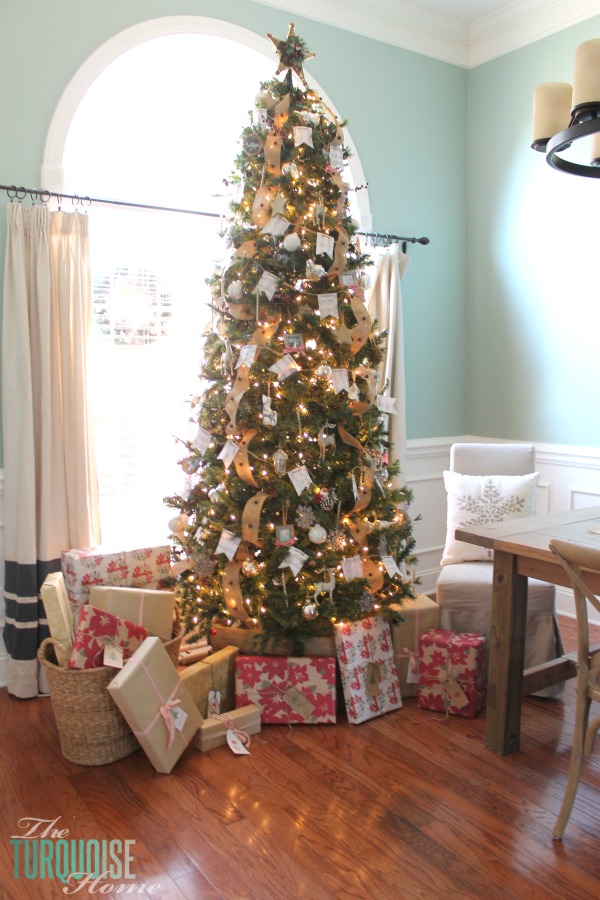 It's the look I was going for the first year I had it, but it took time to collect the perfect ornaments and figure out just how full I wanted it to be. I love the vertical burlap ribbon instead of my typical horizontally wrapped ribbon. And this year I picked up this cute burlap ribbon with jingle bells on it from Hobby Lobby. I'm glad I snagged a bunch the the beginning of November, because they sold out of it before Thanksgiving.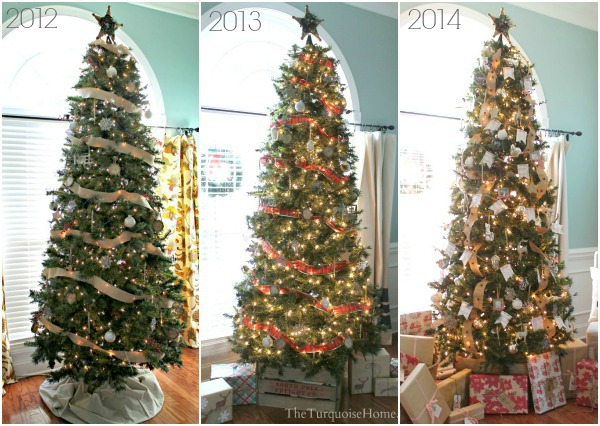 Here you can see the evolution of my Christmas tree since we bought it in 2012. I love my scrap paper Christmas garland that cost me next to nothing, but adds so much to the tree.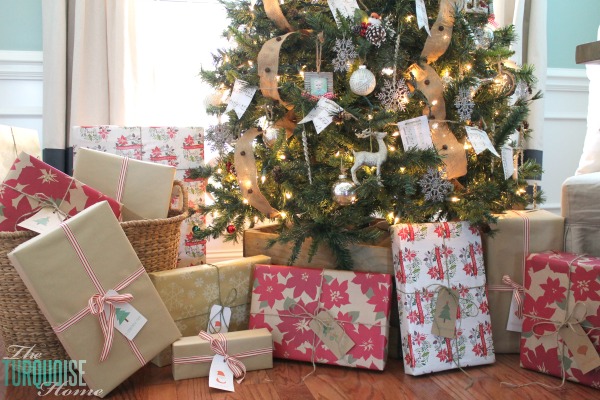 Oh, and do you see those few little gifts under the tree last year? Those were just empty boxes. But this year, those wrapped gifts are the real McCoy. I am DONE with Christmas shopping and all of my gifts are wrapped. Woohoo!! I'm so thrilled to have that completed before baby gets here next week!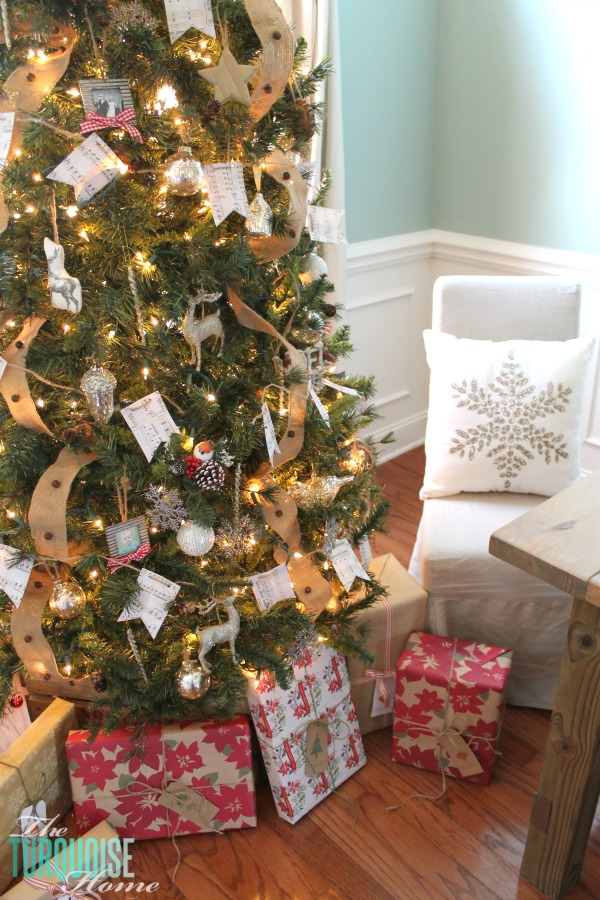 I used my friend Kelly's free printable gift tags on all my gifts and they are the cutest!! Get them over at Live, Laugh, Rowe. So stinkin' cute! And free!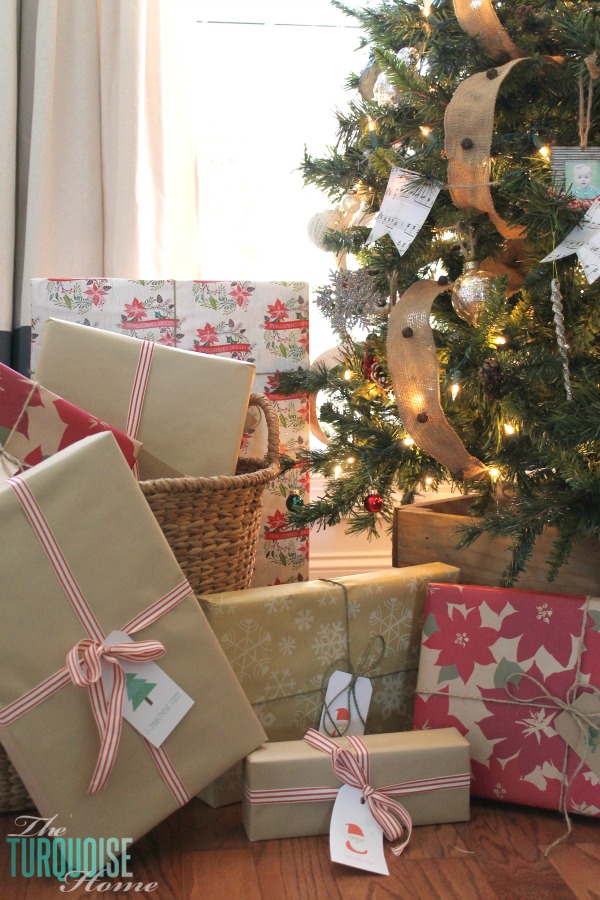 You can barely make out my DIY Christmas Crate Stand from Pallets under there, but it's there. I absolutely adore it. You can get the full tutorial HERE.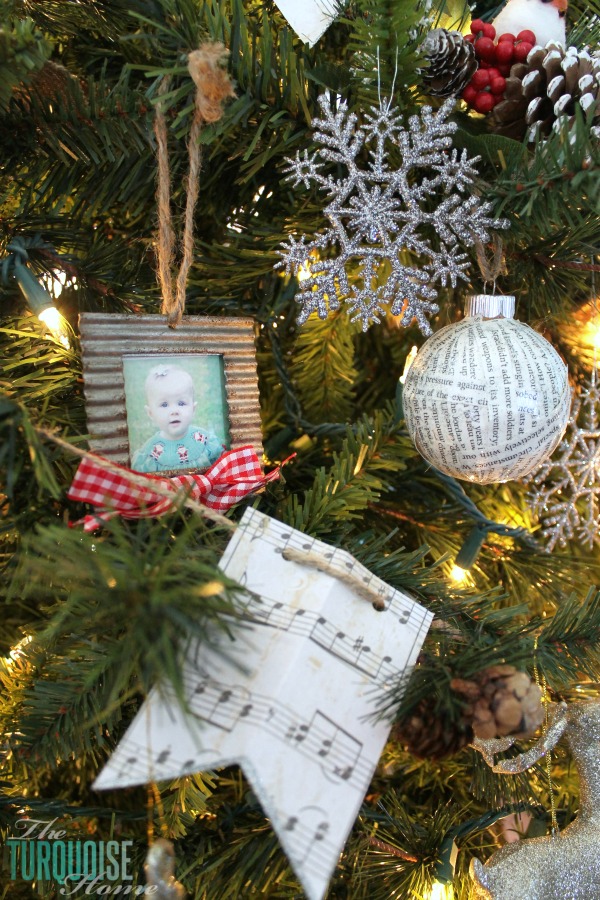 In addition to my Scrap Book Paper Christmas Garland, I added some personal touches with these tin roof ornaments from Michaels. Look at that sweet Christmas baby. That was Miss A 3 years ago – how did she get so big?!? I made those paper scrap-covered ornaments two years ago. And the snowflake with the missing flake is from Hobby Lobby. 🙂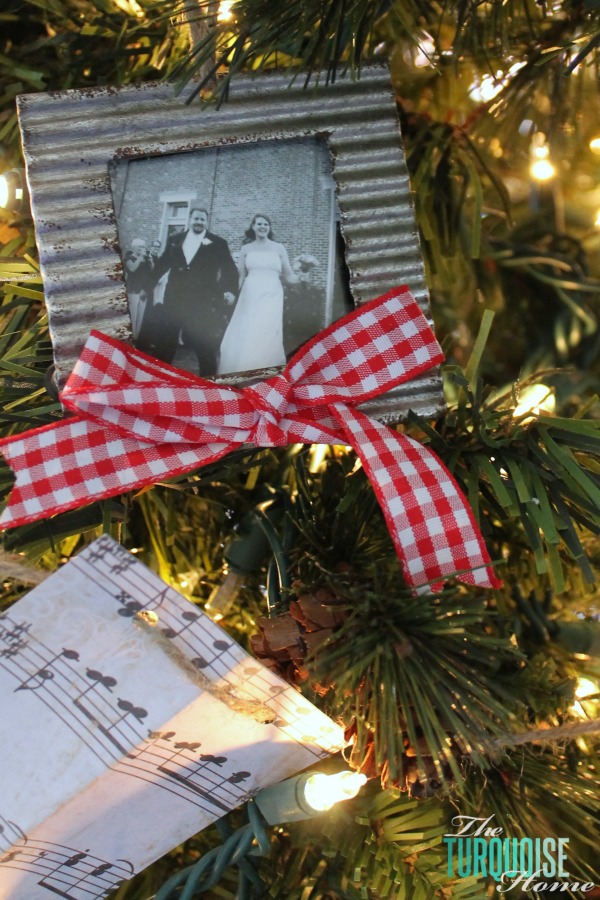 The chalkboard wood-slice ornaments were another addition from last year and I love them as well as the glittery and mercury glass touches. Hence the rustic glam look I was going for. 🙂
Isn't this silk-screened deer ornament so cute? I stalked my Target for a couple of weeks until I found a few of them. Perks of shopping in early November – the best selection. They were gone in a flash! #maybebecauseIboughtthemall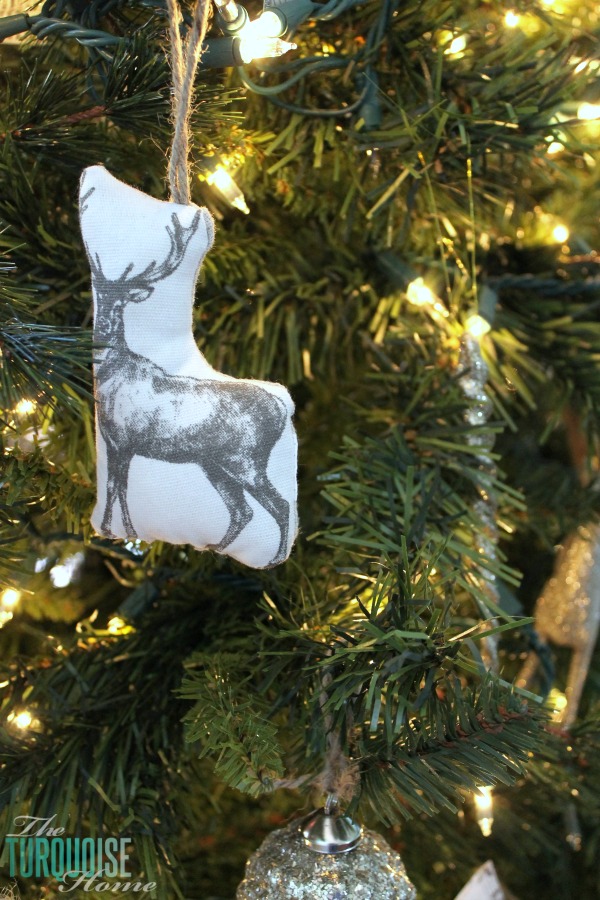 And now for the whole room where we'll host Christmas brunch. My husband's family will come over on Christmas morning and we'll enjoy a delicious meal around my favorite DIY farmhouse table all spruced up for the season.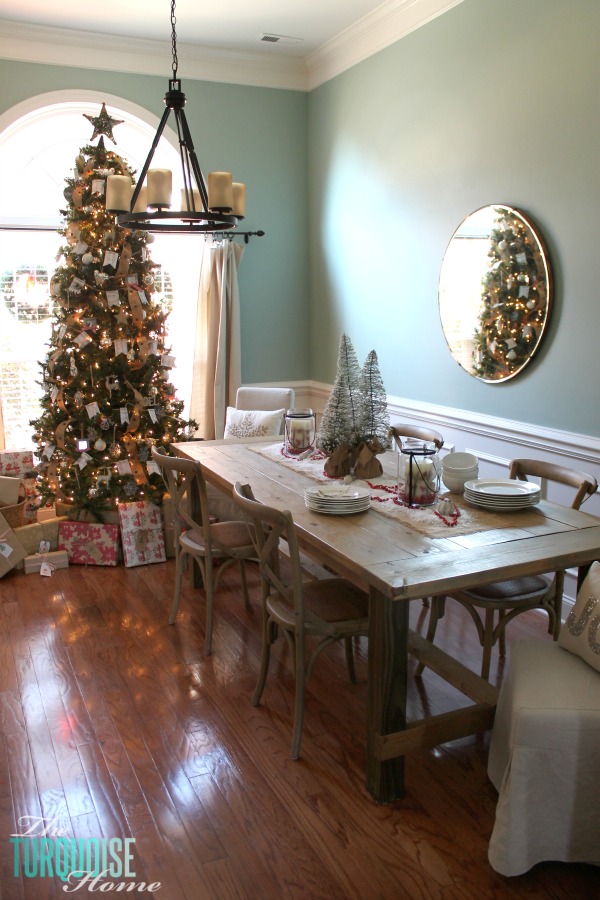 I kept the table decor super simple this year and I love it!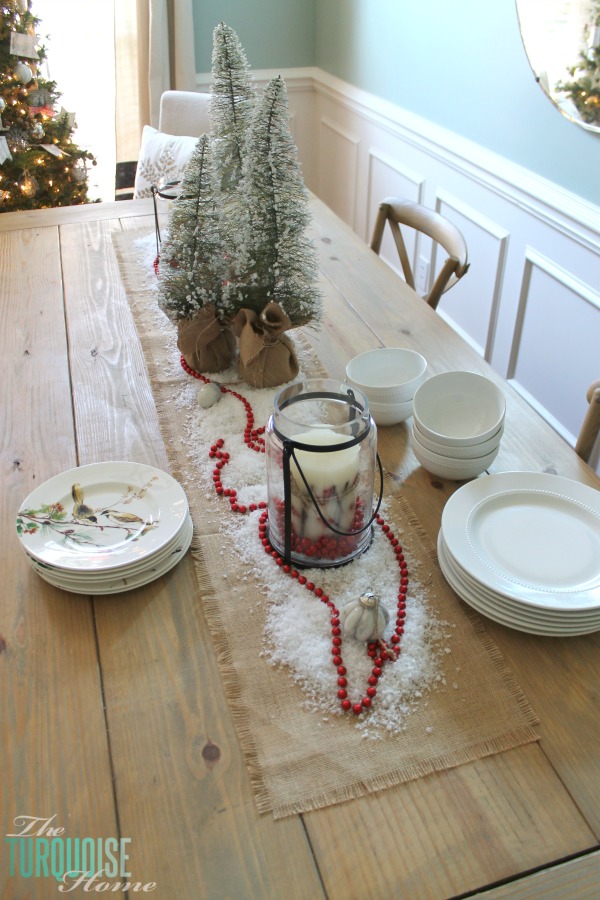 The bottle brush trees are from Decor Steals back in October. The burlap runner is from Hobby Lobby. And everything else is from Target. I found the cinnamon candles online at Target, and here's a link to the hurricane vases. But everything else can only be found in the store.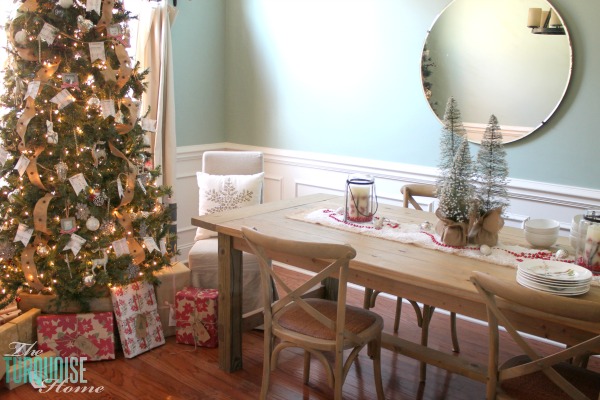 I have big plans for that mirror on the wall. And someday I'll actually decorating the walls in this room and maybe add some more furniture. But until then I usually enjoy my big farmhouse table for big crafting projects more than eating on it. 🙂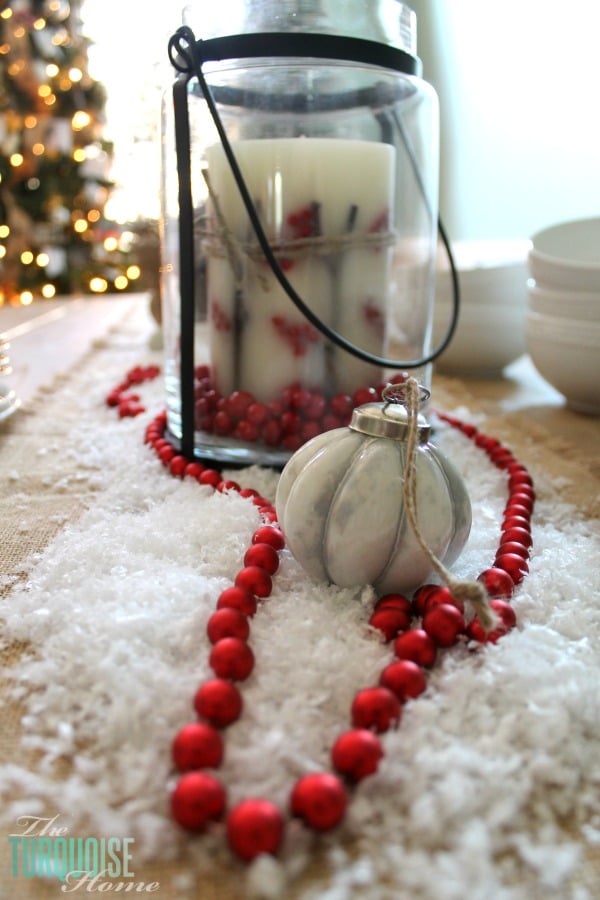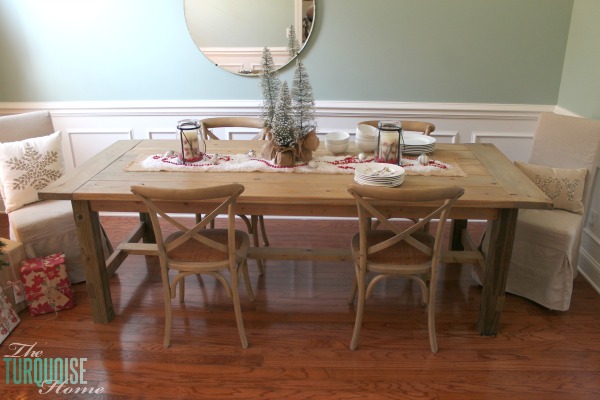 The round beaded white dishes are my every day dishes. And the Lenox Winter Song accent plates were on sale at HomeGoods last year for a steal. I LOVE them and bring them out in the fall and put them back up when spring comes around. They are so pretty to me!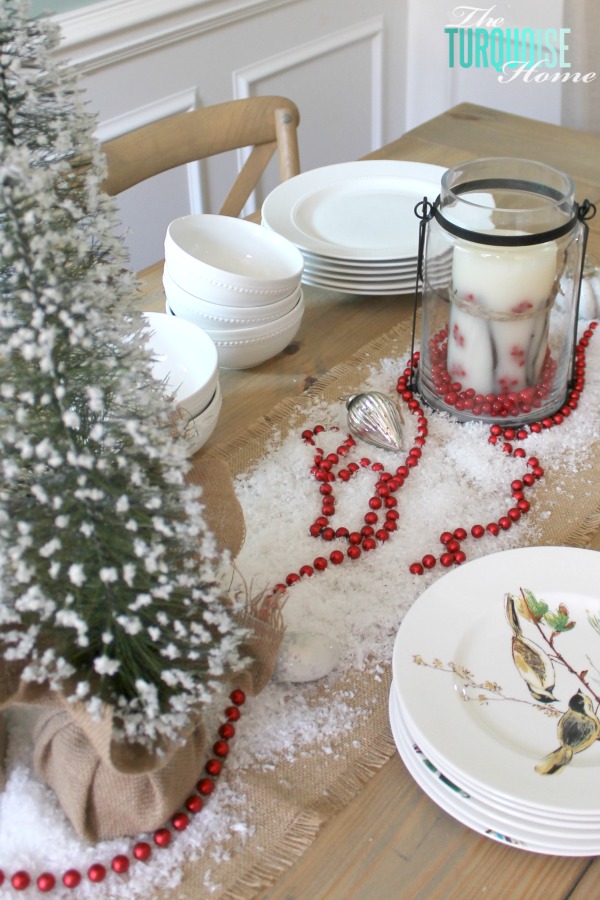 Thanks for stopping by to see my rustic glam tree and simple rustic dining room table. I have enjoyed sharing my Christmas home with you this week! I have a couple more spaces to share next week and then I'll be ready for Christmas to come!
Have a wonderful weekend!!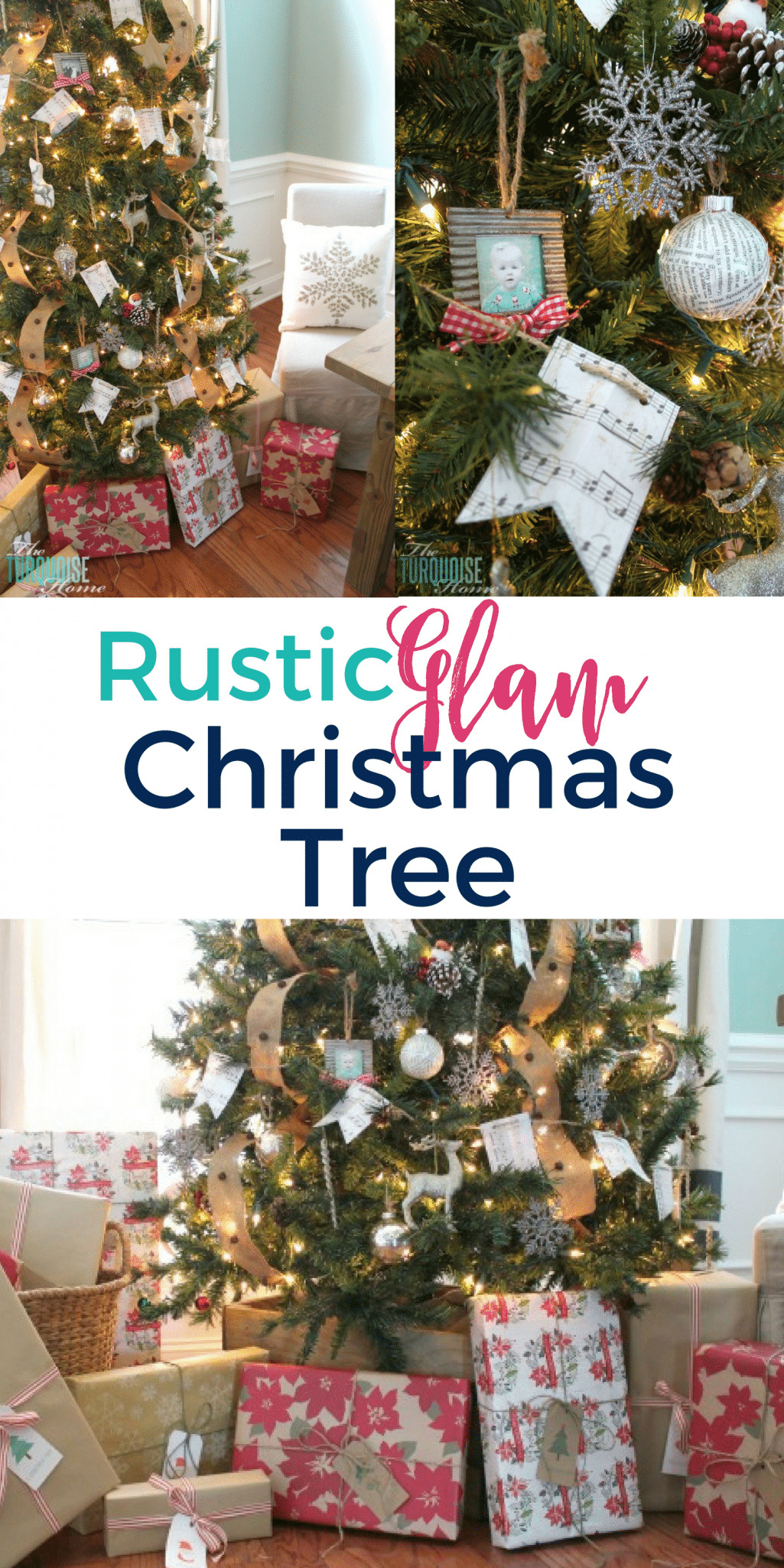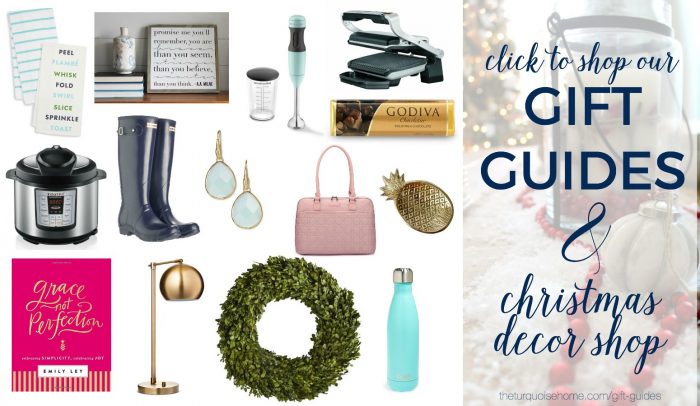 Get Instant Access to my Guide to Customize Your Home on a Budget
Grab your FREE guide for 10 Ways to Customize Your Home on a Budget: simple projects to transform your home from builder beige to a home with character and charm!