I love, love, love to decorate my home for each and every season. But I'm also a busy, working mama of two little girls and don't have time to go all out for every single thing. Maybe when they are grown I'll really make a big fuss over the 4th of July, but for now I try to "kill two birds with one stone" whenever I can.
Note: did you use that phrase growing up? It's sure popular here in the South, but I'm not sure how common it is. 😉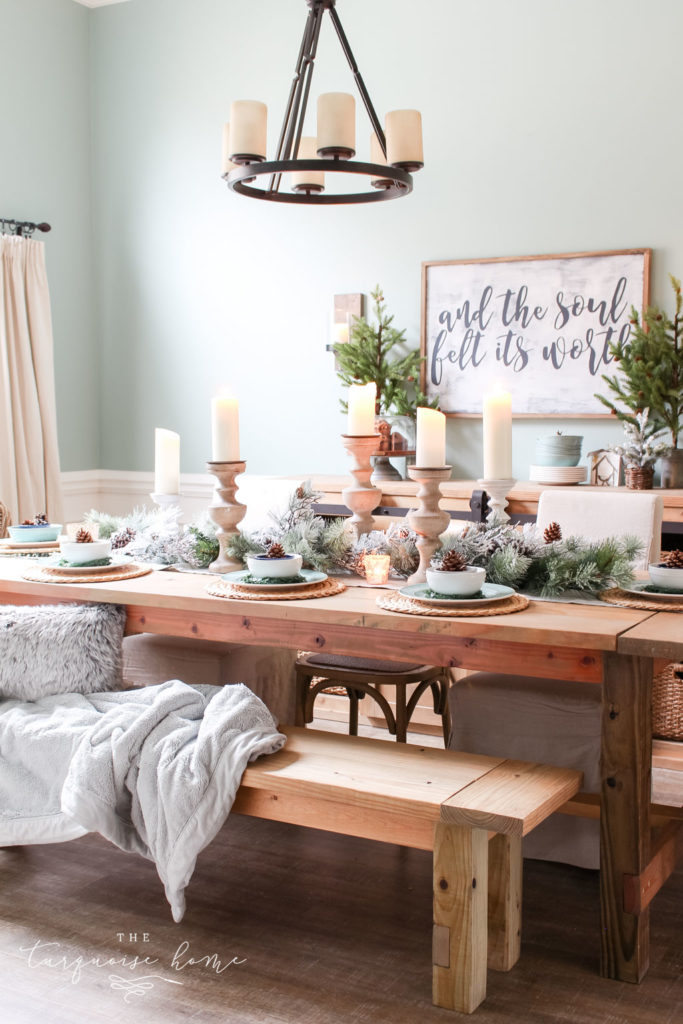 One way that I love to "kill two birds" is by decorating for Christmas with winter in mind. I try to think about my purchases and see if they would also be appropriate to leave out for the whole season.
I have thought this way for a few years now, so I've gotten to the point in my decor that I can pretty much just take away all of the really Christmas-y stuff, which isn't too much, and it's already decorated for winter. I don't have to touch it until Spring!
And then of course when I'm decorating for spring, I think about how it could carry over into summer. See how that works?
Affiliate links are used in this post for your convenience.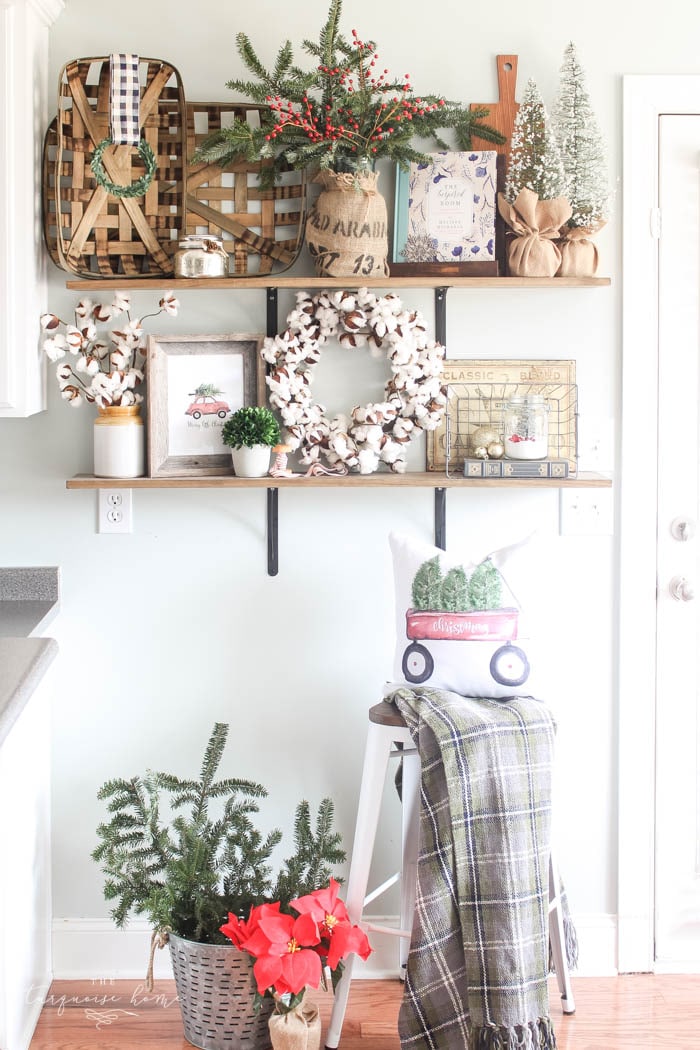 A great example of decorating for Christmas with winter decor is my farmhouse shelves. I honestly will probably only change out the "merry little Christmas" print (for one of my winter printables) and take away the little spool of ribbon. (And the pillow and poinsettia below it, of course.) That's it! Everything else will stay the same and it's all done. I'll take the red and green away in March and add pink and turquoise again.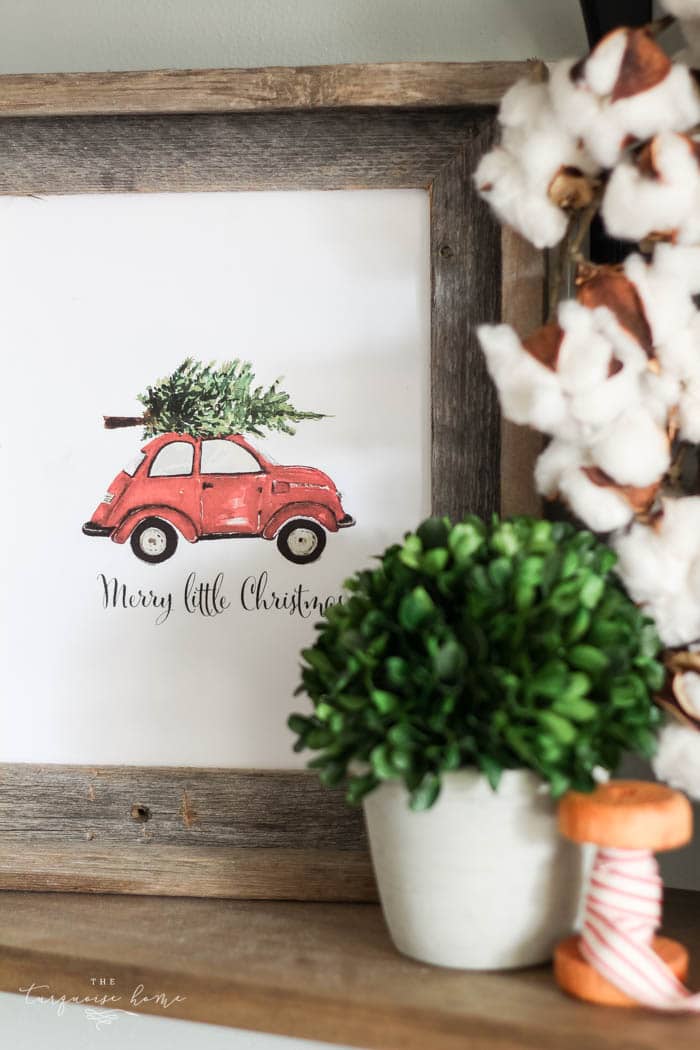 How to Use Winter Decorations for Christmas
Cotton stems: At one point I thought these cute little harvested decorations were only for fall, but I see them now a lot in Christmas and winter decor. They are reminiscent of fluffy snow, so I think that may be part of the wintery appeal.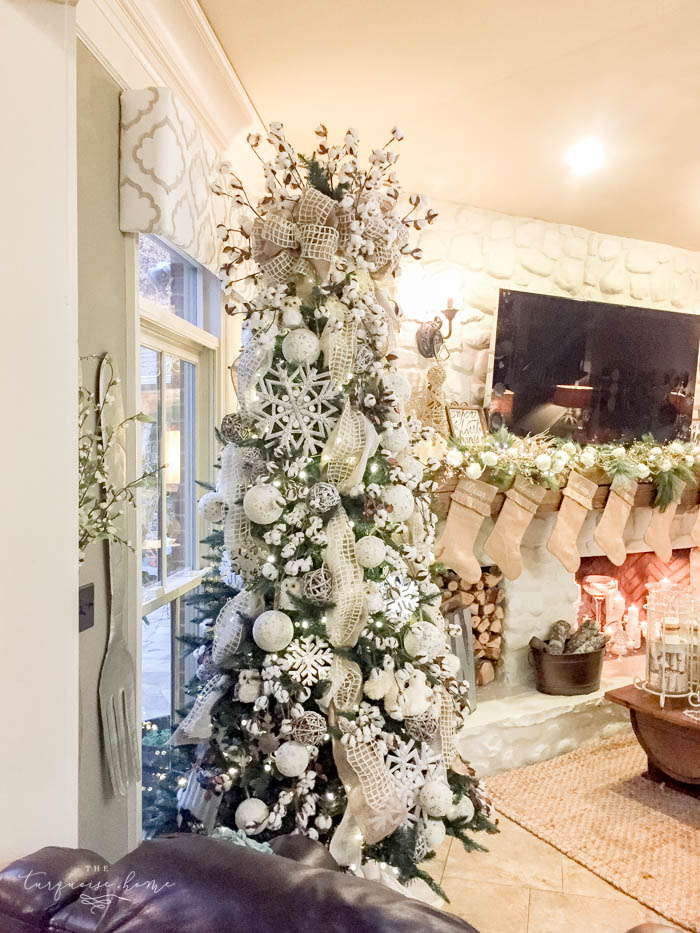 This year I went to a holiday home tour with 18 decorated Christmas trees and the whole kitchen was decorated with cotton stems. It was stunning! I snapped a few iPhone pics, but they don't do it justice. Hopefully, you can still see how it works with Christmas and winter. So cute, huh?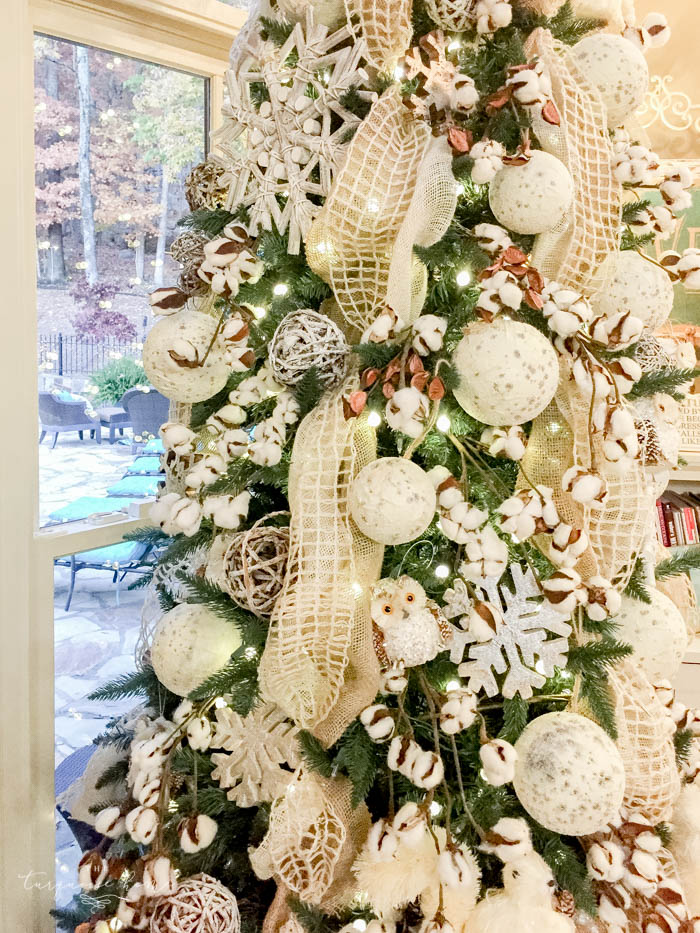 This was my favorite tree and favorite room in the whole home tour. This little sitting area and fireplace were right in the kitchen and next to the eat in kitchen area. I just loved it!
The whole house was gorgeous, but this was the heart of the home and my favorite spot! You could definitely leave this tree up after Christmas has come and gone.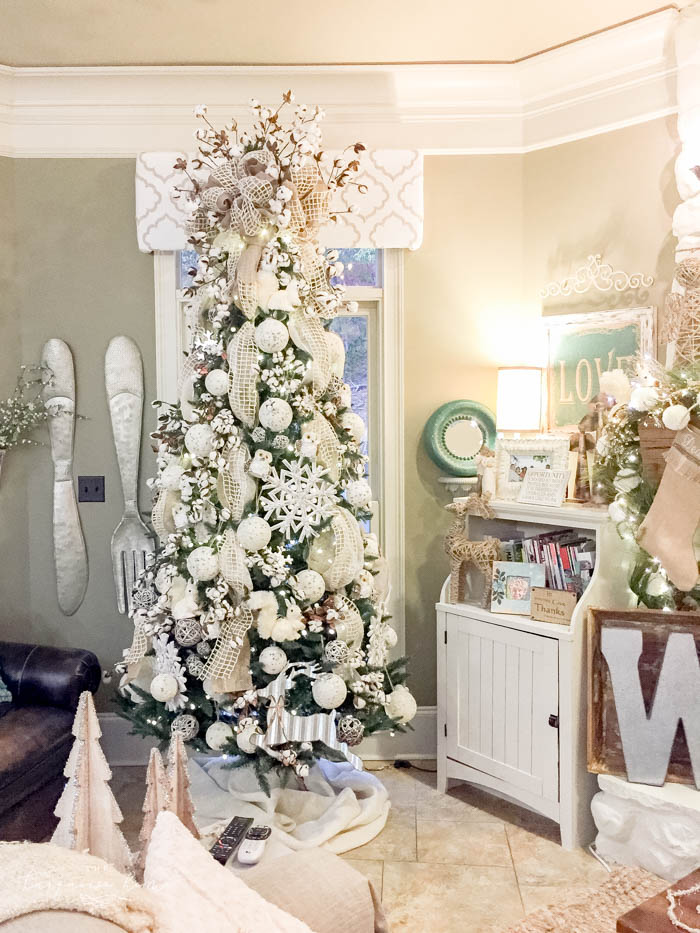 Magnolia leaves: These are my latest obsession! I know that people have been using magnolia leaves in Christmas and winter decor for years, but I've never had a magnolia tree to use the leaves from, so I finally bought one this year from Magnolia Market. (Get a similar wreath here.) I'm obsessed!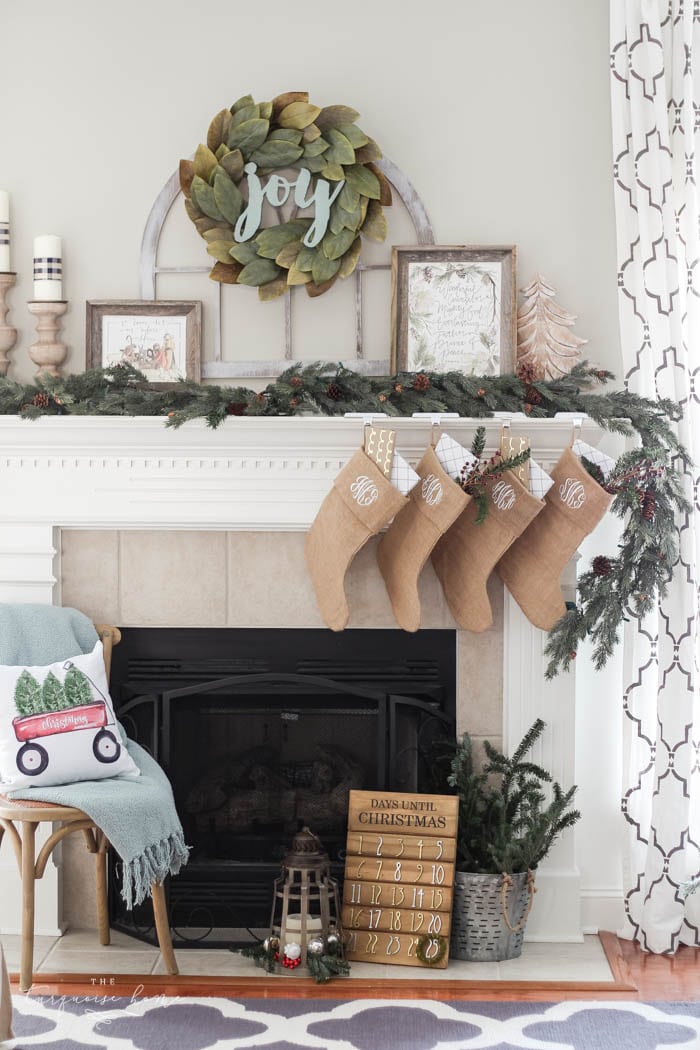 Magnolia Wreath Christmas Mantel
I will be leaving my cathedral window and magnolia wreath out long after December 25th is over. I'll take the "joy" sign, the stockings and Christmas art down and leave the rest in a simple, winter mantelscape.
Greenery: I always love to decorate my home by bringing the outdoors in. And in the winter, branches from evergreen trees make a beautiful statement piece. I use a combination of real and faux greenery, but it's all gorgeous!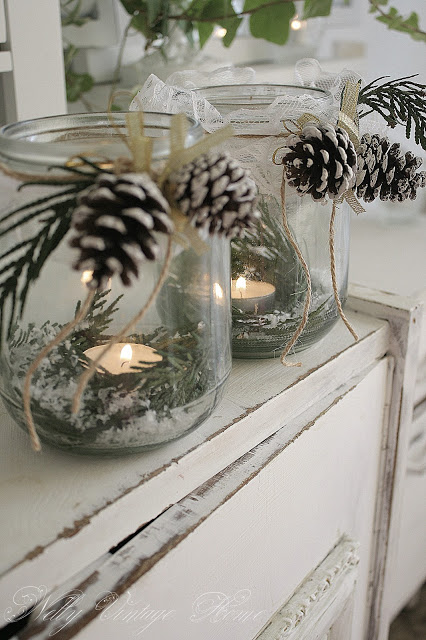 At my local hardware store, they have a box out front with free branches from their Christmas trees. I add them to my faux greenery garlands to make them look full and real. It works beautifully!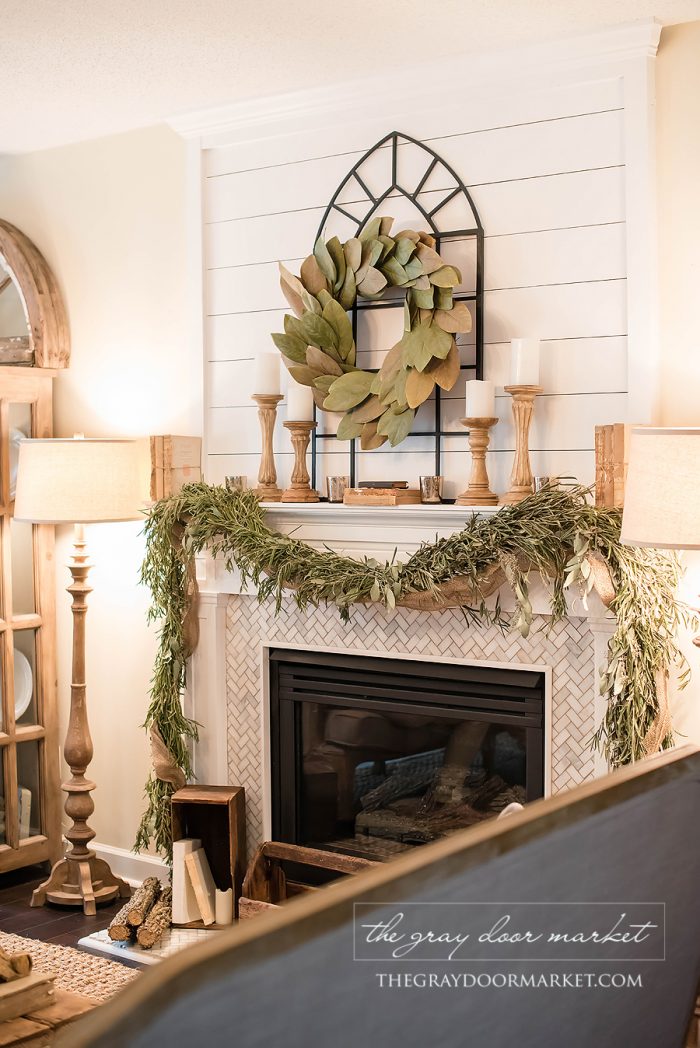 The Gray Door Market
And the bonus is that I can leave them up after Christmas. The above mantel is a perfect example of a wintery mantel that would work for Christmas and winter. Just add stockings for Christmas and then take them away for the new year!
Winter Printables: Instead of making all of your art specifically Christmas related, put up some winter printables instead.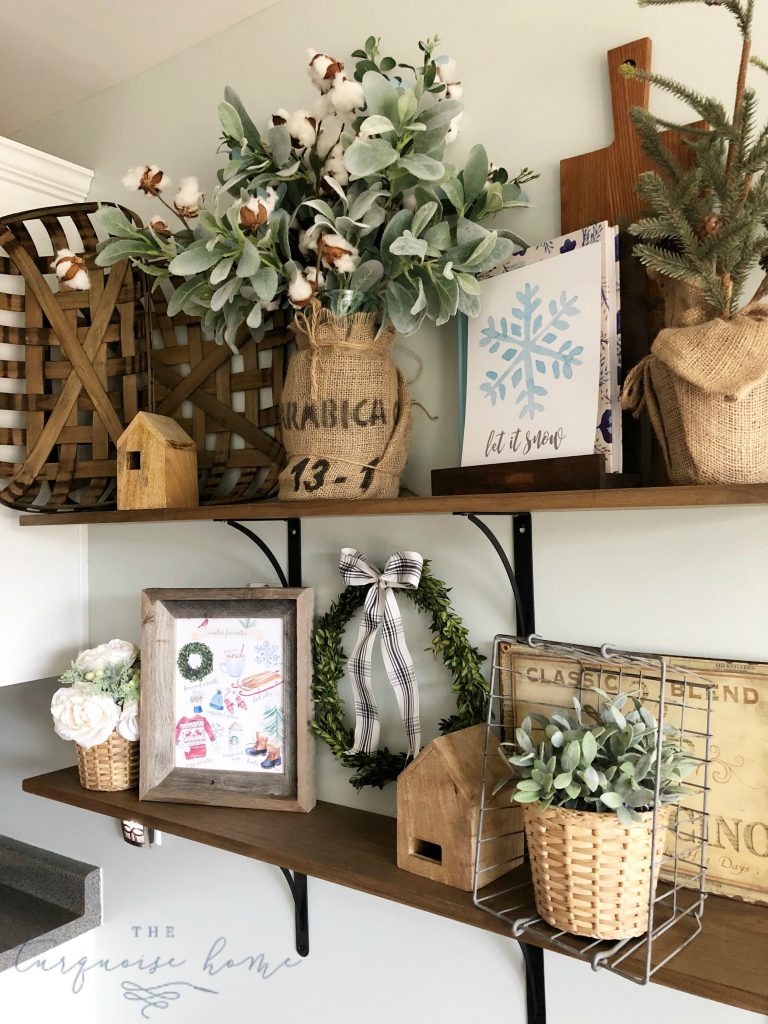 I've got some FREE winter printables here. And then these are some cute ones I've bought recently:

Sparkle: A few years ago I bought a passel of glittery & gold plastic ornaments. They have been one thing that I have used over and over again every year. I put them in a tray or a bowl or add them to a lantern with a candle. They are perfect for New Year's Eve decor and really cheer up any decor while it's cold and dreary outside.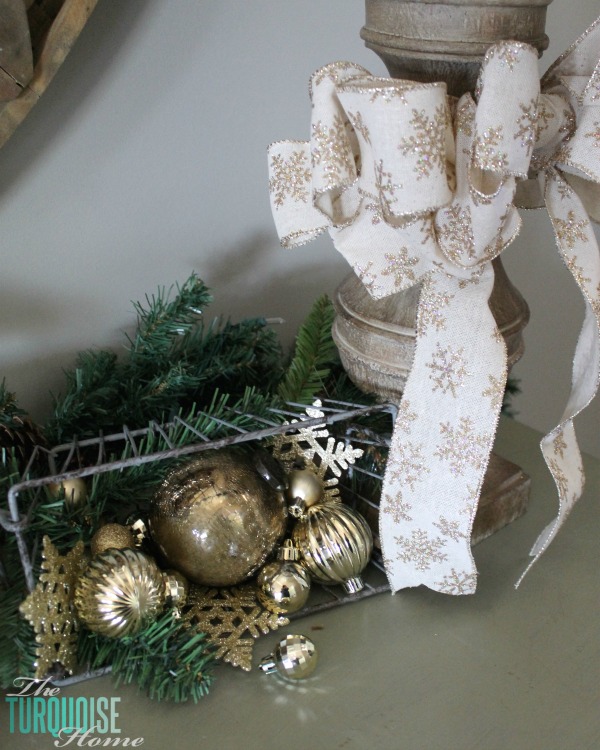 I leave the sparkly decor out all winter long. The same could be said for glittery snowflake ornaments, of which I have a few. I may add them to my DIY abstract art once I take down my "O Holy Night" sign.
Buffalo Check and Plaid: honestly I love these prints all year long, but they are especially appropriate for Christmas and winter. A plaid blanket just shouts warm and cozy. I love my new buffalo check pillows and will leave them out through the winter months.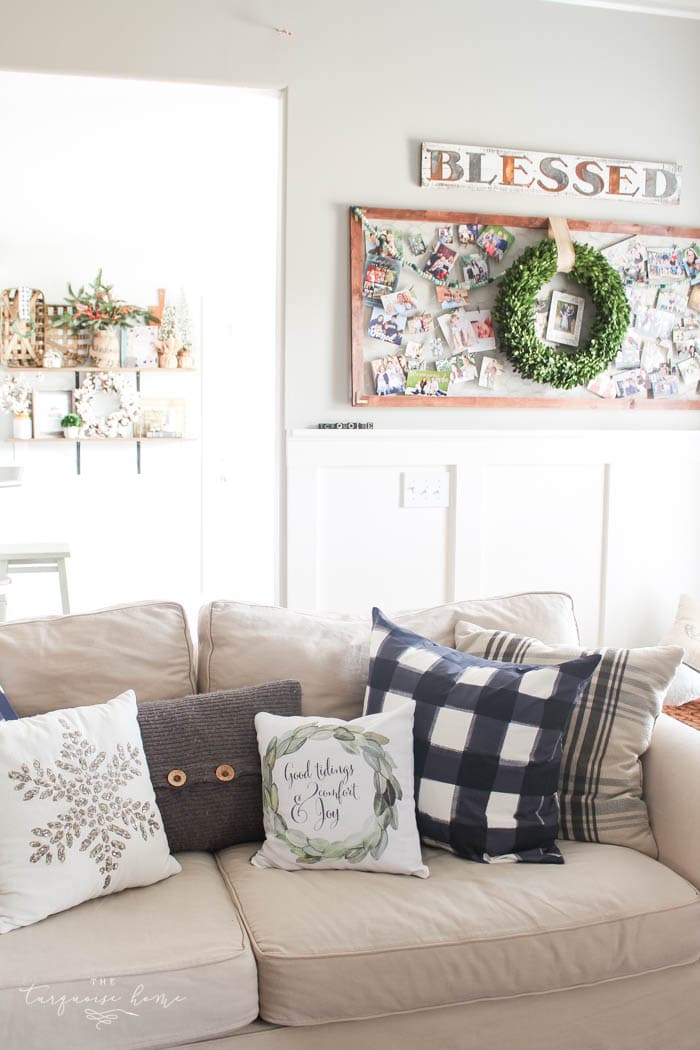 My friend Krista from The Happy Housie uses plaid and buffalo check perfectly in her home! Take down the tree and what's left will be perfect until the first blooms of spring!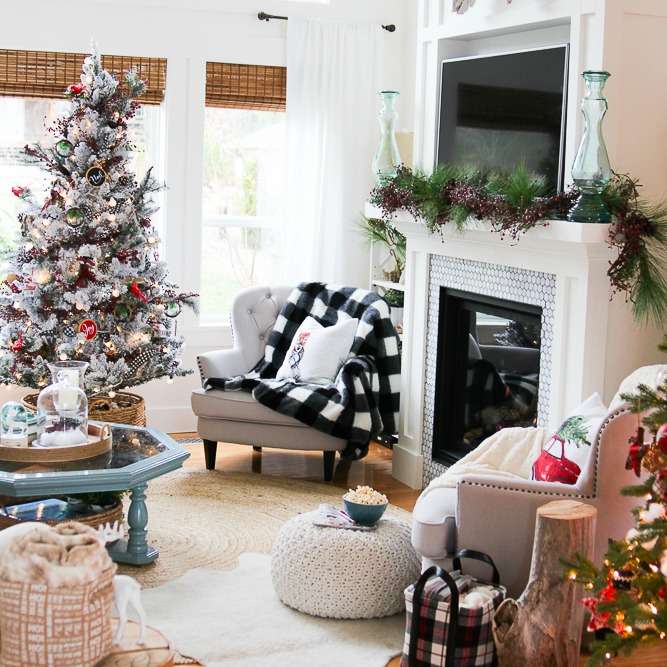 Plaid and Buffalo Check Decor from The Happy Housie
Flocked Tree: A winter wonderland can be experienced all winter long! You may not want to leave all of your ornaments on the tree (or you might, I don't know), but you could certainly leave your pretty flocked Christmas tree up all winter long with some gorgeous lights that glow! (Find out the best way to add lights to a tree to make it glow HERE.)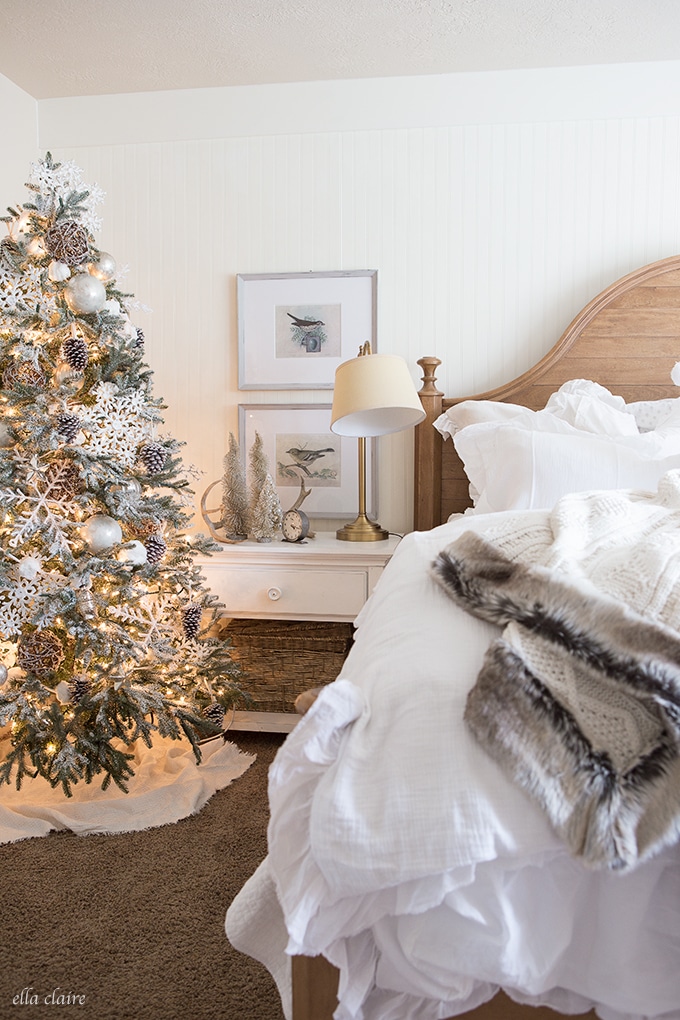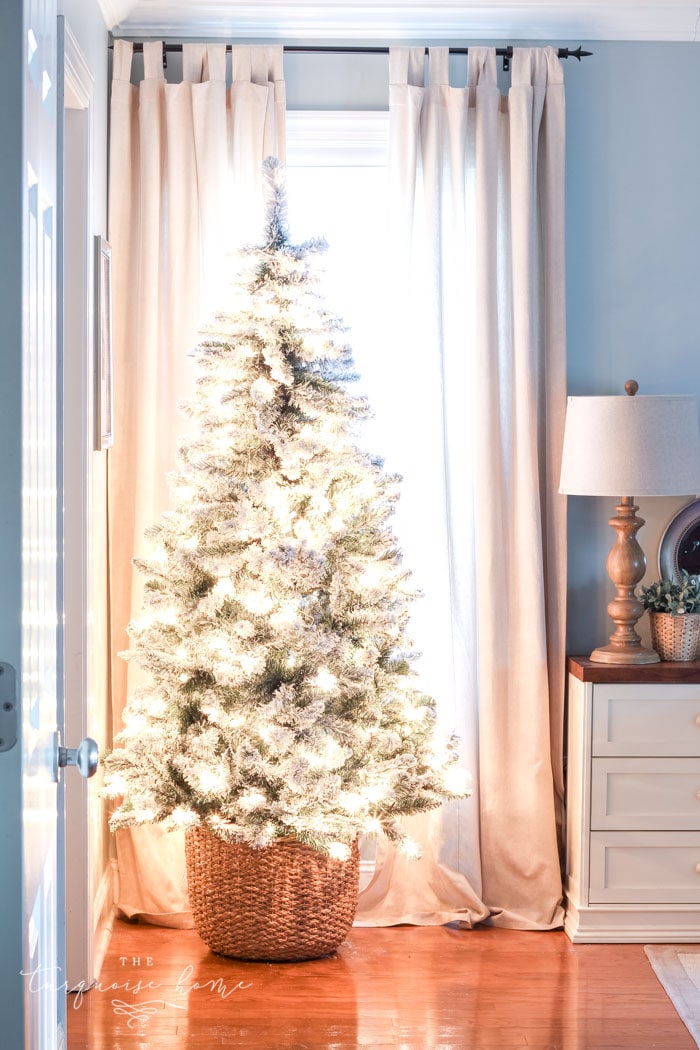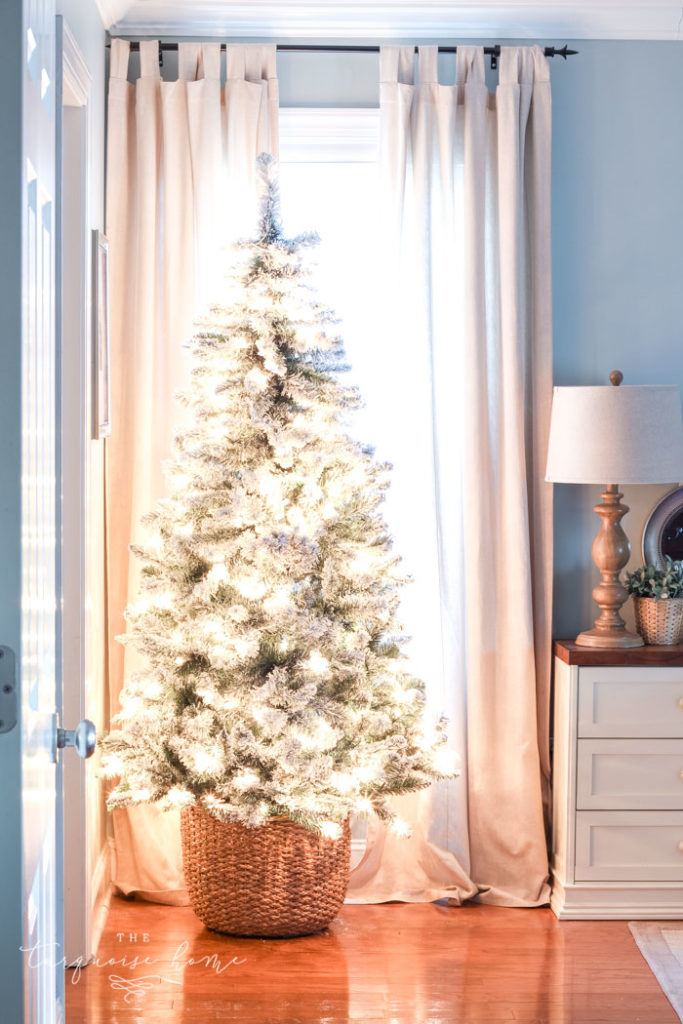 Faux Fur: In the beautiful bedroom above, Ella Claire uses a cable knit and faux fur throw for her wintery, Christmas bedroom. I love the touch and it will look perfect for the cold months ahead. Not to mention keep them extra warm and cozy!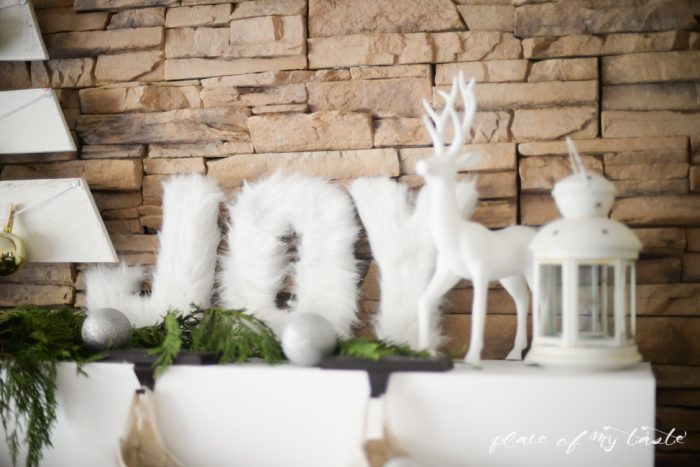 I love this DIY faux fur letter tutorial from my friend Aniko at Place of My Taste. She just used items from the craft store to make them. If you spelled out the word "Snow" then you could keep them up for January and February, too!
As you can see from these photos, a big key to decorating for winter is to keep things neutral. You're not going to be able to carry a bunch of red and green decor into January.
So, limit them use of red when you're decorating. I only try to use red in very small doses. It's not my favorite color, but I will make exceptions for it for Christmas. But keeping things neutral will help minimize the need to change anything out after the holidays are over!
I could probably go on forever about how to decorate for Christmas with winter in mind, but I'll stop here! Do you have anything that you love to use all season long? Do tell!