Best Gifts for Girls: Ages 5-10
Do you have a young elementary-age girl to buy a gift for? Maybe it's your own daughter, your niece, or just a friend, we've got you covered with some of the year's most popular toys as well as surest hits! 
Be sure to check out our complete list of Gift Guides to help buy gifts for everyone on your list!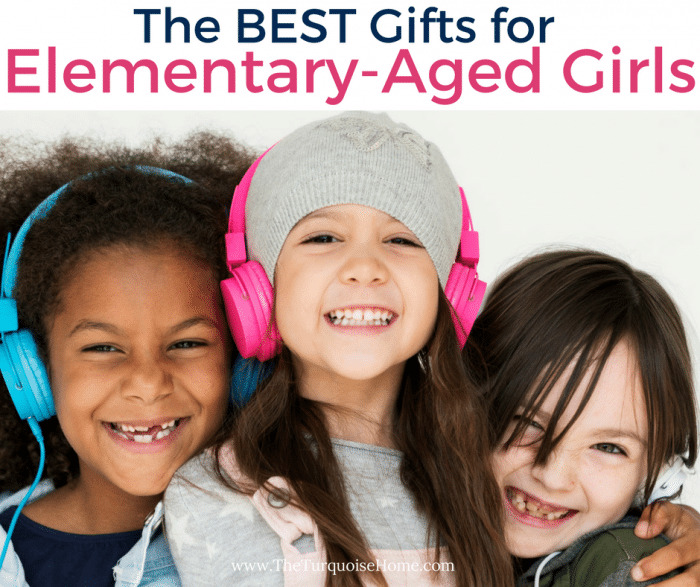 This post is updated each year with the latest and greatest holiday gift ideas for your friends and family! Last updated November 2022.
So, if you know me at all, then you know that I have two precious little girls, so my life is full of baby dolls and Barbies, Squishmallows, American Girl dolls and dress up. Did I mention dolls?
We also are obsessed with play kitchens and real kitchens and baking and all of the girly things you could ever imagine.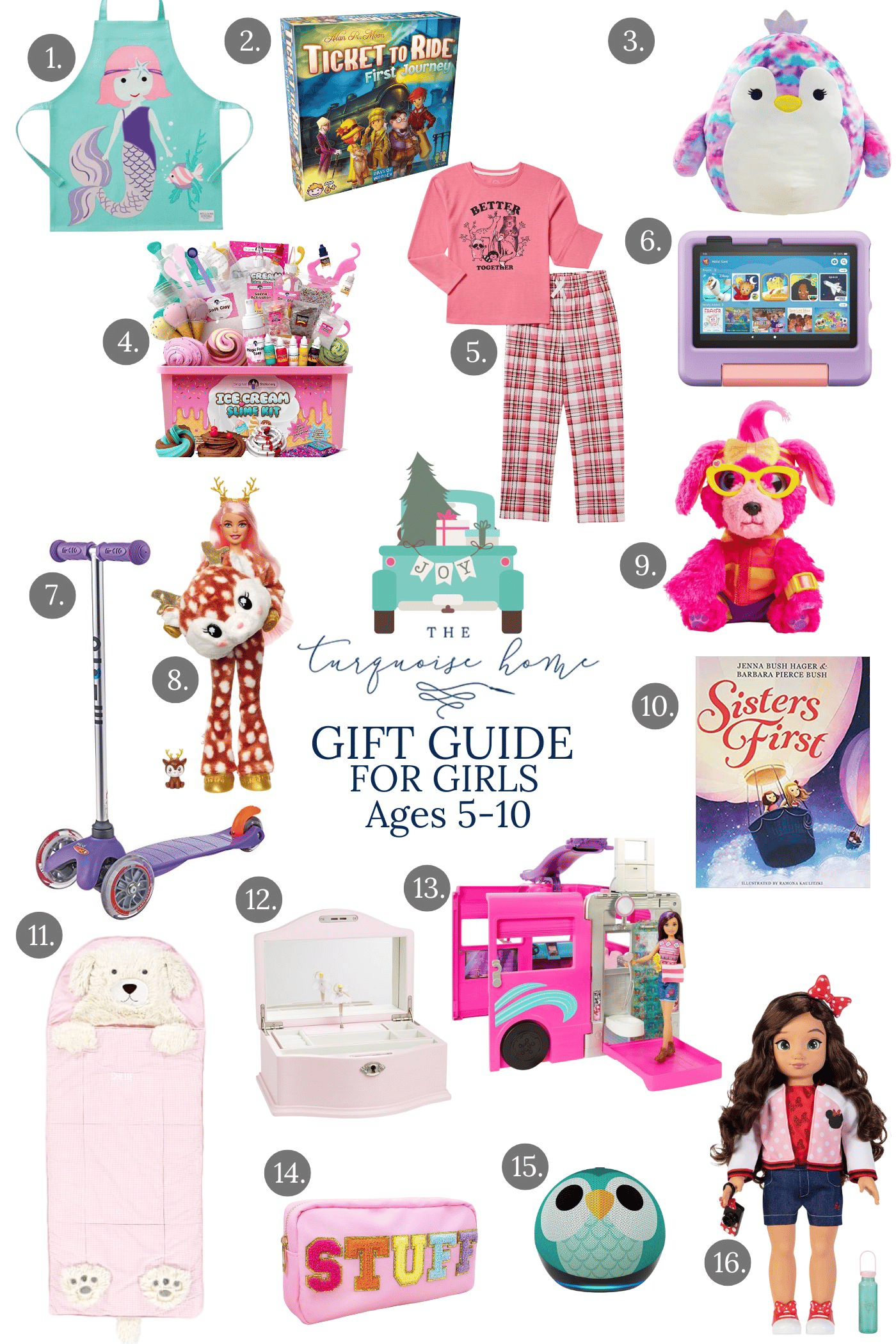 This post contains affiliate links for your convenience. See my full disclosure policy.
The Best Gifts for Elementary-Aged Girls
1. Baking Apron – I don't know about your kiddos, but mine love to spend quality time with me in the kitchen. We have matching aprons that my sister-in-law made for us, but if you don't have an awesome SIL to make yours, these are the next best thing! Give her the gift of quality time with you (with cute matching aprons)! And for future bakers, this baking set is adorable!
2. Ticket to Ride (First Journey) – Our family loves all of the versions of this game and ours girls love to play this one!
3. Penguin Squishmallow – A soft and cuddly Squishmallow is the gift my girls always love!
4. Fluffy Slime Kit – The perfect gift for a girl who loves making slime! Filled with 25 pieces of everything you need to make slime that looks like cute ice cream cones in all of your favorite ice cream colors & scents! My girls would LOVE this!
5. Pajamas – We always get the girls PJ's at Christmas. First, because they always seem to need some new winter pj's this time of year. And secondly, we (or really just me 😜) love giving them matching pj's at Christmas for cute Christmas morning pics! I couldn't resist these adorable holiday pajamas for the whole family!
6. Kindle Fire Tablet – I have heard over and over and over again that this is THE best tablet for kids. Everyone I know says it's SO much better than handing their kiddo an iPad. So, guess what my girls got two years ago? 😁 The perks are hands-down the best parental controls out there, the open app platform (you can add and delete apps at your choosing) and the 2-year no-questions-asked replacement policy. We use them all the time!
7. Maxi Kick Scooter – These scooters are the best scooters for kids on the market and worth every penny. I did my research 6 years ago and got one for my then 6-year-old! It's been ridden almost every day since! The 2 front wheels make it easy to maneuver. It also has technology that uses the child's body weight to turn it instead of just turning the wheel. This teaches them how to turn a bike as well! Awesome!
We got my youngest daughter the Micro Mini Kick Scooter for Christmas last year, so they ride together all the time now! (They rides up and down the halls of the house during the winter and the wheels don't leave any residue on the floors. I love them for getting a little exercise in the colder months.)
8. Cutie Reveal Barbie – If you have a girl who loves dolls and anything "reveal" or "surprise," this is a great choice! So even though they know what's inside, the idea of a Barbie in a costume, is too much to handle! This one comes in four options: deer, husky, polar bear and owl.
9. Little Live Pet Scruff-a-Luvs Sew Surprise – An interactive toy that needs washing and the sewing machine reveals the fashion outfit? Girls love this stuff!
10. Books – Reading is always something we want to encourage in our girls. As we are in the midst of learning to read, good books that keep my daughter's interest are so valuable.
Our favorite night time story is Sisters First. If you have more than 1 girl, this book is essential. We've read it so many times.
We've fallen in love with the Magic Treehouse series. These beginner chapter books are great for the emerging reader!
We also love the spunky Junie B. Jones books that she can now read on her own.
11. Sleeping Bag – This age is when kiddos start to gain some independence and sleep over at friend's houses or go to Grandma's house for the weekend. Send her off in style with an adorable animal sleeping bag with a built-in pillow! Aren't these darling?!?
12. Jewelry Box – What better way to preserve her budding jewelry collection than with this gorgeous keepsake jewelry box? And if her ears are pierced, add some earrings to make it extra sweet!
13. Barbie Dream Camper – My daughters love to play with Barbies and my youngest has her eyes set on the Dream Camper – even though she has an old one! This one comes with a huge slide into the pool! What's not to love?!
14. Makeup Pouch with Varsity Letters – this Stoney Clover dupe is such a cute bag for all the little girls to keep their favorite treasures.
15. Kids Echo Dot – When I tell you my girls use this every day, I mean EVERY day! It is their alarm clock, how they listen to music in their rooms and how I talk to them from downstairs. We love these devices and my girls would not want to live without them! I love the kids version because they have parental controls!
16. Disney ILY Dolls & Accessories – If your girl loves all things Disney and dolls, you have to get her one of these ILY dolls. They are so cute and their accessories are adorable, too! My youngest got a doll and accessory pack this year and is so obsessed!
I know that any girl on your list will love these gifts, so purchase with confidence! Happy shopping!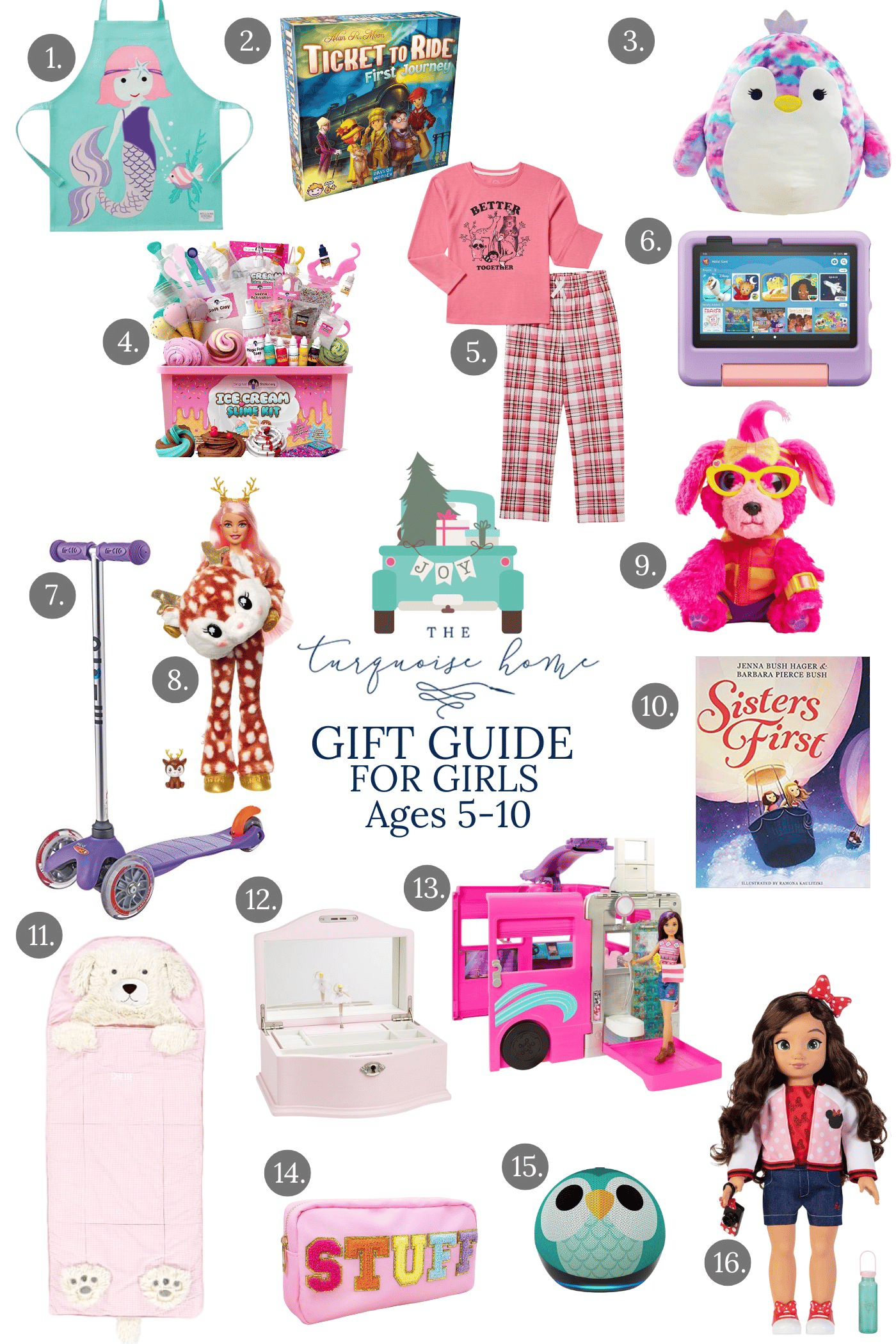 Which gift is your favorite?
If you have a favorite that's not listed here, let us know in the comments!
Browse our favorite gifts for everyone!
Need to buy a gift for someone special? I've gathered my favorite gift ideas for men, women, teens, kids, babies, moms, dads, teachers, friends and anyone else on your list!
More Posts You Will Love: