Defining Your Why for an Organized Home
Welcome to Day 1 of the 30 Days to Less of a Hot Mess Challenge! We're decluttering, reorganizing and taking a breath of fresh air to create a home we love. If this is your first time at the challenge, you may want to start here at the beginning.
**************************************************************
My I've Had It Moment
It was one day this fall and I had just HAD it up the HERE. The stuff everywhere was about to reach up and choke the life out of me. (And no it wasn't election day, but it may have been the 3rd day in a row my kids stayed home sick from school. I had HAD it.)
There was just clutter and mess everywhere I turned. 

It may have also had something to do with the fact that I was in the middle of decorating for Christmas and boxes of decor were everywhere.
But I had this "I've had it" moment and "scorched earth" was steaming from my ears. In that moment I knew that I had to get rid of the excess for my own sanity.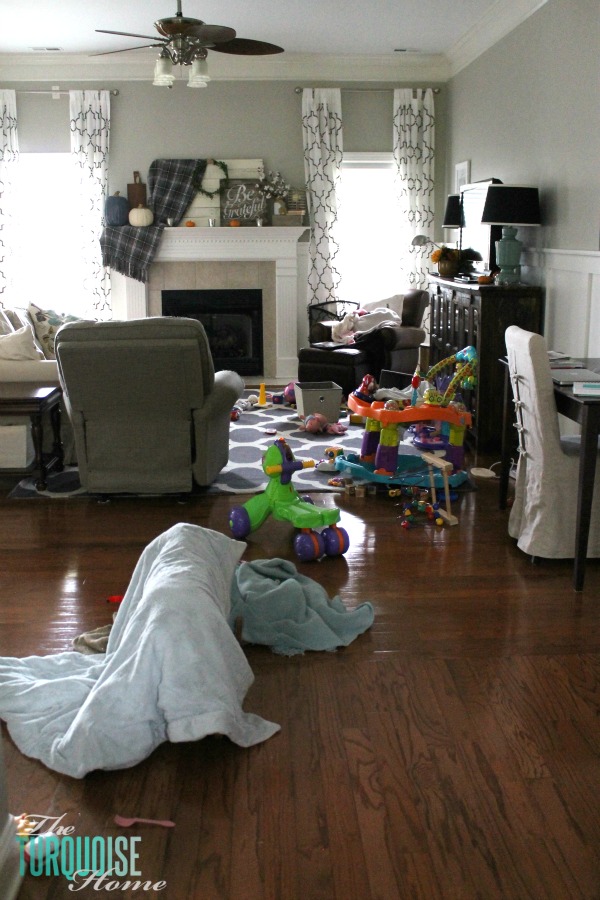 Yes, those are all toys strewn around my living room, but what you can't see is my piles of junk all over the counters in the kitchen and covering my office floor. 
Also, not to mention that I knew both of my girls would be having their birthdays the week before Christmas, and … Christmas!!!! Tons of toys and STUFF was headed my way. And if I didn't clear out some space and clear the noise, it was not going to bode well for my sanity (or anyone in my home who had to deal with me).
The extra crap everywhere was making mommy cray cray.
I decided to pick back up my copy of The Life Changing Magic of Tidying Up and continue my journey, only on steroids, because I was determined to clear the junk before Christmas. (Related: my first thoughts about The Life Changing Magic of Tidying Up)
I had tackled my clothes and shoes before, but honestly they needed a refresher course.
Here's the problem. Anything in this life needs continued pruning to keep it healthy.
Our schedules need to be pruned continuously because anytime we say yes, something or someone has to be told no for it to work. We can't just keep saying yes and yes and yes and expect that it will all still fit. It will make us crazy until we sit down, say no to a few things, and balance everything out.
The same is true for our homes.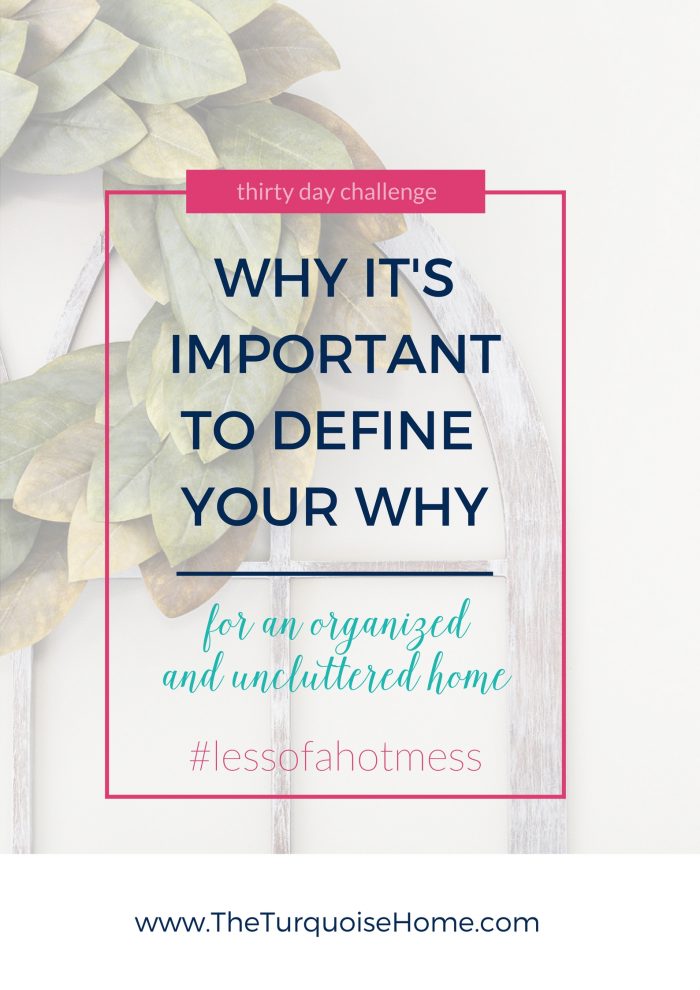 We can't just buy and buy and buy and never send anything else back out the door. We have to continually edit to keep things from reaching up and choking the life out of us like I was feeling that day this fall.
Or we have to stop buying. But if we choose to continue to buy things, then something has to leave, too!
My sanity and my relationship with my family is too important for it to be negatively affected by stuff. I owed it to myself and my husband and children to clear the clutter and start the new year with a fresh, decluttered, organized space.
And you do too! You deserve to have a clean and clear space only filled with the things you love and appreciate – and bring you joy!
It's time to start now. Make it your 30-day gift to yourself.
Defining Your Why
As with anything you need to start with a plan and a goal. I'm the worst at starting something without having a plan or a goal. I'll just walk around my house with a trash bag and throw a bunch of stuff away without the next step clearly defined. I'll feel better for about a day and then we'll be right back to where we started.
I figured out that I need to make a plan. And before you make any plan, you need to figure out your goal.
And even before those two is discovering and defining your why.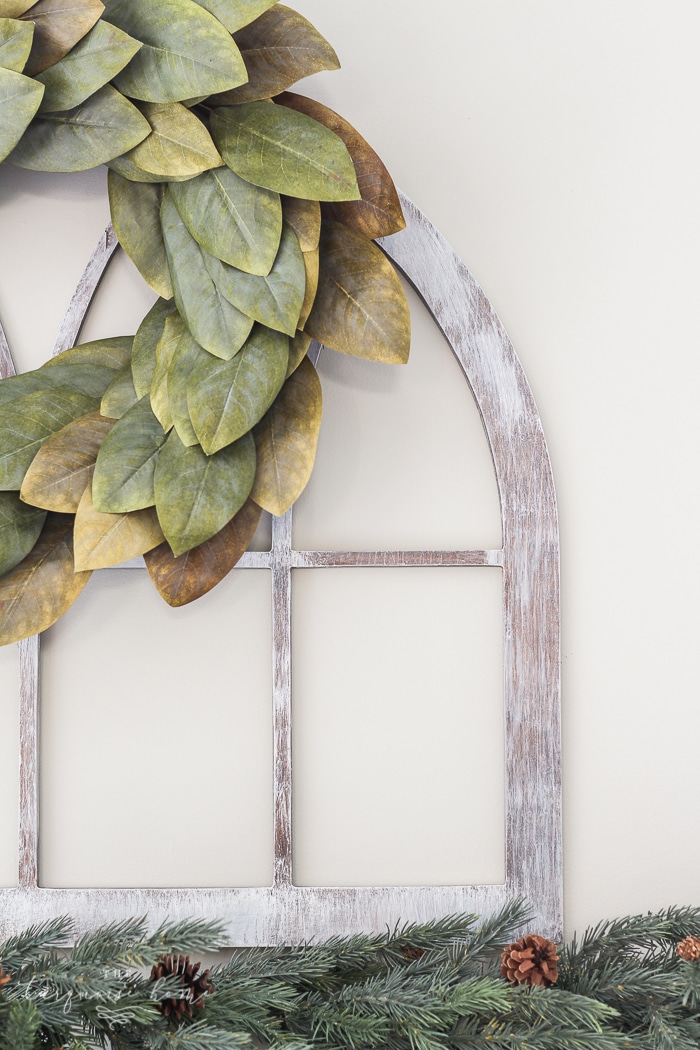 Discovering the why to decluttering your house will be the motivation to keep going when times get hard and you want to throw in the towel.
I find this incredibly important in my blogging business. I have my why in the back of my mind all the time: to provide a supplemental income for my family so that we can enjoy life, our girls can participate in activities like dance and gymnastics, we can take family trips and create wonderful memories and so that we can bless others. This is what I have to remember when it's late and I want to go to bed, but I need to get that last thing done.
It's the same for decluttering. Defining your why is crucial for completing this task.
The Messy Work: So, today's goal is to write down your why. 
Do you want to declutter your home so that you spend less time picking up all of the unnecessary clutter? Maybe it's because you want to come home from a long day at work and feel relaxed and not even more stressed. Or maybe you want to be able to find something when you need it and not buy duplicates of what you already have. 
Nail down your reason for undergoing the task of decluttering (because it will take discipline, fortitude and bravery to finish this task). And then print it out and make it visible. Tape it to the fridge, or the door you use most frequently. Tape it over your desk or in the front of your planner.
Define your Why.
Write it Down.
Make it Visible.
See you again tomorrow!
In the mess with you, Laura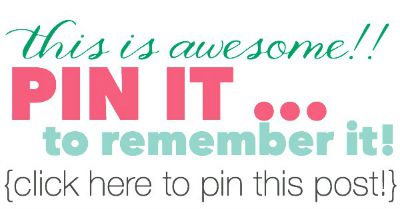 SaveSave
SaveSave