Tips for Organizing your Refrigerator
Welcome to Day 17 of the 30 Days to Less of a Hot Mess Challenge! We're decluttering, reorganizing and taking a breath of fresh air to create a home we love. If this is your first time at the challenge, you may want to start here at the beginning. Affiliate links used for your convenience.
**************************************************************
Today's topic is refrigerator organization and it's pretty straight forward! I don't know about you, but I've never had an organization plan for my fridge, other than put stuff where it fits and go with it!
I have a side-by-side freezer fridge combo, which I love. Someone tried to talk me into the fridge on top and freezer on the bottom combos when we were purchase it, but I hated the idea of having to squat down every time I opened the freezer. It's just me, but I know they are super popular.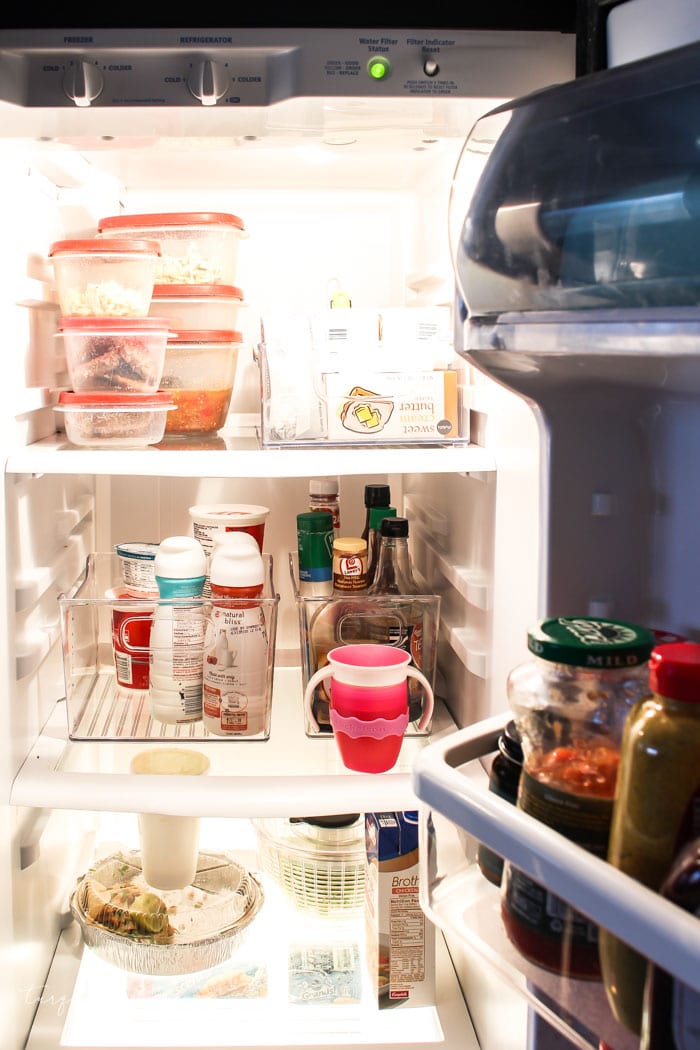 So, my refrigerator organization needs may be a bit different than yours, depending on the appliance you have, but the ideas are the same! I loved this exercise because it took about an hour or two and I now have a cleaned out, highly functional space for my food. And I'm not losing random food items in the back.

While I was cleaning out everything, I did find the most random thing in there: half of a ripped up blank check. Do what?!? How in the world?!? Anyway, you never know what you'll find when you clean out the fridge. LOL
I feel like I do a pretty good job of staying on top of leftovers and random food items. I clean out my fridge every Sunday night as we get ready for the week and in preparation for my Monday morning grocery store run. I throw away all leftovers and wipe down the shelves if I'm feeling really super-human. Otherwise I stick to cleaning out and wiping down any goo or major spills. And I'm ready to refill the next morning.
But even with that regular checking and cleaning, I still found duplicates of condiments and old, expired foods in there.
Steps to Cleaning Out & Organizing the Refrigerator
1. Remove everything from the fridge. If you've been around for a hot second, you'll know that the first step to decluttering, cleaning and organizing is to take everything out!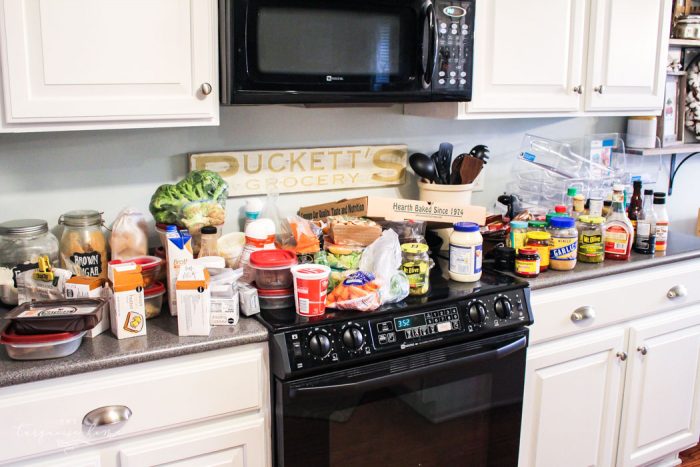 2. Wipe down every surface as best you can. I used to take out all of the shelves to clean them and wash the baskets on the door in warm soapy water. But now I have the Norwex Envirocloths and they are awesome! I just wipe everything down with them and call it good enough. It's pretty darn clean and takes way less time. (I own 4 of the fabulous envirocloths and want more!)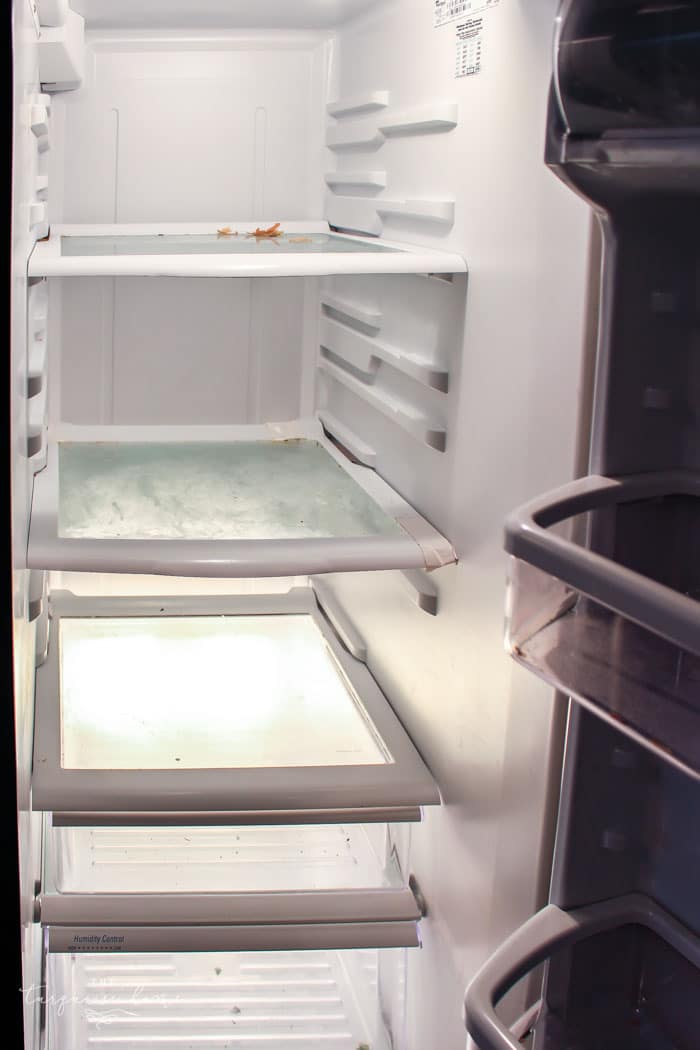 As you can see, it needed a good cleaning!
3. Consolidate contents of the fridge and throw away any duplicates or expired foods or science projects. 😜 I can't believe all of this food came out of my fridge.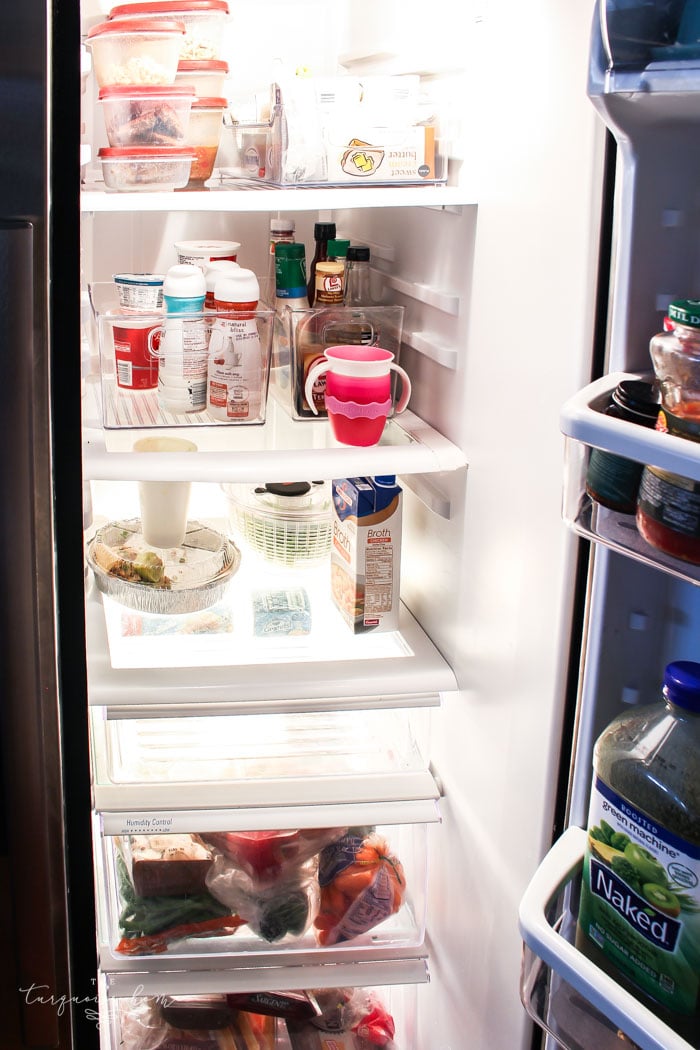 4. Put everything back in an organized manner. I went to Target the other night and grabbed all of the clear bins I could find. #pantryImcomingforyoutoo
I decided that it would be best for all of the drink items to go on the fridge door, because laying them down or having them all over the fridge just was a hot mess. I was always moving OJ or a Starbucks cold coffee out of the way to get what I wanted. No more! They are now all corralled on the door. I made one bin for baking needs like butters and flours that I keep in the fridge. I included cream cheese in there, because it just made sense to me and it fit.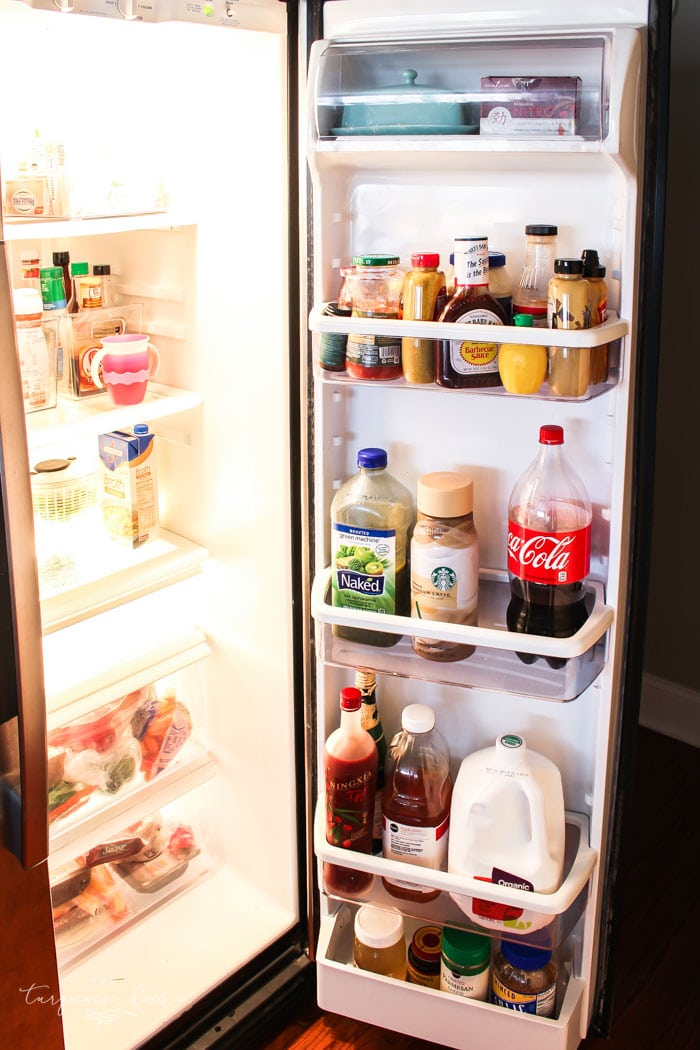 I put all of the other dairy products, like sour cream, creamers and yogurt in another bin. I corralled my sauce condiments in another bin. I actually changed some of them out with others that I had stuck in the door after I took this pic. The rest of the condiments are either on the top or bottom shelf in the door. I have some things that I just know are on the bottom door shelf, but it wouldn't make sense to anyone else but me, so I won't even try to explain it. 😜
I keep eggs (I was out when I took this pic) in the middle smaller drawer along with croissants and refrigerated doughs.
And then in the bottom two drawers I keep fruits and veggies in one and bread, meat and cheese in the other. I know most people keep veggies in 1 drawer and fruits in the other, but this is what works for my family. So, I say do what works for you! I love that my girls can go in an grab a string cheese for a snack without my help!
Oh, one thing I did change out to help with space is the lettuce keeper. I love my lettuce spinner, but golly, that other one I had was huge! It took up so much room. So, I bought the smaller size, so that it will take up way less space and I can still keep my lettuce fresh in there. Don't be scared to trade out something that isn't working for you!
And then I have spaced for leftovers up at the top and down at the bottom shelf. We eat at home a ton (thanks to my meal planning plan) and we have (and eat) a lot of leftovers. So, that space is vital to my organizing.
These are the products I used in my fridge:
Medium Kitchen Pantry Organizer Bin
Small Kitchen Pantry Organizer Bin
At some point I'd like to make some labels with my Silhouette to label the bins and drawers! I'll be sure to put a pic here when I do that.
The Messy Work: Organize your fridge today! It only took me about an hour, maybe an hour and a half. You can do this!!
In the mess with you, Laura