How to Organize your Day | Day 3: 30 Days to Less of a Hot Mess
Welcome to the 30 Days to Less of a Hot Mess Challenge! We're decluttering, reorganizing and taking a breath of fresh air to create a home we love. If this is your first time at the challenge, you may want to start here at the beginning.
**************************************************************
How to Organize Your Day
I'm not going to lie to you. I'm a bit of a hot mess, hence the title of this series, when it comes to keeping up with my daily obligations and life. Truth be told it's because I've just said yes to too many things, but I'm working on that. The one thing that keeps me sane day in and day out is my daily planner. It organizes my whole life!
Here's a collection of my favorite, cute paper planners.
I know there are a bajillion digital planners and calendars out there, but I firmly believe that at the heart of the organized day is a paper planner. (And if you adamantly disagree, then that's cool. Use what works best for you and we can still be friends. 😉 ) I use mine for everything, but I also set up important dates in my iCal app that need to have an alert on my phone, because sometimes I just know myself and know that I need an alert so that I don't miss certain things!

I have never used a Google Calendar to share with my husband, because honestly he's not a huge digital planner. If he were, then I am sure we would use that some too! But I would still stick to my paper planner for MY daily life.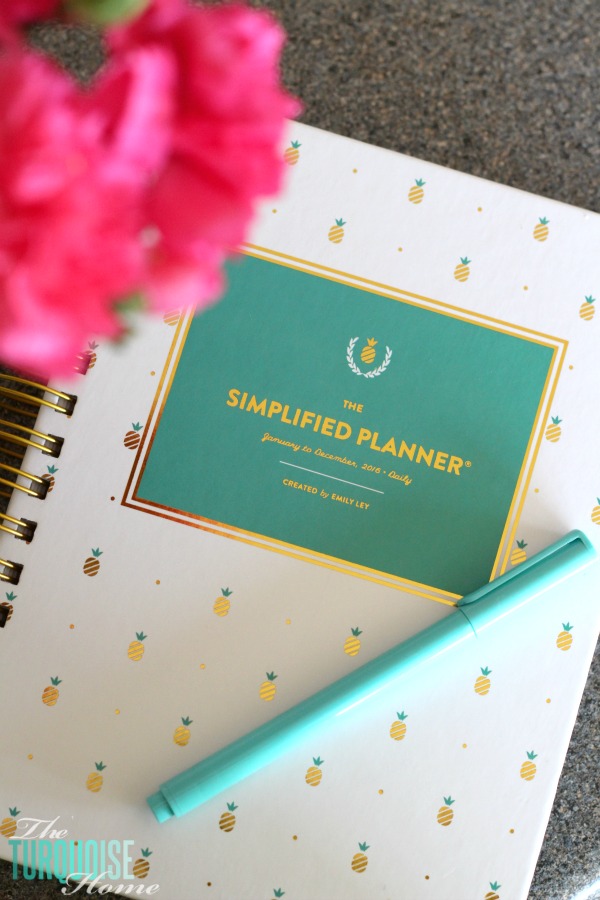 I personally use the Emily Ley Simplified Planner (affiliate link). It's just like it says: simple. And I LOVE that! I don't need anything too complicated.
My biggest tip for having a planner and using it is this: Commit to it! Write down everything in it and commit to looking at it every single morning, throughout the day and every night before you go to bed. Keep it out where you can see it! If I'm working at my desk, then it's sitting right beside my computer. If I'm not working and I'm at home, then it's sitting on my kitchen counter.
There is just something cathartic and encouraging about actually using a pen or a pencil to check off the items on your to do list.
And I think it's just easier to see everything on paper.
Here's how I use my planner every day: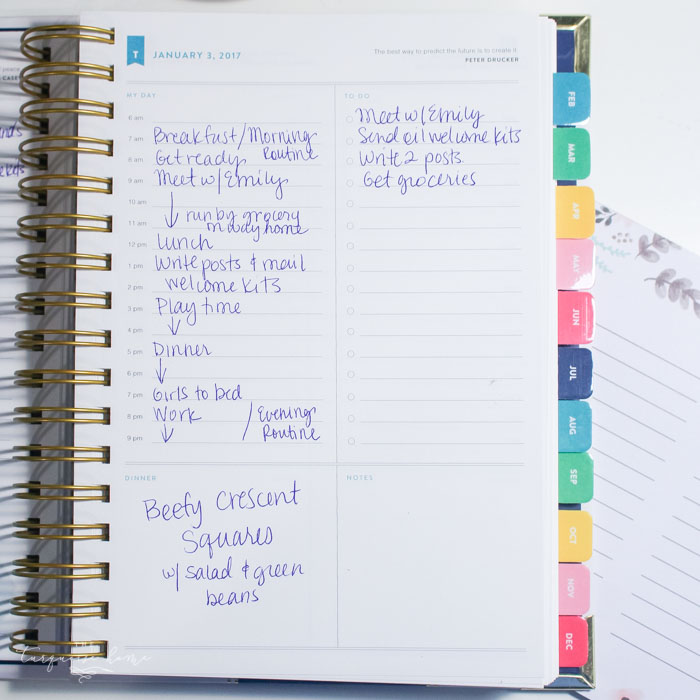 I write down my to-dos in the column on the right.
Then I use the time-blocking method to write out everything I have to do for the day on the schedule on the left. This also includes preparing meals, feeding my children and my morning and evening routines, which I'll get to in a minute.
I just add the extra to-dos to my schedule where they fit and go about my day! Whenever I finish one things, I just look to see what's next on the colander. Easy, peasy. You'll also notice that I schedule in down time/play time. This is crucial as a mama of two little girls. And sure it rarely happens exactly how I planned, but I can guarantee you I get more done in a day using this than if I didn't!
On a business note: while I keep track of everything that I have to do each day in my planner, including my work general work duties, I also keep a separate paper blog/business planner. It is for super detailed stuff about my business, like my post titles and plans for upcoming posts, etc. I just write down my daily to-dos in my personal planner.
Here's one of my favorite reasons for using a paper planner. I can easily go back to the previous time last year and see exactly what we were doing. If I was using my planner well, it will give me clues for what I need to be planning for this year that I've already forgotten.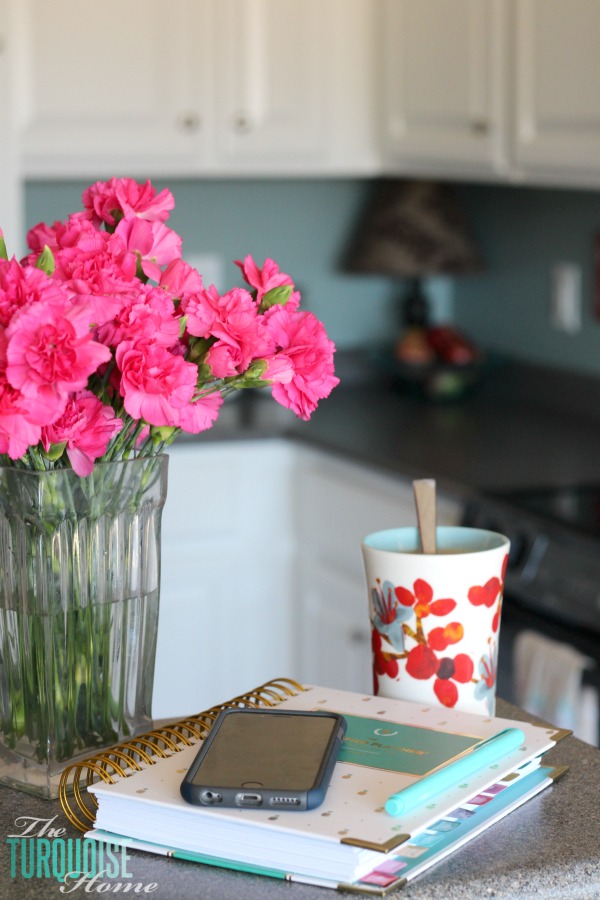 Things like, every year we do VBS the first week in June. Or we have to plan 1-2 birthday parties every year right before Christmas. Or that we need to start planning our May beach vacation in November the year before.
If I didn't keep a calendar, I would have a general idea about these things, but I wouldn't have it crystal clear in my mind. I ALSO can make notes for myself for the next year. Like how I have to start Christmas shopping and decorating on October 1, so that I can get everything done before Christmas. Being a blogger means that I have a ton more to do at the end of the year, and if I want to do that with excellence (or just not die from exhaustion), then I need to start early.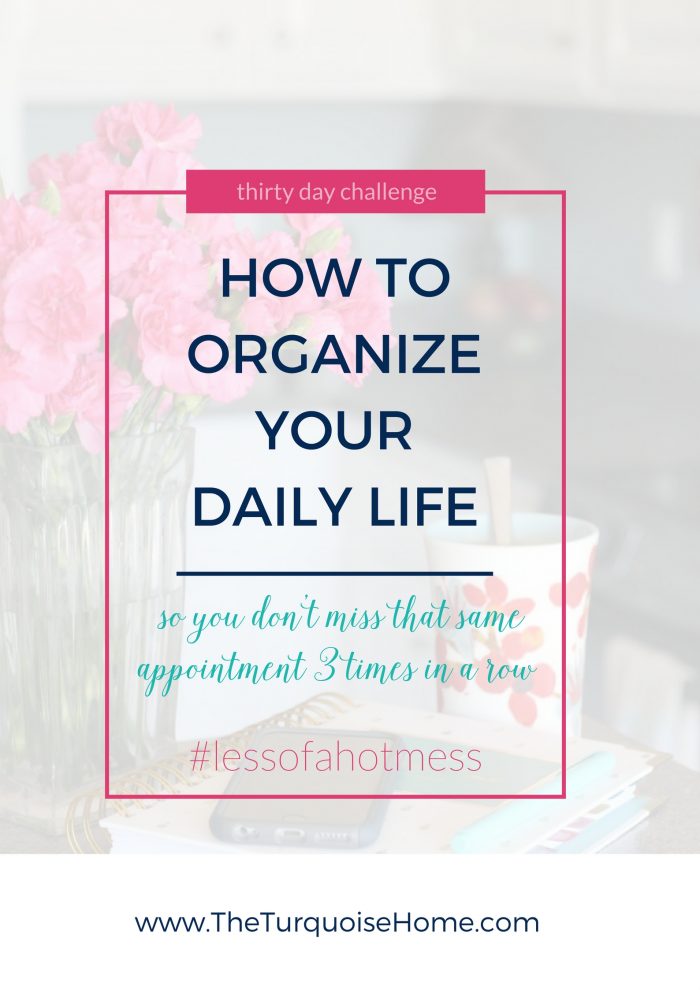 Weekly tips for Keeping your Life Organized
I've incorporated these simple steps into my life over the past couple of years. They keep me winning (mostly) at life. 😉
Every Sunday evening, look over the next week's schedule. What can you get done early or do you need to call a babysitter for the upcoming weekend? Do you need to order a gift on Amazon for a birthday party coming up?

Also on Sunday evenings (or another time you designate), plan your meals for the week. If you have a grocery store in your town that will allow you to do pick up groceries, then utilize that program. Our Walmart offers free grocery pick up and I love it! I make my meal plan on Sunday night, and order my groceries for Monday morning. On the way home from dropping my youngest off at preschool, I swing by Walmart and pick up my groceries, take them home and unload them. If I need a few other things from Publix, I'll run in there and do a quick trip between Walmart and home.

Have 3 things that you do every morning and every evening to keep things running smoothly. I find that any more than 3 is too much for me, but if you can handle doing more than that, then go for it! Here are mine:

Evenings

Pick up

Load/run dishwasher

Check planner & make to-do list for tomorrow

Mornings

Prayer/devotion

Unload dishwasher

Plan dinner (pull out any frozen ingredients)
Keep it simple and on paper and you'll be winning at this organize your life thing. 🙂 Each year that I use my planner I get better at it and more organized. If at first it doesn't seem like it's working, just keep at it!
The Messy Work: Write down your 3 things for mornings and evenings, order a paper planner (find my favorites here), and choose what day you will plan your meals.
Tomorrow we'll be talking about creating an organized home binder! See you then!
In the mess with you, Laura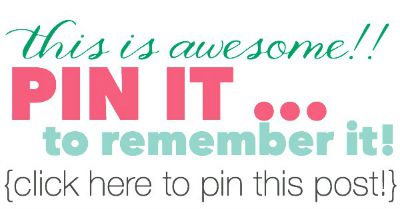 SaveSave