Hi friends! It's been a while since I shared about one of my favorite things in life: essential oils. Unless you live under a rock, I'm sure you've been hearing about these all over the place. They are hot stuff. I've been using them in my home and with my family for a year now and I will tell you that they have changed the way we approach every issue that we have.
I had stopped posting about them last fall because a certain government agency that sounds like effff-dee-ayyyy cracked down on essential oil companies and we had to change the way we described how we used them. I had to take down my essential oil posts and re-word some of them in order to be compliant. This all happened right before Baby G was born, so I didn't have time to address it then. But now that I've taken the time to go back through them and re-post some of them, I'm ready to start sharing again. Bottom line: even though I wasn't talking about these little bottles of amazing wellness, I was still using them every single day. They are an integral part of my families wellness and health support.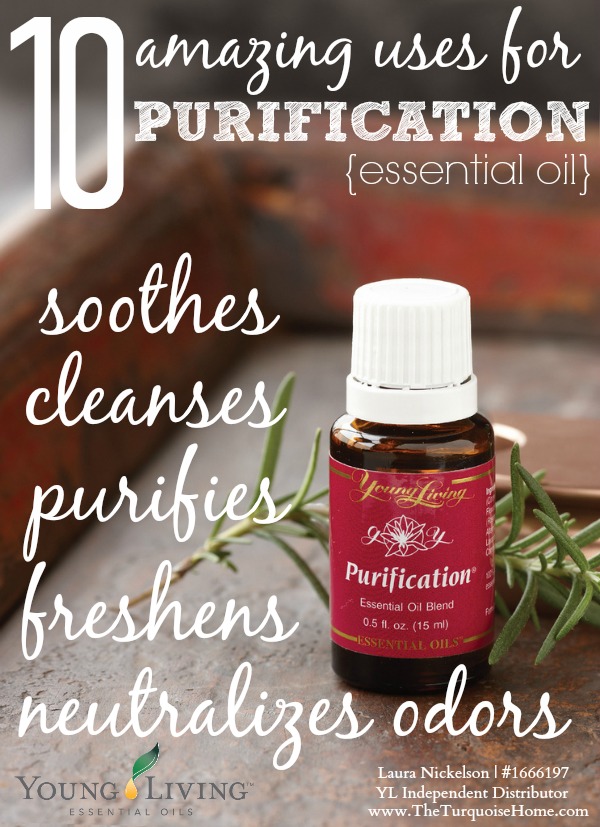 Today I'm going to share about Purification! It's the very first oil that I bought, long before I ever really was into oils. You see, my husband had a dog when we got married and let me but it bluntly, she smelled like, well … the back-side of an animal. She was an older bulldog and evidently they start to smell at a certain age.
I was desperate to find a way to make my home smell less like a dog's backside, so I bought a bottle of purification. I put 2-3 drops on some cotton balls and stuck them in the vents around the house. It helped a ton. Today I would just put a couple of drops in a diffuser. I loved how it neutralizes foul odors!
Purification is an essential oil blend that contains citronella, lemongrass, rosemary, tea tree (melaleuca alternifolia), lavandin and myrtle.
Purification according to the Young Living web site:
Purification® can be used directly on the skin to cleanse and soothe. When diffused, it helps to purify and cleanse the air from environmental impurities including cigarette smoke and other disagreeable odors.
The many uses of Purification:
Diffuse 5 drops to purify the air after cooking fish or other strong-smelling dishes.
Dab some on a blemish to soothe, cleanse and nourish the skin.
Rub a drop of purification on an insect bite to calm the skin.
Add 10 drops each of Purification and Citronella oils to 4 oz. of water in a spray bottle to create an all-natural bug repellant.
Place a cotton ball with 2 drops of Purification into a shoe to neutralize stinky smells.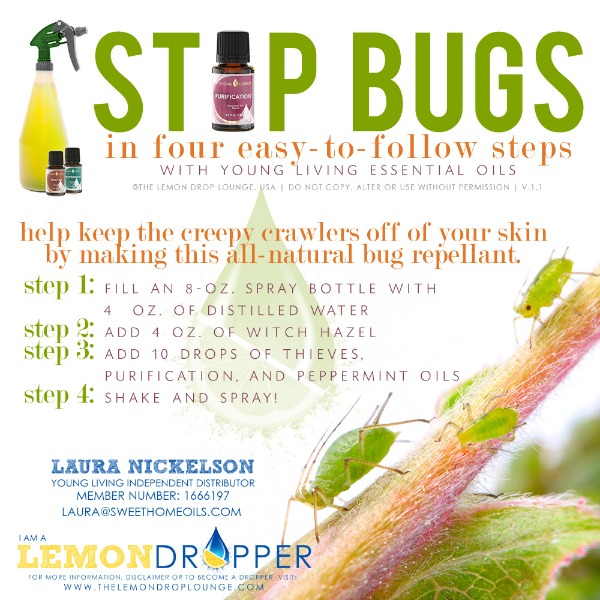 Combine with lemon oil (diluted) and rub on the outside of the throat to soothe and comfort.
Put a couple of drops on a cotton ball and place in the car air vents to eliminate foul odors.
Apply to a blister to help cleanse and protect.
Add 10 drops of Purification to 4 oz. of water and spritz on laundry to freshen it. (I do this when I've left the laundry in the washer a little too long.)
Leave a small spray bottle with a mixture of Purification and water in the guest bathroom instead of chemical-filled air fresheners.
Enter to win a bottle of Purification essential oil!
If you want to find out more about my other favorite essential oils or have questions about what they are or how I started using them, please check out these posts …
[catablog_gallery id="6134″ catablog template = "gallery"]
To learn more about ordering your own bottle of Purification or other Essential Oils see my Becoming a Member page. If you're curious to learn more, would like to try a bottle at a discount, or have any questions at all about using essential oils for natural wellness, please don't hesitate to Contact Me!
Don't miss out on the behind-the-scenes fun!
Disclaimer: These statements and any information contained on this website have not been evaluated by the Food and Drug Administration. This information is intended for educational purposes only and is not meant to substitute for medical care or to prescribe treatment for any specific health condition. These products are not intended to diagnose, treat, cure or prevent any disease. Our content is not purposed to replace professional medical diagnosis, treatment or advice. Information obtained from a Young Living member should never cause disregard or delay seeking advice or treatment from a medical or healthcare provider. Use of any information from the content of this site solely at your own risk.  Consult individual products labels for safety information.
Get Instant Access to my Guide to Customize Your Home on a Budget
Grab your FREE guide for 10 Ways to Customize Your Home on a Budget: simple projects to transform your home from builder beige to a home with character and charm!