I know y'all are going to think I'm crazy and just tell me to finish one room at a time, but sometimes I can't help myself from jumping around from room to room. When inspiration hits, I just go with it.
The other day I was walking through Hobby Lobby on a mission and stopped in my tracks when I saw this sweet hair bow/accessories holder in the little girl's room decor section of the store. I thought it was too cute, but I needed it to be in different colors. Aha! A DIY inspiration was born. I already had a perfect frame, the one I used here and just knew I could make a cute little accessory display for Miss A's room.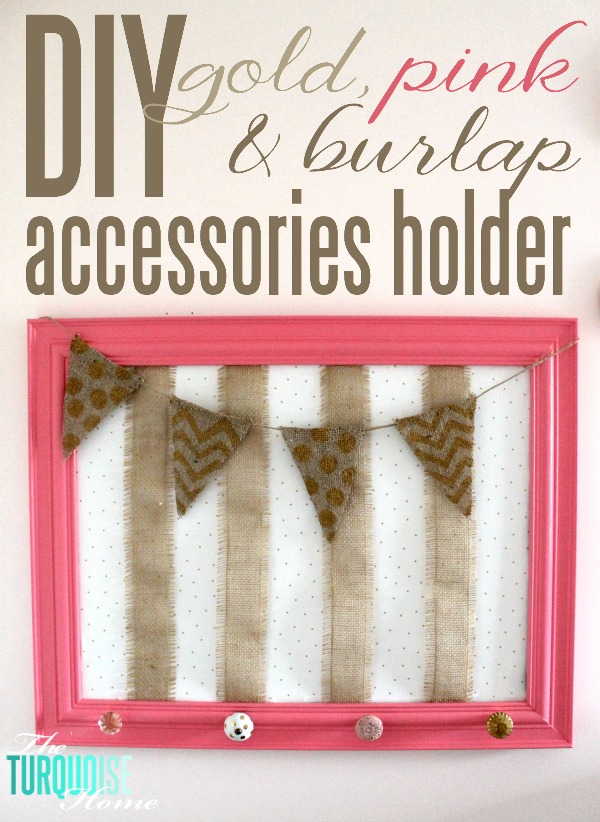 I've been slowly re-doing her room since we bought her big girl furniture last fall. I just purchased her new bedding and I'm slowly changing out other decor items. It's going to be so cute with a gold and pink ballerina theme. But, before I really even give you the whole picture, I'd like to finish Baby G's nursery. But I was so excited about this little DIY that I had to do it now and share it too!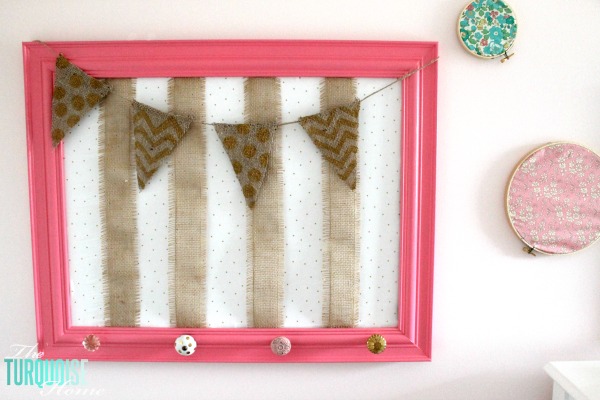 She had an old hair bow holder that I'd made a few years ago, but it was getting too small for her growing collection. I love how this one turned out and that we can hang necklaces, hair bands and purses from the knobs.
Here's what you'll need:
frame (paint is optional)
foam board
fabric (the cute gold polka dot fabric is from Hobby Lobby)
burlap ribbon
spray adhesive
burlap
twine
gold paint (and brush)
knobs (mine are from Hobby Lobby)
How to Make a Bow Holder
1. Get an Old Frame & Paint It
I already had the pink painted frame from a project we did in Miss A's room a few years ago. I took the Instagram pics out and just used the empty frame. But if you haven't already painted your frame, you would do that in this step.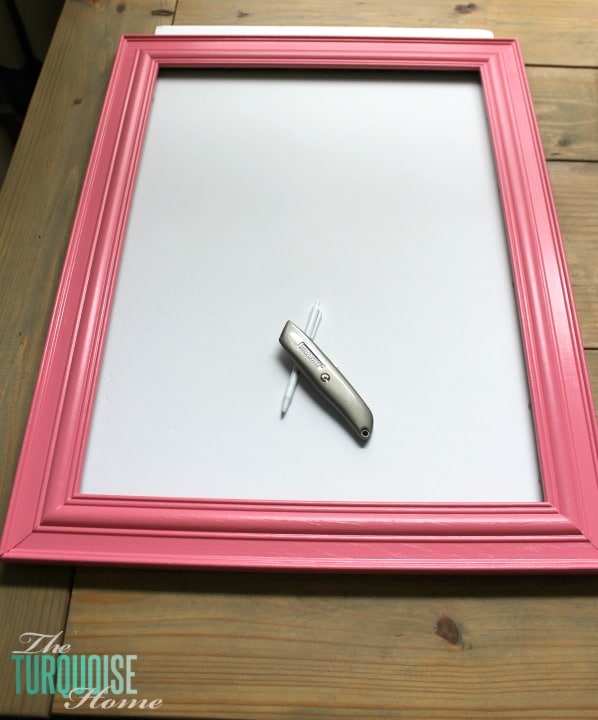 2. Add a Foam Board Backing
Cut the foam board to fit in the back of the frame and then set it aside.
3. Add Ribbon Vertically to the Frame
Then I cut the burlap ribbon and hot glued them to the back of the in the inset of the frame where the foam board would eventually go.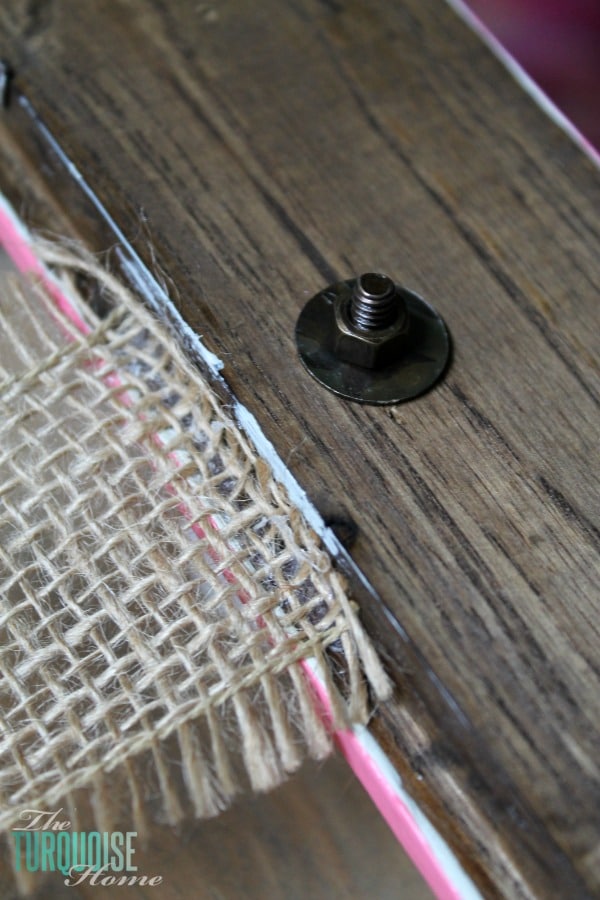 4. Drill holes in the frame and secure your knobs.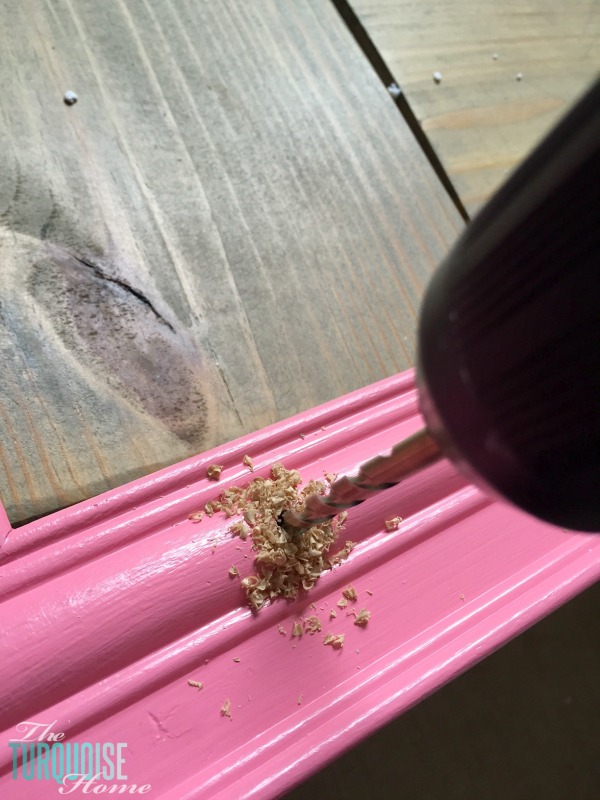 5. Cut your fabric to fit on the foam board.
Then spray some spray adhesive and attach it to the foam board. I do this outside because that stuff is so stinky.
6. Push the foam board into the back of the frame.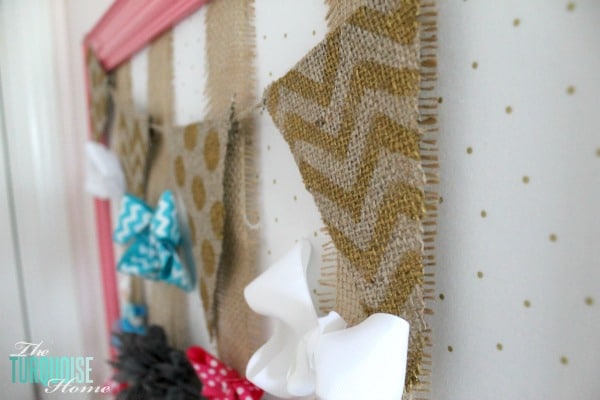 7. Optional: Cute Bunting
I then made a little burlap bunting with burlap and twine that I had on hand. I added some gold painted details with chevron and polka dot patterns. See how I make bunting here.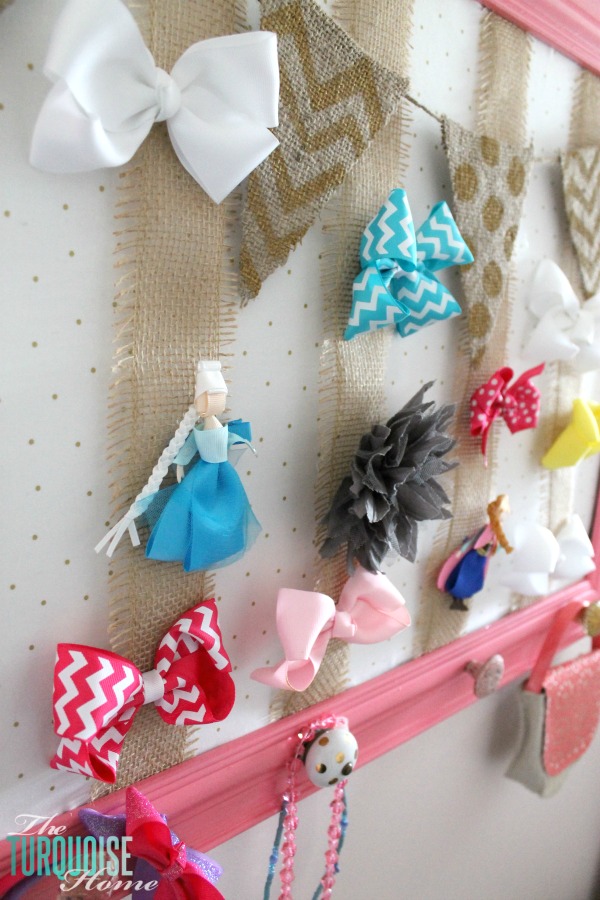 8. Fill Holder with Pretty Bows and Accessories
Attach your bunting and then hang your new accessories holder on the wall and fill it with all things pretty!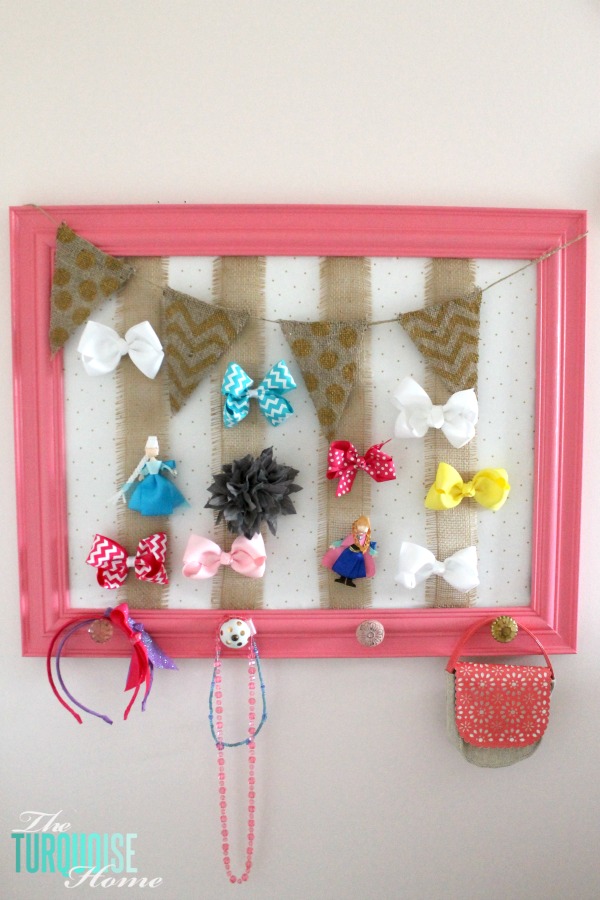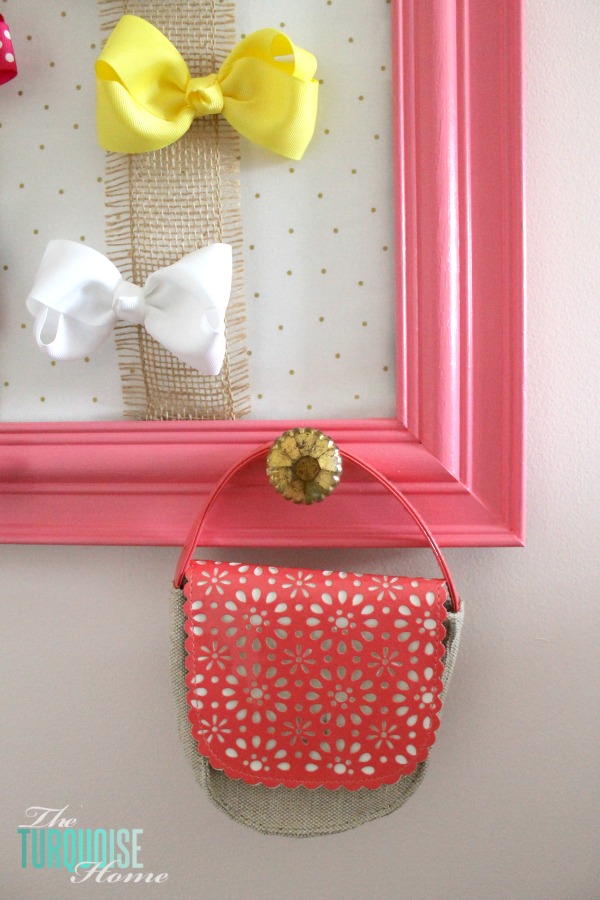 Isn't that sweet Anna from Frozen bow so cute?? Miss A got it for Christmas from her cousins and she loves it, along with her Elsa bow.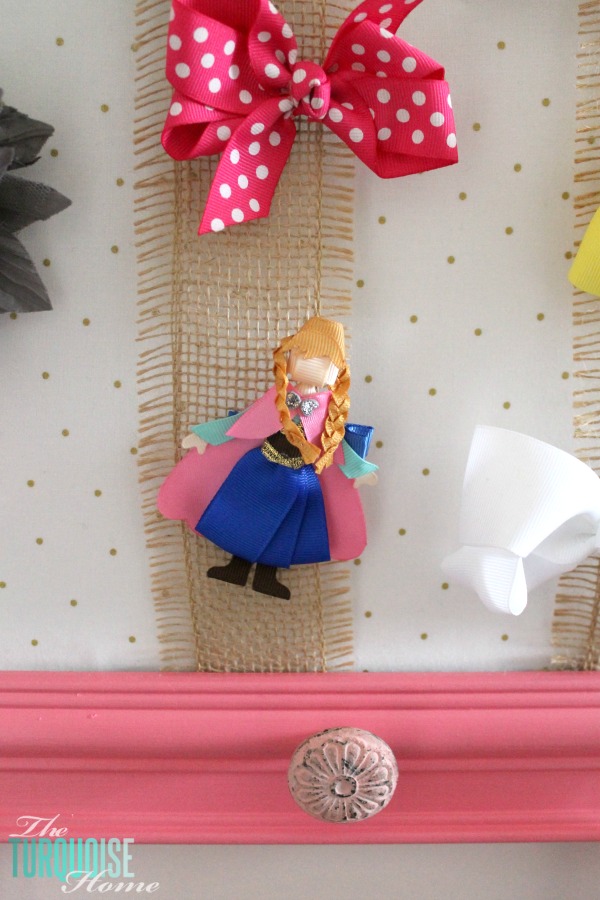 My daughter was thrilled when I showed her new accessories holder. She LOVES her girly stuff and anything pink and gold! And I love that we have a place for all of her special things. 🙂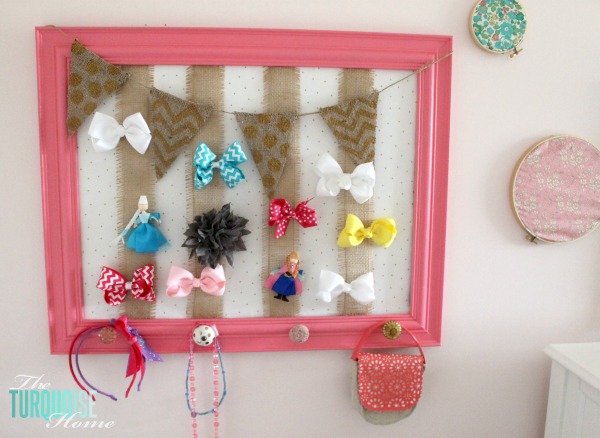 More Favorite Posts You Will Love: