Beginner's Guide to doing Disney World with Little Kids
Disney is a magical place, perfectly suited for families with small children. But it can be overwhelming if you've never been before! What to pack, where to stay and how to make the most of your days with little kids? It's all here!
I shared about our Disney experience with our kids more than 6 years ago and had an overwhelming response to share my tips and tricks. Sorry it's taken me so long to write this, but we've now been a few more times and finally sat down to share what I've learned along the way!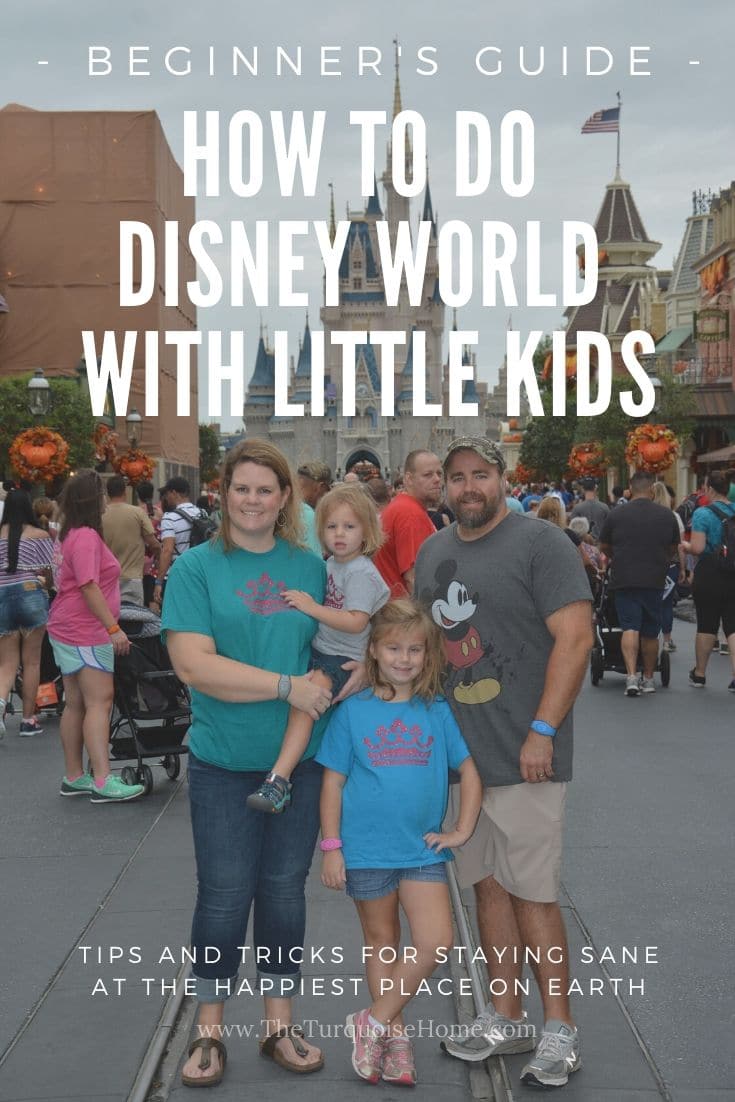 Our Disney Experiences
My husband and I planned our first Disney trip as adults when our daughters were 6 and 2. We wanted to have our oldest experience Disney World while she was in the little girl "magical age" of 5-6 years old. And my 2-year-old was still free because you don't have to buy tickets for anyone under 3.
We didn't know anything, so I dove in head first to learn about Disney. And I would say it was a highly successful trip. I'll share my dos and don'ts below. But my biggest tip for first timers is to use a free Disney Travel Agent.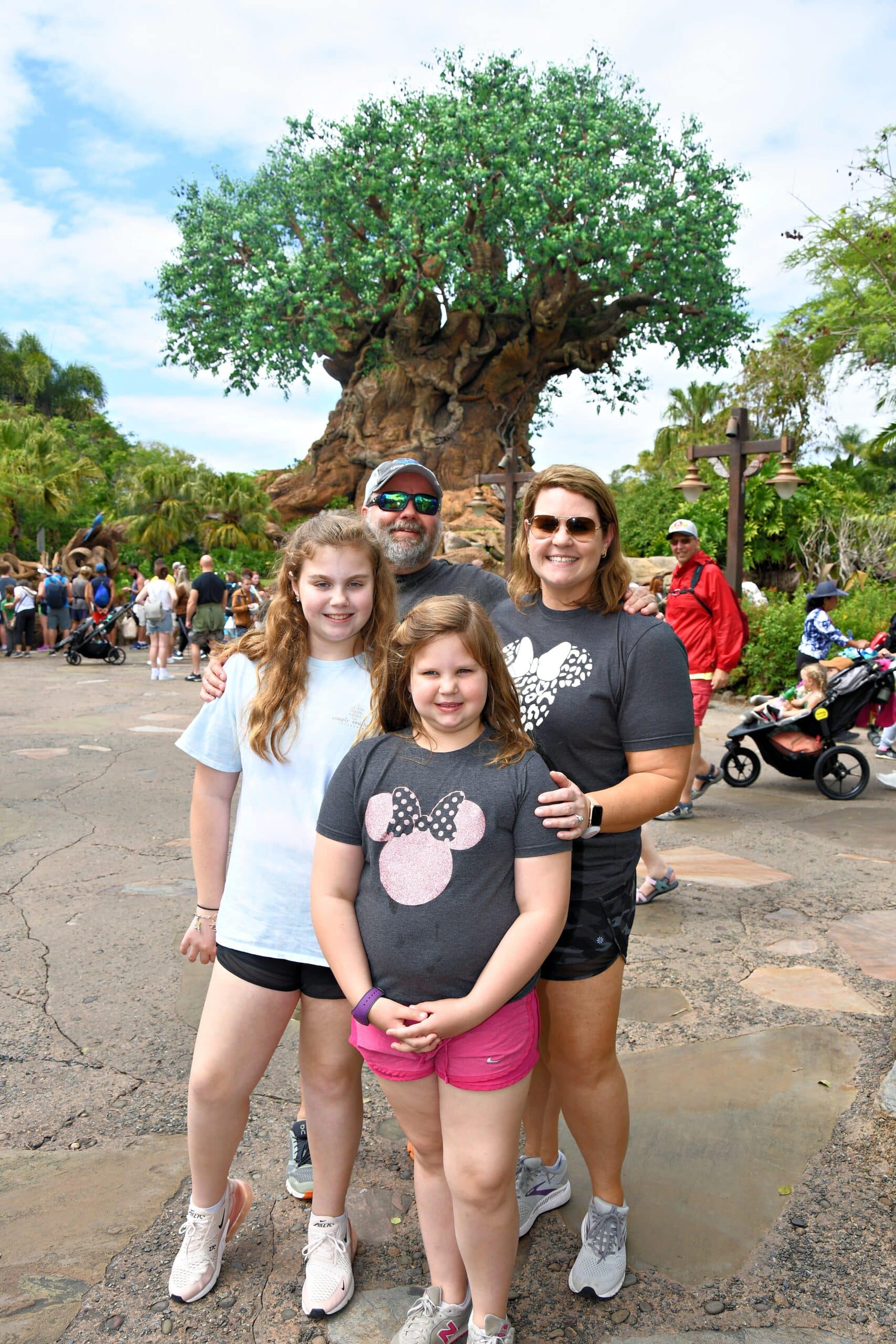 We use our friend, Ellen Duncan at Magic on Main Travel. She's wonderful for helping us plan our trip to helping us book our dining reservations and learning the ins and outs of Genie+. (Not sponsored, just love her!) If you don't have someone you know already, I'd highly recommend sending Ellen an e-mail!
In 2021, we went back for a make-up trip after our 2020 trip was canceled. It was a great, slower trip because so much was still not opened. The parks were slow, which was good, because we didn't have fast passes and Genie+ hadn't been released yet.
In 2023, we took my brother, his wife and their 3 kids with us. I planned the days and we showed them all of our favorite places and rides! It was a busy trip, but husband said it was the best one yet! We got to ride Tron and Guardians of the Galaxy: Cosmic Rewind, the two newest rides at Disney World. And I tried my hand at using Genie+, Lightning Lanes and Individual Lightning Lanes for the first time! I've got some tips on that below!
Disney Tips by Category
Where to Stay
I've now stayed at 3 resorts at Disney: Caribbean Beach, Art of Animation (Little Mermaid Room) and All-Star Movies.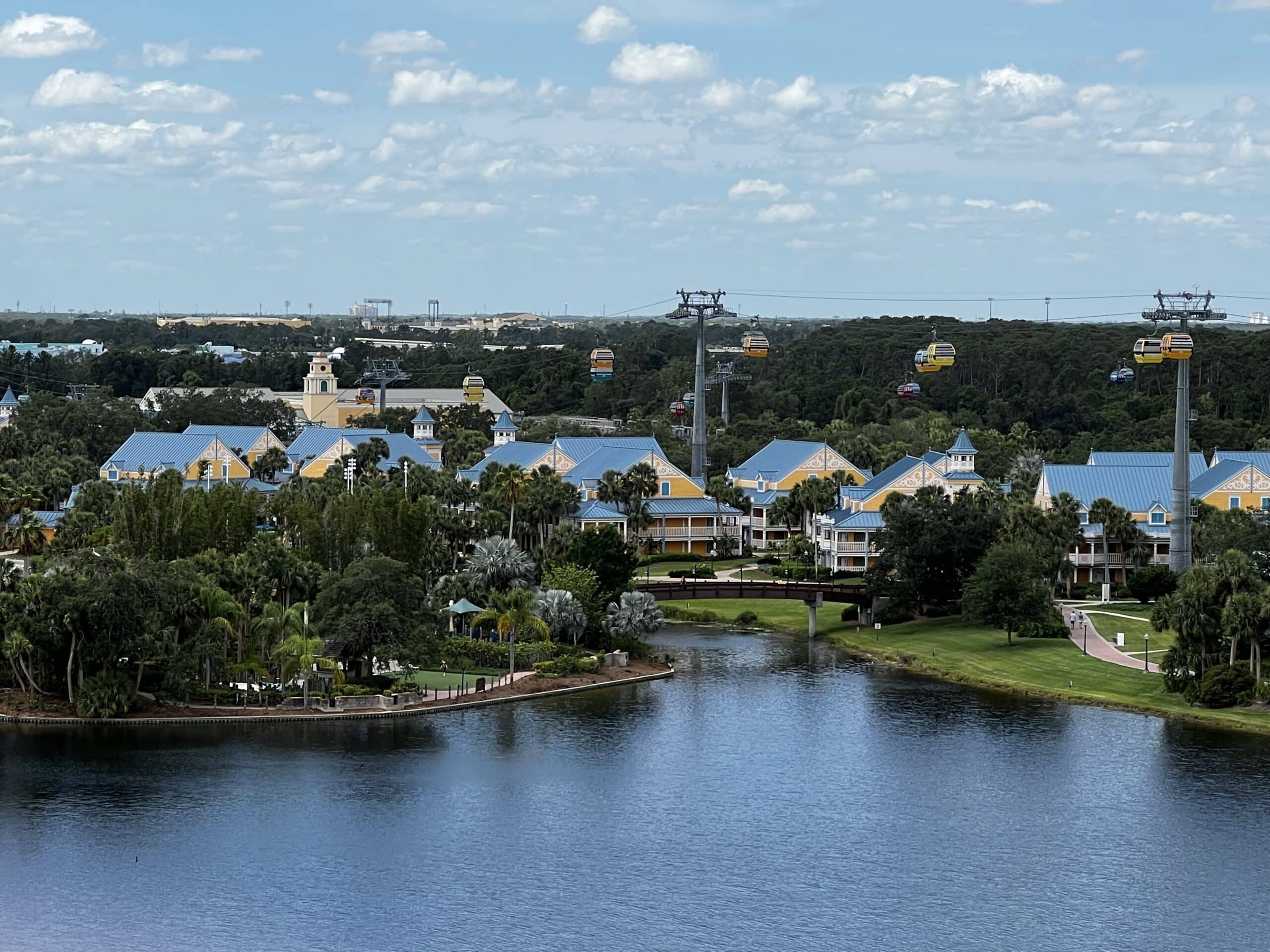 1. Art of Animation
Our first trip, we stayed at the Art of Animation resort, which is a Disney value resort. We were originally booked at the Caribbean Beach Resort, but since it was under construction, we decided to stay at the Art of Animation resort, which saved us $700 and our room was Little Mermaid themed. It was cute! The two biggest draw backs were that we were always the last bus stop from the parks and our room was 3/10 of a mile from the bus drop off. It also was TINY and I didn't love the shower curtain where the sink area was for the bathroom. So, I probably wouldn't stay there again.
2. All-Stars Movie Resort
Later that year I went back with my best friend for a weekend and we stayed at the All-Stars Movie value resort. We got a preferred room after my experience at Art of Animation and it was right by the main lobby and the buses. So, that was super nice. It was a fine value resort experience, but the only drawback being the buses had to travel to all 3 of the All-Stars resorts, which made for some very long bus rides to and from the parks. 
3. Caribbean Beach
We went in March 2021 and again in April 2023, and both times stayed at the Caribbean Beach moderate resort. I LOVE it!!!!!
It's on the Disney Skyliner system, so it's a quick trip to Hollywood Studios and EPCOT. It's also right near the Riviera Resort, where the much-coveted Topolino's Terrace table service restaurant resides. I love the Riviera quick service place, too, Primo Piatto.
The pool at Caribbean Beach is wonderful, with two slides, zero entry and kiddie spash pad. My kids can play at that pool for hours! And it's a gorgeous resort. We love staying in the Jamaica and Aruba rooms since they are close to the skyliner and the pool. But, I'm thinking I'll try to stay in a preferred room in the Martinique area next time!
The next time I go, I'd like to stay at the Beach Club or Yacht Club resorts for the Storm-a-long Bay Pool and proximity to Epcot and Hollywood Studios!
Character Dining
We've now eaten at these character dining sit-down meals:
Cinderella's Royal Table at Magic Kingdom (meet Cinderella, Ariel, Jasmine, Snow White & Aurora – subject to change)
Topolino's Terrace for breakfast at Riviera Resort (meet Mickey, Minnie, Donald & Daisy)
Tusker House at Animal Kingdom Breakfast (meet Mickey, Donald, Daisy and Goofy)
Bon Voyage Adventure Breakfast at Trattoria Al Forno at Disney's Boardwalk Inn (meet Ariel, Prince Eric, Rapunzel & Flynn Rider – this still hasn't reopened since the pandemic as of this writing)
Be Our Guest at Magic Kingdom Dinner ("meet" the Beast)
Akershus Banquet Hall at Epcot Breakfast (meet Snow White, Cinderella, Aurora, Belle & Ariel)
The Crystal Palace at Magic Kingdom Lunch (meet Pooh, Eyeore, Tigger and Piglet)
We really prioritized the character dining events during our first time, which was pricey, but awesome. I'll give you the low-down on each one that we did, but I will say that we overbooked a little bit in that we met Ariel 3 times, Cinderella twice and Rapunzel twice during our stay.
If I had it to do over again, I would have picked 3 unique meals to meet characters and then used our Lightning Lanes to meet the rest. While the dining is a great way to rest and enjoy meeting the characters, the money adds up very quickly.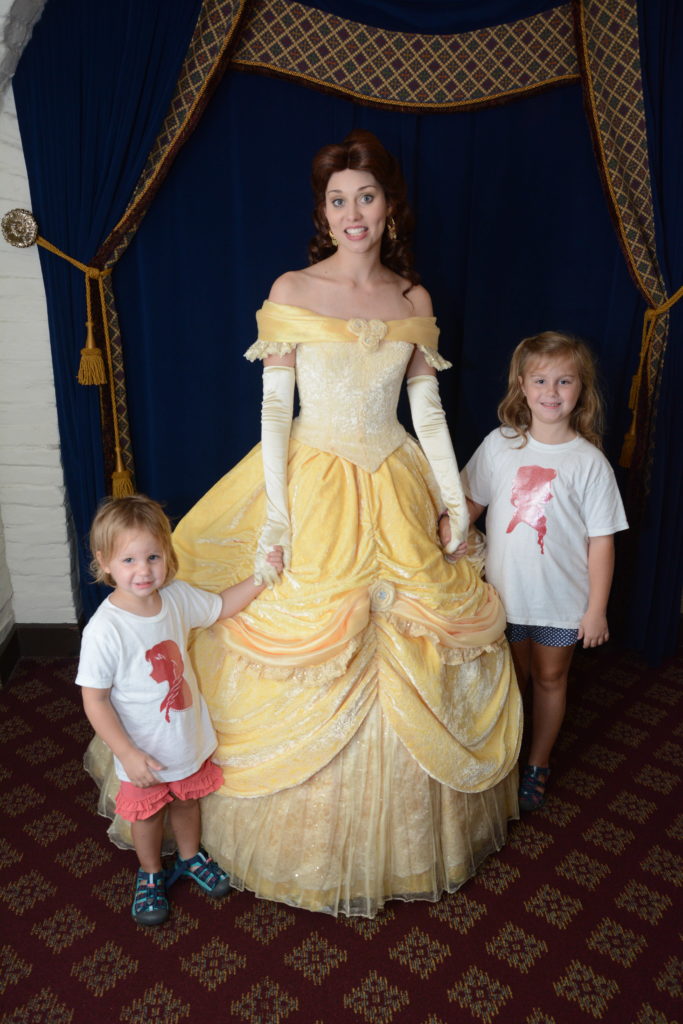 The Best Character Dining
1. Topolino's Terrace
The adorable Topolino's Terrace character breakfast at the Riviera Resort is hands down my favorite character breakfast! Mickey, Minnie, Donald and Daisy are dressed to perfection in their painter's clothes. The service and food is wonderful and the adorable kids waffle dippers breakfast is a hit! We LOVE it!!
It's the perfect thing to schedule during a rest day or any day you don't plan to get to the parks super early. It's located within walking distance of our favorite resort: Caribbean Beach, so it's a no-brainer for us.
2. Cinderella's Royal Table
Cinderella's Royal Table at Magic Kingdom has become our second favorite character meals. We like to eat lunch there for a big rest time during a long Magic Kingdom day! The princesses are awesome and nothing is more "Disney" than eating in the castle. We've been twice now and I think the food is delicious! Try the Grilled Tenderloin of Beef for your entree!! And the Clock Strikes Twelve dessert is the best!
3. Bon Voyage Adventure
After our first trip, my favorite character meal was by far the Bon Voyage Adventure Breakfast at Trattoria Al Forno at Disney's Boardwalk. It featured Rapunzel, Flynn Rider, Ariel and Prince Eric. It was super nice and the characters were very cute.
My daughter's favorite princess is Rapunzel, so this made it extra special for her. She was decked out in her full costume and wig, as well as Pascal on her shoulder. Flynn Rider was hilarious. He gave us his signature smolder look and told me he hoped I got his nose right. Hilarious for those of us who know the movie by heart.
The other positive thing about the Bon Voyage Breakfast is that you don't have to go on one of your park days. It's at the Disney Boardwalk, so my daughter and I went on our off day and took a Lyft ride to and from our hotel. Super quick and easy! The food was good as well, and not a buffet. I got the King Triton Shipwreck al Forno and took half of it back to the resort for my husband. It was very filling!
NOTE: The Bon Voyage Adventure Breakfast is still not re-opened after the pandemic. But when it does, it'll be first on our list to try again!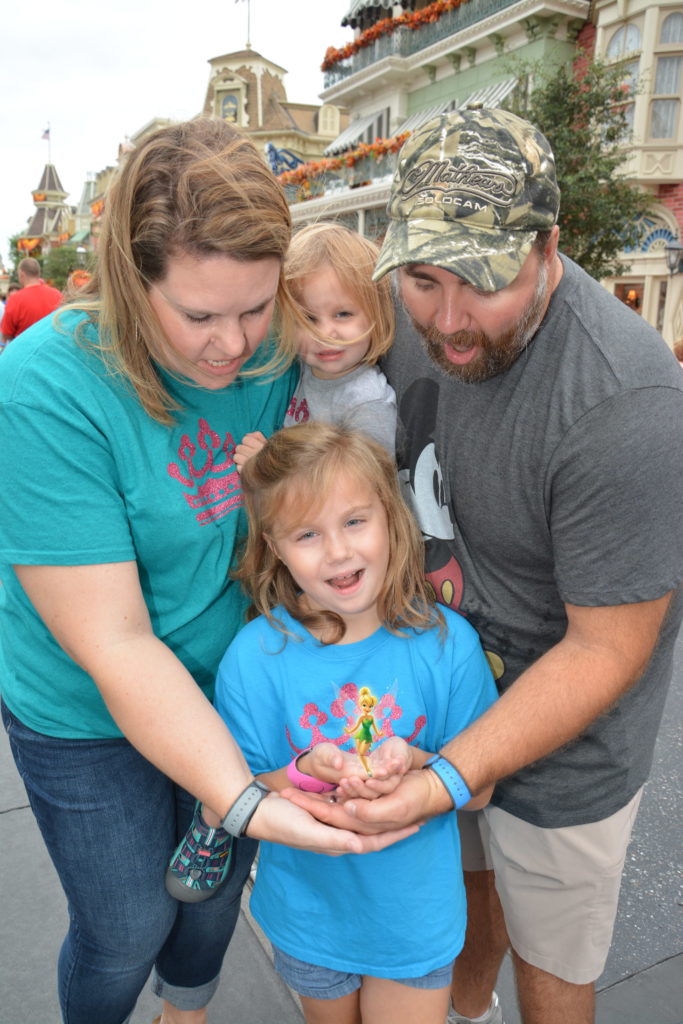 Worst Character Dining
By far the worst character dining was Hollywood and Vine Diner at Hollywood Studios. Yes, we got to meet Minnie Mouse. But the food was sub par and the cost was more than anywhere else we ate. For the four of us, it was more than $200 for crappy, buffet food. No thank you!
We also now have to include the Be Our Guest at Magic Kingdom in this category. I have been 3 times now. And since the Beast now only waves at you from the corner of the room, it's just not worth it. I love the ambiance and the rooms, but I wish they still had their cheaper lunch option! That would make it worth it again, to me.
Still on Our Bucket List Dining
'Ohana at the Polynesian Resort – We'd love to do the breakfast and meet Lily and Stitch. I've also heard amazing things about the all-you-can-eat meat dinner. No characters, but a festive, Polynesian environment.
Chef Mickey's breakfast at the Contemporary Resort – I hear this one is so great for meeting the Fab 5!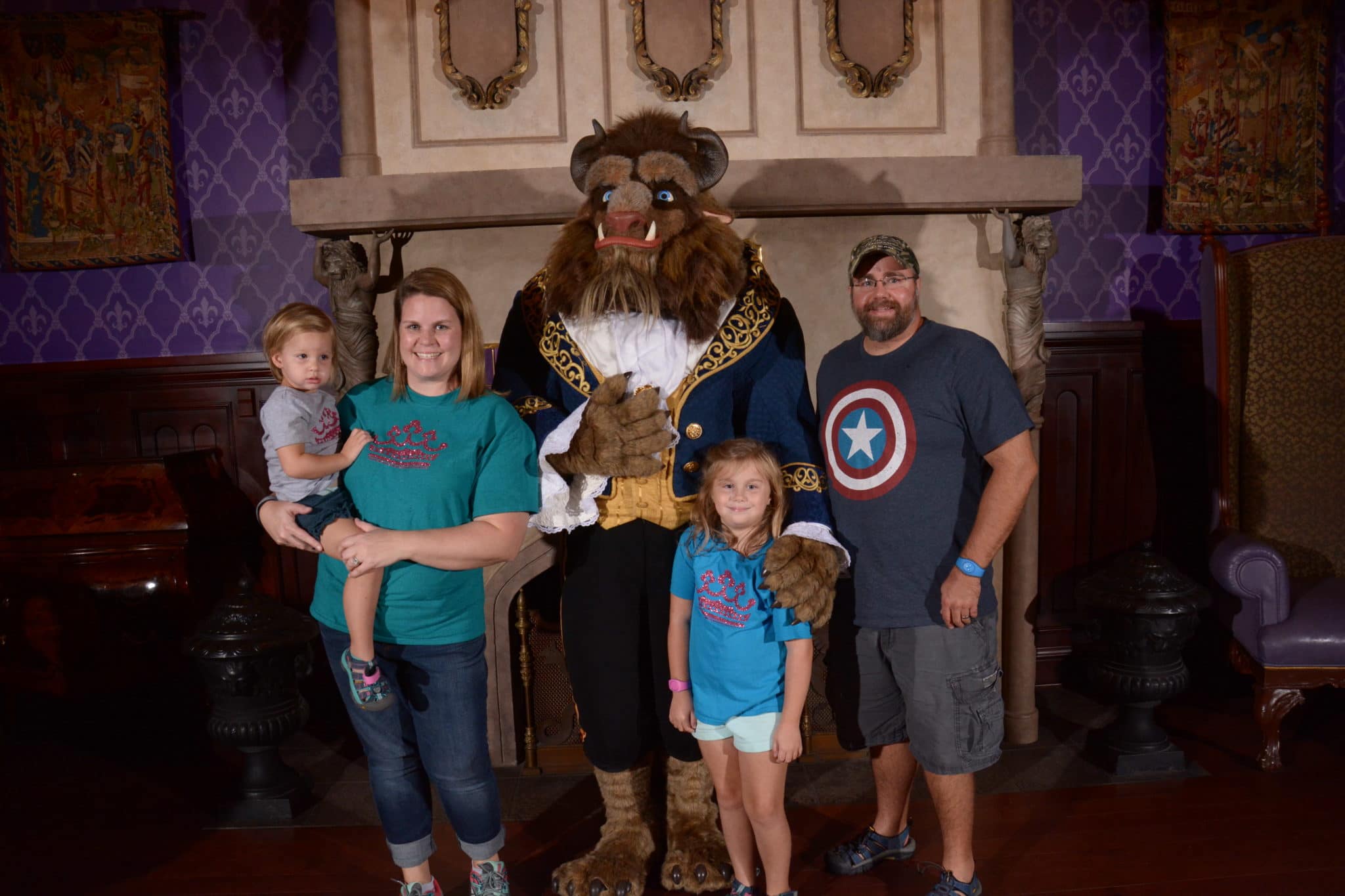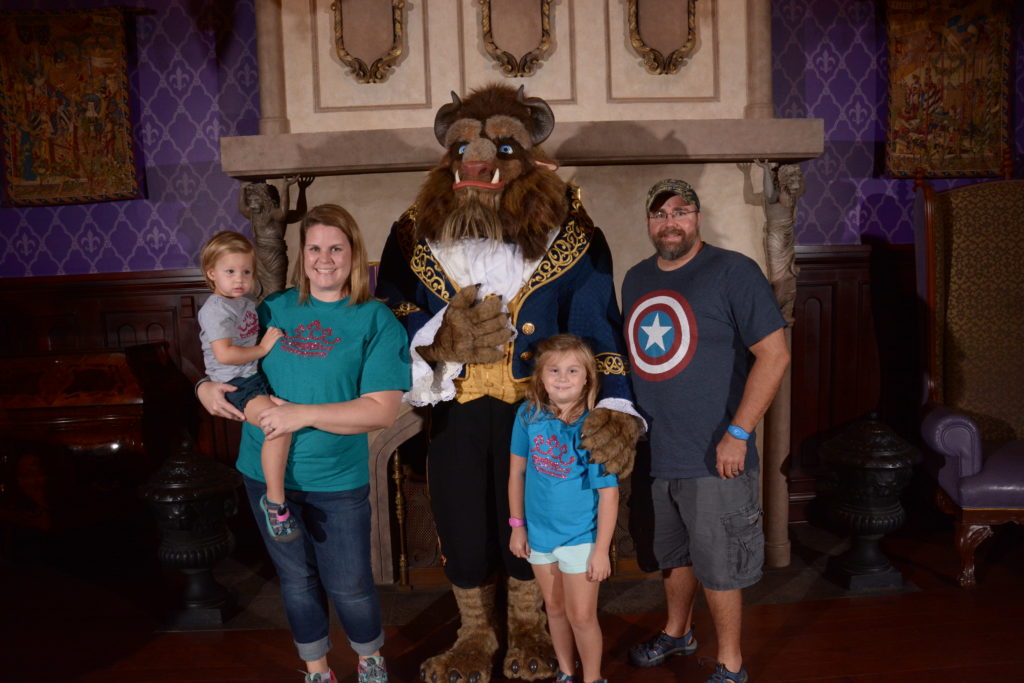 Daily Schedule
If you have toddlers who won't nap in a stroller, I highly recommend doing what we did. We got up early and tried to get to the park before "rope drop." (Just google Disney World Rope Drop if you don't know what I'm talking about.) We immediately went and rode the rides we didn't have lightning lanes for since the crowds were smaller early in the morning.
We would eat lunch in the park and stay until early afternoon, then when the parks were getting really busy, we would head back to our hotel for a nap. This is where I wished our room was closer to the lobby of our hotel, because walking a long way with toddlers who needed naps after being in the park for 6 hours wasn't super fun. It's worth it to pay for a preferred room close to the bus stop and lobby, especially if you have toddlers. 
After naps, we would head back to a park for dinner or the rest of our fast passes and stay until 9-10. One night we closed down Magic Kingdom at 1 am.
Since our kids aren't as little anymore, we tend to stay in the parks from open to close. But we schedule a big sit down meal and shows in the hottest, busiest times of the day: early-mid afternoon.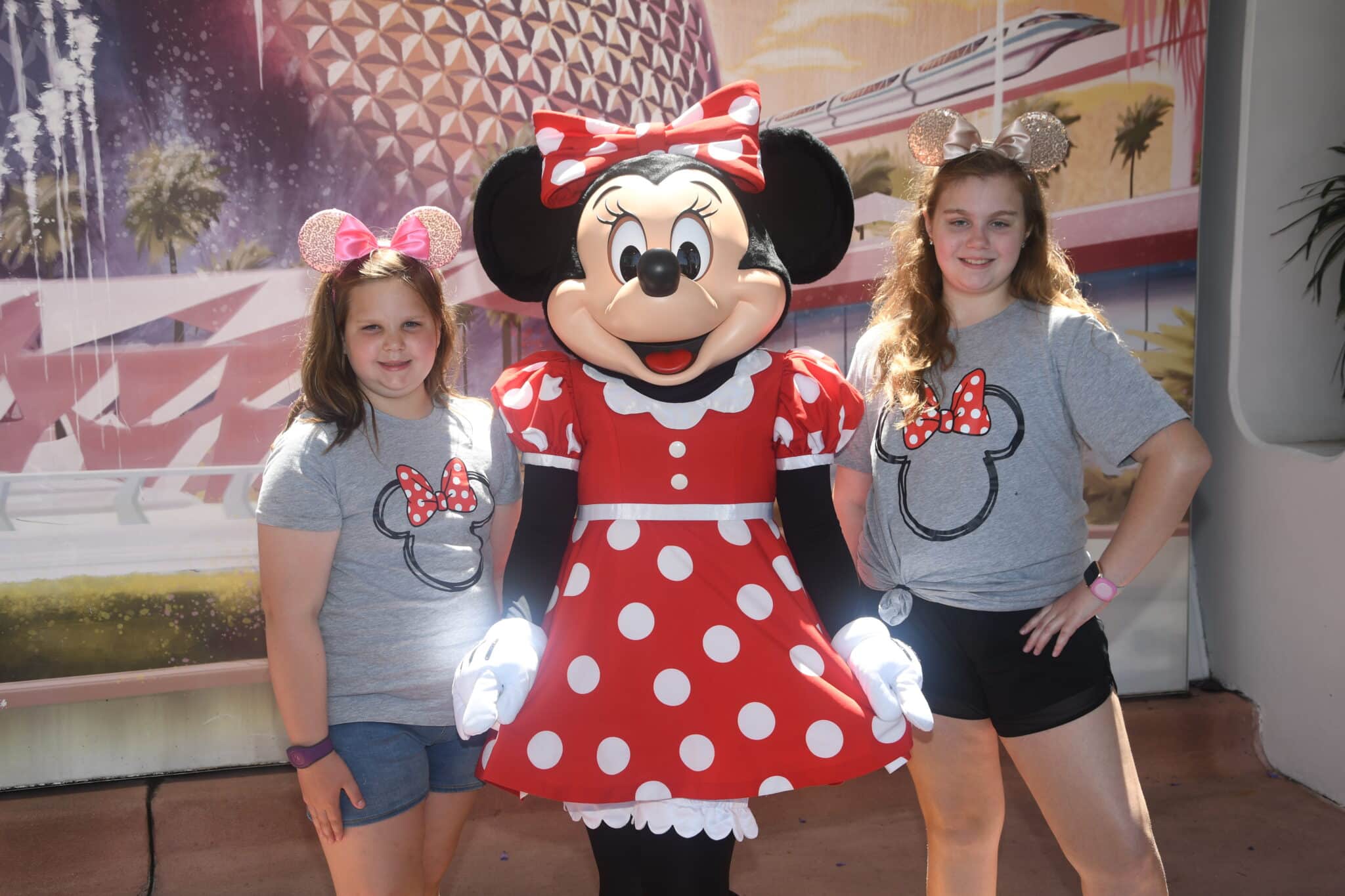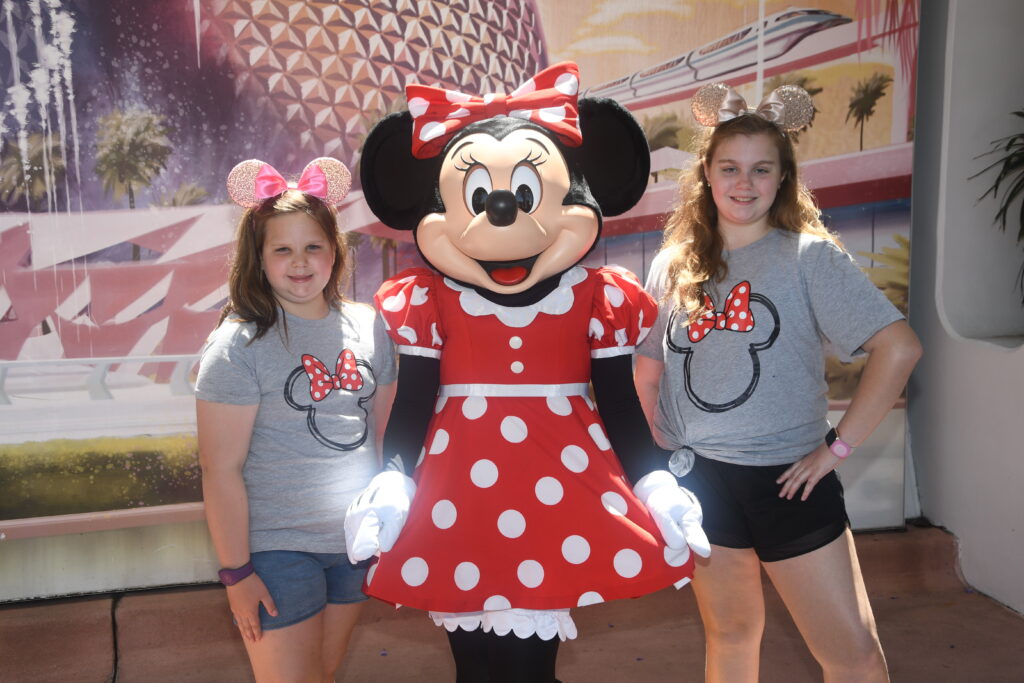 Favorite Rides
By far our favorite rides when our kids were little, were the Barnstormer and Seven Dwarf's Mine Train, both in Magic Kingdom.
Barnstormer is a kiddie roller coaster back in the right corner of Magic Kingdom. Both days we were in MK, we headed straight there and rode it multiple times. We rode Mine Train twice. Once with a fast pass and once during extra magic hours at night.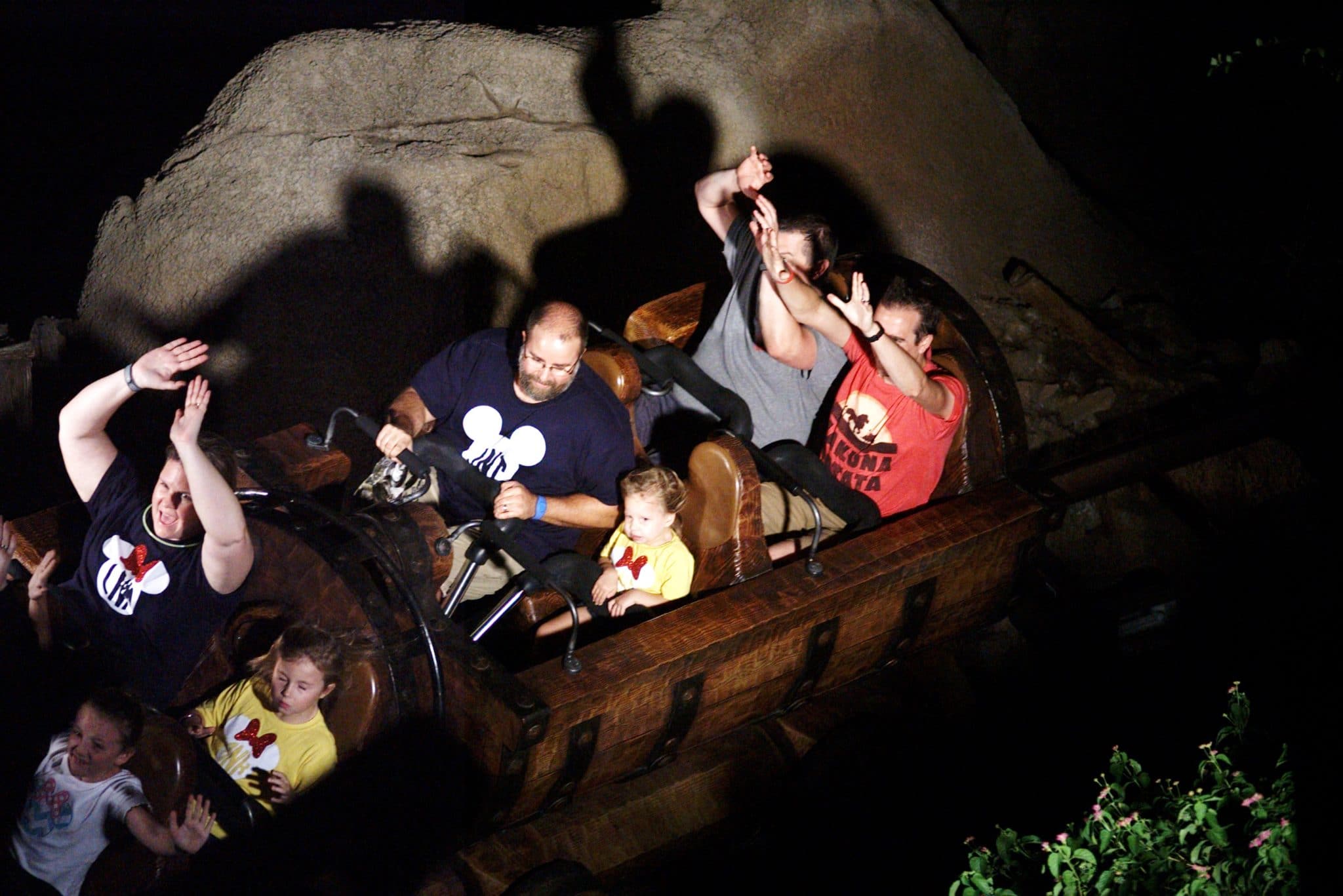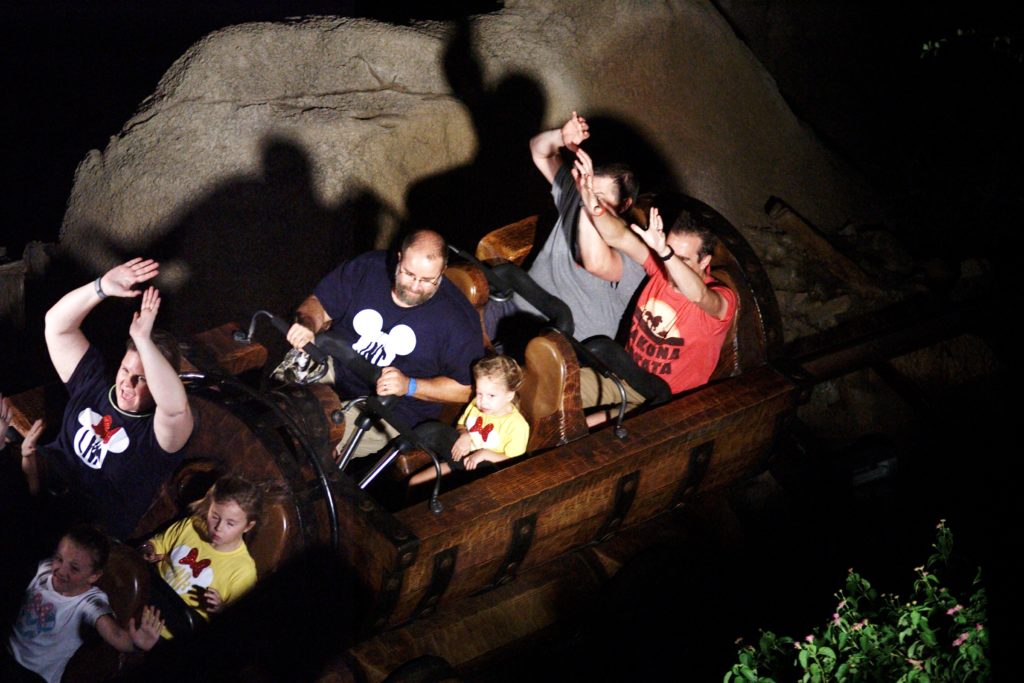 Other Rides we Loved (I've denoted the ones that need a Lightning Lane with LL):
Magic Kingdom Rides: Thundermountain Railroad (LL), Peter Pan's Flight (LL), Under the Sea Adventures of Little Mermaid, The Many Adventures of Winnie the Pooh & Splash Mountain (LL)
Animal Kingdom Rides/Shows: Flight of Passage (ILL), Na'vi River Journey (LL), Expedition Everest (LL), Kilamanjaro Safari (LL), Festival of the Lion King
Epcot Rides: Guardians of the Galaxy Cosmic Rewind (ILL or VQ), Remy's Ratatouille Adventure (LL), Soarin' Around the World (LL), Frozen Ever After (LL), Test Track (LL), The Seas with Nemo and Friends.
Hollywood Studios Rides: Slinky Dog Dash (LL), Toy Story Mania (LL), Rise of the Resistance (ILL), Minnie and Mickey's Runaway Railway (LL), Tower of Terror (LL), Frozen Sing-a-Long Show
About Early Entry
If you stay in a Disney resort, you're able to be in the parks during "early entry," which is 30 minutes before the parks officially open.
Best practice is to be at your transportation at your resort 1 hour before early entry time starts. For example, if Magic Kingdom opens at 9 am, early entry will start at 8:30 am. Then you'll want to be at the bus stop at your resort at 7:30 am.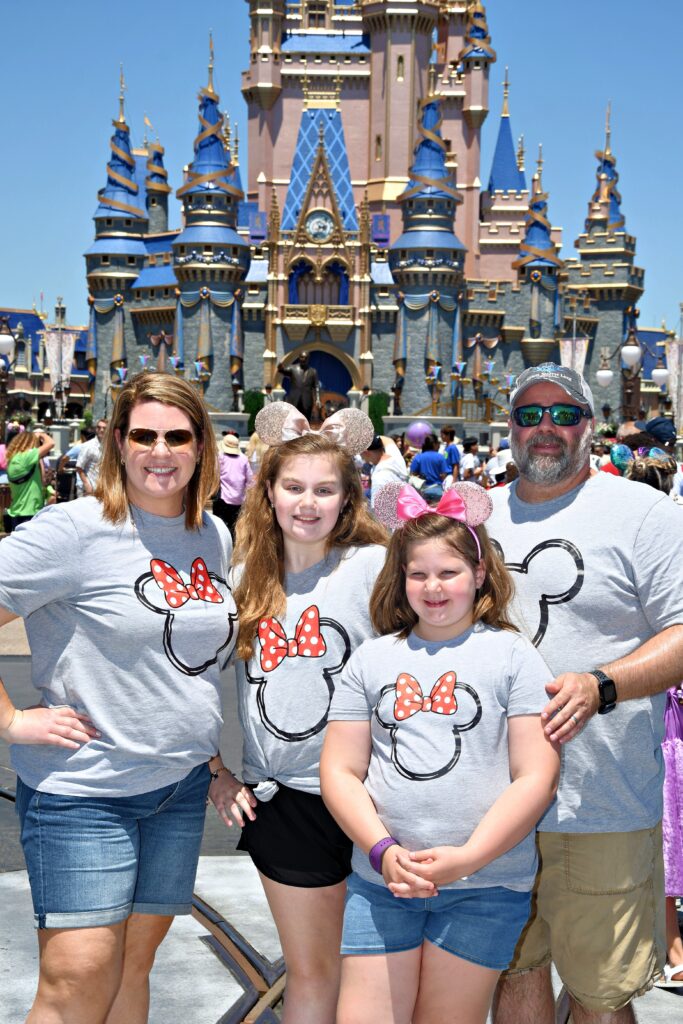 Is the Memory Maker worth it?
100% yes! There are Disney photographers at every character greeting and all over the parks ready to take your magical pictures. And Memory Maker is the service that allows you unlimited photos in and around the parks, which will then be stored in your Disney account.
I cannot recommend it enough! You don't have to carry around a camera or worry about getting the shot! Just let them record your magical visit. If you purchase it more than 3 days before your visit, you will save some money.
This post contains affiliate links for your convenience. See my full disclosure policy here.
Daily Presents from Minnie Mouse
Because I didn't want to spend an arm and a leg on toys at Disney, I went to the store beforehand and bought little gifts to give to my girls every day while we were there. I went a little overboard and included a note from Minnie each day with a clue about what we were doing that day. They LOVED it.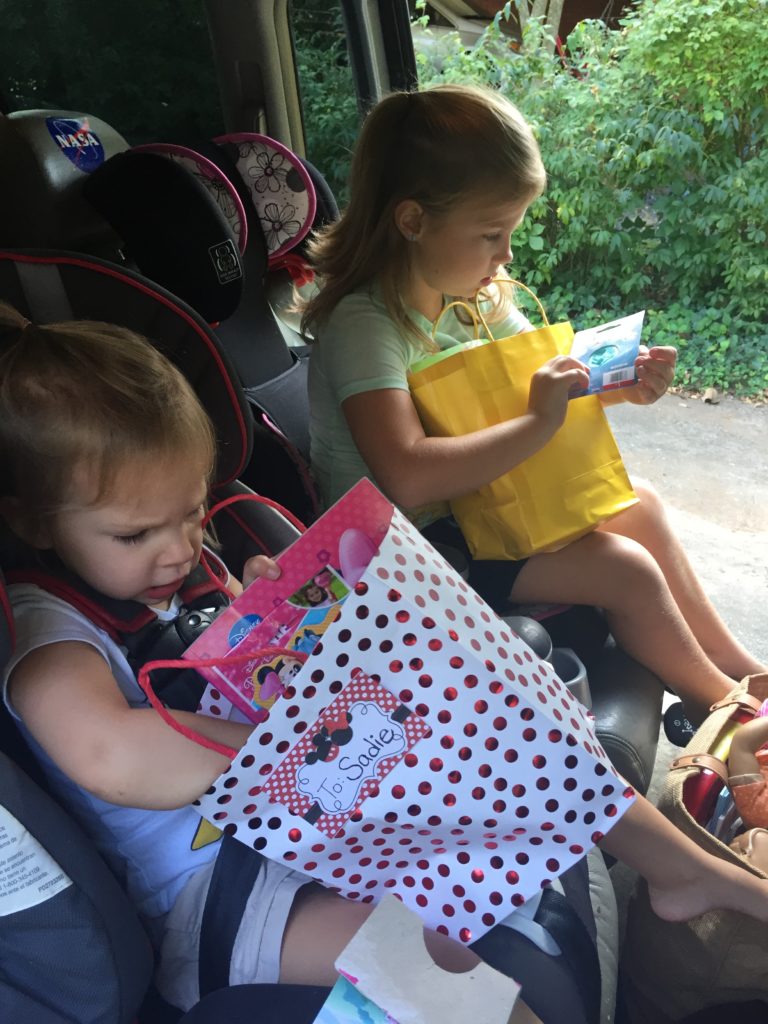 I bought fun activities like coloring books, ImagineInk books, Water Wow books, small stuffed animals, glow sticks for our Magic Kingdom day, mini playsets (perfect for letting them play with when you're waiting for food at a restaurant), Doorable figurines, t-shirts, pajamas, sunglasses, Minnie Mouse/Mickey ears,
Strollers at Disney
I highly, highly recommend renting a stroller if you have kids ages 7 and under. If you just have 1 child who is 6-7 and they are good walkers, then it might be fine without one. But our 6-year-old needed the stroller, for sure. And the 2-year-old is a no-brainer. We rented a double Bob stroller from Kingdom Strollers, which was awesome.
The heavy-duty stroller was a life saver. We have since rented a single Bob stroller from Kingdom Strollers for our daughter who was 6 and 8 on our last two trips. This was our last trip with a stroller, which makes me a little bit sad because where will we keep all of our stuff?? Ha!
But, even if your child doesn't use a stroller every day, if you think they will struggle walking 10+ miles several days in a row, and they FIT in a stroller… get one!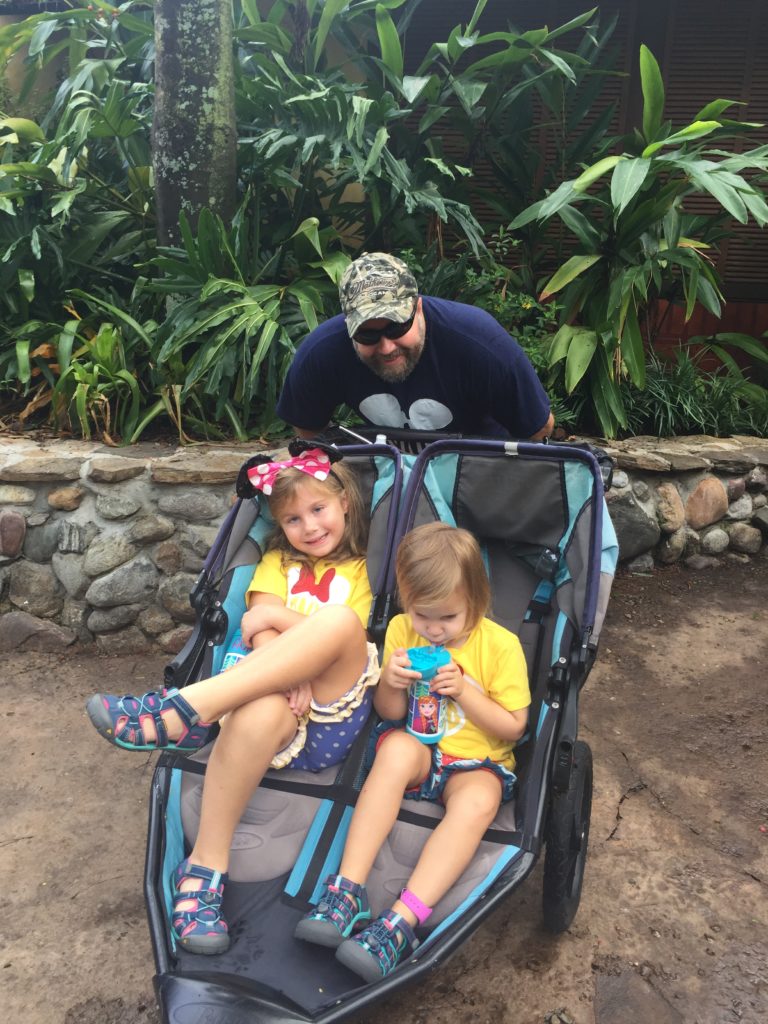 What to Pack for Disney with Kids
Packing Cubes – I've been skeptical about how helpful these are, but a Disney trip convinced of their benefit! Packing multiple people in 1 suitcase, then transferring those clothes into the drawers at the hotel was SO easy with packing cubes. The Disney resort rooms are small, so organization is key. We've never had such an easy time keeping everyone's stuff in order until we used packing cubes on this last trip. Give everyone a different color, and be amazed!
Belt Bag – or a fanny pack! This has replaced my cross body bag because it carries the essentials and I can keep wearing it on most rides! It's so easy and light weight. I love not having to put my phone in my pocket.
Pop-up Laundry Bags – These are great for keeping dirty clothes contained in the hotel room. And it's easy to transport them to the laundry room, if you're staying more than a few days. We did laundry on our day off in the middle of our trip and it was a great thing! You don't have to pack quite as many clothes if you know you can wash and dry them.
Trash bags for taking home dirty laundry.
Stroller hooks. Someone recommended these to me and I honestly thought they were a frivolous purchase. But they were so useful! I purposefully bought water bottles with loops on them so that we could hang them on the stroller handle bar and that's exactly what we did. This last trip we used them to hold any purchased we made during the day!
Snacks and Drinks. You can take food and non-alcoholic drinks into the parks, which I highly recommend. Because sometimes people get hangry and lines to the restaurants are long and it's nice to be able to pull out a pack of peanut butter crackers and eat them right there. I also love having bottled water in our rooms. If we drive, I bring them in the car. But when we fly, I use Amazon Fresh delivery to deliver to our resort. And the bell service at the hotel will bring it to your room for a minimal charge.
Portable Phone Charger – Using the Disney app during your days in the park is a must, so your phone battery will drain faster than on a normal day. Grab a portable phone charger or two so you don't have to slow to to charge your phone!
Filtered Water Bottles. We used our refillable filtered water bottles every single day we were there and they were the best investment! We brought a stroller hook and just hooked them to the stroller handlebar. You can get free water at all of the quick service restaurants. My only recommendations is that you use one with an attached lid and get one with a loop so you can hang it on the stroller. 
Glow sticks and glow necklaces. At night the Disney peddlers come out with fun glow sticks and glow toys. It saves a bit of money to bring your own while giving your kid that magic experience!
Disposable Ponchos. It's Florida. It WILL rain on you at some point, and we were so glad we brought these ponchos with us. We had them right there when we needed them. And obviously they are much cheaper than having to buy ponchos in the park. I loved that we could just throw them away when we were done with them instead of trying to put a wet jacket back into our bag.
Backpack. We packed a backpack each day with our ponchos, snacks and kid-related items. I also packed an extra set of clothes for each of us in case there was an accident or we got too wet on a ride. My husband usually wore the backpack while I wore a cross-body sling bag. This past trip, I used my belt bag, my husband wore the cross-body, and the backpack when in the stroller storage. Just make sure to keep anything valuable with you at all times.
Soft Sided Cooler. Disney will only allow soft-sided coolers in Disney World. If you want to pack perishable food items or want to keep drinks cold, this is a good option. I know we had one when we went before, but I think we'll skip it this time since our girls are older and we can pack non-perishable snacks and drink water from our water bottles. **If you rent a stroller from Kingdom Strollers, it comes with cooler to use while you're at Disney.
BitBelts. Sometimes those magic bands can fall off easily. So, I recommend buying some BitBelts, which help keep your magic bands secure. I forgot mine this last time, and my youngest's magic band kept falling off!
Magic Band Watch Adapters – These silicone cases slide on to your Apple Watch and hold the puck from your magic band. This way you don't have to wear two things! I love using a magic band in the parks and this keeps my watch and magic band all in one spot!
Dish Soap & Bottle Brush. It's great to have these on hand in the resort room in case you need to wash anything, like your water bottles.
Blister BandAids – These special bandaids are made for blisters. And this trip, ever single person in my family needed them, except for me! I know we wouldn't have been able to keep going every day without them! Get them for toes, as well!
Multiple Good Walking Shoes. You will walk a TON at Disney. (Think 10 miles a day.) And I would recommend taking at least a couple of good walking shoe options in case one pair gives you blisters. We took tennis shoes and Keen sandals for every family member and I even wore my Birkenstock sandals some days because they are so comfy. On the days that a lot of rain was predicted, we wore our Keen's so that our feet could get wet and still breathe.
Planning Essentials
Even after all of the information I've shared, and the help from a Disney travel agents, there are two services that I wouldn't do Disney without!
I started following Ali at Wish Upon a Planner after our first trip. And her helpful data-driven plans helped me navigate the parks better than ever! My husband was shocked the second time we went, as to how much better I knew how to do everything. And it's truly because of Ali's helpful plans! I highly recommend everything she produces! And if you want a taste first, just follow her on social media.
I will shout this app from the rooftops for as long as I live! This is an outside app that can link to your Disney account. And once you purchase Genie+ for the day, you can give Standby Skipper your ride selections, and the app will book your Lightning Lanes for you!
Unlike the old Fast Pass system, the new line skipping process called Genie+/Lightning Lanes is a real-time, moving thing. You have to be on your phone SO much more than before. And when you're trying to enjoy your family and your vacation, you don't want to be on your phone! This app gives you your time back. And while it doesn't guarantee to book rides for you, it 100% booked rides for me that I could have never gotten on my own. The price is totally worth it for what you get!! Join their Facebook group, and you'll see what I mean!
Final Thoughts
I've tried to think of everything I could think of that helped me when I went to Disney for the first time. Honestly, I could spend hours reading Disney blogs and learning the ins and outs of how to schedule our days. But if you want to relax on your first trip and let someone else do the planning, I can't recommend Ellen Duncan at Magic on Main (a free service when you book through her) to help you plan your trip for you! (This isn't sponsored, she's just who we use and love!)
Let me know if you have any other helpful tips or questions in the comments!
More Posts You Will Love: