How to Perfect Your Fall Outfits with Jeans and Sweaters
Fall is here! And with changing weather comes changing wardrobe. The mornings are a bit cooler for a little longer and the leaves are starting to fall, which means soon our wardrobes will be jeans and sweaters!
While it's true that fashion trends come and go, the classic outfit of jeans and a sweater never really goes out of style. It's comfortable, stylish, and can be adapted to suit any occasion. In this blog post, we'll guide you through the latest fall trends for jeans and sweaters and help you create some stunning fall outfits. Read on to learn more!
This post is sponsored by Walmart and includes affiliate links for your convenience. See my full disclosure policy.
How to Perfect your Fall Outfit with Jeans and Sweaters
1. Variety of Denim
Jeans are an all-time favorite and versatile piece of clothing. This season, I recommend trying out different styles of denim. Go for straight-leg, high-waisted jeans, flared jeans, or even crop jeans. Pair them with a chunky sweater in neutral colors like beige, white or brown to create a cozy and effortless look.
The sweater I'm wearing from @walmartfashion is so good!! It has beautiful ribbed details and gorgeous gold and pearl faux buttons on the cuffs. It has a mock turtleneck and comes in 5 colors! I bought it in this oatmeal color and the green. They are both beautiful!
And these flare jeans are so comfortable, fit me perfectly at 5'7″ and are less than $20! I'm in love! I cannot get over how good they are, especially in that price range!
I'm also wearing the booties that are so comfortable. This entire outfit is under $100. Throw on a cross-body bag, some earrings and you'll be all set with your fall uniform!
2. Bold Sweaters
This fall, don't be afraid to make a bold statement with your sweaters. Opt for a colorful knit sweater with unique patterns or even a chunky turtleneck. Pair it with slim-fit, black jeans and ankle boots to add a touch of sophistication.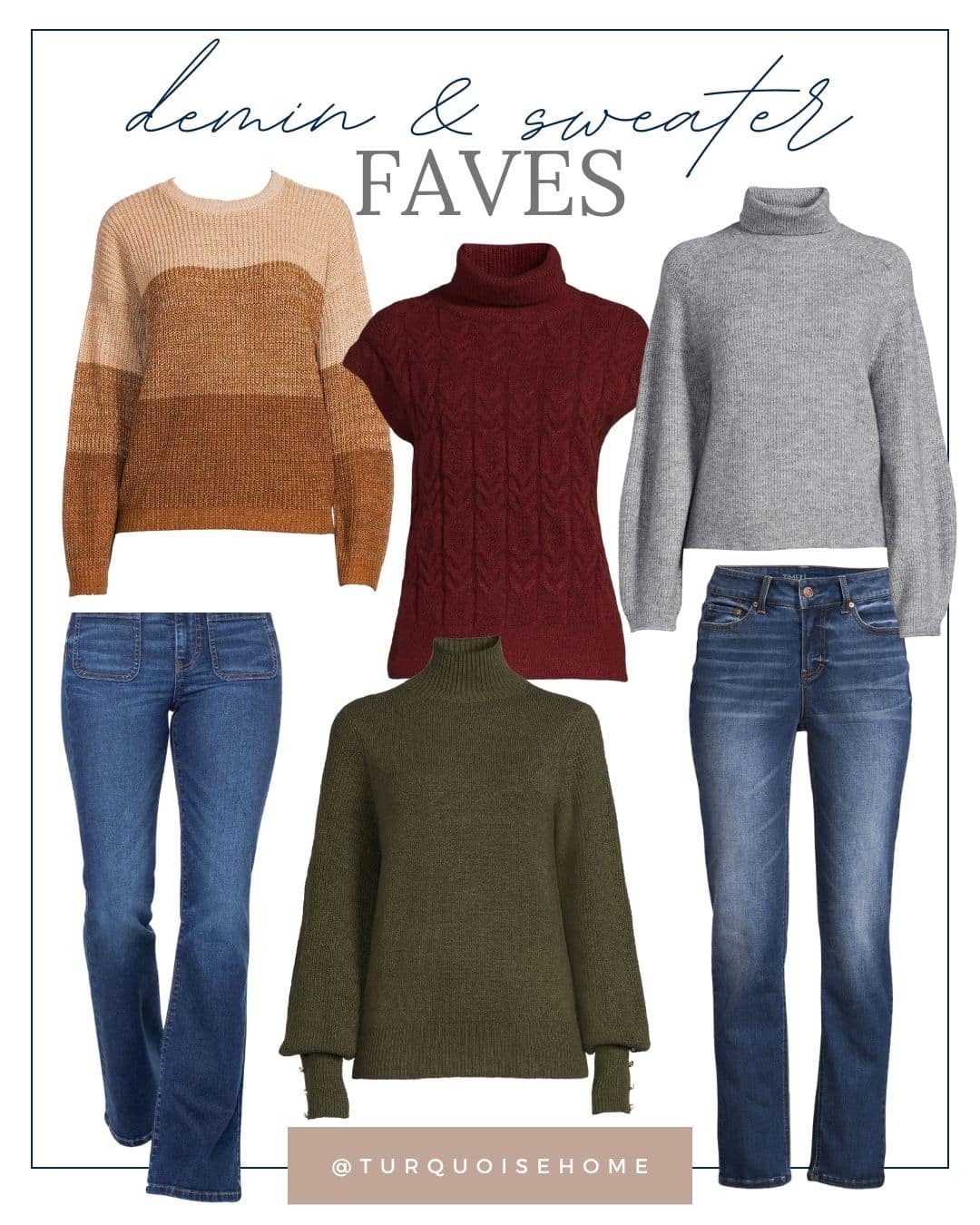 3. Monochromatic outfits
Monochromatic outfits are elegant and chic making head to toe jackets, pants and shirt. This season stick to earthy tones like Khaki, Grey or Brown. Create a classic and understated look with denim jeans and a sweater of the same shade. You can even mix shades within the same color family.
4. Sweater dress
As the weather gets chillier, a sweater dress paired with knee-length boots makes a perfect outfit combination for fall. Throw on a denim jacket or coat and add a scarf for a touch of sophistication.
5. Accessories
Accessories are a great way to add extra flare to your fall outfits. Add a statement necklace, stud earrings, or a scarf to add an element of interest to your outfit.

Final Thoughts
Fall is all about the cozy and comfortable clothing we love to wear. And when it comes to fall outfits, there's nothing that beats a classic combination of jeans and sweaters. With these tips and trends in mind, you can create some stunning outfits that will keep you stylish and warm all season long.
Don't forget to explore different denim styles, experiment with bold sweaters, try out monochromatic outfits, and dress up with accessories. Fashion is not about following the trends blindly, it's about creating your own unique style and we hope these ideas inspire you to step out of your comfort zone this fall.
More Posts You Will Love: