I'll never forget walking into my great aunt and uncle's bedroom when I was in college. I was touring their gorgeous island home in St. Thomas as it was my first visit there on spring break with my roommate.
As I walked in and my eyes adjusted to the dimmer light, I noticed that they had two twin beds pushed next to each other with their own separate bedding.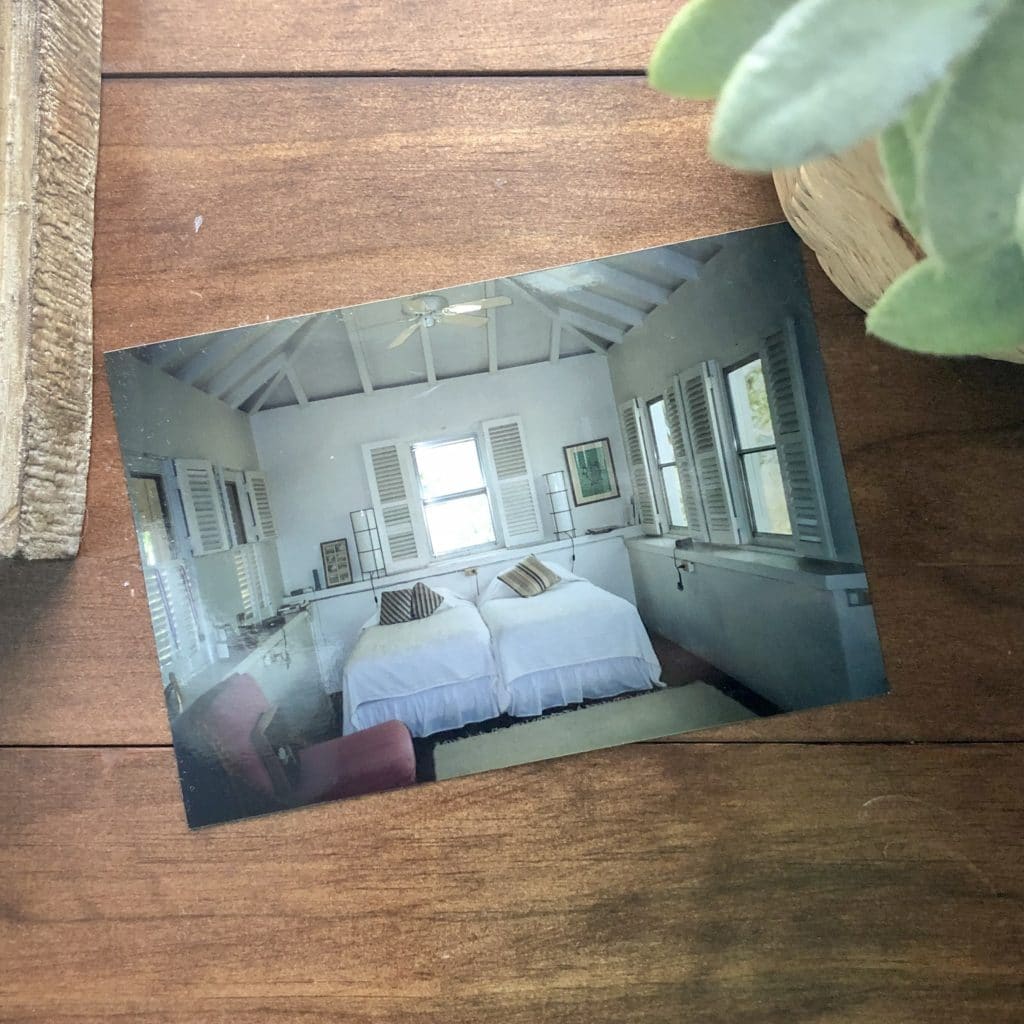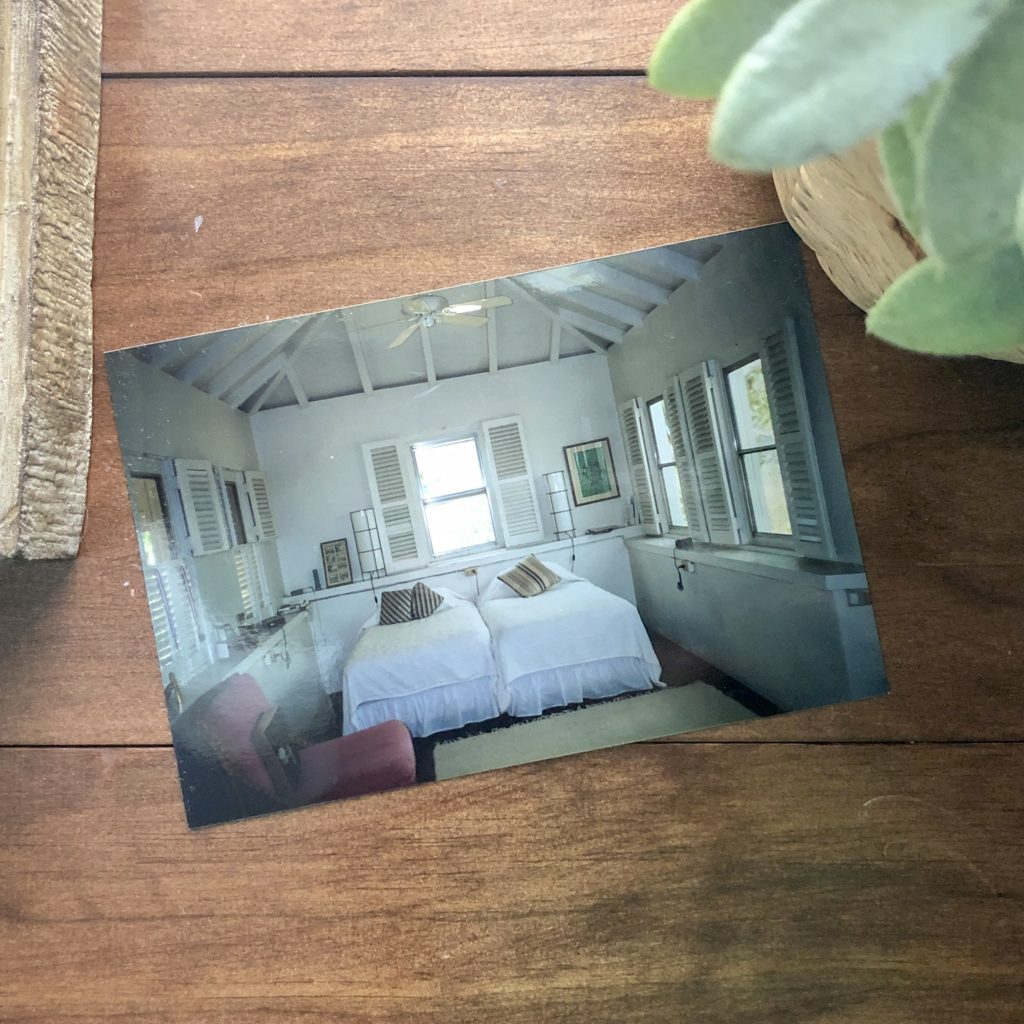 "Hmmm. That's interesting," I thought to myself.
I'd never seen a master bedroom with two beds pushed together as my parents had always slept in a queen bed and any other master bedroom I'd been in had a queen or king bed. I was intrigued.
A Little Personal Bed History
Fast forward 20 years later: I've been married for 10 years and can now totally understand why one would want to have their own bed in a marriage. 😂 Especially since I got married at 28 and it was a big adjustment to learn how to sleep with another person in my bed every night.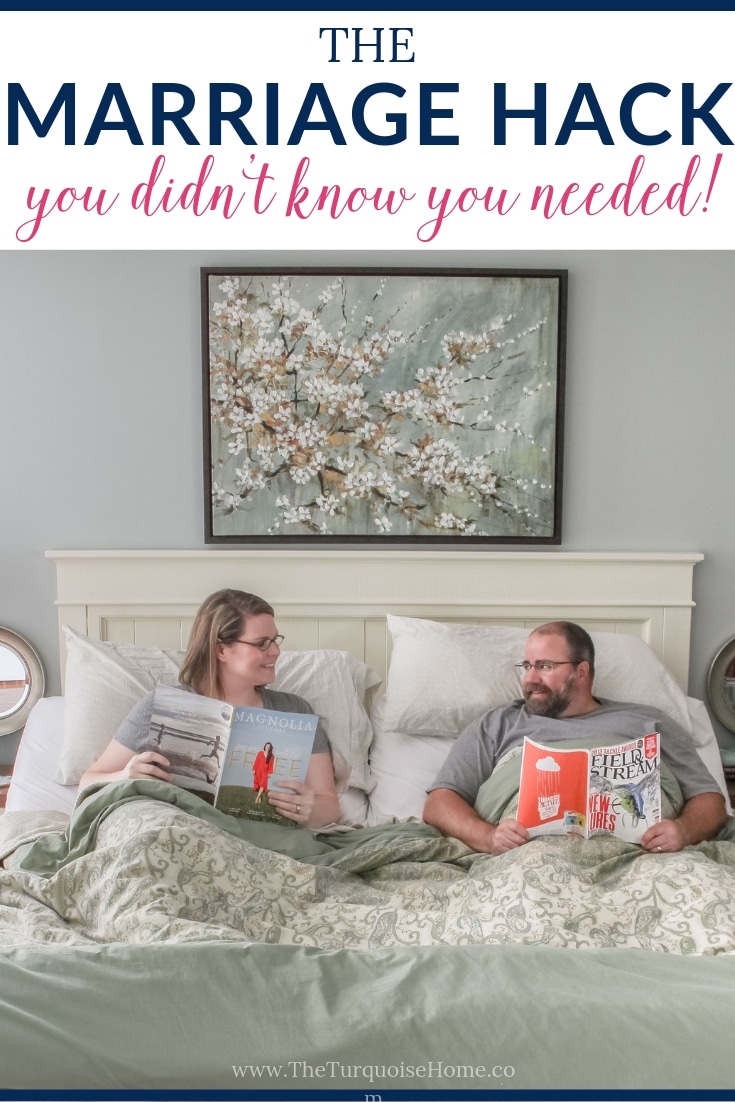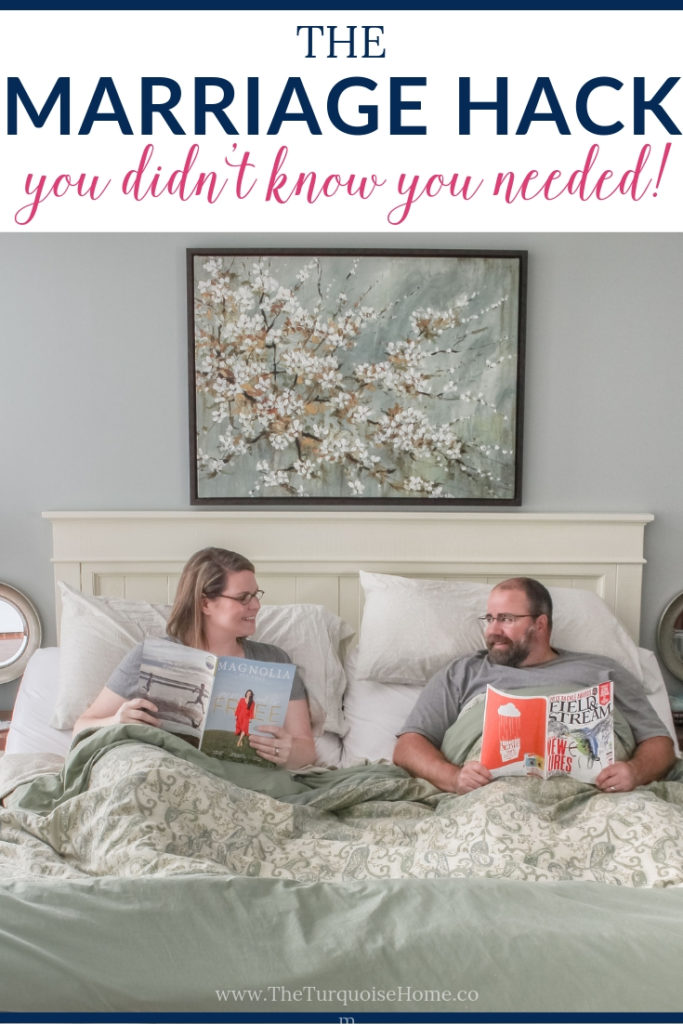 When my husband I got married he already had a queen bed, so we just thought we'd use that. Unfortunately he'd had it for a while and slept in the middle of the bed, so it had a serious dip in the middle. I spent the first 3 years of our marriage hugging the outside of the bed and trying not to roll to the middle. Not fun!
It was so bad that when I was pregnant with our daughter I just slept in the guest bedroom. Trying to keep a hugely pregnant belly out of the middle of the bed was too much work for this mama! 🤰🏼
When we moved into our current home 7 years ago, we had a larger room and we desperately needed a new mattress. My husband tends to be able to sleep wherever, so he didn't seem bothered by the small dipped mattress, but I couldn't take it anymore!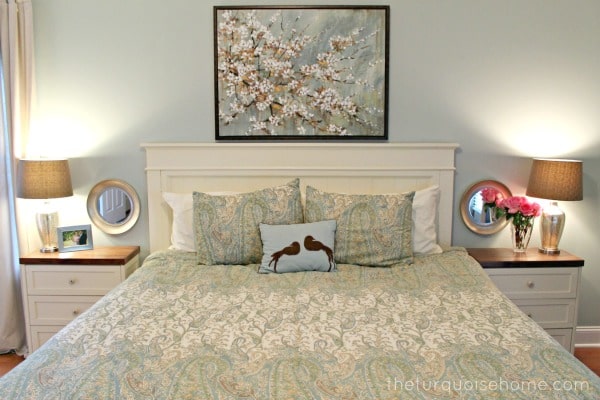 We went to the mattress store, laid down on a few select mattresses and had a new bed delivered the next day. It felt like a dream compared to our old mattress. Yet we still found ourselves tossing and turning a lot at night. My husband's side of the bed ended up very dipped after a few years and his shoulders and neck started to hurt.
By the way, I made the headboard as one of my first DIY projects. You can find the DIY headboard tutorial here. And the nightstands are a $35 dresser hack that I still love 7 years later!
This post is sponsored by Saatva and contains affiliate links for your convenience. All opinions are my own.
We Needed a New Mattress
So when Saatva Mattress reached out to me to see if we'd like to try their beds, I jumped at the chance. We needed something new and I'd heard great things about the quality of their beds.
I was also intrigued by their adjustable frames. So fancy!
And if you want a king-sized bed, but want to have two separate adjustable frames, you can just get two twin XL beds and put them together. (That's what we did!)
So, I convinced him to try them out.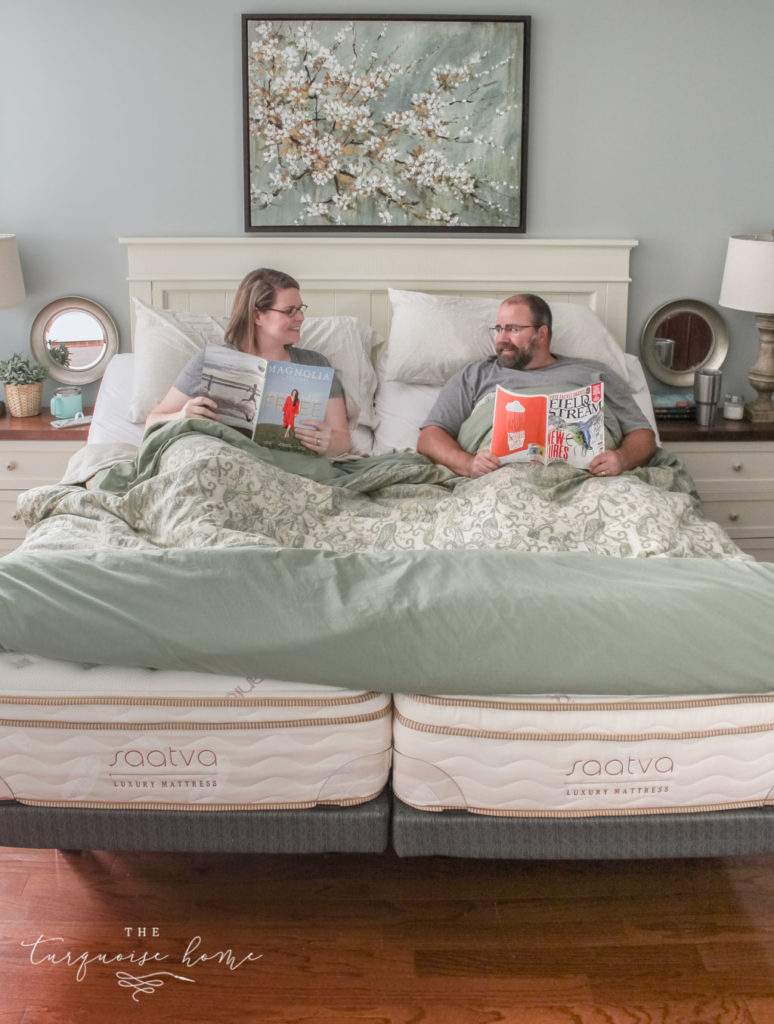 Let me just tell you. We LOVE them. We couldn't be any happier with them. I'll share more of the pros in a minute, but just know that the bottom line is that I'm SOOOO glad we decided to get the two XL twin beds with adjustable bases.
What is the Best Mattress Firmness?
A big question we had when ordering was which comfort or firmness level to choose. Saatva offers 3 different comfort levels: plush soft, luxury firm and firm. I believe I read somewhere that 80%+ of their customers purchase the luxury firm comfort level.
I was nervous, though, to buy a bed online that I'd never tried out. But their Website did a great job of helping me determine the right comfort level for us.
Now, my husband prefers a softer bed than me, so I was worried that the luxury firm would be too hard for him. But I knew I could buy a pillow topper for him if needed.
The great news is that you can use the bed for up to 120 days and return it without any problems. So that removed all of the worry and anxiety from the process for me.
You will want to take good measurements and make sure you do your research first, but if the bed truly doesn't work for you, they will take it back minus the $99 transportation fee. (The adjustable bases aren't refundable.)
Benefits of Sleeping in Separate Beds
When we were making the decision about which beds to get, my husband was resistant at first to the idea of separate bed sleeping arrangement. He didn't want it to hinder any cuddle time. 😉 #ofcourse
But I had heard that other couples sleep in separate beds and they seemed to be fine. And remember my aunt and uncle? They were married more than 60 years.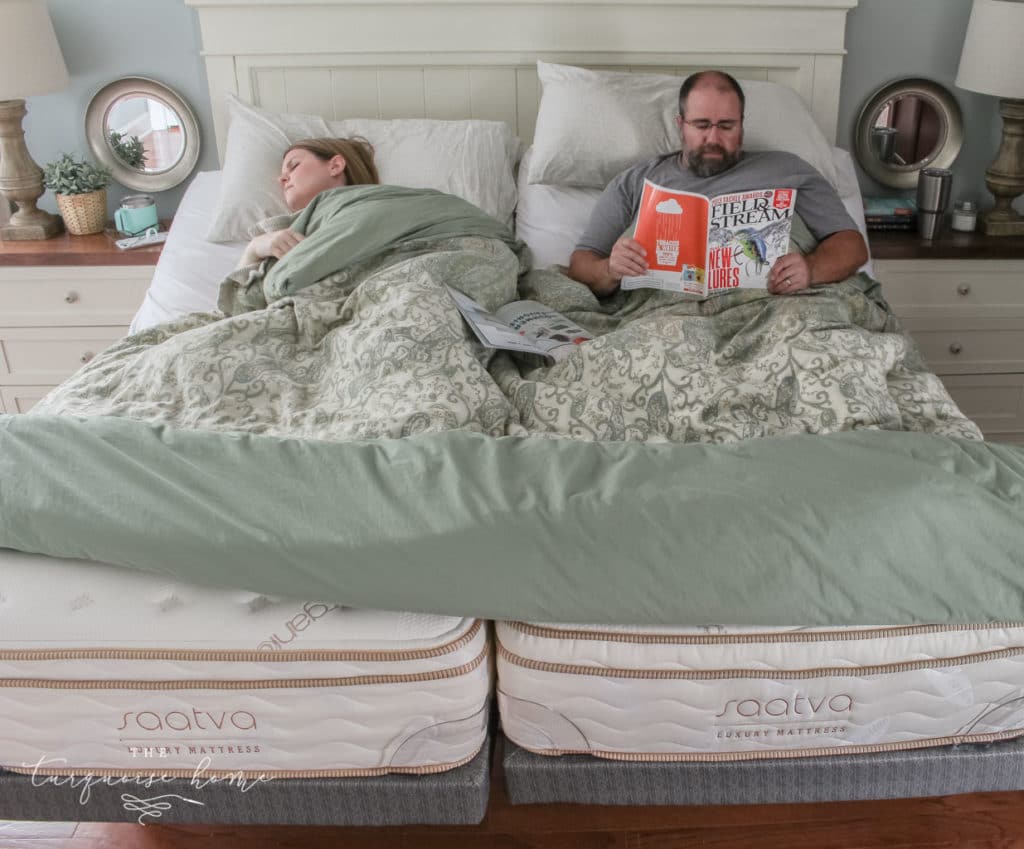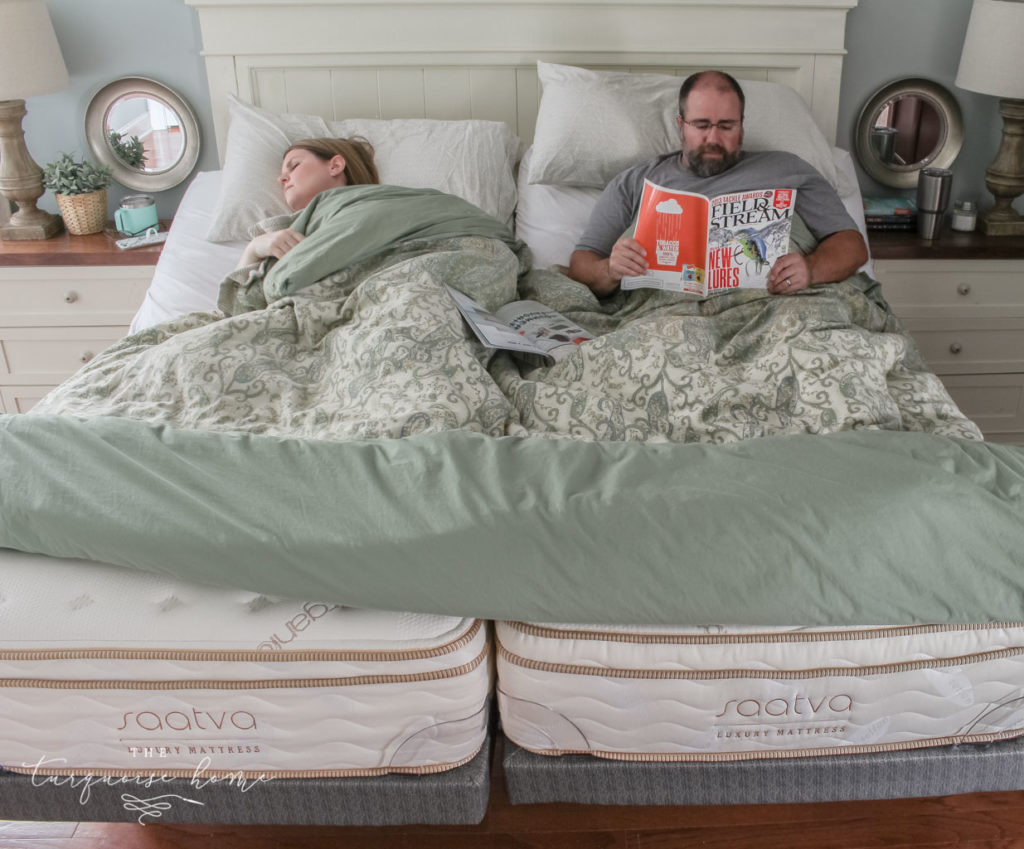 Mind you that I'm referring to sleeping in two twin beds pushed up next to each other, not sleeping in totally separate bedrooms. But you do you – whatever works best for your marriage is what you should do! #imnotacounselor #ha
Pros of sleeping in separate beds side-by-side…
We don't feel each other move in the night. He doesn't wake up when I go to bed late and I don't wake up when he gets up early. Yay!
Before, when he fell asleep, I could feel his every movement and it would keep me awake. Now I feel very little movement, if any, and I can fall asleep faster and easier.
Because we aren't waking each other up in the middle of the night, we're sleeping more soundly and getting better quality sleep.
Have I mentioned getting a good night of sleep, yet?? LOL As parents of little kids coming out of the fog of the baby and toddler years, sleep is a sweet, sweet prized possession!
Drawbacks of Sleeping in Separate Beds
Truly there aren't really any drawbacks, but things to consider when buying these separate beds. We have the Lineal™ adjustable base from Saatva, so if you are using different bed frames you may have a different experience.
New Fitted Sheets. We did have to buy new fitted sheets when we got the new XL twin mattresses because they have two different adjustable bases and we want them to be able to move separately.
But good news!! Target sells the fitted sheets by themselves in our favorite sheets line! So, we grabbed a couple sets of those and we're all set. We still use the same flat sheet, duvet and blankets on top of the bed.
The beds will separate in the middle if you put a lot of pressure on them. Honestly in our everyday use of the bed, they don't come apart. The only time they do separate is when the kids get in the bed and start playing on them – then they will separate some. But it's not a problem. We just push them back together!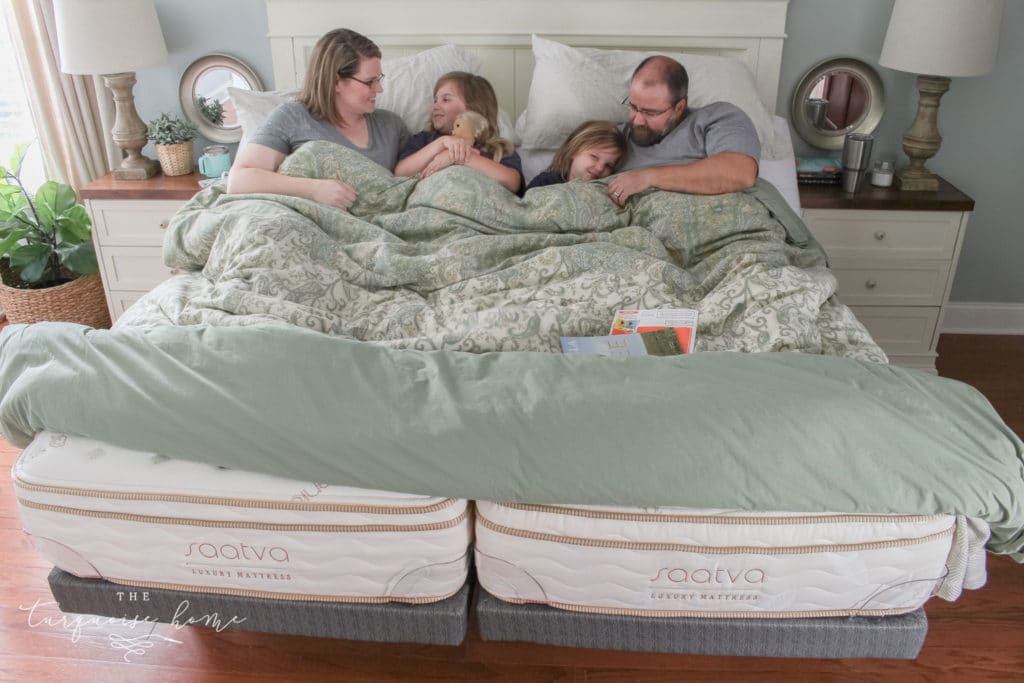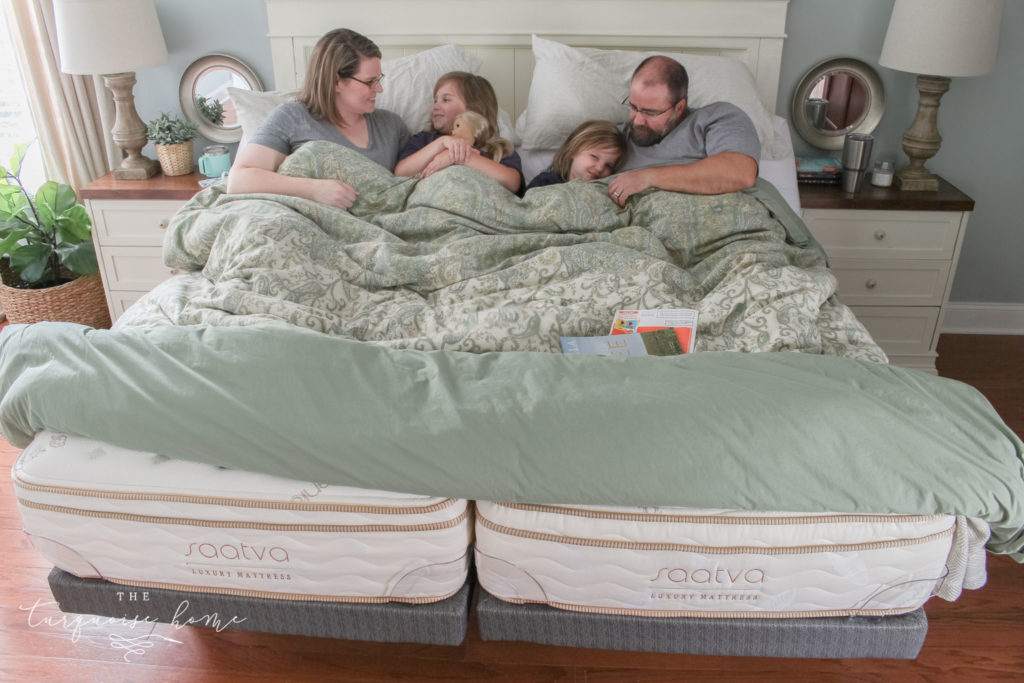 Final Thoughts About the Saatva Mattresses
Like I mentioned before, we were hesitant about ordering a mattress online and wondered about the comfort level to choose.
We loved their coil on coil construction that allows each level of the bed to do different things. For example, the bottom coils offer a supportive base while the top layer features individually wrapped coils that responds perfectly to your body shape and eliminates motion transfer.
So if you choose to sleep by sharing a bed you still won't feel your partner move as much as you do in other mattresses.
In the end we chose the Luxury Firm comfort level because I like a firmer mattress and my husband prefers a softer mattress. It seemed like the right fit for us. The top of the bed does have a euro pillow top, so it's comfy, yet firm.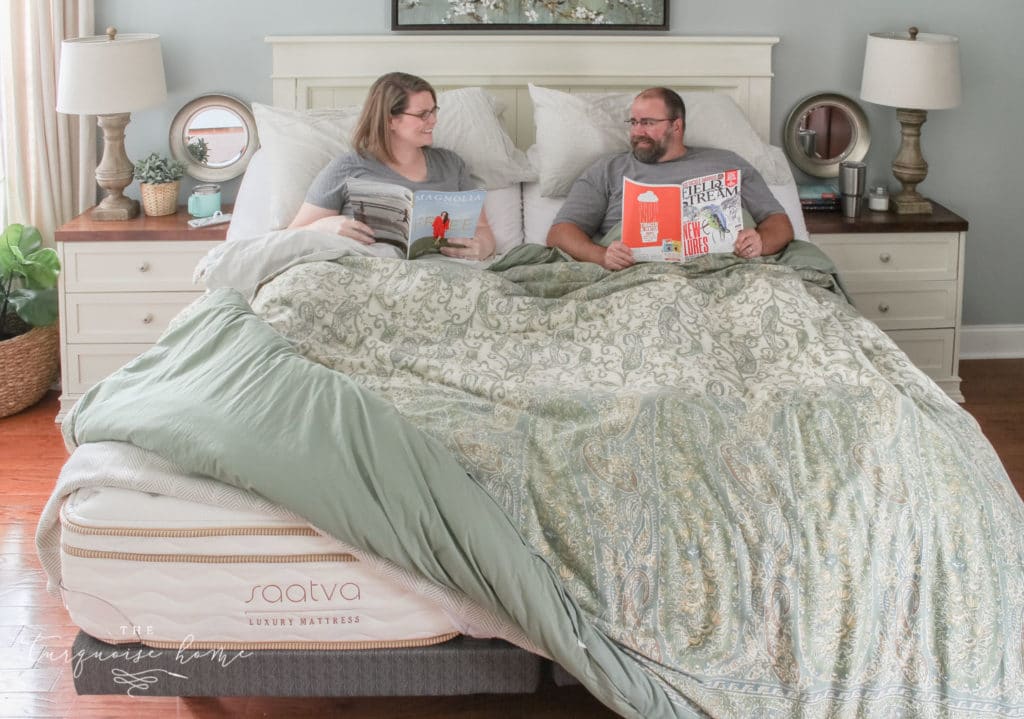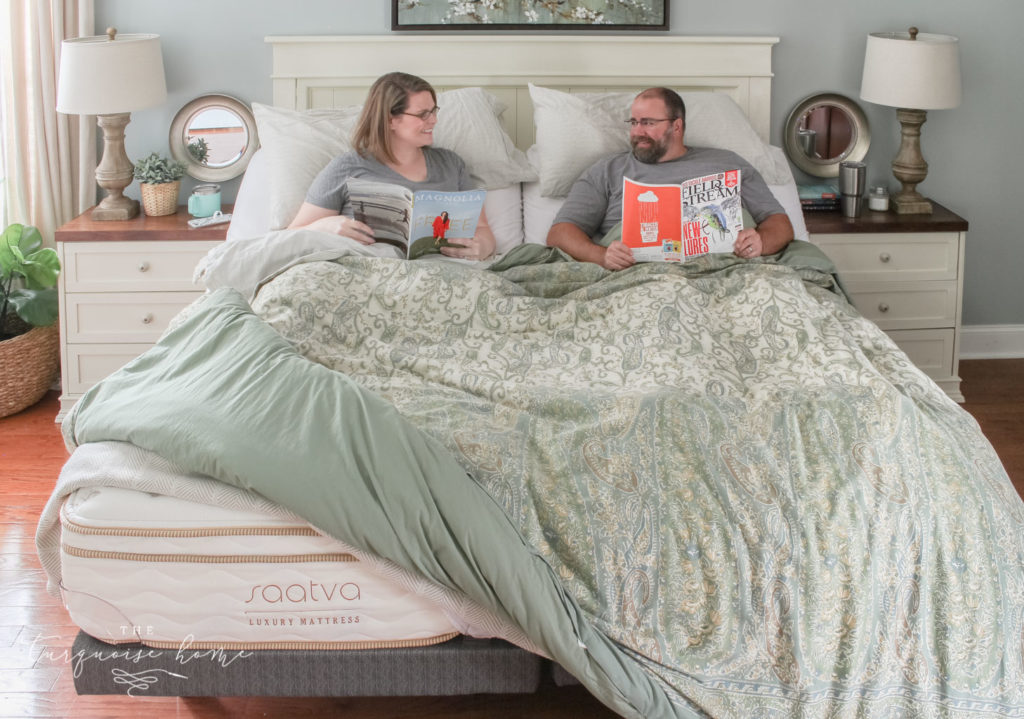 And now that we've slept on it for almost 3 months, I can tell you that it was the perfect choice for us! It's the perfect combo of soft and firm and while it feels firmer than our previous mattress, we sleep so much better in it than we've ever slept before. My husband has rather large shoulders and previously had a lot of pain in his shoulders after a night's sleep. He hasn't had any pain in his shoulders since sleeping in our Saatva mattress.
Also, the white glove delivery service was fantastic. You can watch this video I took when the local delivery service came to deliver our mattresses. They had glowing reviews of Saatva's quality and customer service. They were professional, on time and extremely helpful as well! They even hit a snag with a mechanical issue on the adjustable bed, but quickly resolved it and hauled off my bed frame for me in addition to my old mattress because it took them 10 extra minutes to set things up.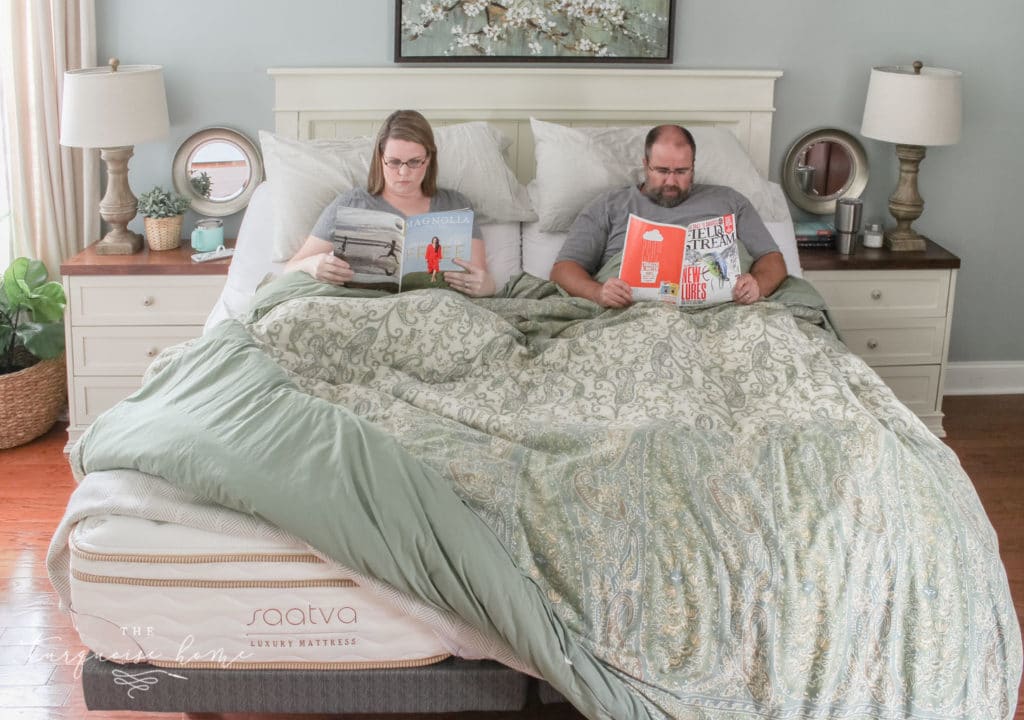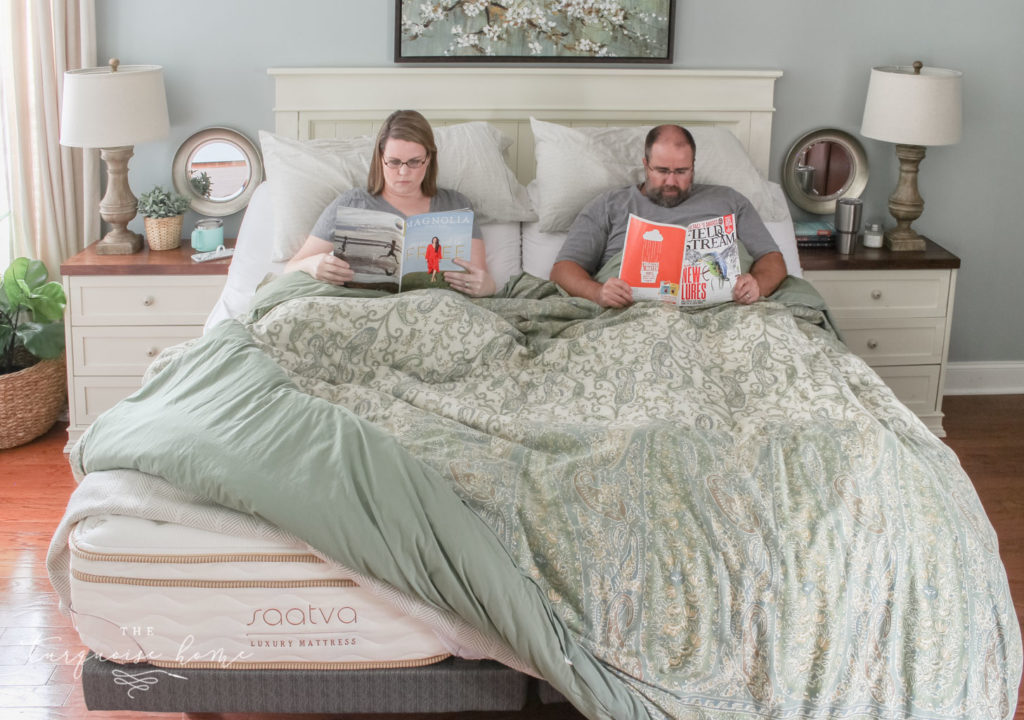 The whole process was seamless and I can't recommend them enough. I never recommend anything on the blog that I wouldn't recommend to my best friends. And this is no exception.
I've been shouting my love for Saatva from the rooftops to family and friends alike! If you're in the market for a new mattress, I 100% recommend Saatva.
Get your own separate beds with adjustable bases by visiting Saatva and ordering yours today!
Let me know if you have any questions in the comments! What are YOUR thoughts on sleeping in separate beds or having adjustable bases? I'd love to hear your thoughts!
MORE POSTS YOU WILL LOVE: