Some girls love fashion and everything to do with clothes and shoes.
But this girl right here? My heart goes pitter patter over paint swatches. Yep, that's right! Paint colors.
The other day I was talking about how I love certain paint colors and such, and my husband turns to me and says, "I do not understand feelings about paint colors."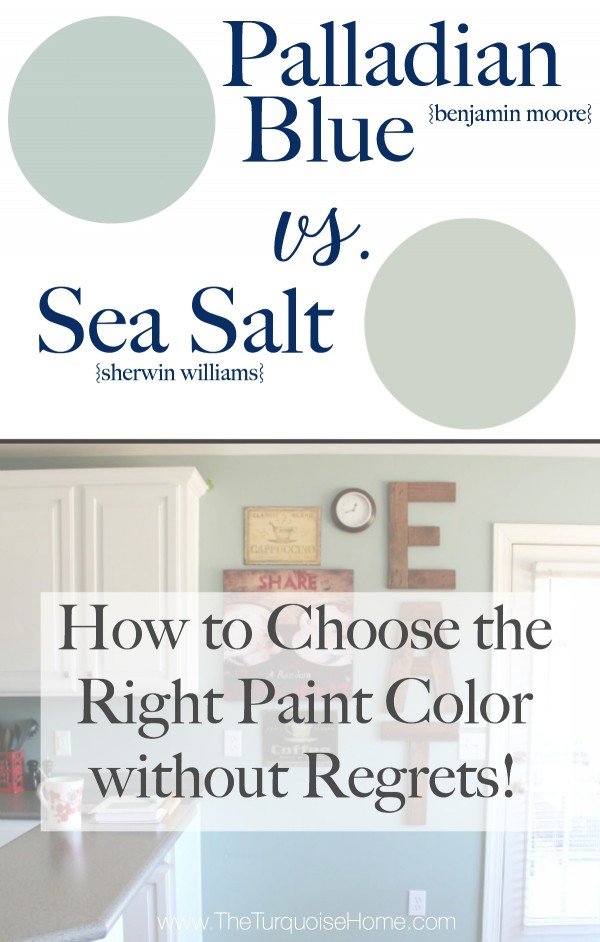 This post contains affiliate links for your convenience. See my full disclosure policy here.
Well, it's totally my language, so I am going to dive into making sure you know how to find your own feelings for paint colors. I love picking paint colors and making sure they speak to me and make my heart sing.
Currently I'm choosing between two colors for my kitchen. Yes, I painted it Stratton Blue (Benjamin Moore) when we moved in and so many people love it, but I feel like it's too dark since I painted the cabinets white.
NOTE: If you're painting the room yourself, these tools will help tremendously. And this post will give you my best tips for painting a room in 5 easy steps.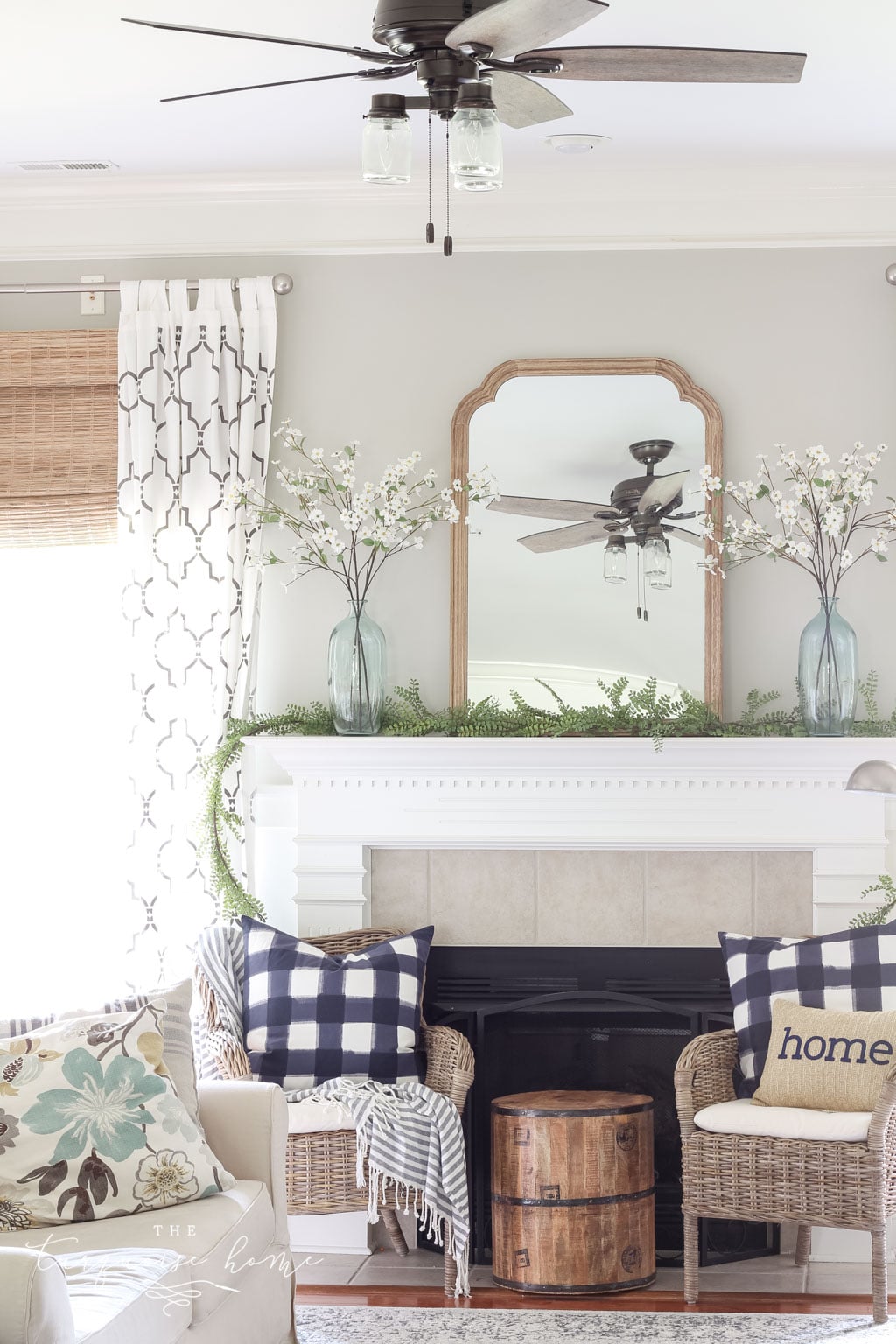 FREE BONUS!
5 Secrets Every Home
Decorator Knows
… to transform your home into your dream home!
I'm now sampling Palladian Blue (Benjamin Moore) and Sea Salt (Sherwin Williams). Let's take a look at them in a couple of rooms…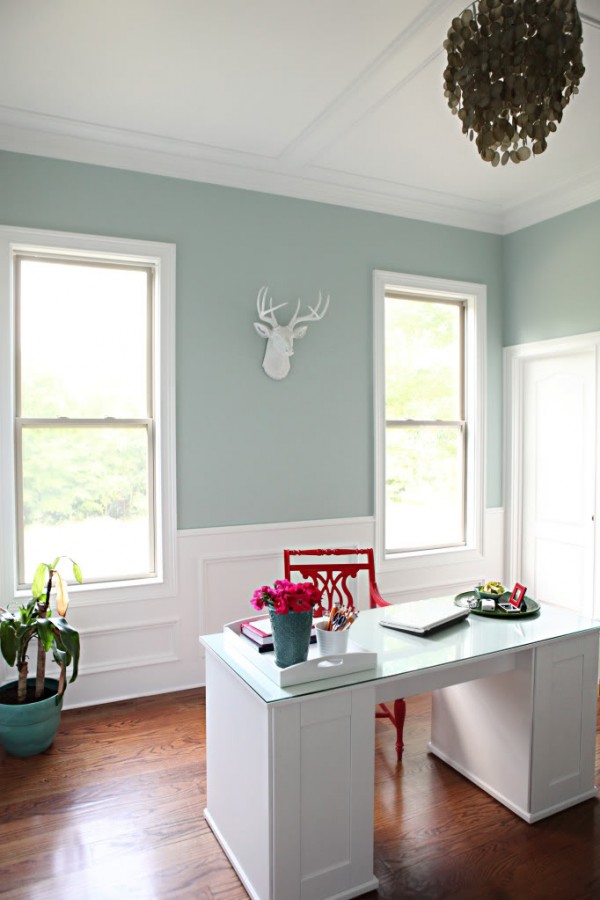 Office Reveal with Palladian Blue from Bower Power – stunning!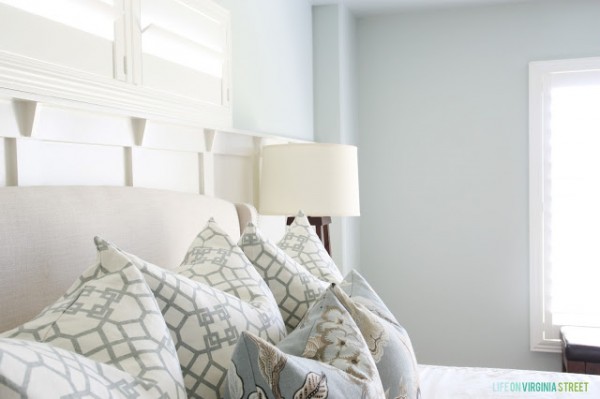 Master Bedroom with Sea Salt from Life on Virginia Street – so peaceful and calm
I posted my choices on Facebook and Instagram over the weekend and it was fun to hear everyone weigh in on the subject. I'm pretty sure which one I'm going to choose, but before I tell you, let's talk about HOW to choose a paint color for your home so that you don't have to repaint or live with a color you don't just love.
How to Choose the Right Paint Color (without regrets!)
Y'all, I've gone over this before, but let me reiterate it again. When it comes to painting your walls, you MUST sample a color (preferable more than one) on your walls first before you commit. I have done that will all of my wall colors since I painted my main living area and it makes all the difference.
And if you don't want to paint the walls, then paint a piece of poster board and hang it up on the wall.
Here's why …
You cannot tell the true color of a paint swatch without putting it on your wall. It will change with the lighting throughout the day – and so many other factors. So, what may look so beautifully gray on the card you hold in your hand, may look completely blue or purple or brown or green or (any other color) on the wall. (I think you get the point. Put it on the wall!!)
When we moved into this house the walls and cabinets in the kitchen were all beige. I needed a color on the wall pronto, or else I was going to lose my mind. So I found some beautiful kitchens on Pinterest and one of them had Stratton Blue on the walls. I loved that color. And I also fell in love with the lighter shade, Wythe Blue. So, I went to the paint store and picked up Stratton Blue for my kitchen and Wythe Blue for my dining room.
I didn't try anything out first, I just painted. Thankfully the dining room with Wythe Blue was a home run. It's my favorite color in the whole house and paired with the tall ceilings, lots of natural light and wainscoting, it works beautifully.
The Stratton Blue was nice, but many times I wished I'd painted it Wythe Blue, too. If I had tested them out first, I probably would have chosen differently.
Palladian Blue vs. Sea Salt
When I finally painted the cabinets white a couple months ago, the wall color was just too dark for me. (Even though I loved it paired with white cabinets in the pretty inspirational pictures.) I know some people like the contrast, but I just don't.
So, the obvious choice would be something similar to Stratton Blue, but lighter. Palladian Blue fit that bill! It's a shade lighter than Wythe Blue and I just knew it would be perfect.
If I operated in my old ways, I would have gone to the store bought paint and painted the kitchen. But it would have still been too dark. And I would have lived with it, even though I didn't love it 100%. No big deal, but why be a little off when you can be spot on!?
When sampling a paint color on the wall, I like to try at least 2 colors, but 3-4 colors is even better. I was sure that Palladian Blue was the color I wanted, but on a whim, I got a sample of Sea Salt, too.
Looking at the paint cards, I knew I'd choose Palladian Blue.
As soon as I had painted them on the wall, I knew I would choose Palladian Blue.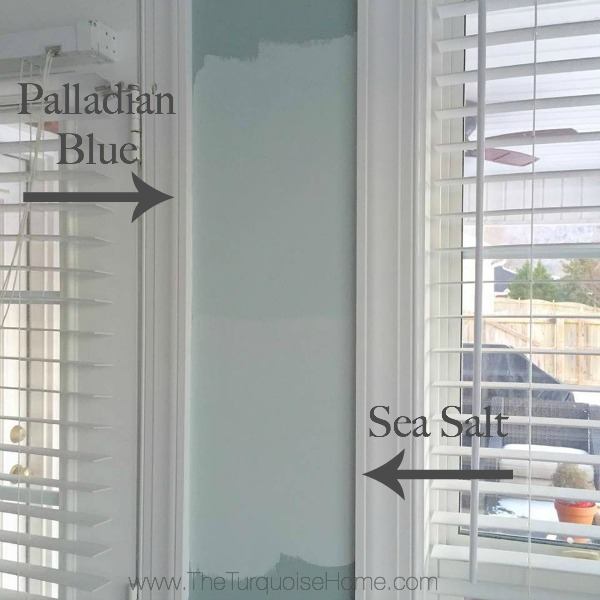 But as I've lived with the swatches on the wall for 24+ hours, I think I've changed my mind.
I have seen them in all lights of the day and night. Sometimes I'll cover up one color and just look at the other color. When Palladian Blue is the only one showing, it still just seems to saturated. But when Sea Salt is showing, it seems just perfect!
I am 99% certain that Sea Salt is the right choice.
What?! I know you're thinking I'm just being fickle for the fun of it, but I want the color that I LOVE, not just that I like.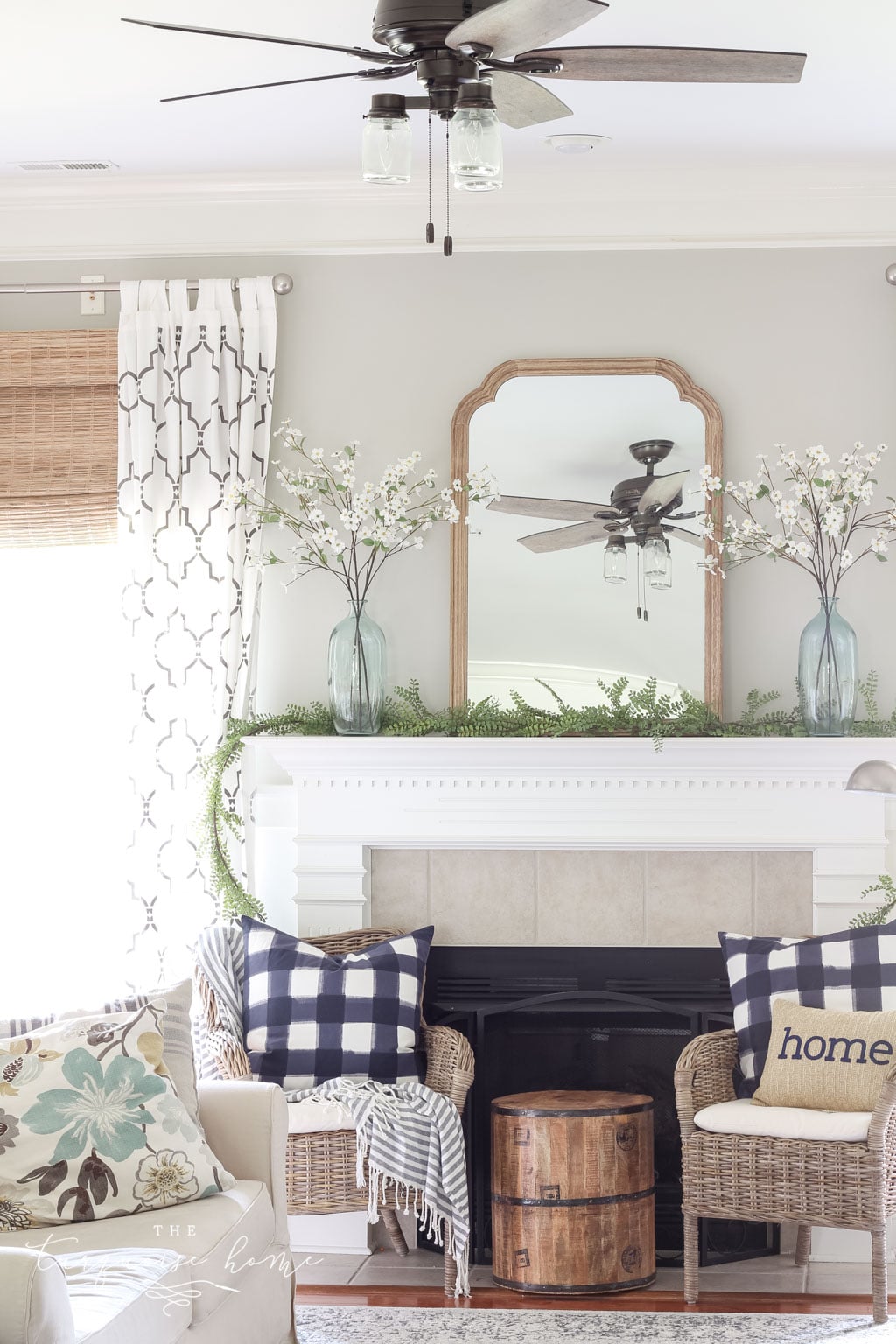 FREE BONUS!
5 Secrets Every Home
Decorator Knows
… to transform your home into your dream home!
Palladian Blue is still too dark for my walls. Sea Salt is less saturated, has more gray in it and I think it's going to compliment Revere Pewter in my living room just perfectly!
Once again, what seemed like a futile exercise saved me from making the wrong paint choice. (And sometimes it just confirms what I already knew. But, I'd rather be 100% sure than get half a room painted and wish I could change it.)
I can't wait to get it all painted and share the results!
How do YOU choose paint colors?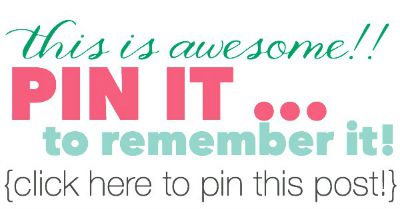 SaveSave
Get Instant Access to my Guide to Customize Your Home on a Budget
Grab your FREE guide for 10 Ways to Customize Your Home on a Budget: simple projects to transform your home from builder beige to a home with character and charm!