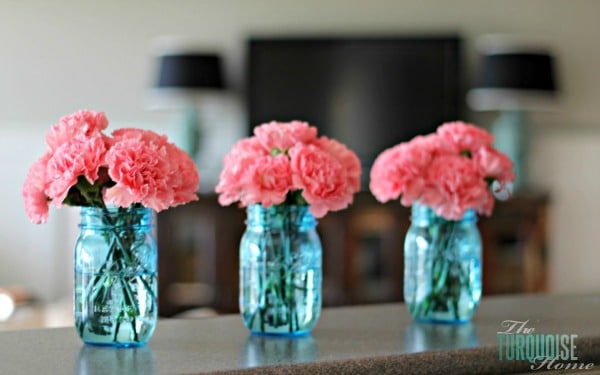 "What's in a name? That which we call a rose
By any other name would smell as sweet."
– Shakespeare
A name is such a big deal. It's your brand. It can bring a positive or negative idea to peoples' minds. I wanted to pick something that represented me.
So, what does The Turquoise Home mean? It's pretty self-explanatory, but I thought I'd elaborate a little.
Turquoise: I love blue, and especially turquoise. My china is turquoise, my dining room and guest bath are painted turquoise and I have many turquoise or some varying shade of blue accessories in my home. Maybe it's the fact that it's the color of the ocean and I love, love, love the ocean. Or maybe it's the fact that it is so calming and beautiful.
But just because this is The Turquoise Home doesn't mean that I don't love other colors, too! You'll see varying shades of red, orange, pink, green, yellow, black, brown and gray in my home as well. Probably the only color you won't see is purple. It's not my favorite, which is funny since it's so close to blue.
Home: what a privilege it is to have such a lovely dwelling that I can create for the refuge of my family and friends. Home means so much to me because I know many people in the world don't have one. It's a haven for my daughter, some place where she can live that is familiar and cozy. It's a place where I will train her to be a godly woman. It's a place where I can curl up with my hubby and just talk and enjoy each others' company.We feel safe and secure here.
Next week I'll be talking about a BIG project that is coming up. Stay tuned!
What color fills your home?
Don't miss out on the behind-the-scenes fun!
Get Instant Access to my Guide to Customize Your Home on a Budget
Grab your FREE guide for 10 Ways to Customize Your Home on a Budget: simple projects to transform your home from builder beige to a home with character and charm!