Benjamin Moore Edgecomb Gray
If you are looking for a stunning greige, then you should really consider using Edgecomb Gray from Benjamin Moore! It's a creamy neutral color that looks lovely in well-lit spaces. This clean beige and gray color is refreshing and inviting when used in certain rooms in your home.
Not only is Benjamin Moore's Edgecomb Gray one of my favorite greige paint colors, but it's incredibly versatile and sets the stage for a gorgeous look in any room. This is a great go-to color! While it has an earthy, almost muddy color, it's light enough that it pairs nicely with so many other colors too.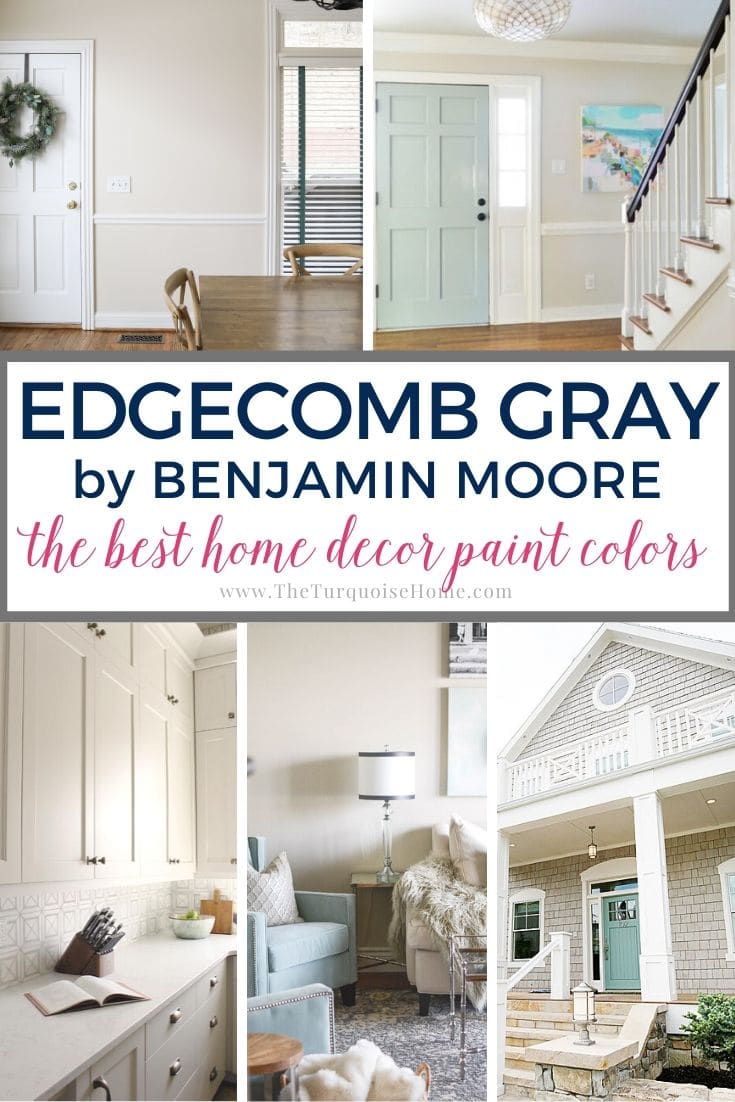 I just painted this color in my new home in the common spaces that cohesively run together: my kitchen, hallways, stairwell, entry way and upstairs loft area. It's beautiful, but definitely leans warm gray in some lighting and beige in other lighting, making it a true greige color. As a chameleon color, I love Edgecomb Gray.
Color Undertones
As I've mentioned before, Edgecomb Gray is a great combination of light gray and beige. It's a creamy color that has undertones of greens and purples. It's fantastic at picking up different colors and making each pop.
If you put BM Edgecomb Gray next to a red (like if you have red brick outside your windows!), it's going to take on more of a pink tint than if you put it next to green, where the green undertones will really show through.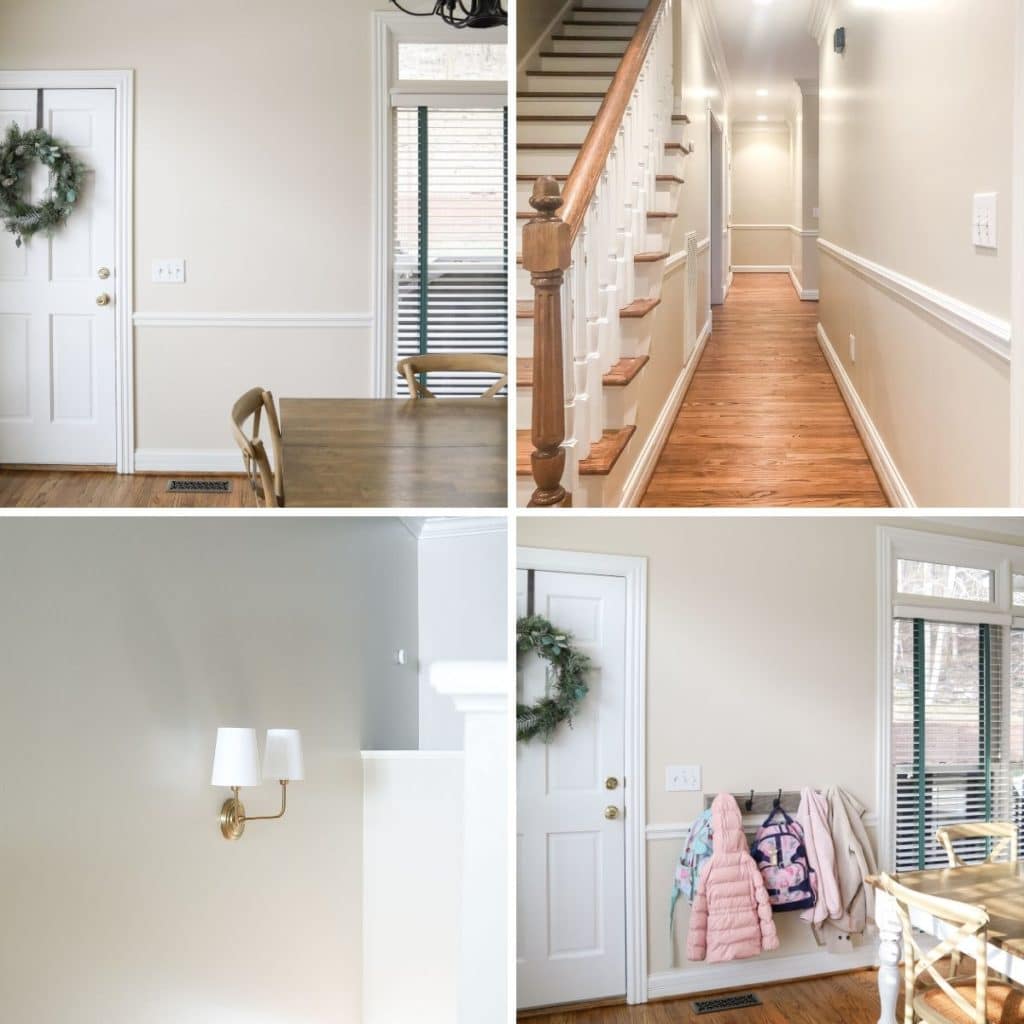 This paint color looks fabulous in any room, but it often looks the best when it's in a well-lit space. Whether your room has an abundance of natural light or more artificial light, Edgecomb Gray will look terrific. So, it's a no-brainer to add this to your list of favorite paint colours.
Some might not like it in rooms without any natural light, but I love it my upstairs loft area that has no windows. It does, though, have a lot of artificial light with can lighting, so that helps!
Edgecomb Gray vs. Revere Pewter
Revere Pewter is a crisp gray color that actually pairs well with Edgecomb Gray. Revere Pewter is a true gray and tends to work well with blue hues as well as reds.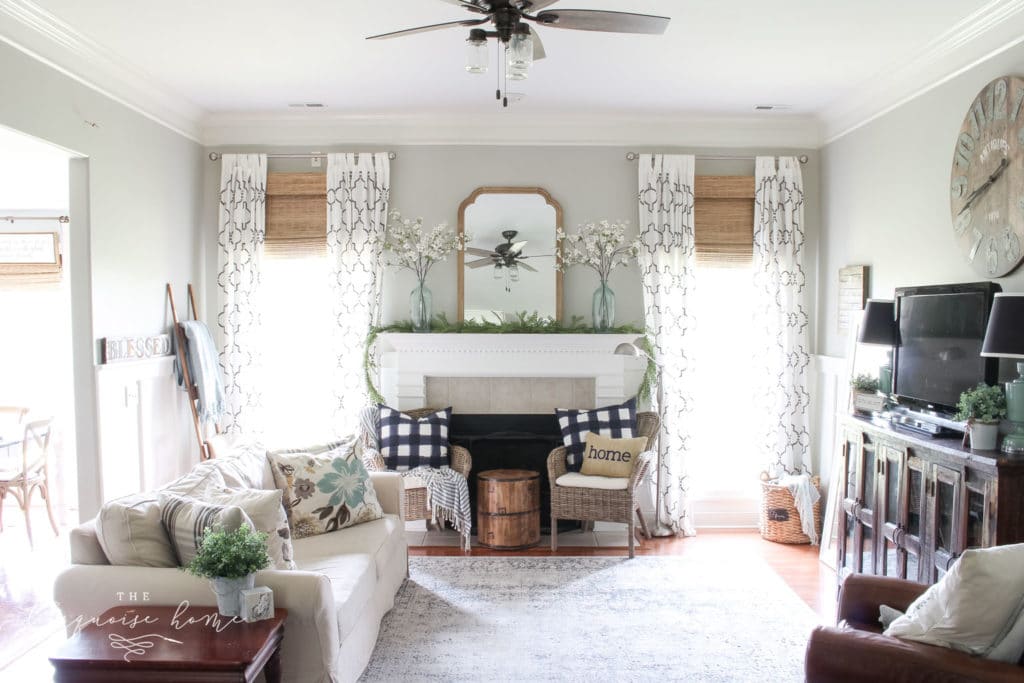 While Revere Pewter is slightly darker than Edgecomb Gray, it's not too dark. And you could always lighten Revere Pewter to 50% if you wanted that color, just lighter. I used Revere Pewter as my main neutral color in my previous home and loved it.
Revere Pewter is one of Edgecomb Gray's complementary colors because they look splendid together. If you use the two colors together, you will find that the Revere Pewter really pulls out those gorgeous gray undertones in Edgecomb Gray.
What Colors Go With Edgecomb Gray
Let's talk about some of the coordinating colors that will go amazing with this gray paint color so you can start your next project! These are some of the other colors that will work well with Edgecomb Gray:
Nickel
Chelsea Gray
Ashley Gray
Simply White
White Chocolate
Kendall Charcoal
Because of the versatility of this color, you can pair it with many different colors to create your very own color palette. You could paint the walls with this greige color and a White Dove trim to make your room look fantastic! You can also opt for a more bold color to pair it with like Hale Navy or Kendall Charcoal.
Adding Edgecomb Gray To Your Space
One thing that I can't get over with Benjamin Moore's Edgecomb Gray is that it seriously looks terrific in almost every space! It's like they found the perfect greige that can never look bad in bright spaces.
Okay, maybe it could look bad somewhere, but I have NEVER seen it look anything but welcoming and inviting. Check out these photos to see how amazing of a color it truly is.
Entry Way
Nothing is going to add some charm and make guests feel invited more than a beautiful entryway or foyer. Edgecomb Gray adds a small touch of color that this room needs without making it feel overwhelming when you walk in.
When you see this lovely foyer, you can tell it has some character and you can really see how fantastic Edgecomb Gray looks with Kendall Charcoal. It's a wonderful combination, and Nina Hendrick did a tremendous job pairing these colors!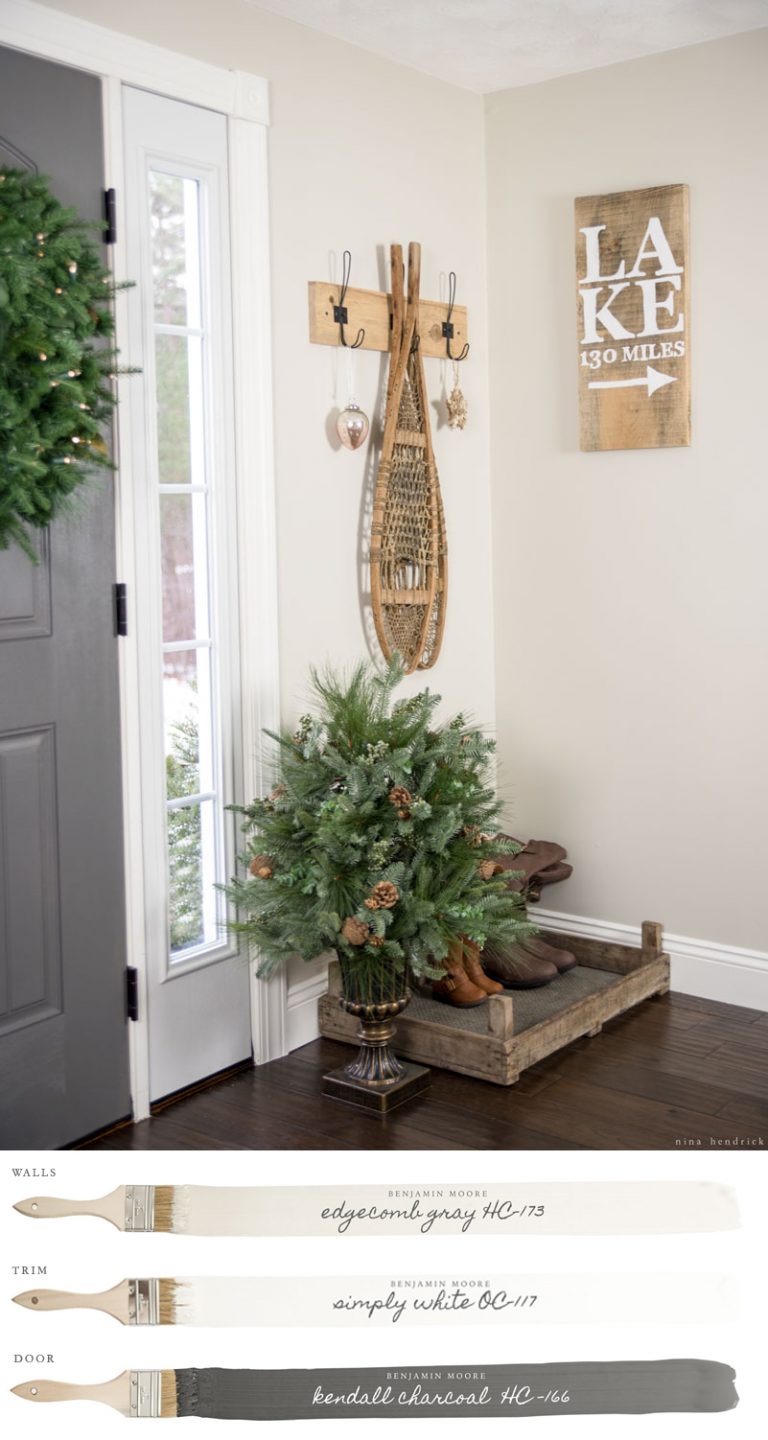 Young House Love added some freshness to their entryway by choosing Edgecomb Gray and paired it with the colors Revere Power, Simply White and Tranquility. As you can see, the pop of color from the accessories goes perfectly with the paint.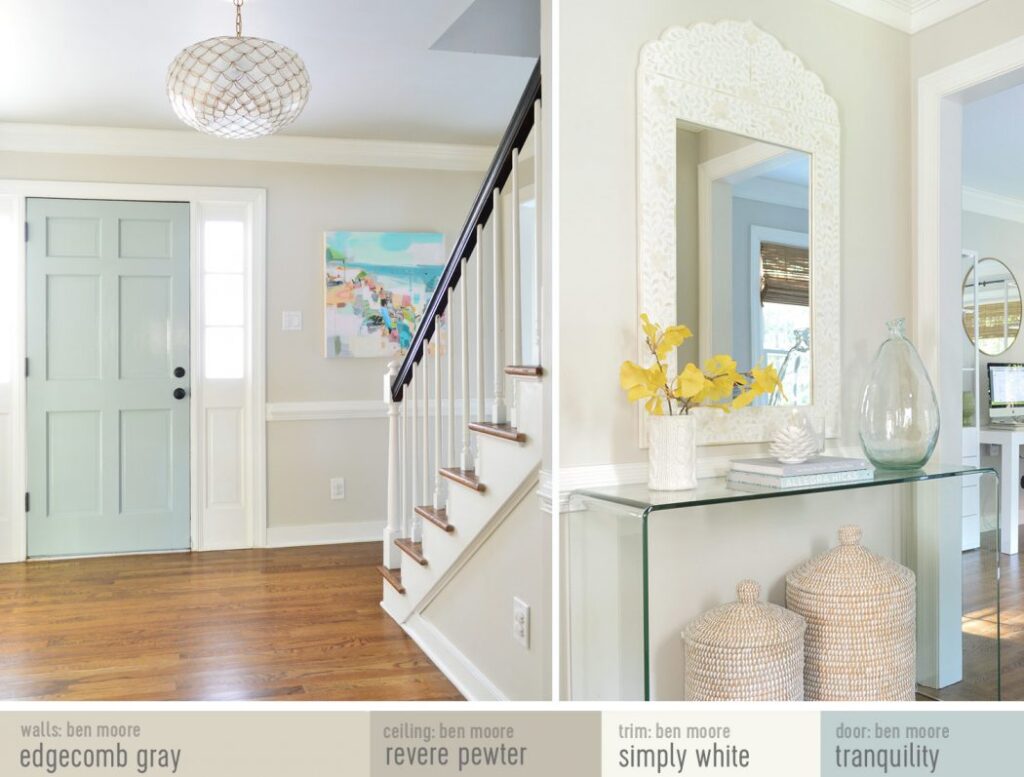 In The Kitchen
As you can see in this photo, the kitchen cabinets have taken on a darker color with the Edgecomb Gray, and it is incredible. They complimented the wall hanging cabinets by using the contrasting color of Ashley Gray on the island.
Don't you just love this combination that 2 Cabinet Girls created?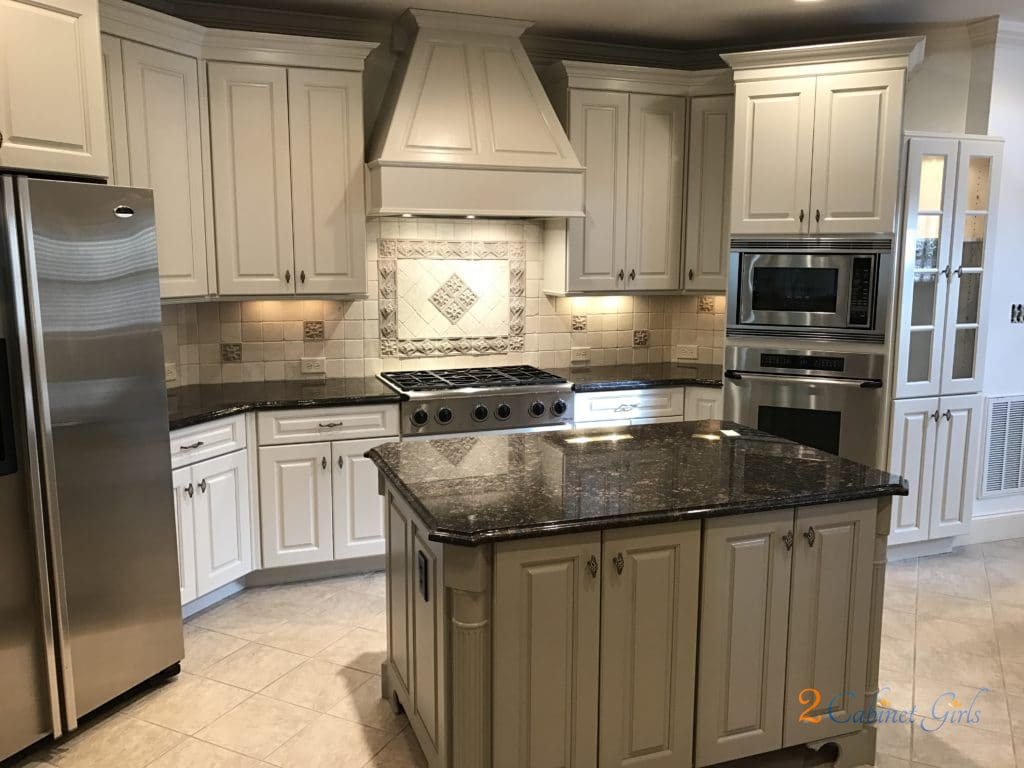 Decor Pad shares a photo with Edgecomb Gray showing off its ability to appear so light and neutral. It shows you that you can easily use Edgecomb Gray from floor to ceiling and it will still make a space appear to be beautiful and light.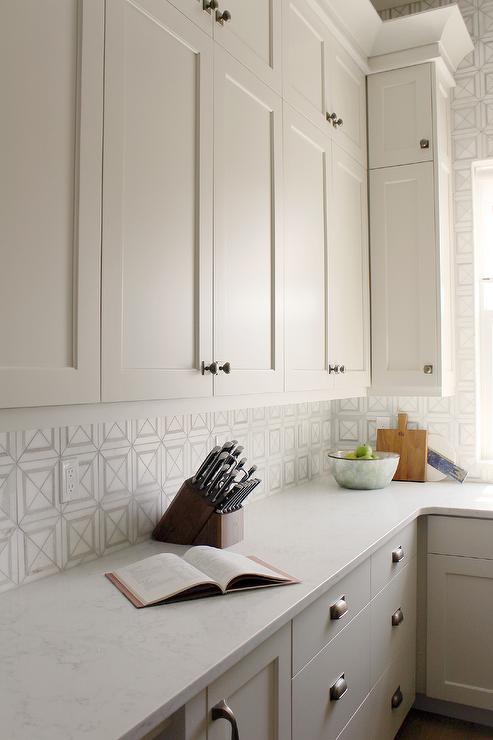 Living Room
Most of us spend the bulk of our time in our living rooms, family rooms, and kitchens. It makes complete sense to add this neutral color to those rooms. Check out how a Pop of Pretty completed the look.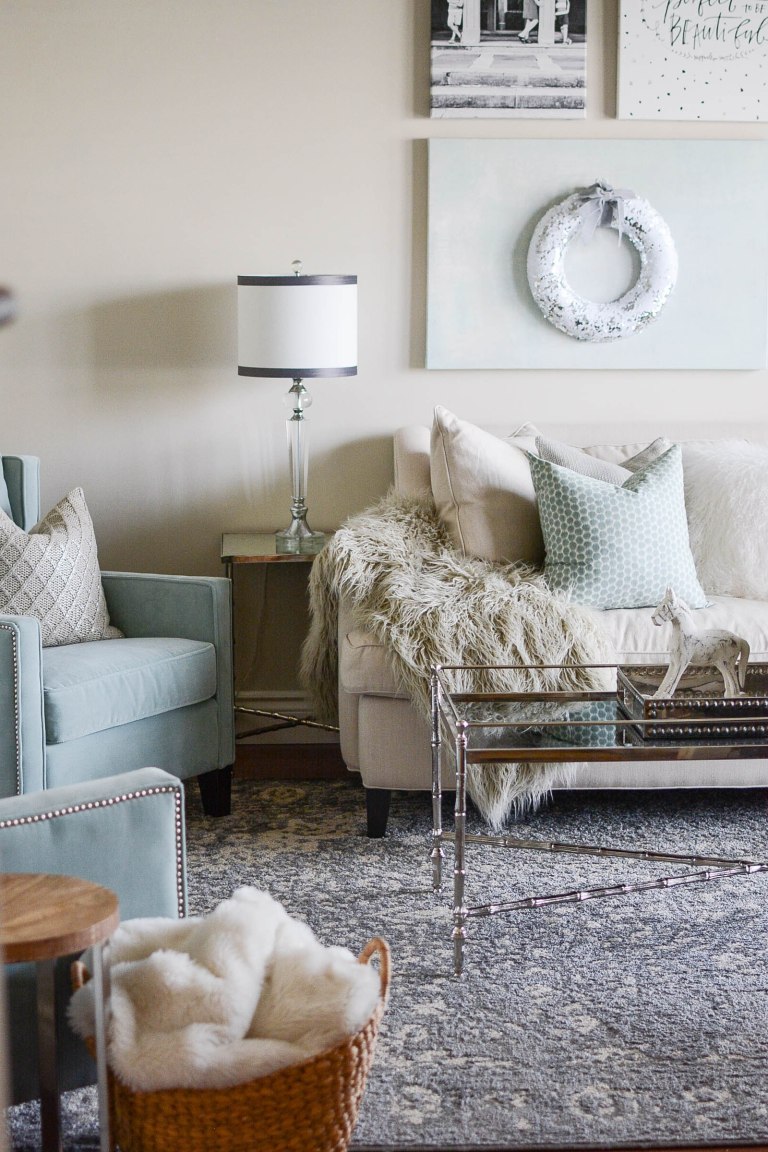 Laura Nicole Design at Magnolia Paint Company blew it out of the water with this stunning living room design featuring Edgecomb Gray with white trim. As you can see, she used a white paint to compliments the griege color, and the pops of blue throughout the space are gorgeous.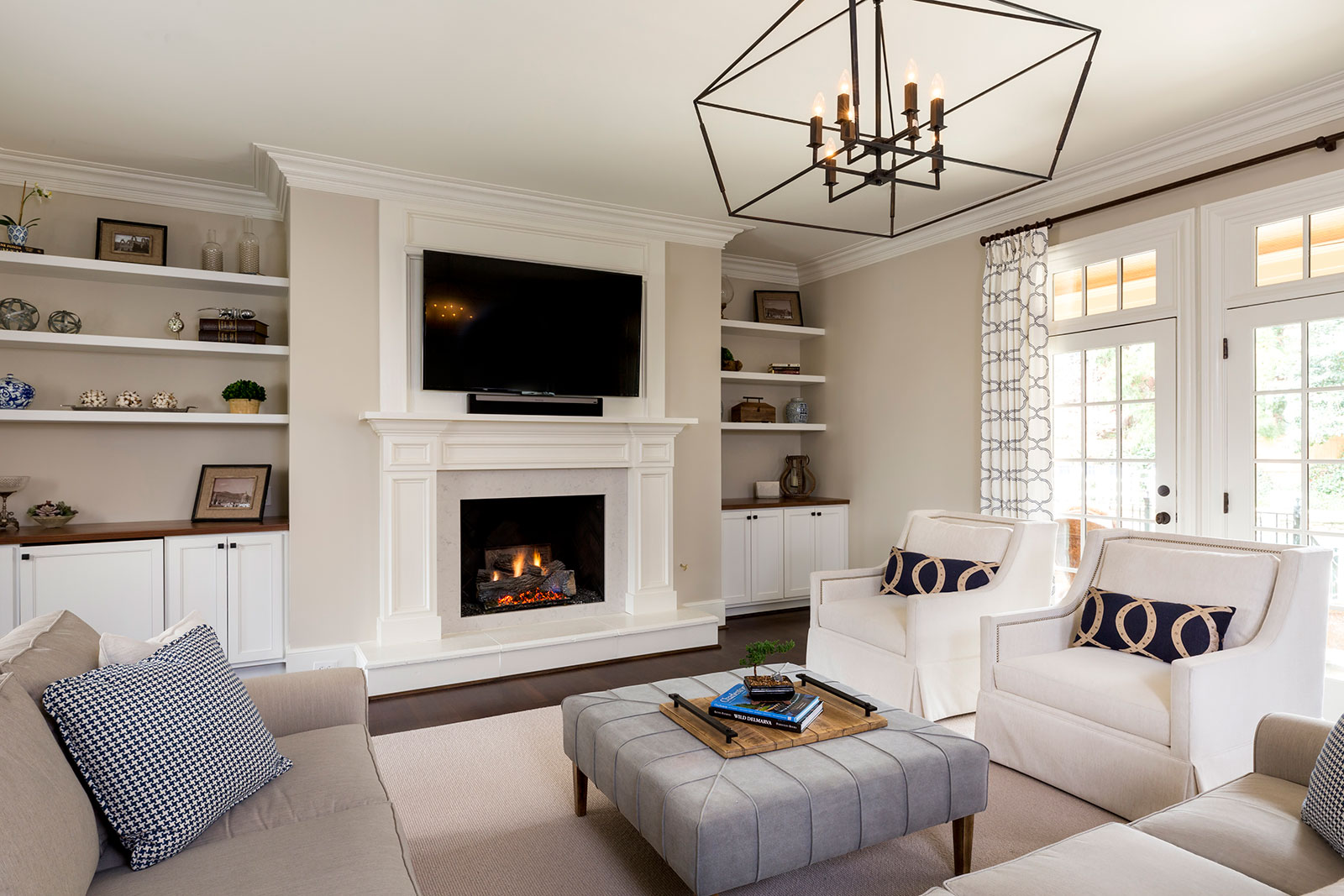 Edgecomb Grey in the Bedroom
Your bedroom will be even more relaxing if you paint it with Edgecomb Gray as KCS Residential Design did. You can see from all the natural light that the Edgecomb Gray takes on a very beige color in this room and it's perfect! They used a lot of earthy tones to pair with it, and it's a very inviting space.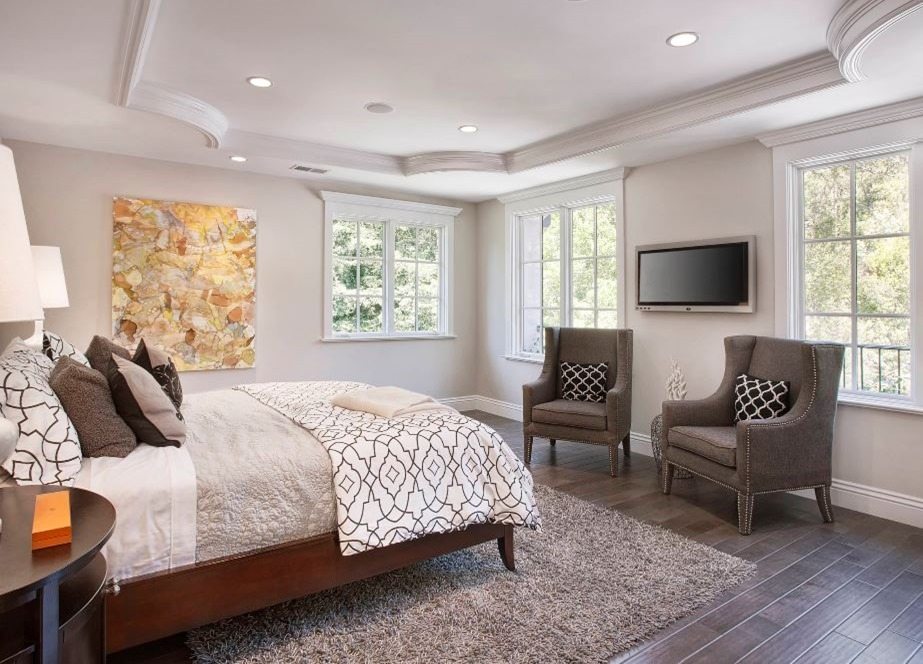 Another option by KCS Residential is this bedroom. It's a smaller room but still looks spacious with the Edgecomb Gray on the walls. All of the natural light coming in through the bedroom windows add a refreshing look that calls out to you to come in and stay awhile.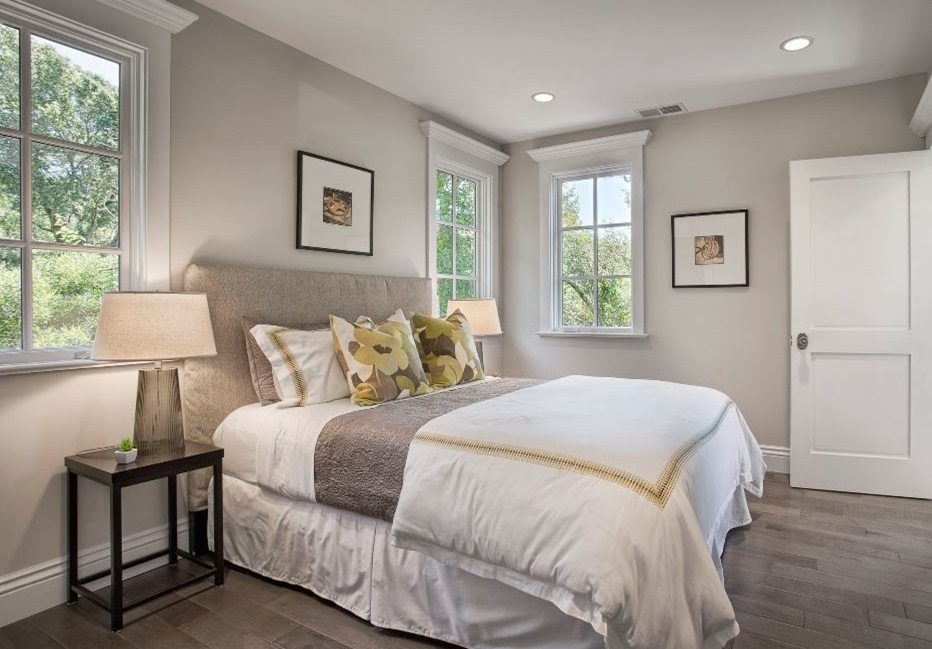 Exterior
You can see why someone would want to use this gorgeous color on the exterior of their home. It's a magnificent way to add some charm without being overwhelming. Hirshfield's Color Club gives you a great tour featuring this easy-to-use color.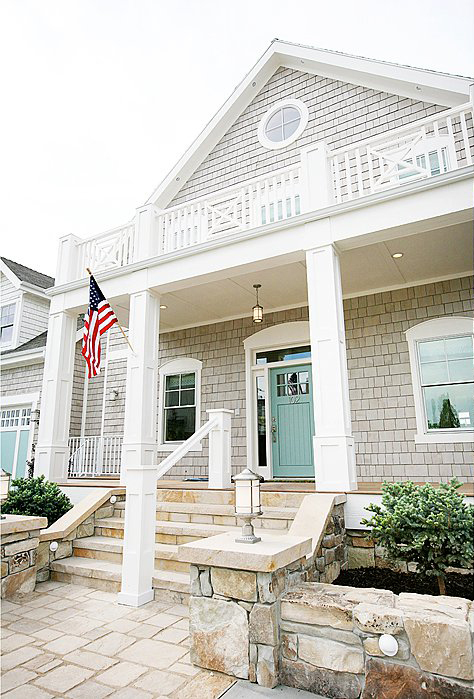 I think the only room we didn't cover today is the dining room, but it would be a beautiful color in there as well!
More Paint Colors to Try
Choosing the right paint colors doesn't have to be stressful or painful for you. I have reviewed many different popular paint colors and I recommend taking a look at them for some inspiration for your next project!