Use one of these DIY dining room table ideas to build a place for your family to gather, eat, and create memories. From beginner to advanced, there's something for everyone!
When I was younger, I really only knew the dining table as a super formal spot made of cherry wood that we only used on Thanksgiving and Christmas Day.
These days, our dining table gets used in some form daily—whether we are enjoying a family supper around the table or I am using it as a crafting station. If you haven't looked around in a while, you might be shocked to know that there are tons of really amazing DIY dining tables out there, including my DIY farmhouse table.
DIY Dining Tables
To make a DIY dining table, you don't have to be a woodworking expert. While it can help to have some sort of skill level, I am definitely not a professional and was able to build my own DIY dining table pretty easily. Plus, if you are really not into the idea of building your own table, there are so many clever ways you can upgrade a basic table and make it into something that's truly you.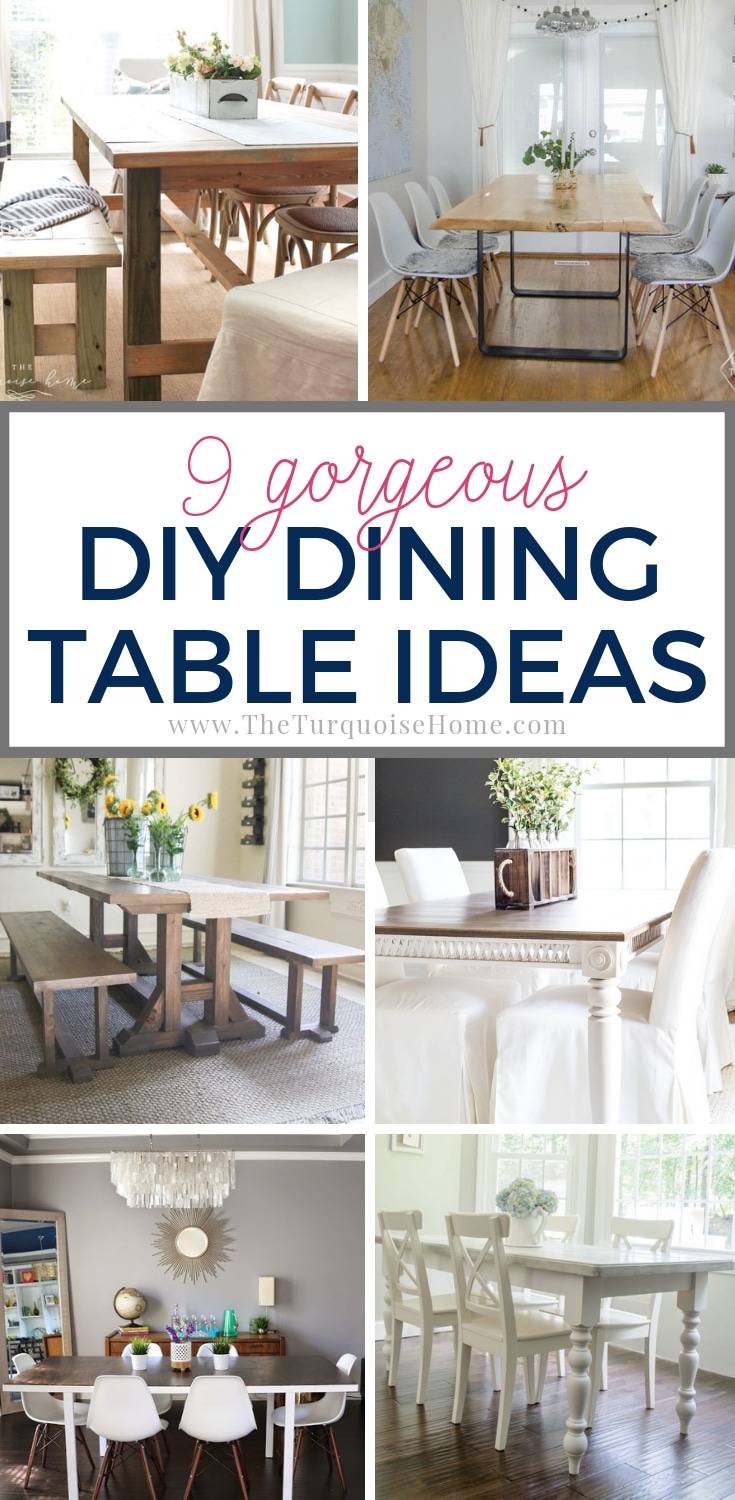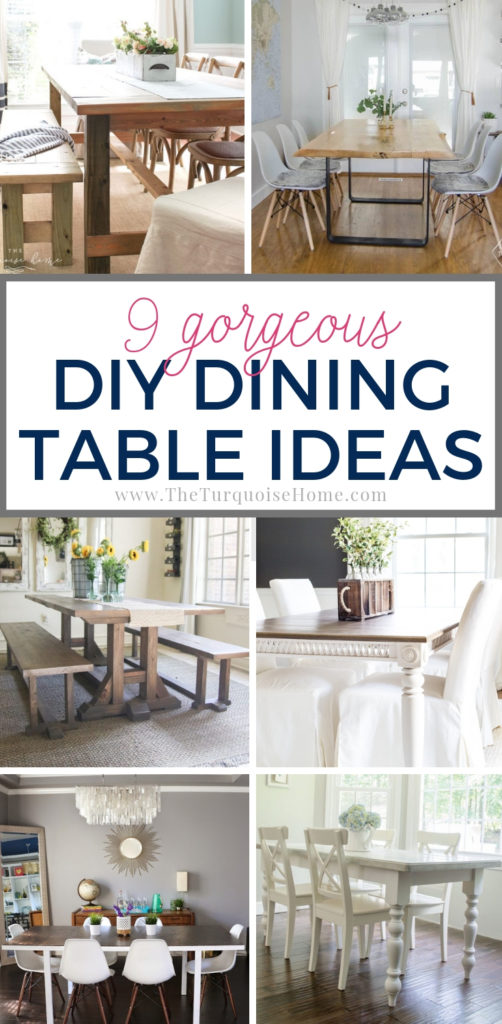 For example, you can make the most legit-looking DIY farmhouse table out of an Ikea one. You've got to see it to believe it. Here are 9 of my favorite DIY dining tables on the internet.
My DIY Farmhouse Table
I have to start this list out by sharing one of my favorite DIY projects of all time – my DIY dining table! I am still so proud of myself for building this gorgeous farmhouse table all by myself. It was my first build with a Kreg Jig (a pocket hole system), and allowed me to build the dining table of my dreams without a crazy price tag.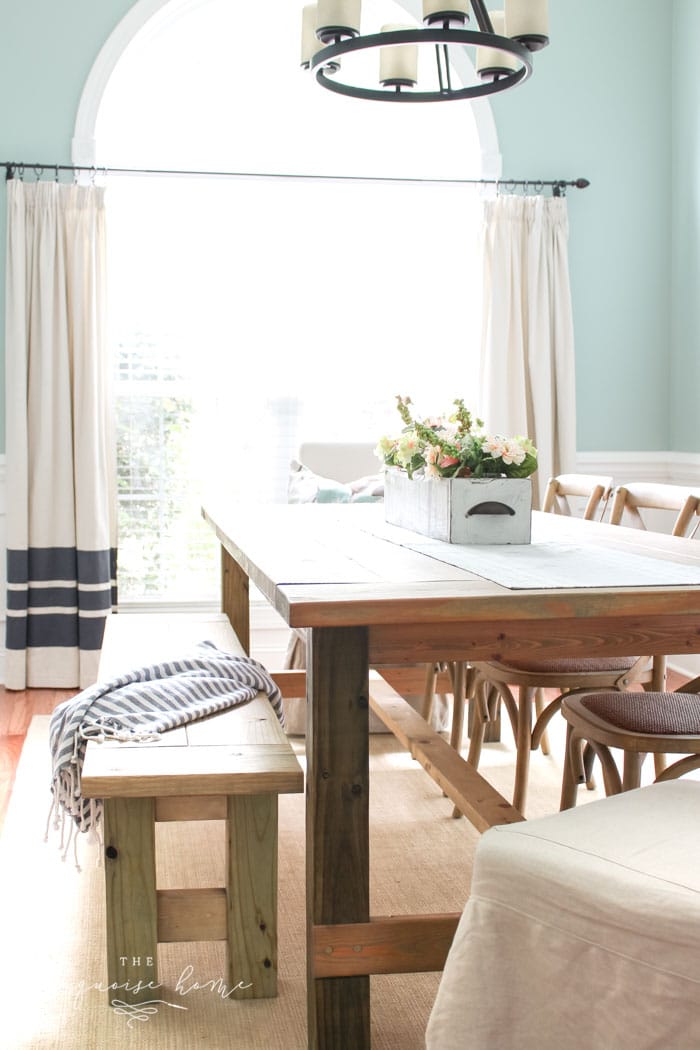 DIY Harvest Dining Table 
Harvest tables are so gorgeous and rustic. This DIY rustic dining table seats 8-10 adults, so plenty of room for everyone! This tutorial from Domestic Imperfection shows you exactly how to build a table of your own for your dining room.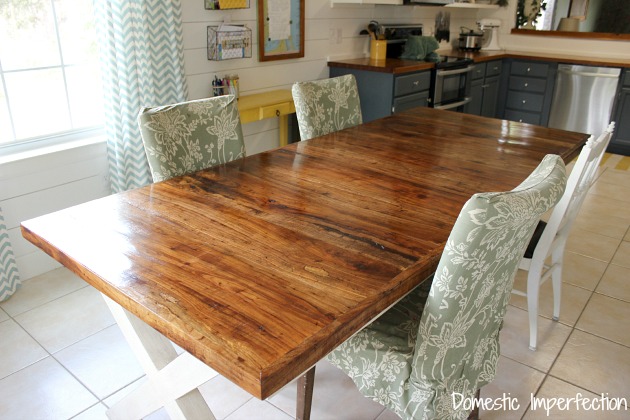 DIY Farmhouse Table from an IKEA Table
Can you believe this is an IKEA table? Or at least, it was before East Coast Creative blog did this awesome hack with it. I absolutely love this DIY farmhouse table!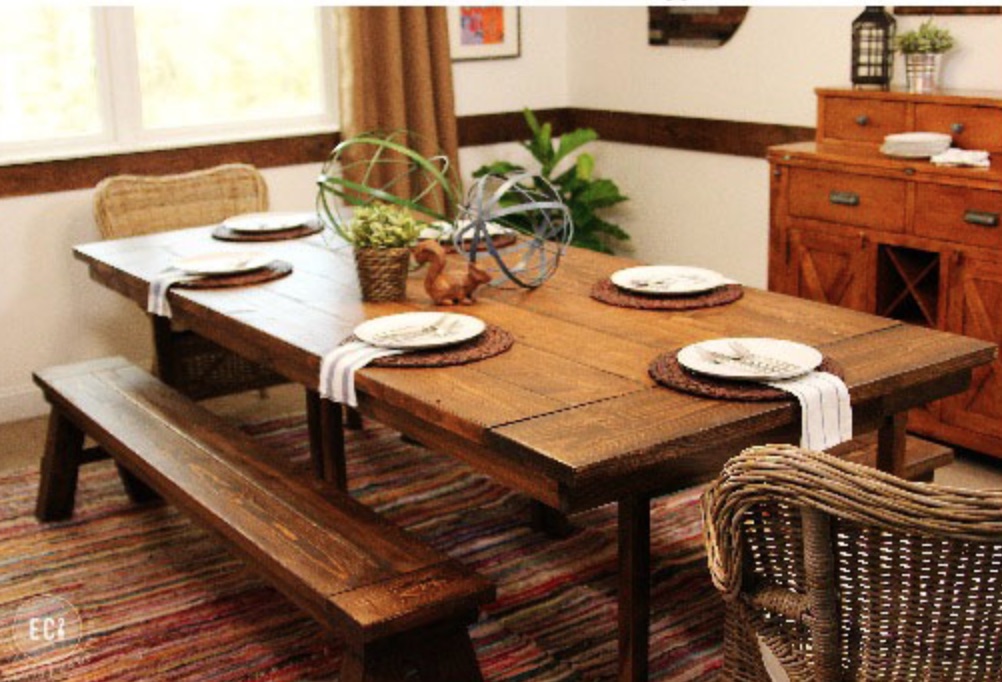 $60 IKEA Dining Table Hack 
What I love about IKEA hacks is each one looks so different. I never would have thought to do what A Kailo Chic Life did with a basic, old IKEA dining table. She gave her table a mid-century makeover with a simple design and I'm loving it.
DIY Cottage Style Dining Table
If you love cottage style, then this is a DIY dining table you need to make! I'm so impressed by this DIY—I could see it fitting in really well with a farmhouse style home as well. Nina Hendrick created this table for under $200…and you can too!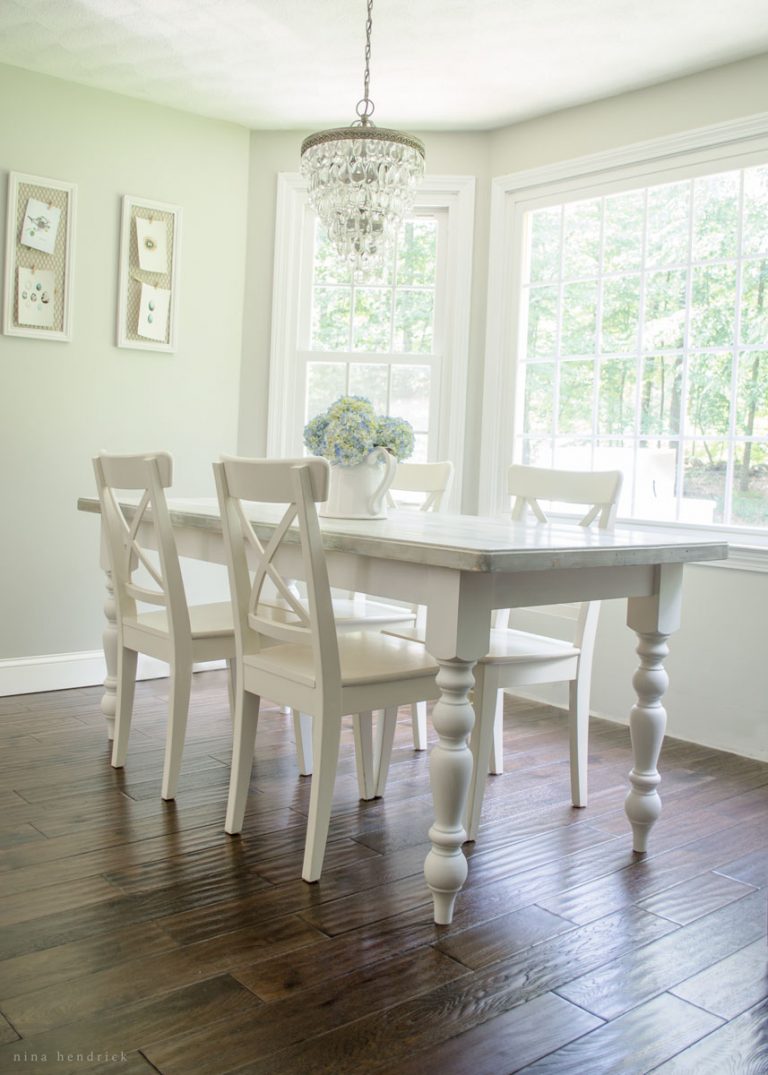 $30 IKEA Dining Table Hack
Here's another incredible affordable Ikea hack! This would be a great DIY farmhouse table for a smaller home or even an eat-in kitchen. I really like the coloring on this one—those wood tones are so soothing and beachy.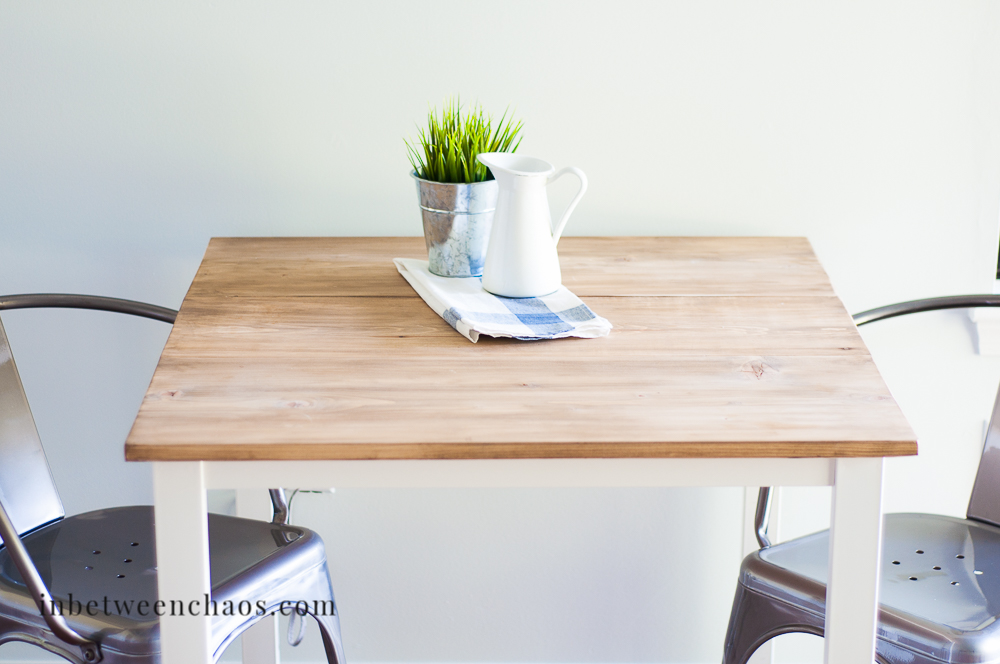 How to Make a Retrofitted DIY Tabletop 
Have you ever stumbled across a gorgeous set of table legs with a top that is badly damaged? Instead of shying away from these tables, embrace them! Thanks to this smart tutorial from Blesser House, you can create a new table top for any base. And, of course, you can stain or paint it any color you would like.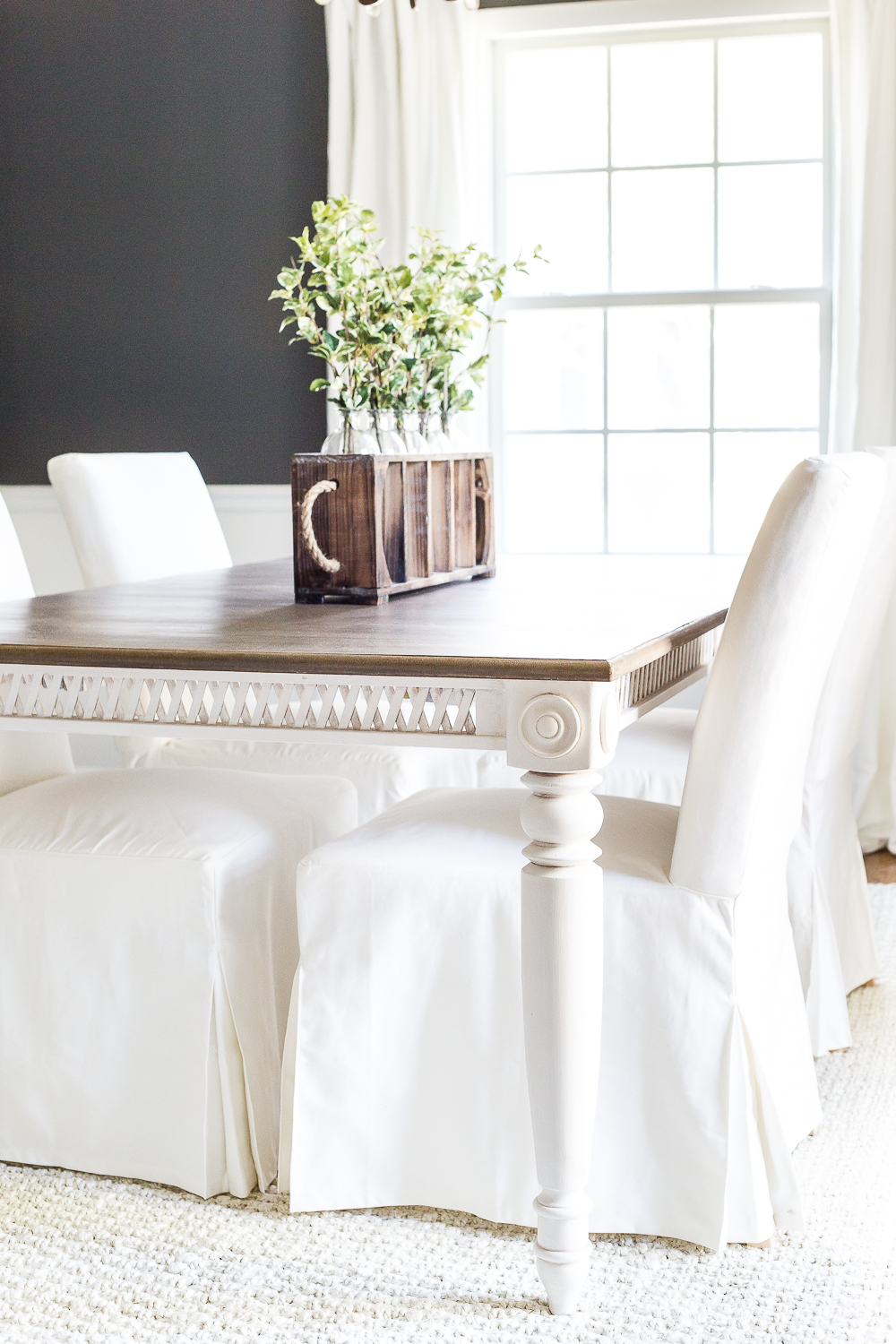 Pottery Barn Inspired DIY Dining Table
If you love Pottery Barn, you'll love this table. This DIY dining table is definitely an impressive DIY! While it isn't exactly a beginners project, it is doable if you follow the free plan on the website and use the correct tools. Plus, it will only set you back about $100, which is pretty darn good.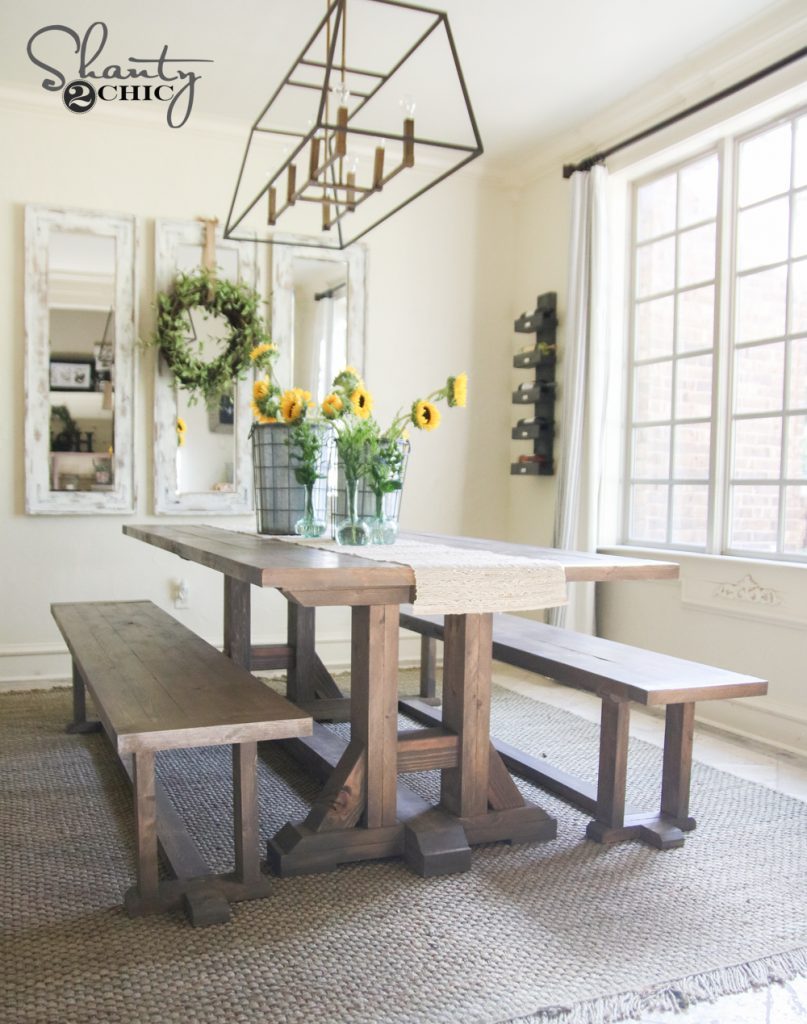 DIY Live Edge Dining Table with Steel Frame
This DIY is brilliant. I never even imagined you could make a DIY table with a steel base. While this tutorial won't teach you how to weld, it did make me imagine the possibilities if I connect with someone locally who can. It could be a game changer!
I love how Lemon Thistle created the live edge with a hand sander! Can you even believe that??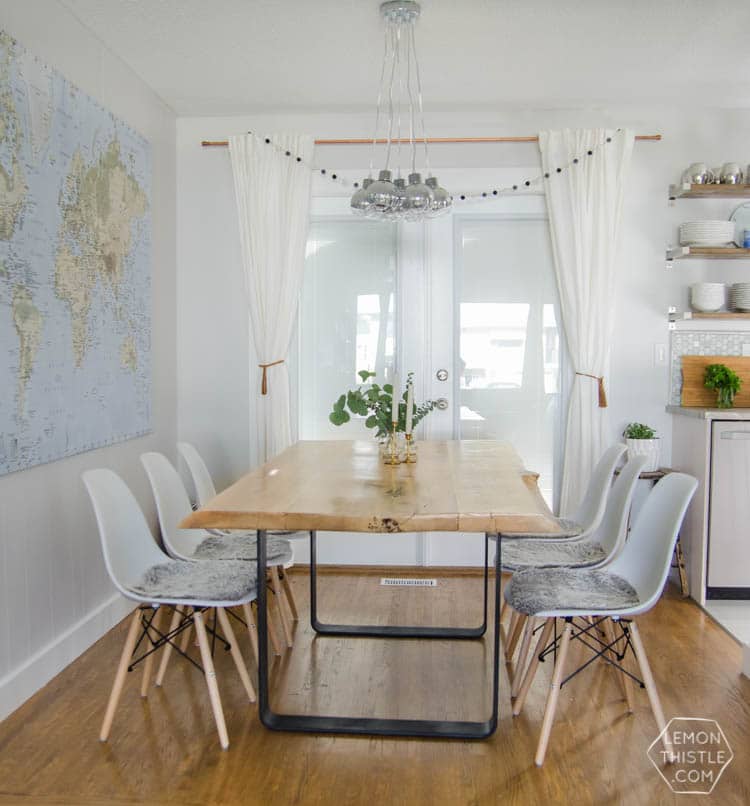 Tips for Building a DIY Dining Table
I thought it might be helpful to finish this post with some helpful tips for how to make sure your dining table project turns out successful. While this isn't the end-all list, these helpful items can help you get the job done faster and with less stress, which is always a great thing.
Make sure your boards are straight. A project can become frustrating quickly if you are working with warped wood. When you are out buying supplies, make sure you dig through the woodpile until you find the straightest boards possible. Not sure how to tell? Simply rest the board on the wood rack while looking down the board length—you should be able to see if it is straight or not.
Measure twice, cut once. Better yet, make that measure four times! Despite the best intentions, it is so easy to cut incorrectly. Trust me when I say that it's much easier to measure yet again then to drive back out to Home Depot at 9 pm on a Saturday. (Ask me how I know! 😉)
Learn how to use a Kreg Jig. Most of the table plans require you to use a Kreg Jig. It's not as complicated as it looks or sounds, but there is a learning curve. If you foresee a DIY dining table build in your life, you might as well pick up one now and start to learn it. And if you want ideas for more projects you can build, check out my 10 Amazing Kreg Jig Projects post here.
Test out your stain. The very, very worst thing would be to finish building a gorgeous DIY farmhouse table and then to put the wrong stain on it. Yikes! Make sure you test out potential stain colors on the same type of wood your table is built from, and in all lighting. My favorite farmhouse-style wood stain is this weathered stain from Old Barn Milk Paint.
Don't forget the sealer. Lastly, don't forget that it's vital your dining table is food safe. Your best bet is to grab a food-safe sealer and go over the stain or paint with several coats. Sealers come in matte, semi-gloss and gloss finish, so you should test these over the stain on scrap wood before choosing.
Are you inspired to build your own DIY dining table now? I still love our DIY farmhouse table so much. It's genuinely one of my favorite DIYs ever.
MORE POSTS YOU WILL LOVE:
Get Instant Access to my Guide to Customize Your Home on a Budget
Grab your FREE guide for 10 Ways to Customize Your Home on a Budget: simple projects to transform your home from builder beige to a home with character and charm!