DIY Peel and Stick Vinyl Floor Tile Stickers
Have you ever wanted to apple peel and stick vinyl floor tile stickers? You're in luck! I'm sharing my tips, tricks, pros and cons with you today!
I'm sharing my honest review about how to apply DIY peel and stick vinyl floor tile stickers and the pros and cons of using it in your home. It is a great solution for a budget-friendly DIY flooring idea: cheaper than replacing the floors and less messy than paint!
Note: If you are looking for how to install more durable vinyl floor tiles, check out this tutorial!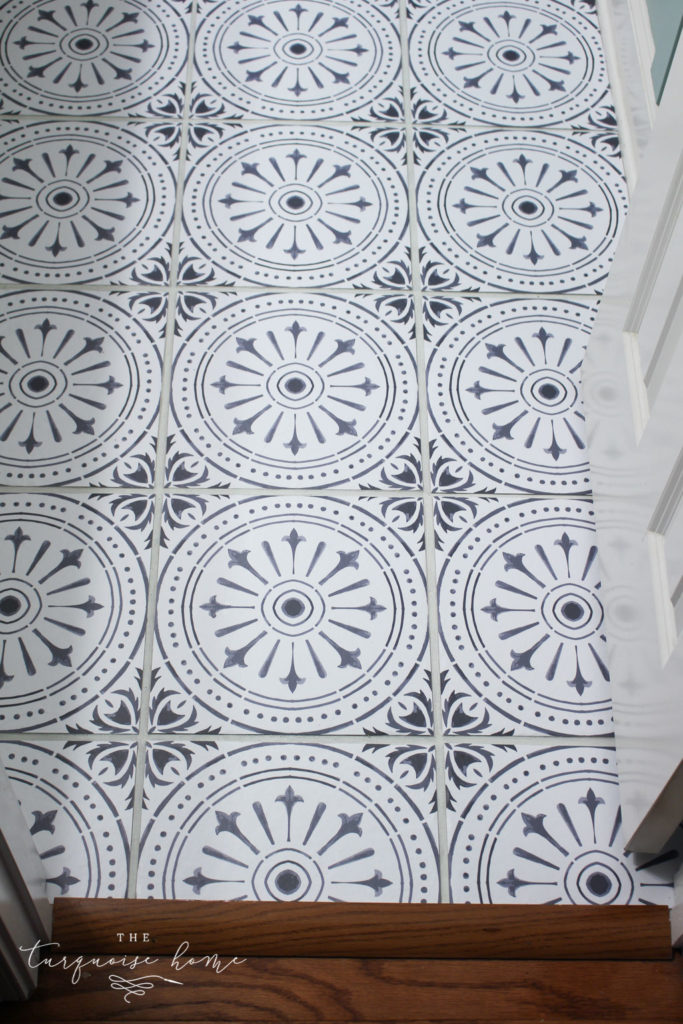 I'm a huge fan of simple DIY projects that don't require any demo or a lot of dust. And this is one of them!
Painting my kitchen cabinets is about as intense of a DIY project I want to do on my house. 😂 Hats off to all of the DIYers who remove cabinets and replace countertops and rip out flooring. But I'm going to need a professional to tackle those jobs at my home. 😜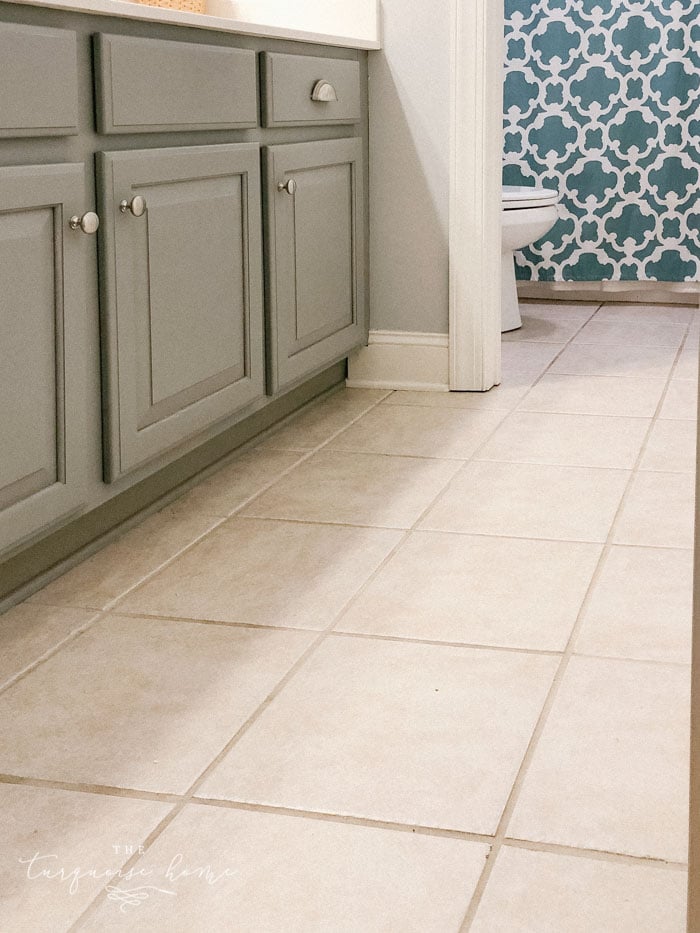 Before the tiles… all the beige floors in the house! I'd already painted these cabinets years ago!
Since we moved into our home with it's beige floors, beige walls and beige cabinets, I've been on a mission to change things up! We have the same exact beige tiles in both of our bathrooms, our laundry room and it's even the tile on our fireplace. Nobody got creative when building this house, that's for sure!
So, while I've been wanting to change them for a long time, fear has held me back. I didn't want to:
Have to demo anything,
Mess them up permanently,
Or, do anything too complicated.
I love the look of the moroccan floor tiles you can see everywhere today. And I was planning on stenciling them before I discovered the peel and stick tile option.
But the stick on decals sounded so much easier. Keep reading to see if I would use them on my tiles again. 😉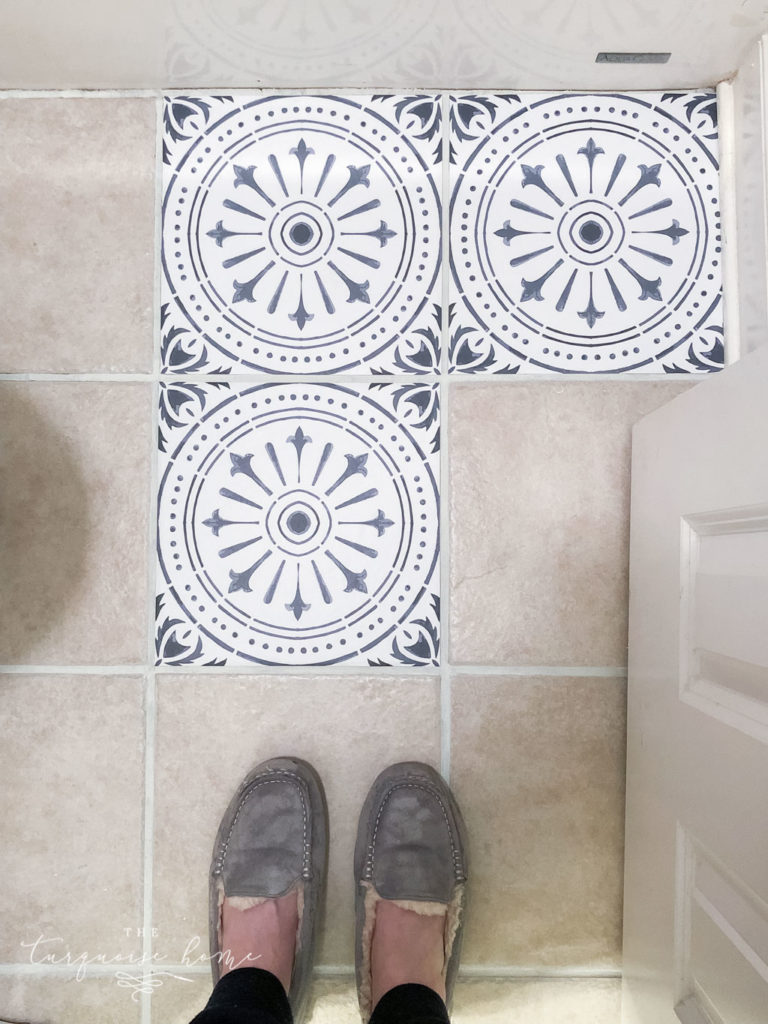 I decided to use them in my girls' bathroom refresh first to get my feet wet. It's a small space and it's for our guests as well, so I wanted to do something fun in there that everyone would see and enjoy.
It took me a little bit to decide on the style I wanted because there are just so many great options out there. I outlined my favorites in this post with 25 options for varying styles of peel and stick vinyl tile flooring. And I finally narrowed it down to this naples tile sticker (click here).
Prep Work
Before you order your tiles, you will need to:
Calculate how many custom floor decals (stickers) you will need. I added 3-4 extra tile decals to my count just in case I messed some up.**
Measure your tiles inside the grout lines. Do not include the grout lines in your measurements. Order the tiles 1/8 of an inch less than the size of your tiles! The Etsy shop I ordered from can make your tiles the exact size you need at no extra charge (at the time of this posting).
Keep reading to find out my exact experience, but in my opinion, you will want to make sure your surface is level before you use vinyl stickers. My existing tiles were beveled on the edge, which caused me some grief, as I share below.
** Be careful to read all of the instructions given to you by the store you buy from in case there are additional prep items.
Supplies You Will Need to Apply Peel and Stick Vinyl Tile
Tile Floor Stickers – I gathered up my favorites in this post (click here), which will give you an idea of all the different options you have! You can use them on most any surface (like a kitchen backsplash, too), but be sure if you plan to use them in a wet area that they are safe for bathrooms, kitchens, laundry rooms, etc. I used this tile sticker (click here).
Cleaning spray & cloth – I used my Thieves cleaner from Young Living, but any kind of Krud Kutter or other degreaser works, too!
Scissors
Paper Cutter, optional
Pencil
Wallpaper smoother tool, optional
Steps to Apply Peel and Stick Vinyl Tile Floor Stickers
1. Over paint the grout lines with floor paint or grout paint.
I painted my grout lines exactly as they were, but as you'll read down below, I should have ordered smaller tiles. And so I would have needed to paint further on to the top of the tiles. Don't make my same mistake!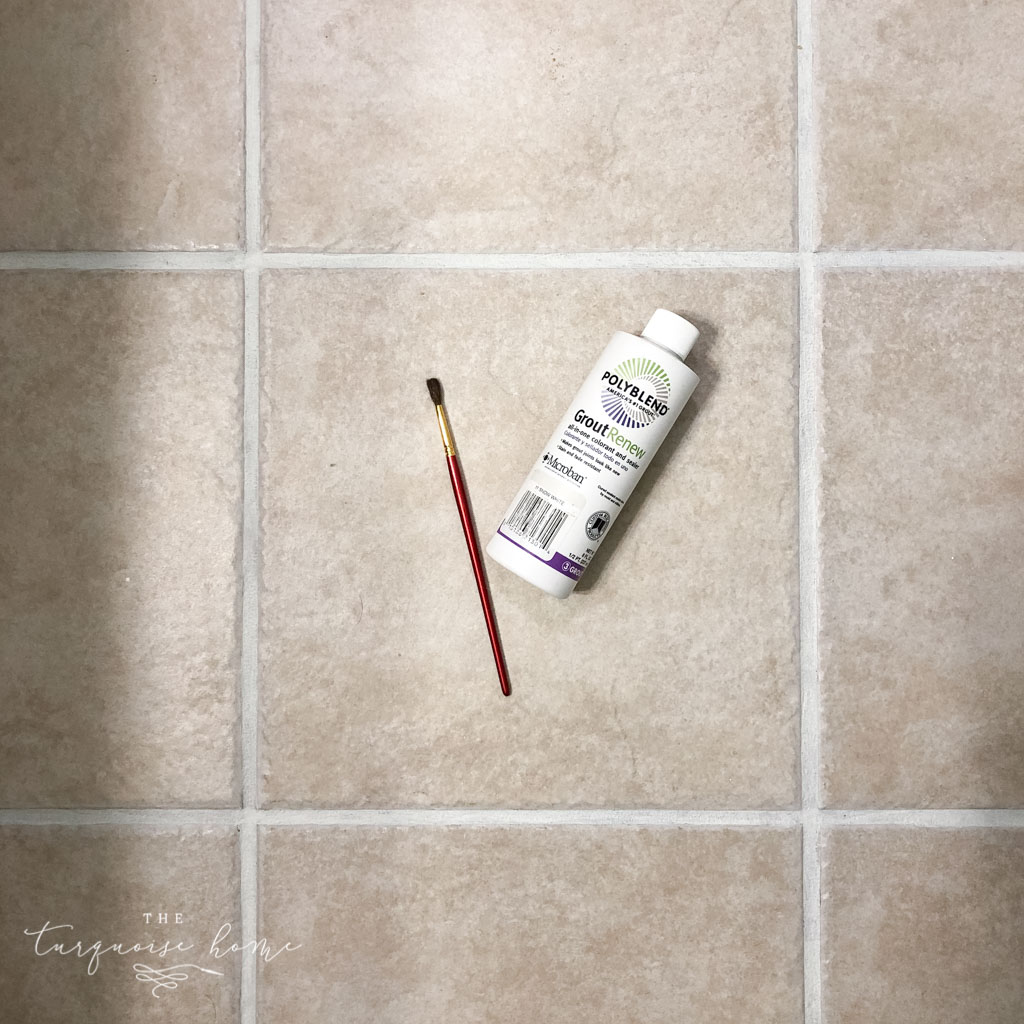 2. Clean your existing tiles really well.
I clean the whole floors first, and then I vacuumed each tile with my stick vacuum and wiped it down with my cleaner before each tile I placed down. Allow the cleaner to dry before applying the stickers.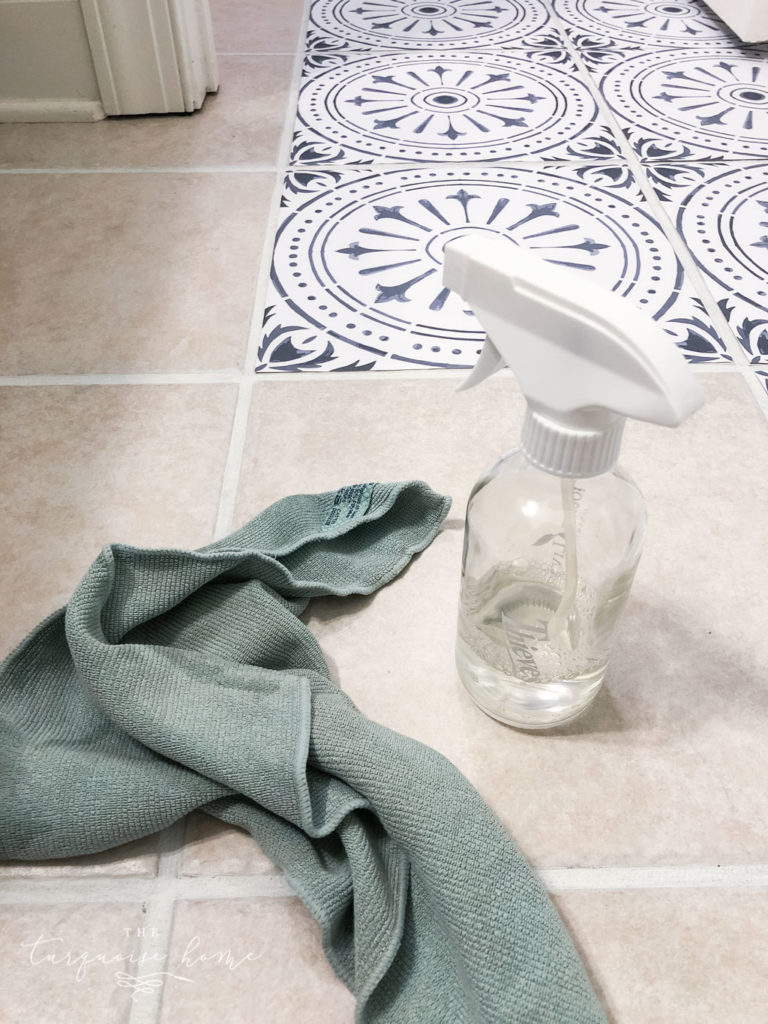 3. Peel back a small strip of the backing and then place the sticker down in place.
I found that if you mess up, you could quickly pull it off and reapply. Once the strip is stuck down, peel off the rest of the backing and smooth it down. Work out any bubbles that might have gotten trapped underneath.


4. Use a wallpaper smoothing tool to go over each tile to press the bubbles out.
Sometimes, I used my hand or the side of my paper cutter to go over the tiles, too. They stuck pretty well.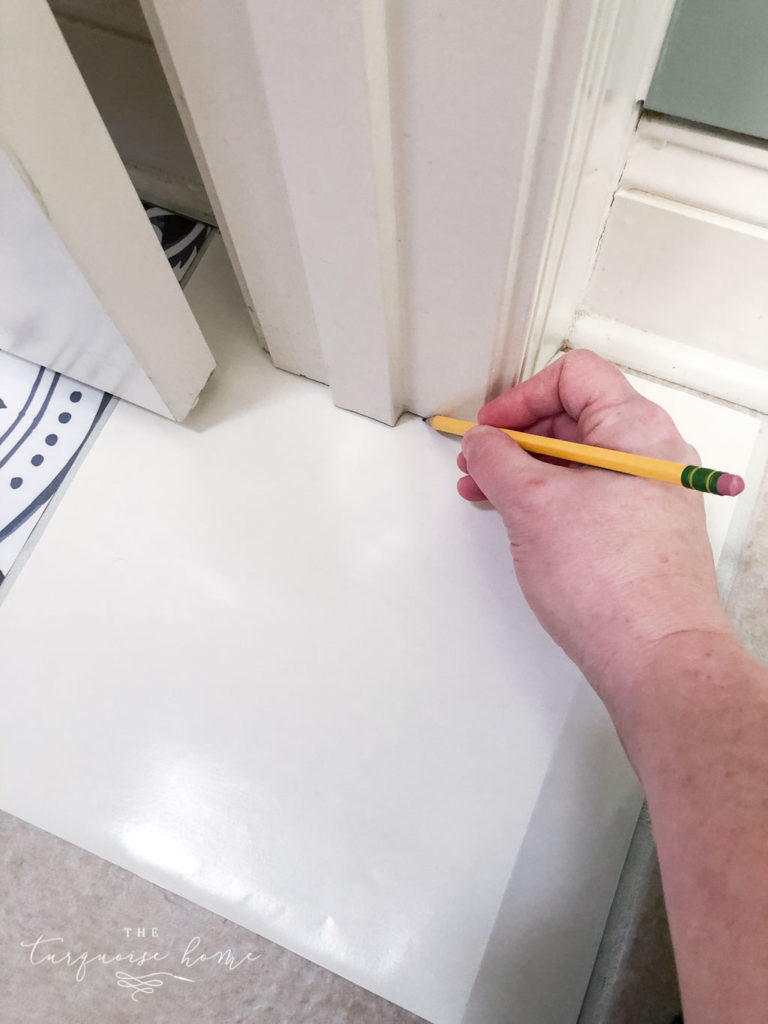 5. Trace out unusual angles or corners or around trim pieces with the back of a used tile sticker.
I would use the paper backing of an old sticker and trace out where I needed to cut. And then just cut the decal with my scissors. If the trim didn't touch the floor, I left about 1/8th of an inch inside the cut line so that the sticker would fit under the trim piece.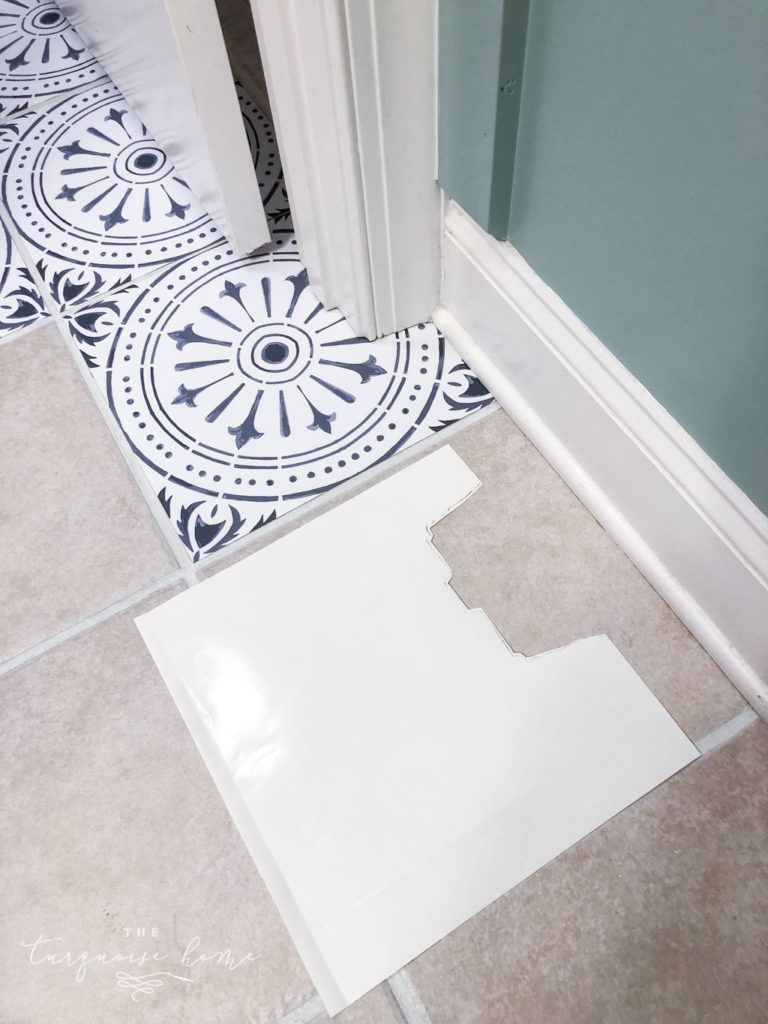 That's all! It's a super simple process and easy DIY for a big impact!
Pros and Cons of using Peel and Stick Floor Tile Stickers
Pros:
The tile sticker itself is great! It's thick and durable.
It's easy to install if you use my instructions above.
The Etsy shop I ordered from was fantastic.
Cons:
My issues happened when I realized that my tile on my floors were slightly beveled on the edges. The vinyl tiles aren't meant to wrap around the tiles, so the edges wanted to pop up a bit. My ceramic tiles are also a little bit textured, which was fine on the flat part, but made it difficult for the vinyl tile to grab the beveled edges.
After I put down the first row, I realized that the edges were going to come up too easily and that I didn't think it was going to work. So, I found that if I trimmed off 1/8 of an inch from two perpendicular sides (keeping the tile square, just a 1/4 inch smaller), then my vinyl tiles would cover most of the ceramic tile and wouldn't have to bend as much on the edges.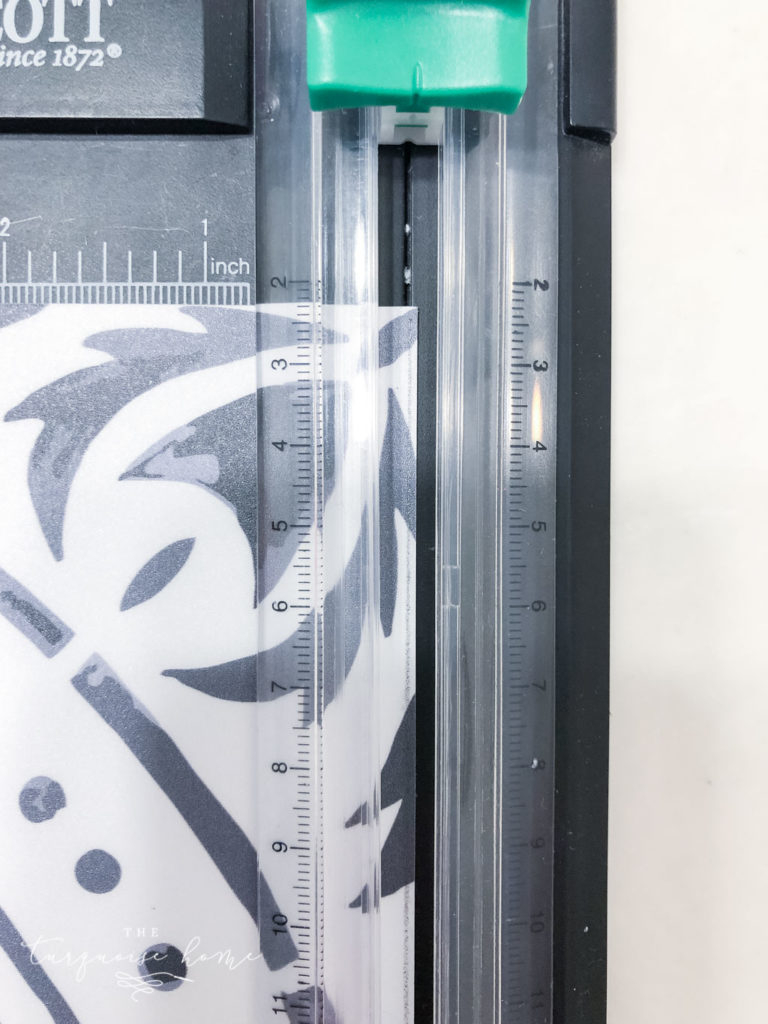 See what I mean?? If my tiles were completely flat, this wouldn't have been as issue.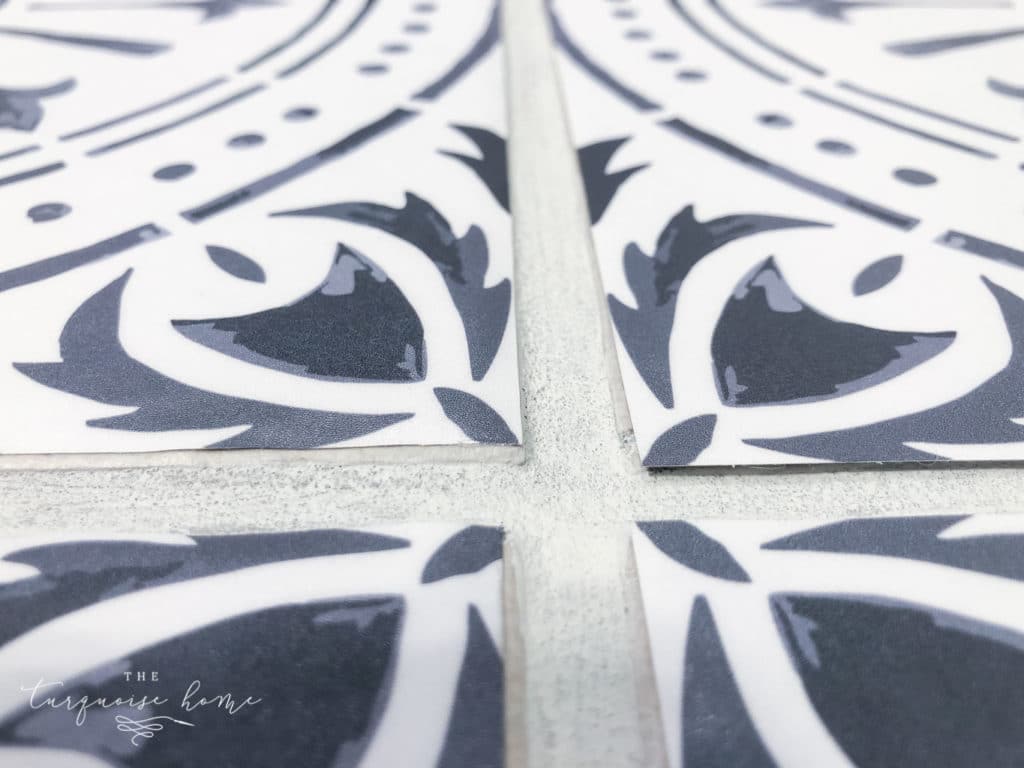 My advice would be to order slightly smaller sized tile stickers if your tiles are beveled, and over-paint the grout lines.
And honestly it may not even be an issue. I haven't had them coming up at all, but my fear is that someone or something is going to catch a corner of a tile and it's going to just peel off.
Only time will tell – and I WILL do a follow up in probably a year to see how they've held up.
But in the meantime, I'm just waiting for one of my kids to come yelling that they've lifted one off the tile. Maybe I'm just paranoid? We'll see. Like I said, so far, so good.
Update: I did end up removing the bathroom floor tile stickers when the toilet overflowed right before we put the house on the market in 2019. It was a year and a half after I put them in. So, for the price, I was happy with how much use we got out of them!
You DO want to wait 24 hours after laying the vinyl tile before using it and 72 hours before you get it wet. So, there is some curing time for the adhesive. Hopefully it will all stay put. #fingerscrossed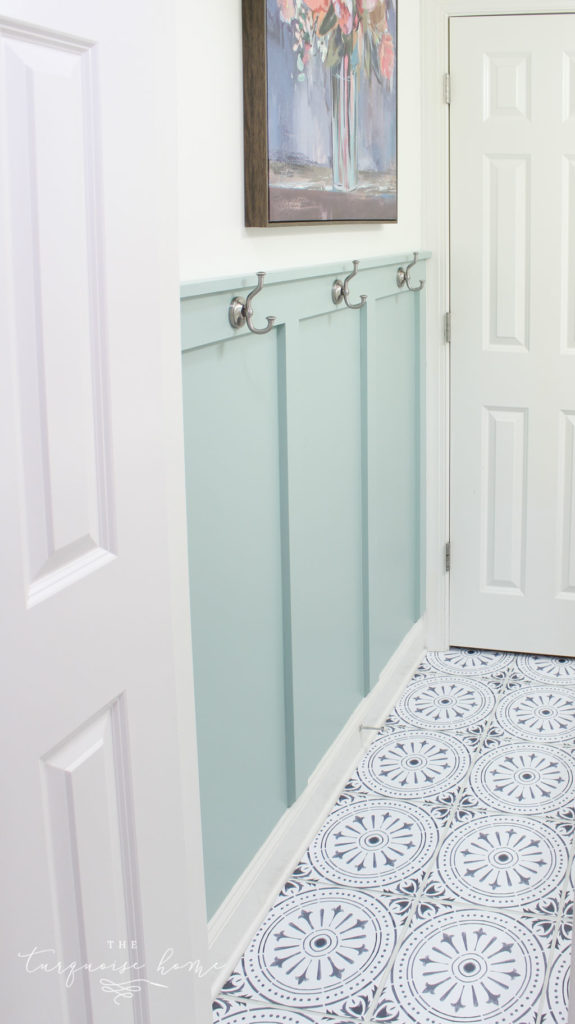 What I would do it differently if I had to do it over again…
Since my tiles were beveled on the edge …
I would have over painted the grout lines.
I would have ordered the vinyl tiles to be 1/8 of an inch smaller than my floor tile.
Or, I would have leveled the floor by filling in the grout lines with thin-set mortar or leveling compound and getting the grout lines printed on the vinyl tiles.
Or, I would have just gone with the stencil, because then it wouldn't matter if it was beveled or not! 🤪
Final thoughts …
I think the peel and stick vinyl tiles are fabulous! I would 100% use them again in my home. But I think they would be best suited for covering a flat surface, either linoleum, flat tiles, wood or a floor that has been leveled. Or you could use them on a vertical space that doesn't have to deal with traffic!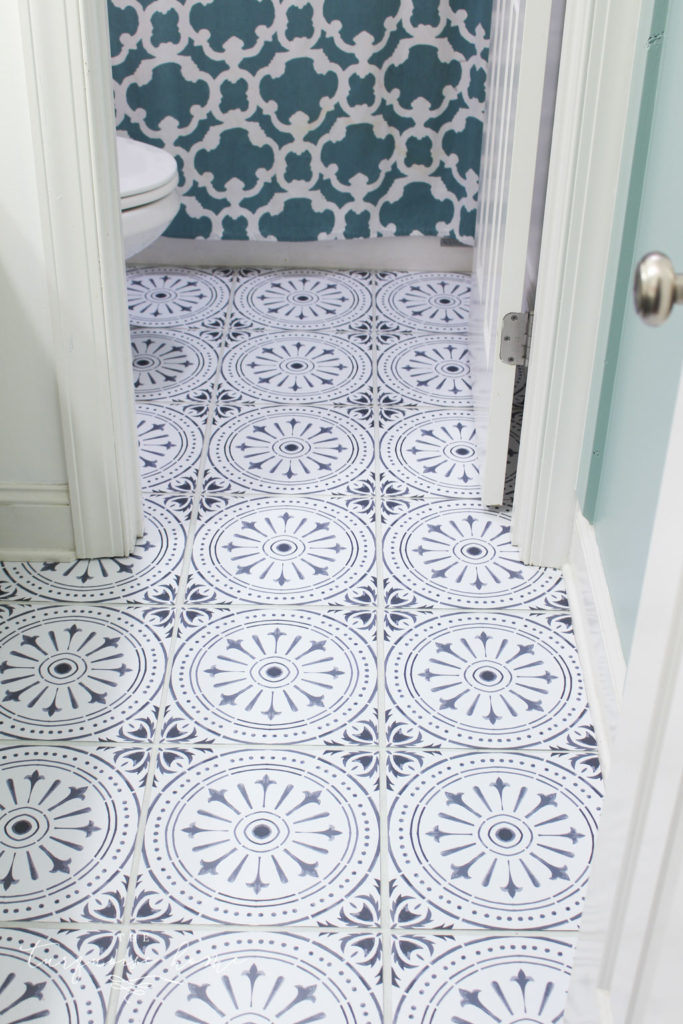 They ARE so pretty – aren't they?!
I hope this helps you make your decision about peel & stick vinyl tiles. I kept telling myself that if it didn't work, then it was a small price to pay for trying something new! It wasn't going to break me if they didn't work out. 😊
Frequently Asked Questions about Vinyl Tile Stickers
1. How do Vinyl Floor Tile Stickers Hold Up Over Time?
I think they can hold up for years in a non-high traffic area of your home. I wouldn't use them on the floor of an entry way or laundry room that gets a lot of traffic! With too much traffic, you will find that the corners will roll up. I'd use a stencil instead!
2. Are Vinyl Tile Stickers Waterproof?
Yes, and no! If you pour water on top of the tiles, they are very waterproof. But water can get under the edges if the floors get soaked. And depending on what type of water gets on them will determine whether you'll want to leave them in place or not.
So, when we had our toilet overflow in the girl's bathroom. I also knew we'd be putting it on the market soon, so I removed all of the vinyl tiles.
3. Are Vinyl Floor Tile Stickers Worth It?
This is always hard to decide for someone else and someone else' budget. But overall I think they are a fun, inexpensive way to update a small space. If it's a room that doesn't get much traffic and isn't prone to water standing on the floors, I would do it again in a heartbeat!


Have you used peel and stick tile stickers in your home? Or do you want to use them in your home?? Leave your thoughts and experience, tips and tricks in the comments below!
Want to See More of the Bathroom Plans & Projects?
The Girls' Bathroom Refresh Mood Board
How to Patch a Hole in Drywall
The Best Peel & Stick Vinyl Tiles
Girls' Bathroom Makeover Progress
DIY Board and Batten in the Girls' Bathroom
How to Make Grout White Again
MORE POSTS YOU WILL LOVE: