Traditional Dining Room Reveal
Turn a basic dining room into a beautiful traditional dining room with classic details and pattern play with fabric and wallpaper choices. Get the scoop on lighting, wallpaper, decor and more in this lovely dining room makeover photo tour.
This dining room has taken a very different style turn than the dining room in my last home. We went from farmhouse style to a traditional style. And it has been so fun to learn how to decorate with a whole new style!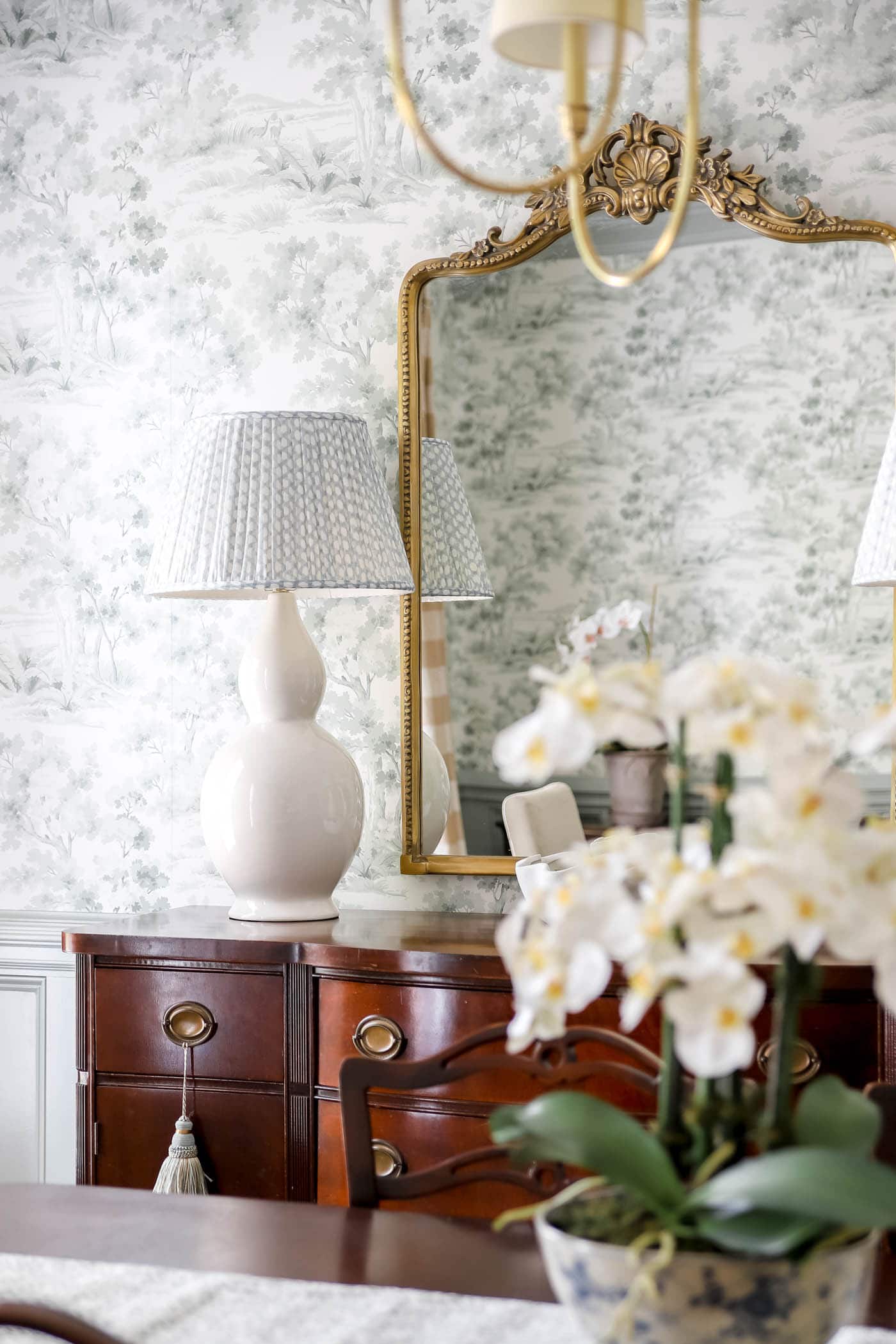 The process all started when I realized the farmhouse furniture I had built and brought with me from my former home was 1) too big for this new space and 2) not the right style for my home.
I initially had the walls painted Kendall Charcoal above the wainscoting, while I made a plan for decorating the room.
As I was selling my farmhouse table and media console, I was given the generous gift of my grandmother's dining room furniture set. Not only is it the perfect size for my room, it fits the more classic style of my home.
So, I set out to make the room coordinate with the furniture!
The Design Plan
Before I start any room makeover, I create a design plan to help me see how all of the pieces will work together. Seeing it all together "in the room" is the primary goal of the design plan. You can find the full dining room design plan here.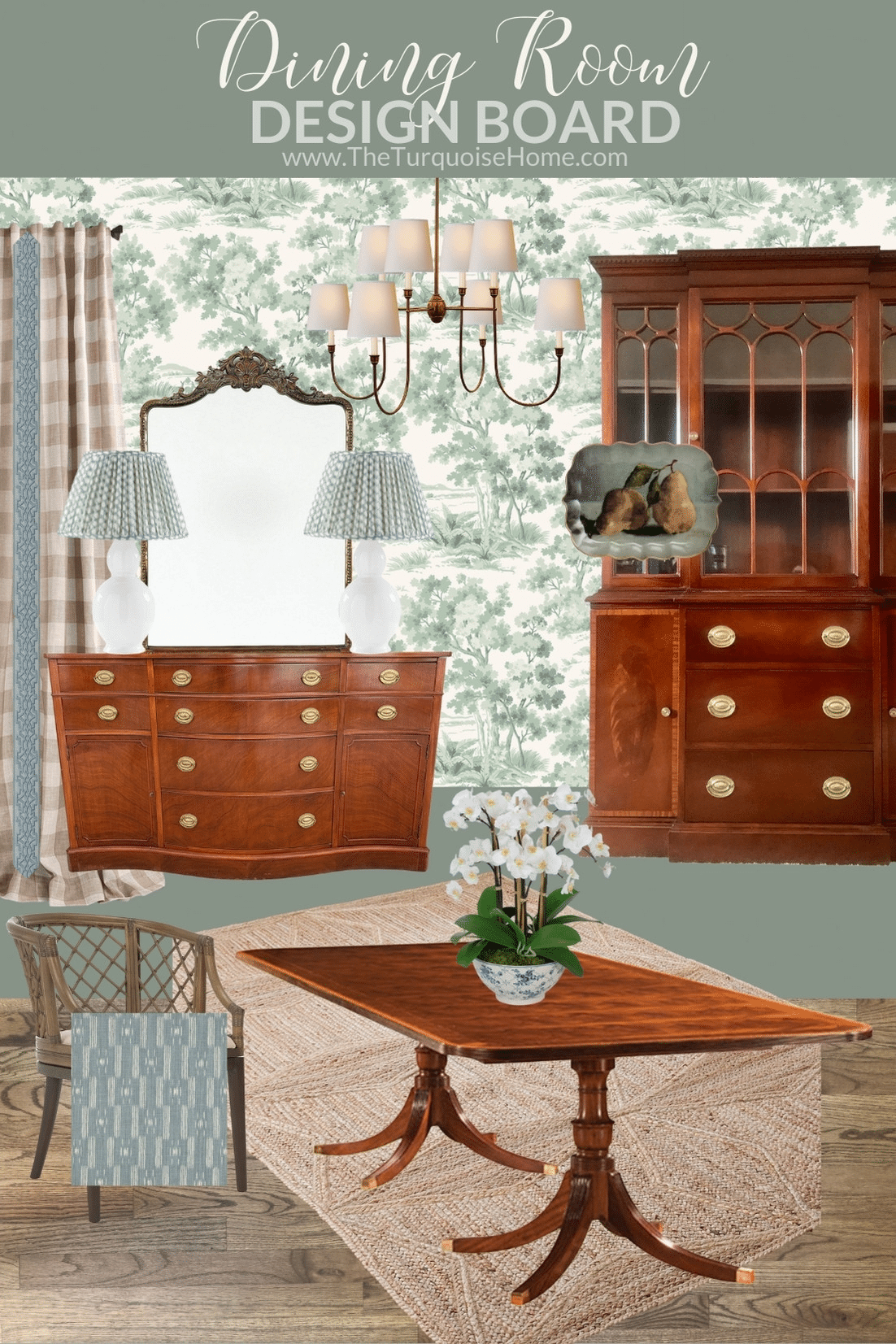 I made numerous tweaks along the way. And I hired an interior designer (Sydney Collins Interiors) to help me select a few of the details, like the trim tape, chair fabric, rug and lamp shades. She also helped it coordinate with some adjacent rooms.
The second purpose of the design plan is to keep me focused, on track and able to envision the end result. I inevitably feel lost in the middle of every project and start to doubt myself. But with the plan before me, it helps me to stay the course and trust the process.
You can learn more about how I create this design plan in my post: How to Make a Mood Board (in 3 Easy Steps!).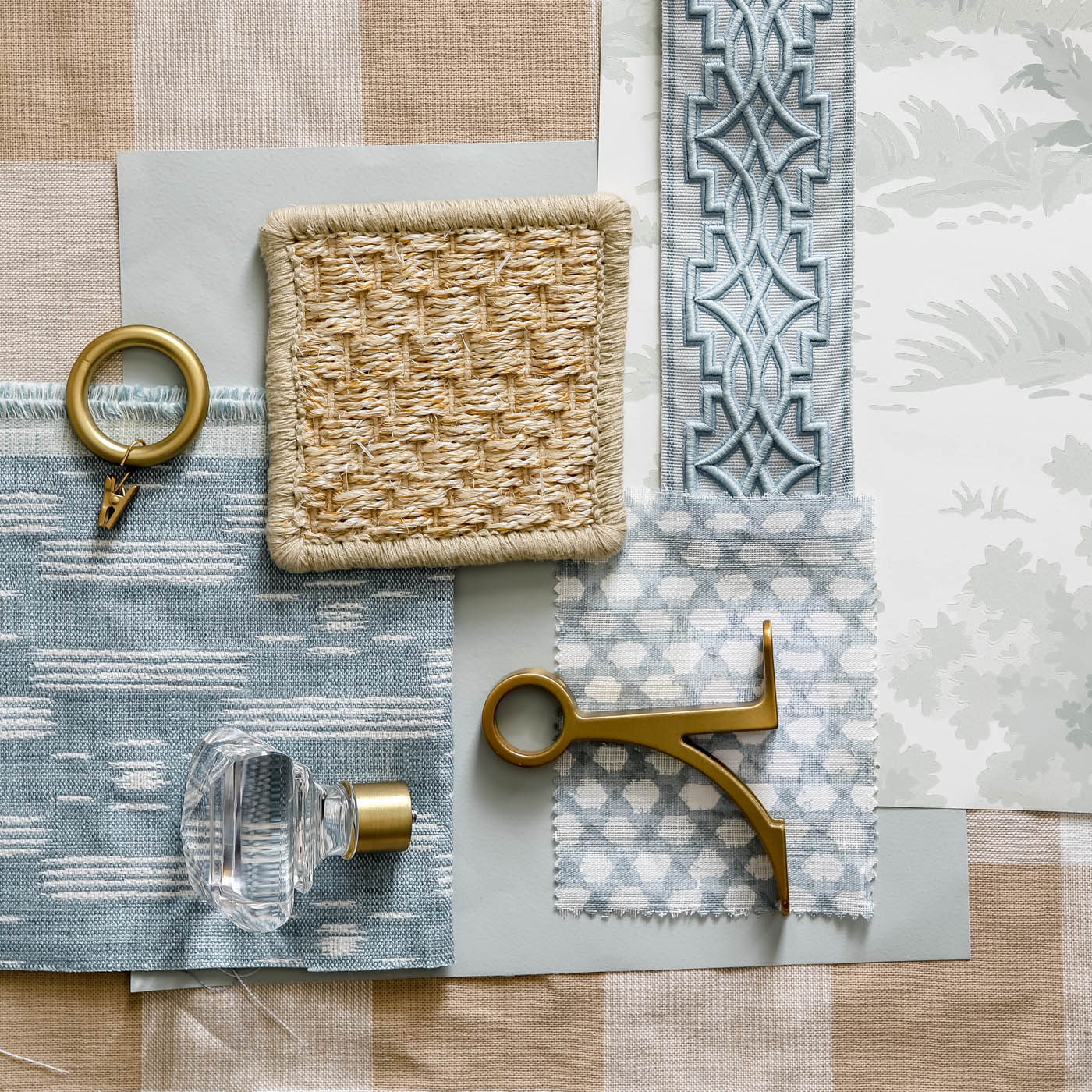 Dining Room Sources: Buffalo Check Curtains | Countryside Morning Wallpaper | Brass Curtain Rod (I prefer the old style, so I bought it on Ebay.) | Brass Curtain Ring Clips | Square Glass Curtain Finial | Dori Sisal Rug | Mirielle Embroidered Trim Tape in Porcelain | Jane Churchill fabric Marla in Teal | Paint Color: Oyster Bay (SW) | Linen Lamp Shade Fabric in Light Blue
Traditional Dining Room Tour
This dining room is on main floor of our home, just to the left as you enter the front door. So, I wanted it to be a showstopper in terms of it's own style and vibe.
It's a beautiful room with layered board and batten on the bottom third of the wall and detailed crown moulding. There are two windows on the southeast wall of the room and two doors leading to the entry way and butler's pantry.
My vision included incorporating several beautiful patterns and focusing on a blue and green color scheme.
If you love this style, check out my blog post on Grandmillennial Style.
Dining Room Before
Let's take a look at the original photos of the dining room from when we moved in. This pistachio green color is actually making a comeback in home decor, but it's not my taste.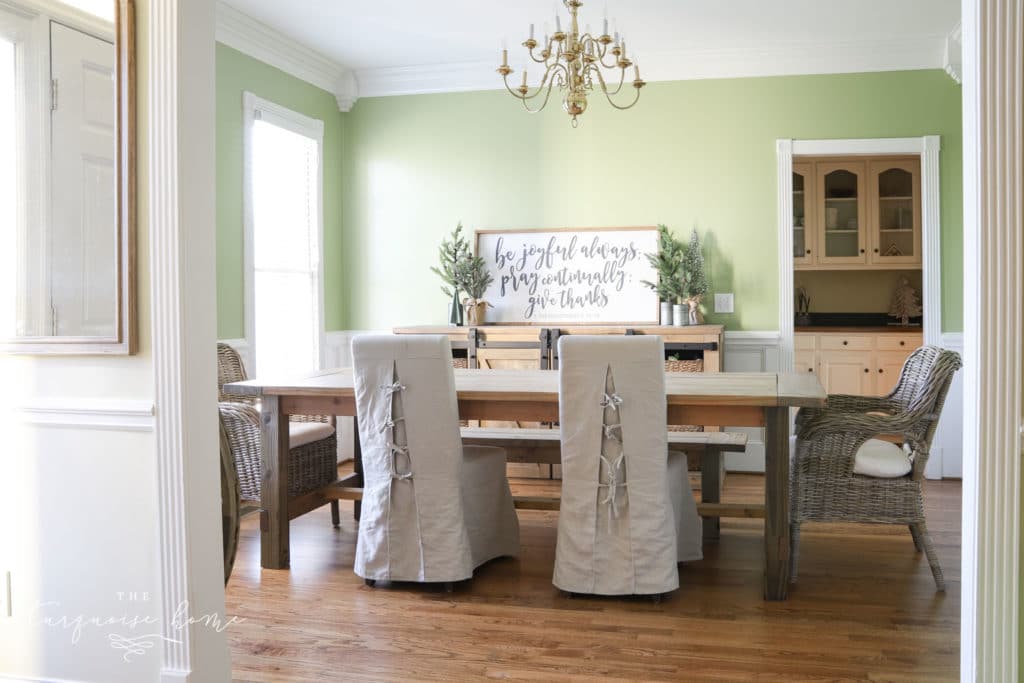 I initially painted the top two-thirds of the room in Kendall Charcoal to coordinate with my existing furniture and called it good-for-now.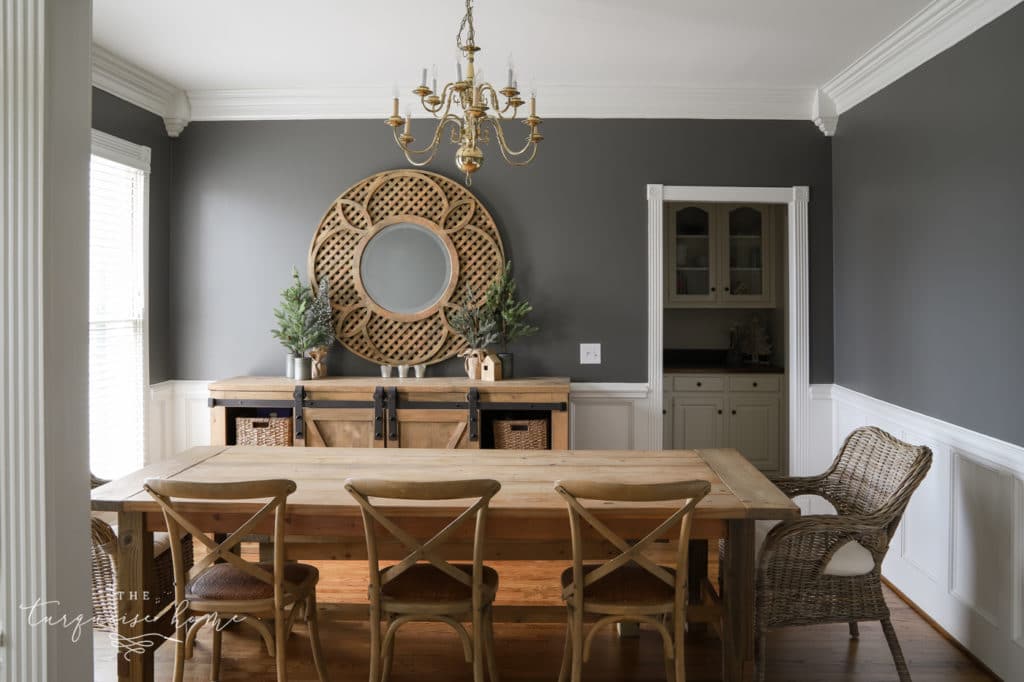 When I received my grandmother's antique dining furniture, I wanted to create a room that highlighted the beautiful dark wood. And here's how it looks now!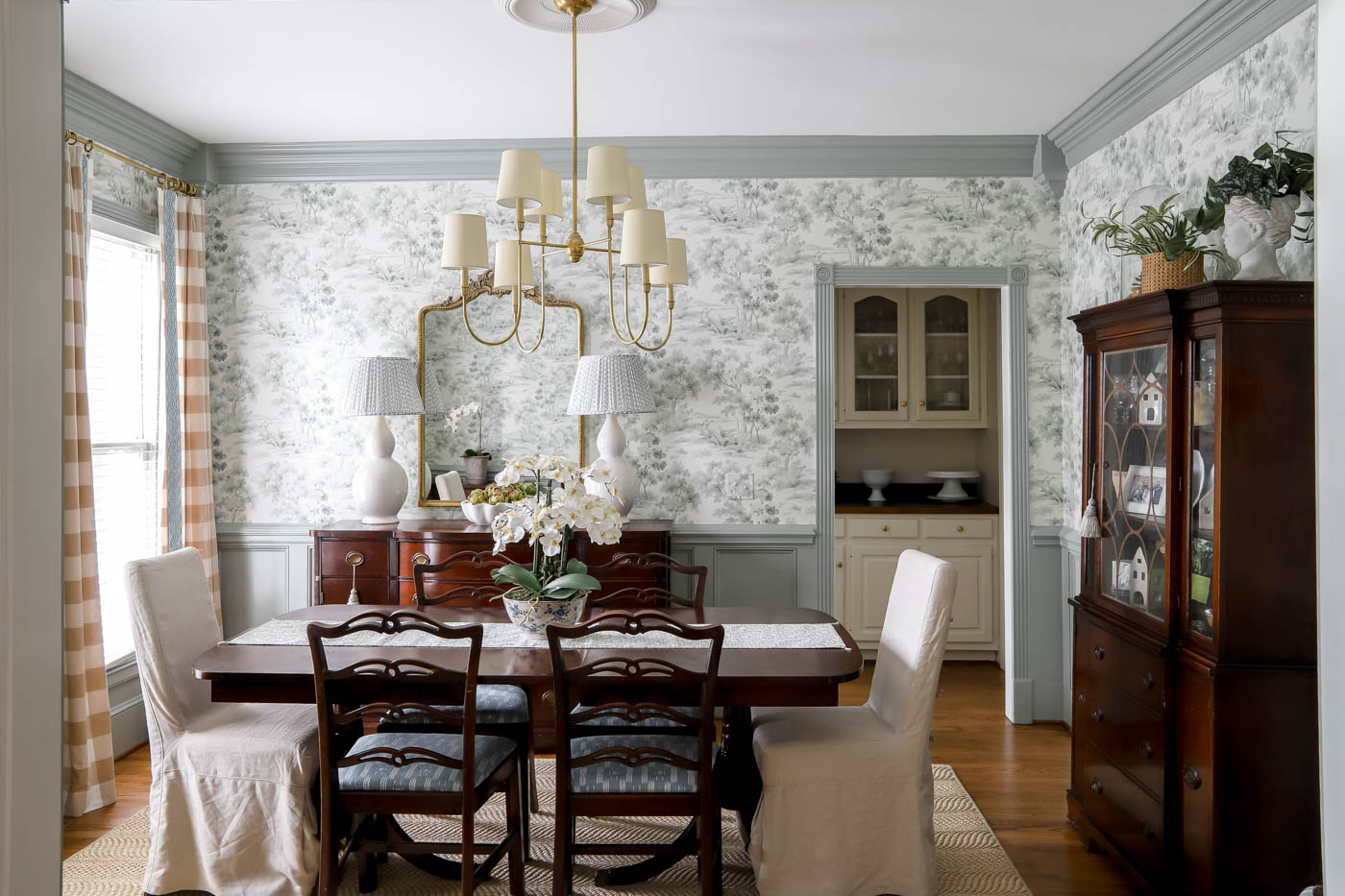 Dining Room Paint Color
I had original planned to paint the trim and moulding in Carolina Gull by Benjamin Moore. But in the end I went a little bit lighter with Oyster Bay from Sherwin Williams.
I wanted a light-medium green color in order to make a greater contrast between the walls and the furniture. But Oyster Bay left less contrast between the blues and greens, so it's possible I'll re-paint it darker in the future.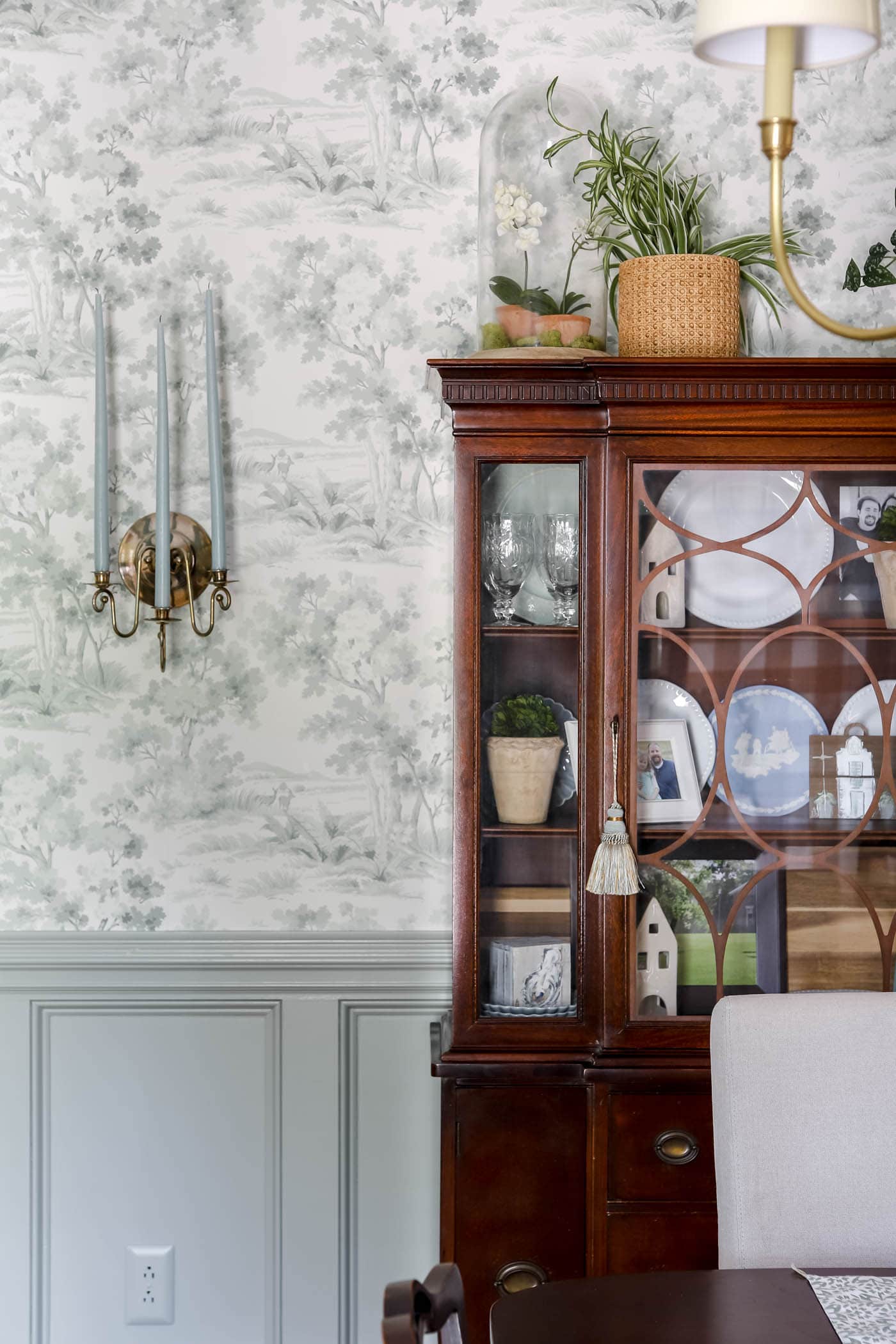 It was incredible how the green walls and wallpaper made the furniture appear less red. I know green is opposite red on the color wheel, so that is supposed to happen. But it was really noticeable when half the room was still gray and the other half green.
I really love Oyster Bay, though, and it coordinates really well with Comfort Gray in the kitchen. I'll use Comfort Gray again in the laundry room, so they will flow nicely from one room to the other.
This post contains affiliate links for your convenience. See my full disclosure policy.
Originally I had chosen a floral tree wallpaper that is really popular right now. Truthfully the popularity of that paper and more modern feel turned me away from the original wallpaper we had selected.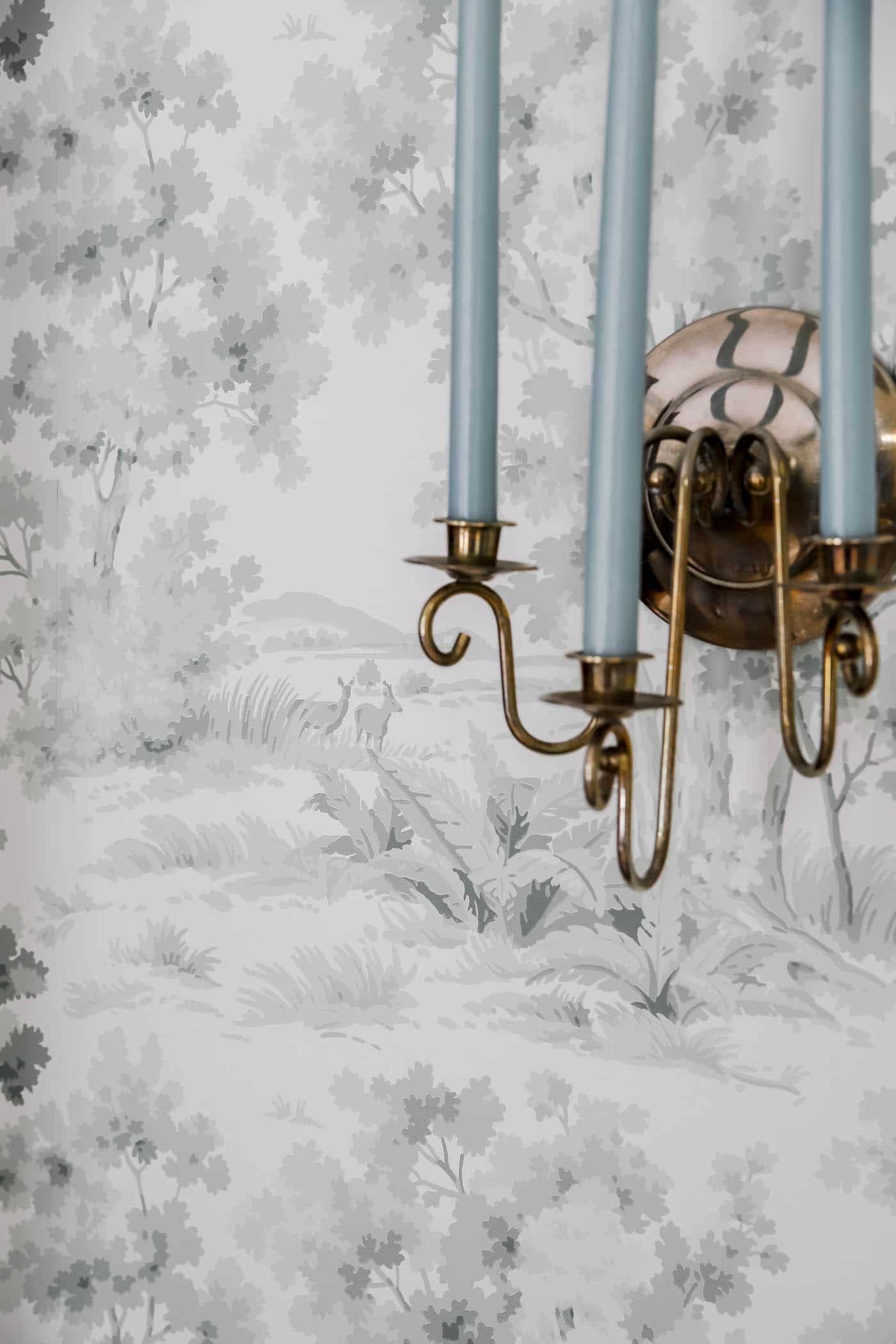 So, when I went back to Sydney to get some other ideas, she suggested this green toile wallpaper. It worked perfectly with the Oyster Bay paint color, and it is absolutely beautiful!
I love that is it a traditional style and depicts a forest scene with sweet little deer and a cute bird. It feels very reminiscent of our back yard.
Learn How to Install Paste-the-Wall Wallpaper.
The mirror was one of the first purchases I made for this room. I knew it was perfect the moment I saw it. At more than 3 feet tall and 2 feet wide, it really makes a statement and bounces light all over the room.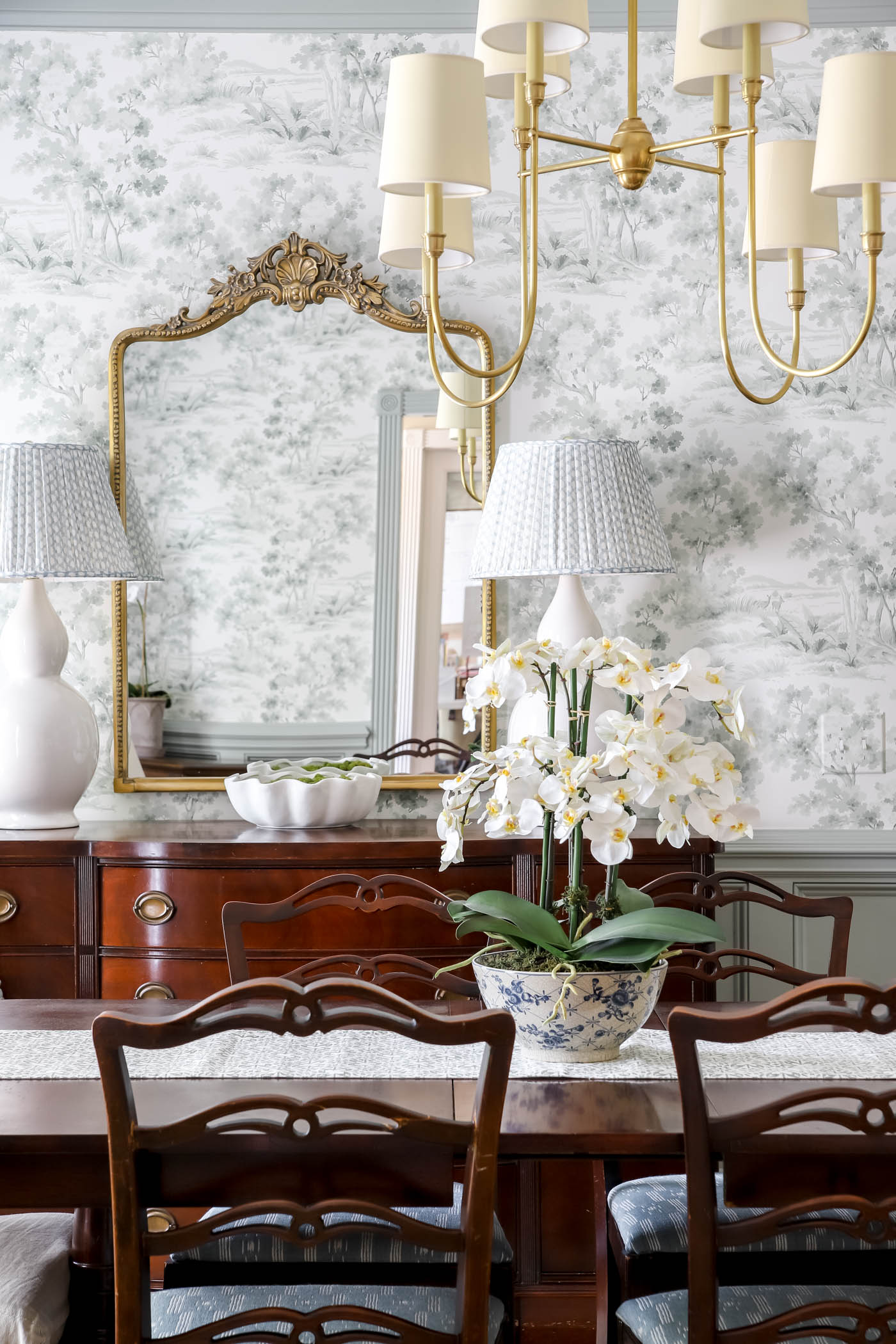 The frame of the mirror is actually metal and very heavy and sturdy! I love it so much.
Dining Room Drapes with Trim Tape
The taupe buffalo check curtains were selected to balance out the floral wallpaper. It's a classic geometric pattern that also calls to the plaid painted wall that can be seen across the entry way in the office.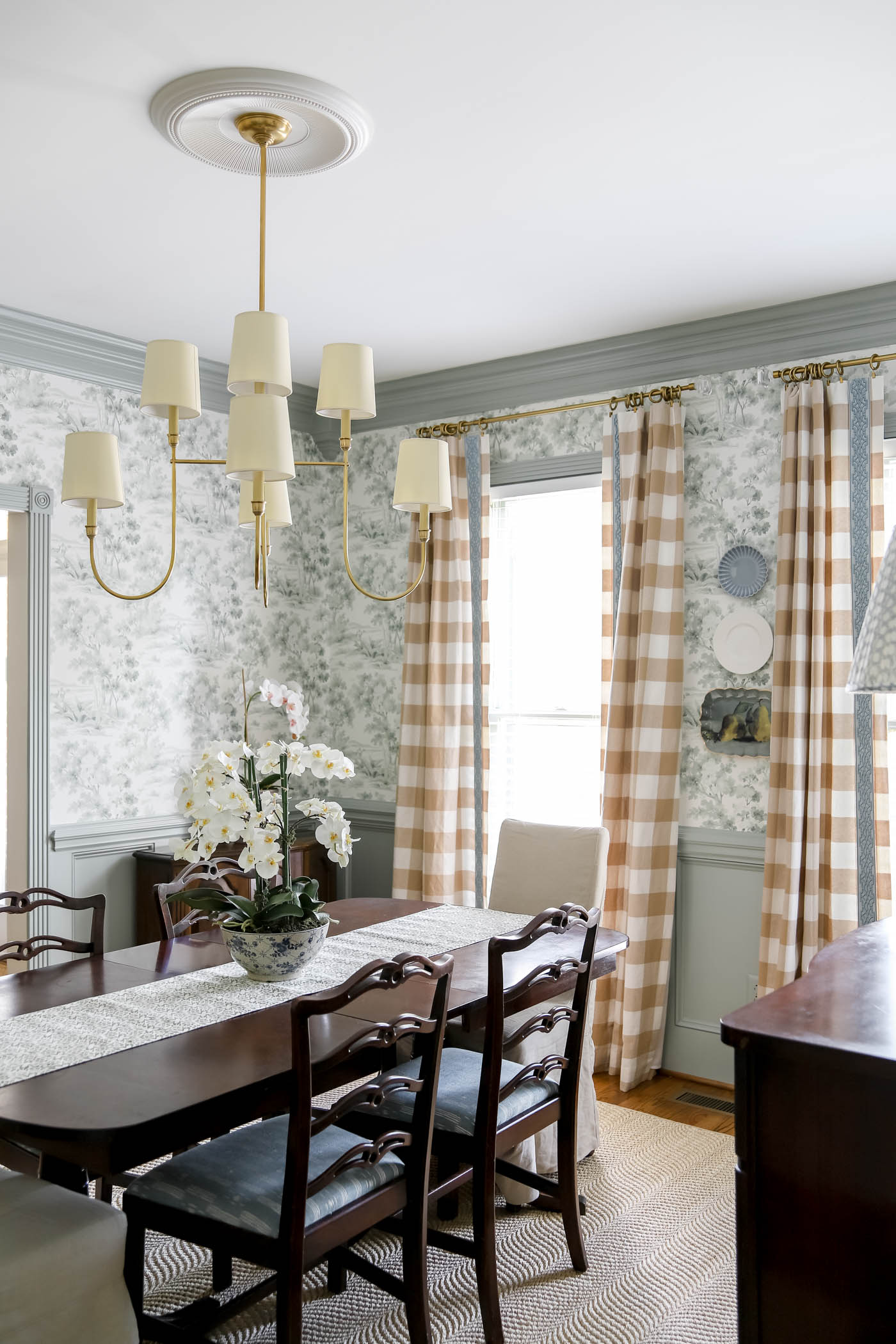 I added a blue trim tape to the curtains to make them more custom and to bring in a pop of blue to that side of the room.
Recovered Seat Cushions with Blue Geometric Fabric
The dining chairs were originally covered with maroon needlepoint floral covers. They were made by hand by someone in my family, so I originally planned to have some seat covers made to go over the cushions.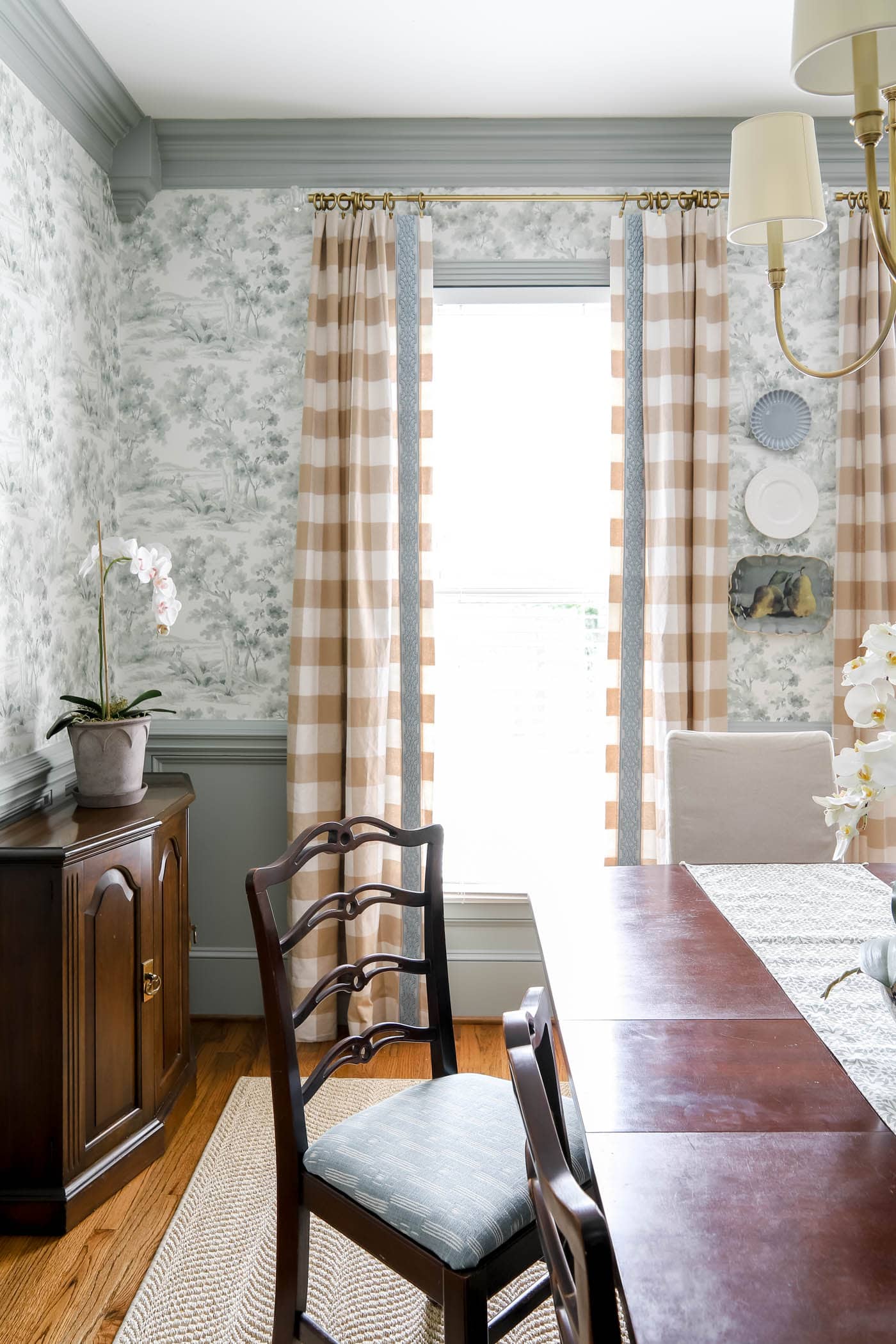 I pulled in a fabric with a smaller geometric pattern in blue for the seat covers.
But then I decided the 80-year-old seat cushions probably needed to be replaced. So, I did my first ever reupholstering project and shared: How to Reupholster Dining Chair Covers.
Dining Room Lamps and Lamp Shades
The blue and cream pleated fabric lamp shades are one of the biggest splurges in this room. I tried to find something comparable that cost less, but either I couldn't find something in stock or the right color. These handmade shades are perfection, so I saved up my money for a few months so I could order them.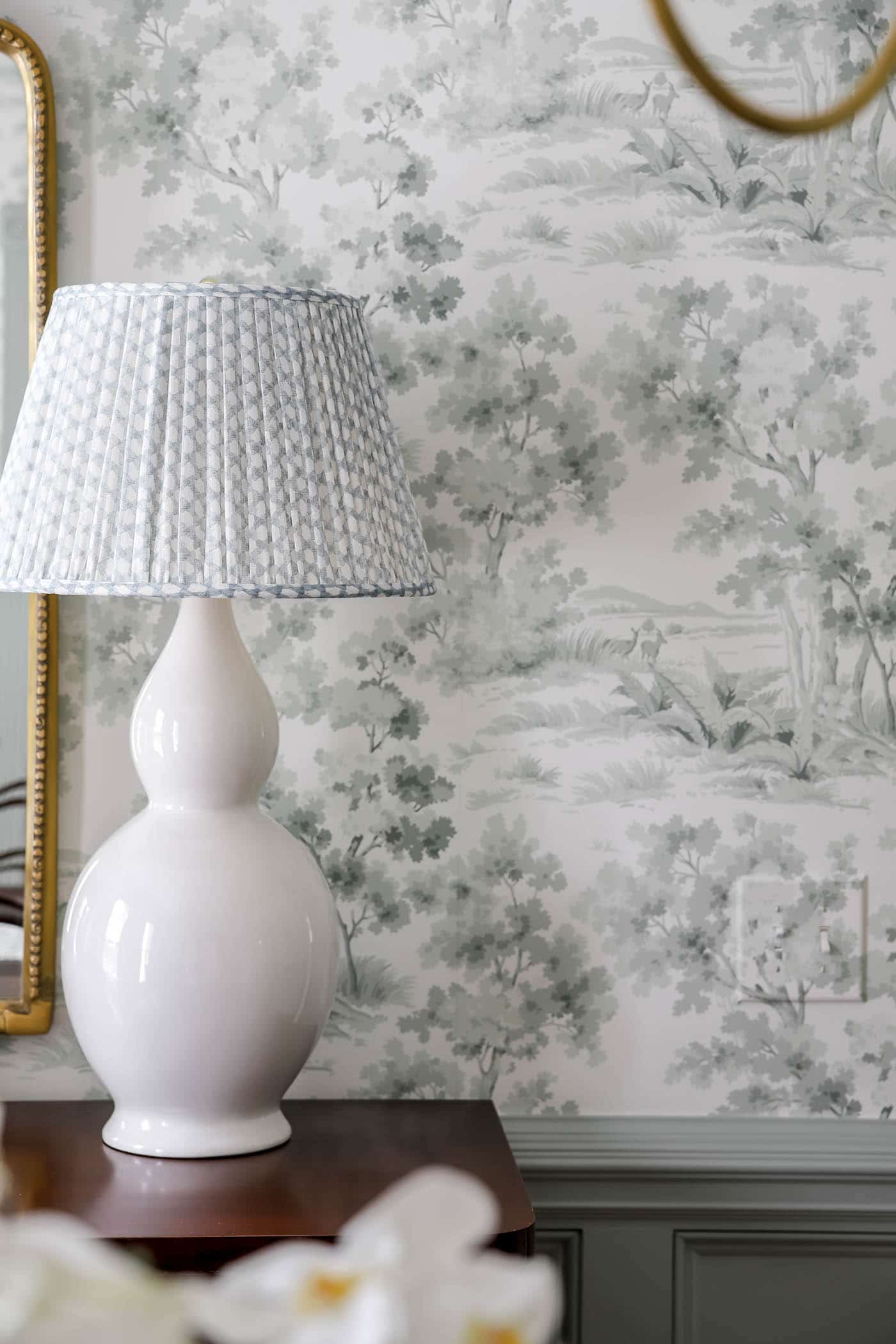 The double gourd lamps are also gorgeous and more than I would normally spend on a lamp. But again, sometimes a less expensive option isn't quite right.
I tried these double gourd lamps first to see if they would work. I liked them, but they weren't the right color. (One is now in my office and I LOVE it there!)
Initially, I worried that the white lamp base would be too stark, but it's a beautiful white that coordinates beautifully with the wallpaper background. I know I will treasure these lamps and lamp shades for life.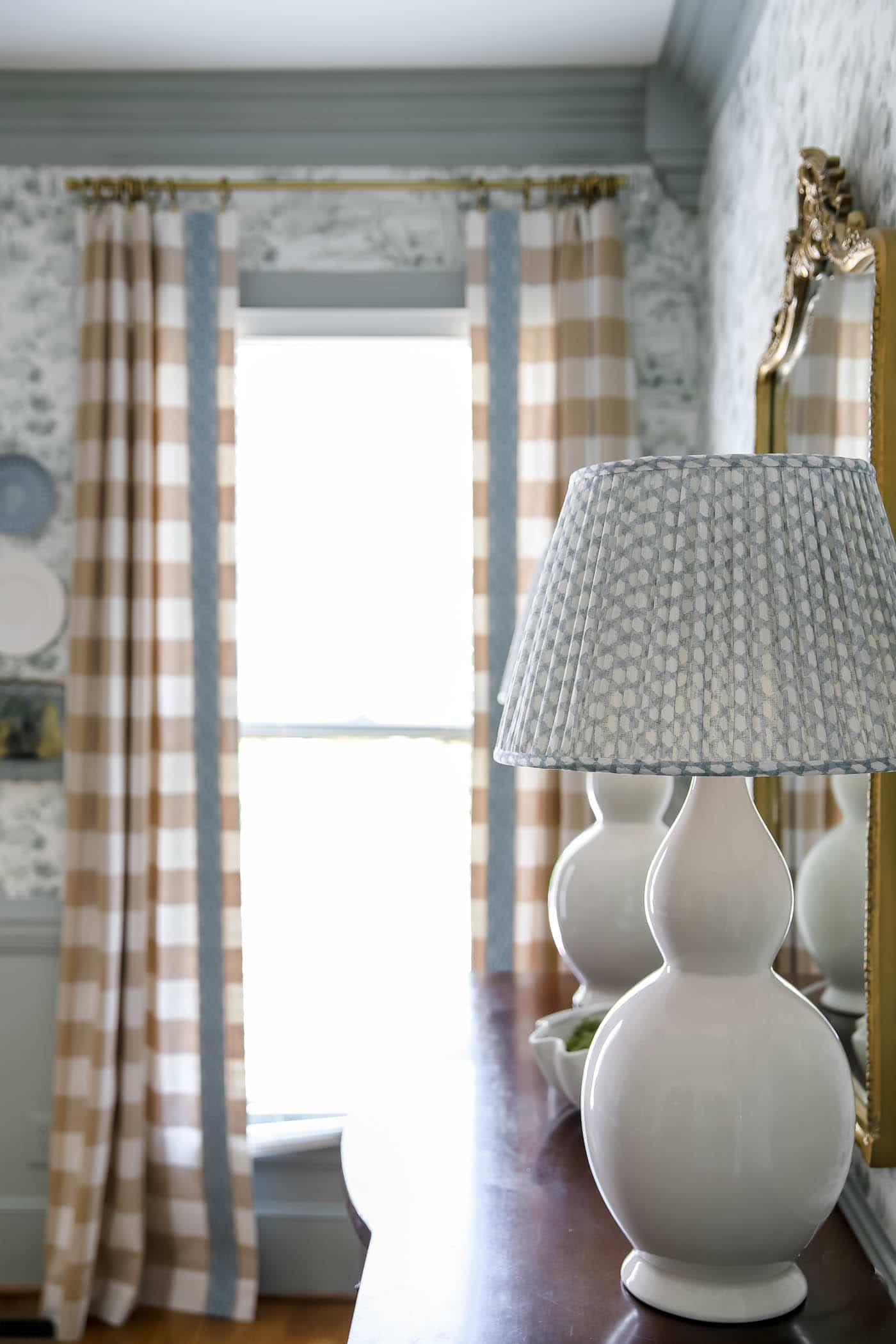 Dining Room Chandelier
This gorgeous Visual Comfort Chandelier is a stunning 8-light brass chandelier. I have the sconce from the same line in my powder room.
So I first spotted this chandelier two years ago when I first started looking for a replacement dining room chandelier, I fell in love. And I stalked it until it went on sale for Black Friday.
Then, I waited almost 6 months for it to arrive. The brass it beyond beautiful and the curves and details are perfection. I'm so glad I saved up for this beauty.
Funny story: I knew I wanted to do a ceiling medallion above the chandelier. So, when it came time to install the chandelier, I had totally forgotten to get a medallion. So, I quickly ran to Lowe's and found the best one. I don't love it, but it's probably too much of a pain to change at this point. Ha!
Dining Room Rug
This natural fiber rug has a lovely fish scale pattern and a rubber backing to keep it from sliding around the floor. I wanted a jute or sisal rug in this space to bring in a contemporary feel and coordinate it with a lot of other natural fiber elements in my home.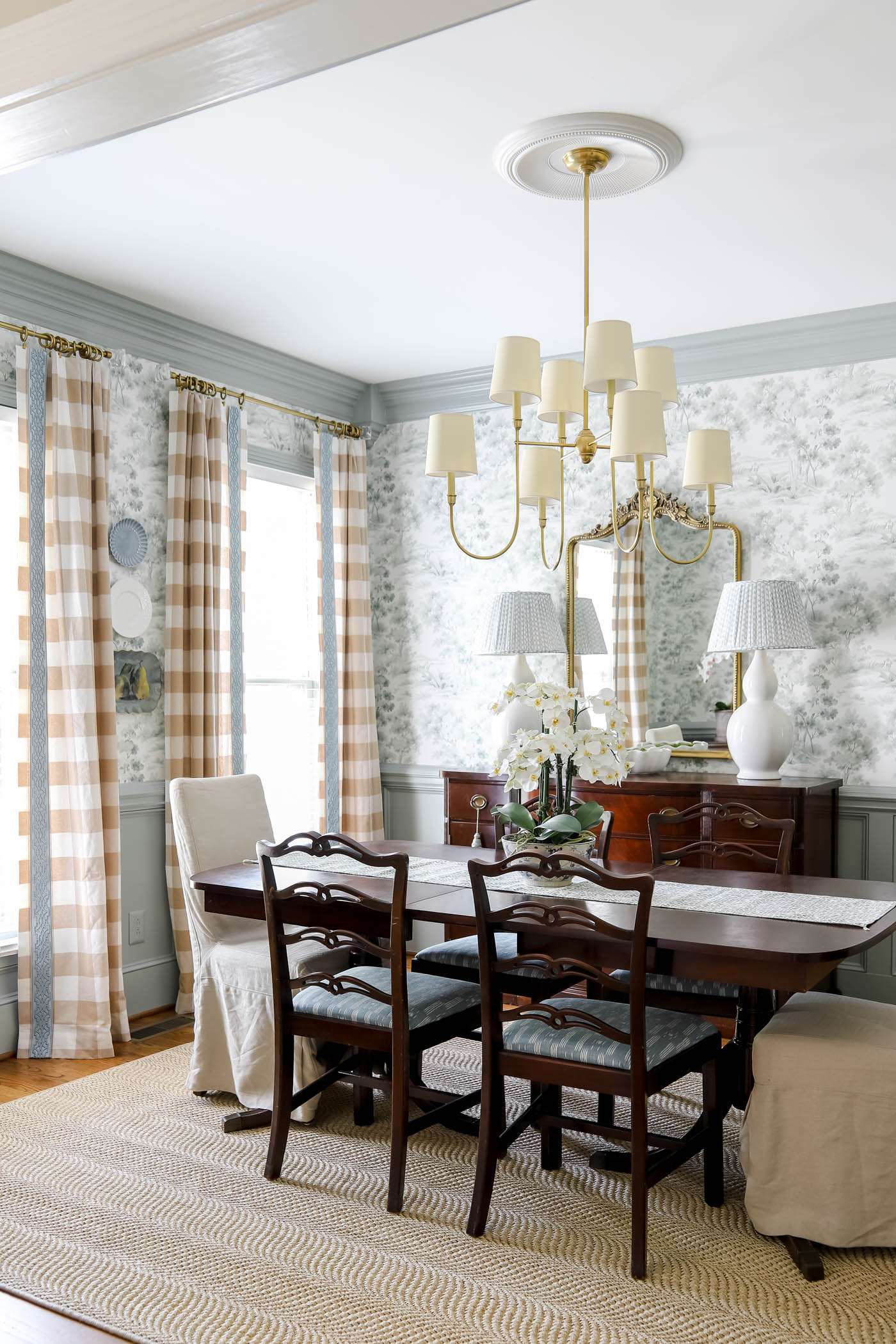 Originally I purchased a two toned, diamond sisal rug, but sent it back because it competed too much with the other patterns in the room. In the end, I love the subtlety of this rug, yet still a little bit of pattern.
Traditional Dining Room Finishes
There are a couple of finishing decor items I've added to the room, but not too many. I like to let the room evolve over time. So, later I plan to add art as I find pieces that I love.
But for now, the square glass finials on the curtain rods are one of my favorite details.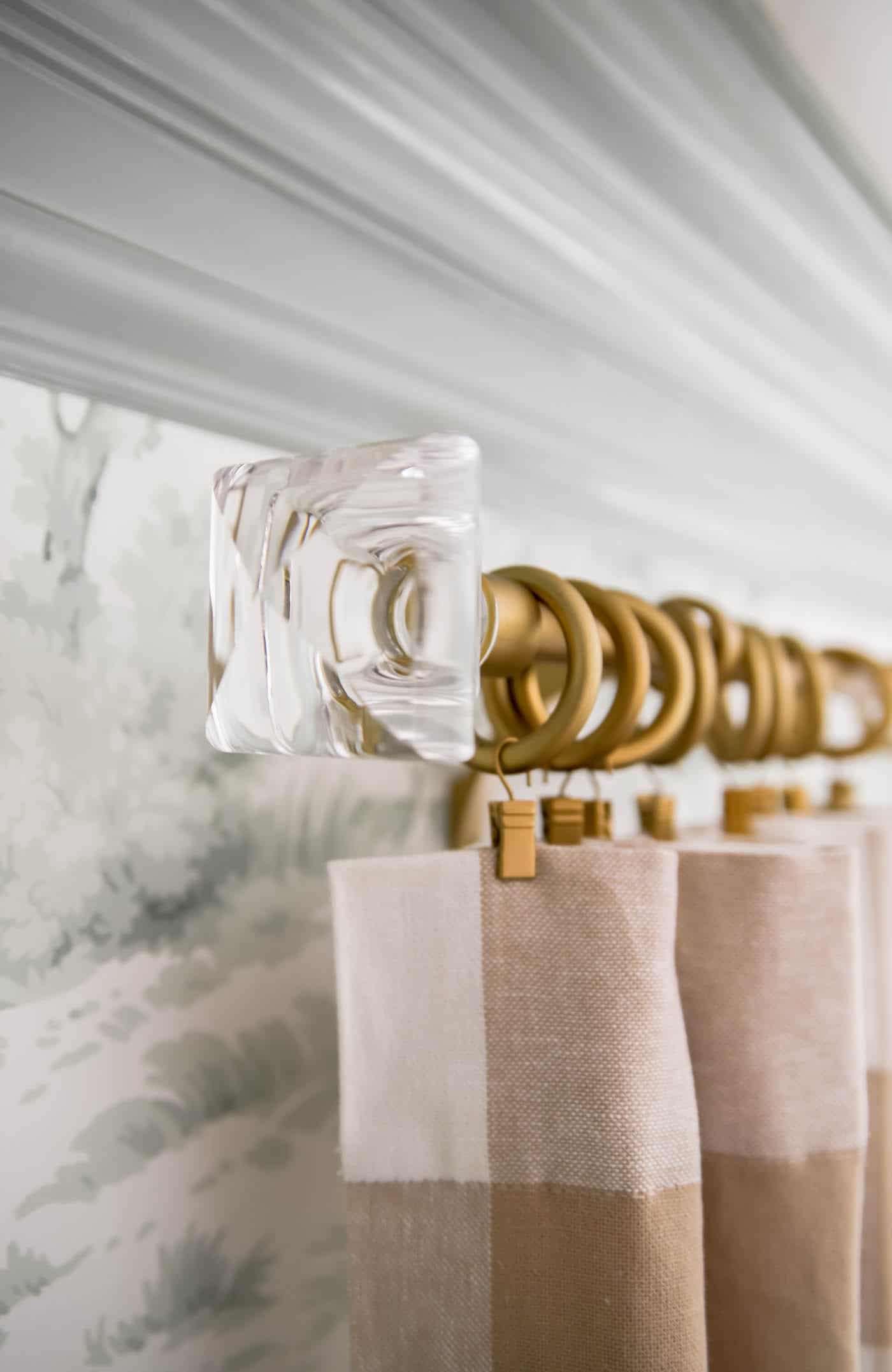 And then I added these plates to the wall between the curtains. The pear platter is no longer sold, but it inspired this room's color scheme, so I had to include it somewhere!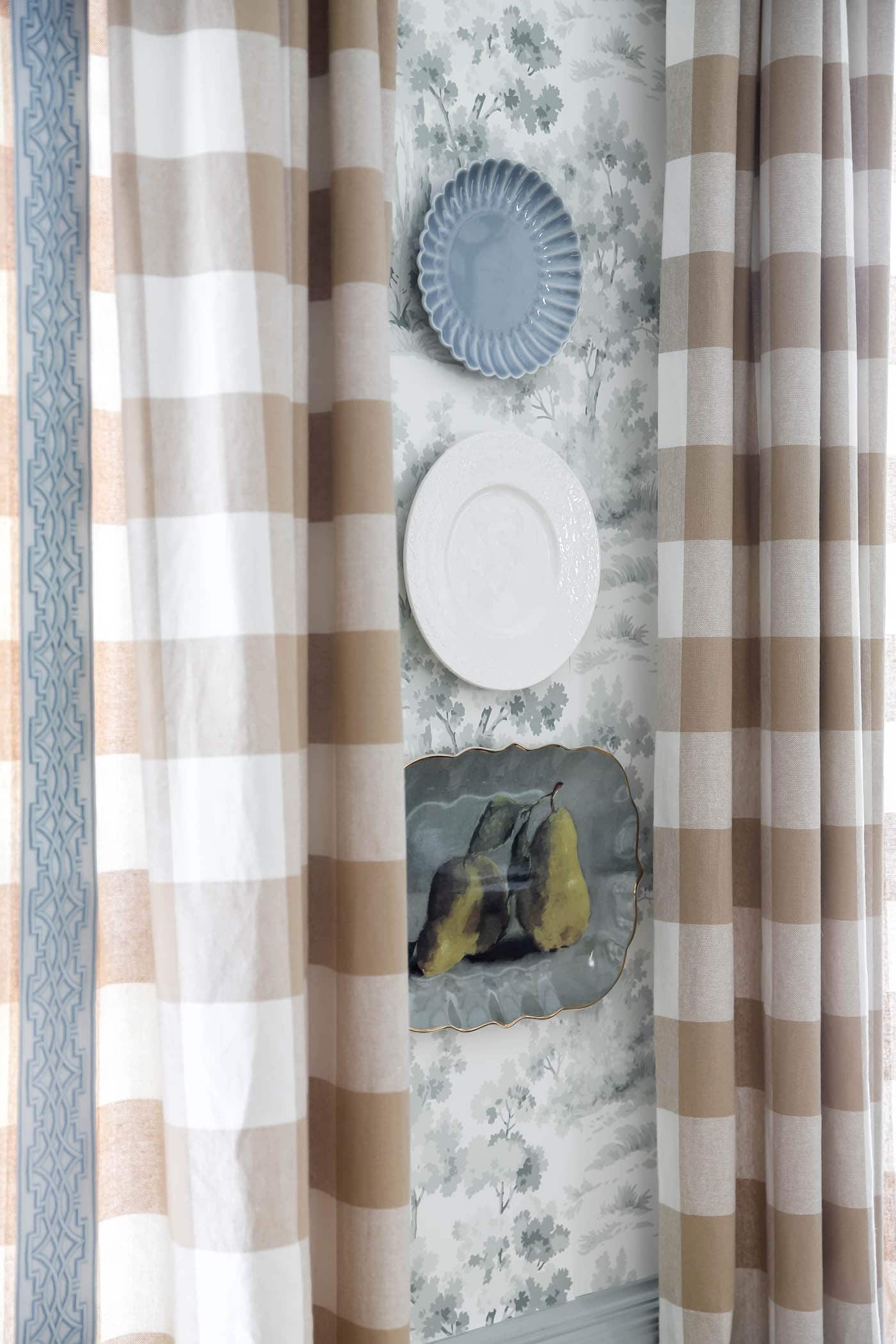 The colorful key tassel I used on the china cabinet just adds another layer of beauty and whimsy to the room.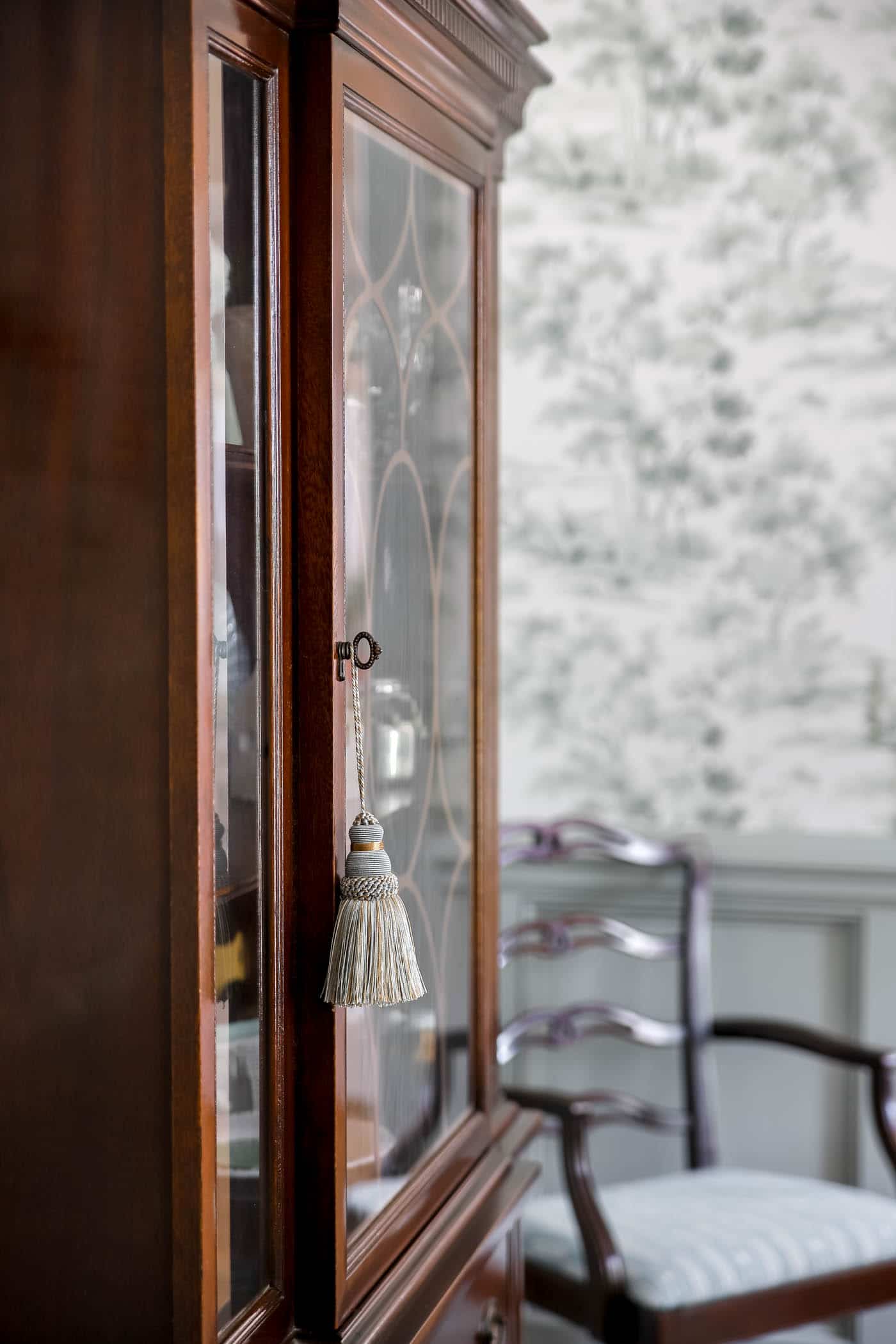 The faux orchid in a blue and white bowl is something I bought last year with this room makeover in mind. I knew it would be perfect sitting in the middle of the dining room table.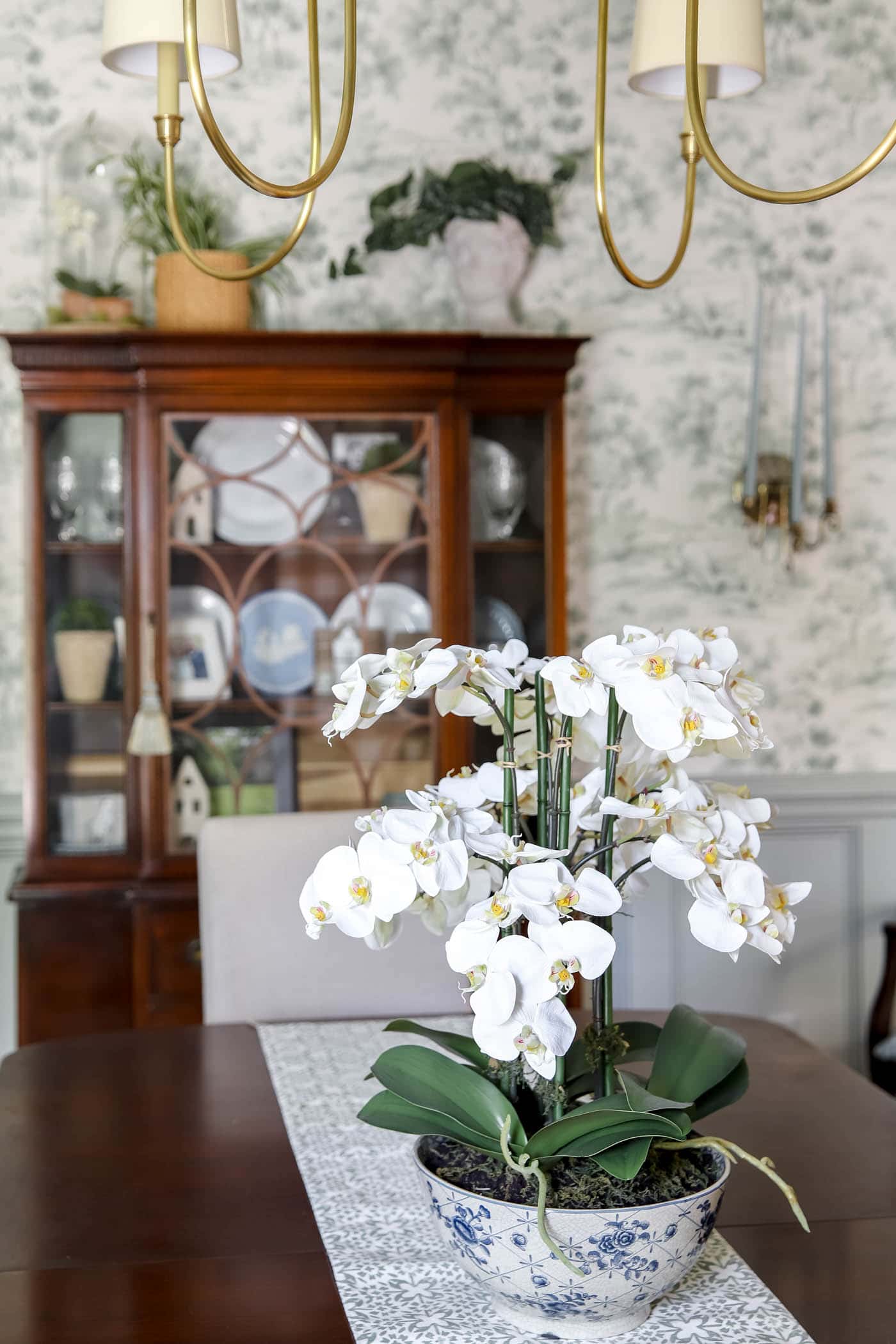 And finally, I found the antique brass candle sconces at a local thrift store. I love how the blue tapered candles repeat the secondary blue color.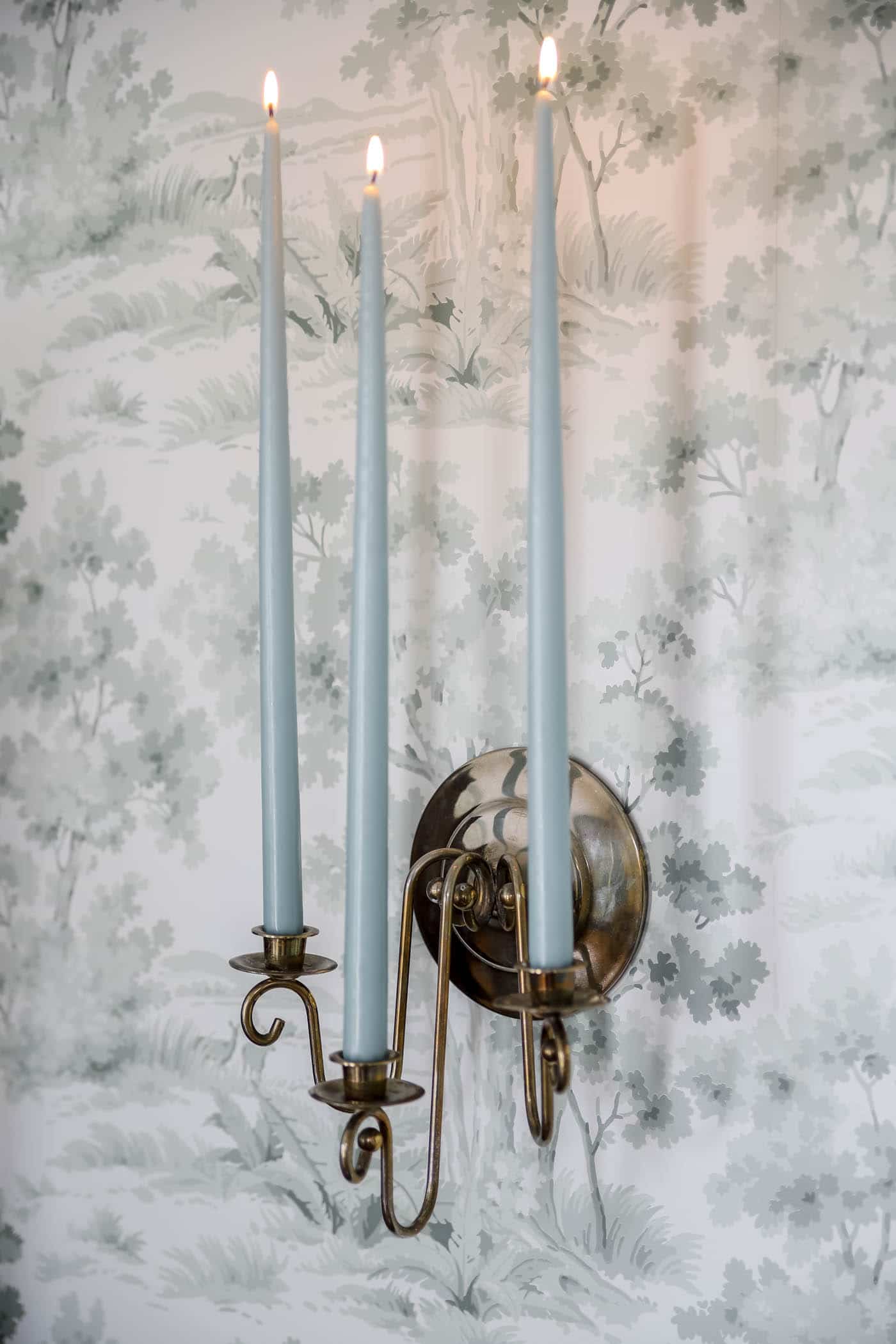 ---
How do you like the room makeover? I'm so happy with how it turned out, and I hope you find inspiration for decorating the next room in your home!
Shop this Traditional Dining Room:

More Posts You Will Love: