This large DIY Farmhouse Table seats 8+ and adds gorgeous rustic charm to your home for less than $100. Use the Kreg Jig tool to make this big project super easy!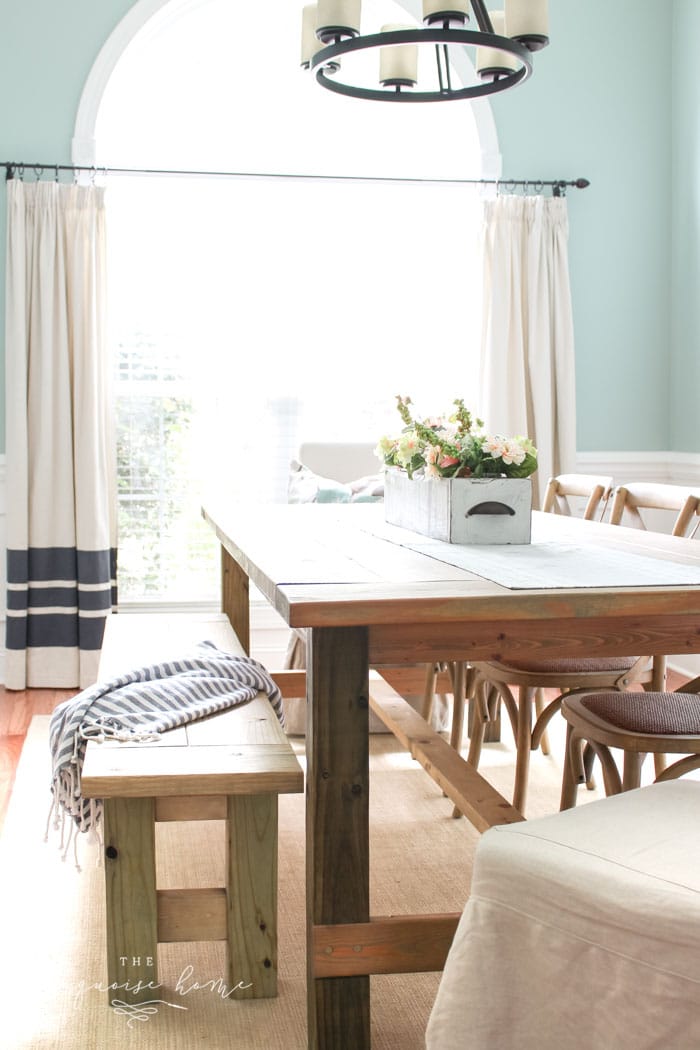 I am so excited to share my DIY farmhouse table with you! I absolutely love it. It was my first build with a Kreg Jig, and I'm super proud of how it turned out! While there are a few things I learned while making it (and might do differently), I'm so thrilled to finally have a dining room table!
I had been eyeing a beautiful, rustic trestle table, but the price tag of more than $1,000 just wasn't in the budget. I just couldn't fork over that kind of money right now with Christmas coming. And we're going to be having my husband's family over for Christmas this year. So, I needed a table!
This post contains affiliate links for your convenience. See my full disclosure policy here.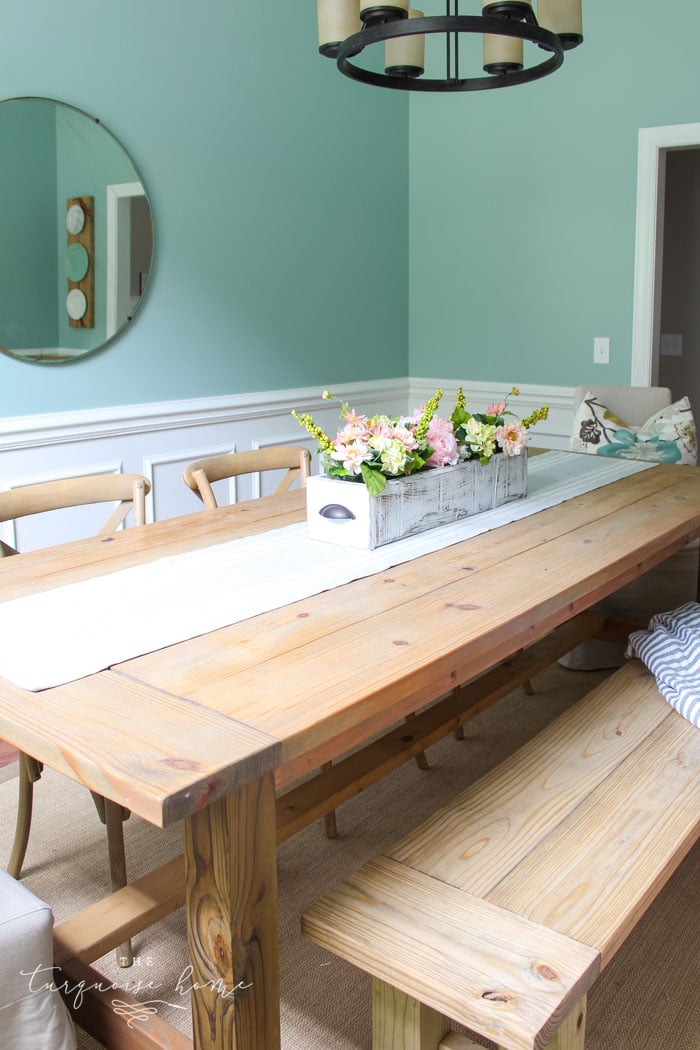 So, I found this awesome tutorial on Ana White's blog, and convinced my husband that if I could buy a Kreg Jig then I would build us a farmhouse table for less than $100 dollars in supplies. He was totally on board. Love him!
By the way, that Kreg Jig purchase was one of the best decisions I ever made and it has paid for itself over and over again. If you do any building whatsoever, buy this tool. I cannot begin to tell you how awesome the Kreg Jig is! It's so easy to use, and made building this table a breeze.
Almost every one of Ana's plans uses a Kreg Jig, so if it calls for it, buy it. You will love it – I promise! I even wrote a post about the 10 projects to build with a Kreg Jig. (And that's just the tip of the iceberg!)
Tools Needed to Build a DIY Farmhouse Table
Miter saw (optional, but I love mine for easily getting straight cuts!)
Tape measure
Level
Pencil
Safety glasses
Supplies Needed to Build a DIY Farmhouse Table
Enter Ana White. (Love her and her site!!) I had seen these plans on Ana-White.com in the past for her original DIY table, but it seemed like a ton of work. And then just last month she came out with new plans, much easier, using a Kreg Jig.
You'll find all of the lumber supplies needed for Ana's new Farmhouse Table (pocket-hole) plan HERE. I switched up a couple of things, so I'll share my supply list below. But you can use her supply list, if you want a smaller table than mine.

If I had to do it all over again, I think I would have done a smaller table, but my big table works just fine and is perfect for a large crowd! It just takes up a whole lot of space when not in use. 🙂
4 – 2×4 @ 8 feet long (aprons and stretcher board)
1 – 4×4 @ 10 feet long (I used a treated 4×4 post, which kept the stain from adhering to the legs, but I don't mind the color. Evidently it's impossible to get an untreated 4×4 post.)
4 – 2×8 @ 8 feet long (These are the top table boards. Ana's tutorial uses 6 foot boards, but I extended my table by 11 inches, so I used 8 foot boards.)
1 – 2×8 @ 8 feet long (breadboard ends)
1 – 2×12 @ 8 feet long (This is the middle board on the table top. Again, I used an 8-foot board instead of a 6-foot board because I extended the length by 11 inches. I also used a 2×12 instead of a 2×10 because I widened my table by 2 inches.)
3 inch wood screws
It was actually quite easy to build and took me about a week of nap times to construct. I adjusted a couple of things from Ana's plans like I mentioned in the list: I lengthened the table by 11 inches and widened it by 2 inches.
Get the full plans for the table from Ana White's site!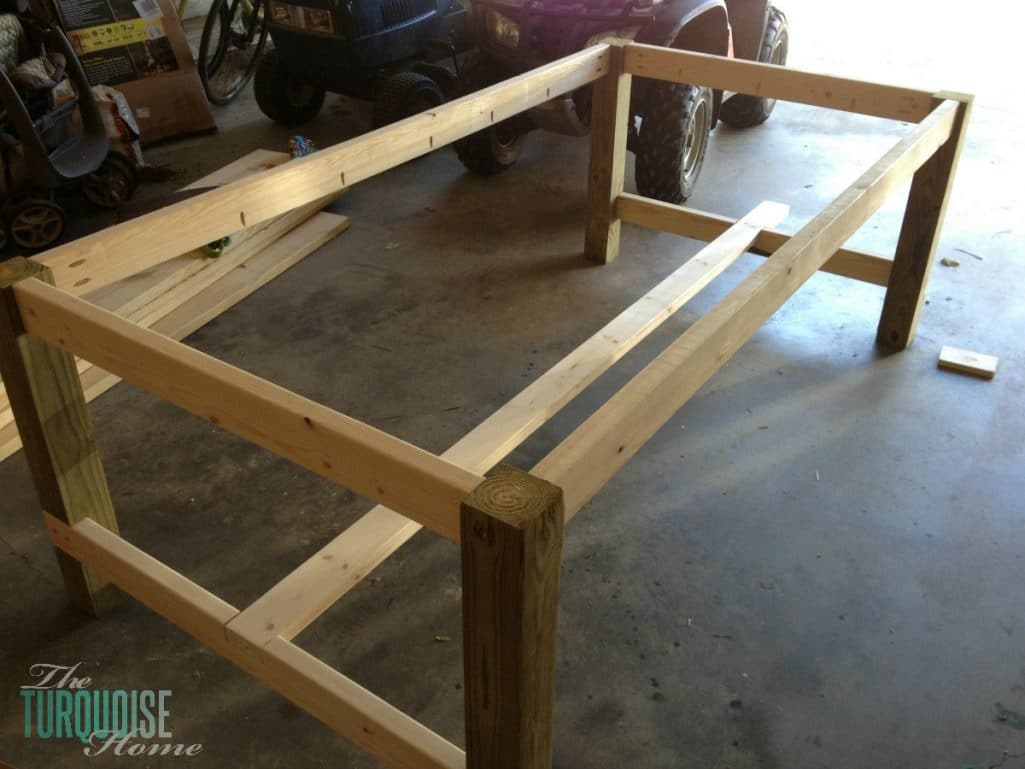 I used a stain that is new to the market: Minwax Weathered Oak. (You can see in the above picture where there are places where I didn't sand the wood in the direction of the wood grain. And so there is some streaking. Always sand in the direction of the wood grain. Lesson learned!)
In the end, I'm so happy with my big, sturdy farmhouse table. I've already made it my desk in my dining room and I love it! I'll clear it off later this month when we host Christmas dinner. But, when no one's coming over, it'll function as my large desk/table. I look forward to being able to spread out and even make crafts on it!
What do you think of my latest project? I surely do love it!
Previous photos from this post, before I learned how to take better pictures. 🙂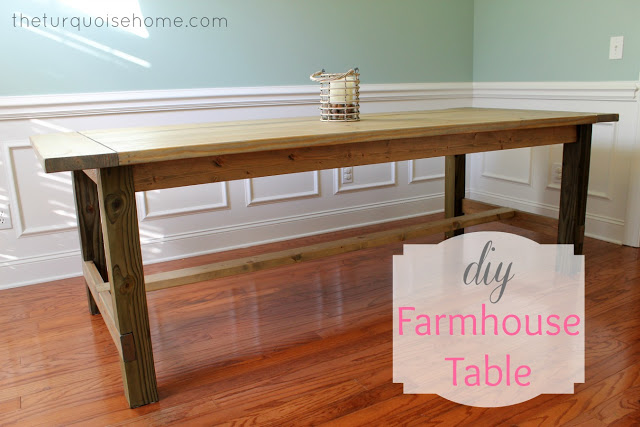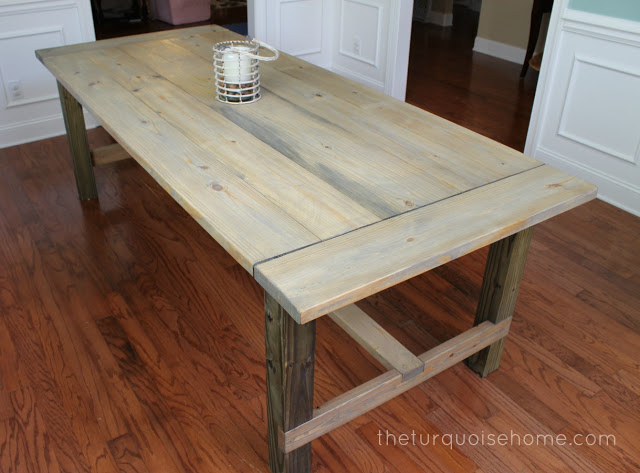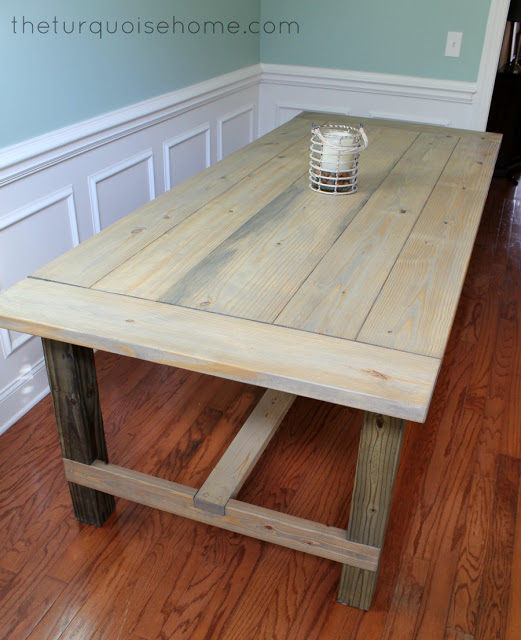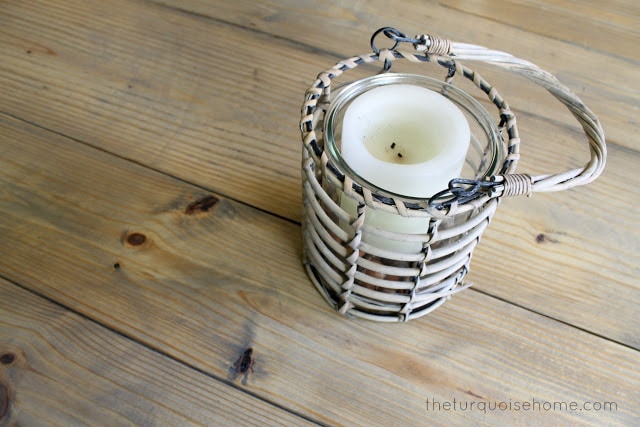 SaveSave
SaveSave