DIY Wooden Box Centerpiece
Build your own DIY Wooden Box. Simple and easy step-by-step instructions to build your own. Perfect for a table centerpiece or use in your home decor.
Yay! It's another one of my most favorite projects made with my favorite tool in my toolbox: the Kreg Jig.
This DIY Wooden Box Centerpiece was made with scrap wood, a few screws and some paint. Super simple and voila – a cute centerpiece for your table, mantel or wherever you want to put it!
I'm so in love with how mine turned out! The rustic elements and the fact that it cost me almost no money out-of-pocket to build it just makes me smile.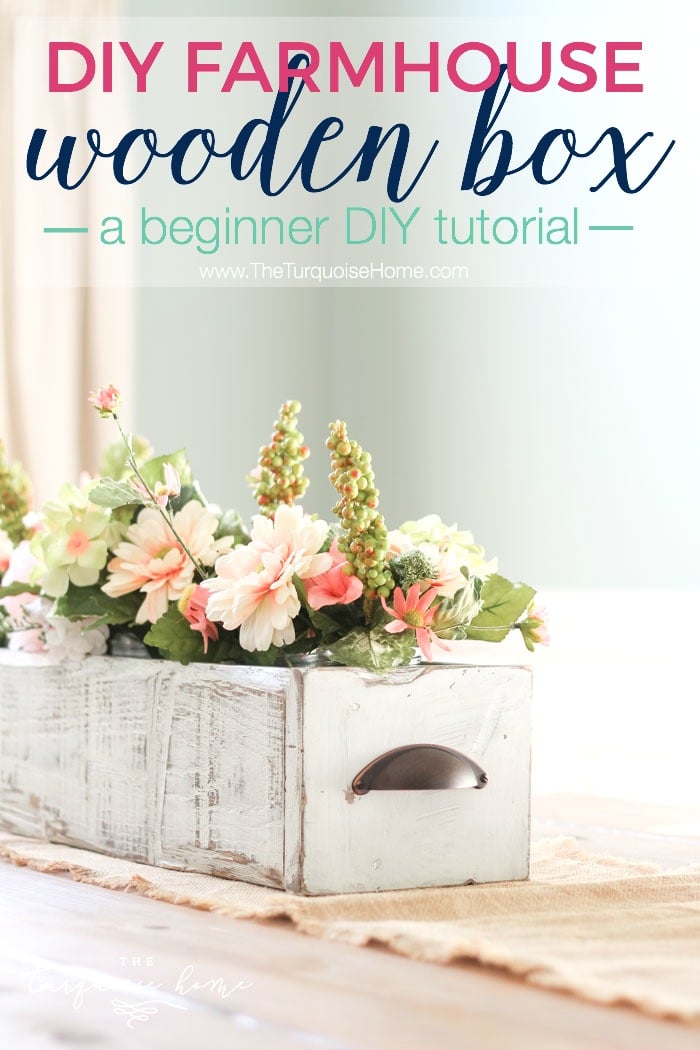 I made my box to go on my dining room table, which is a large table. You'll want to get a good idea of where you want to put yours and then decide the dimensions.
And also think about what you want to put inside. If you want to put mason jars in it, then you'll want to make it large enough for that. So, definitely think this through before starting your project.
Here are the dimensions of the box I made: 27.5 inches long, 7 inches wide and 5.5 inches tall. I used 1×6 boards, so you'll need to adjust your boards according to what you want to make.
Also, it doesn't have to be exact. I had several scrap 1×6 boards from various projects and just figured out the best way to use them. I had two really pretty rustic boards that I used for the long sides and then I had a very plain board that I used for the bottom, since no one would be looking at it. So, just make it your own. The imperfections add to the charm!
Tools Needed to Make a DIY Farmhouse Wooden Box
Wood pieces. If you want to build a box just like mine (and don't want to have to figure out your own measurements 😜) then you'll need a 1x6x8 piece of wood cut down to these measurements:

3 boards at 26 inches long for the sides and the bottom
2 boards at 7 inches long for the end pieces NOTE: I would wait until you've assembled the bottom and sides before you cut your end pieces, that way you can measure them exactly to fit your box.

Kreg Jig – the most valuable tool in my toolbox. It's a pocket hole system and it makes joining pieces of wood easy as pie! I love it!! Find 10 amazing ways to use your Kreg Jig HERE.
Kreg Pocket Hole Screws – Since I was joining wood that was 3/4 inch thick, I used the 1 1/4 inches Kreg Screws. This PDF will tell you the correct screw size you will need based on the wood you're using.
Screw driver
Stain – I used Dark Walnut by Minwax
Paint – I used Amy Howard's One Step Paint in Bauhaus Buff
Clear Wax
Paint brush
Wax brush or lint-free cloth
Handles (2), optional
Drill bit (if you choose to do handles)
Steps to Make a DIY Wooden Box Centerpiece
1. Decide on the Box Size You Want.
I talked about this in the opening of this post, but you'll want to decide how large to make your box. Mine is large, because I wanted it to sit on my large dining table. But you can make yours how large or small that you desire.
2. Cut Your Wood Pieces.
I shared in the "Tools Needed" section that I used several scrap 1×6 pieces of wood. This will be basic info for some, but anytime you buy a piece of wood in my neck of the woods, the name of the size of the wood isn't actually the size of the wood. One inch deep is actually 3/4 inch deep. And 6 inches wide is actually 5.5 inches wide. So, be sure to measure your actual boards and not just go by my measurements exactly. Make adjustments as needed.
3. Use the Kreg Jig to drill pocket holes on the underneath side of the pieces that will be the bottom of your box.
I did 3 holes on each long side and 2 holes on each short side. And I realized this picture is after I've already assembled the box, but you'll want to put these holes in first!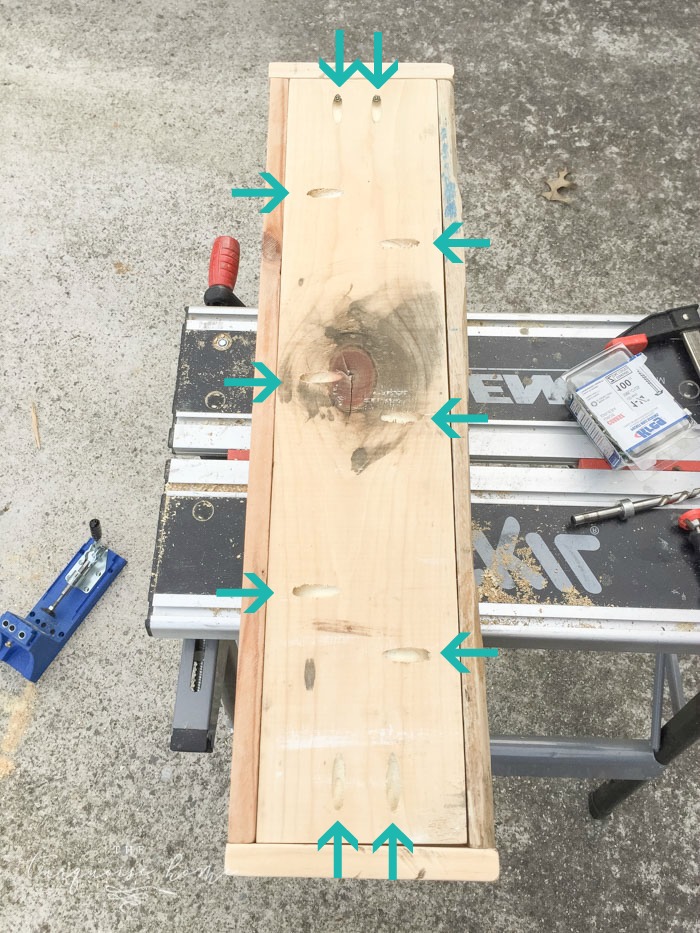 4. Then you'll use your Kreg Jig to drill 2 holes on the short, inside ends of the side pieces.
And in this picture you'll see that I didn't do this step until I attached the side boards to the bottom, but I don't recommend this. My drill almost couldn't fit in there, so do this before you put any pieces together! 😉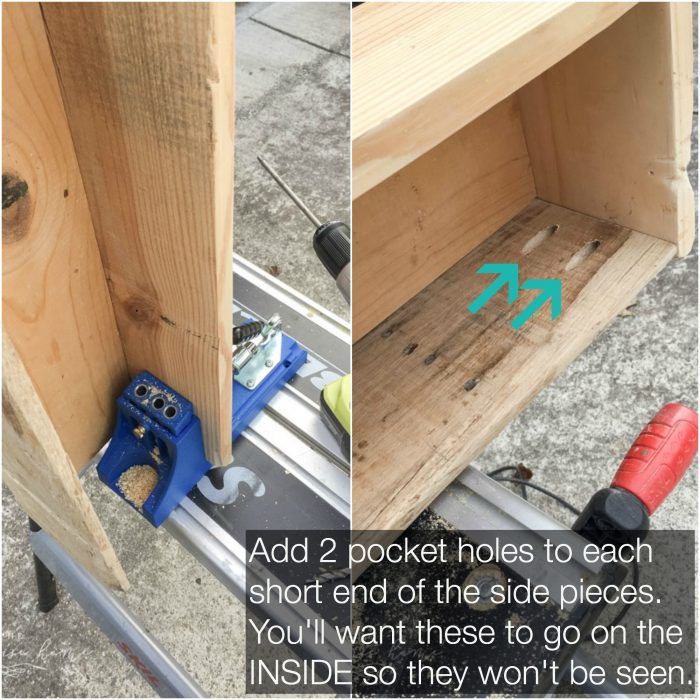 5. Attach the Bottom Piece to the Side Pieces.
Using a clamp, place one side piece next to the bottom piece and screw them together with the pocket holes and screws on the underneath side of the bottom piece. Make sure everything stays inline and straight while you're joining them together.
Sorry I don't have a proper picture of this step! But I have an INCORRECT picture below that might help you out. I had the bottom piece with the pocket holes in it flipped on the wrong side. So you'll clamp it like this, but flip the bottom piece over so that the pocket holes will be underneath. I forgot to take a picture when I changed it. 😋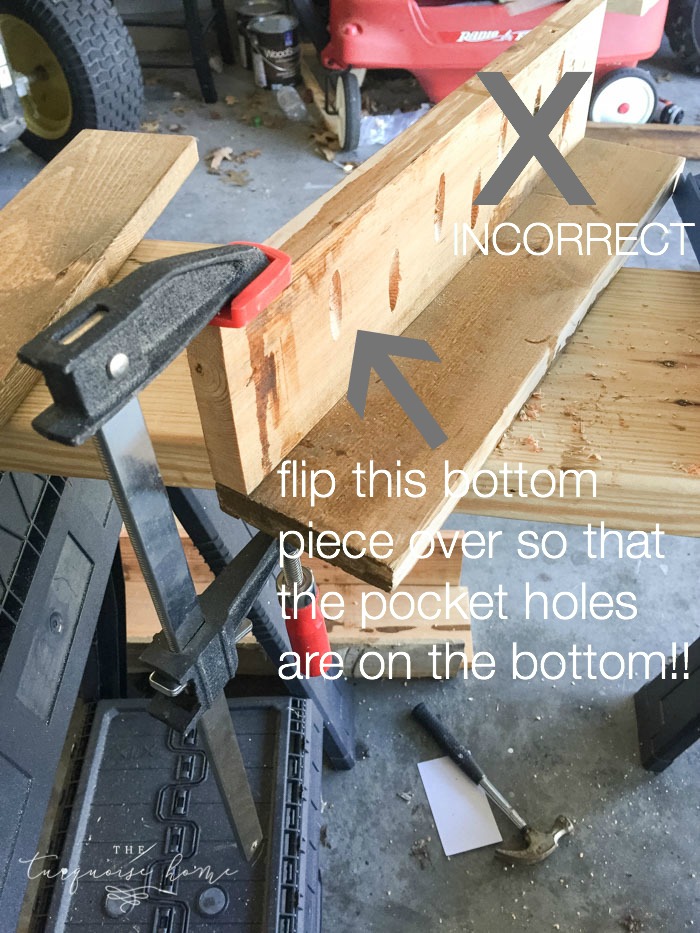 6. Screw the End Pieces on to the Sides and the Bottom.
This is the last step for actually making the box. I know this all sounds complicated, but really it's so easy! If you still haven't cut your end pieces, then you'll want to measure the exact size you'll need and cut them to the right size.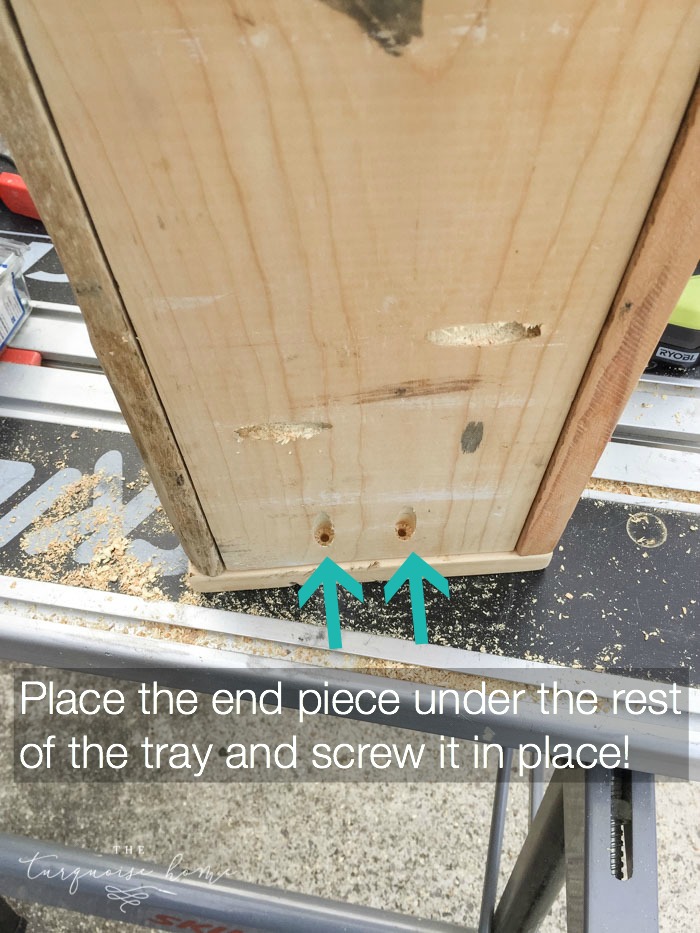 You should have two pocket holes on the bottom piece and two pocket holes on the inside of the side pieces. Just screw those final two end pieces in and you have yourself a box, ladies and gentlemen!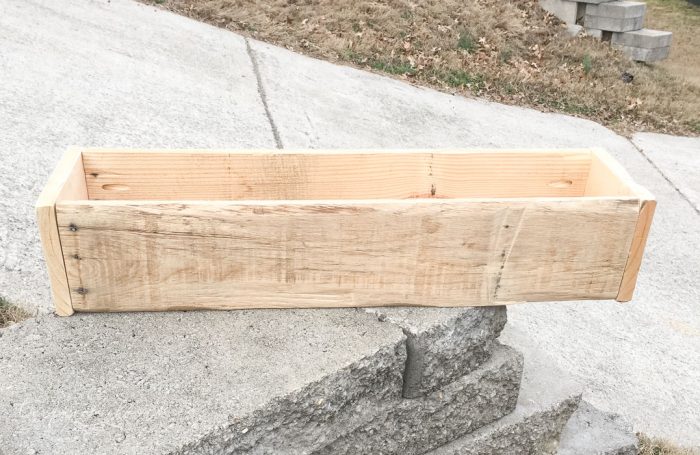 7. Finish the Box with Stain or Paint or Both!
I planned to paint my box in a white chalky-type paint from the beginning and I wanted to distress it, so I needed a dark stain underneath. I had some Minwax dark walnut stain on hand, so I used that! Make sure you wipe down your box before you stain it so that sawdust doesn't get stuck in the stain.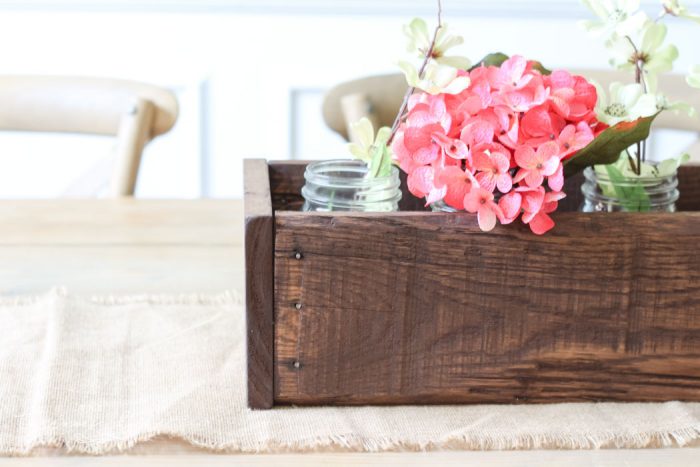 I used it like this for a couple of weeks before I got around to staining it. I debated about painting it, because I thought the stain looked pretty. But I'm so glad I decided to go ahead with my original plan! I love it!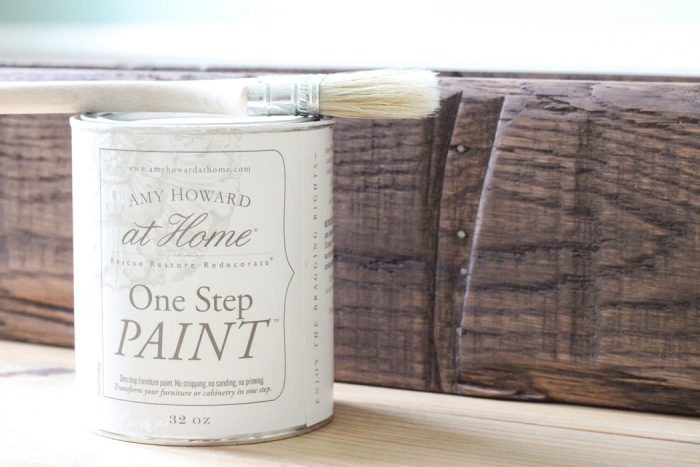 I used Amy Howard's One Step Paint in Bauhaus Buff. It's a thick, chalky paint that dries quickly, but it creates a wonderful finish, which I love!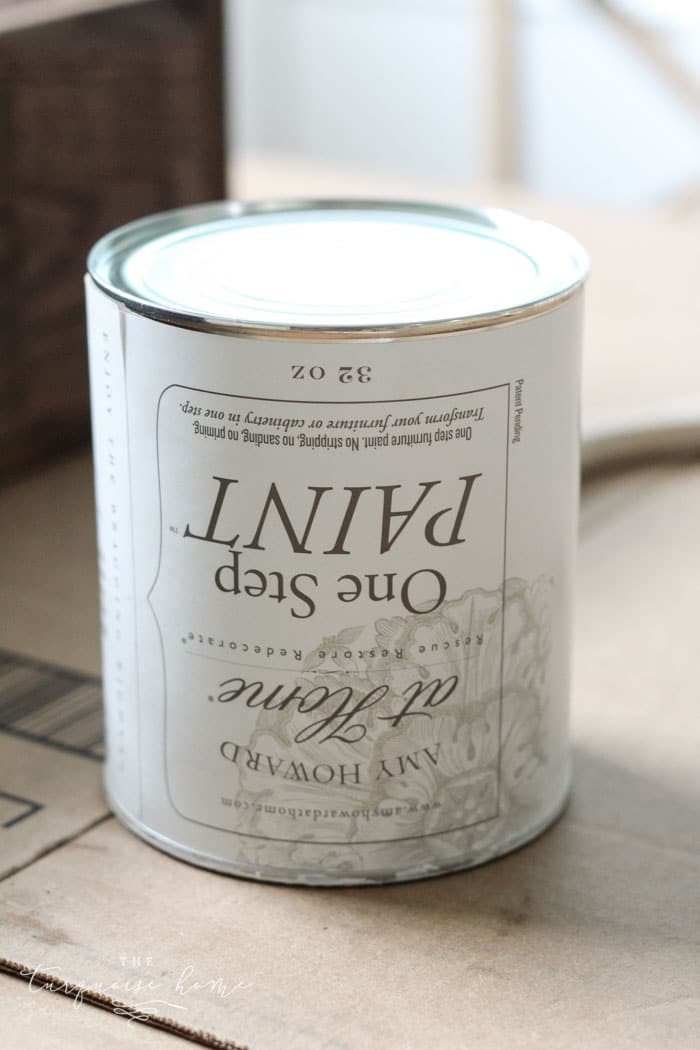 TIP: When using Amy Howard's One Step Paint, turn it over on it's top for about 15 minutes before opening it and stirring it up. This paint separates a lot and is hard to get it to combine sometimes. Turning it over makes stirring it up much, much easier.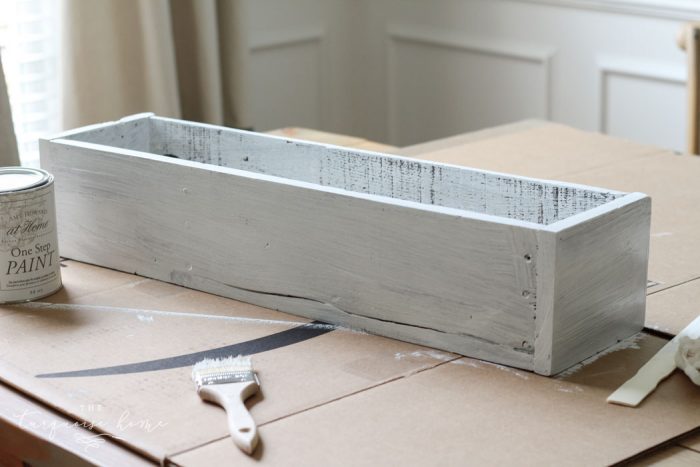 I painted everything except for the bottom of the box with a mostly full coat of paint. The goals was to get it down in the cracks and crevices and just have the raised parts of the wood show through when I sanded it.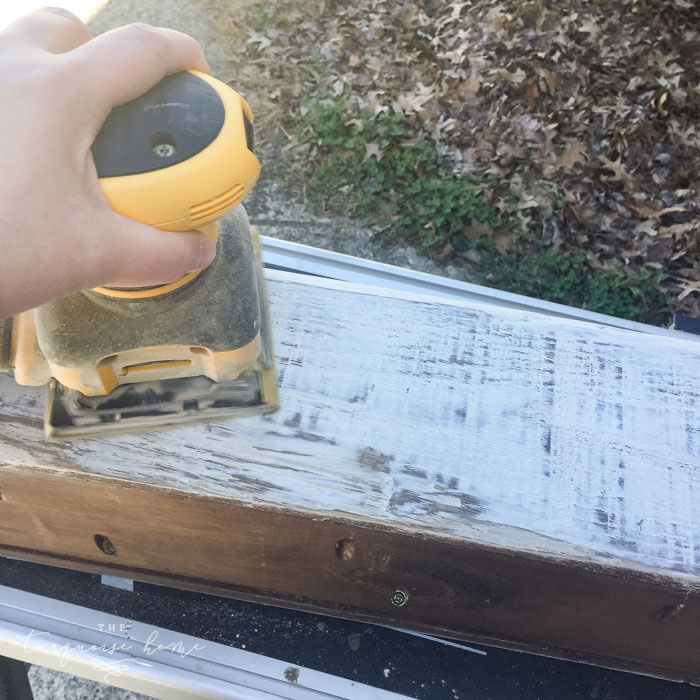 Using my favorite sander, my Dewalt Sheet Sander, and some fin 180 grit sand paper, I knocked the paint off of the raised parts of the wood. I tried not to sand too hard because I didn't want to take off the stain! The rustic wood gives so much character.
When I finished sanding, I wiped everything off with a damp cloth to get the sawdust off of it.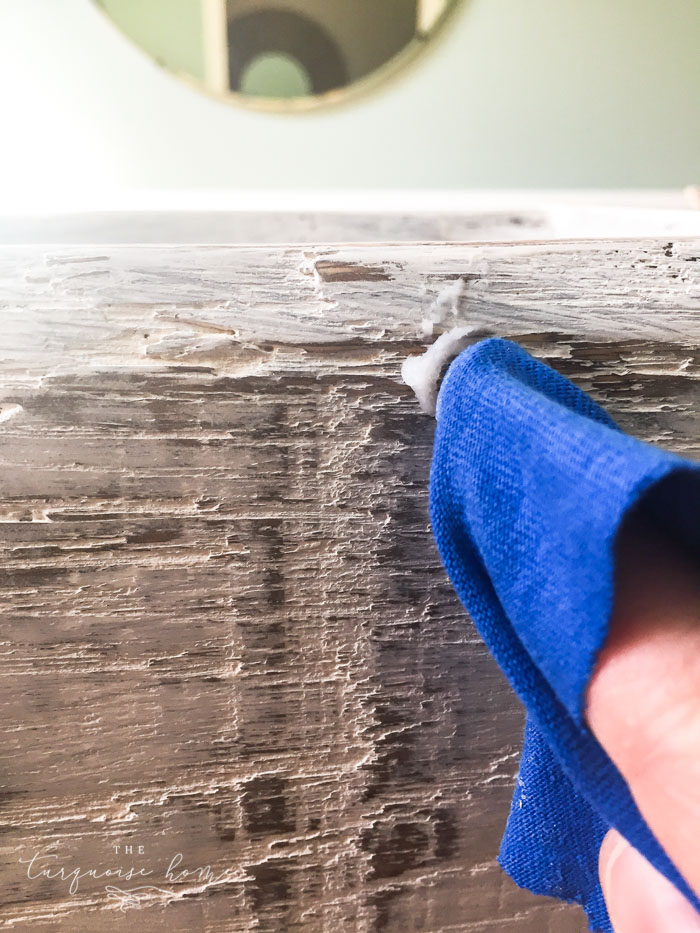 I finished off the box by rubbing some clear finishing wax on it. This seals the paint and the wood leaving a nice, smooth surface.
8. Add Handles or Pulls.
This is optional, but it's not only a functional addition, but cute, too! I grabbed these oil rubbed bronze cup pulls at Lowe's one day. They were easy to put on. Just find the middle of the box's end piece and attach them where you want them.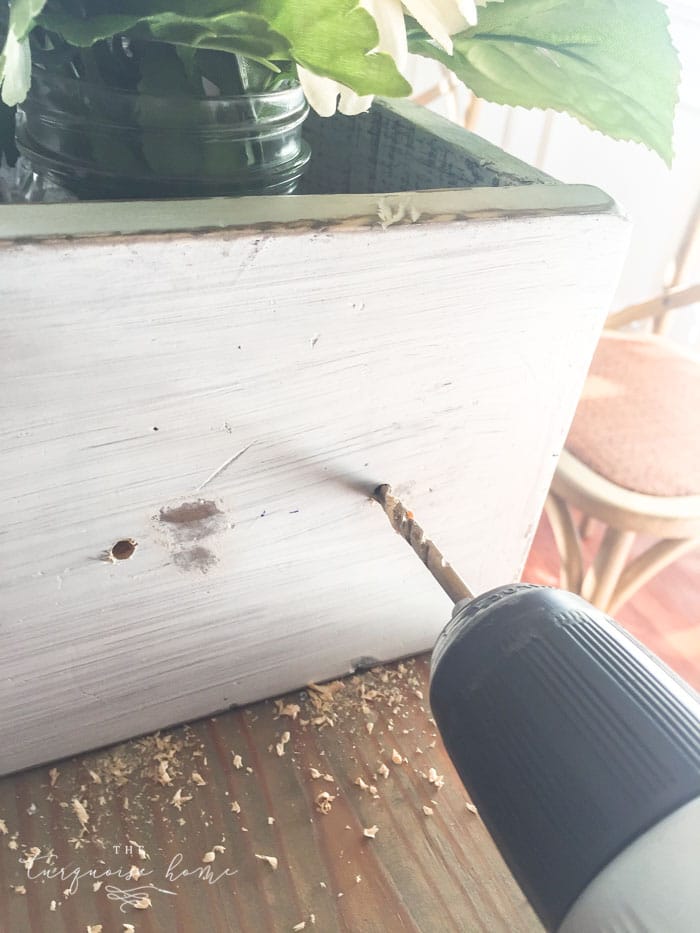 I used a drill bit larger than the handle screws and drilled them in place. Then I attached the pulls using the screws that came with them.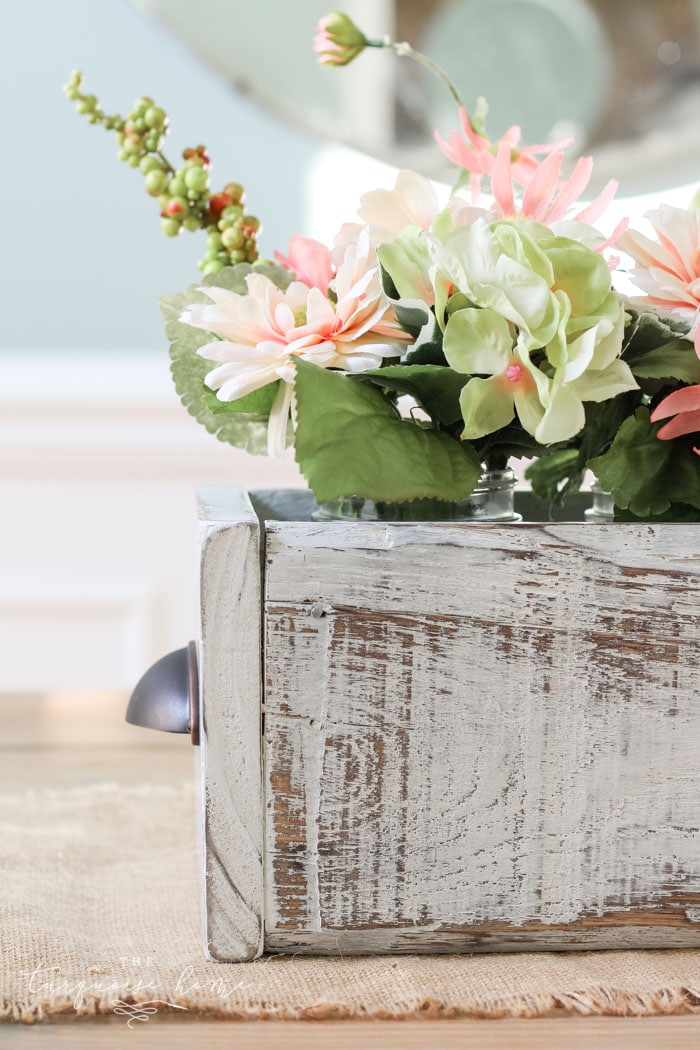 And that's all! You now have a cute decor piece that you made from a board! Or scraps for your wood pile, like me! Even better. 🙂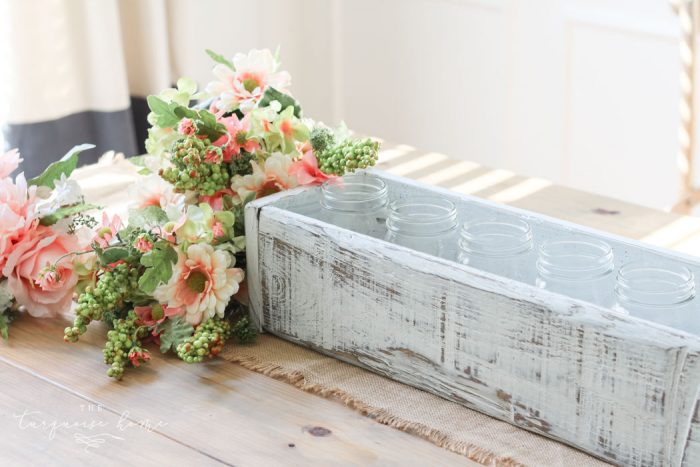 It turned out absolutely adorable!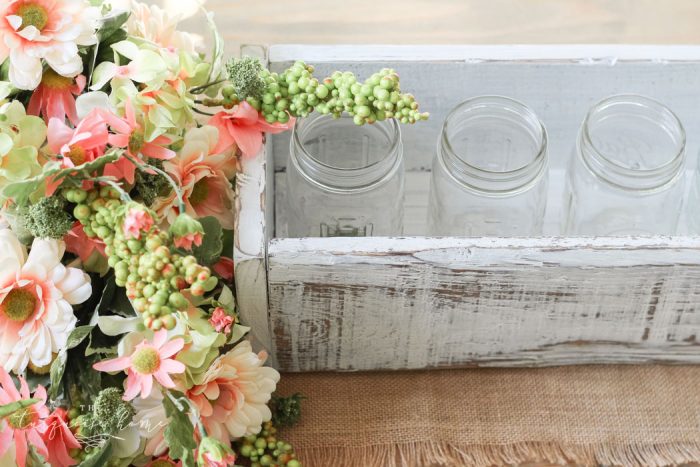 I filled it with mason jars and picked up some faux floral arrangements from Hobby Lobby. Then, I cut them up and arranged them in the mason jars and put it on my DIY farmhouse dining room table. (Get details about the table right HERE!)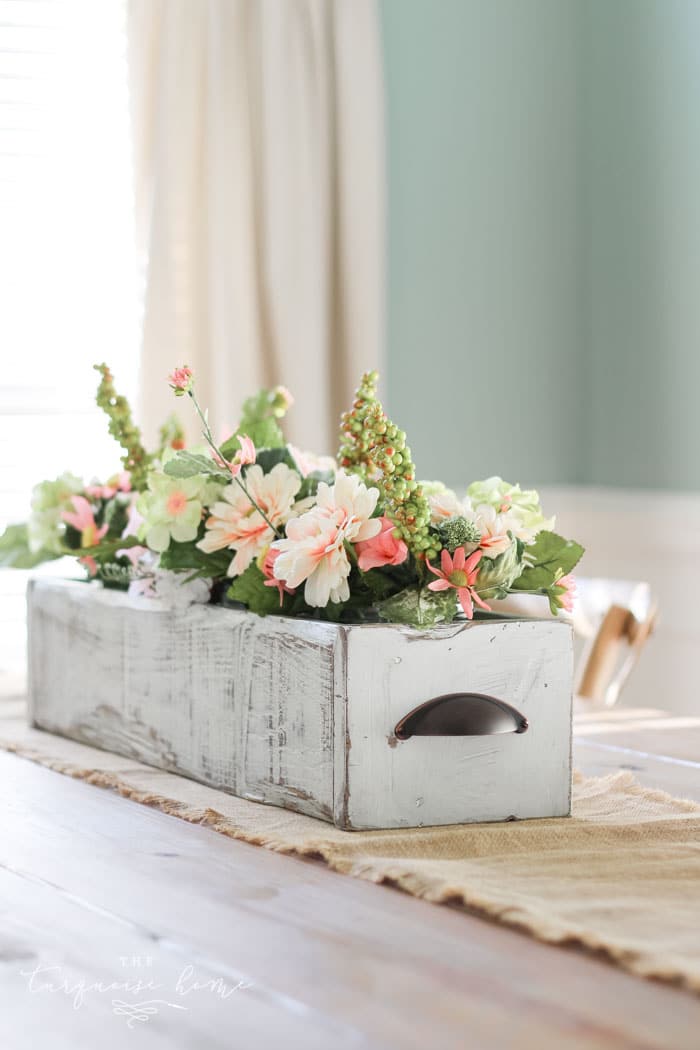 I smile every time I walk by the dining room now… And not just because I cleaned up all of the clutter. 😜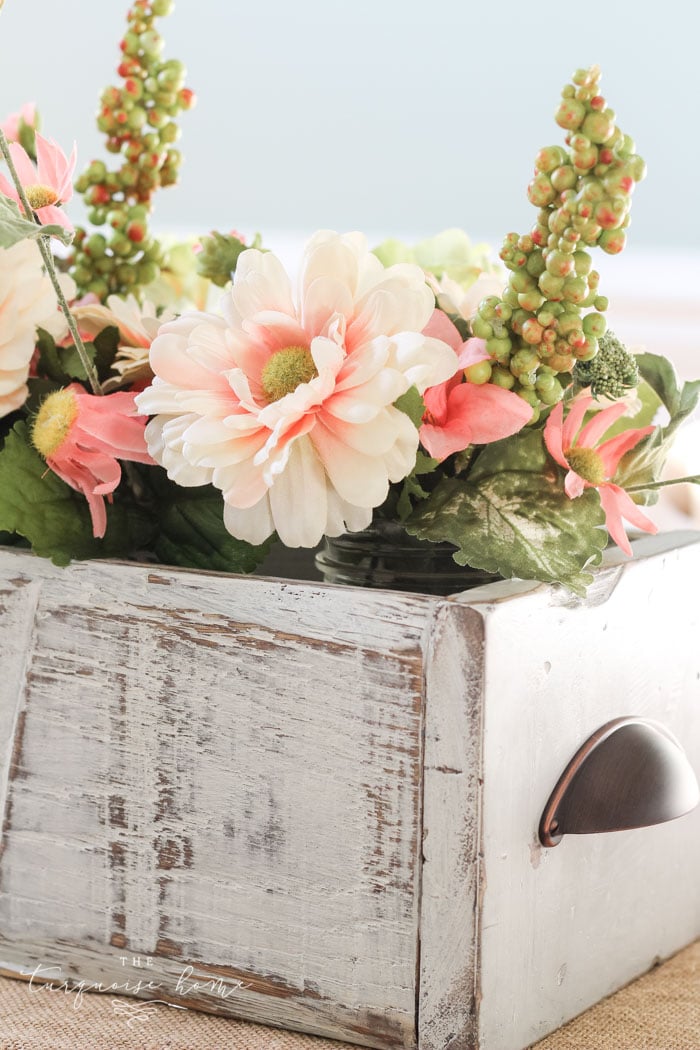 The simple elegance of a rustic box with flowers warms my heart and it perfect for spring. I can't wait to play with it on the mantel this fall or Christmas!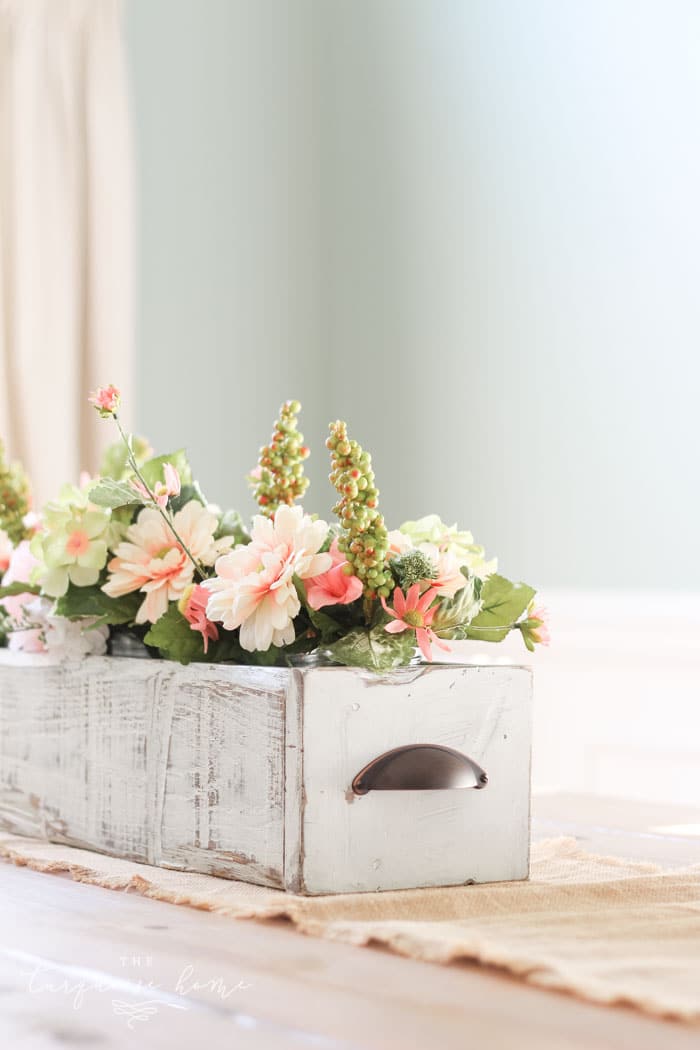 What do you think? Could you make something like this? Of course you CAN! 😊
It's seriously one of the easiest projects I've ever done and it only used a Kreg Jig, drill and a sander (if you want to do the same finish as me).
More Posts You Will Love
SaveSave