Rustic Wooden Pumpkin decor comes in all shapes in sizes. Whether you use wood pieces from a scrap pile, or pick some up at the hardware store, your home will look ready for fall in no time!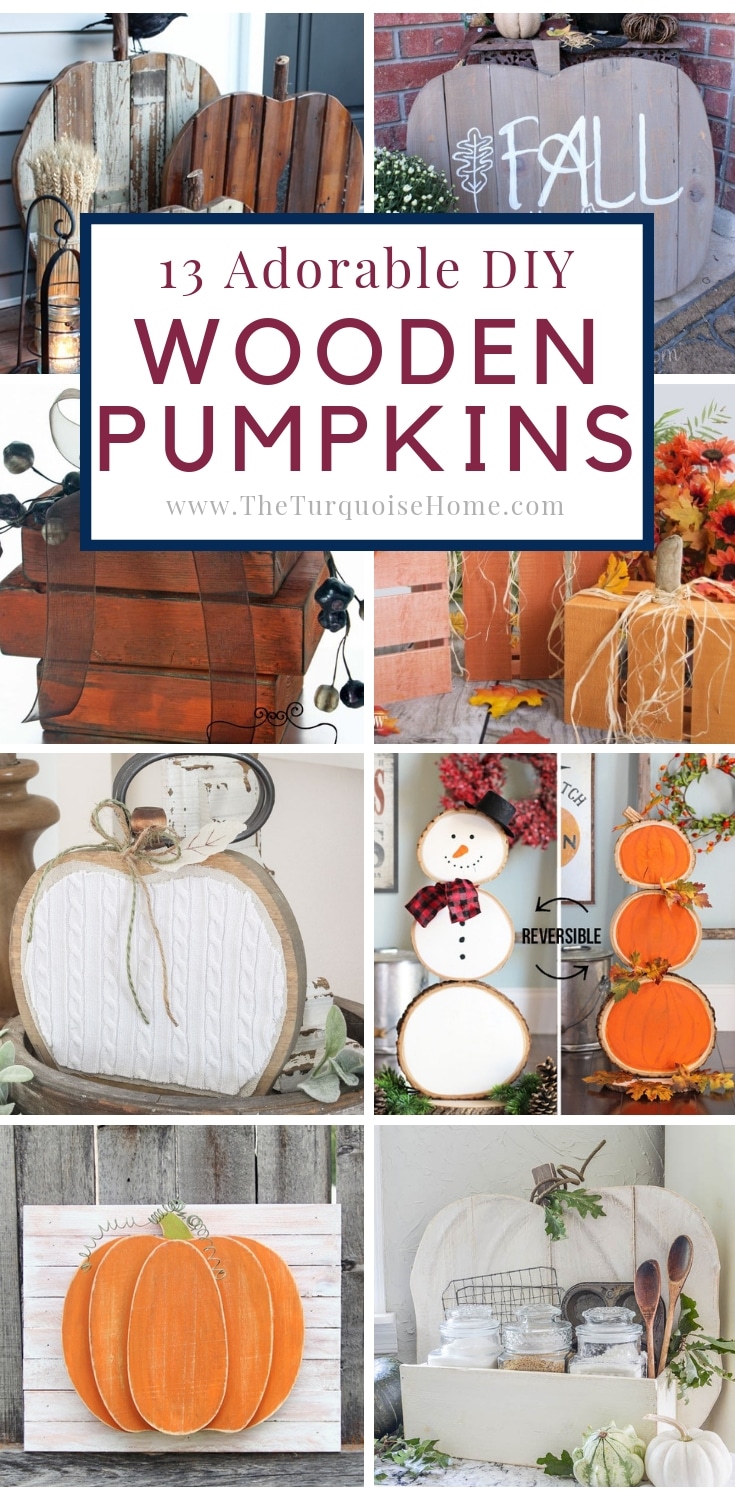 Love these projects – especially the ones you can make with materials you already have on hand!
If you do decide to make one, I'd love for you to let me know in the comments below!
DIY Wooden Pumpkins for Every Budget and Skill Level
1. Farmhouse Wooden Pumpkin with Cable Knit Sweater. This project was one of my projects this fall and I used a pumpkin template to cut out this little guy from a scrap piece of wood, and then used fabrics I had on hand for lots of cozy texture. I just love how it turned out! Get the full tutorial here.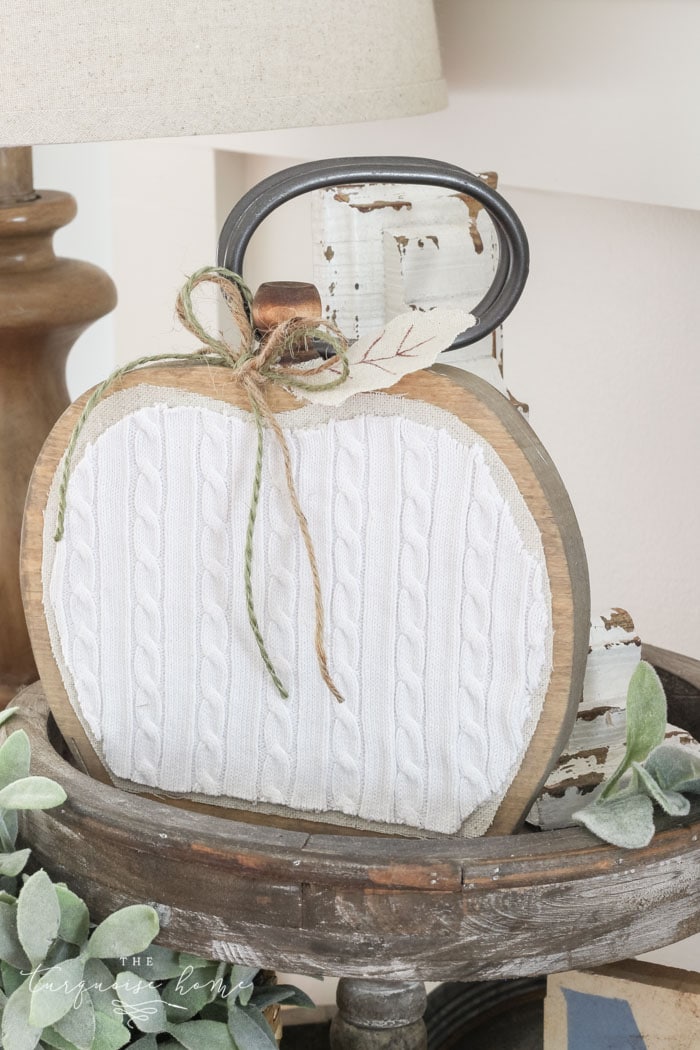 2. DIY Reclaimed Wooden Pumpkins. In a similar fashion, Laura at Finding Home Farms cut out a pumpkin shape from scrap wood, but she used some reclaimed wood that already had texture. These are so cute! I love the branches she used for the stems! That large on in the back is my favorite with the blues and greens. See the full tutorial here.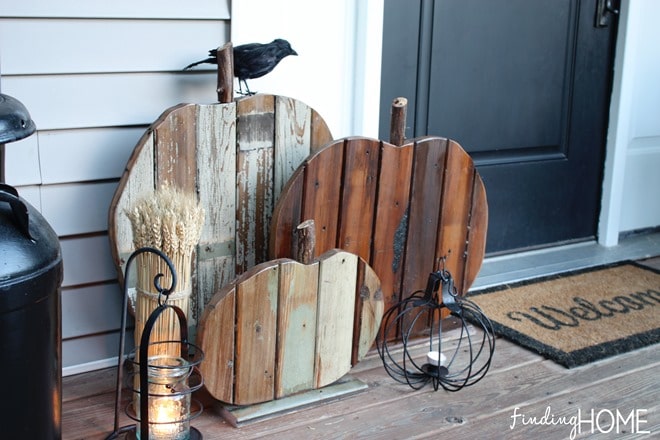 3. Painted Wood Slice Wooden Pumpkins. You can grab wood slices like these here or at most craft stores if you don't have random tree stumps laying around. Just paint them a pretty fall color, embellish with some stems and leaves and you have instant wooden pumpkins for fall decor!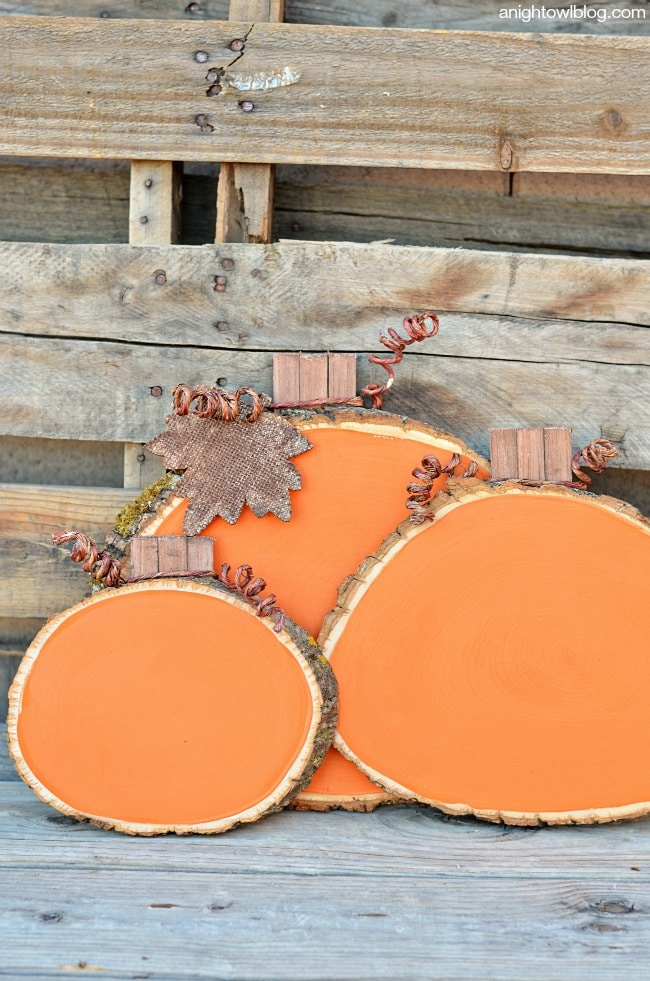 Painted Wood Slice Wooden Pumpkins from A Night Owl
4. Wooden Pumpkin Fall Sign with Scraps. A few pieces of scrap wood and you can make this cute wooden pumpkin for  practically free!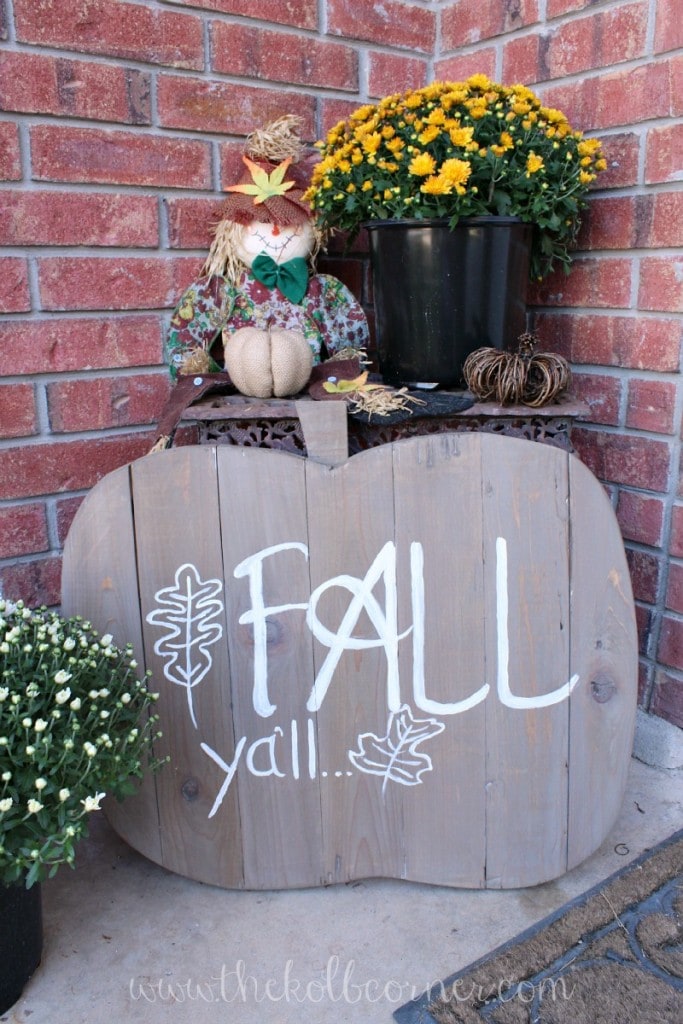 Wooden Pumpkin Fall Sign with Wood Scraps from Domestically Creative
5. DIY 2 x 4 Wooden Pumpkin. Another easy craft with scrap wood! This project takes a few scrap 2×4's and makes the cutest wooden pumpkins that any beginner DIYer could do!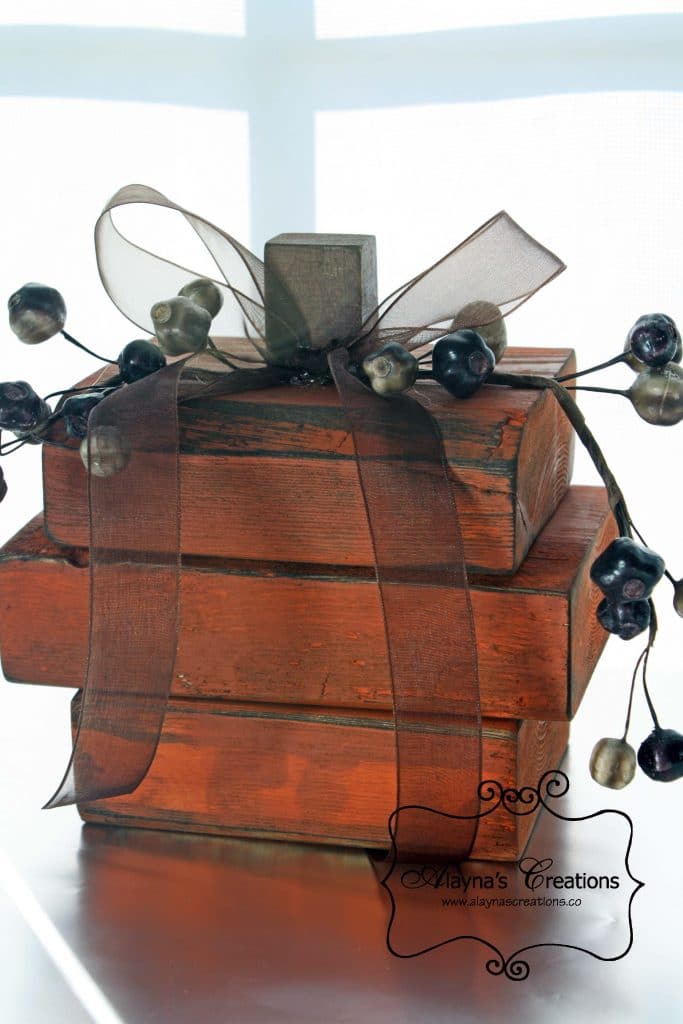 DIY 2 x 4 Wooden Pumpkin from Alayna's Creations
6. Rustic Wooden Pumpkin Stand. This wooden pumpkin is a stand is used as a baking station, but you could use anywhere in your home!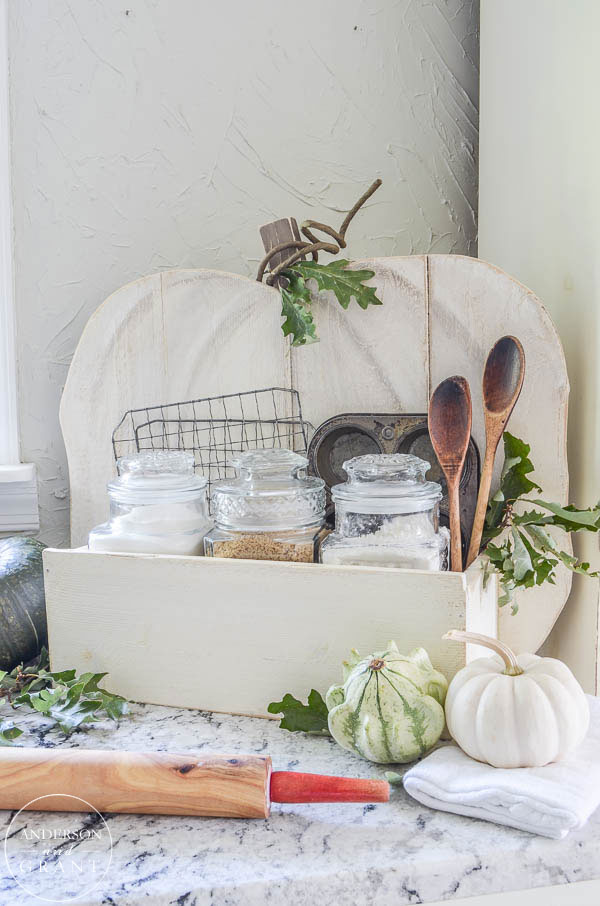 Rustic Wooden Pumpkin Caddy from Anderson and Grant
7. DIY Neutral Farmhouse Wooden Pumpkins. Love these reclaimed wooden pumpkins in neutral colors for fall!!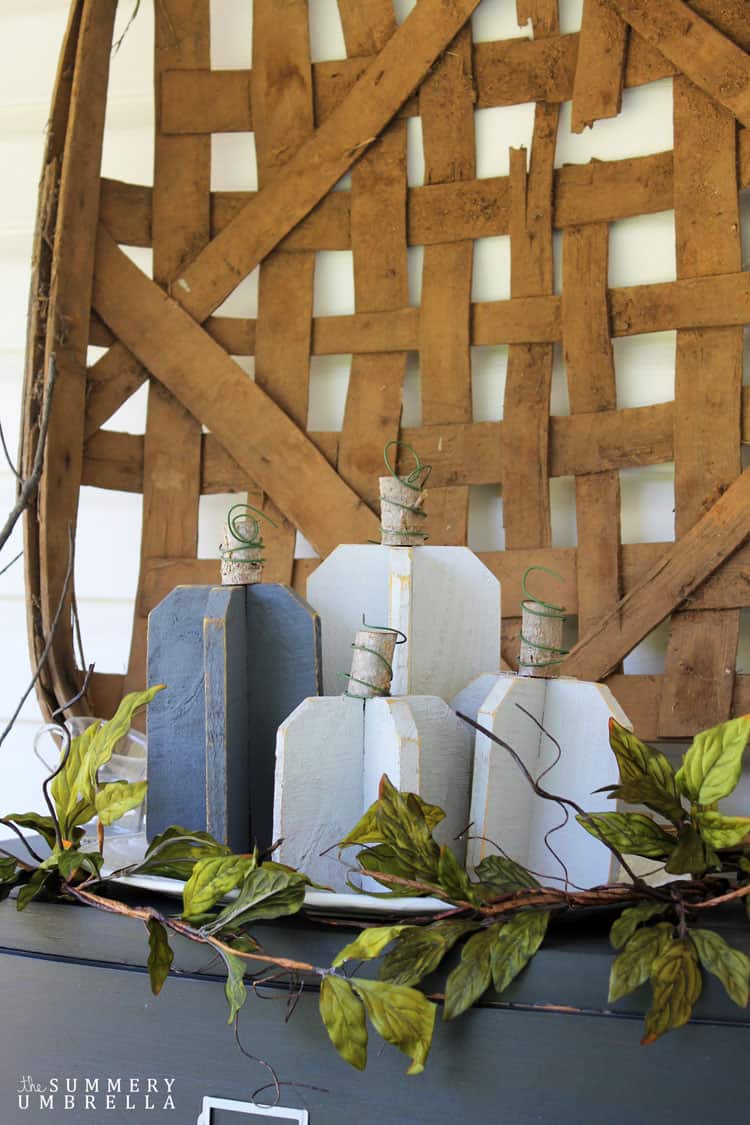 DIY Farmhouse Rustic Wooden Pumpkins from The Summery Umbrella
8. Fence Post Wooden Pumpkins from 4 x 4's. These wooden pumpkins are super simple and just so adorable! Using larger fence posting, just cut different length pieces and paint & add a stem! So simple!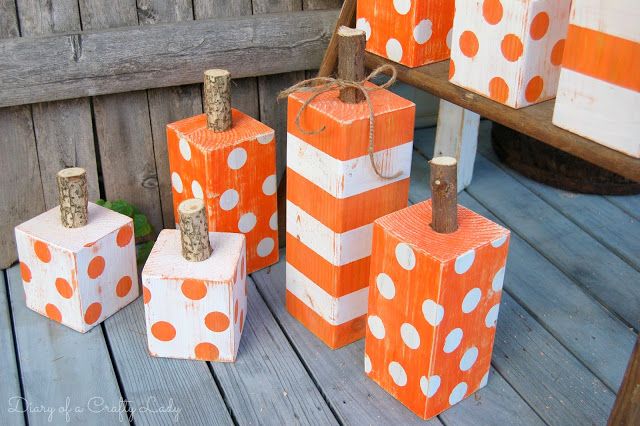 4 x 4 Post Painted Pumpkins from Diary of a Crafty Lady
9. Oval Wood Plaque Wooden Pumpkin. This wooden pumpkin could be my favorite! It is just painting and assembling the pieces. The wooden pumpkin featured in this craft is no longer available, but you could always use wooden oval blank pieces that you can find in any craft store. Or use this unfinished wooden pumpkin (click here). Adorable!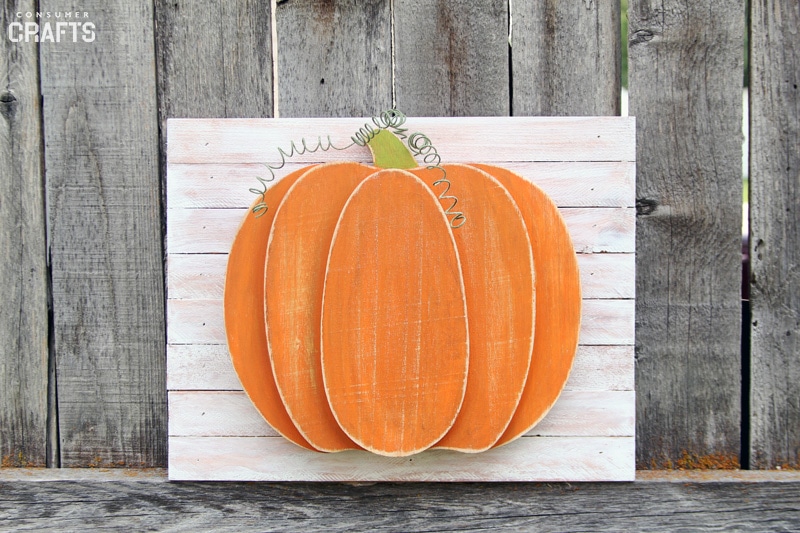 Wood Pumpkin on a Pallet Sign from Crafts Unleashed
10. DIY 2 x 4 Wooden Pumpkins. Using 2×4's cute various heights of wood, paint and drill and you have a simple inexpensive wooden pumpkins! I love this shape and height and the gingham fabric bow! You could paint these any color to match your seasonal decor.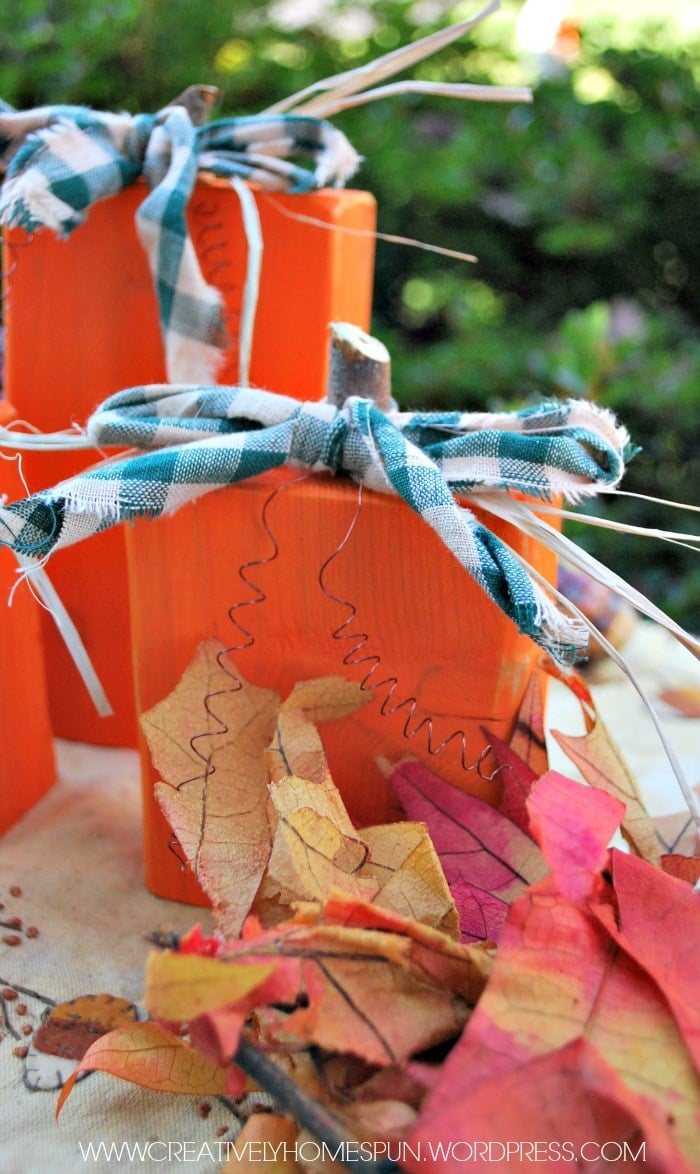 DIY 2 x 4 Wooden Pumpkins from Creatively Homespun
11. Wood Crate Pumpkins. Use wood crates to make these adorably simple wooden pumpkins for you fall decor!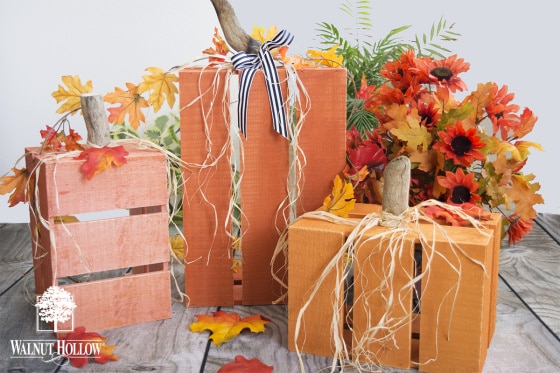 DIY Wood Crate Pumpkins via Walnut Hollow
12. DIY Pumpkin Pallet Trio. These wooden pumpkins are make from free pallets and screwed in together to stand up on your porch or yard.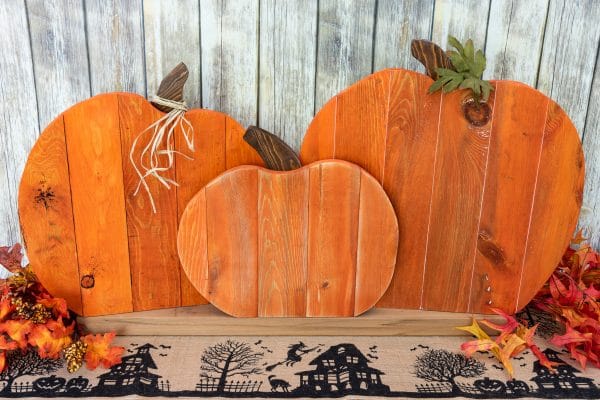 DIY Pumpkin Pallet Trio from The Handyman's Daughter
13. Reversible Wood Slice Decoration. This idea is just genius! Using wood slices from Hobby Lobby make a reversible wooden pumpkins or snowman!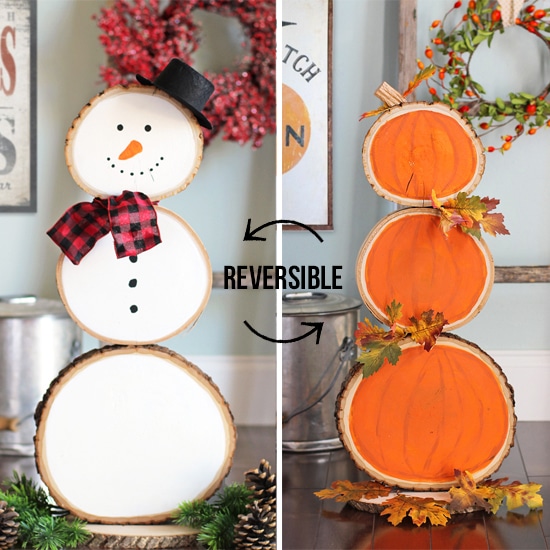 DIY Wood Slice Pumpkin & Snowman Decoration from The Craft Patch
Non-DIY Wooden Pumpkins
And if you're not a big DIYer, these are some cute wooden pumpkins I found out available for purchase!

More Fall Decor you Will Love!
Get Instant Access to my Guide to Customize Your Home on a Budget
Grab your FREE guide for 10 Ways to Customize Your Home on a Budget: simple projects to transform your home from builder beige to a home with character and charm!