Hey y'all! Well I've got a project here for you that I've been working on slowly for almost a month.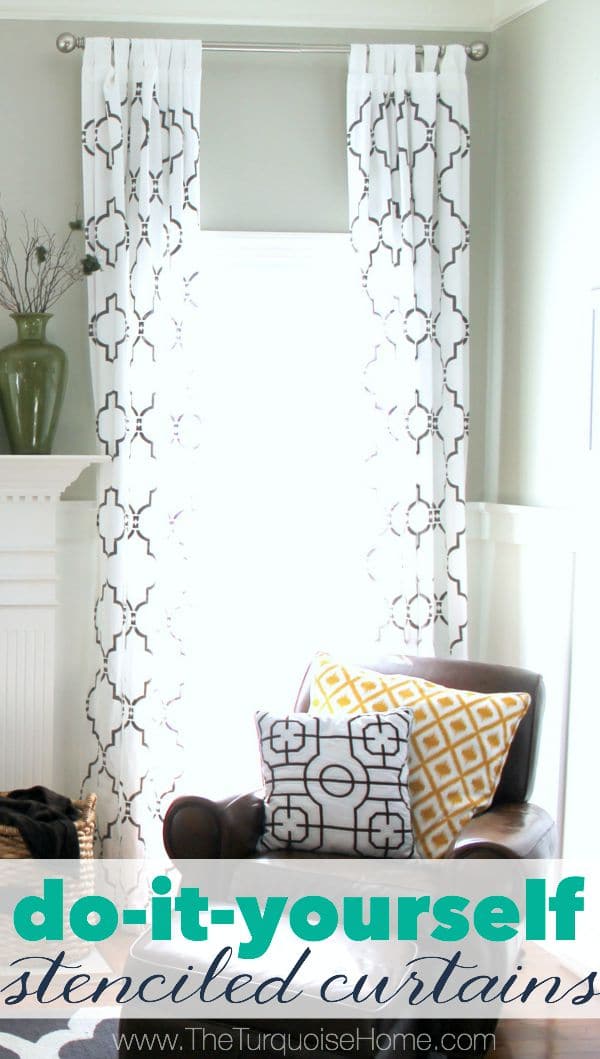 I've been looking for the perfect curtains for my living room for a while now. And while I've found a few fabrics I like, my ceilings are 12 feet high, so it's expensive to buy fabric for four 12-foot panels. Yikes! I used the shorter IKEA Lenda curtains in my master bedroom, and knew I loved them. And so, I bought the bleached-colored Lenda curtains in the 118″ length. At $34.99 for two panels, you can't beat that!
And then I went in search of my stencil. I've been eyeing the Moroccan trellis stencils for months. I have plans to use the stencil on a wall in the future, so I bought something I could use on my curtains and on my wall. I finally settled on the Marrakech Trellis Allover Stencil. These Moroccan trellis stencils are so on trend right now, and I just love them!

OK, now to the actually stenciling. First, let's talk about paint. I used craft acrylic paint mixed with Martha Stewart's fabric medium. I was naive and didn't realize how much paint I would need. You need a LOT of paint. I mixed several paint colors together, along with the fabric medium, so definitely write down your formula in case you need more. I ran out right before I finished the first panel. So glad I had the formula!
Here's the formula I used:
2 oz. gray
1 oz. silver
1/2 oz. burnt umber
3 oz. fabric medium
And that only covered almost a whole panel, so in the end I'd say I needed 8 oz. of paint for one panel. I had to go back to the store and get more paint.
The color I was going for was a greige, and I love it! It looks like a gray in liquid form, but once it dried on the curtain, it looked more brown. So, it's exactly what I was trying to create. Yay!
You'll need a large space for your stenciling. I cleared a space in my living room, so that I could stencil after Miss A goes to bed. (And it'll be dry by the time she wakes up in the morning.) You'll need something to cover your work space … unless you want paint on your floors. I used a queen bed sheet, and it worked pretty well. No paint got on the floors. But it did move around some, which makes it hard to keep the curtain straight and even. So when I stencil the rest of my panels, I may make something out of old cardboard boxes.
That is one of the biggest challenges – stenciling the curtain in a straight line. The Lenda curtains have several seams running down them, so it helps a lot in trying to keep everything straight. And you just paint the curtain. It only took me a about an hour to paint it. I highly recommend finding something soft to put under your knees. My knees hurt the next day from crawling around on the hardwood floors.
I love the way this one turned out and can't wait to complete this project and see them all hanging in my living room.
I only have one panel finished so far, but I finally got to the store today to buy more paint. So now I can paint the rest of the curtains. I plan to reveal them all when I reveal my Christmas mantel! You get a little peek here, but there's more to come.
(Update: Check out all of the stenciled curtains in my Living Room Reveal!)
Have you ever stenciled anything? If not, what would you stencil?