How to Decorate a Coffee Table
Add function and beauty to your living room with coffee table decor! Let's take a look at 6 easy tips for how to decorate your coffee table.
Coffee tables have been long been a centerpiece for any seating arrangement in the home. A coffee table acts is commonly found in the center of a seating arrangement, like the middle of the living room between the sofa and chairs. The function is multi-faceted, in that it can be place to sit a beverage, storage, or decorative space – or all of the above!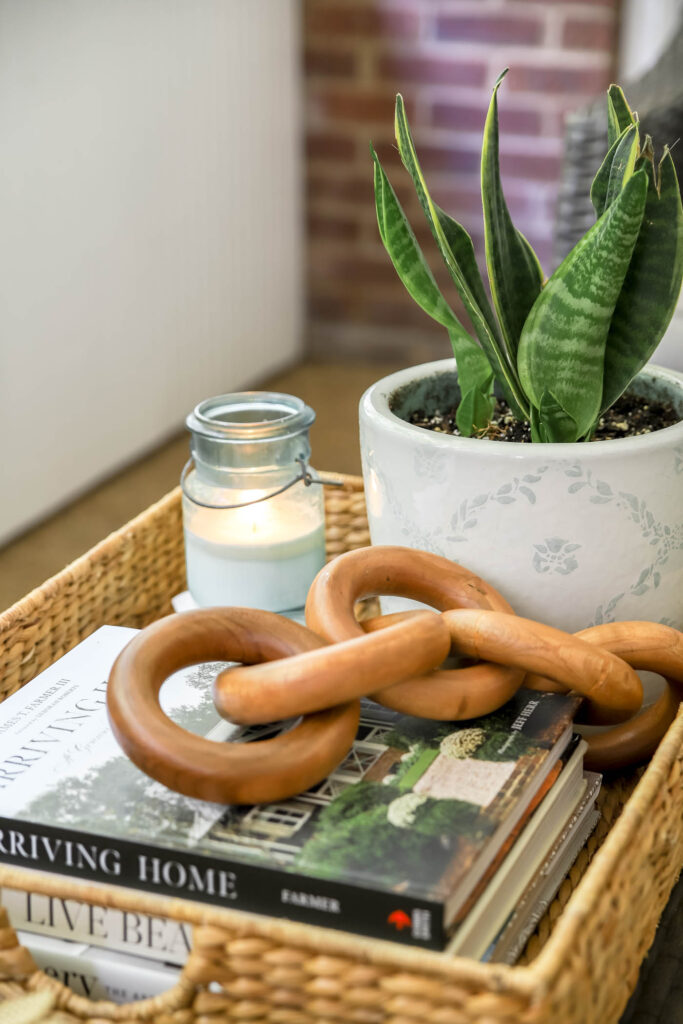 I've shared several other decorating tips for the living room, like how to choose and style throw pillows, or how to decorate end tables. I've even shared my honest opinion about our Frame TV, how to hide the cords behind it, and how to frame it yourself. I hope all of these posts help you create a living room or family room that you love!
But have you ever stared at a coffee table and wondered what in the world to put on it?? I have! It's probably the fussiest piece of furniture because you want to make it look good from every angle, while having interest and functionality, too. This may feel like the hardest decorating task, but I have the perfect formula for you!
Our current home is actually the first time we've ever had a coffee table. And when it came time to put something on it, I realized the coffee table decorating ideas were endless. So, I narrowed it down to 6 easy tips for styling a coffee table.
Along with my styling formula, I'm sharing a curated list of my favorite coffee table decor items and tips for buying a coffee table. So, don't miss those at the end of the post!
Navigate this post by using the drop down table of contents menu below. Don't forget to share this post or save it for later by pinning it to your favorite Pinterest board.
This post contains affiliate links for your convenience. See my full disclosure policy.
6 Tips for Decorating a Coffee Table
I've heard that a good formula for the basis of good coffee table home decor is Book + Plant + Interesting Decor Object = Stylish Coffee Table. Let's dive in and see how we can implement each item and more!
1. Large Tray or Bowl
Starting with a tray or large bowl will make the whole vignette look more cohesive and grounded. I love the look of a wood or woven, natural tray to bring in some texture to the table. Get a large enough tray so that it holds everything you want to put out. This will keep it from looking too cluttered.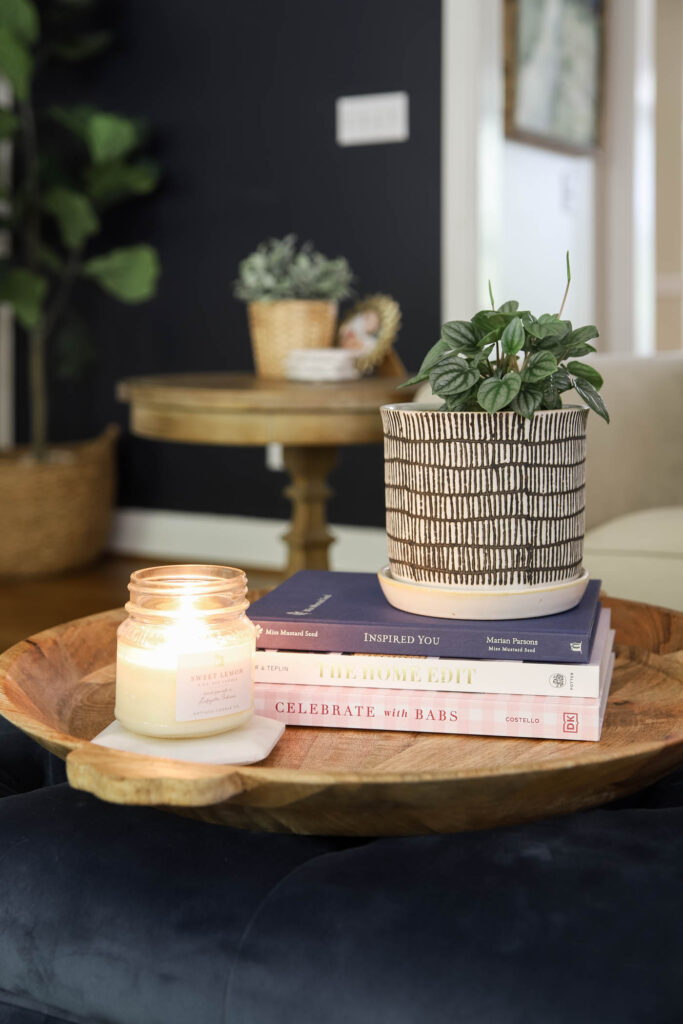 Using a tray also makes it possible to quickly move the decor on your table and replace it with a food tray or coasters for drinks!
2. The Focal Point
The first thing to put on your tray is a large, eye-catching item. This could be a vase, funky stone, a wooden statue or pretty planter.
Add something to your grouping that adds some height and is the star of the show. Another option might be putting a tchotchke on a stack of books to give it some much-needed height!
I would be willing to spend a little bit more on this item since it's the coffee table centerpiece.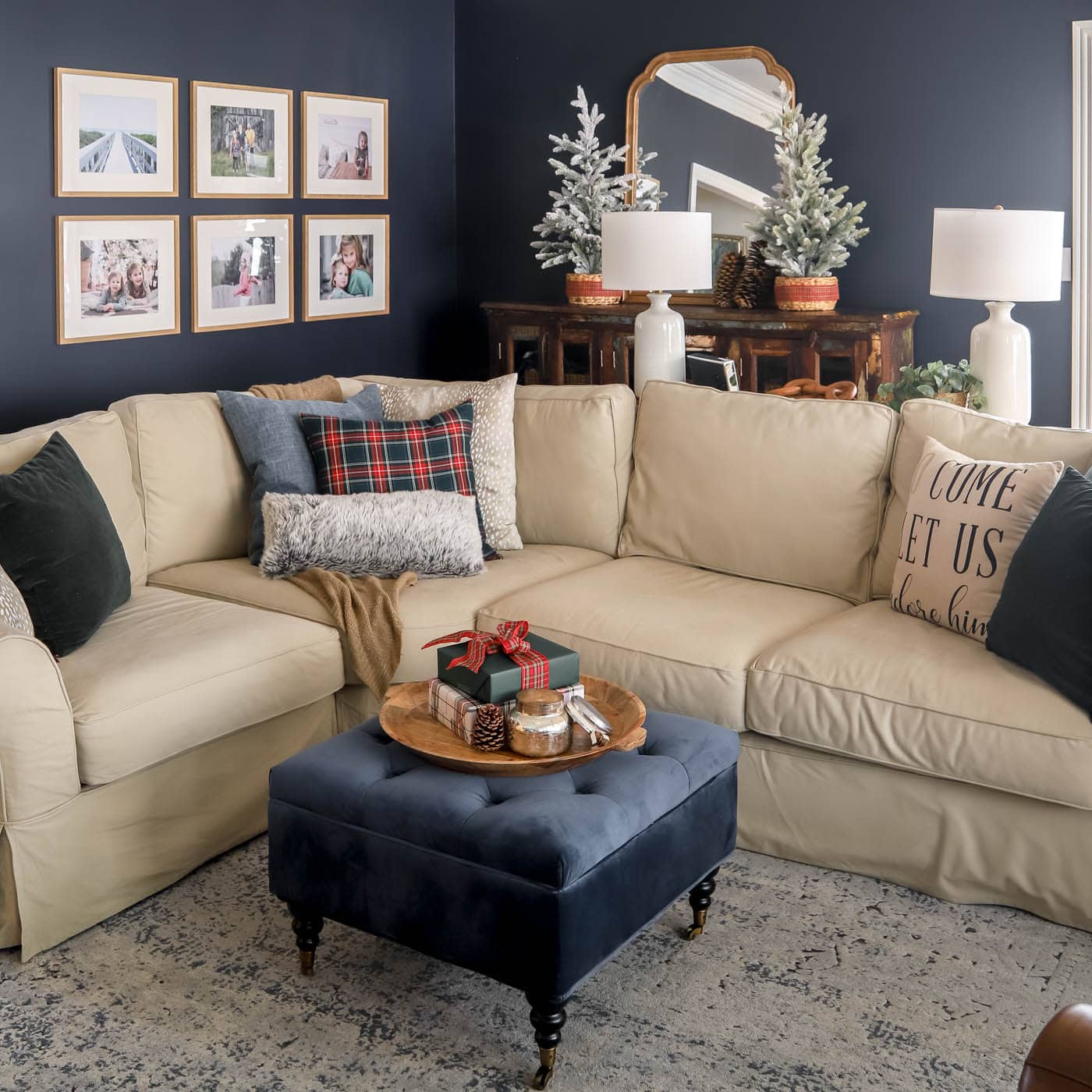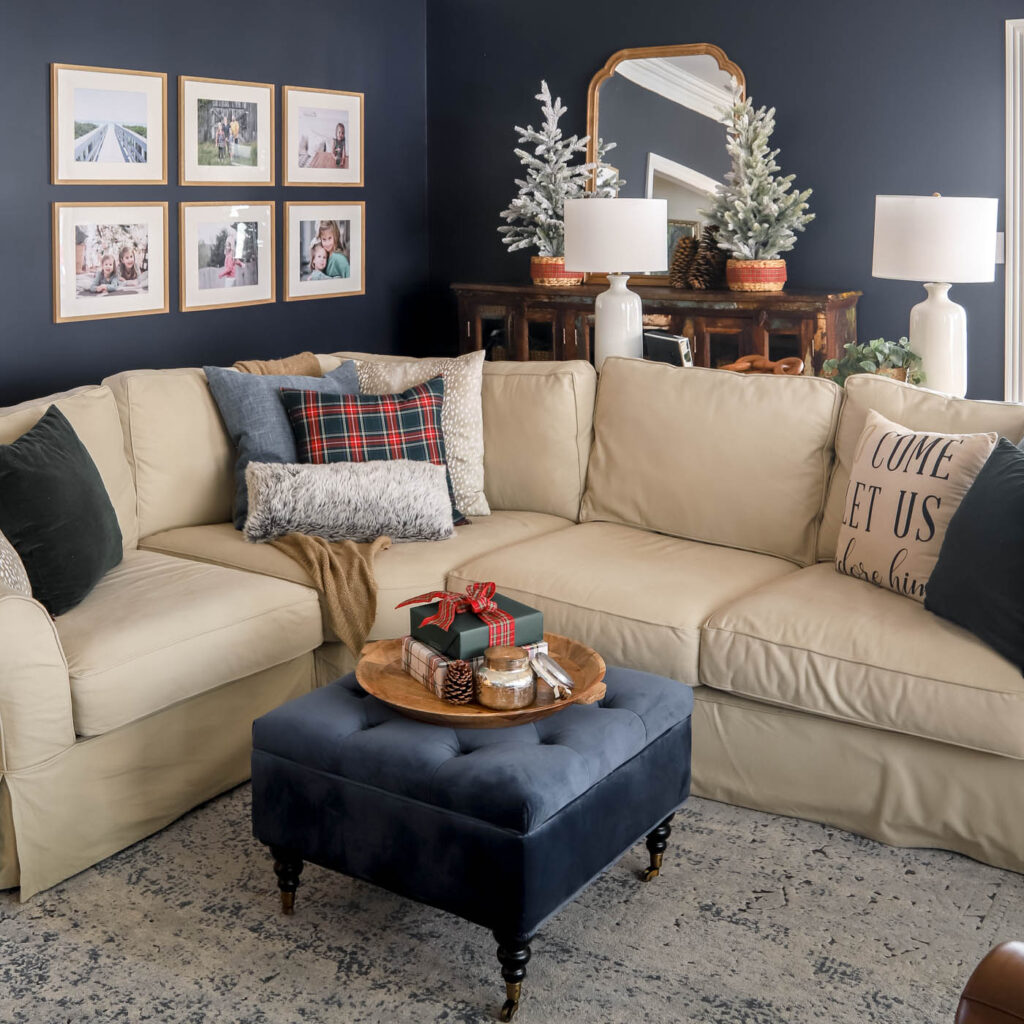 3. Plants
Give your space some life with a natural element, like a plant. You can go the faux plant route, or try an easy-to-care-for plant! I've done both and love each option for different reasons. A vase of fresh flowers would look beautiful as well!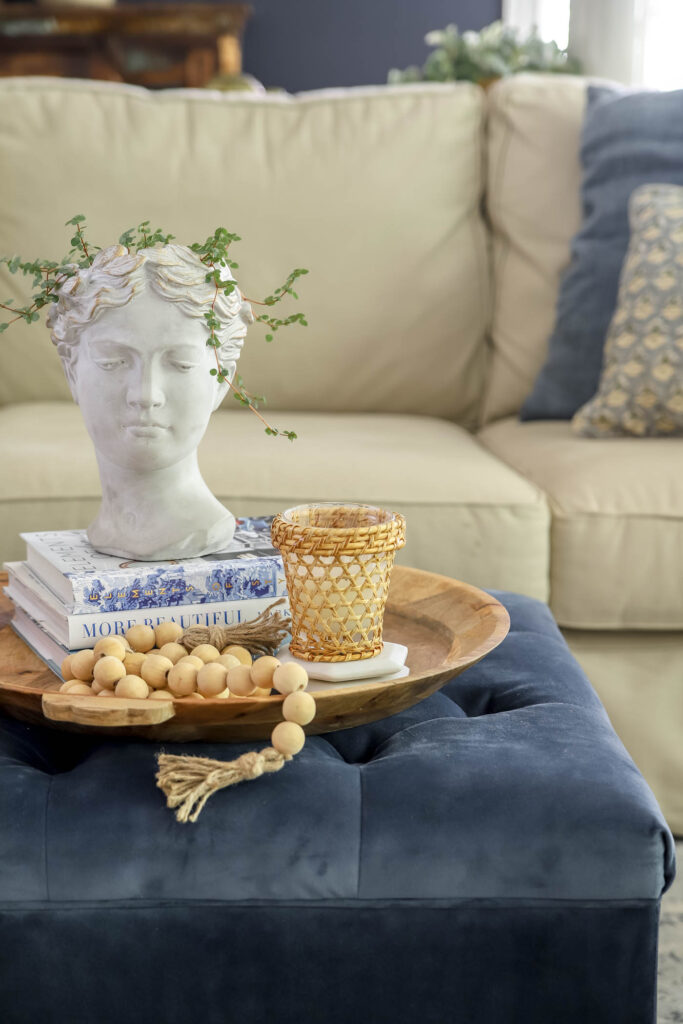 I would suggest that if you are going to use a tall leafy decor item, make sure it's not blocking the view from one person to another.
These beautiful hard-bound books are some of my favorite things to use for decorations. I personally love books from interior designers, but books about a special location or other hobby would be good, too!
Books are great for adding layers or height to your table. Use them in a stack of 3 for a beautiful collected look. Or gather books with similar color schemes to create a strong visual element.
5. Bowls or Decorative Boxes for corralling smaller items
We used to have 4 remotes in our living for various TV watching situations, so a bowl for those would have been great! You might need a place to put matches for candles or pencils for working your crossword puzzles, the sky's the limit!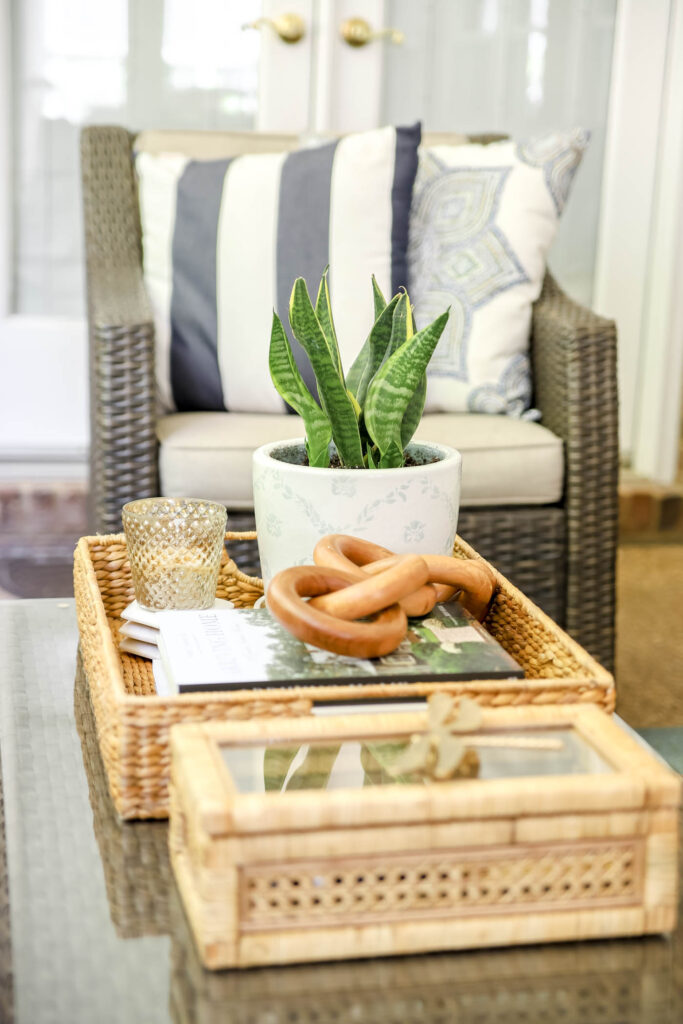 Whether you're gathering useful items or decorative items, a bowl or smaller tray is always a lovely way to keep the coffee table surface looking clean and simple!
Whether it's a closed coffee table or one with baskets on a lower shelf or drawers, using this decorative piece for extra hidden storage is always a good idea.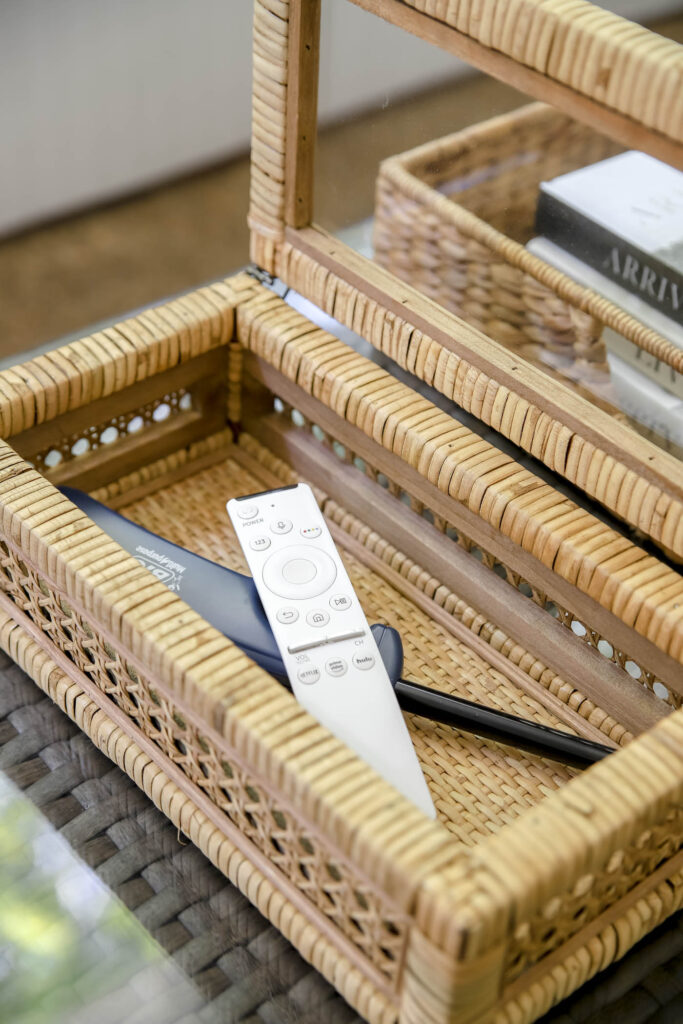 This rattan and glass storage box makes an adorable storage solution for your coffee table. Use it to store remotes or pretty tchotchkes.
I hope you find those tips helpful! Keep reading for more related recommendations.
Tips for Buying a Coffee Table
Buying the right coffee table for your space may seem intimating, but if you keep these tips in mind, you'll get the right one for your home!
Pay attention to the height of the coffee table. Make sure it is the same height as the chair or sofa cushions, or lower!
Buy an upholstered table or round table if you have small kids at home.
Look for a coffee table that is 2/3 (two-thirds) of the width of your sofa or grouping of chairs.
Leave 12-18 inches between the coffee table and the seating.
And leave more than 18 inches between the coffee table and TV stand.
Consider nesting tables for flexibility and modification to suit your needs!
Must-Have Elements for a Coffee Table
I'm sharing some of my favorite curated items to put on a coffee table!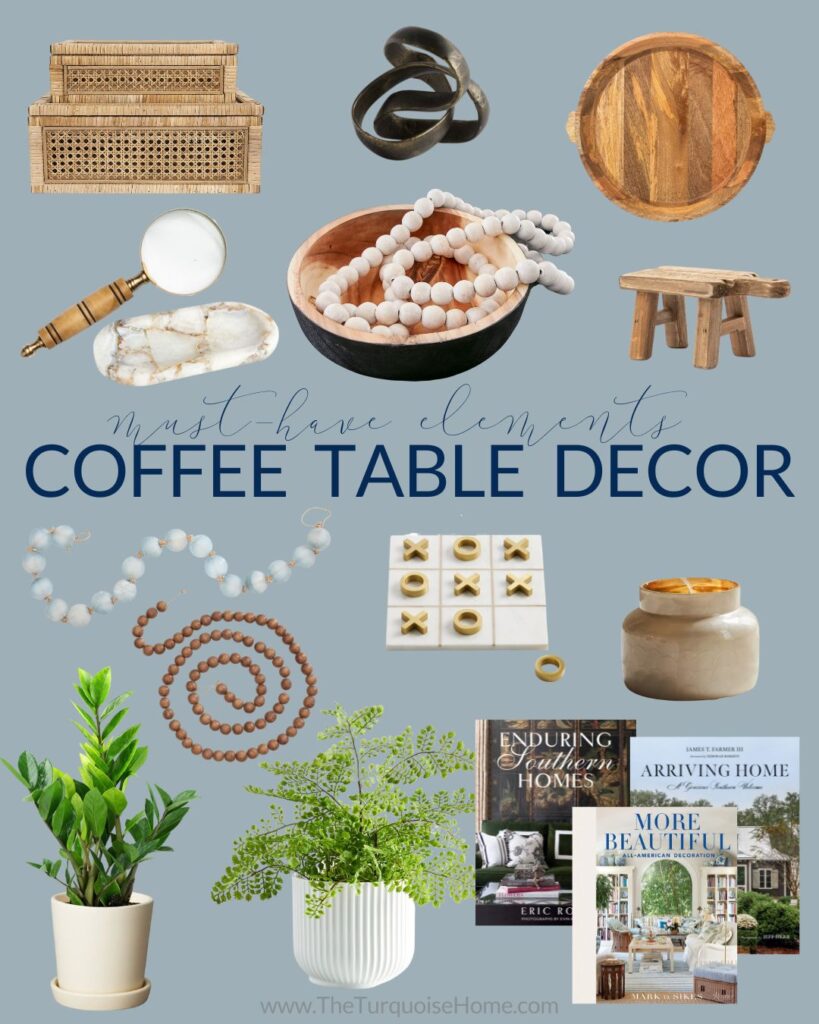 SOURCES: Rattan Storage Boxes | Metal Sculpture | Wooden Tray | Magnifying Glass | Marble Catch All | Black & Wood Bowl | Wooden Pedestal | Blue Glass Beaded Garland | Wooden Beads | ZZ Plant | Faux Fern Plant | Marble & Metal Tic Tac Toe | Capri Blue Capiz Candle | Enduring Homes book | Arriving Home book | More Beautiful book
Beautiful Coffee Tables
If you're not a DIY kinda girl, then I've got you covered with my favorite tables, too! Check out these gorgeous coffee tables for your family room! Tap the images to shop.
SaveSave