Classic landscape art is gorgeous and so trendy, but can be a pricy purchase. Find out how to get the same look for a fraction of the price!
I know you've seen the landscape art that is legit everywhere these days. It's in every current designer's wheelhouse and I think they are stunning.
You know what I'm talking about… the blues and greens in a landscape, typically without a mat, framed with a gorgeous brass frame. But truly, they are kinda pricy. I've had my eye on a couple of them, but I've had my eye out for cheaper options as well.
These are some of them that have caught my eye over the past few months.
The Splurge: Landscape Art I Love

Now, if you're really fast and snagged some of the Studio McGee x Target collection art, then you've gotten some for a pretty good price (under $20). But otherwise I'm seeing them around for $100-$300+ and even more than $1,000!
I'm not against buying beautiful art, but I'm always going to see if I can find something cheaper that looks equally as good!
So, one day I was browsing Etsy and discovered this shop with gorgeous printable art that looks like it came from my grandma's basement. I'm pretty sure they are scans of originals because so many of them have the cracks and wear of an original in the digital file. 😍
I was so excited to have found these!
The Save: Printable "Vintage" Landscape Art

The Hunt: Cheap Brass Frame
Then, I was on the hunt for an inexpensive brass frame. And I found that, too! I'm sure I could have gone thrifting and found something old, but I don't have many good thrift stores around me, so I found one in a store, instead!

This is the frame I used in my living room. If you use the mat, you can use a 5×7 print or if you don't use the mat, it becomes an 8×10 frame. They were about $6 each with a discount code, so I was pretty happy with them!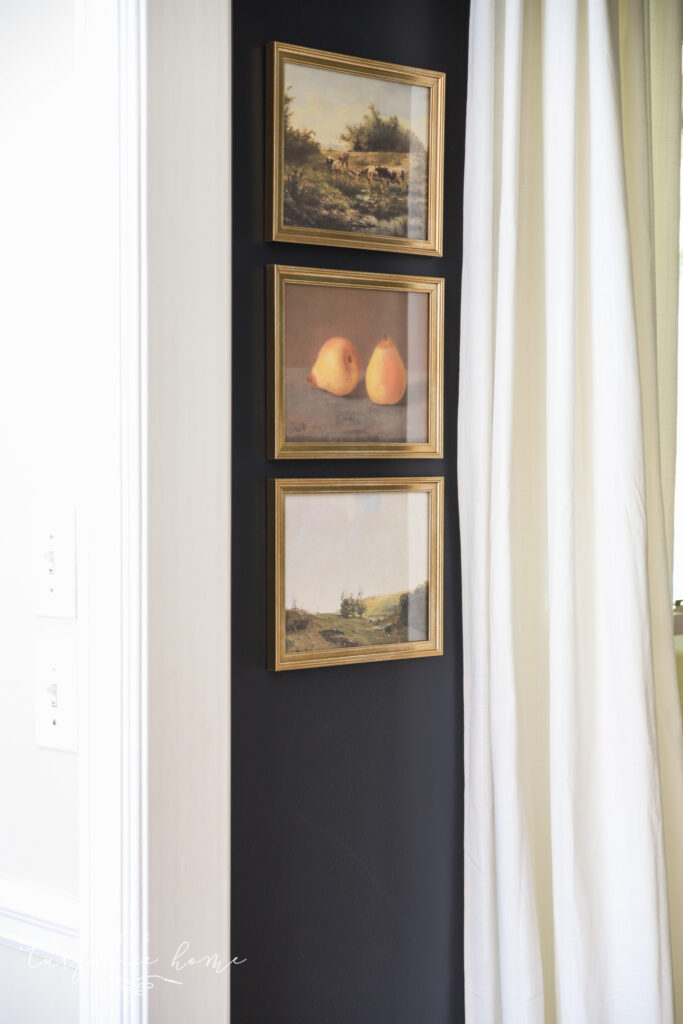 So, for about $12, I was able to put together a gorgeous 8 x 10 landscape art that I loved!
I picked out 3 prints and framed them in my living room.
This little corner of the room needed some personality. I can see it from the kitchen and while washing dishes at the sink, so I've been on the hunt for something small and cute for that space. These are perfect and I love how they pop on our Hale Navy wall!
The best thing is that the Etsy shop has some beautiful ocean prints as well, so I'll change these fall-ish themed prints out for some more summer-y ones next summer!
What do you think? Are you into the landscape art trend? Which prints are your favorites?
Get Instant Access to my Guide to Customize Your Home on a Budget
Grab your FREE guide for 10 Ways to Customize Your Home on a Budget: simple projects to transform your home from builder beige to a home with character and charm!