Simple fall decor touches make this classic home feel cozy for the upcoming autumn season!
Yay! I'm excited to share some of the first seasonal decor in our new home. This is our first fall here, so it's fun to see how my decor fits in this new space. It's been so exciting to figure out how to decorate a different place with most of my old decor!
First up, let's take a look at the living room. This is the one room I've checked off the makeover list. I'd like to change a few things down the road, like the ceiling fan and the fireplace tile, but it's at a good place and it's one of our favorite spots to hang out!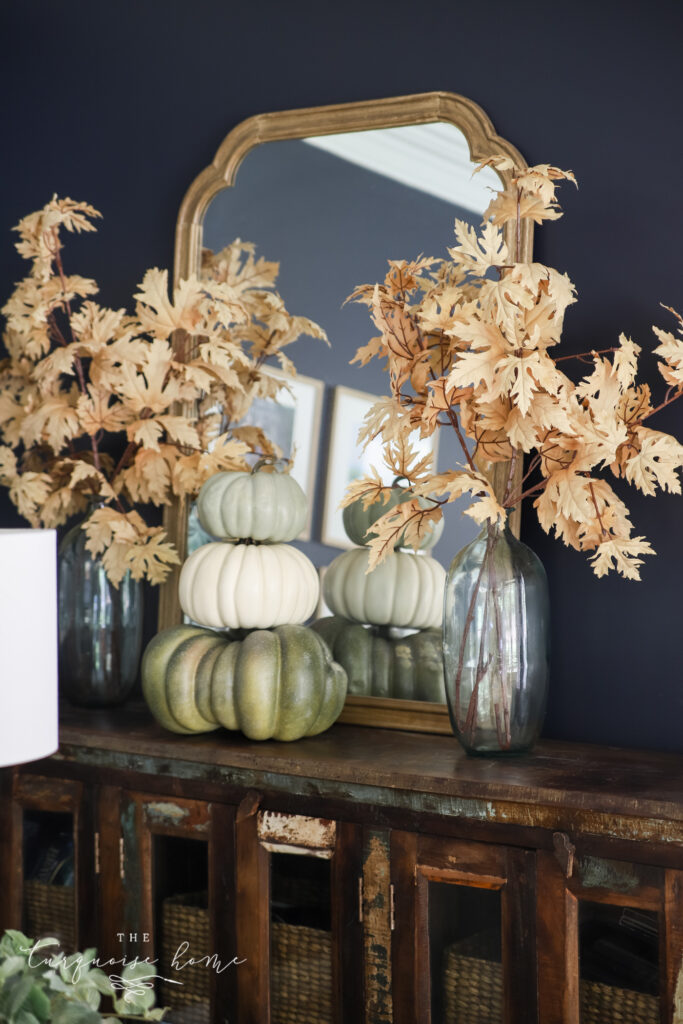 We watch our family movies in here every Friday night and I'm so excited that football is back on! Even when we're not watching TV, the view out the wall of windows into our wooded backyard is beautiful.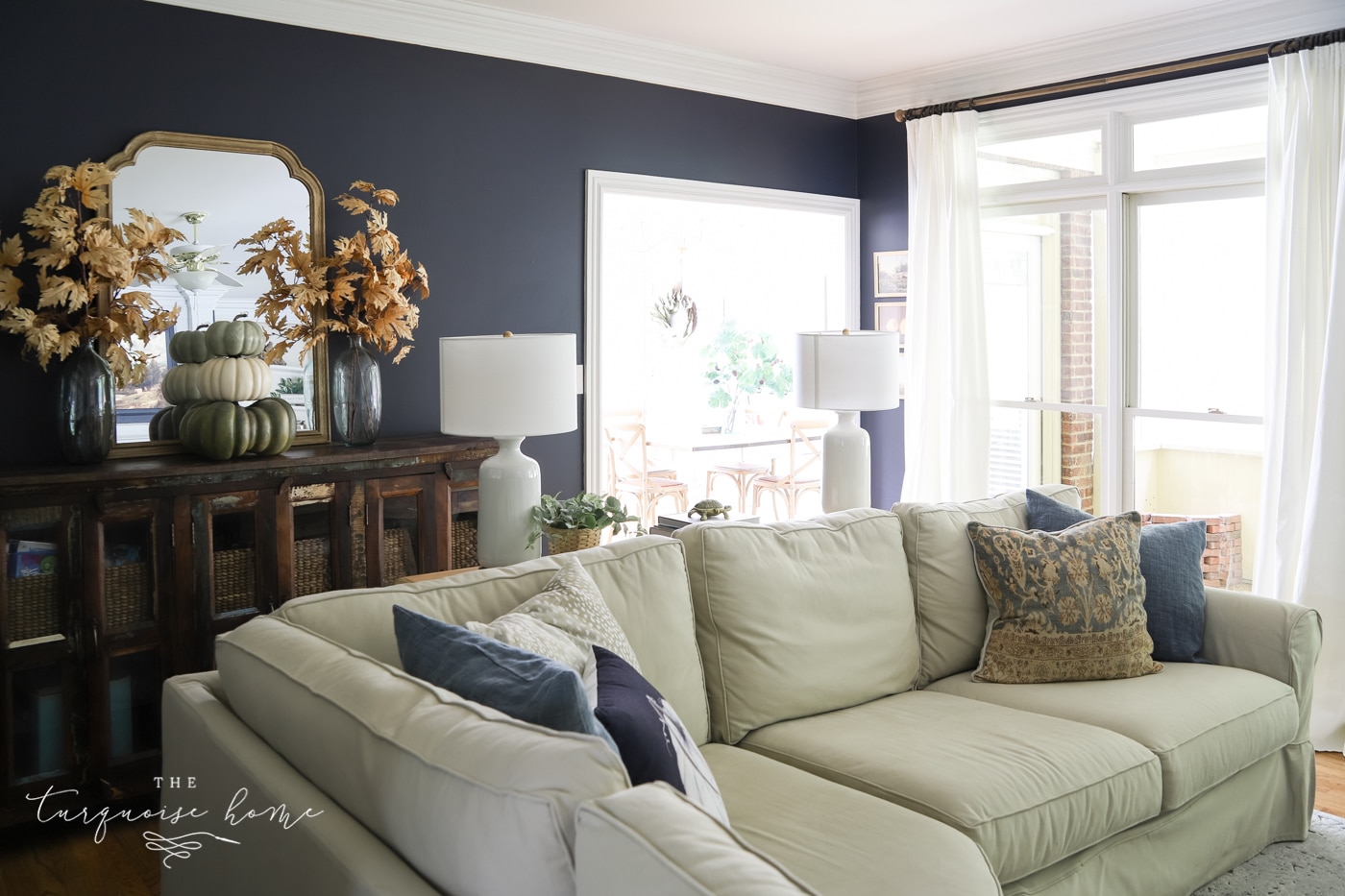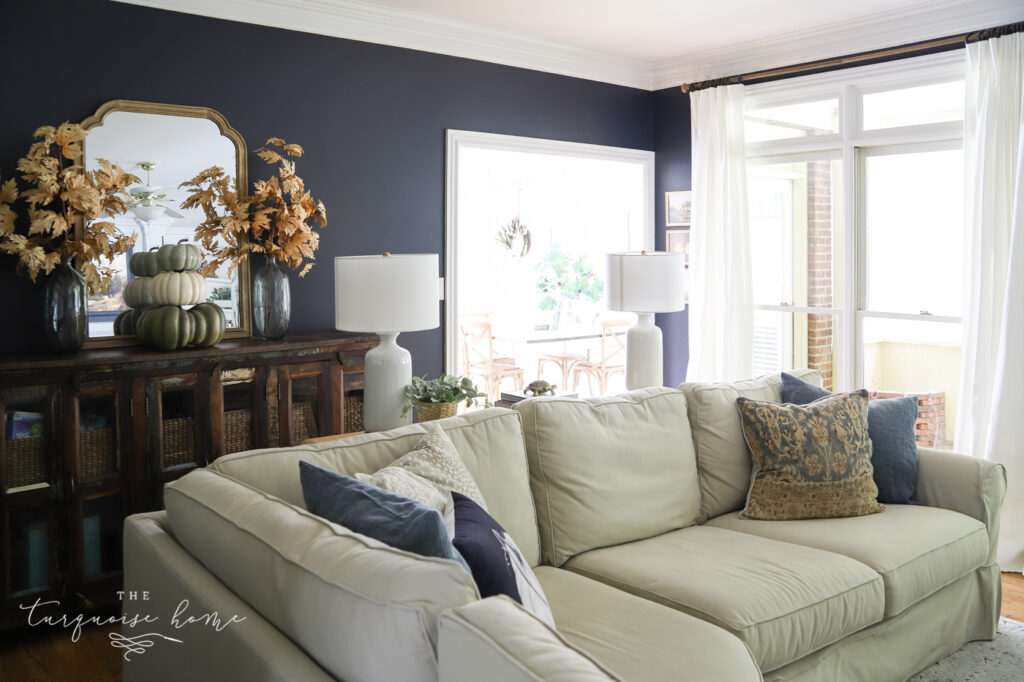 I know it'll be even prettier when the leaves start to change. (Although cleaning up the fallen leaves will be a big task at this new house. 😬)
I didn't add a ton of strictly fall decor this year, just changed up the pillows and added a few fall touches. I changed out the dogwood stems in the vases on the buffet for some muted orange leaf stems that pop off my Hale Navy walls.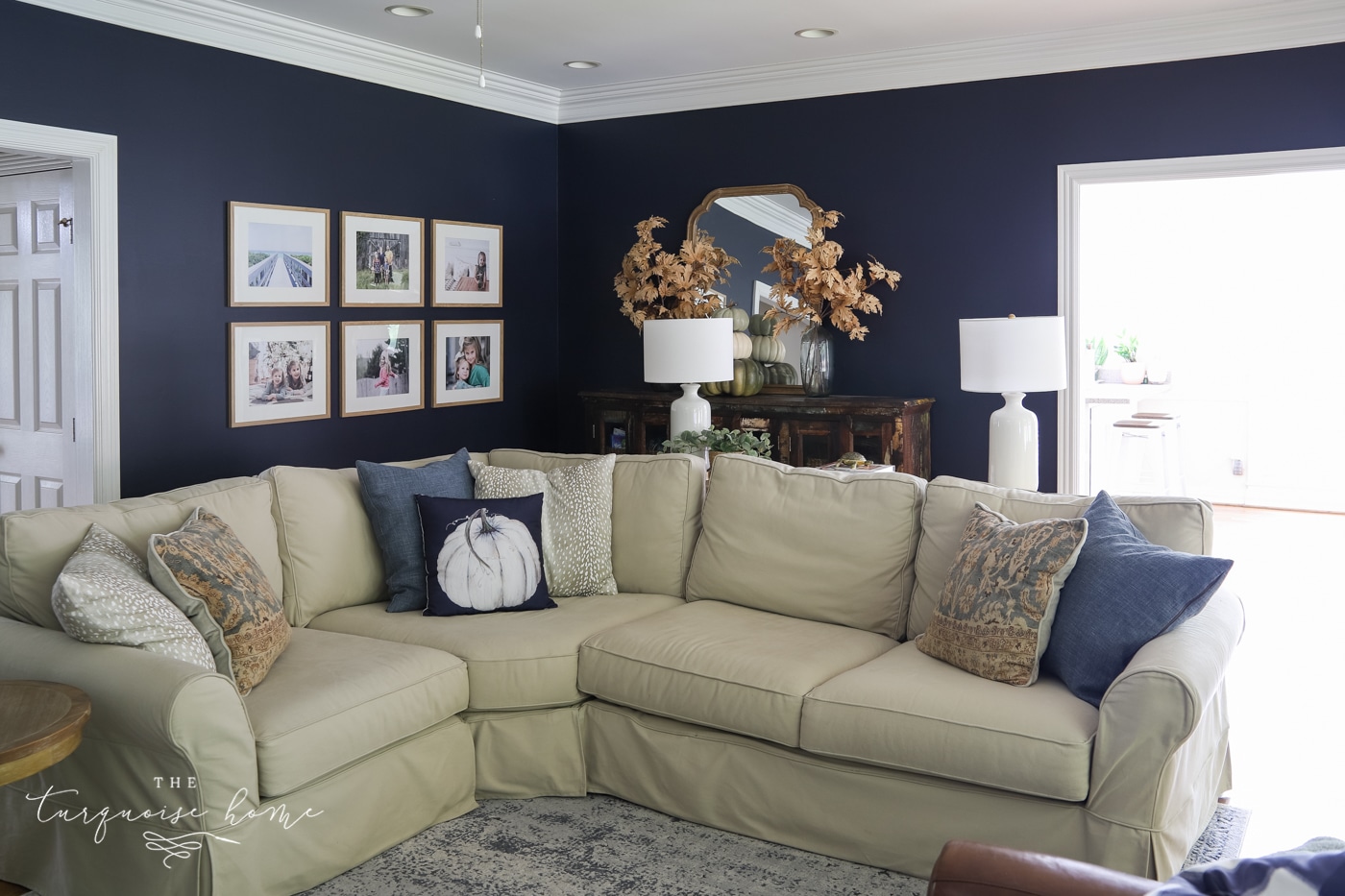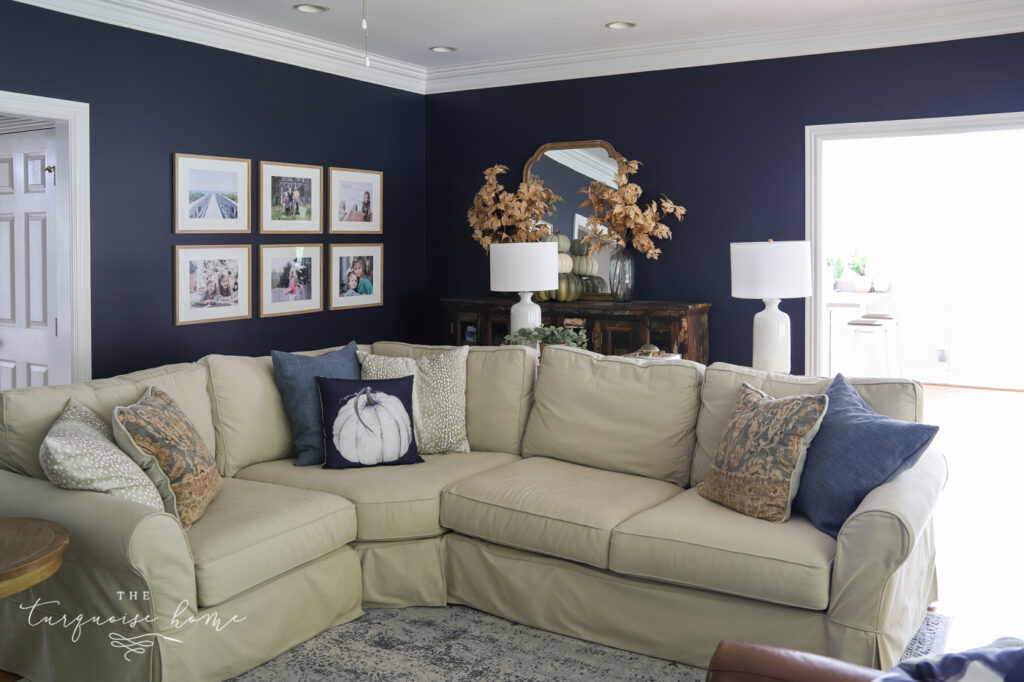 I've found a winner with the pillow combinations on the sectional:
Click/Tap the images below to shop my living room corner: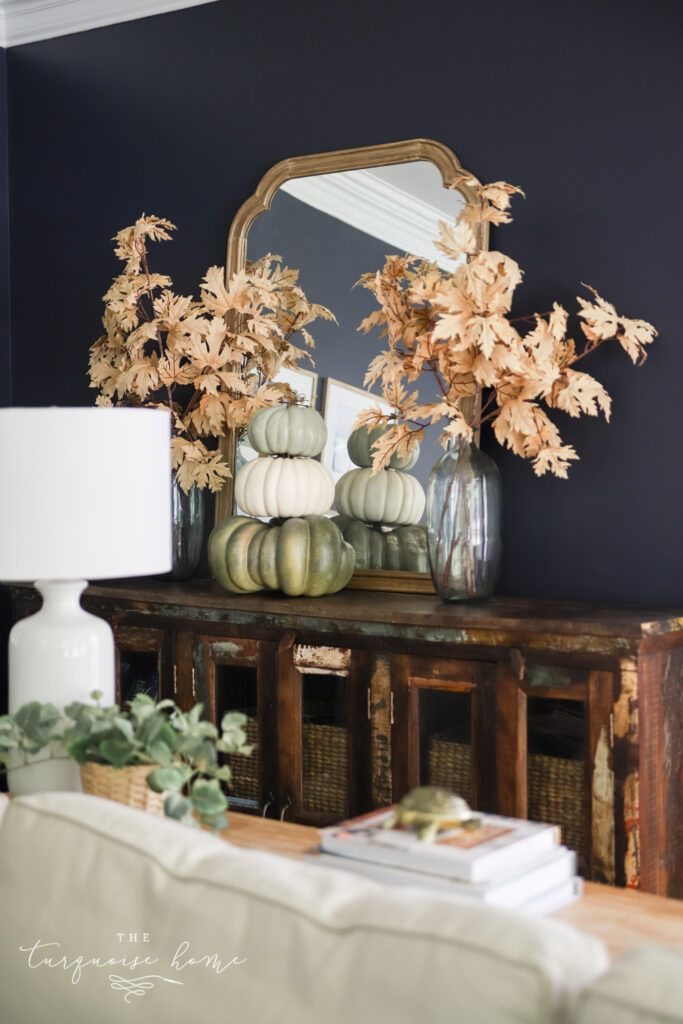 I've had that pumpkin topiary for years (the pumpkins are all sold out), but it's super easy to do. You just find some faux pumpkins at three different sizes made from foam and stick them on top of each other! I just cut a hole in the bottom of the pumpkins for the stems to fit into each other.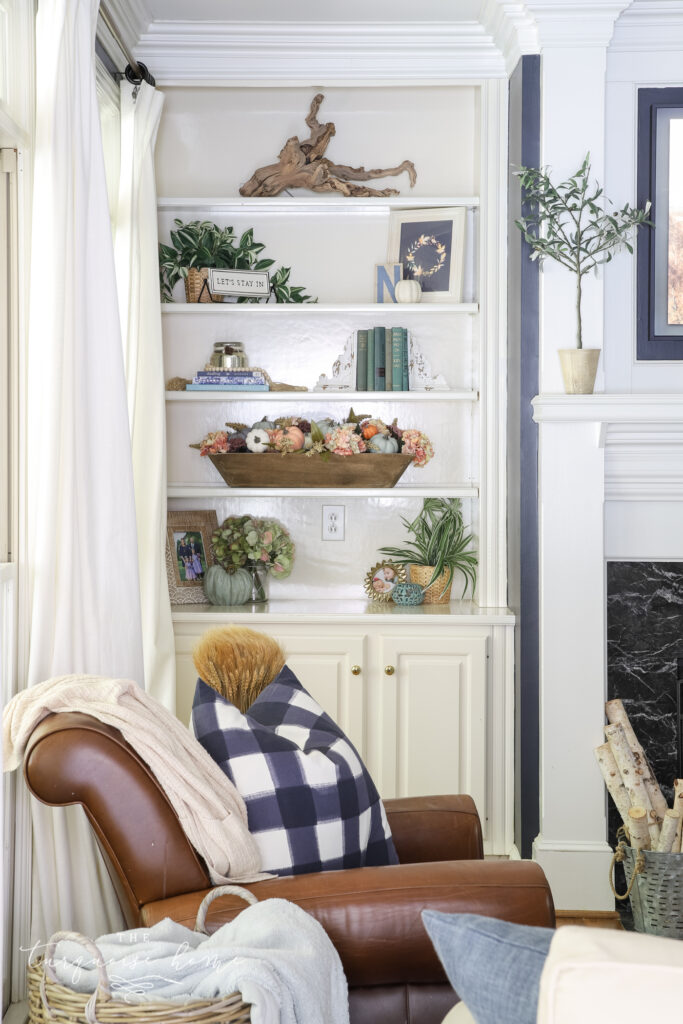 The built-ins next to the fireplace mantel are such a fun spot to decorate! It was the perfect place for my dough bowl pumpkin fall centerpiece I made last year.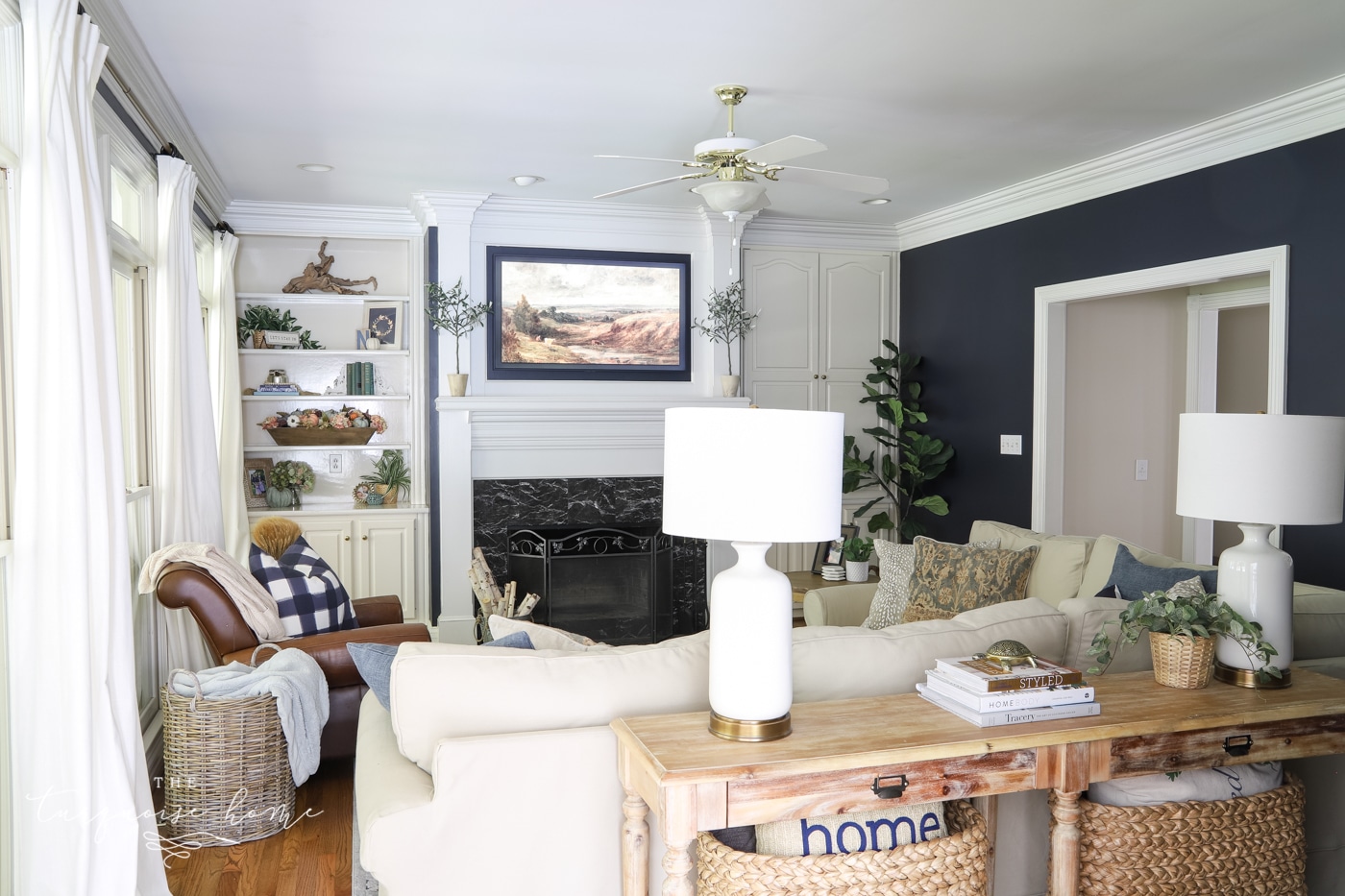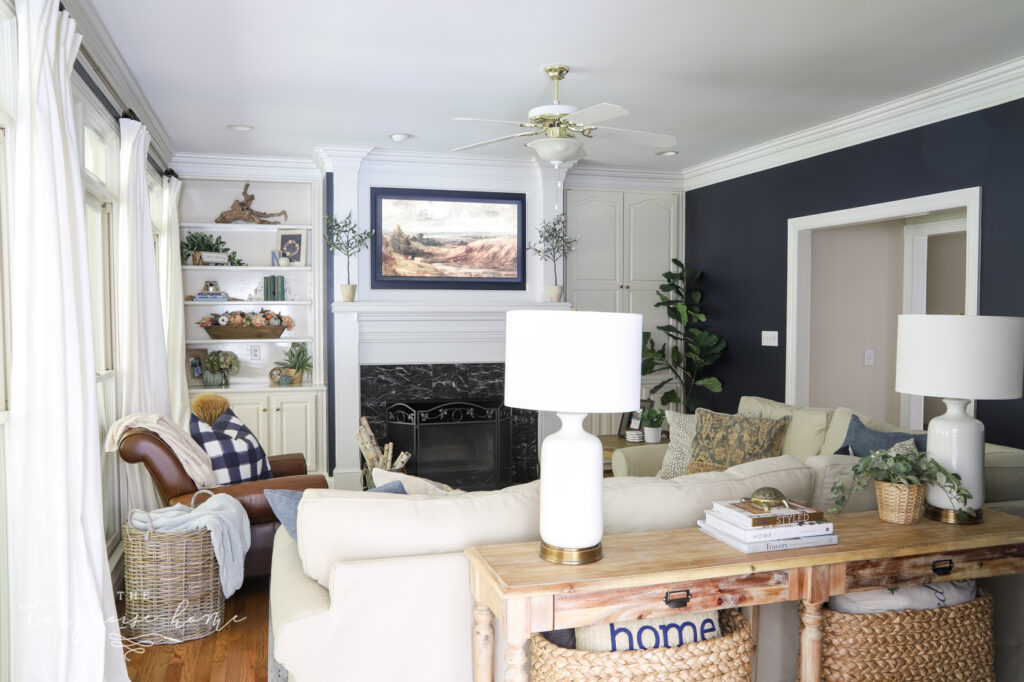 We are still loving our Frame TV and I change out the art it displays each season. I love that it looks like art up there since I can't decorate the mantel like I did in our old house. A couple of simple faux olive topiaries finish off the space.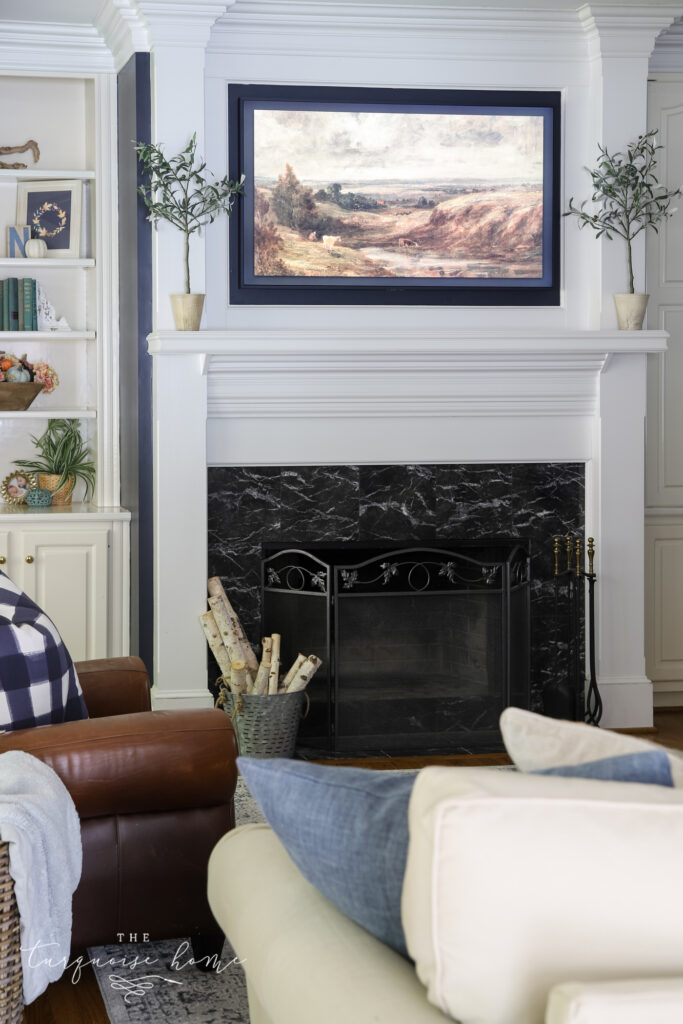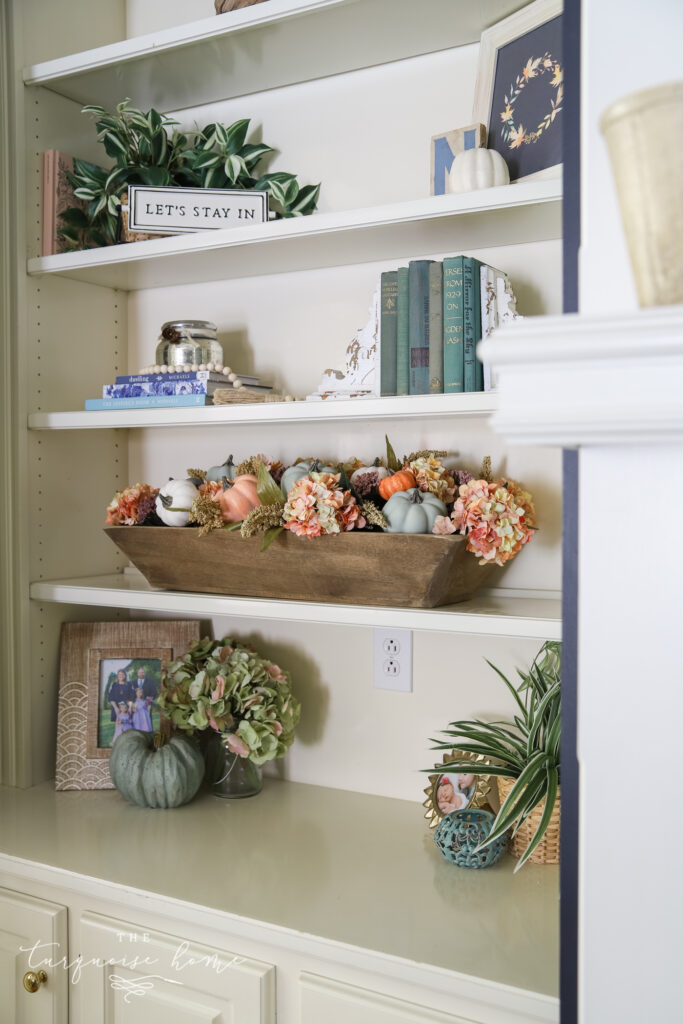 Click/Tap the images below to shop my living room:

Now going into the kitchen, you will see that I've started the makeover I have planned for this space. But I'm still waiting on several key pieces to be delivered.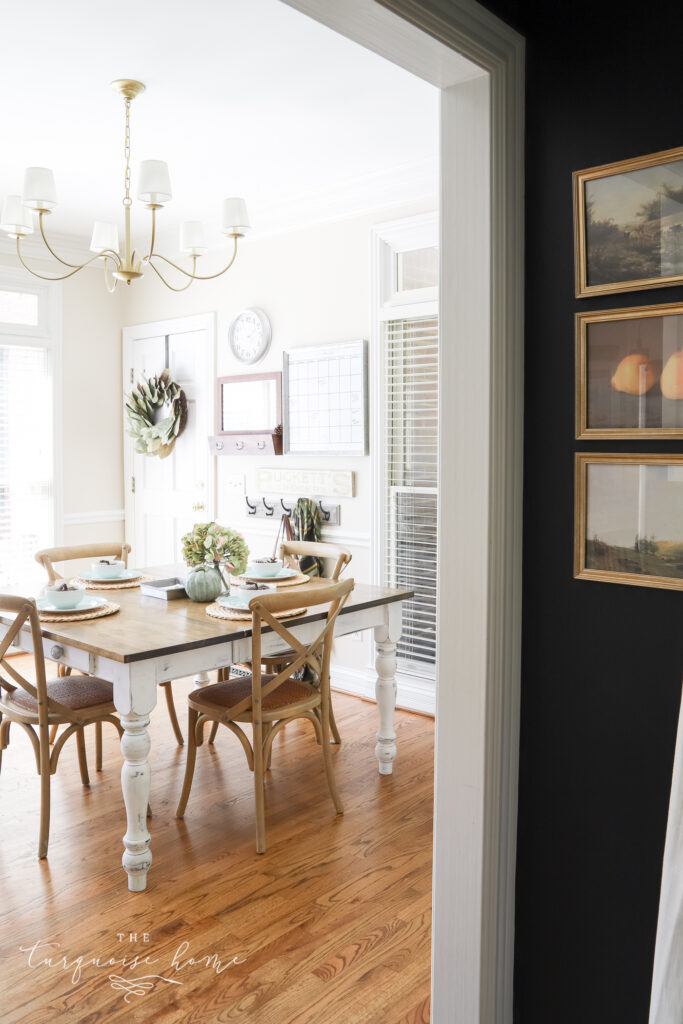 It seems like furniture and home goods are taking much longer than normal due to the global crisis, so just keep that in mind if you're planning on making over a space. Plan way in advance!
We exchanged out the old dingy, broken light over the kitchen table for this inexpensive brass chandelier. I love it!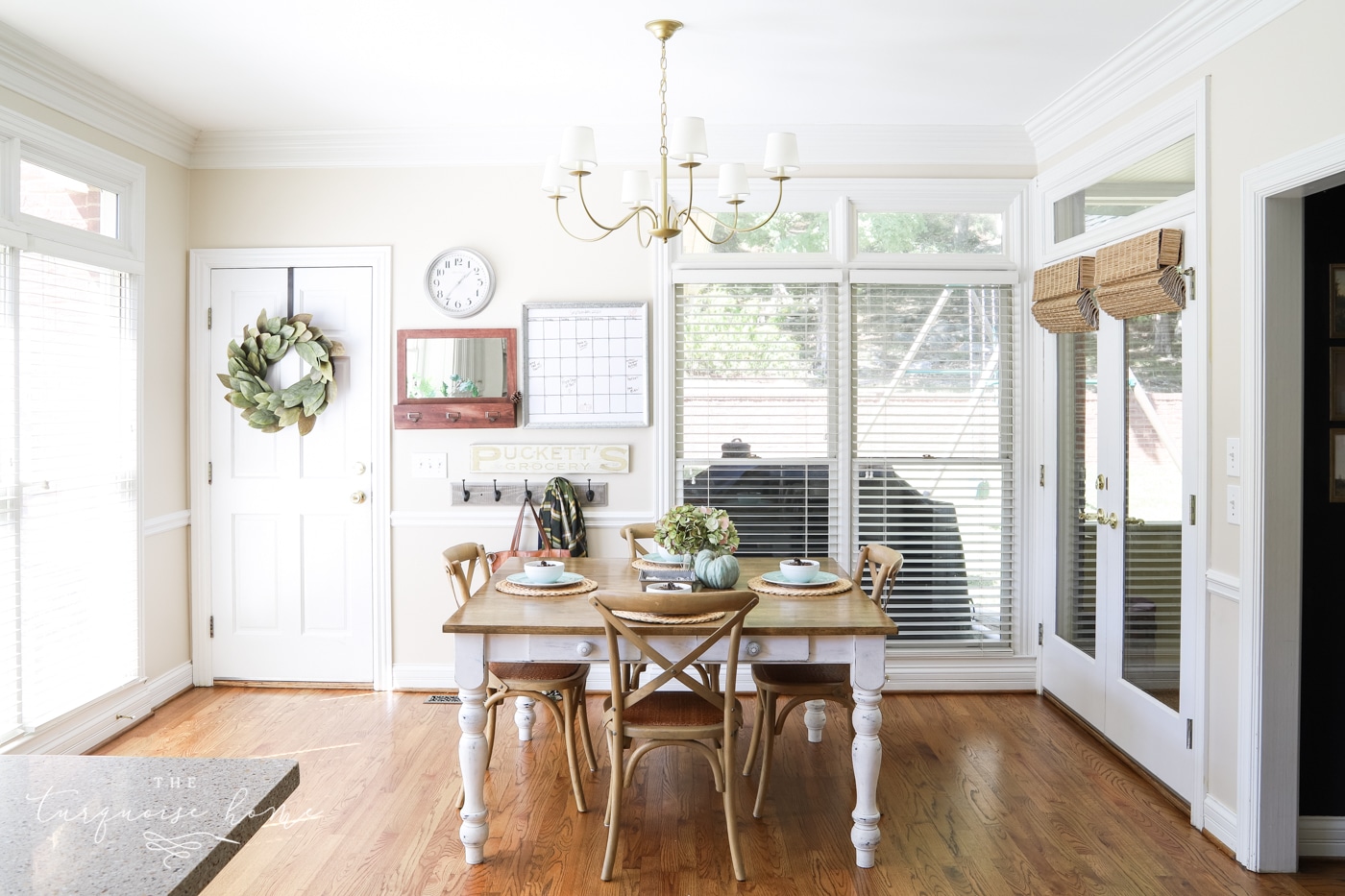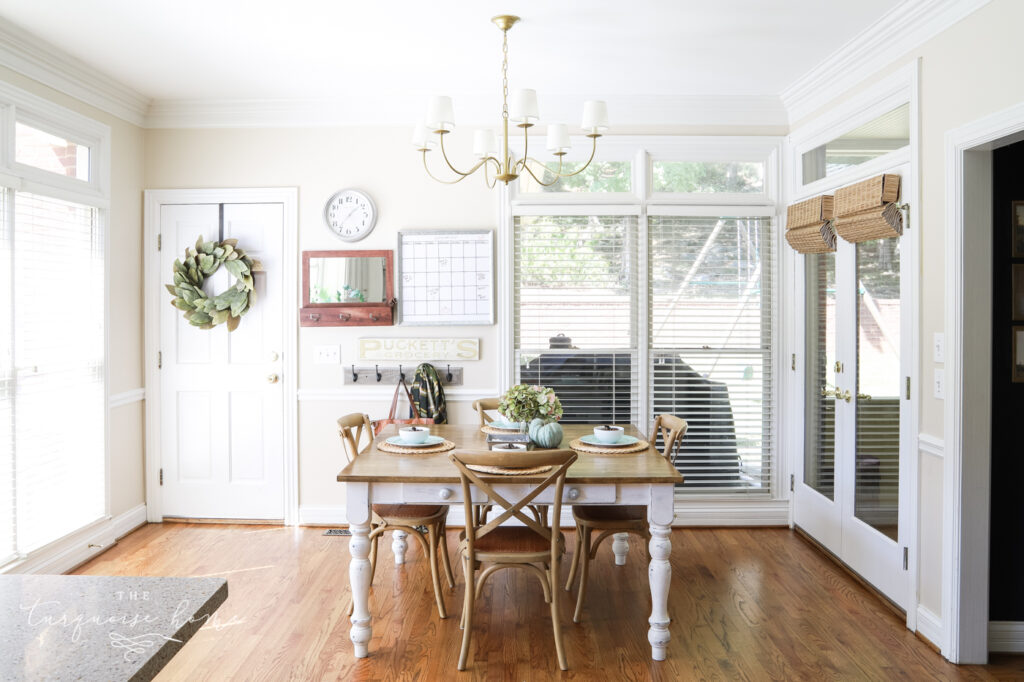 I'm thrilled that my new bamboo shades came from SelectBlinds.com. They bring so much form + function to our french doors. I love the color, which is the added warmth this space needs. Read all about how to choose custom bamboo blinds for your own home! (Use code TURQHOME to get an extra 5% off everything!)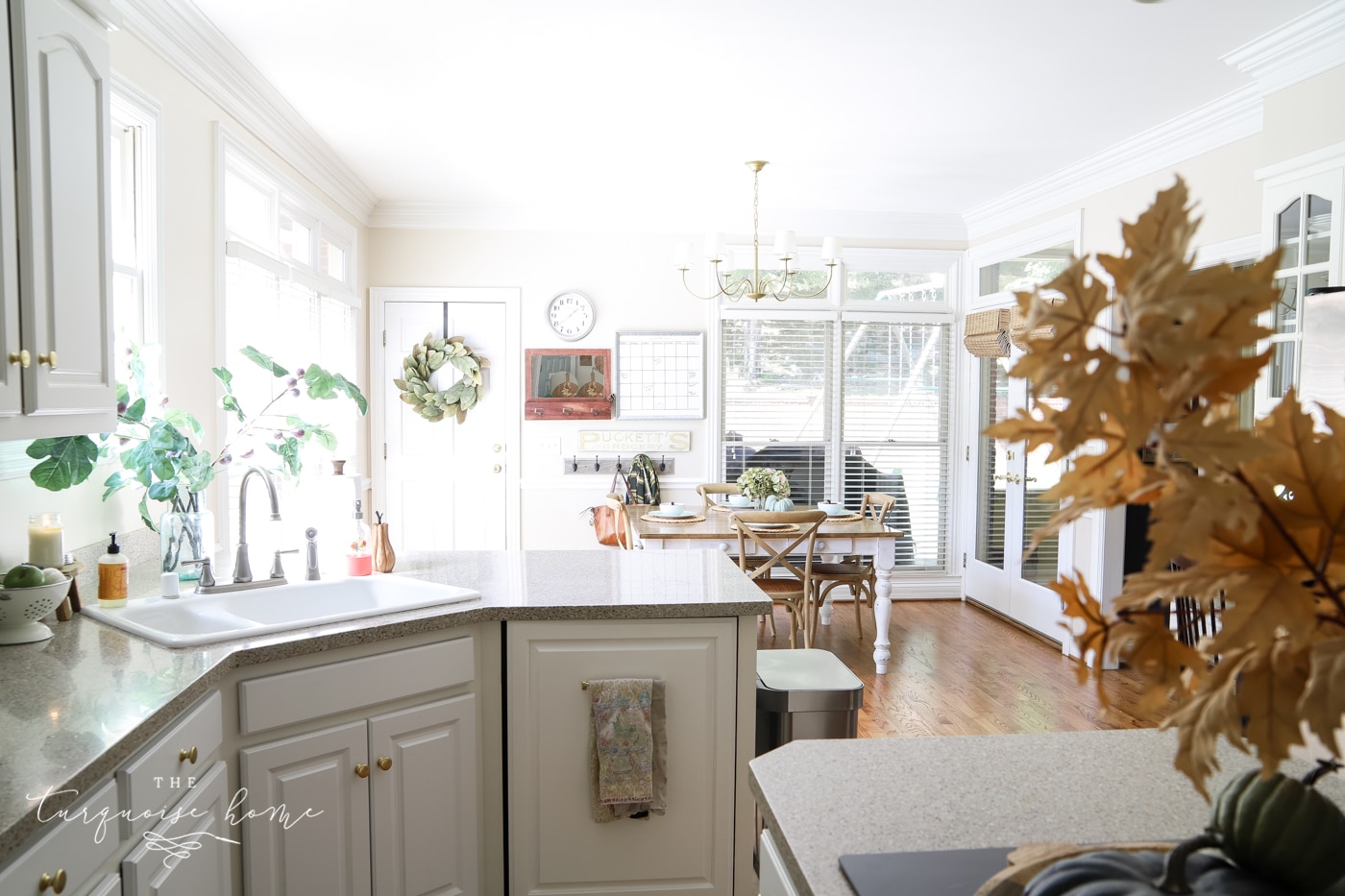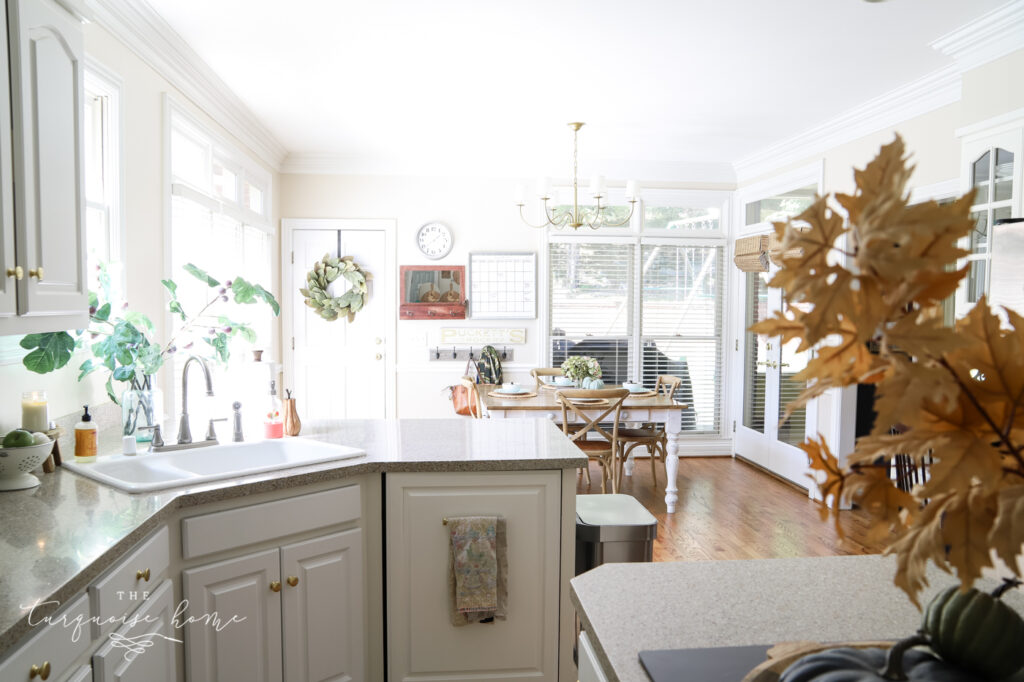 Click/Tap the images below to shop my breakfast space:

I can't wait for everything else to come in from my Labor Day weekend shopping spree. 😜 Like I said, the chandelier over the table and the bamboo blinds are new and the new cabinet hardware just came in last week!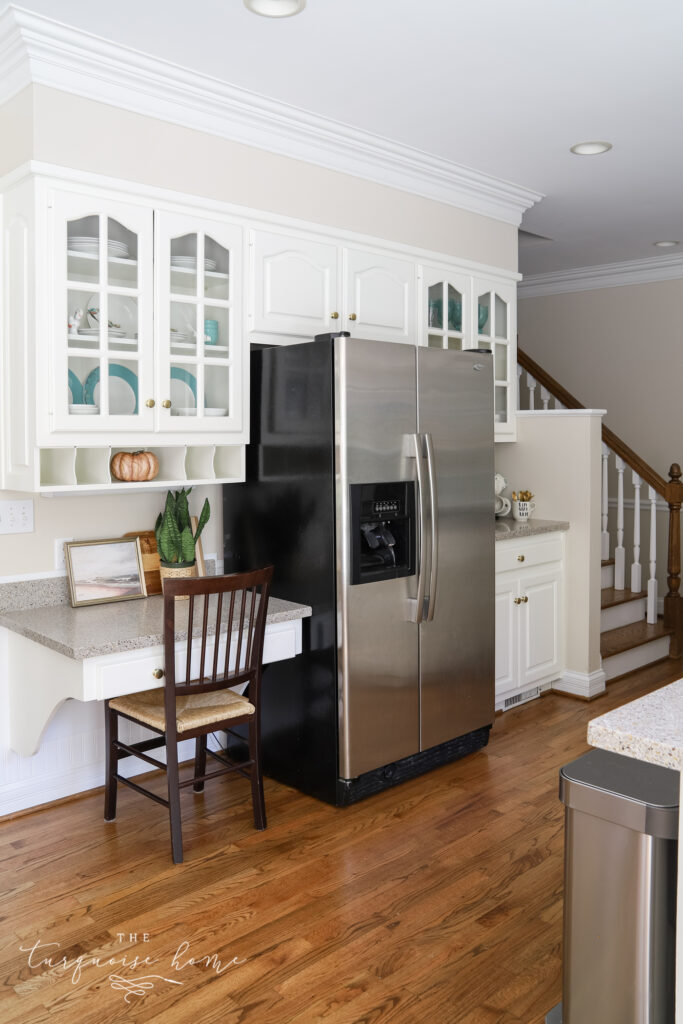 My kitchen desk has never looked so clean! 😜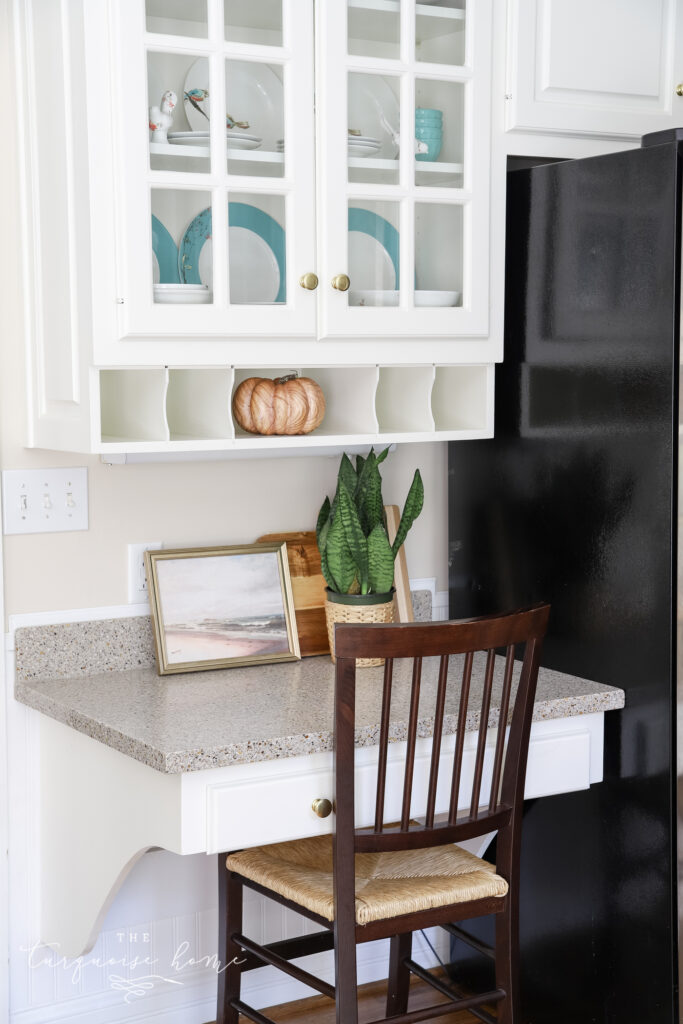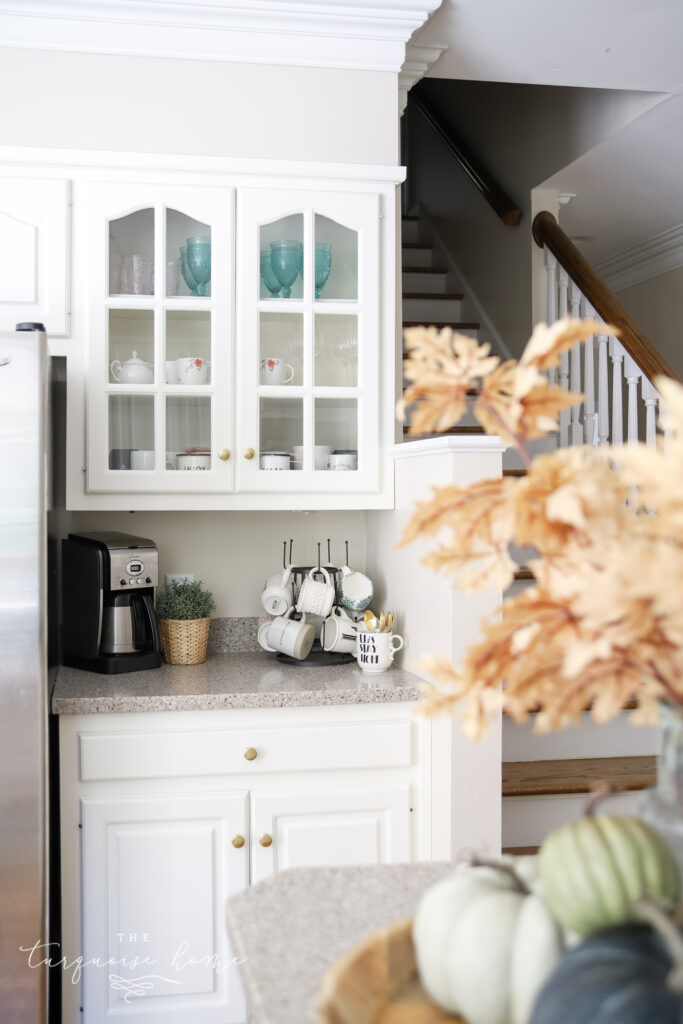 I pulled a page from the style book of Jamie at So Much Better with Age. She had these faux leaves in her kitchen last year and I fell in love! So this year I was sure to grab some before they sold out!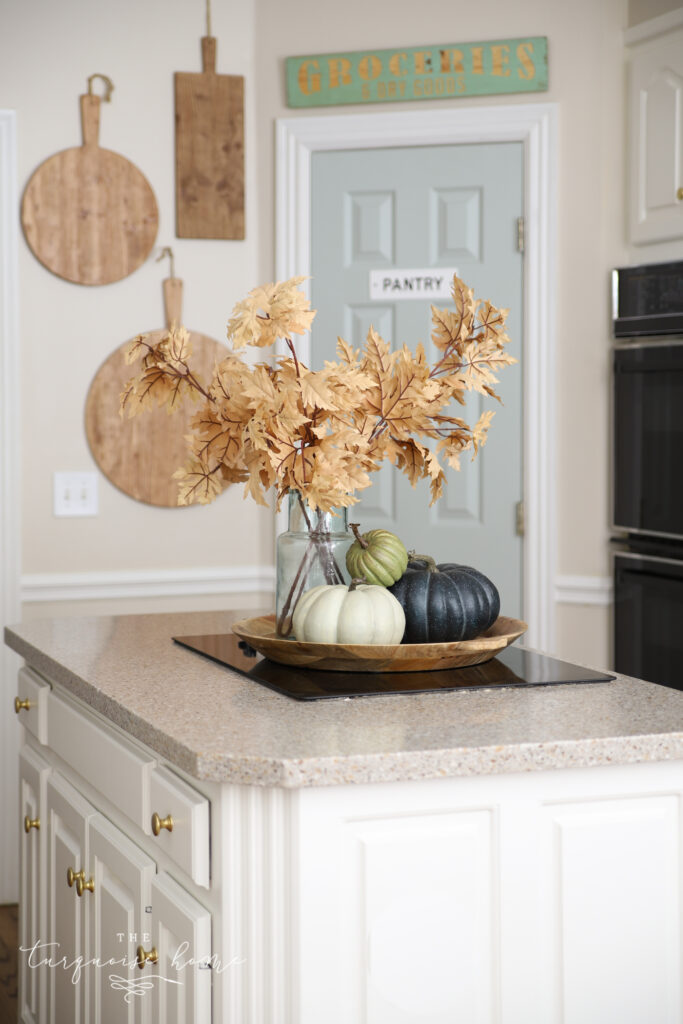 I love how they look paired with the soft blue/green door. I will be sharing the door color soon!
The wooden round tray is one of my favorite new purchases this year. I love that I can leave my decor out on the table during the day, but when it's time to cook dinner, I can just move the whole tray off. It's a Target find, but it goes in and out of stock frequently. I found it in stock at a store a town over from me and it was worth the trip! I've linked up several round trays below if you need one, too!
Click/Tap the images below to shop these beautiful round trays!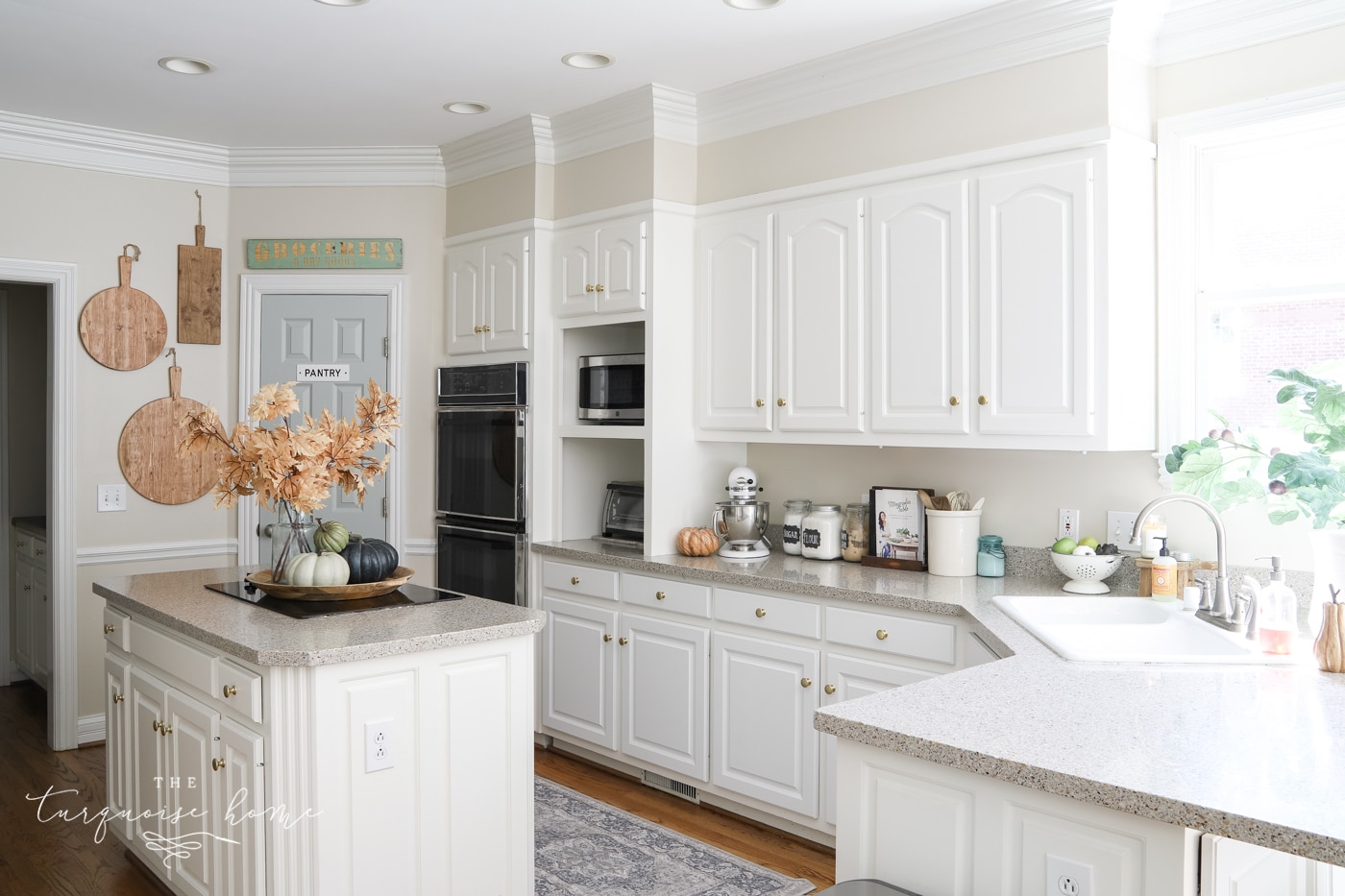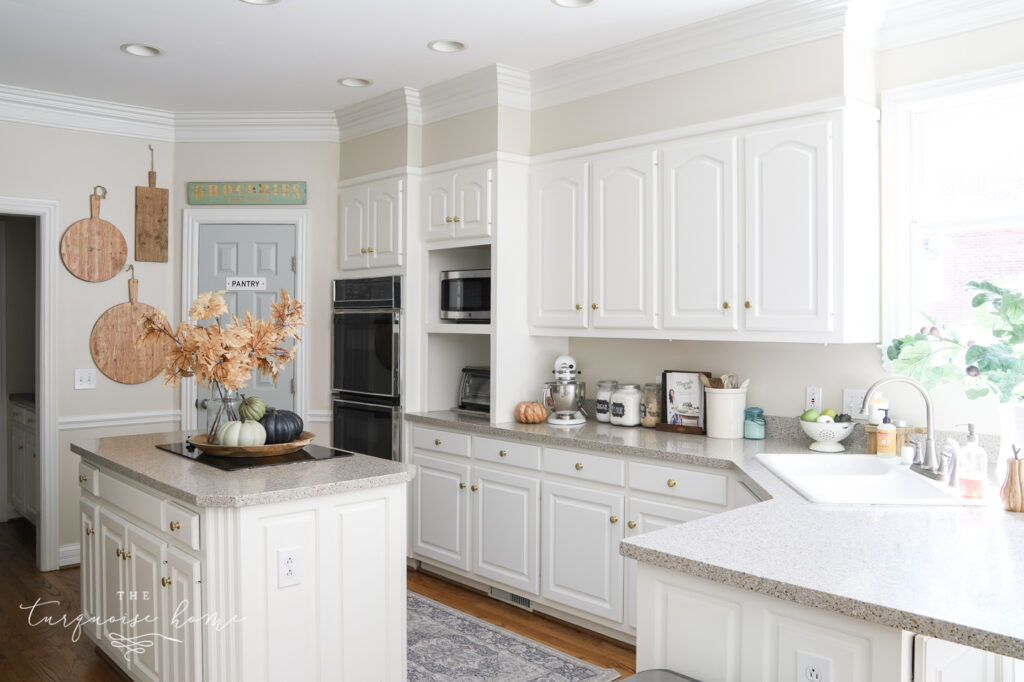 You can also get a glimpse of my new Ruggable rug! The colors are perfect for my space and I'm so excited that I can wash it when it gets dirty. My best friend has a lot of pets and says they are so good, so I bought one!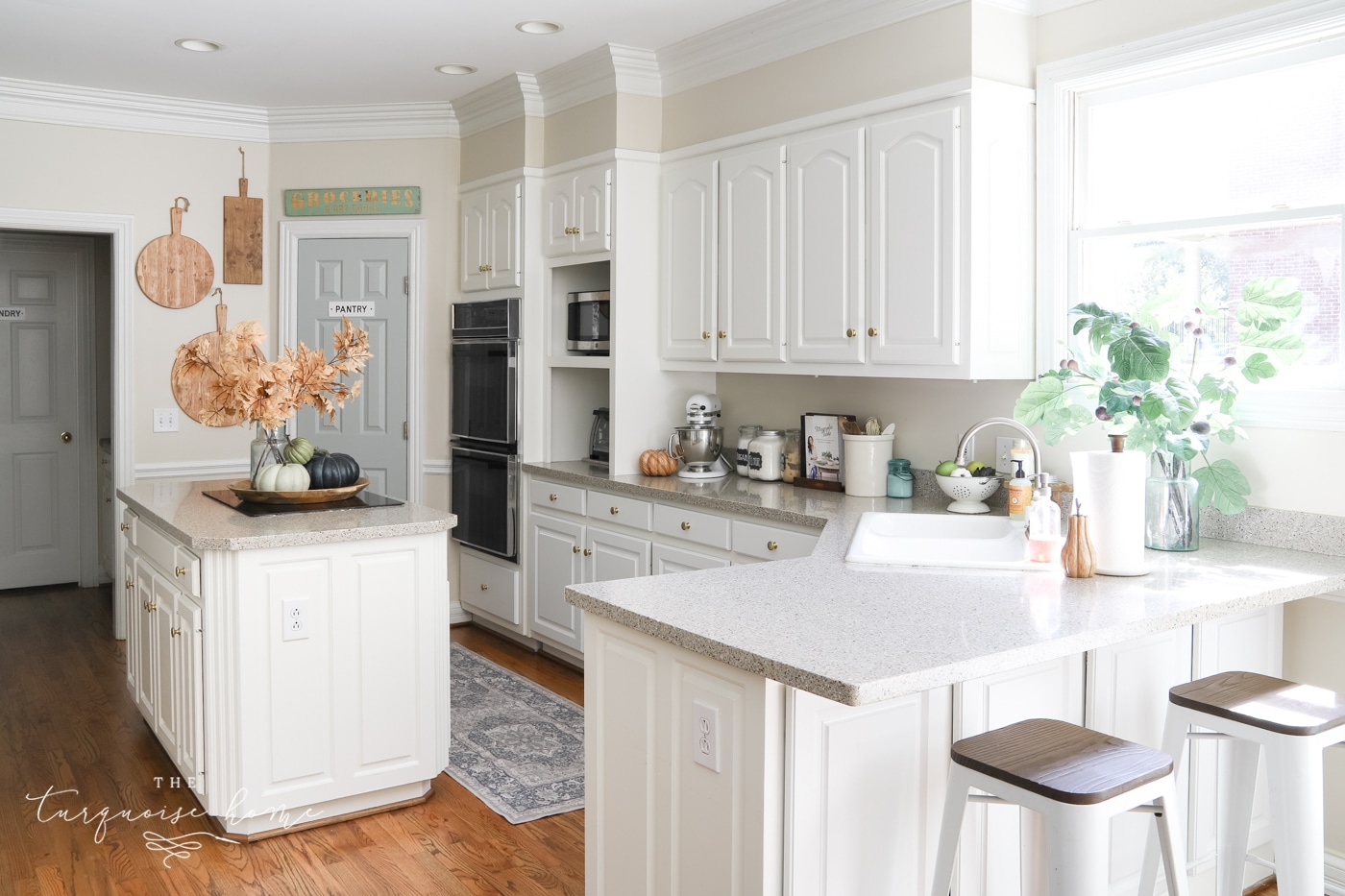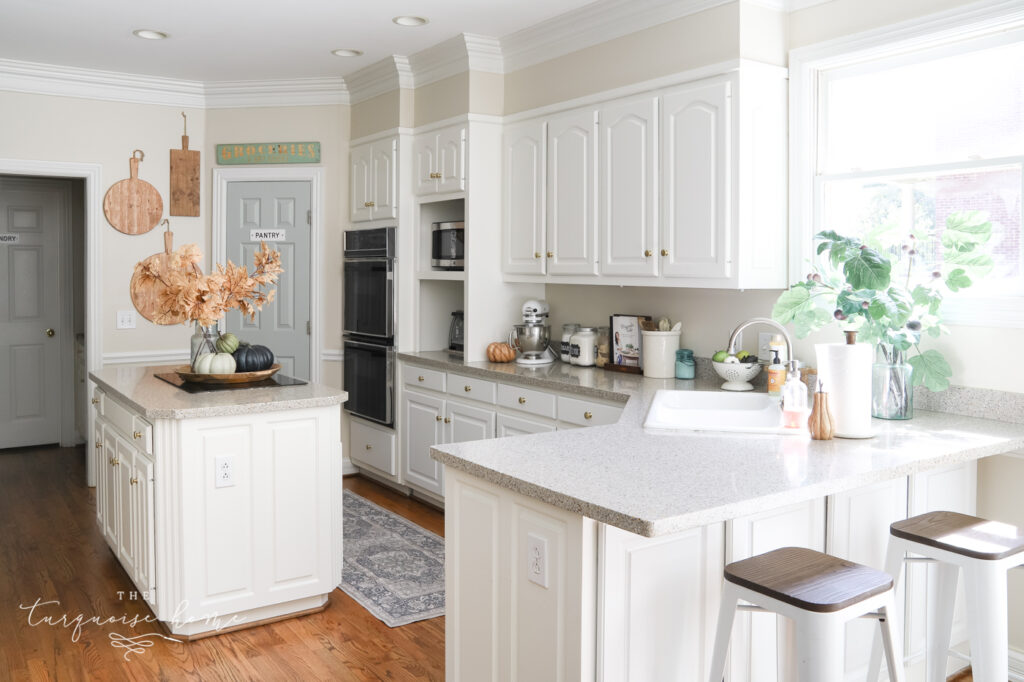 Click/Tap the images below to shop my kitchen: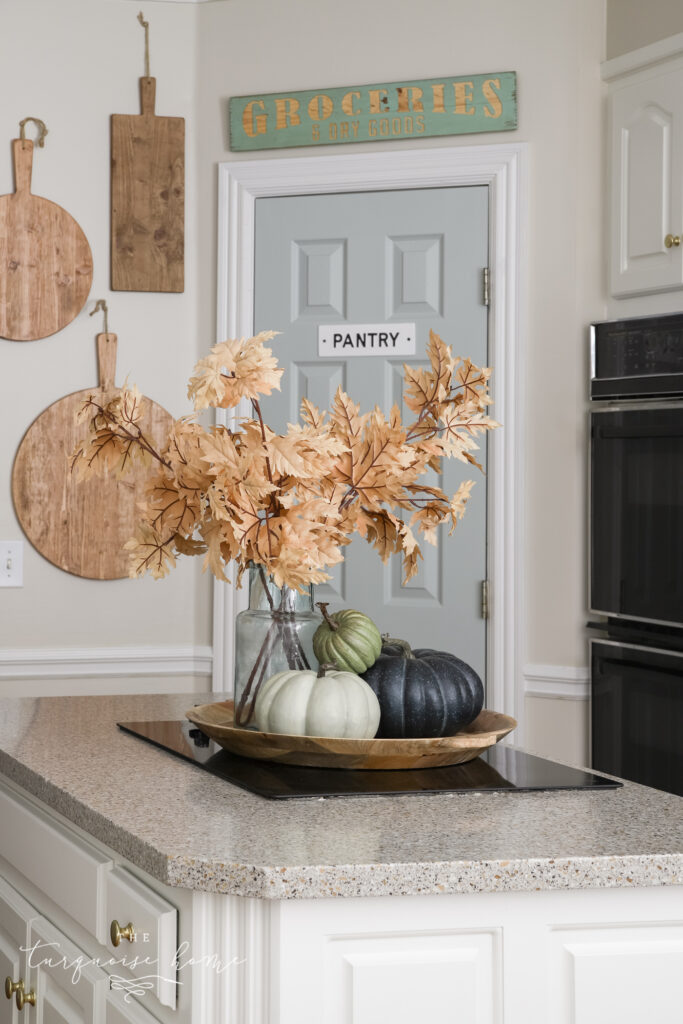 I hope you enjoyed this fun little fall home tour with me! I can't wait to get this whole house ready to be decorated. But it's so satisfying doing a little bit at a time that I wouldn't trade it for the world!
MORE POSTS YOU WILL LOVE: