17 Beautiful Dining Room Chandeliers
A round-up of gorgeous dining room chandeliers for every budget and every style!
I've been on the hunt for a new dining room chandelier this month, but haven't been able to make a decision because there are just so many beautiful options out there!
I immediately knew when I walked into my house that the shiny brass 80's-esque chandelier was going to be one of the first things to go. Don't get me wrong, I'm finally embracing gold & brass these days, but the chandelier that literally every single housewife installed in the 80's and 90's has to go. (You'll find these in droves at your local Goodwill. It's an epidemic, I tell ya.)
So in my hunt for a new light fixture, I've found a wide range of chandeliers to put on my list. I'm still having trouble with picking JUST one, so maybe you can help me by telling me which one is your favorite in the comments. I'll share some of my favorites, so you can have an informed decision.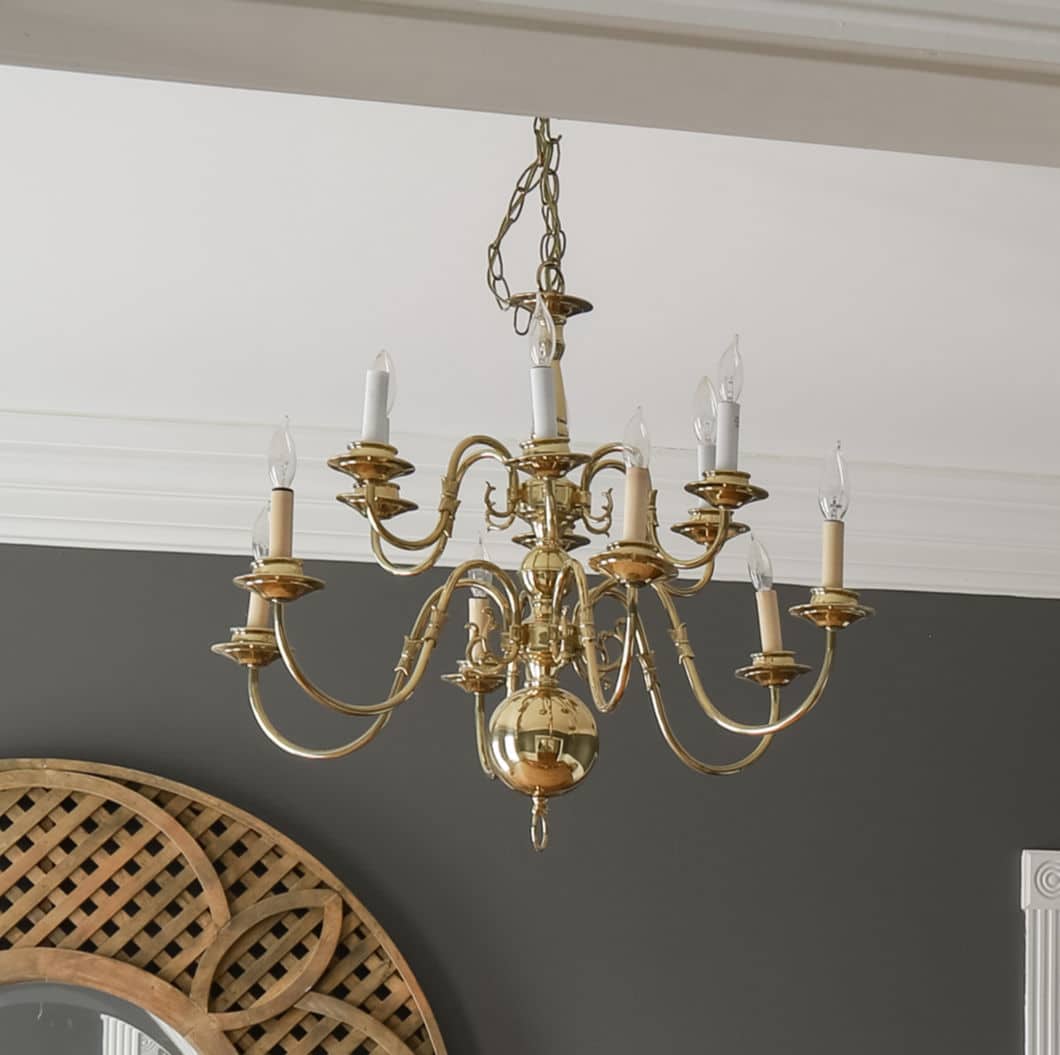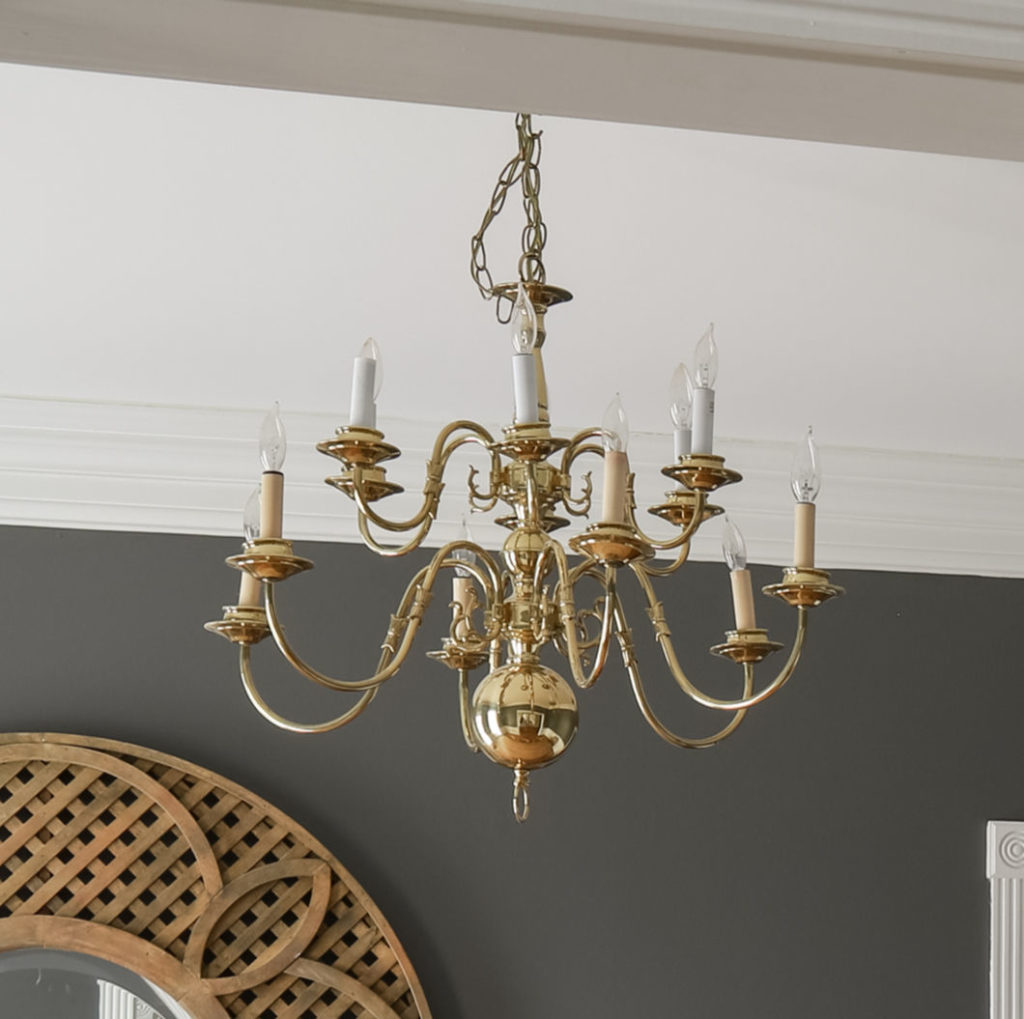 And actually, once I got the dark charcoal gray paint color on the walls, the original chandelier didn't look quite as bad. I've even considered spray painting it, or using Rub 'n Buff on it to tone down the shiny brass look, but leave it up there until I save up to buy the chandelier of my dreams. 🤔
Pssstt… do you want to see which one I picked? See the new dining room and chandelier here! And learn how to change a light fixture, if you've never done that before!
The Best Chandeliers for a Dining Room
And I know so many of these chandeliers I featured in the graphic above are brass, but many of them come in other finish options! So, while you may not be looking for that brass finish, chances are there are other colors available.
Dining Room Chandeliers for Every Home
And while I tried to choose all styles of dining room lighting, I purposefully left off the mid-century modern/sputnik style lights because I would be lying if I thought they looked good. Ha! I'll never put one in my home, but if that's your style, go for it!
When I started my hunt, I was pretty dead set on this gorgeous, curvy dining room chandelier. It's a simple statement piece and pretty modern for my style of home. But, there's just something about those long, elegant curves that keeps me coming back.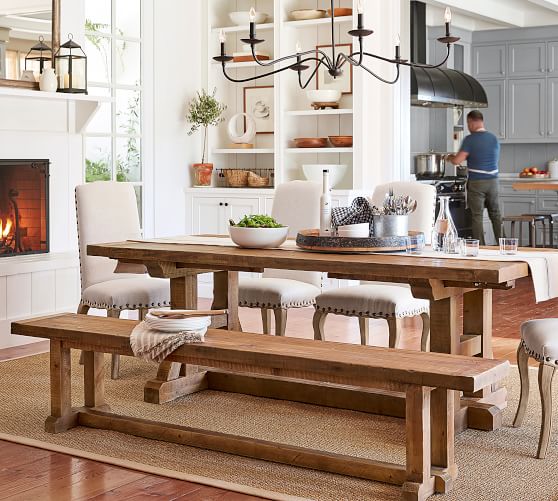 I think it would look good in any home from traditional & classic to the more modern style – even modern farmhouse! It comes in both iron and brass finishes. I bet you can guess which one I'd get!
2. Budget-Friendly Classic Chandelier
And if you love this look, but the cost is waaaaaay out of your price range, this light (above) is very similar, but it only comes in a black finish. I would recommend spray painting it if you want the gold chandelier in the dining room look (or another finish), but don't want to shell over the big bucks!
This next candelabra chandelier with gorgeous shades is probably my top pick at the moment. It's just breathtaking to me. Although the price tag is not my favorite, I might have to save up for it for a couple years, then splurge.
It comes in 3 finishes: antique silver, bronze and hand-rubbed antique brass. 💗 I love all of the candelabra options out there with the shades. It comes in a smaller, 4-light option as well! It's such a pretty updated traditional look and I'm here for it!
And we all know this pendant light is super popular these days. I love it over a dining table, in an entry way or over a kitchen island. There are a bunch of knock offs of this look, including the one I put in my old foyer. (This is a great budget knock-off!)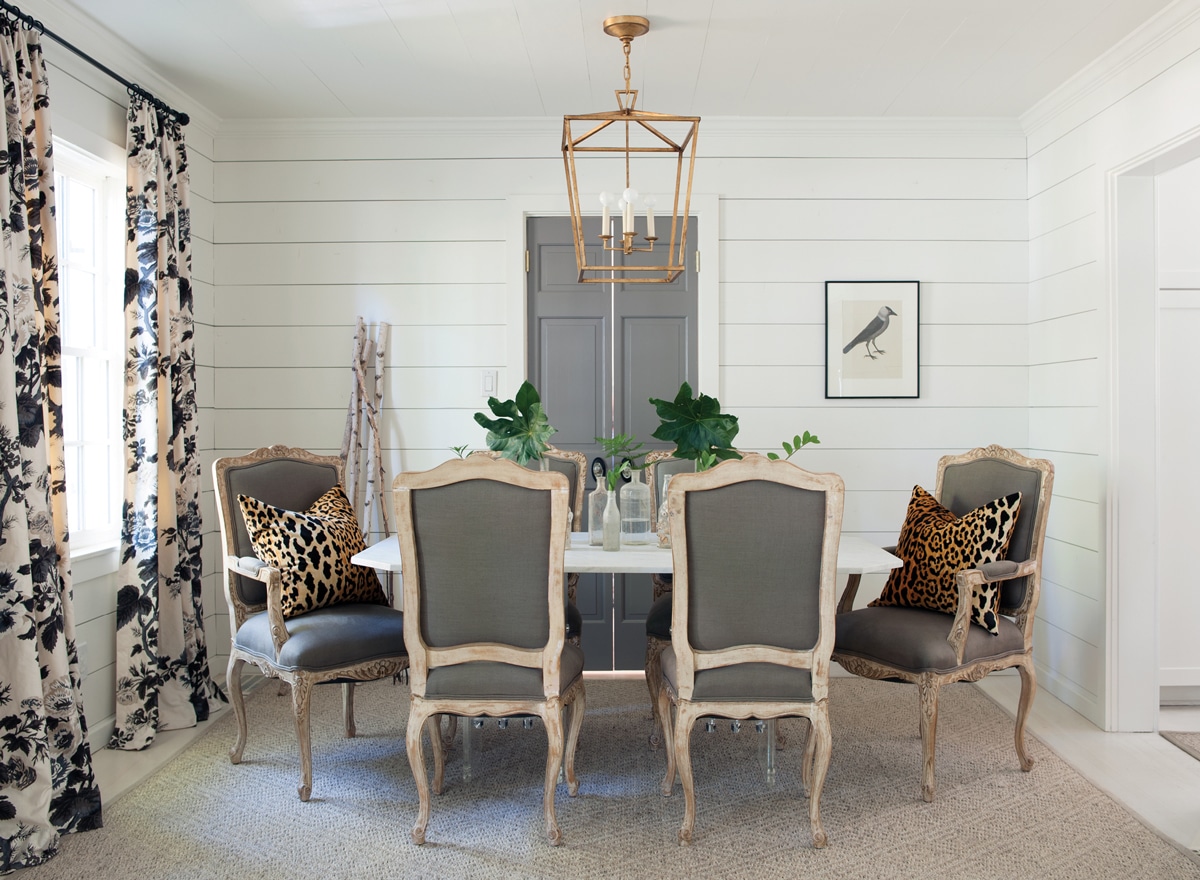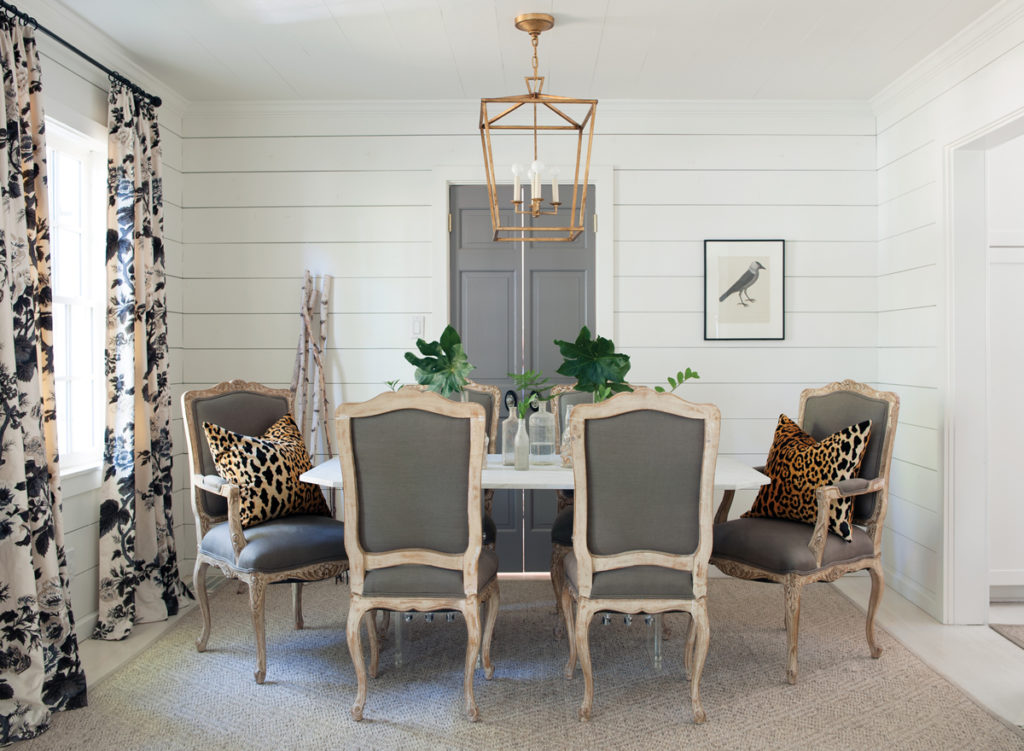 5. Rustic Farmhouse Chandelier
If you love the farmhouse look with a rustic dining table and sliding barn doors, this gorgeous dining room table chandelier would be perfect!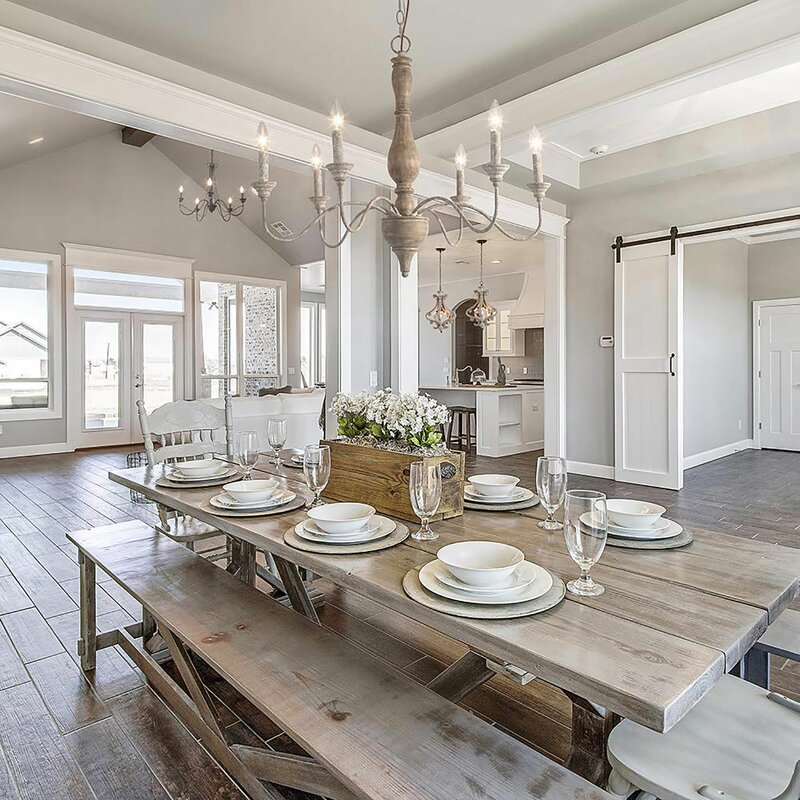 The turned wood piece in the center is just so pretty and pairs perfectly with the white-wash painted iron accents of the candelabra.
When I saw this jaw-dropping crystal chandelier against the dark gray charcoal background, I thought it look stunning my newly painted dining room–if I were going for a glam look! I'm sure it's even more beautiful in person!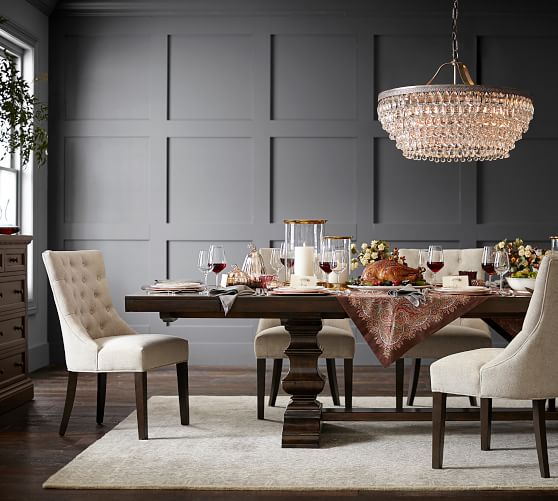 And if you're in the hunt for a small dining room chandelier, this one might be the ticket! Several of the lights I've shared today come in different sizes. But the smaller size of this one is only 19″ in diameter and 16″ high. (The small and medium sized lantern light fixtures are also pretty small!)
Tips for Hanging a New Dining Room Chandelier
If you are planning to change out your light fixture yourself, you may want to know exact what size light to purchase. You'll also need to know where to hang it in relation to your table. Here are a few tips from Circa Lighting: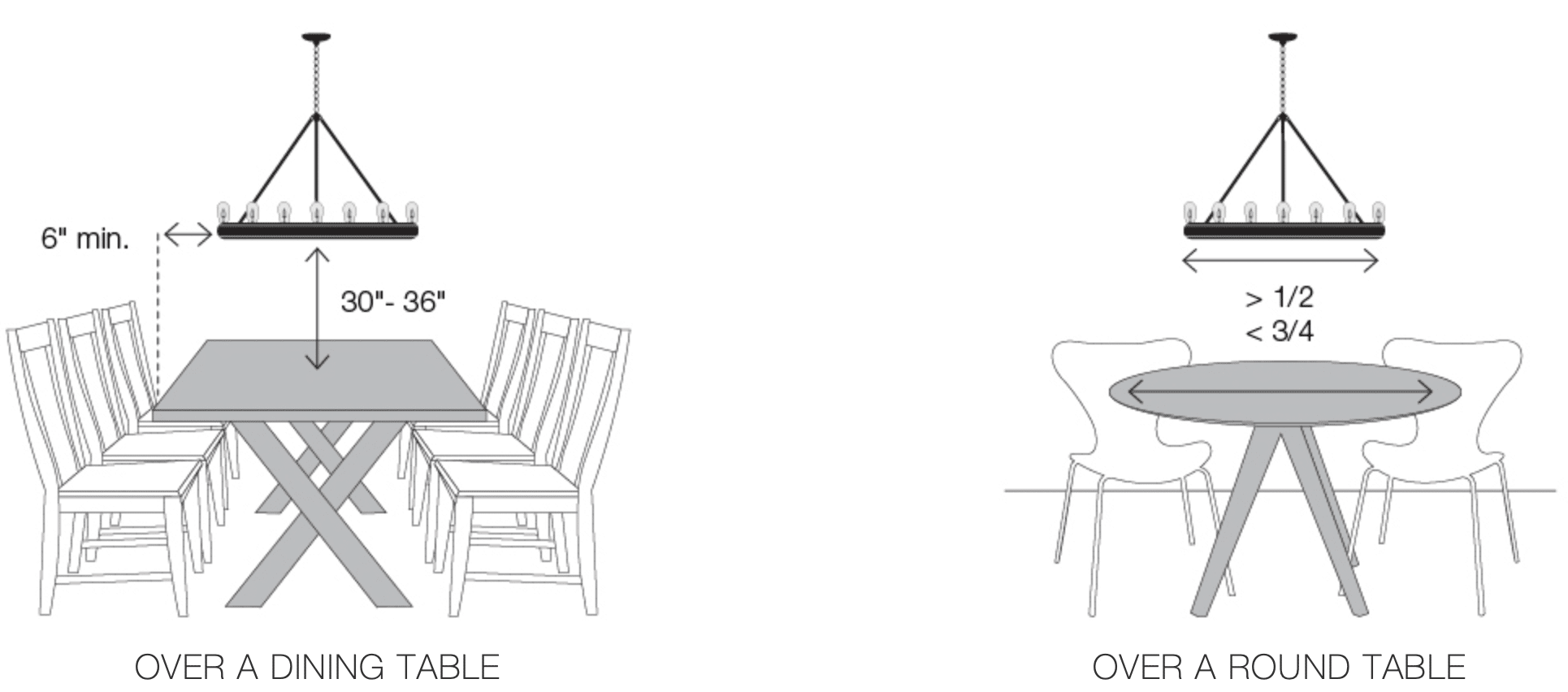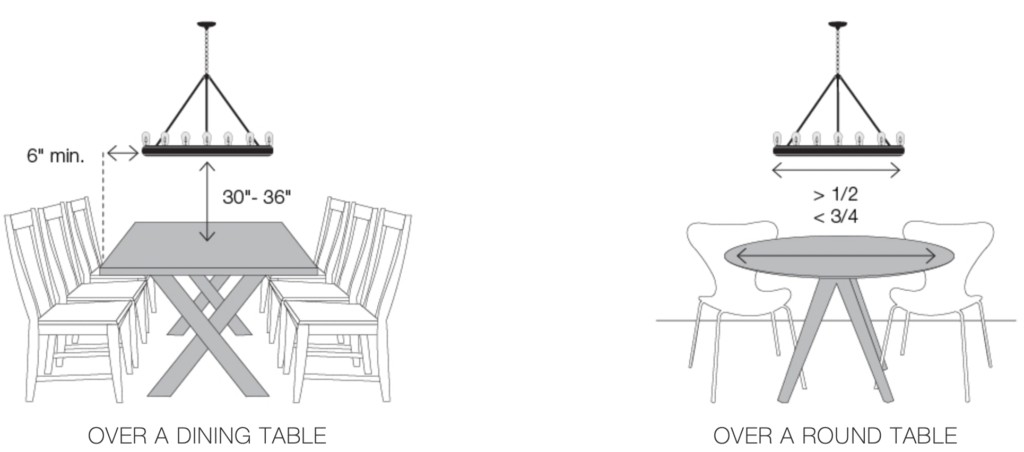 Give between 30″-36″ between the bottom of the chandelier and the top of the table. And make sure the edge of the light is about 6″ from the edge of the table on each side.
If you have a round dining room table, you'll want the light fixture to be between 1/2 and 3/4ths the diameter of your table.
Final Thoughts
I'm still undecided about sprucing up the chandelier that I already have while I save up my money to buy the one I truly love, or replacing it with a more budget-friendly fixture. (Pssstttt: I ended up with the one I loved!)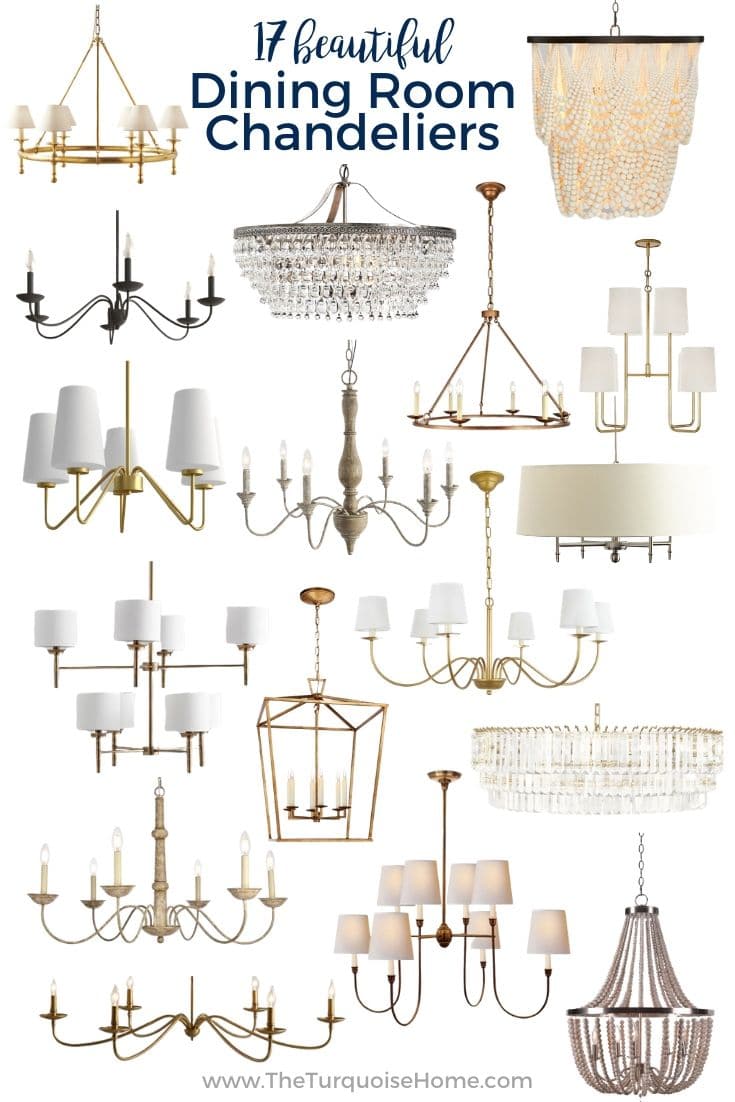 Which light fixture is your favorite? I'd love to hear in the comments!
Click or Tap on any image below to shop the lights!

More Posts You Will Love: