12 Gorgeous DIY Faux Fireplace Ideas
A beautifully designed fireplace and mantel have a huge impact on the ambiance of a room. However, many homes don't have a fireplace, and installing one can be cost-prohibitive. Achieve the same goal by creating a DIY fireplace yourself!
At one point in time, the fireplace used to play a huge role in a home. Not only was it the main source of heat for staying warm, but the fireplace also served as the stove to cook meals.
Nowadays, fireplaces are used to make a wonderful focal point and design area for any room, especially a living room.


There's just something so cozy and comforting about a crackling fire in a fireplace. The very thought of a fire going just makes me want to grab a hot chocolate (or tea) and curl up on the sofa under a soft blanket with a great book or a favorite movie.
Unfortunately, many houses now (as well as apartments, dorms, and other types of homes) don't have a working fireplace and installing one can be too expensive, if it's even allowed at all.
If you are looking for a cheaper alternative to create the coziness and beauty of a fireplace, you should consider a faux fireplace! If you're cringing at the thought, don't! The faux fireplaces of today are gorgeous, as you'll see in this post.
Creating a fake fireplace is the perfect solution to give your home the cozy, stylish atmosphere you seek while also being very budget-friendly.
How Do You Make a Faux Fireplace?
You can have several different options when it comes to making a DIY fireplace. How you want it to look in the end will determine which type of faux fireplace you choose.
Here are some of those options:
If you want a heat source, you could install an electric insert to provide the image of flickering flames and a small amount of heat. You could also insert a woodburning stove for a rustic source of heat.
If you want the most realistic look of a fireplace without flames or heat, you can build out the fireplace area, complete with a mantel and framing.
If you want a focal point for the room and either want it to be removable or have an extra small space, a freestanding mantel might just be the best fit.
Once you narrow down what you are exactly looking for, you will be able to take the next step to creating your dream fireplace.
How to Decorate a Mantel With a TV on It
A lot of times, the television ends up mounted above the fireplace. This can make decorating the mantel a little tricky, which kind of takes away from half of the reason to build a fireplace in the first place!
I have definitely done research on this topic, though, and have a solid list of ideas for you. If you want to add a TV to your fireplace mantel, here's how to decorate around it.
12 Stunning Faux Fireplace Ideas You'll Want in Your Home
If you're looking to add an eye-catching focal point in your living room, bedroom or even a dining room, but want to do it at an affordable price point, look no further than installing a DIY fireplace.
Whether you are looking for a gas fireplace to add that comfy feeling or simply want a beautiful design element for your home, here are some drool-worthy fireplace ideas to inspire you.
1. Moveable Faux Fireplace Hearth
Here is a terrific example of a moveable fake fireplace from Make it Love it. This DIY project is built out like a small fireplace, and it can fit in tight spaces. It can even be put away for the summer.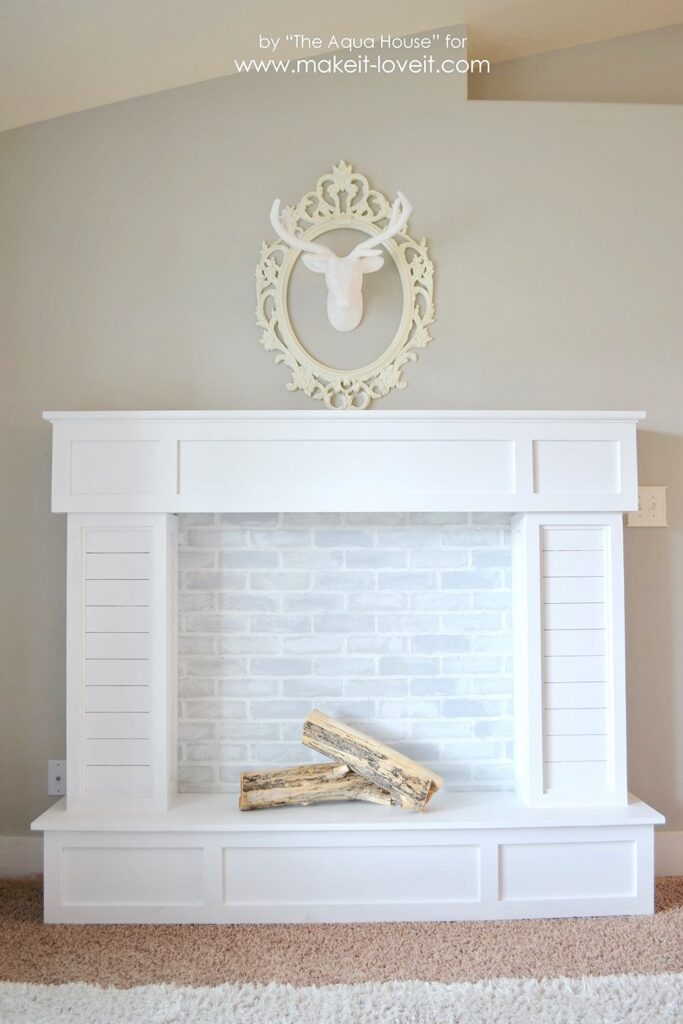 2. Fake Brick Fireplace
Believe it or not, this brick fireplace is completely faux – even the bricks are fake! This gorgeous and moveable DIY fireplace would look amazing in a bedroom. Grab the complete step-by-step tutorial from Woodshop Diaries.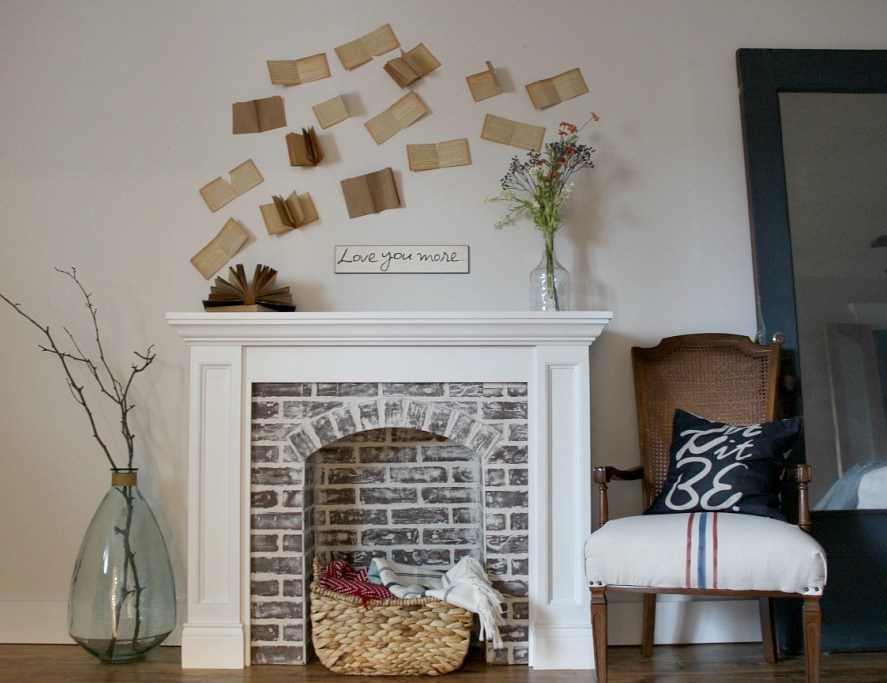 3. Faux Fireplace Surround
While some DIY fireplaces may only be as high as the mantel, this unit from The White Buffalo Styling Co goes to the ceiling and looks completely amazing. This faux fireplace does utilize ventless gas logs (no chimney) to achieve that feeling of a real fireplace.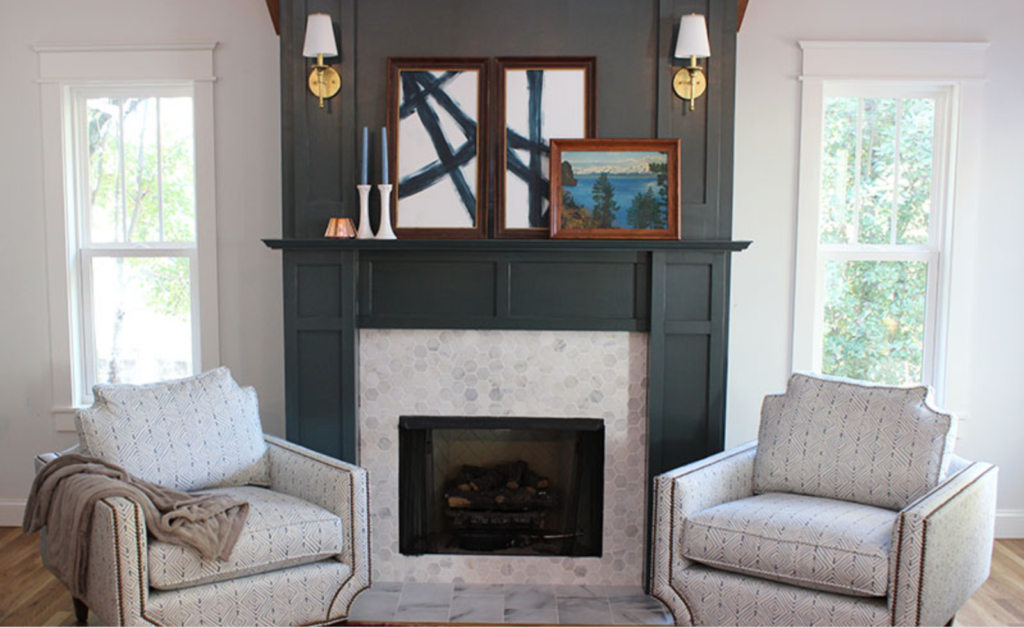 4. Stacked Wood Faux Fireplace
Wow, this DIY fireplace from Bless'er House is gorgeous! I love that shiplap planked wall for the entertainment center, chic mantel, stone surround, and stacked wood facade.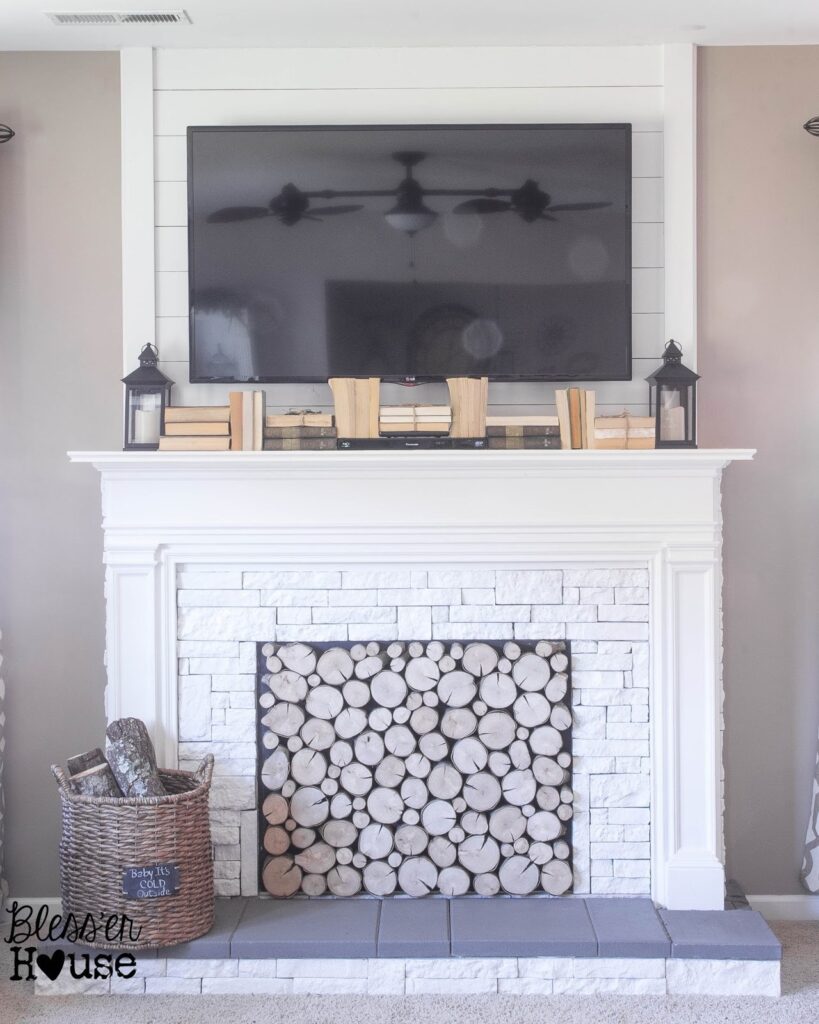 5. Small DIY Fireplace
This faux fireplace from The Pursuit of Handyness would look gorgeous in any room – and because it's moveable, you can move it around anytime you want. I just love the tall candles in front of the distressed mirror insert for the glowing flame effect!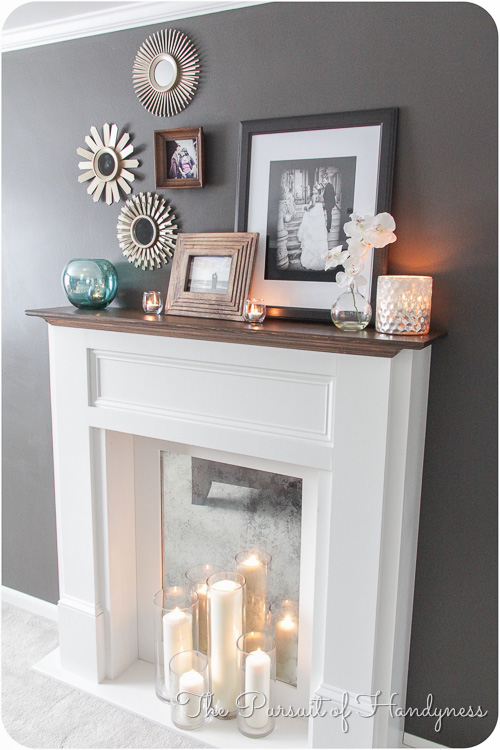 6. Faux Mantel
Rather than building out an entire fireplace unit, you could lean a faux mantel right up against the wall for a very vintage feel. I love this farmhouse look from A Bowl Full of Lemons.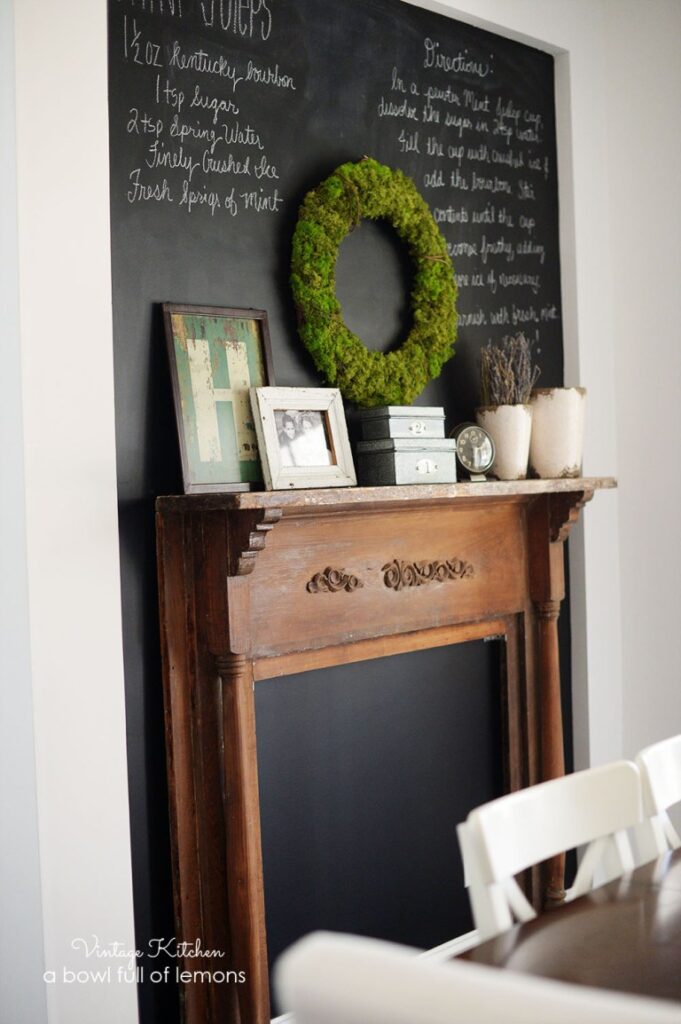 7. Board and Batten
The Honeycomb Home used board and batten along with a brick insert and a chipped white mantel to give this room a very shabby chic focal point.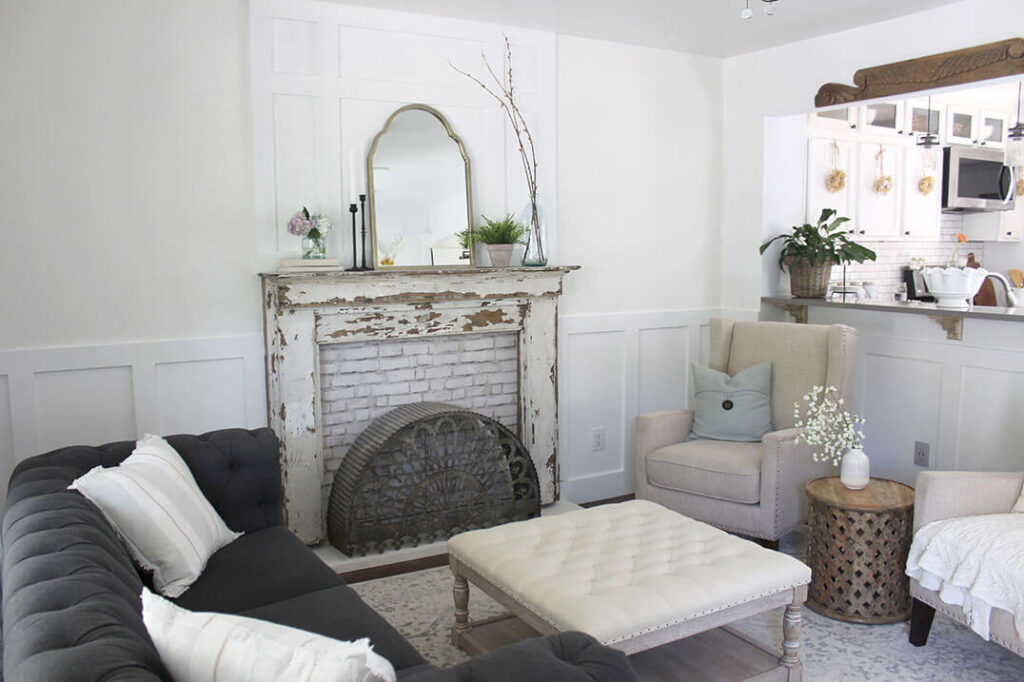 8. Logs Covered in String Lights
If you prefer the look of a more classic fireplace, try this stylish faux fireplace idea from Shabbyfufu. The elegant white mantel contrasts perfectly with a black marble design. I love the added glow from the string light-covered birch logs too.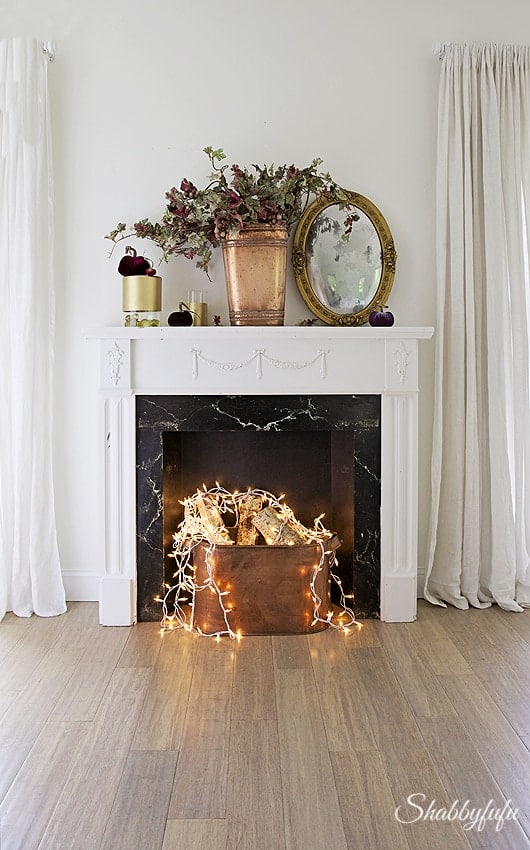 9. Shiplap Faux Fireplace
This DIY fireplace takes the idea to a whole new level by adding custom shelves on either side and the entertainment center above. If you have an entire wall free for a custom built-in look, this one is definitely a great idea. This design from All Things With Purpose provides a beautiful focal point – and lots of room to display decor.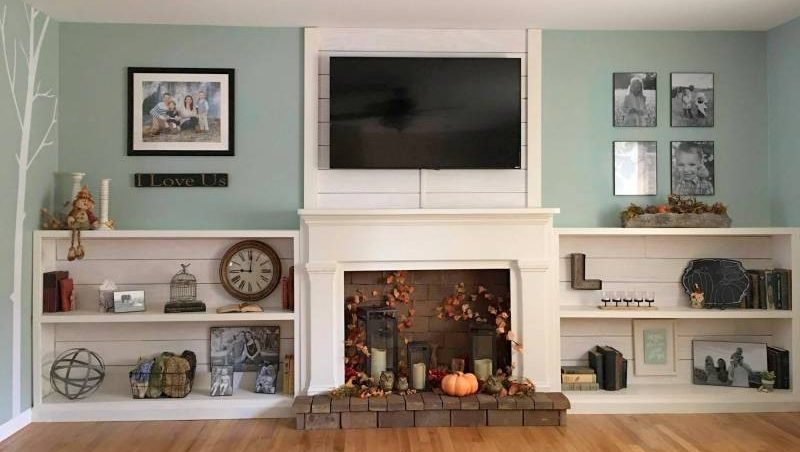 10. Go Simple
If you still have any doubt that you can have a fireplace in your bedroom, this design from Making it in the Mountains should squash those doubts. This simple but lovely design will work in almost any bedroom.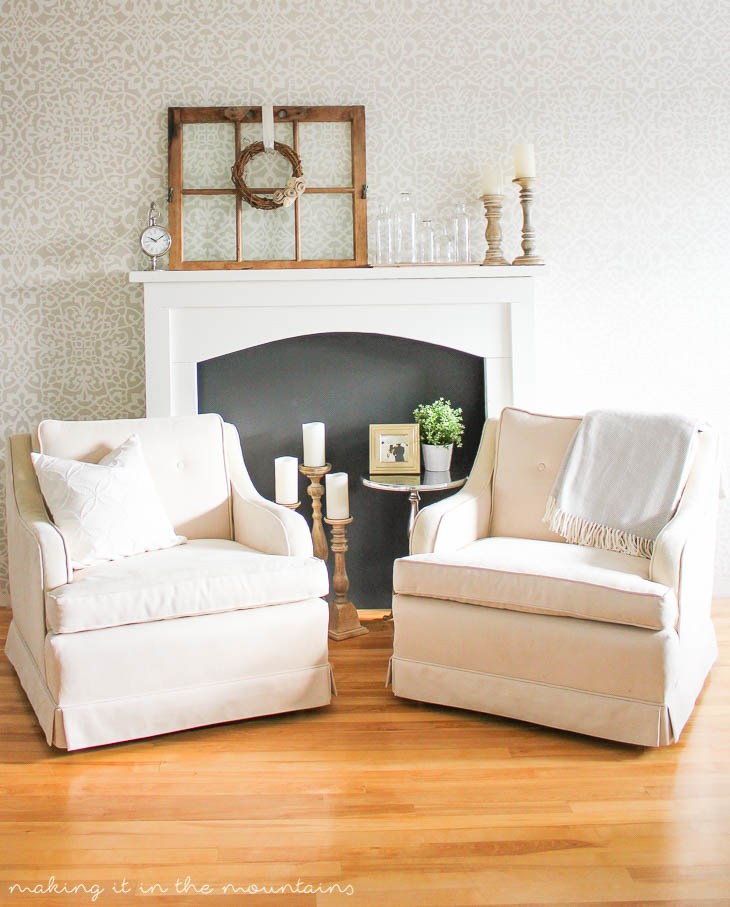 11. Crafty and Cute
Some spaces demand a more playful focal point, and that's what Jennifer Rizzo created with this fun and adorable faux fireplace insert, complete with yarn "flames".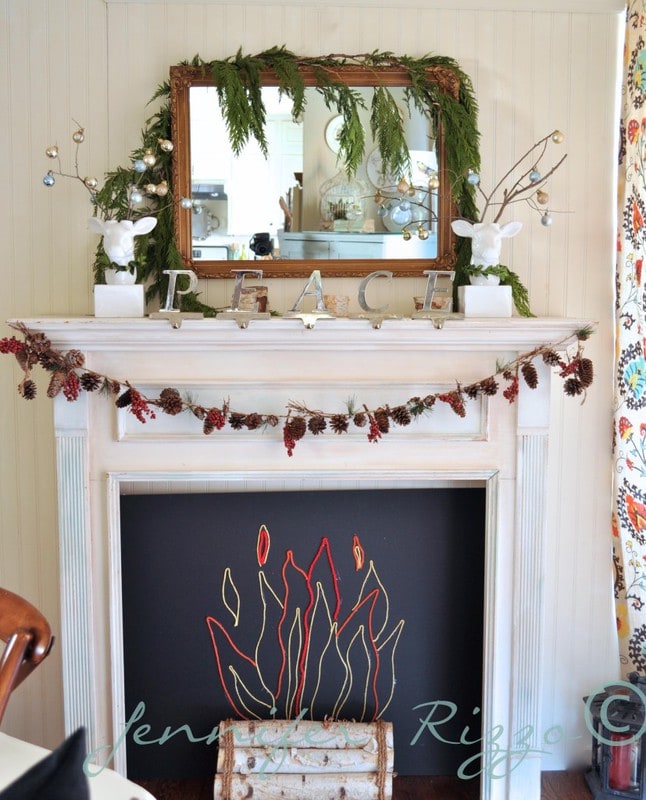 12. Rustic Beam Dreams
Sometimes a dream isn't in the budget, so Ashley from Domestic Imperfection took matters in to her own hands when a real gas fireplace wasn't going to happen for a while. The rustic beam for a mantel and stone hearth with storage makes this real electric insert fireplace even better than the dreams!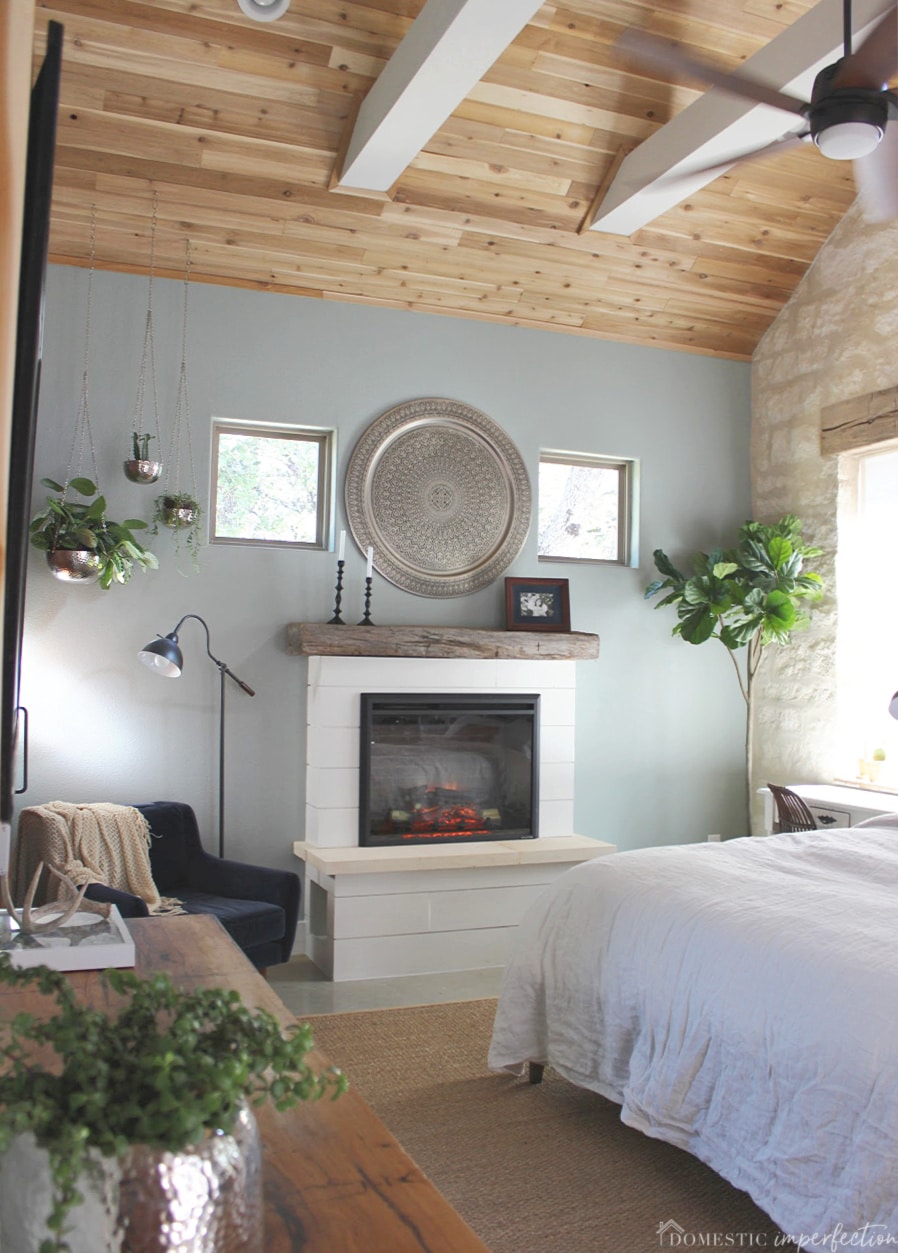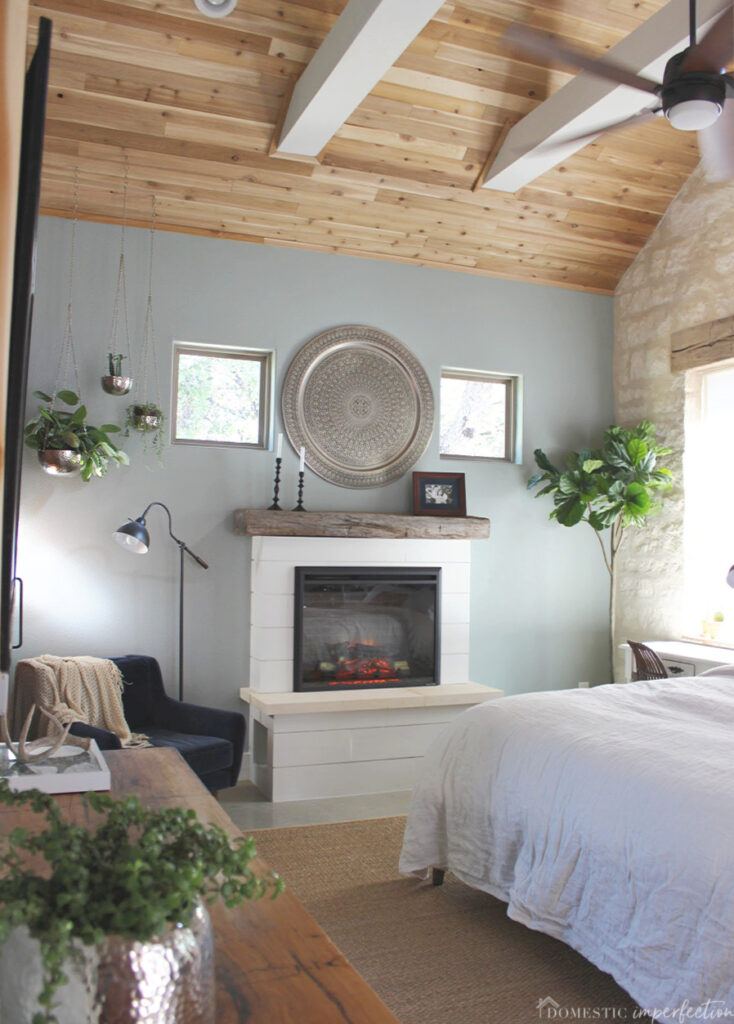 If you have been dreaming of adding a fireplace to your home but the budget just doesn't allow for it, add a faux fireplace instead! For just a fraction of the price, you can create a truly special DIY fireplace that catches the eye and draws compliments from anyone that sees it.
MORE POSTS YOU WILL LOVE: