The paint color spotlight for today is Hale Navy—one of the most popular navy paint colors. This is a rich, multi-faceted dark blue color that will have you creating a comfortable, cozy room or using it as a striking, yet understated, pop of color.
This is one of my favorite paint colors and I used it to paint the inside of my front door several years ago and never looked back! I've since painted my new living room Hale Navy, as you'll see in the living room section below.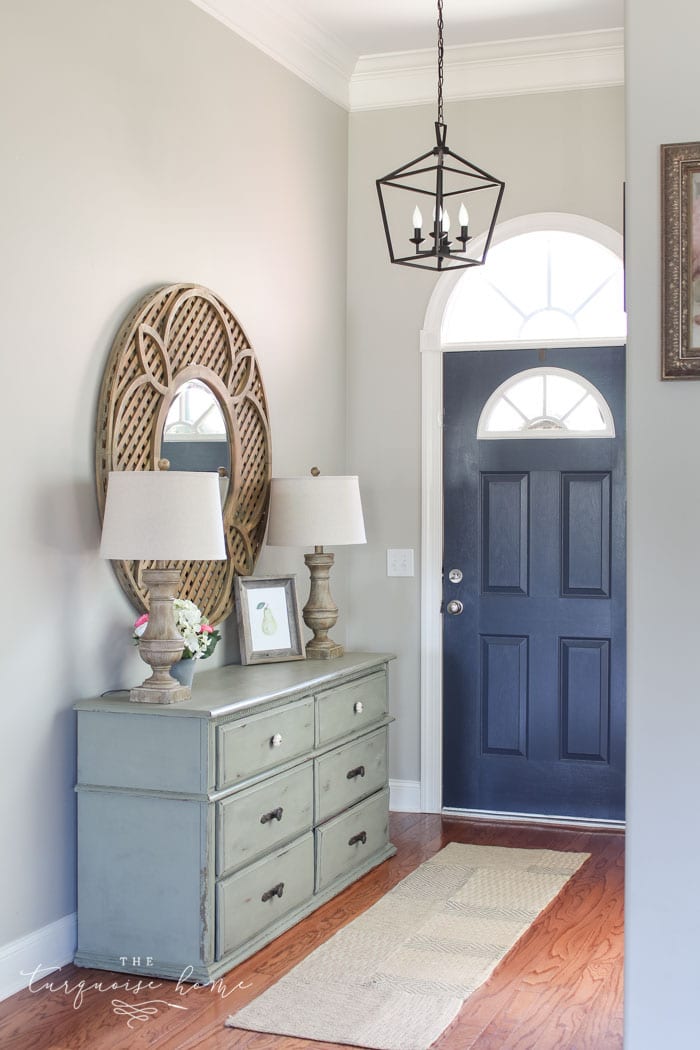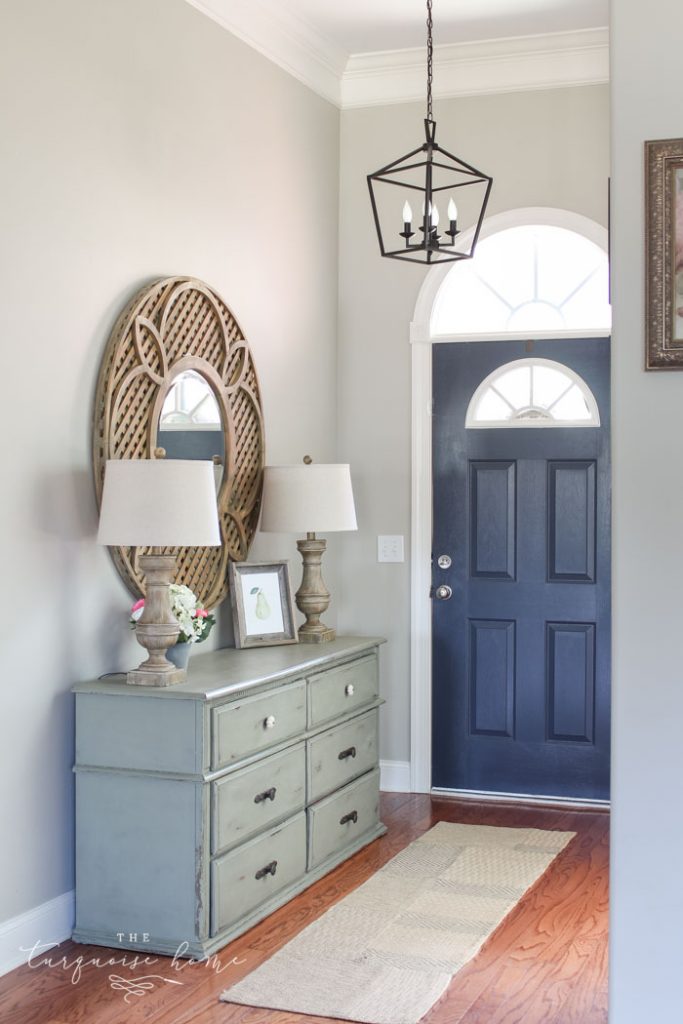 This post contains affiliate links for your convenience. See my full disclosure policy here.
Whether you're after rustic appeal or a modern sensation that will draw the eye, Benjamin Moore Hale Navy may be just what you're looking for. Here's everything you need to know about Hale Navy!
NOTE: If you're painting the room yourself, these tools will help tremendously. And this post will give you my best tips for painting a room in 5 easy steps.
Hale Navy Undertones
Surprisingly, this navy paint color is rather unique when compared to other blue paint colors, as it has only the faintest green undertone (and even that only shows when there's a significant amount of greenery near it). Instead, BM Hale Navy has gray undertones that you'll see in almost any situation, but especially when paired with wood or lighter stained floors. The gray will also be teased out if paired with gray roofing or brick.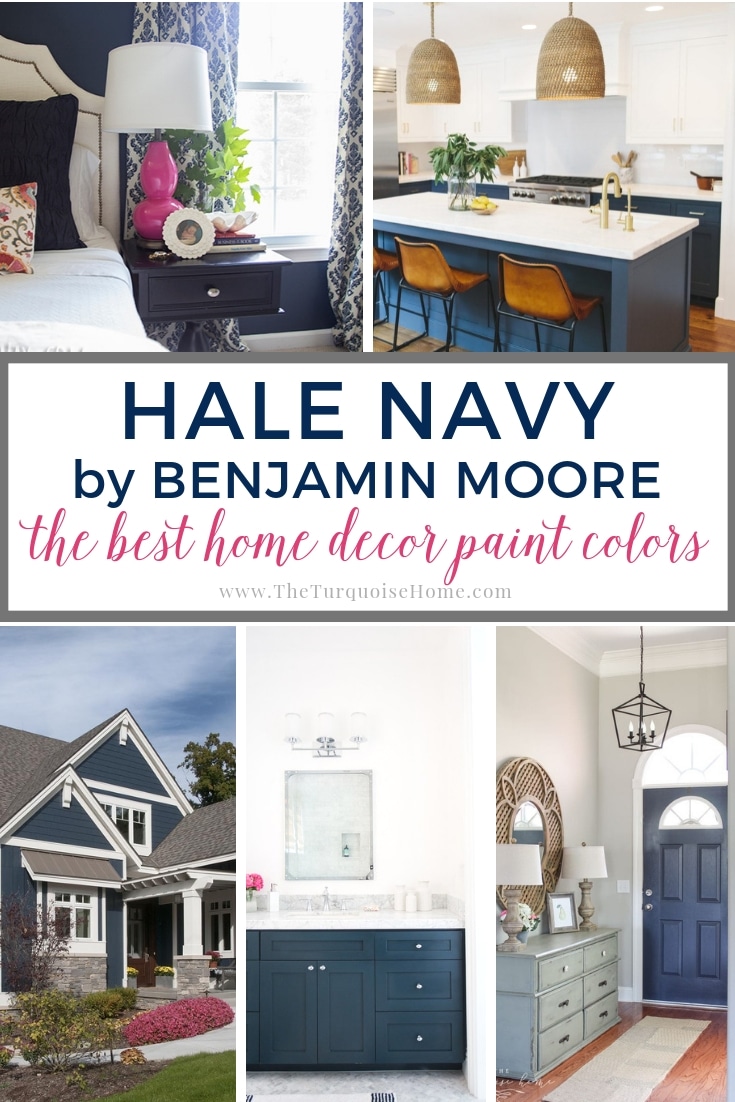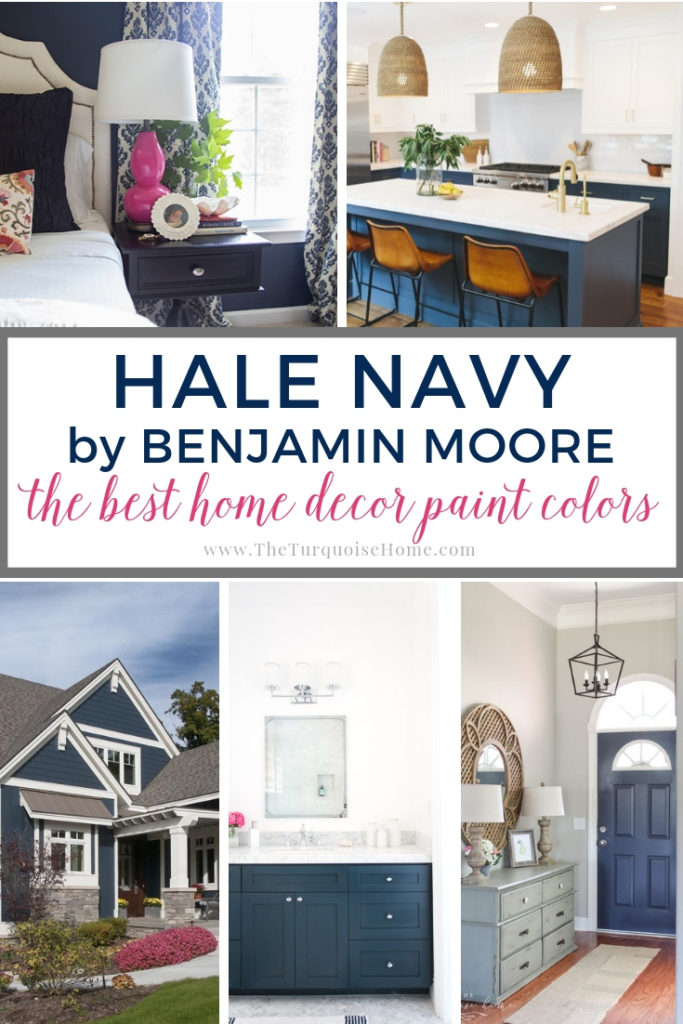 Hale Navy can be used in almost any room because it is a transition color, which means it has both warm and cool undertones. The caveat is using it in a room without a lot of natural light, where the dark nature of it can be overpowering. In that case, using it on an accent wall will keep it from being too dark.
A lot of paint colors change significantly in South or North facing rooms, but Hale Navy tends to vary only in the strength of the gray undertones that come out. If you want that deep, rich blue color to come out, pair it with white accents in a room that gets lots of natural light.
What Colors Go with Hale Navy?
There are so many colors that coordinate well with Benjamin Moore Hale Navy. In fact, many would argue (myself included) that navy is quickly making its way into the neutral color category. That being said, there are a few colors that particularly look well with Hale Navy. Some favorites from Benjamin Moore include:
Spring Meadow
Butterfield
Hidden Oaks
Woodmont Cream
Cloud White
Gray Wisp
Fawn Brindle
Hale Navy in Rooms
Below are some real-life examples of Hale Navy as both the main paint color and as an accent. If you're planning to use Hale Navy in your house, make sure to do a test swatch it in each room as it can look different in any space.
Hale Navy Kitchens
Let's start out with the heart of the home—the kitchen. Yes, you better believe that Benjamin Moore's famous navy shade has made an appearance in many kitchens. This kitchen with Hale Navy cabinets shows Hale Navy as a significant accent color throughout this gorgeous space from Kountry Kraft. The varying light helps show the depth of the Hale Navy while the white countertops and white and gray backsplash help keep the blue shining through.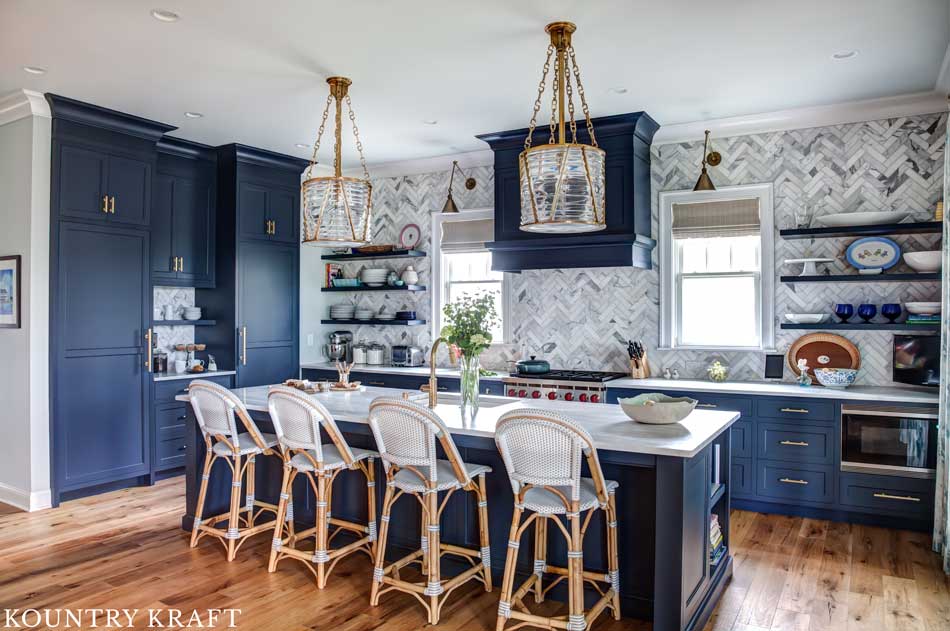 This next kitchen shows how bright and cheery this Hale Navy kitchen island designed by Studio McGee is. The white cabinetry and light wood floor help the blue really pop for a fun accent.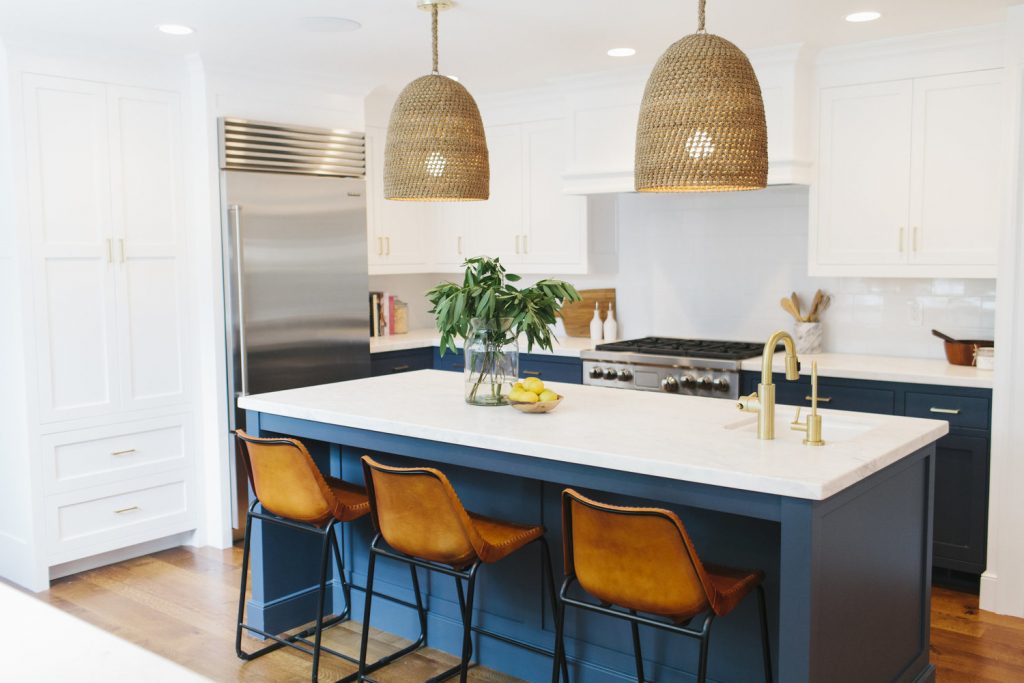 Bathrooms with Hale Navy
This bathroom shows Hale Navy's dark side. The design by Christina's Adventures features dark floors and grout. Those elements along with the natural light adjacent to it, bring out the rich, dark navy color.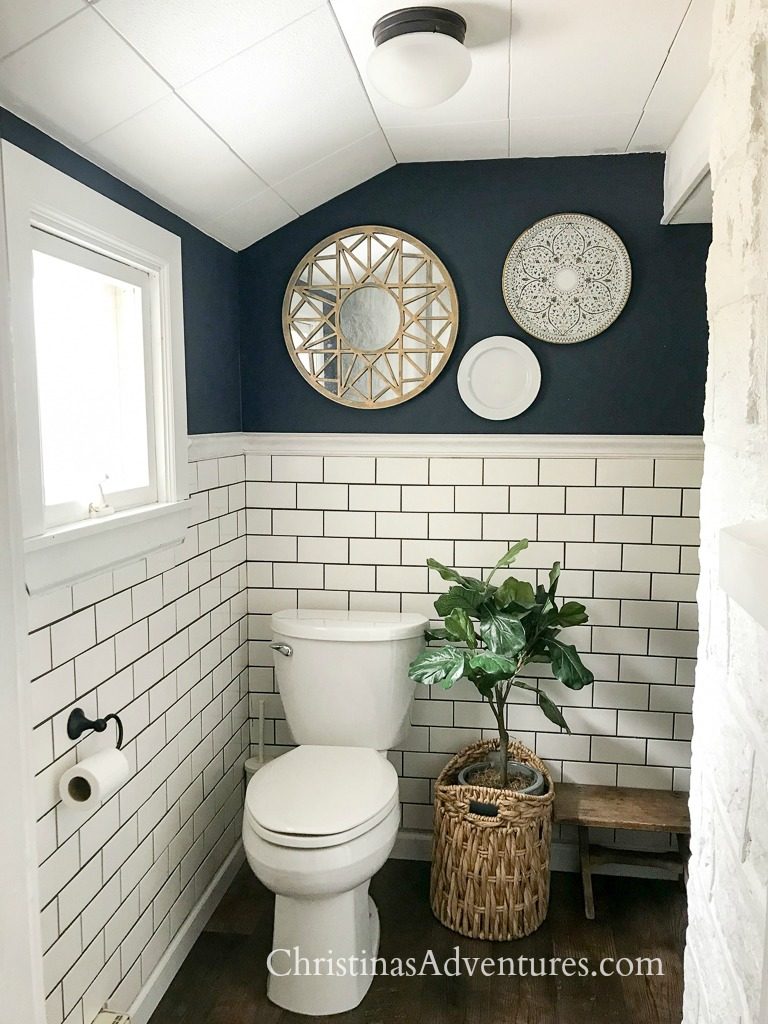 As a study in opposites, this bathroom with Hale Navy from Studio McGee shows how light the color can be. In this example, both the warm and gray undertones are being pulled out by the natural light and the white surrounding the cabinets.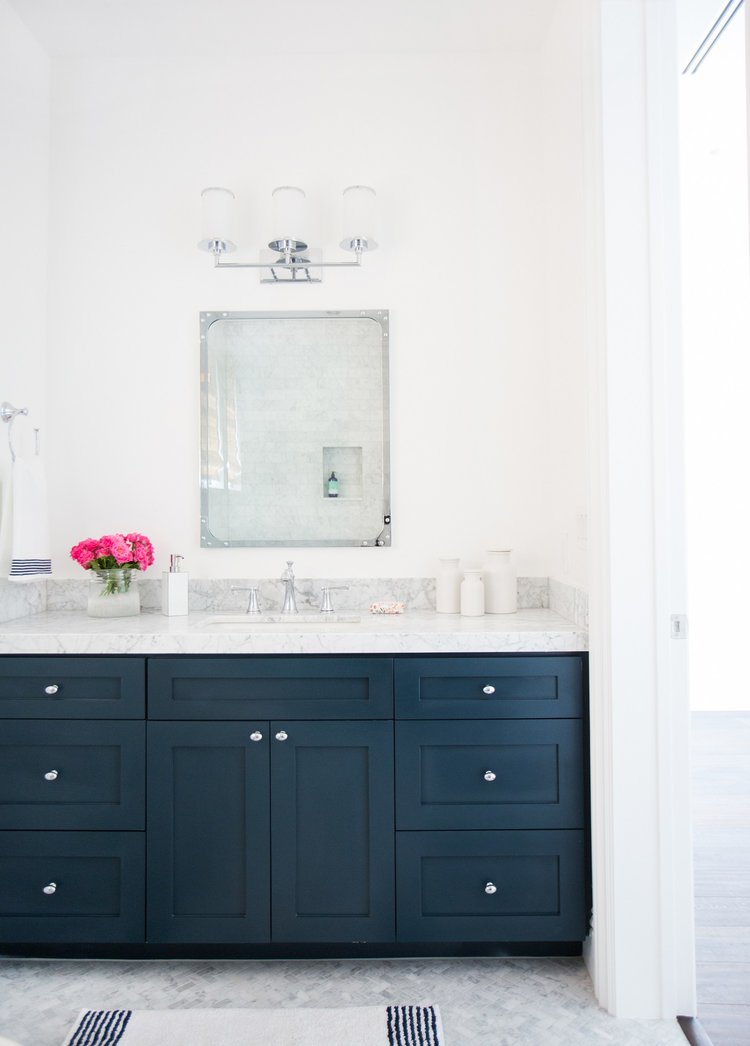 Bedrooms with Hale Navy
This master bedroom with Hale Navy walls from DIY Decor Mom shows the color off as a cozy neutral contrasted by the cream curtains and carpet. The accent green side tables combined with the natural light not shining directly on the Hale Navy pulls out just the slightest hint of deep green undertones—can you see it?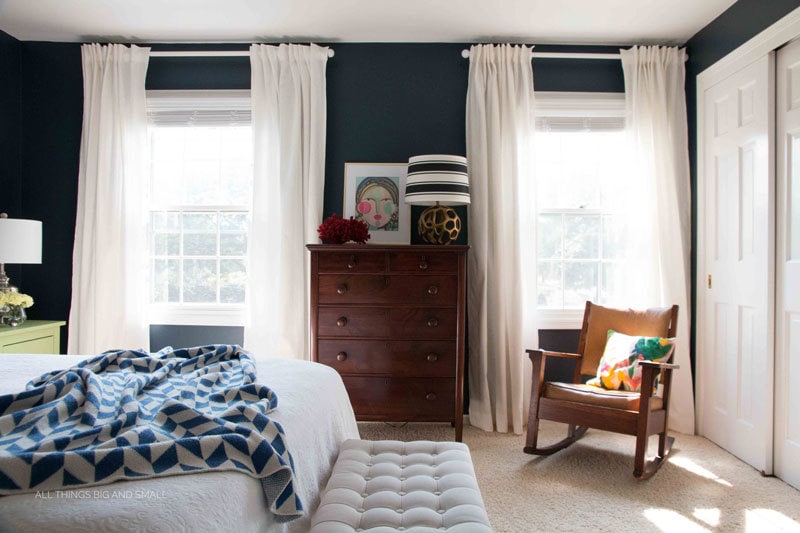 The gray undertones are showcased in this Hale Navy boys bedroom, brought out by the wood floors and accents, as well as the natural light shining directly on the walls. Lehman Lane did a great job showcasing this pretty navy!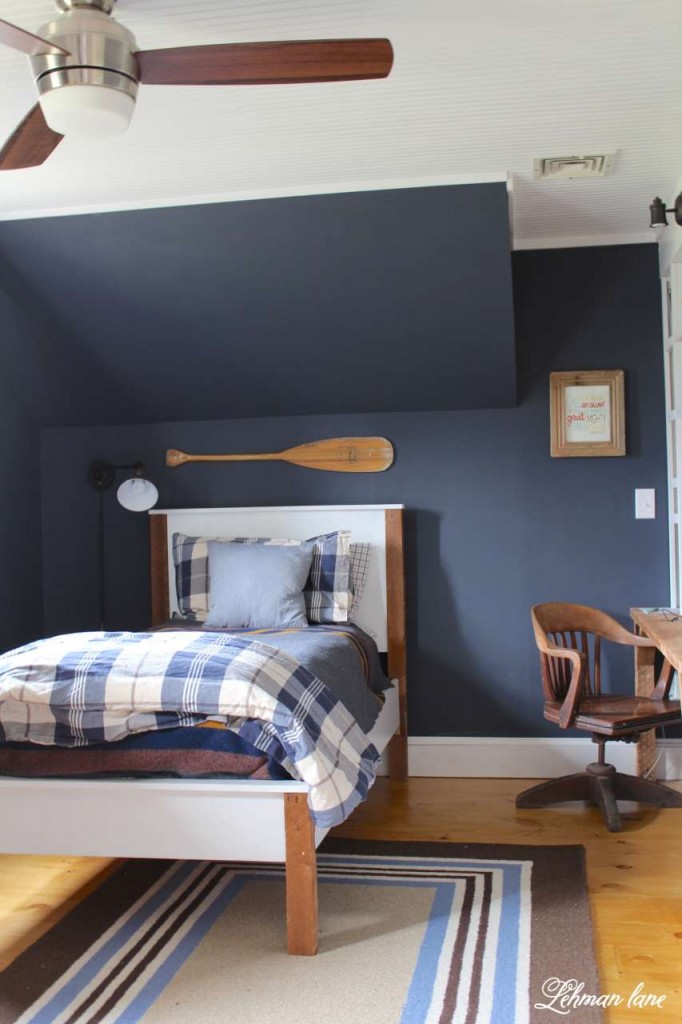 This room from View Along The Way shows how versatile the color truly is—it works with almost every style. Here, the rich blue comes through in this Hale Navy master bedroom. The warm undertones are brought out by the curtains and dark side table segueing from the white accents.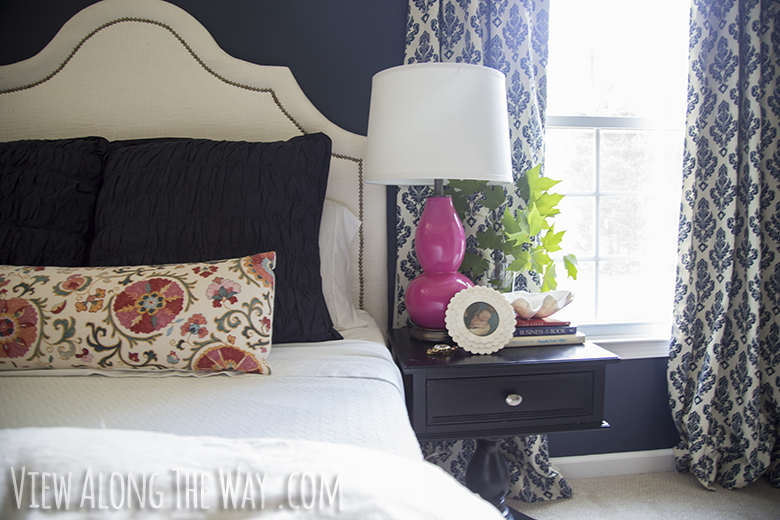 Hale Navy in Dining Rooms
This Hale Navy accent dining room shows how gray Hale Navy can be. Claire Jefford's dining room nook looks almost slate rather than navy.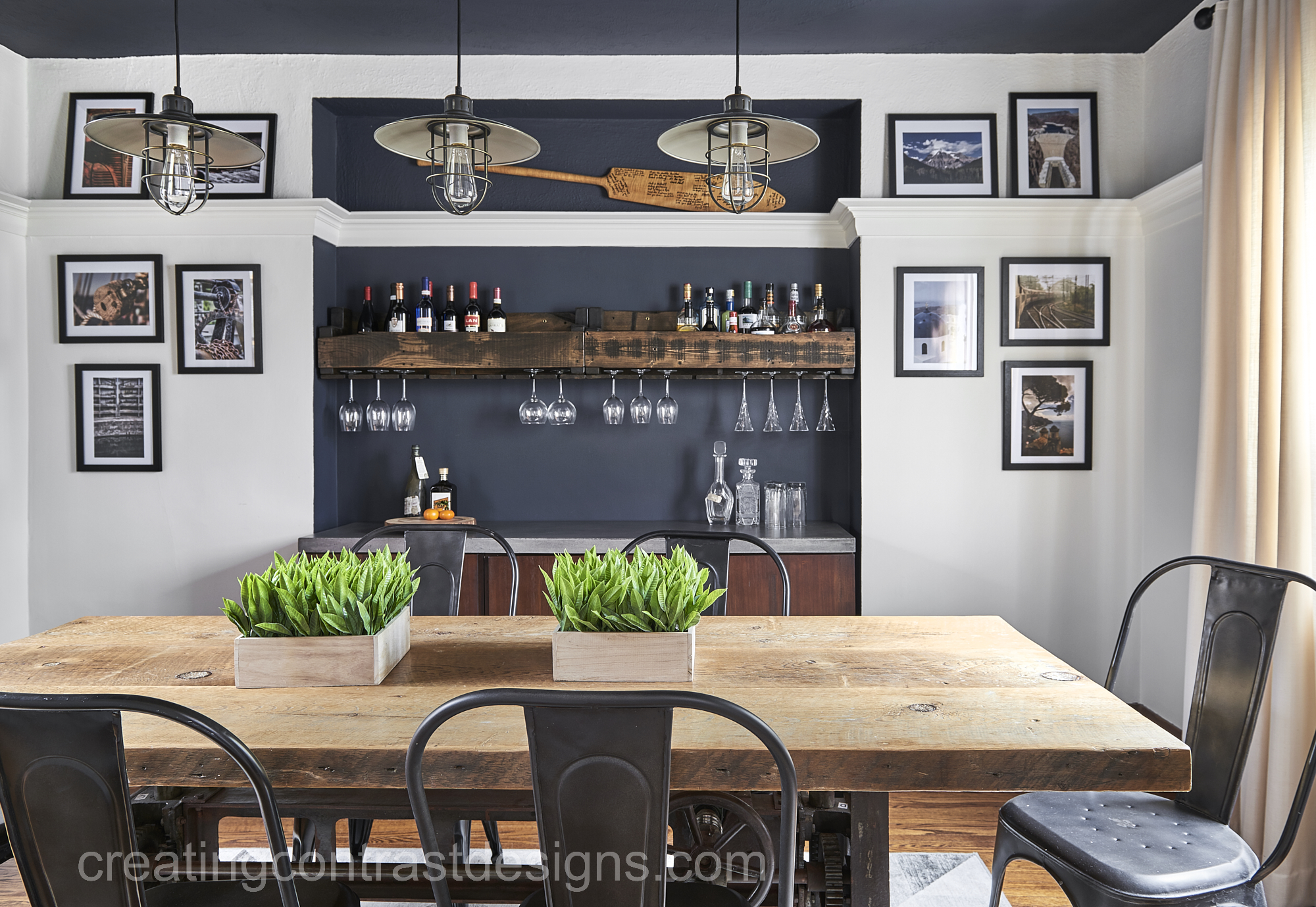 With wood floors and white accents, the gray is also drawn out of Hale Navy in this dining room from Saffron Avenue. This creates a warm accent wall that is bold without being overpowering.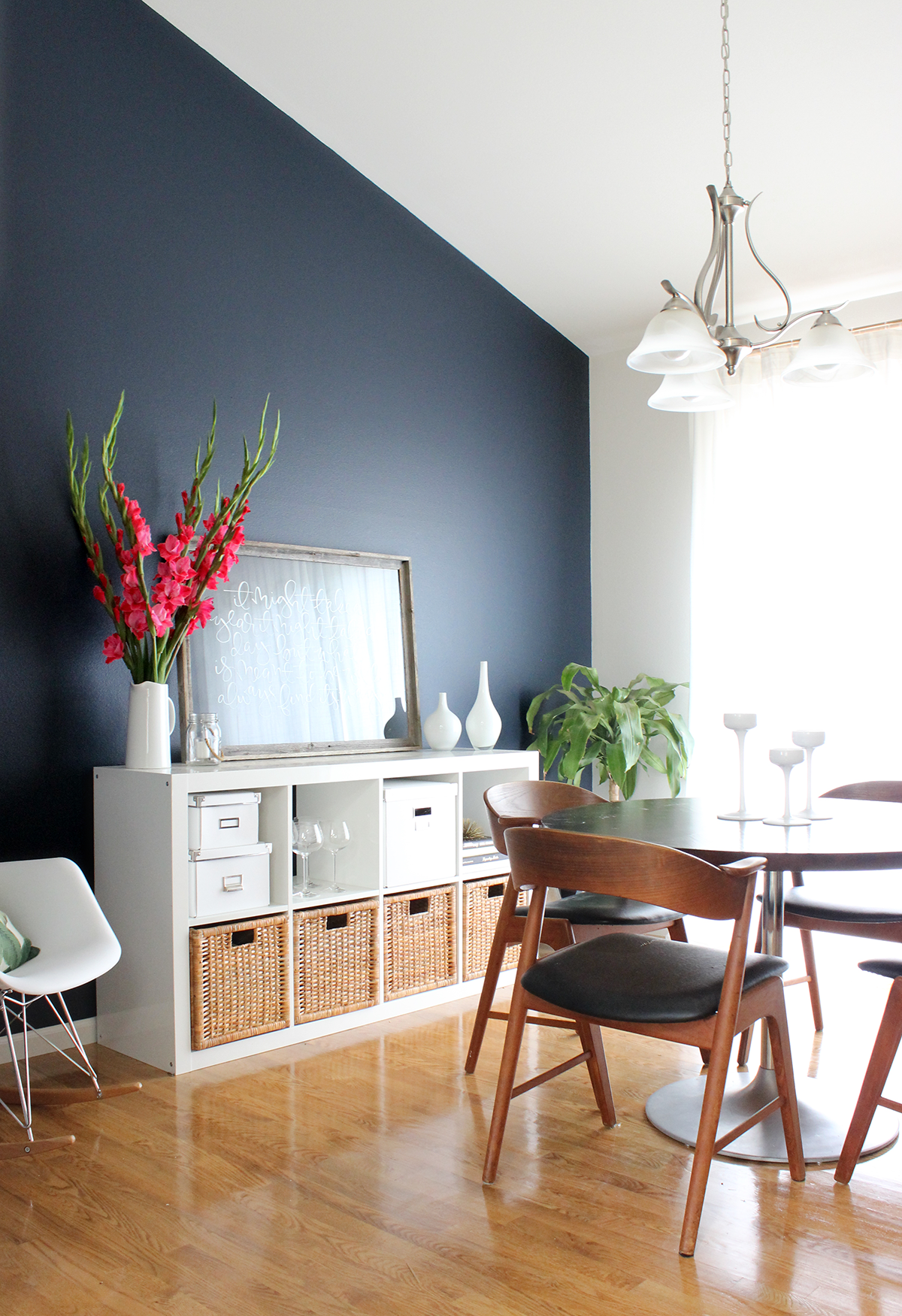 Hale Navy in the Living Room
While this bold color could be too much for a living room, Hale Navy works really well in rooms with a lot of natural light and white trim.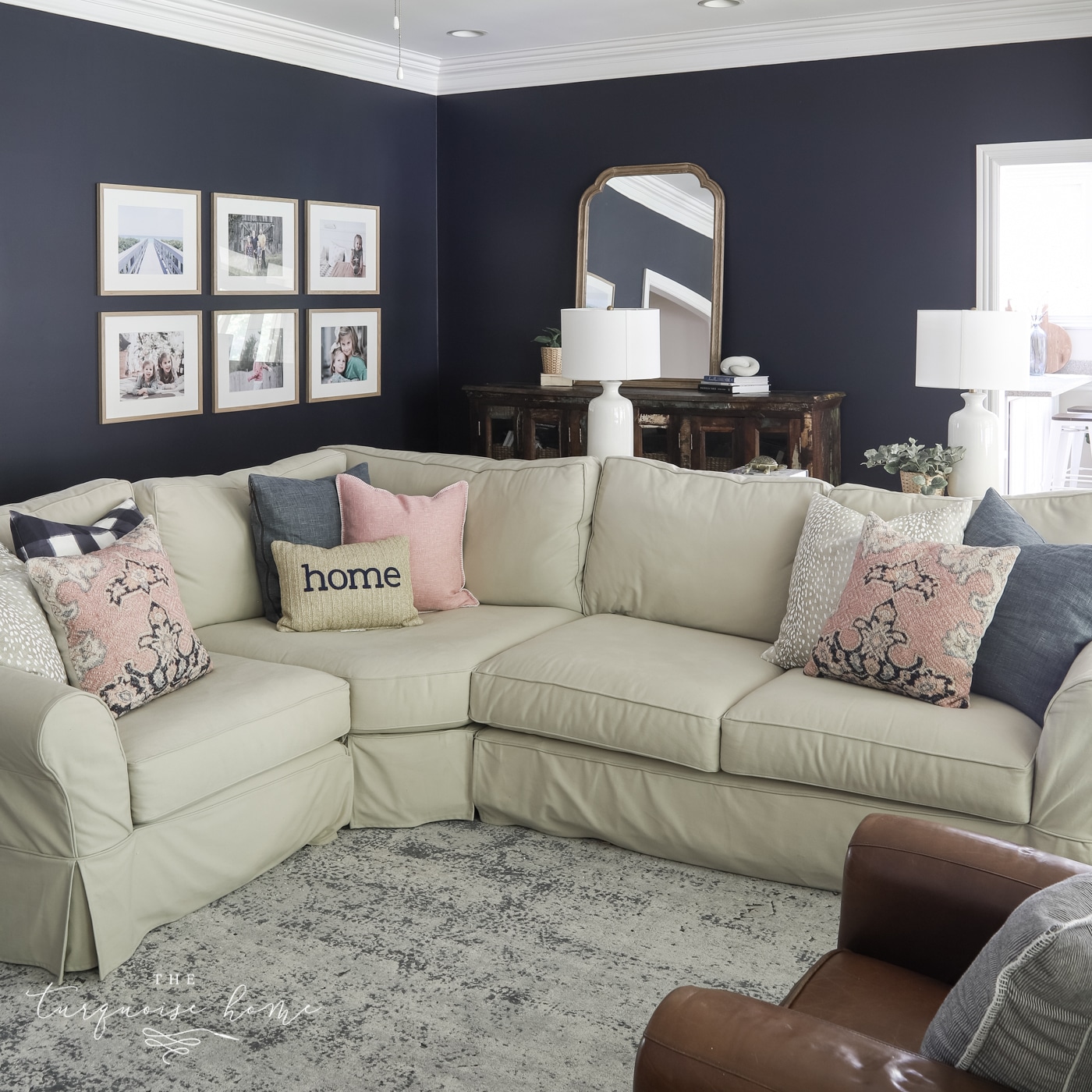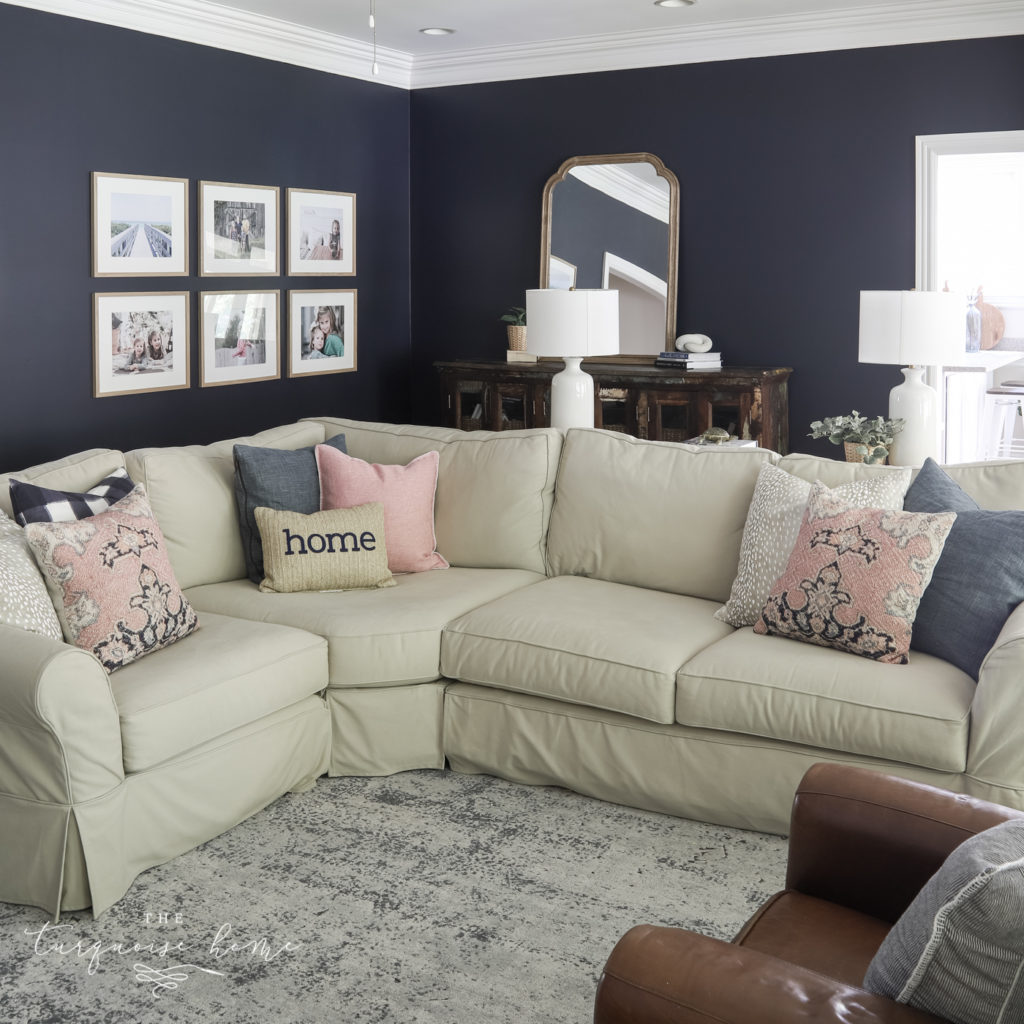 My new home features a full wall of windows and a wall of white built-in bookshelves and fireplace, so this beautiful blue color was the perfect moody backdrop.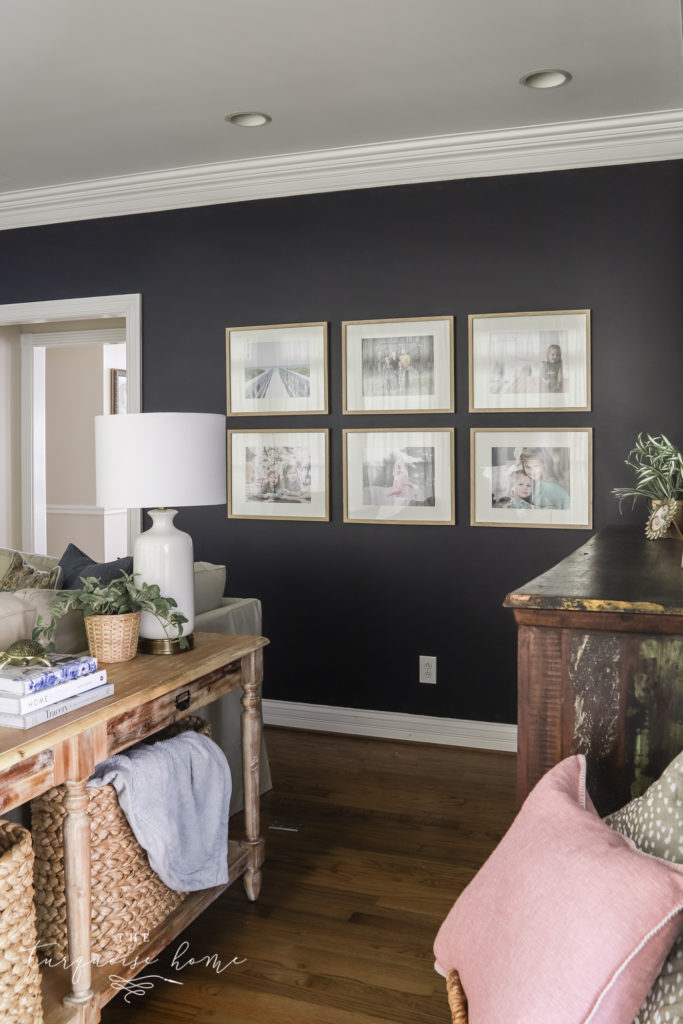 The pops of white from my trim and light wood tones from my gallery wall really pop on the dark, cozy background! (I've since learned that it's OK to paint outlet covers. I'll be tackling these soon! 😜)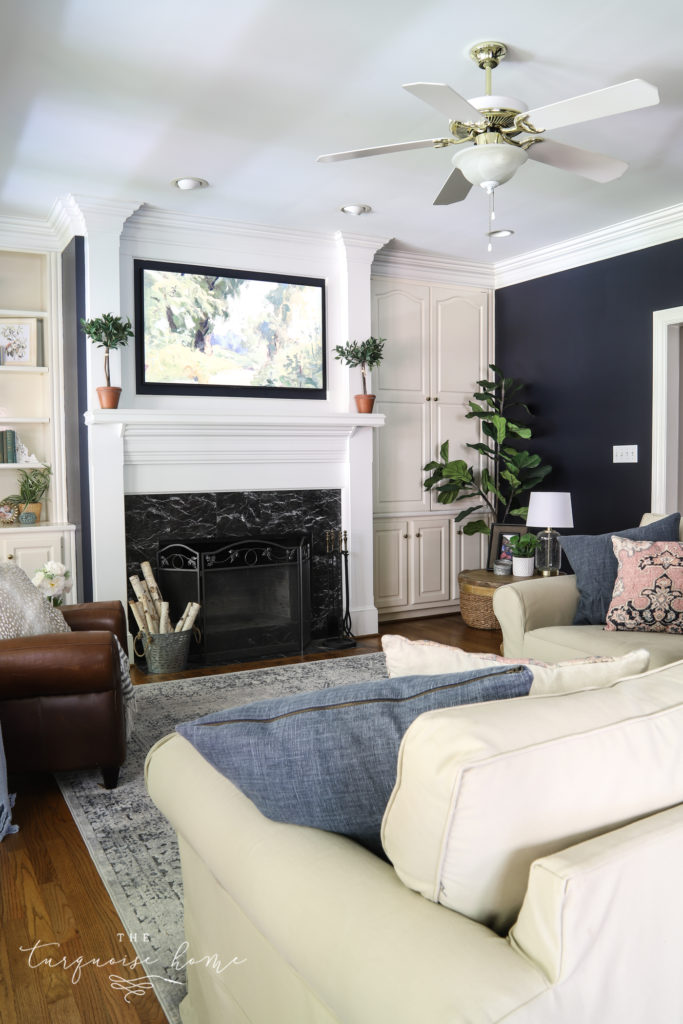 Exterior Examples
This beautiful Hale Navy exterior shows again how versatile this color can be. The white accents and gray bricks and roof pull out the gray undertones, creating an inviting feeling. Isn't it just gorgeous?!?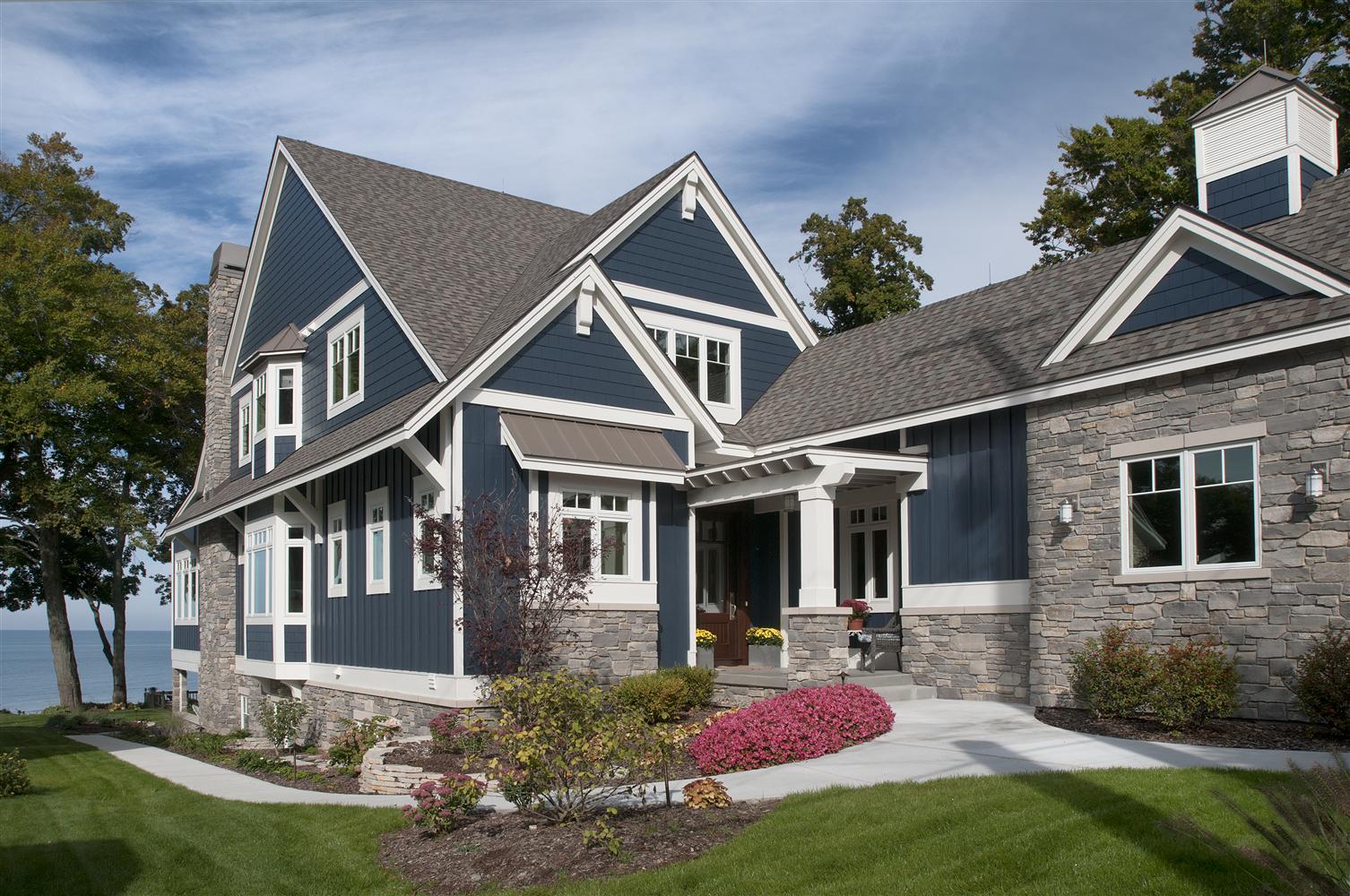 If you look closely, you'll see those slight green undertones pulled out once again near the greenery of this Hale Navy exterior by Gordon James. The cream in the bricks helps balance the gray undertones by pulling the navy through.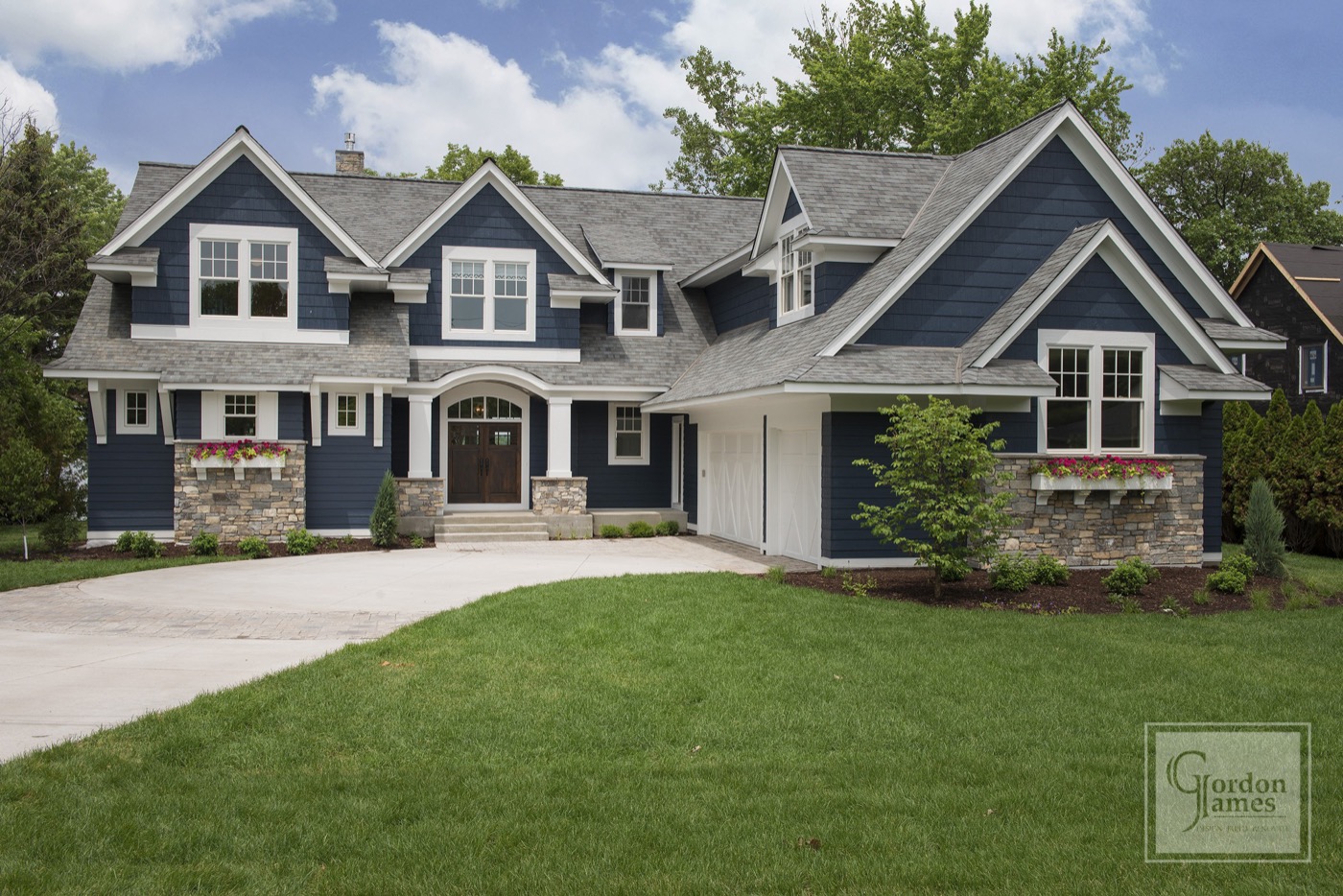 As you can see, Hale Navy really can be both a neutral and a fun pop of color. Which way would you use it? You can't really go wrong with this one.
MORE OF THE BEST HOME DECOR PAINT COLORS:
Tips for Painting a Room Yourself
I've gathered some of the best tools for painting a room yourself. First of all, you'll want to check out this post I wrote: Painting a Room in 5 Easy Steps. These tools are the top tools I use when painting my own rooms, which is how they get painted 95% of the time!
Paint Brush – These paint brushes are a little more expensive than your basic brush, but they're worth it! I've used these brushes for more than a decade and if you wash them out well after each use, they will last for years.
Painter's Tape – a MUST have for taping off edges. You'll need to tape off all edges if you don't have a steady hand.
Drop Cloths – a must have if you don't have any laying around the house already.
Paint cup – Sure you could use any old cup, but I've come to swear by this one. The magnetic piece holds your brush cleanly in place when you need to take a break. And it fits my hand perfectly, keeping it from cramping.
Roller Tray – I've found the only paint tray I'll ever use again. The magnetic piece is great for holding the roller in place. And the liners are a luxury, but I won't paint without them because it makes clean up a breeze!
More Posts You Will Love: