7 Ways to Refresh a Kitchen
Discover 7 easy ways to refresh a kitchen without paint or wallpaper! The details make the biggest impact on a kitchen refresh!
Here's the thing. Kitchens can be a hard space to decorate, or add some personality to. Unless you have a large budget for new appliances or want to a complete gut job, it can be a challenge to put your own stamp on a space.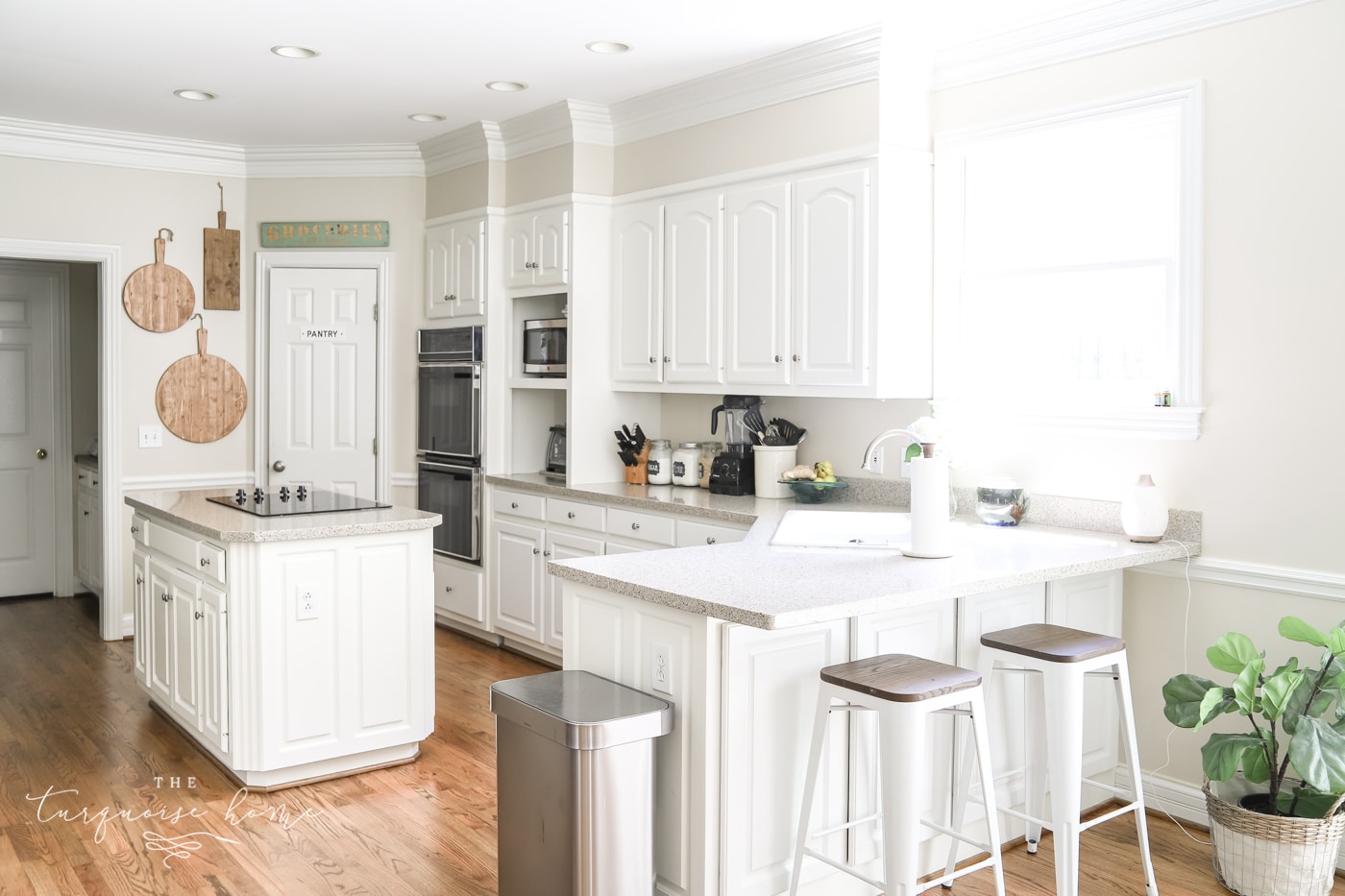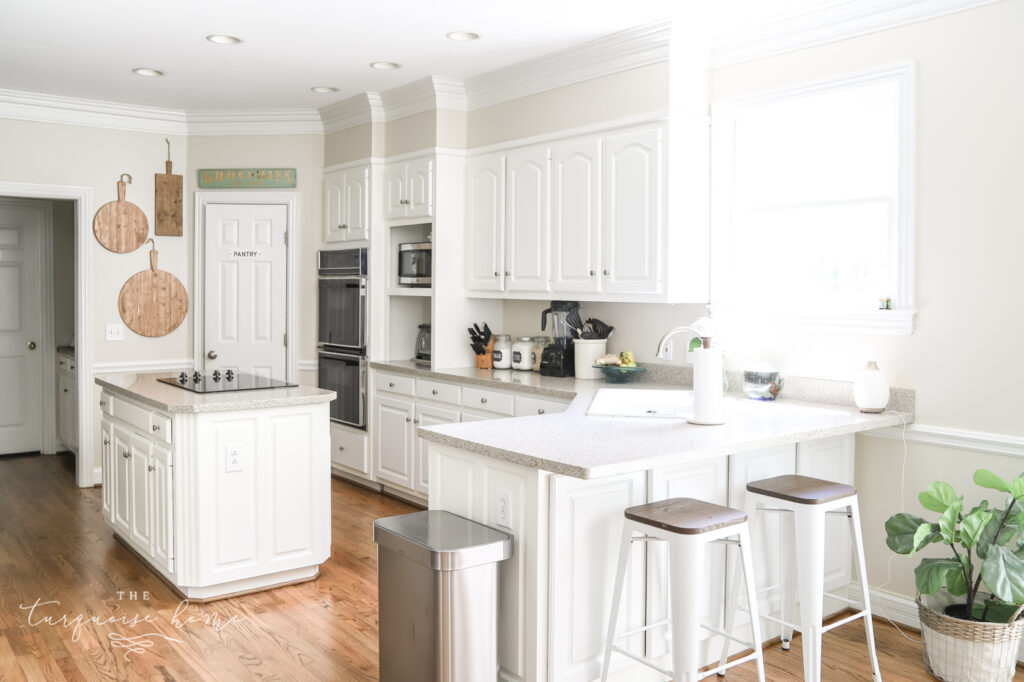 But adding some fresh new decor can take the space from blah to personalized in no time! (Or in my case, it can take a year … ha!)
When I first saw photos of my kitchen in the online real estate listing, I was not excited. The layout looked odd to me, and I was not inspired by the yellow-ness of it all. 😜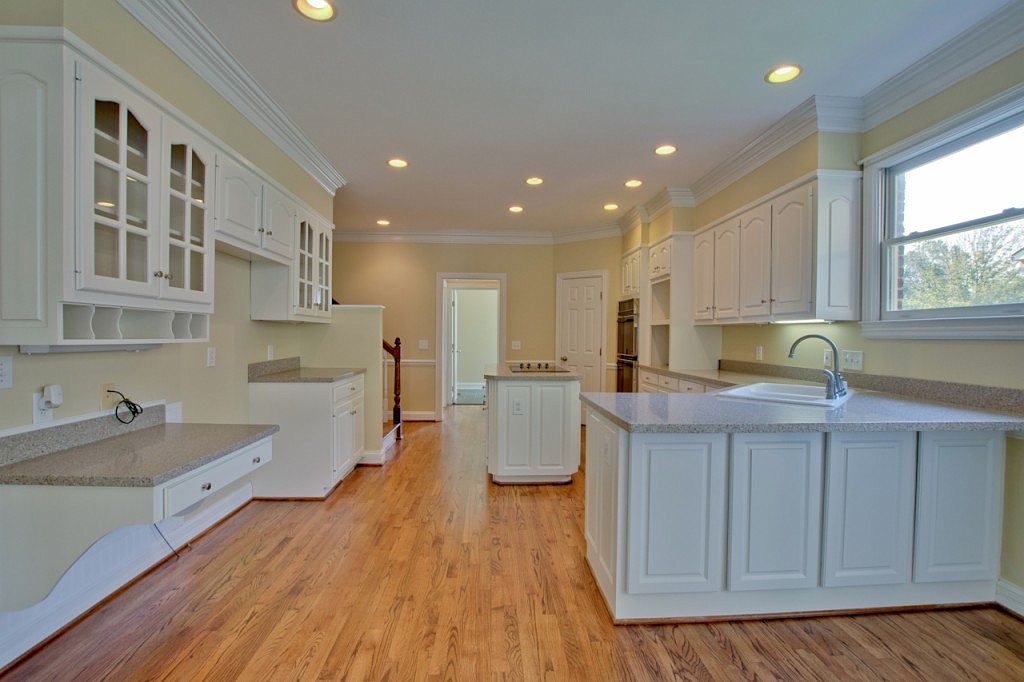 But since we moved in, I have come to love and appreciate this kitchen. The natural light is absolutely beautiful. The white cabinets, neutral countertops, glass front cabinets and beautiful wood floors are all elements I love (or can work with).
I was a little sad when we first moved in that the kitchen is not open to the living room, but I've come to love the layout. The island is wonderful for making lunches and cooking breakfast at the same time. My girls love the little counter bar near the sink where they can play or do homework while I cook dinner.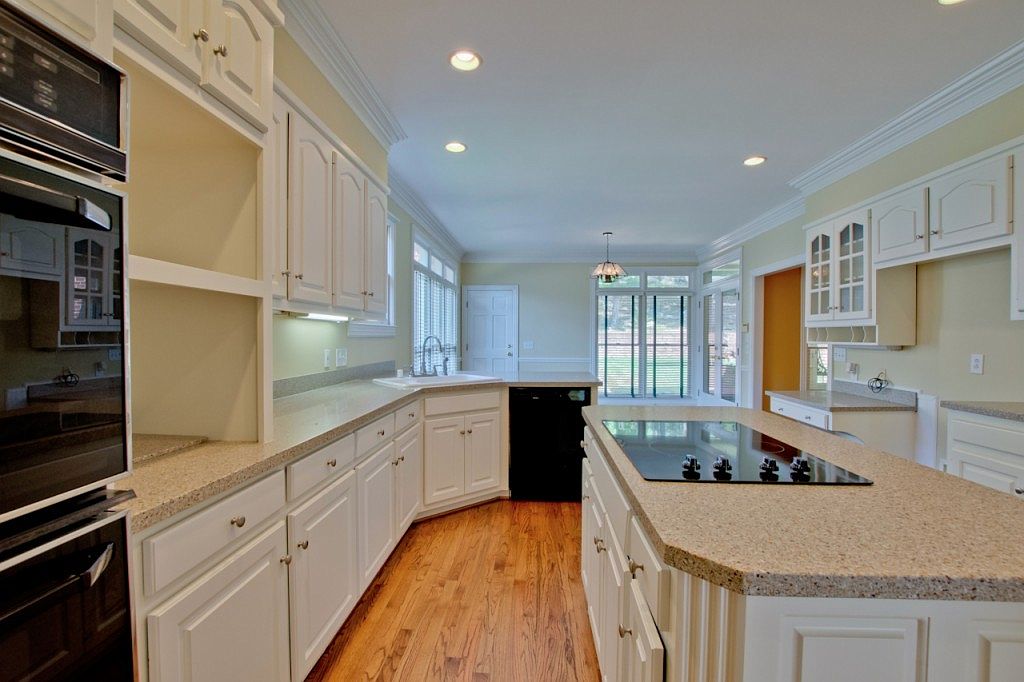 And while I wasn't excited about another corner sink (and the odd shaped triangle behind it), I love that it looks out the window while also being able to see the back yard and whatever is going on at the kitchen table.
When we moved into this house, I knew I would want to make the kitchen my own. First off, the yellow walls had to go.
But I had to also consider that the kitchen is connected to the hallways, stairwell and entry way. So, I had to choose an overall neutral paint color for my kitchen refresh. (Learn how to choose a Whole House Color Palette.)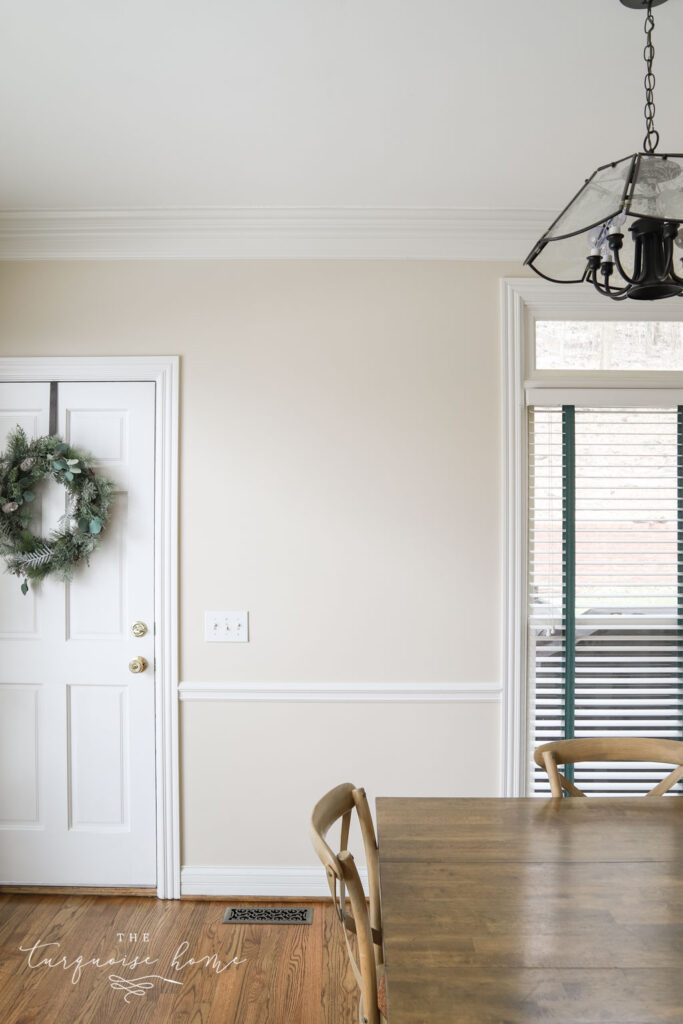 I chose Edgecomb Gray and I love it! Such a huge improvement already!
After that, it was simply adding in decor and changing out things that were easy to change! Let's take a look back at my original plan for the space. I wanted to add texture, color, beauty and functionality to the space. This is the kitchen design board I started with.
Naturally, it has somewhat changed over the YEAR that it took me to make these changes. But I love that I still kept the light blues and greens and brass accents.
The long timeline was one part my budget limitations and indecisiveness. And the other part slow ship times and other people's mistakes.
I've already shared my eat-in kitchen reveal. I talked about how I made the drop zone area from the door to our garage a functional place for our family. So you can check that out here if you haven't read it already.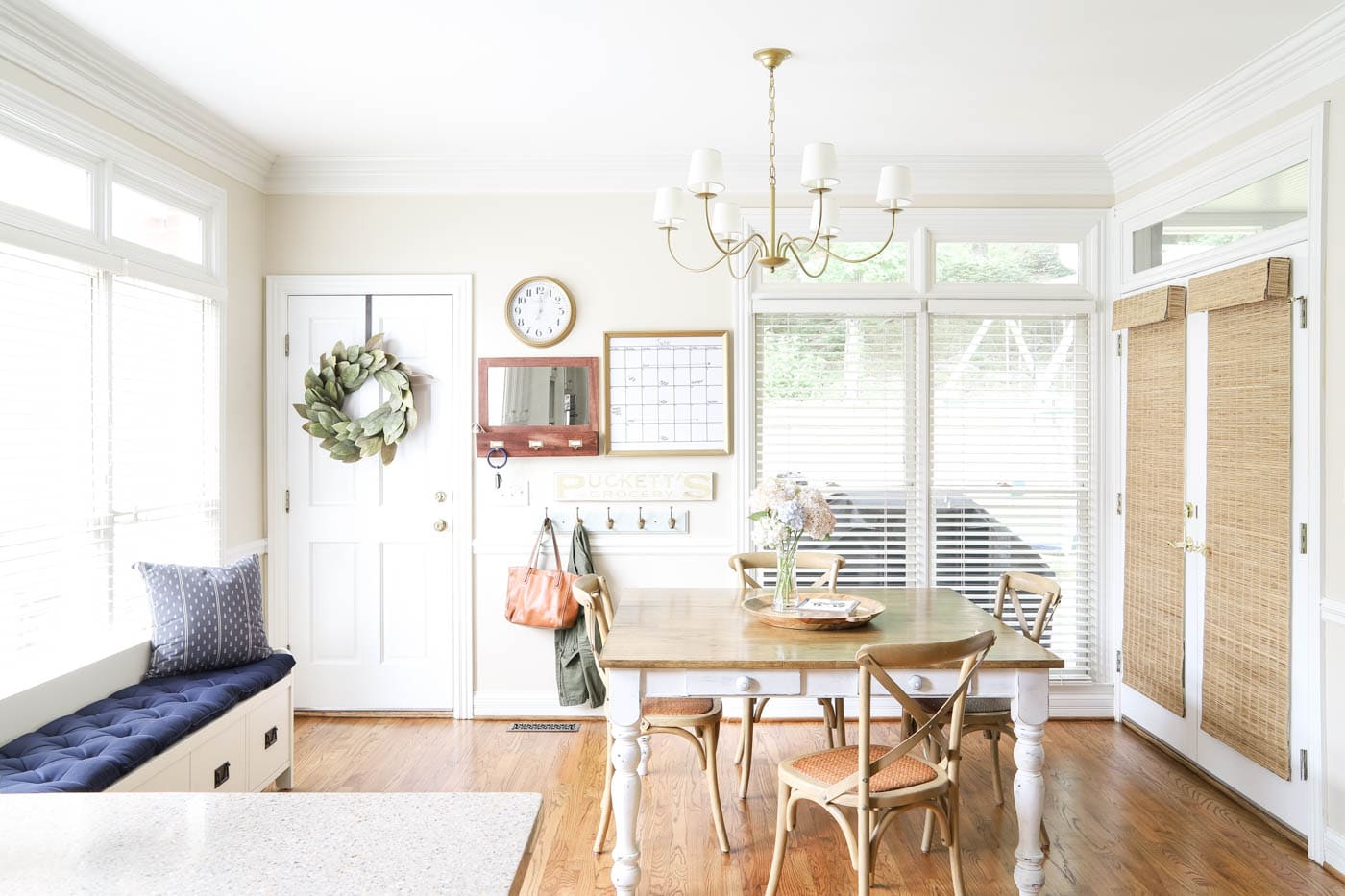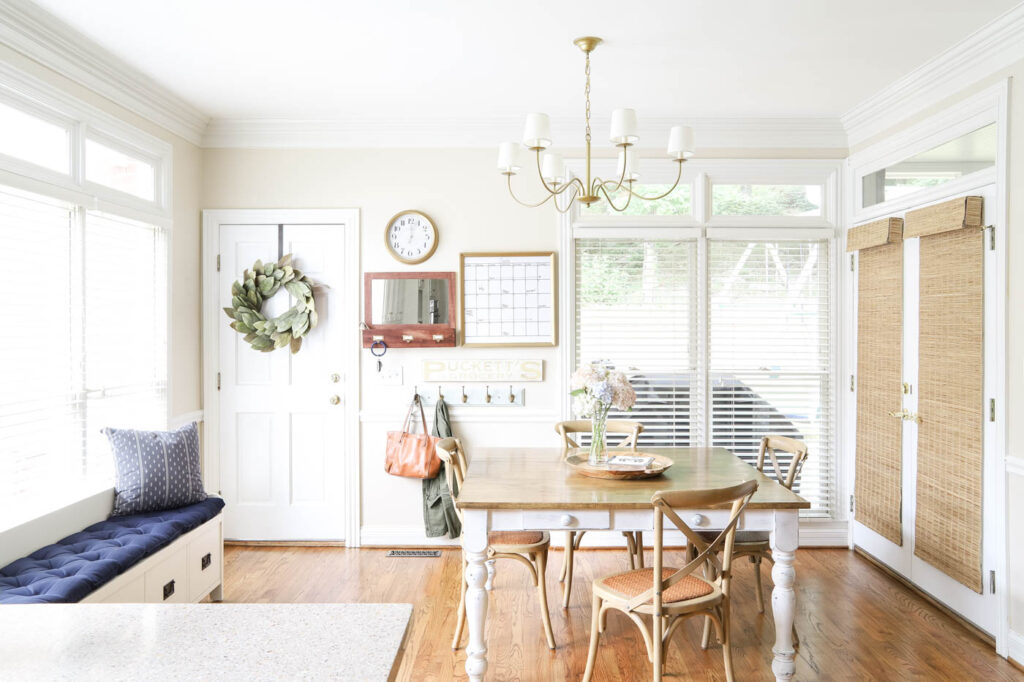 7 Simple Ways to Add Personality to a Kitchen without Gutting It!
I knew I wasn't going to rip out the appliances, paint the island or add wallpaper to the space. So, I set out on a journey to update my kitchen with some simple decorating! I love how it turned out!
I'll share all of the sources of my kitchen refresh and even more before & after photos at the end of the post!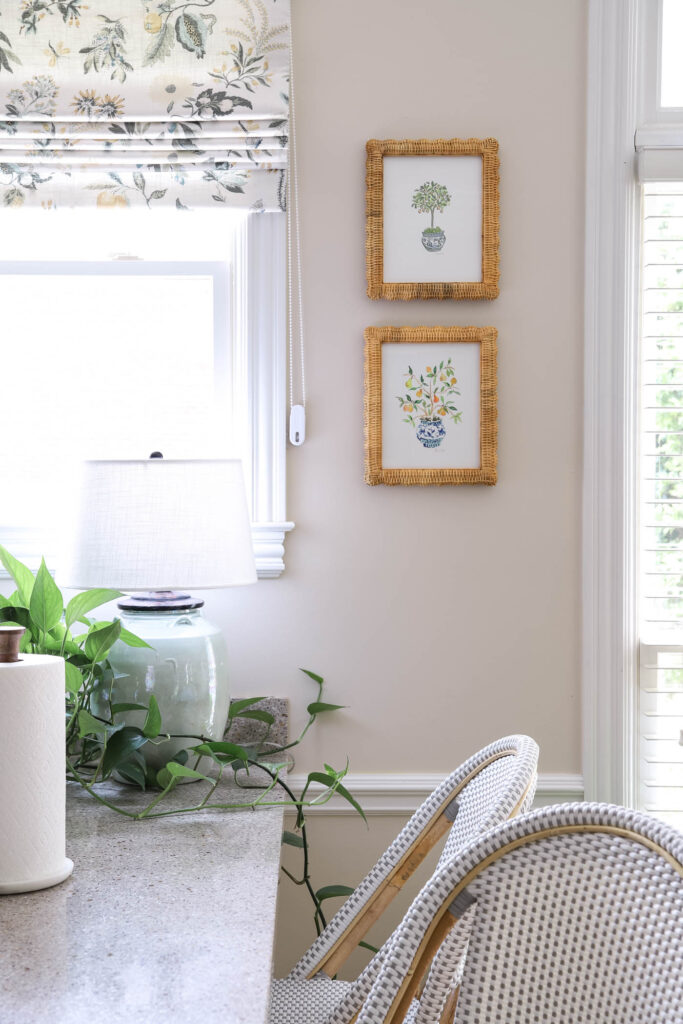 By the way, I figured out what to do with the weird triangle behind the sink and now it's one of my most favorite views!
1. Lighting
Lighting is a simple way to change the whole look of a room! And while it's not always cheap, it can be inexpensive.
Most of the lighting in our kitchen is recessed lighting, but the light fixture over our table had seen better days. It was broken and not my vibe. So, I bought an inexpensive chandelier to replace it. I love it!
Here's what was there before. 😬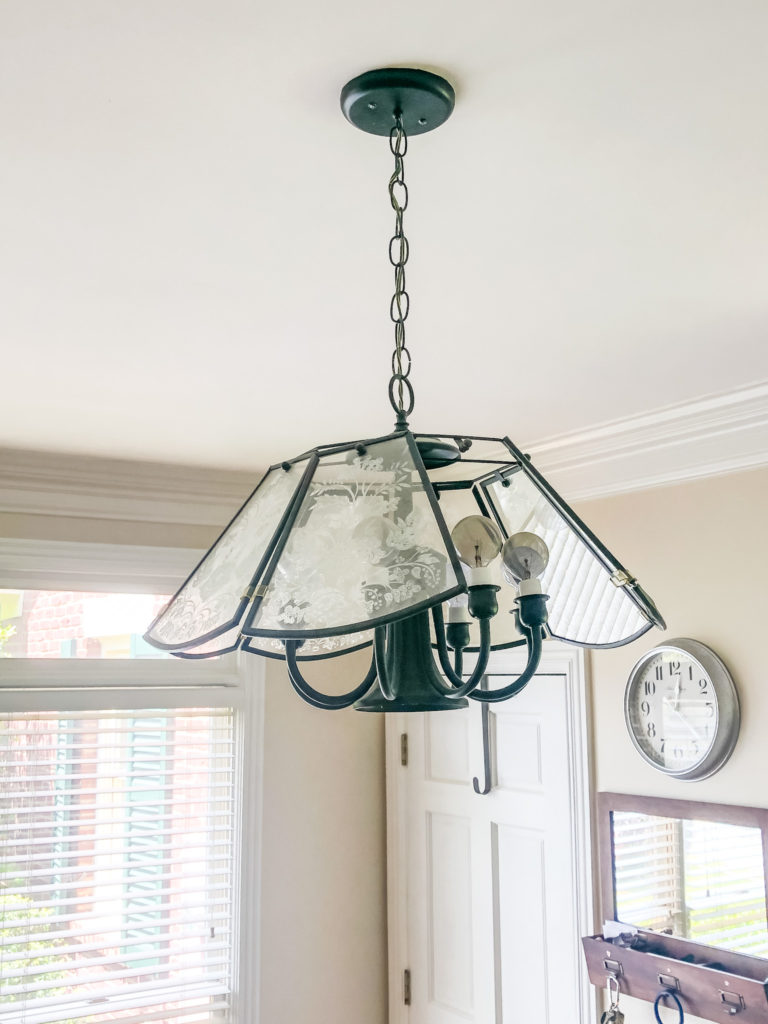 And now how it looks after!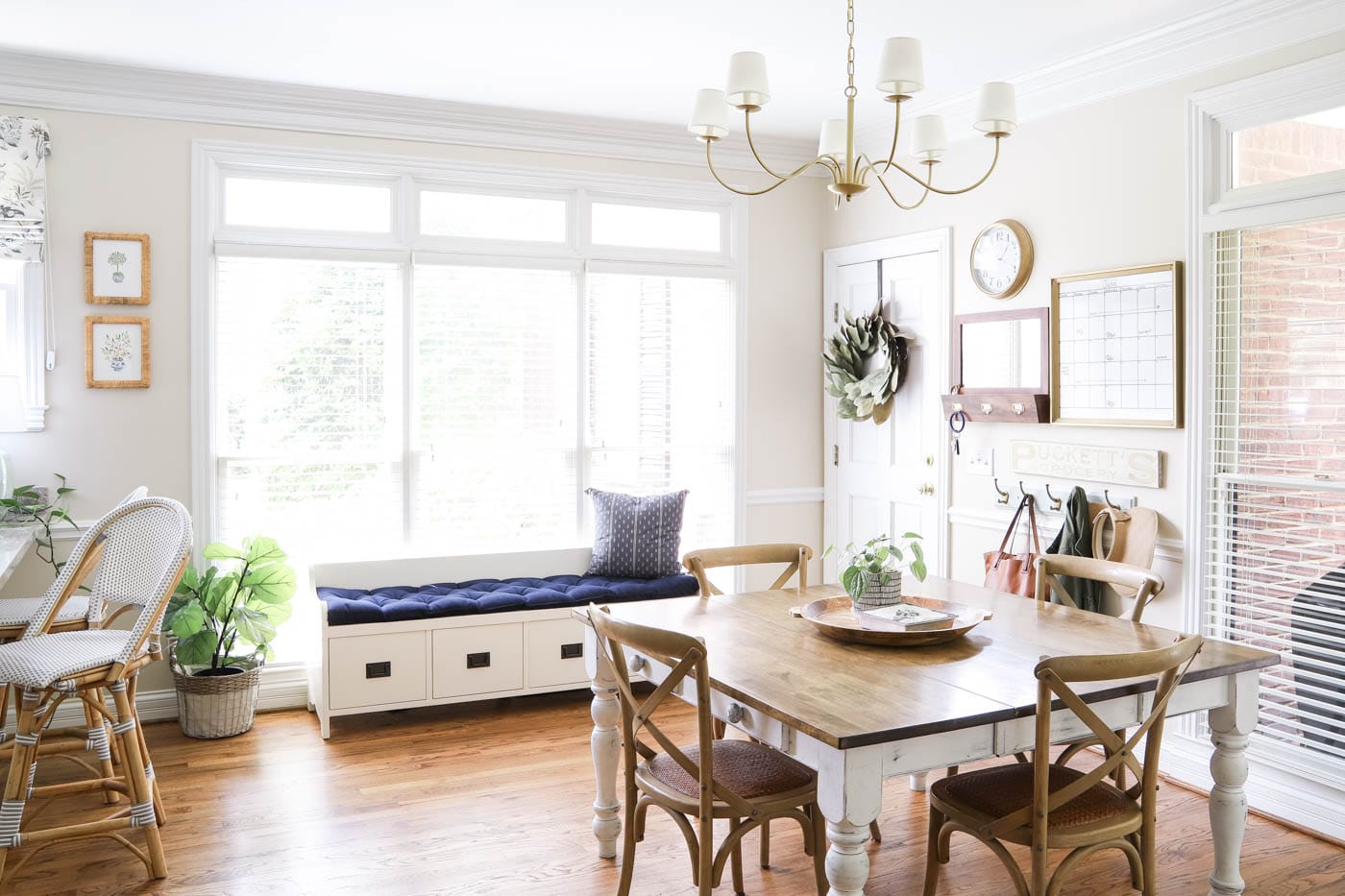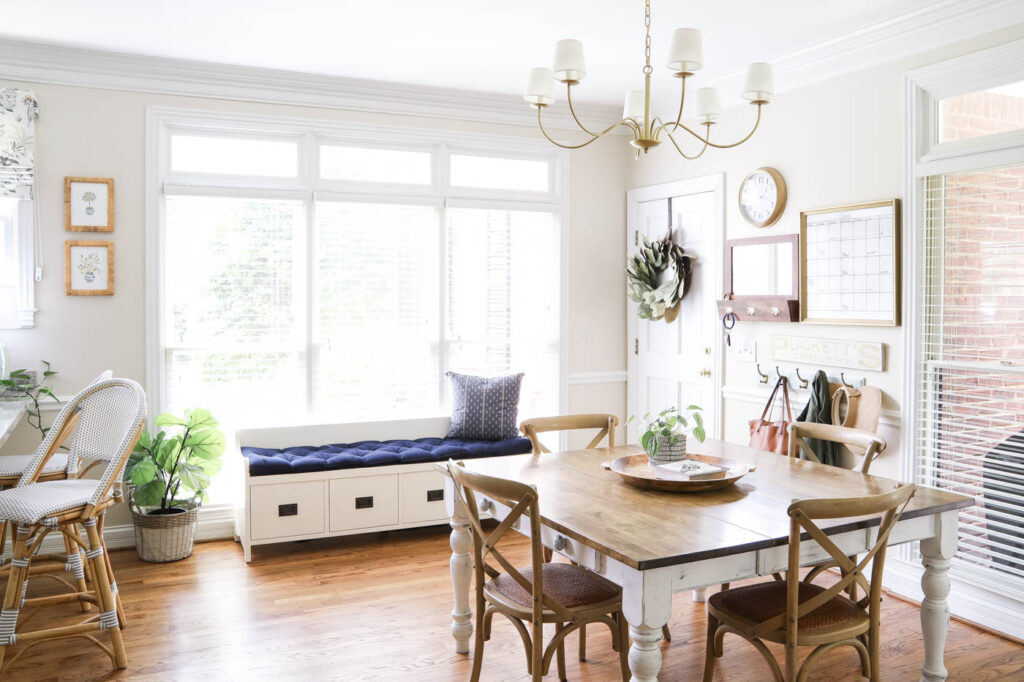 Another way to think about lighting in your kitchen is to add lamps! I love soft lamp light in the evenings. When the kitchen is closed and cleaned for the night, I love that only the kitchen lamp is on and it gives me all the cozy feels.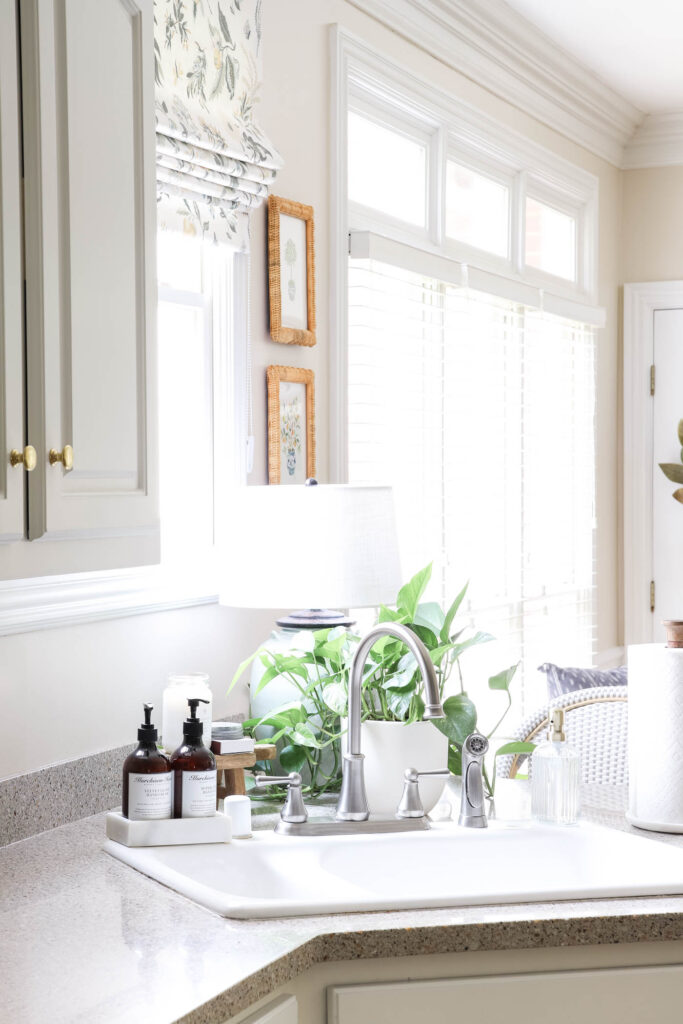 This post contains affiliate links for your convenience. See my full disclosure policy.
I struggled for months to figure out how to use the odd triangle of space behind the sink. I tried a bunch of options, but in the end, I LOVE the lamp, real pothos plant and candle combination. And the pretty soap & lotion dispensers in the marble tray elevates an everyday routine of washing our hands hands.

2. Hardware
I love a pretty new knob. It's like the jewelry for your room! And it's an easy way to update your kitchen! (It's not always budget-friendly, but it can be. There are beautiful hardware options at your local hardware store or Hobby Lobby.)
This was the only room in the house where the previous owner changed out the brass hardware to polished nickel. So, I changed it all back. 🤣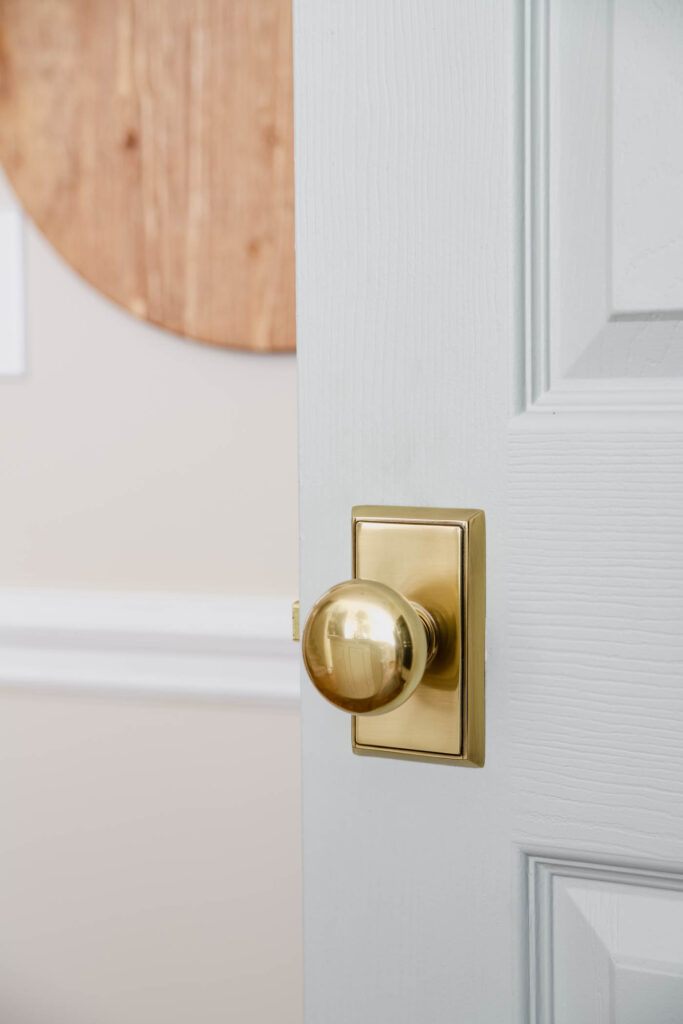 I love this door knob and I hope to replace all of the door knobs in the house with something similar – one at a time.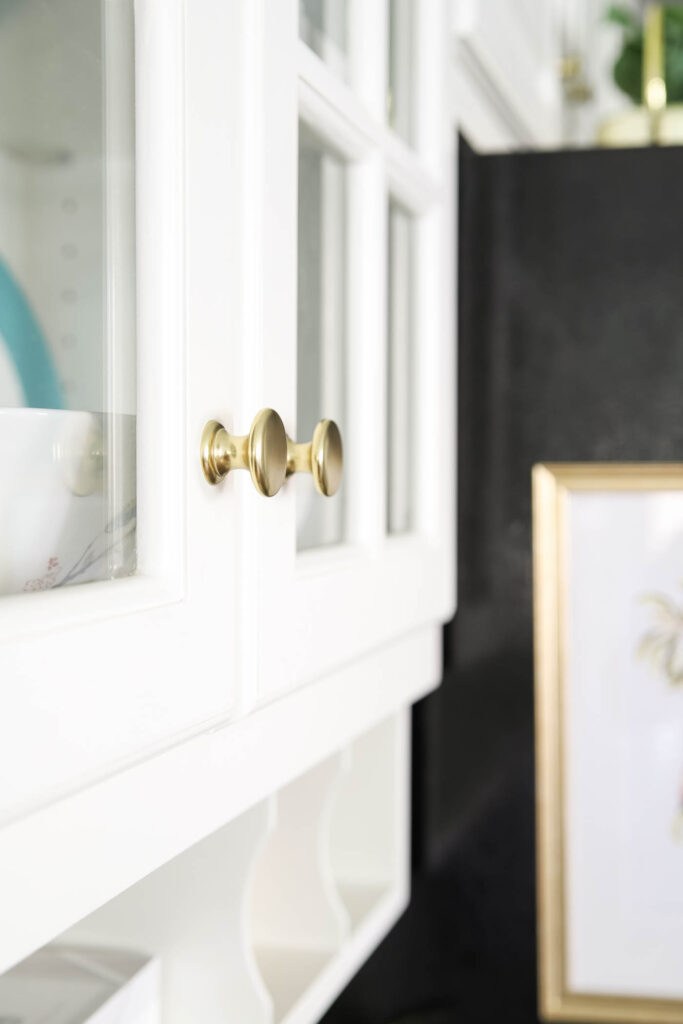 And I changed out the brushed nickel cabinet knobs for these beautiful brass mushroom style knobs. The custom dishwasher panel got a matching pull handle as well, where I hang my drying towel.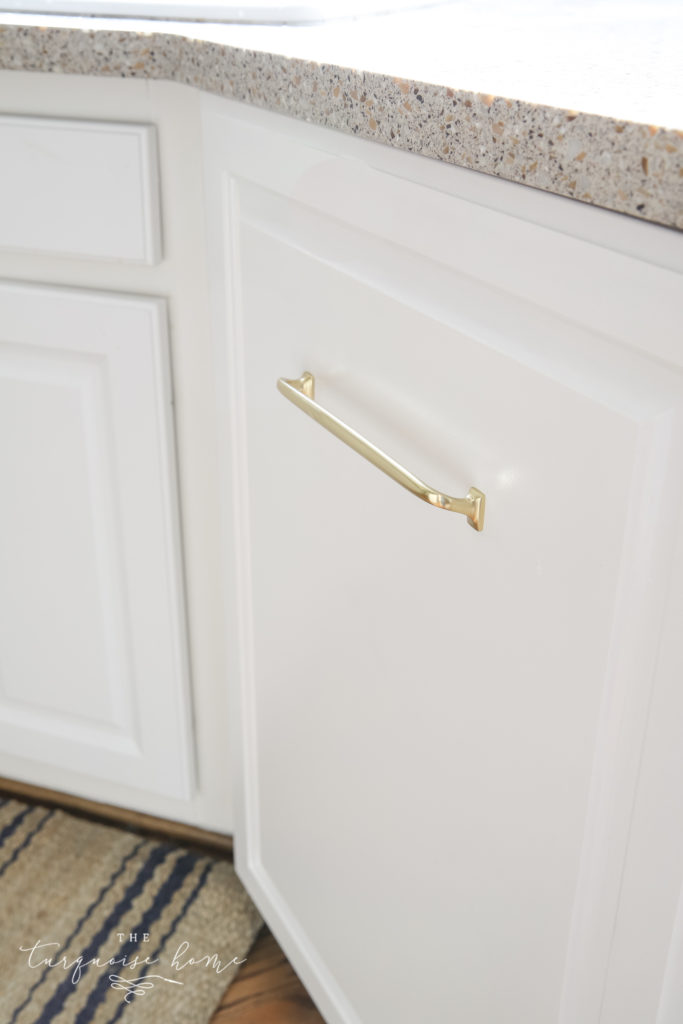 Shop the Hardware by Tapping the Images Below:

I even ordered my Le Creuset dutch oven with a matching brass handle. 😍
3. Rugs
An easy way to add comfort, texture and pattern to a space is with rugs. I originally wanted to add a rug under the kitchen table. But my kids are still little enough that the amount of crumbs and spills is a lot.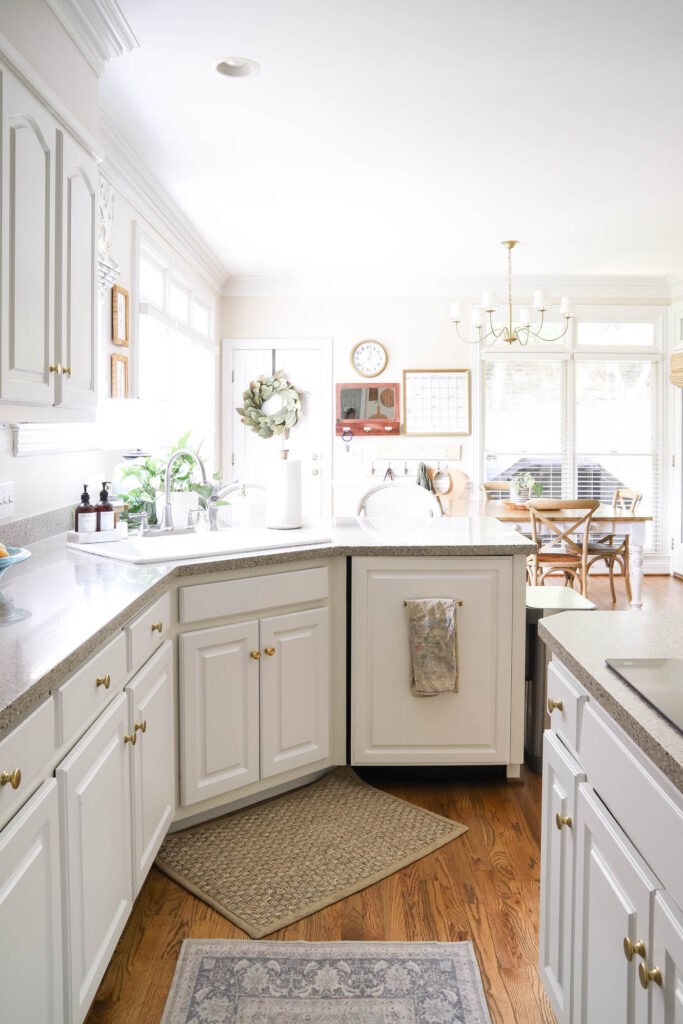 I have a small seagrass rug in front of the sink with a smaller rug underneath for more cushion. These rugs get dirty pretty quickly, so I have found the seagrass material works great for hiding stains and dirt. I keep it from moving around with a little carpet tape under each corner.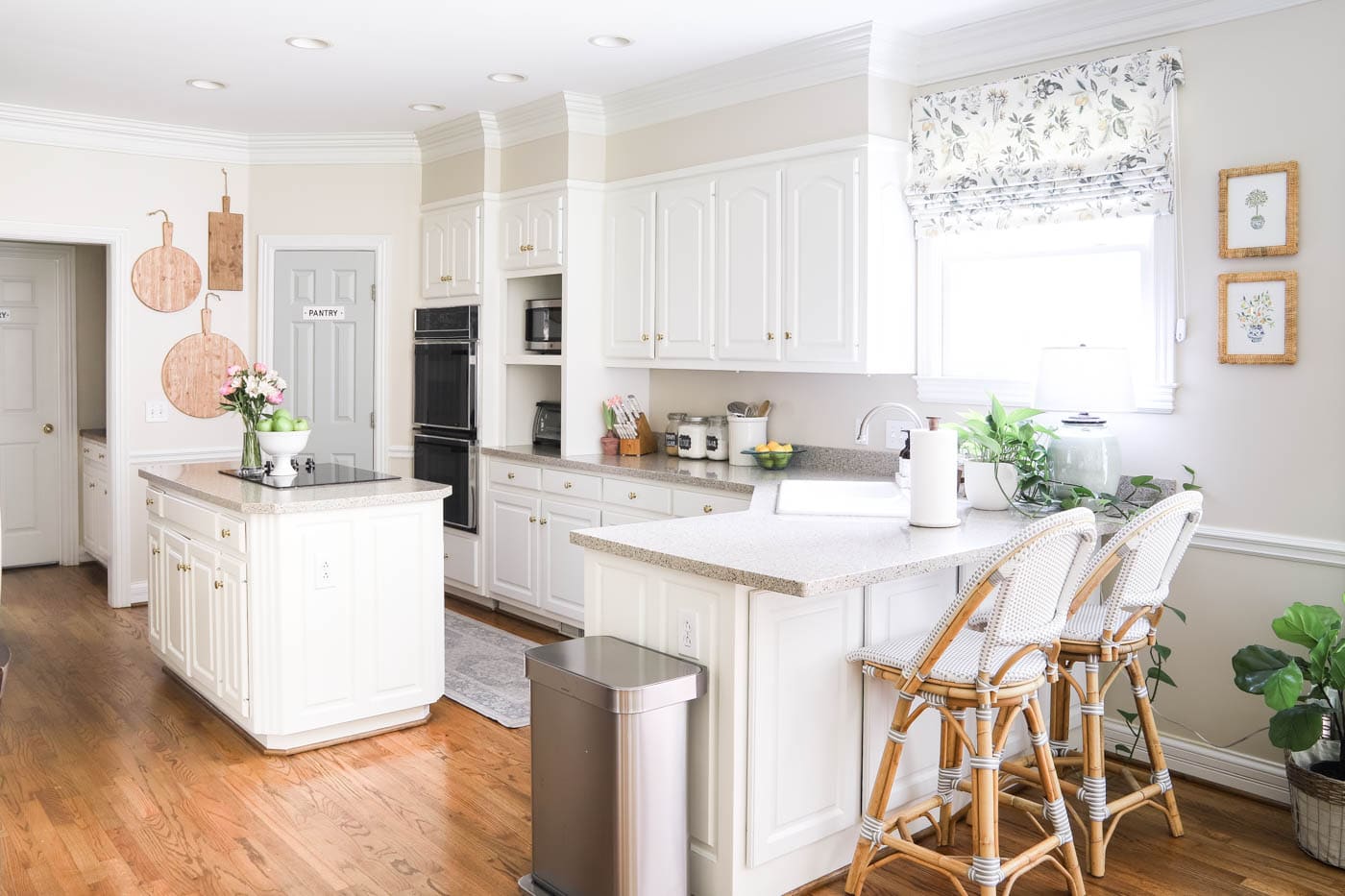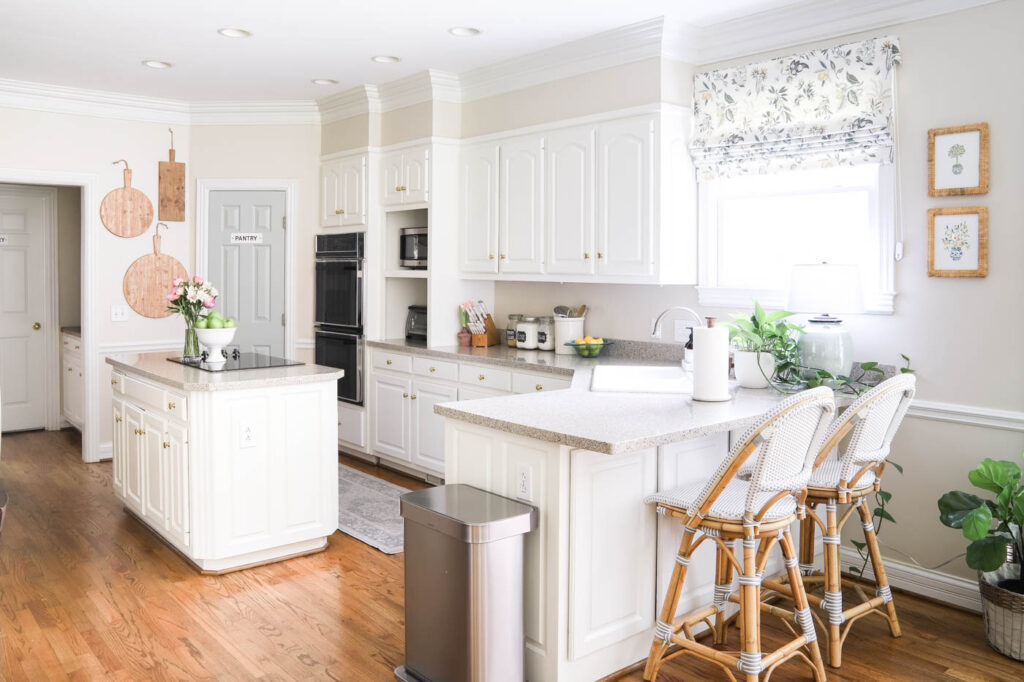 I also added a runner to the space between the stovetop and the cabinets. And it's washable!! I shared all about my Ruggable rug in this post.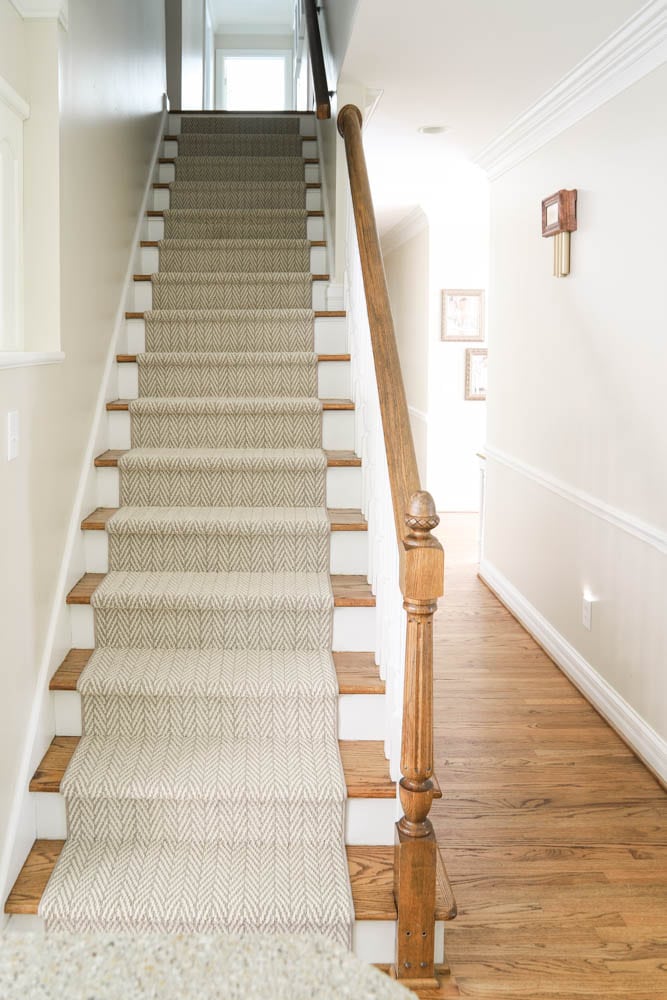 Finally, I added a beautiful runner to the stairs that lead into my kitchen. I love how they softened the stairs and brought another element of style to the space.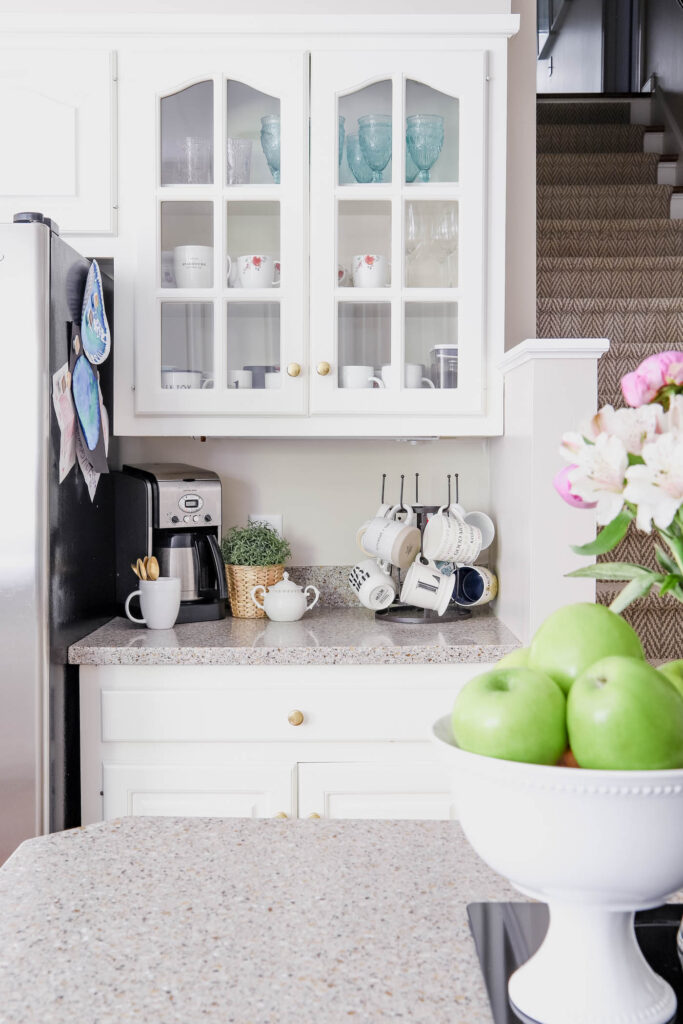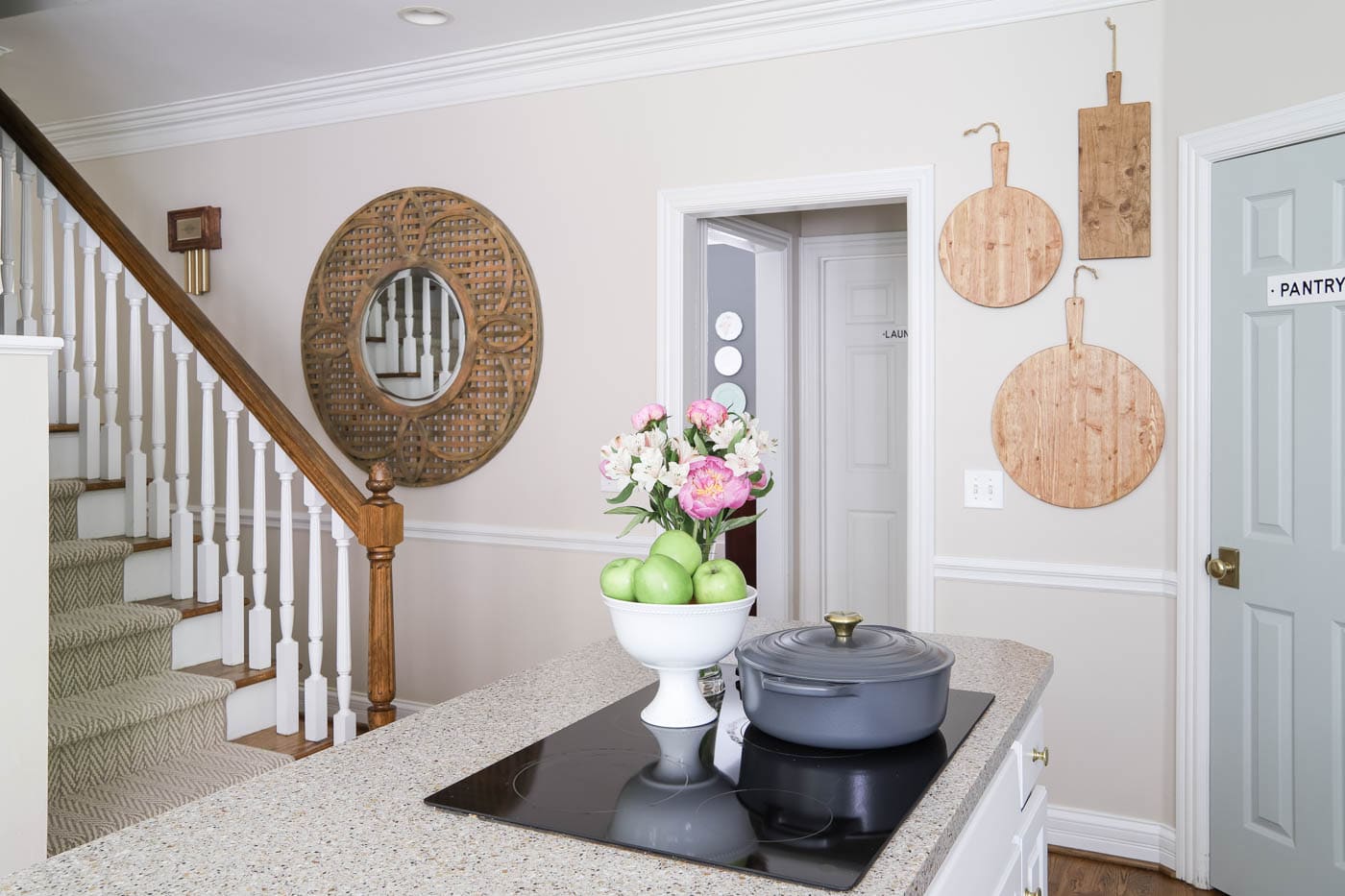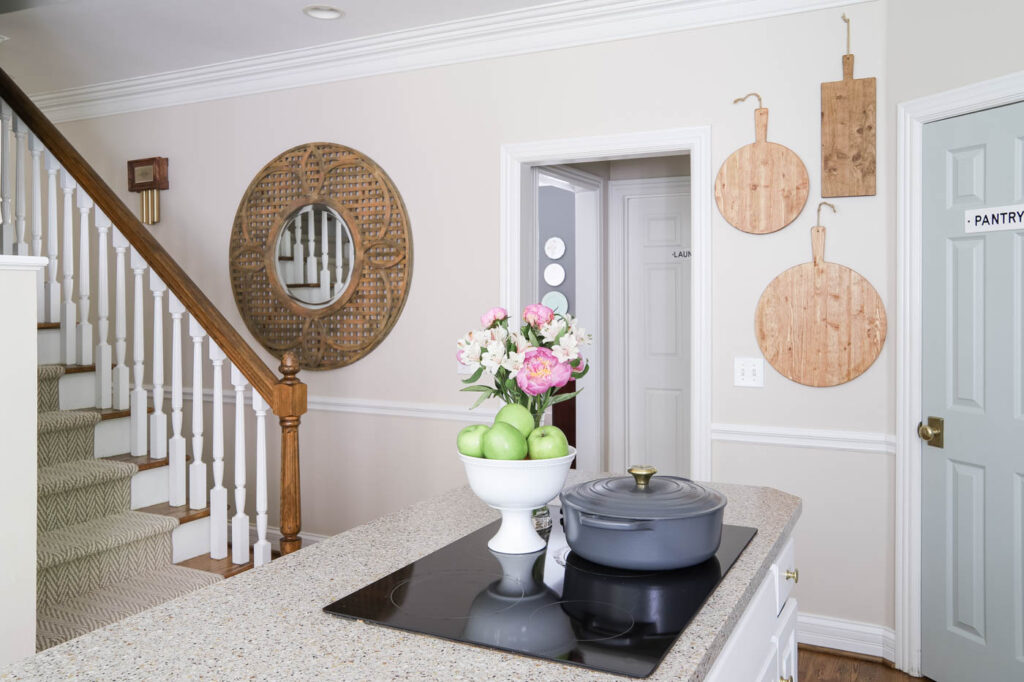 You'll notice that I put the mirror from my dining room in the hallway. (It's sadly no longer sold.) I got some new furniture in my dining room and the mirror didn't work anymore. And I needed a large piece of decor to fill this hallway space. I LOVE how it mimics the cutting boards and I'm so happy with how it works in this space!
4. Window Treatments
Ahhh, the window treatments. So many times when a room feels lacking, it's because it needs some curtains, blinds, shades or a combination of all three!
My original inspiration for the room's design board came from this beautiful Fabricut Fleur Botanical Fabric in La Mer. I knew it had to find a way into my room!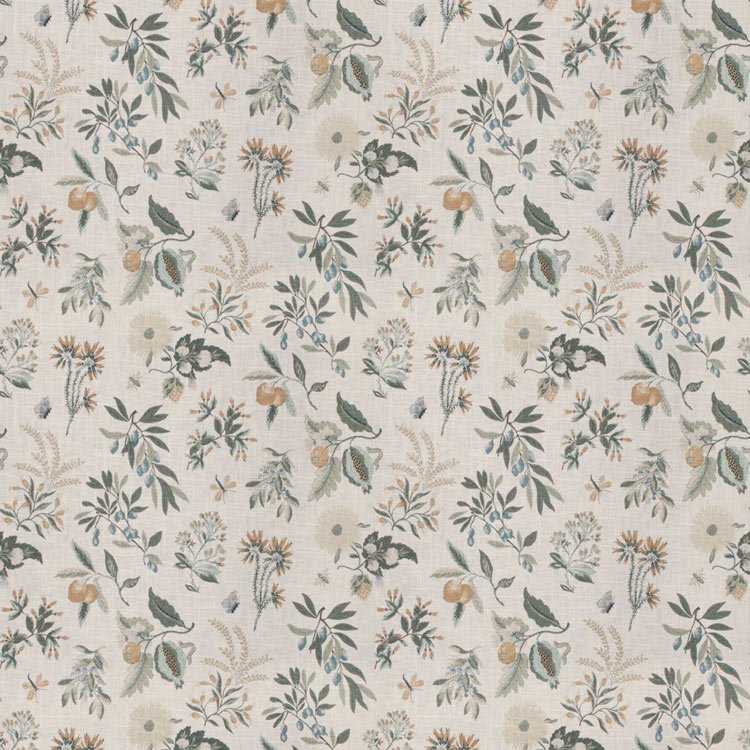 I had Martha and Ash make a custom roman shade for my window over the kitchen sink. Their attention to detail is unmatched and I highly recommend them for custom window treatments!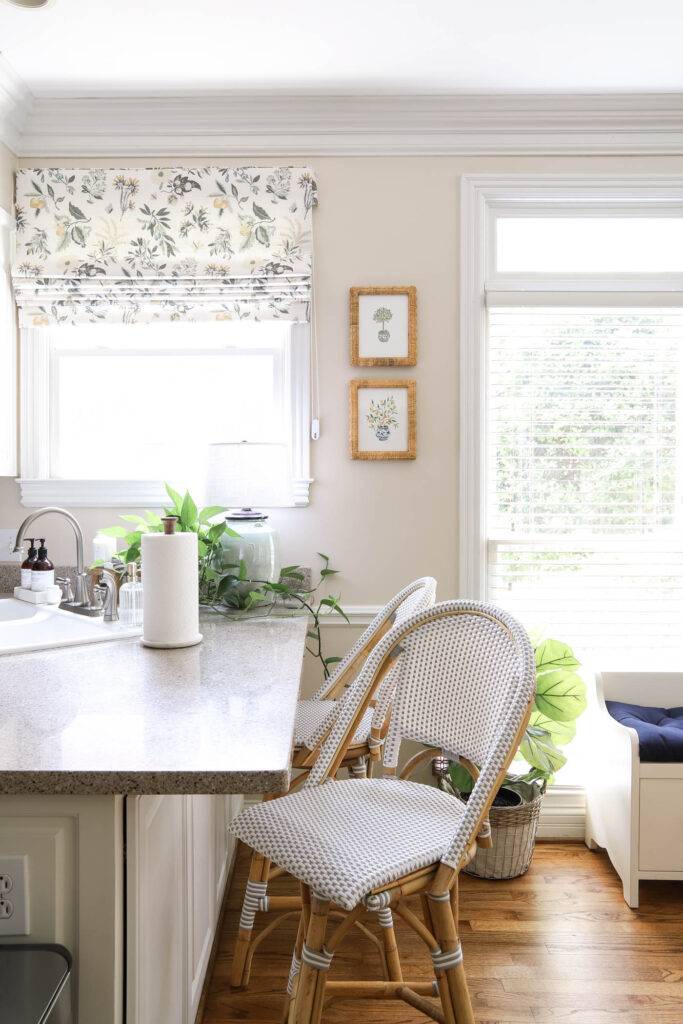 This view of the counter stools, lamp, pothos plant, scalloped frames and roman shade is my most favorite view in my kitchen.
Tap the Images Below (And Tap the Arrows on the Right or Left to Scroll Through) to Shop this Corner of My Kitchen: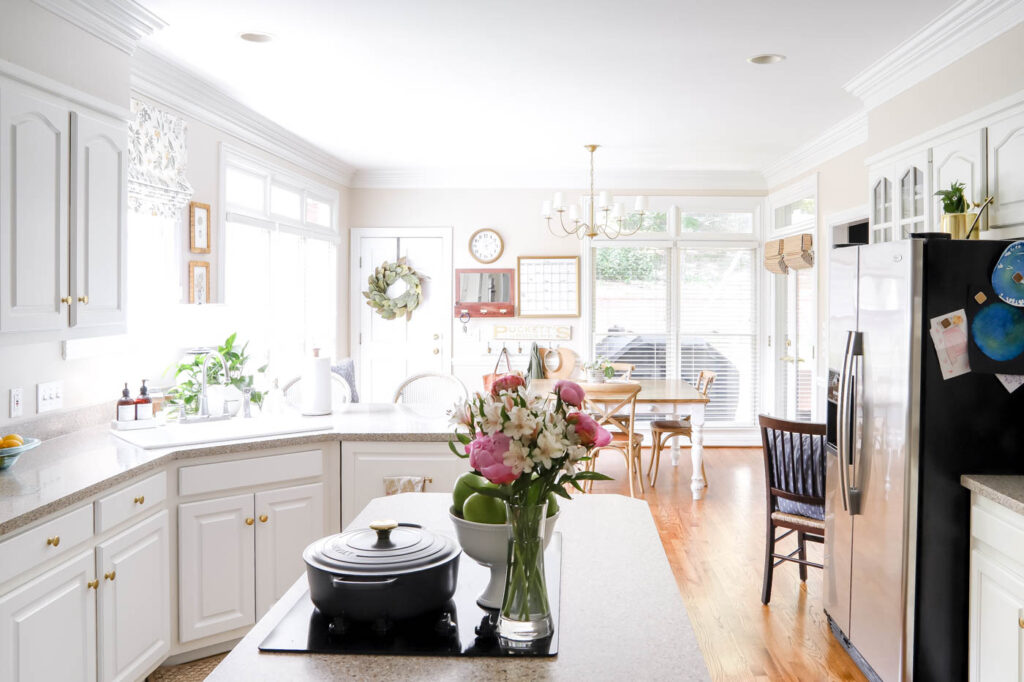 I also traded out the blinds around the eat-in kitchen area with the blinds that were previously in the living room. I wasn't a fan of the hunter green ribbons on the original kitchen blinds.
And then I added the bamboo roman shades to the French doors leading to the back porch from the eat-in kitchen area.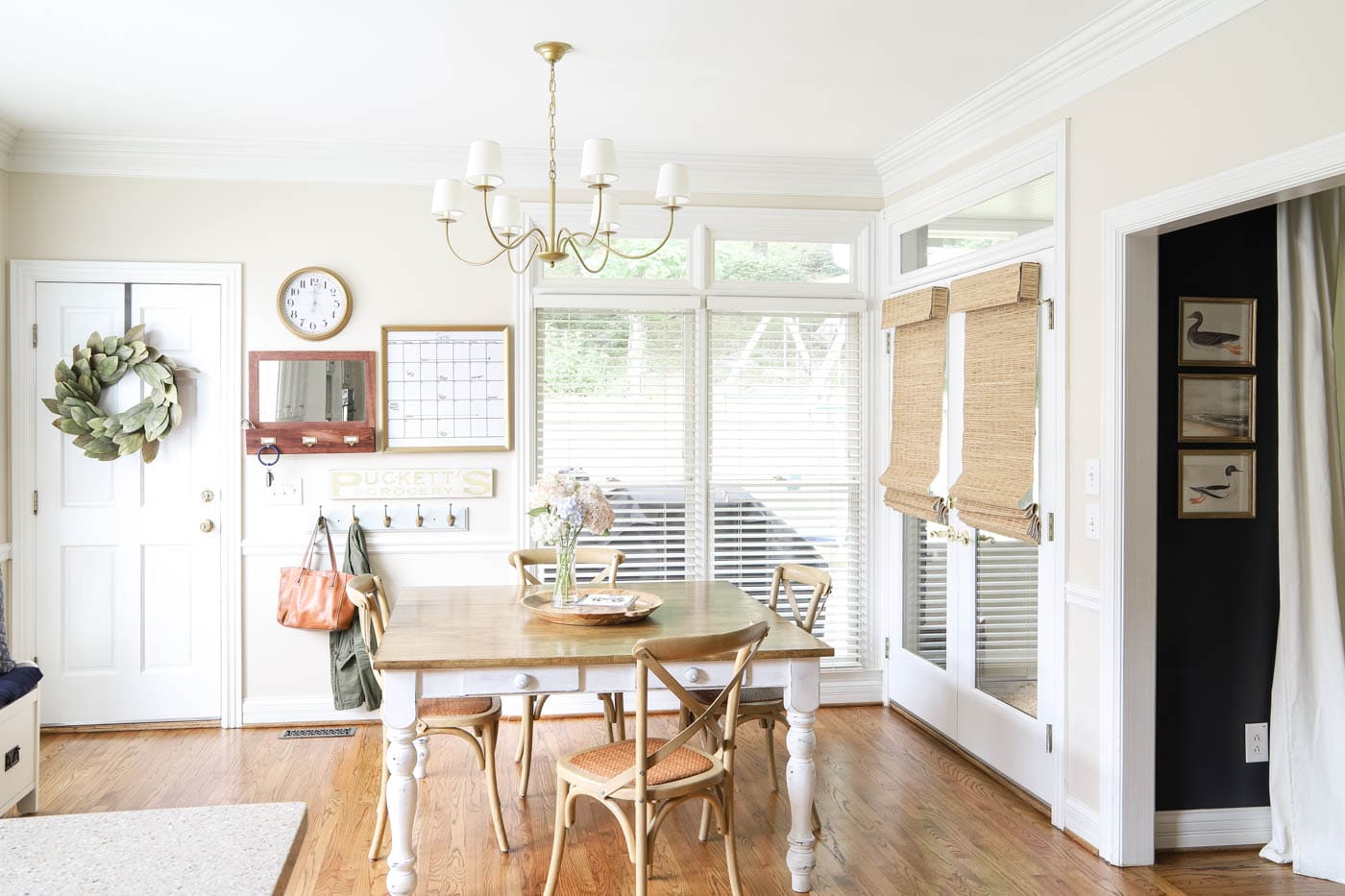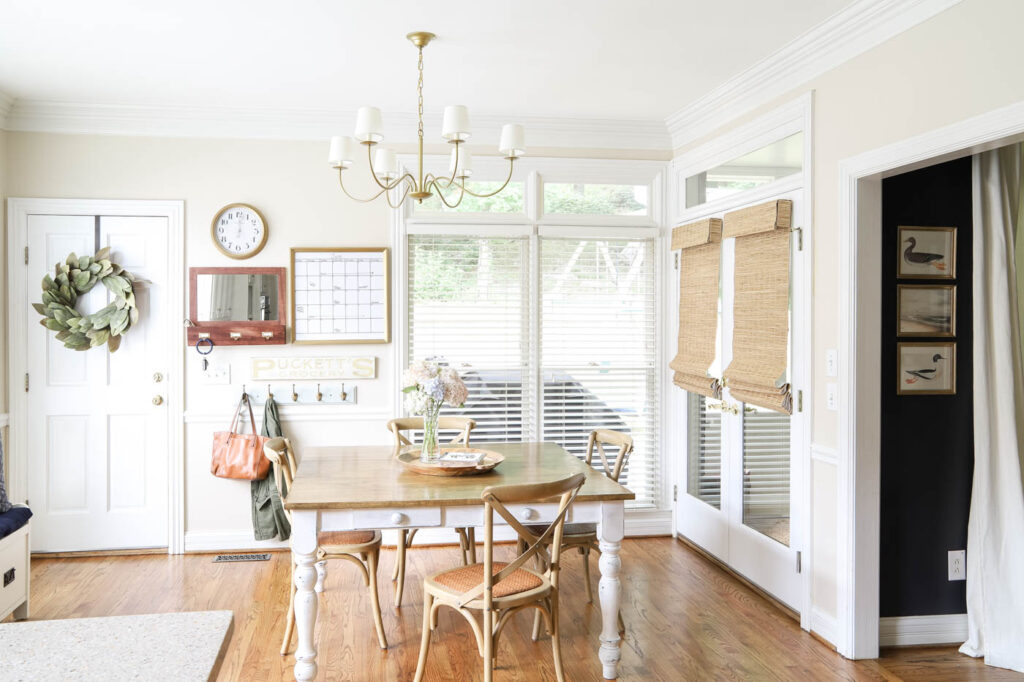 Originally I thought I might add some curtains to the other windows in addition to the blinds. But I didn't want to lose any of my natural light. I really like the bare windows as they are now with the beautiful transom windows above!
5. Plants
Whether real or faux, adding greenery to your space gives it life! I love having a real pothos plant behind my sink. It's grown so much this spring and summer, and it's easy to water right there by the sink. If you've ever thought you have a green thumb and can't keep a plant alive, try a pothos!
READ: The 3 Easiest House Plants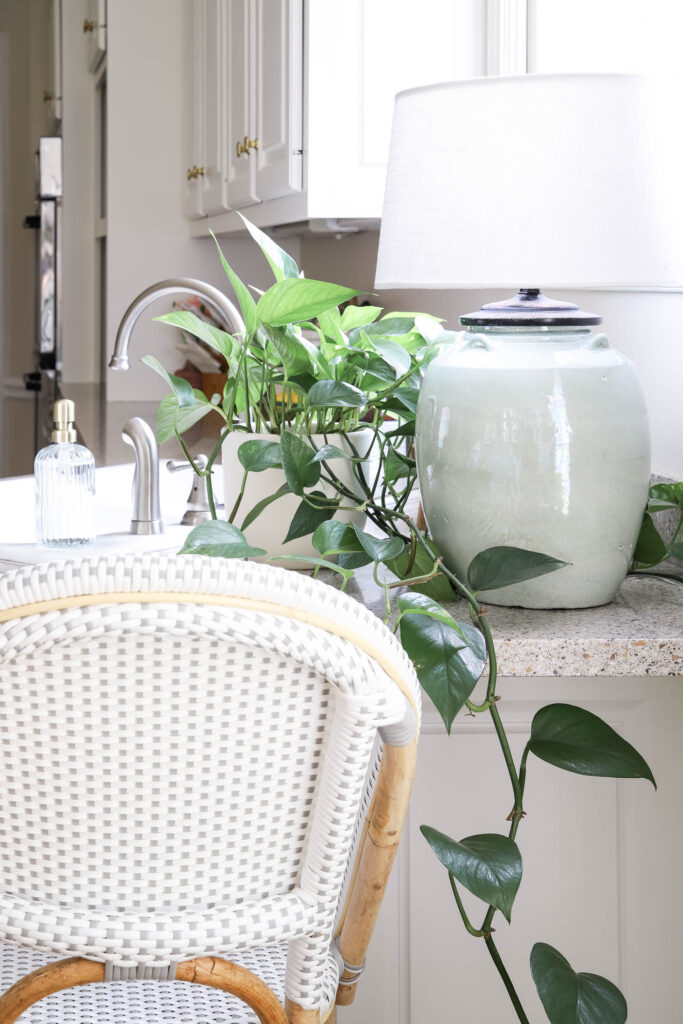 I also love to use faux plants in my home. I've even shared where to buy the best fake plants before.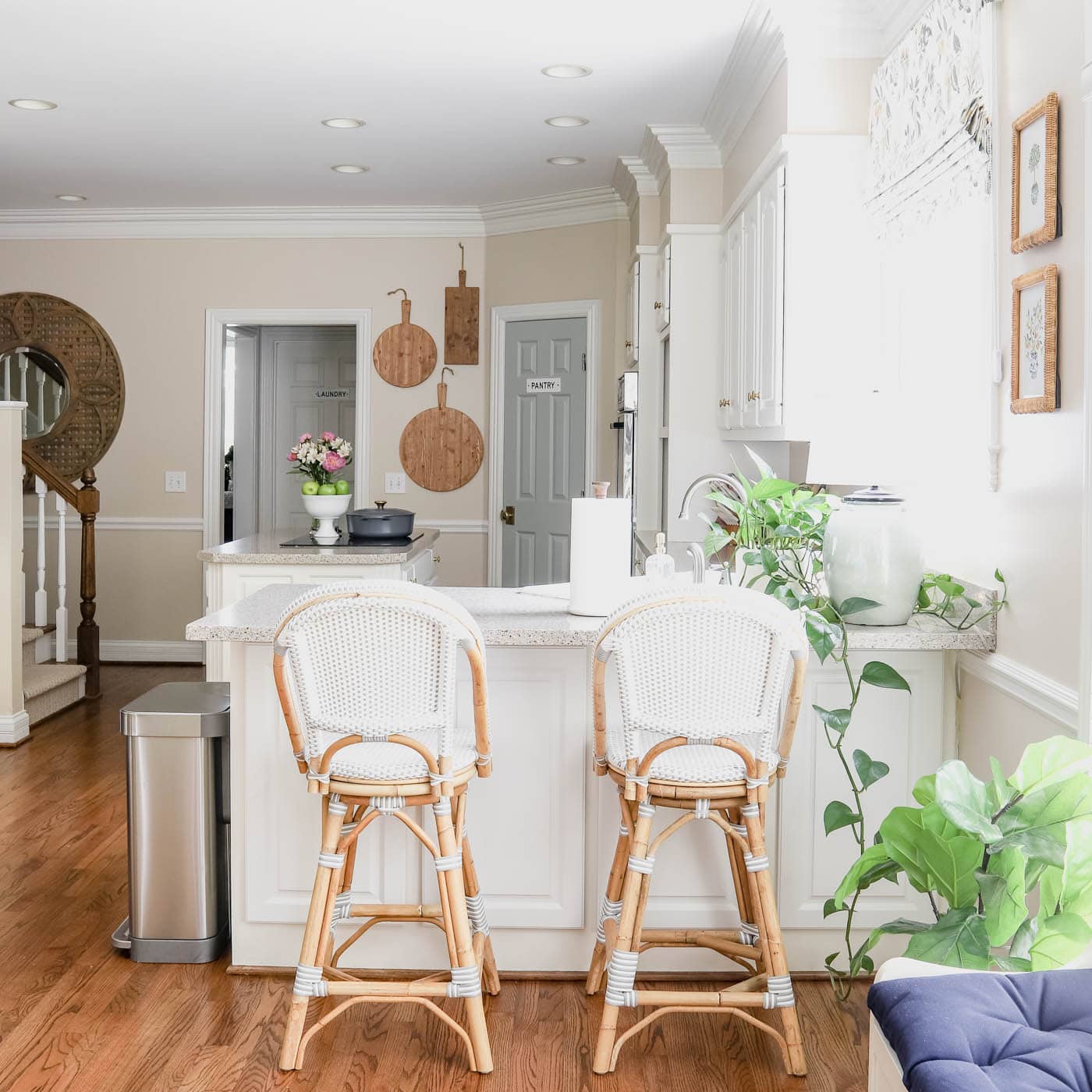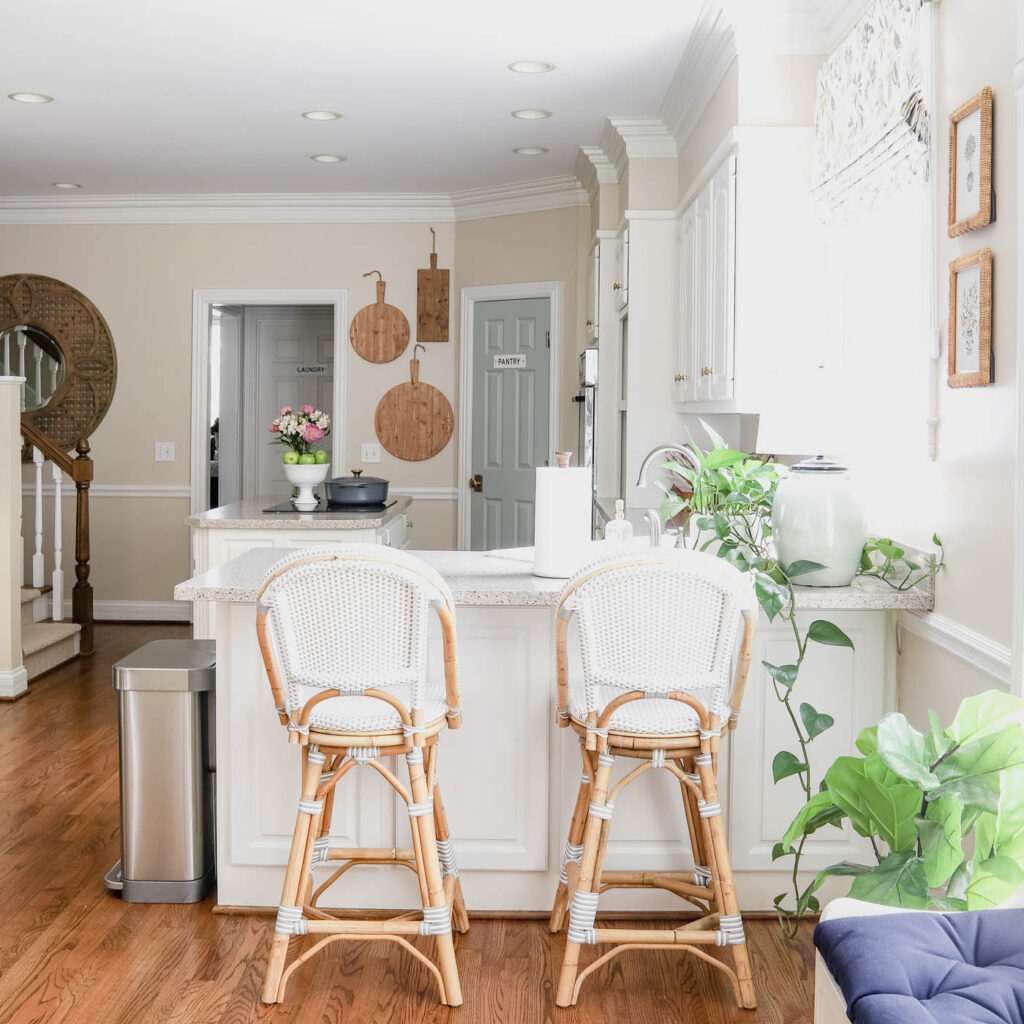 If you want to see behind the pantry door, see how I organized my pantry!
6. Art
No room is complete without art. Whether it's a small framed piece or an oversized wall hanging, it's the finishing touch to every single room. I love that you can find art in all price ranges. So, while it can be a special treat to splurge on a custom painting, you can find free art as well.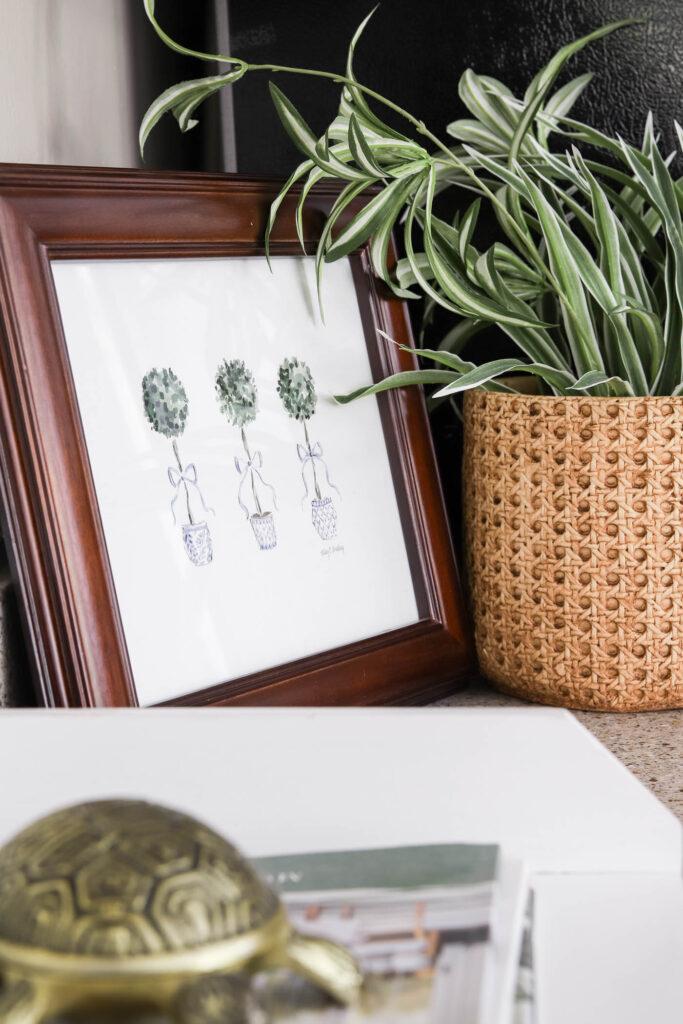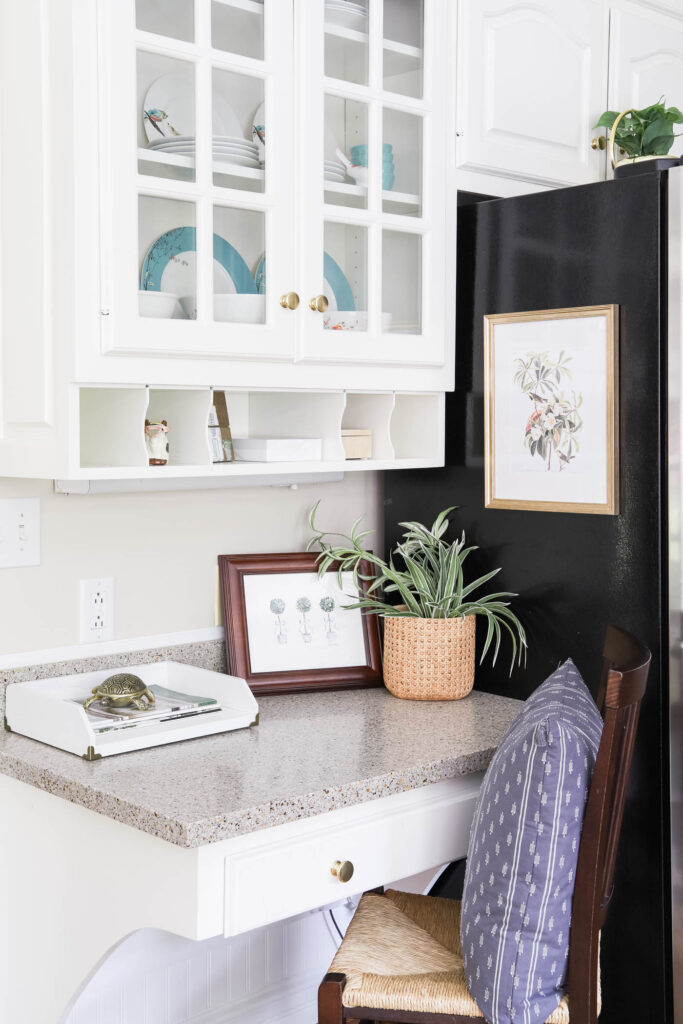 The watercolor prints in my kitchen refresh are all from a local-ish print shop called Dogwood Hill. I love their classic art prints and they offer these prints in a variety of applications from stationery to wrapping paper to wedding invites.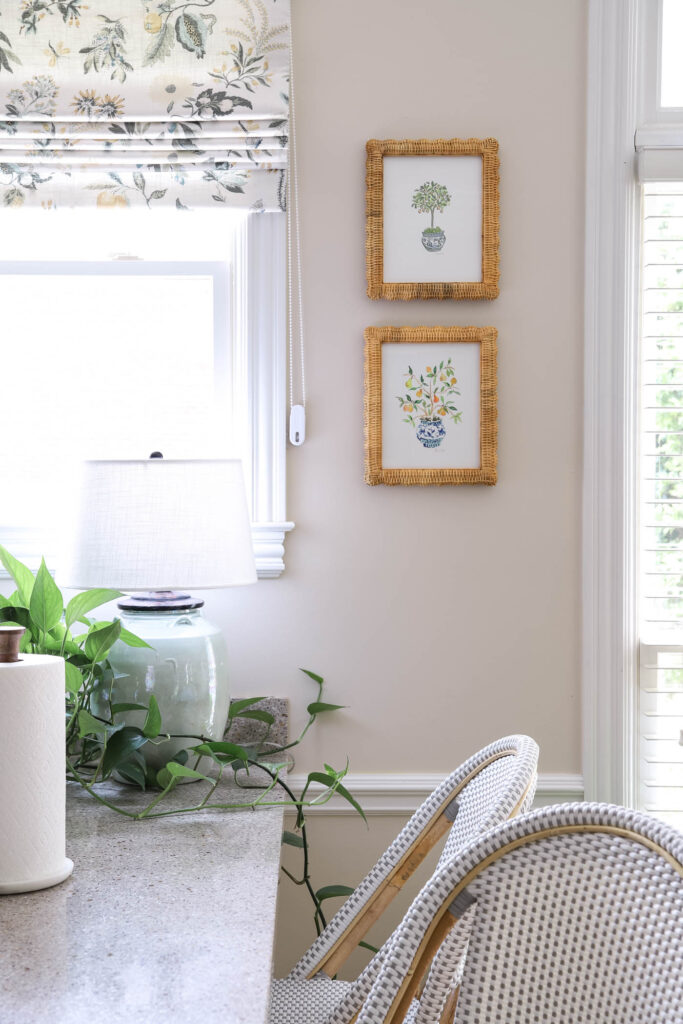 The scalloped wicker frames were a splurge, but I couldn't resist! Once I saw them online, I knew I had to get them for my kitchen. And they are pretty much perfection!
7. Bar Stools
Changing out the bar stools (or counter stools in my case) can add a fun new point of interest in your space!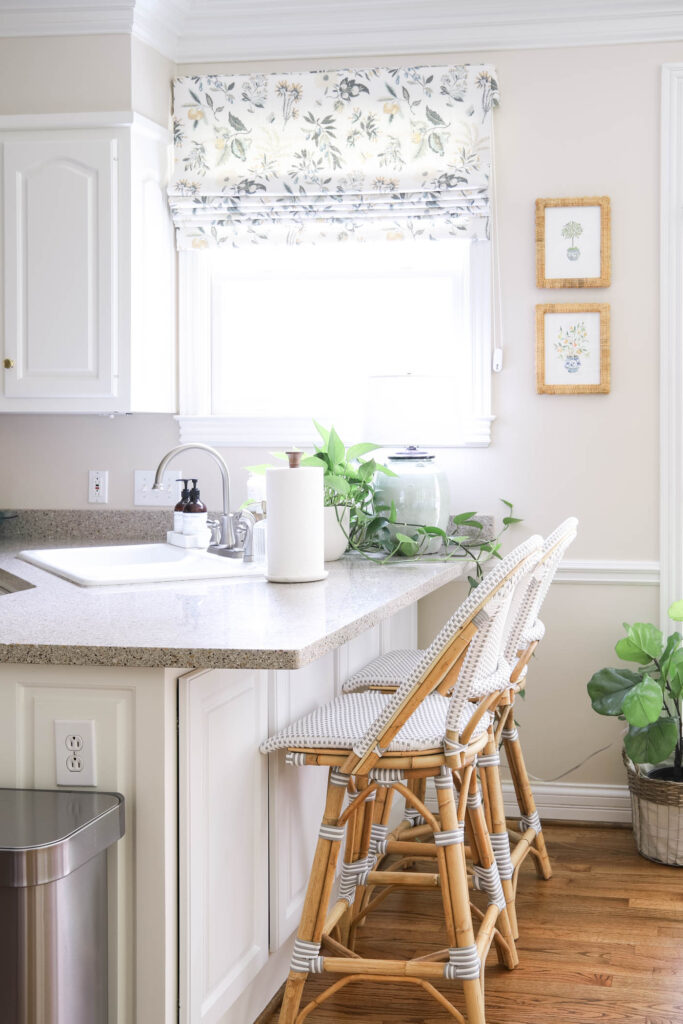 I searched high and low for the perfect counter stools to fit my space. I wanted one with a back, swivels, high weight limit and spill proof. It turns out that is hard to find! I even ordered a different counter stool and sent it back before I finally ordered these Riviera Swivel Counter Stools.
I didn't want to order them because so many people already have them and I wanted to be unique. 😜 But it turns out there's a good reason everyone buys these stools! They are great for families and all sizes! And they look good in almost any style kitchen.
BONUS: Custom Dishwasher Panel
One way to elevate a kitchen refresh is to replace the factory dishwasher panel with a custom panel. I forget about this change I made in the kitchen, because I did it right after we moved in.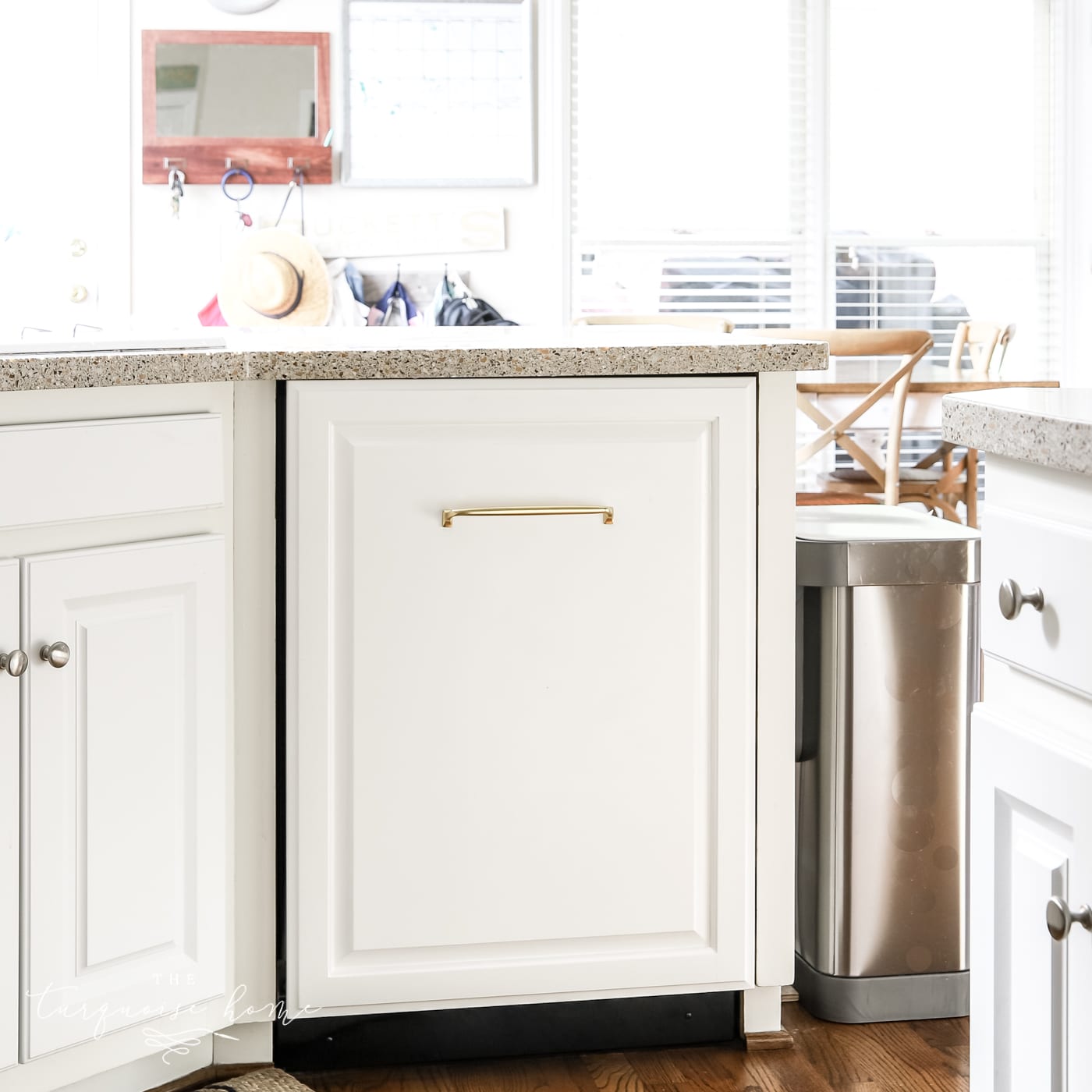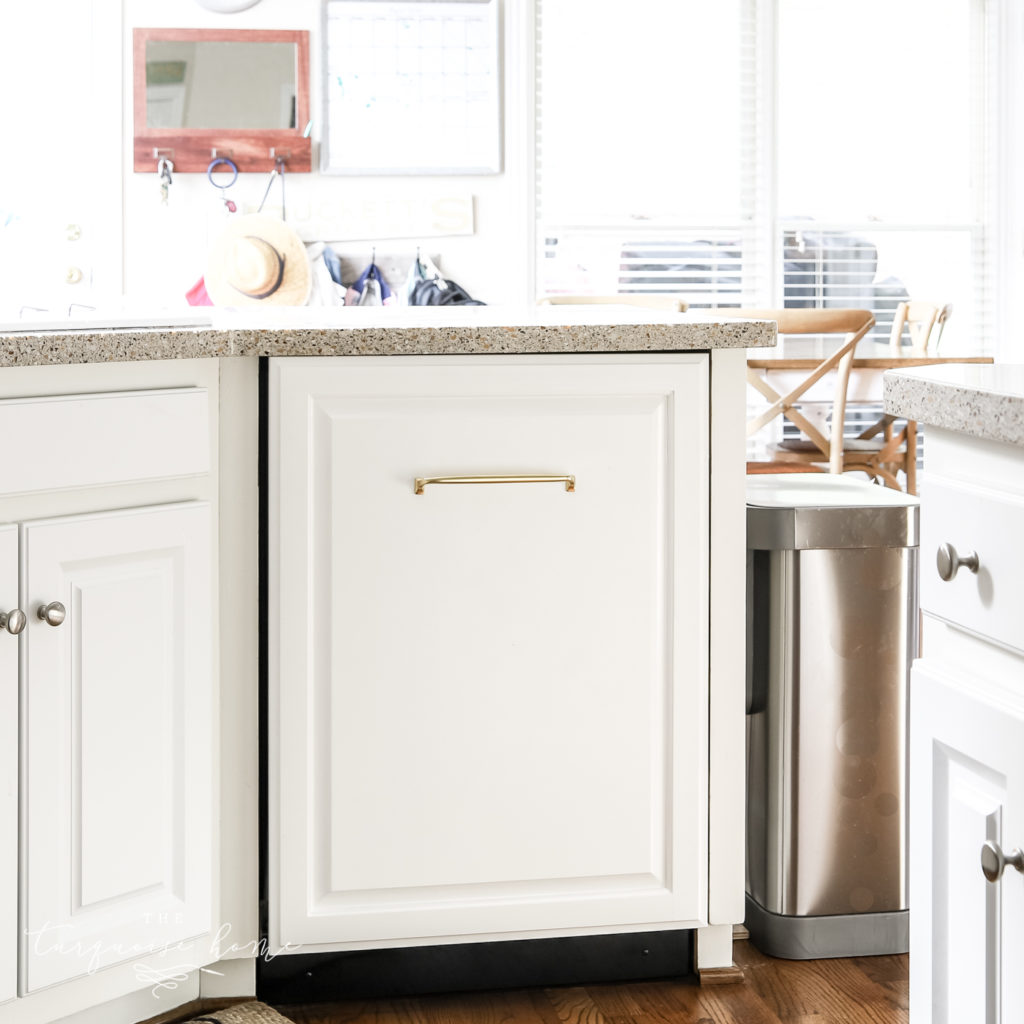 I know this update isn't purely decorative, as it may include replacing an appliance. I had to replace our dishwasher when we moved in because the one that came with the house wouldn't work. And so I bought one that required a custom panel.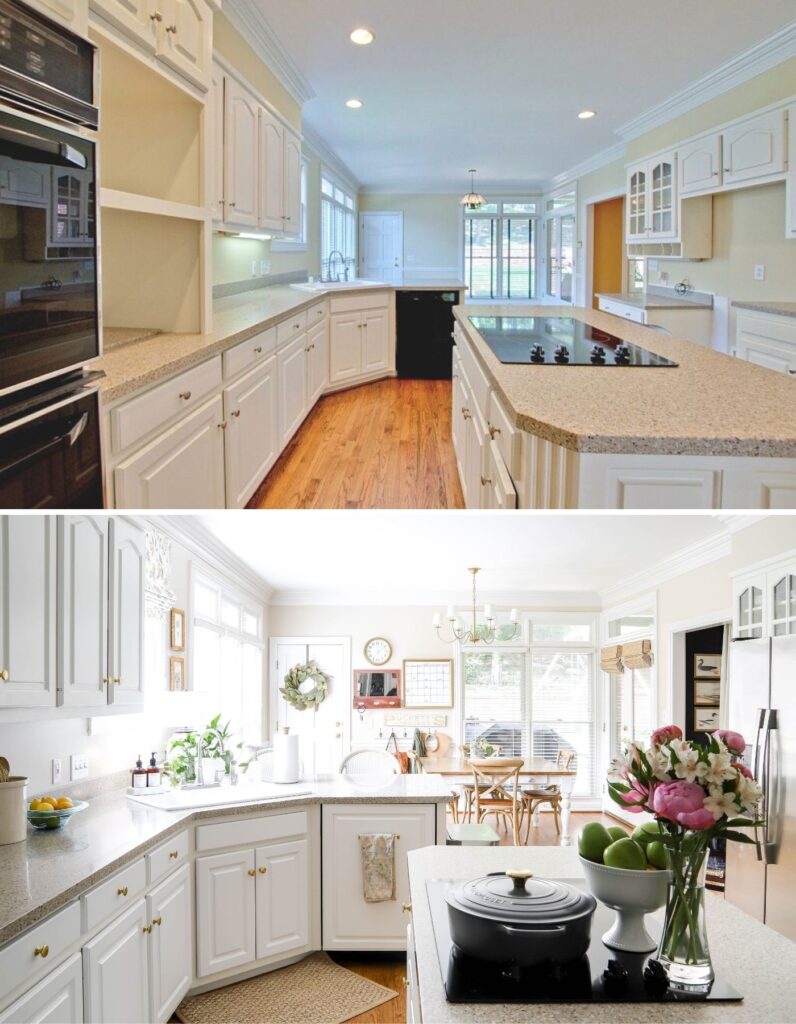 As you see the original kitchen photo above, the original black dishwasher stuck out like a sore thumb.
So, I wasn't too sad when I had to replace it. It's worth checking out if you ever have to replace your dishwasher. For me, it was worth the added expense to buy a custom cabinet door and have it painted to match. I shared more about the process in this post.
My Kitchen Refresh Before and Afters
Who doesn't love a before and after?! I always want to see a side-by-side comparison. So, I tried to take pictures in the same angles as the original real estate photos. I don't have quite the wide angle lens that the photographer had, but I did my best!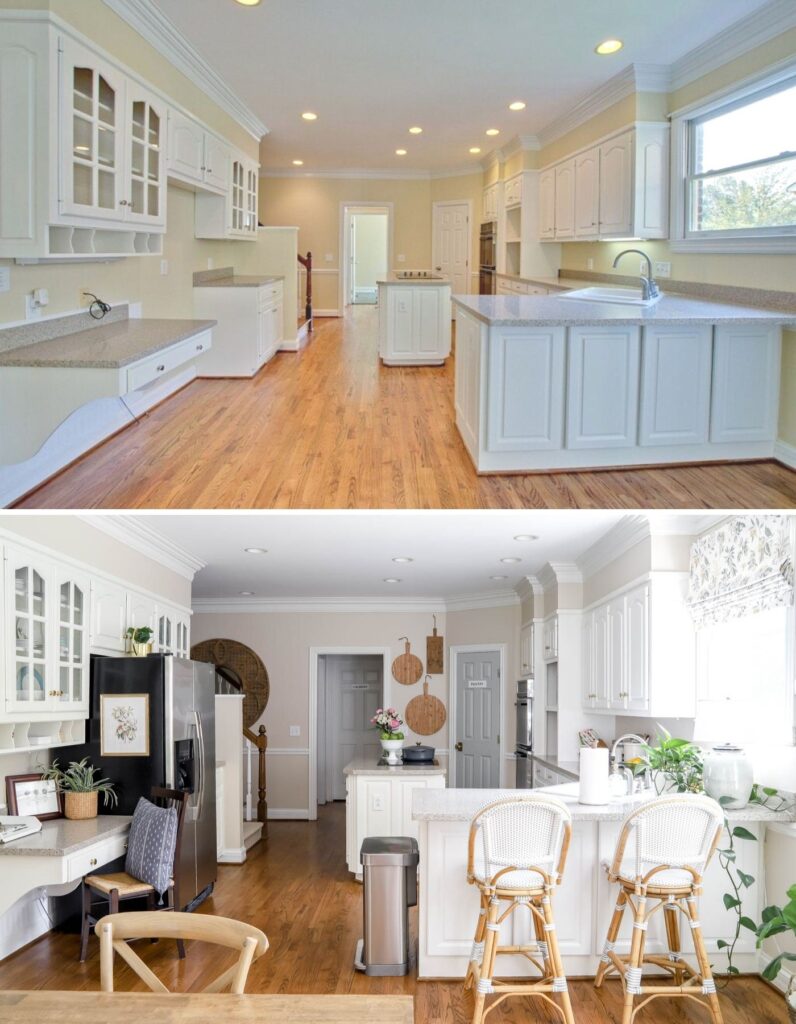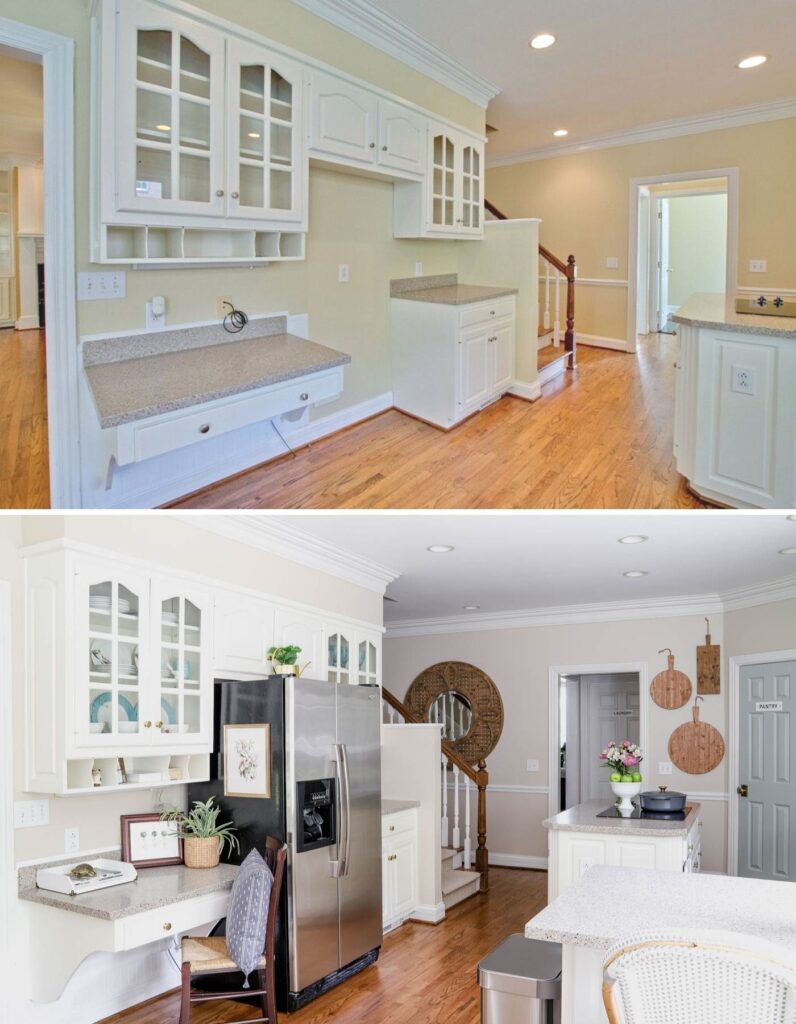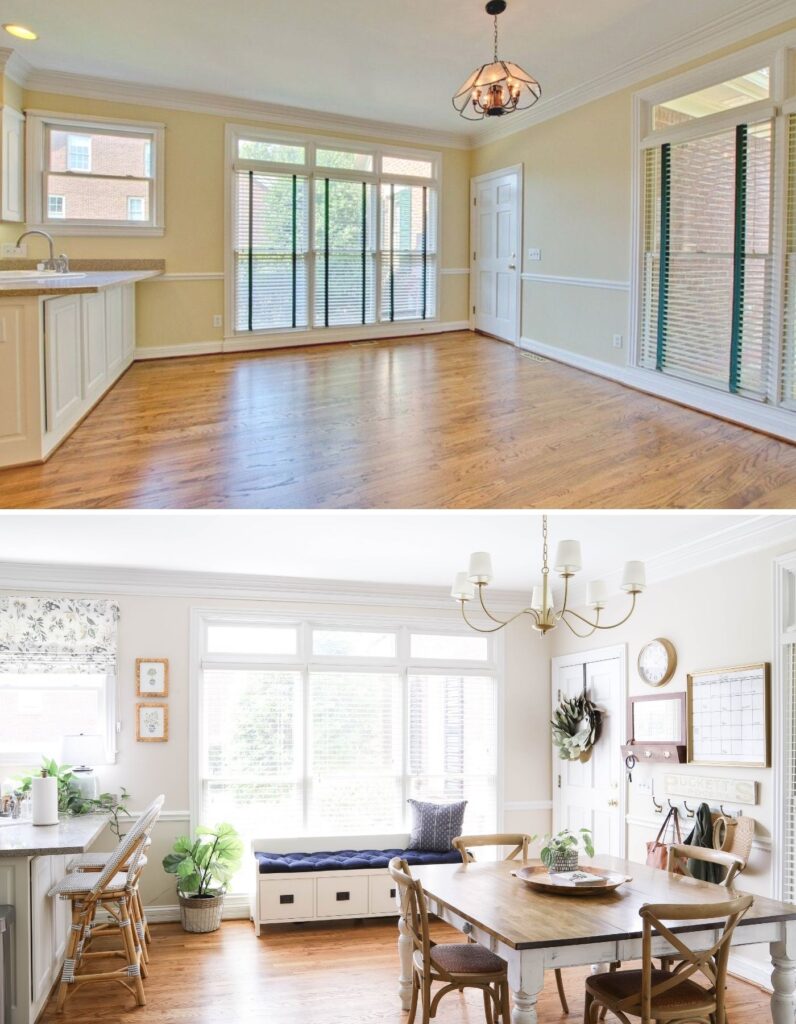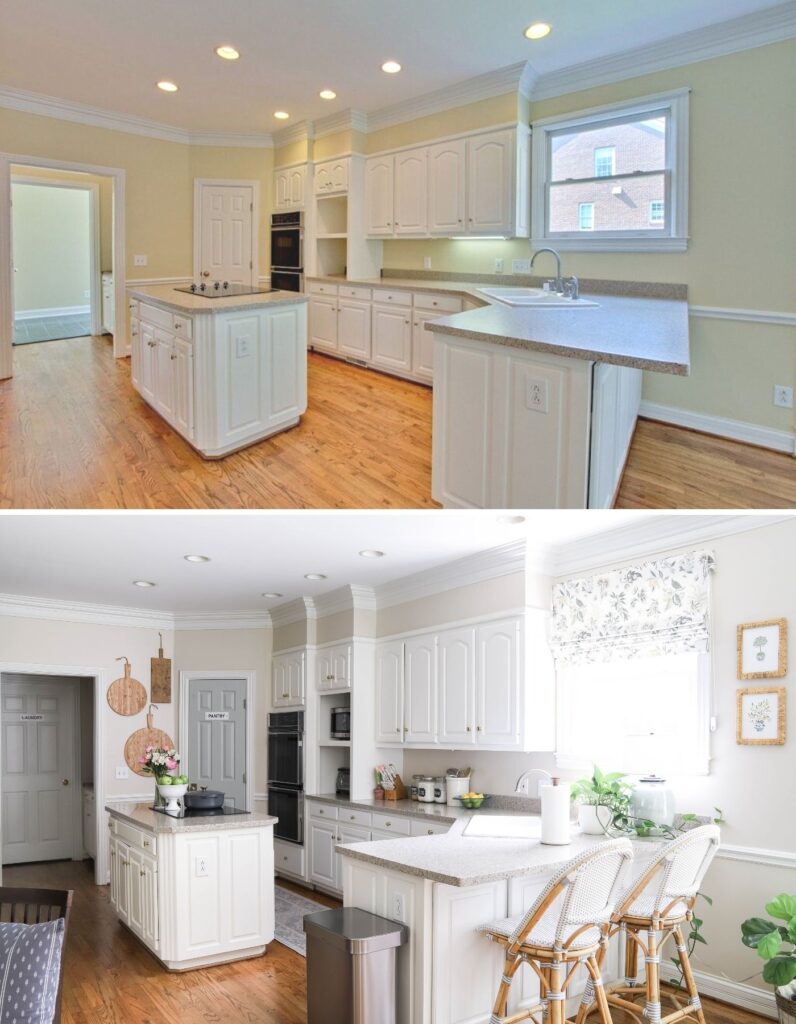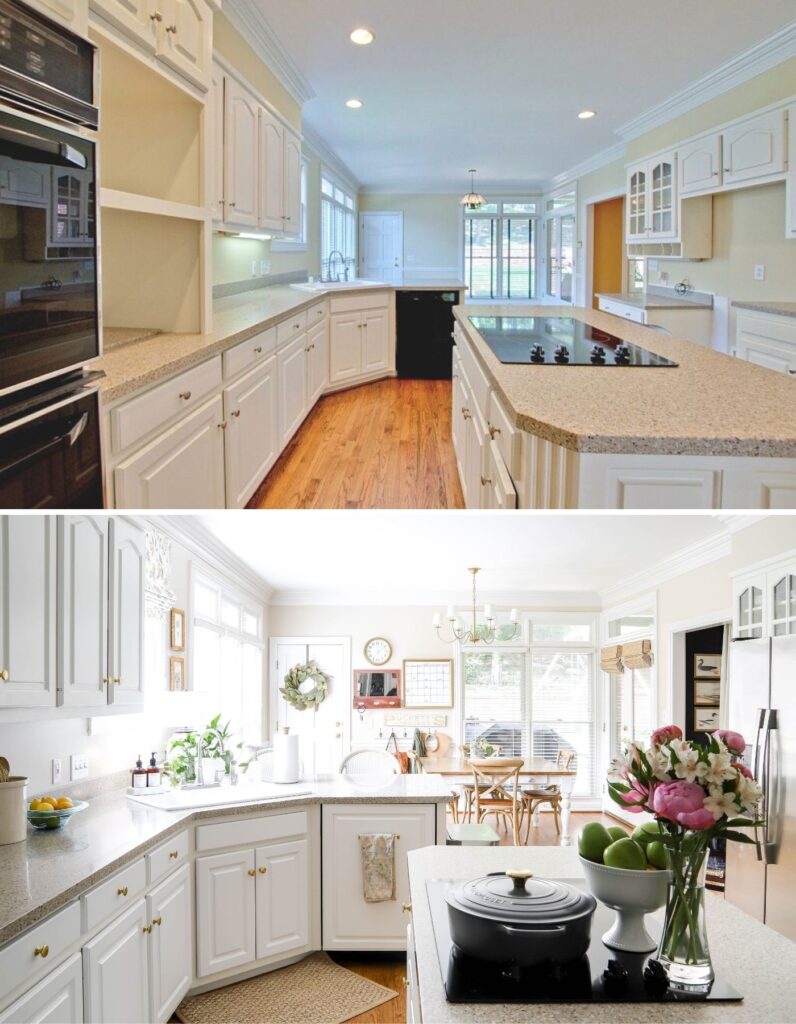 Sometimes I look around and wonder how it took me so long to get this room "done." But then again, I start counting all of the things I added and changed, and it was quite a bit of planning and work.
The bright and airy feel with wood tones and brass accents make me so happy. I hope you enjoyed this kitchen refresh tour and hope it inspired you to do a little refreshing of your own!
Sources for My Kitchen Refresh
I think I've covered everything that I can in this source list, but if I missed something, feel free to e-mail me (Laura @ TheTurquoiseHome . com) or leave a comment below.

MORE POSTS YOU WILL LOVE: