Get inspired with these wall decor ideas sure to spark your creativity and give you tons of DIY ideas for your home! These are large DIY projects, many of which are renter-friendly!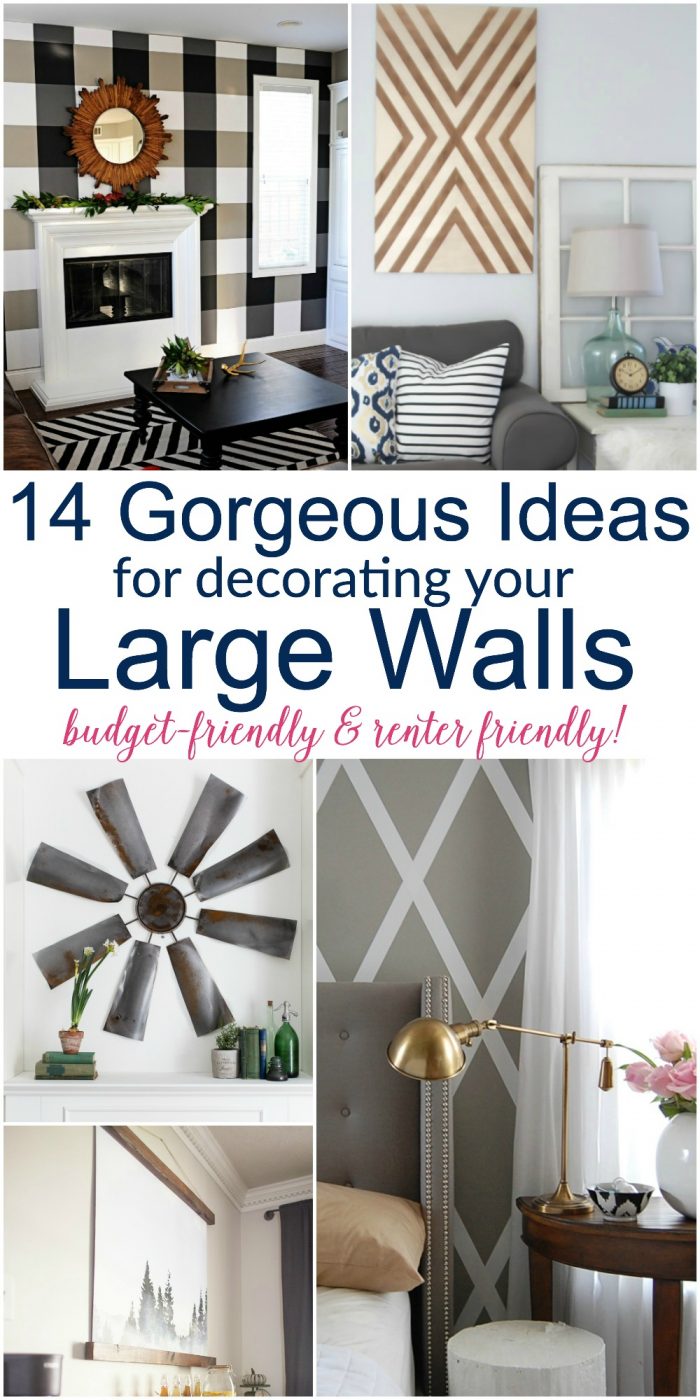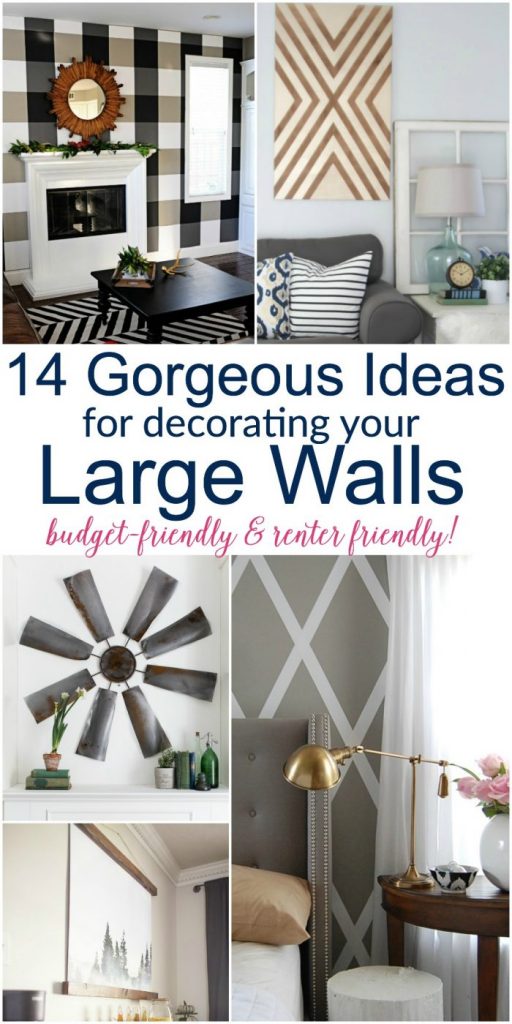 One aspect of decorating that I get asked about a lot is how to create large wall decor! I've had so many people e-mail about this over the years, and especially people who are renting. They want to know how to decorate their homes without having to repaint or without violating their renter's agreements. So, I thought I'd share some of those ideas today!
Over the years of decorating my own space, making many mistakes, and learning from them, I have learned the rule of "go big or go home." If you're scratching your head, let me explain.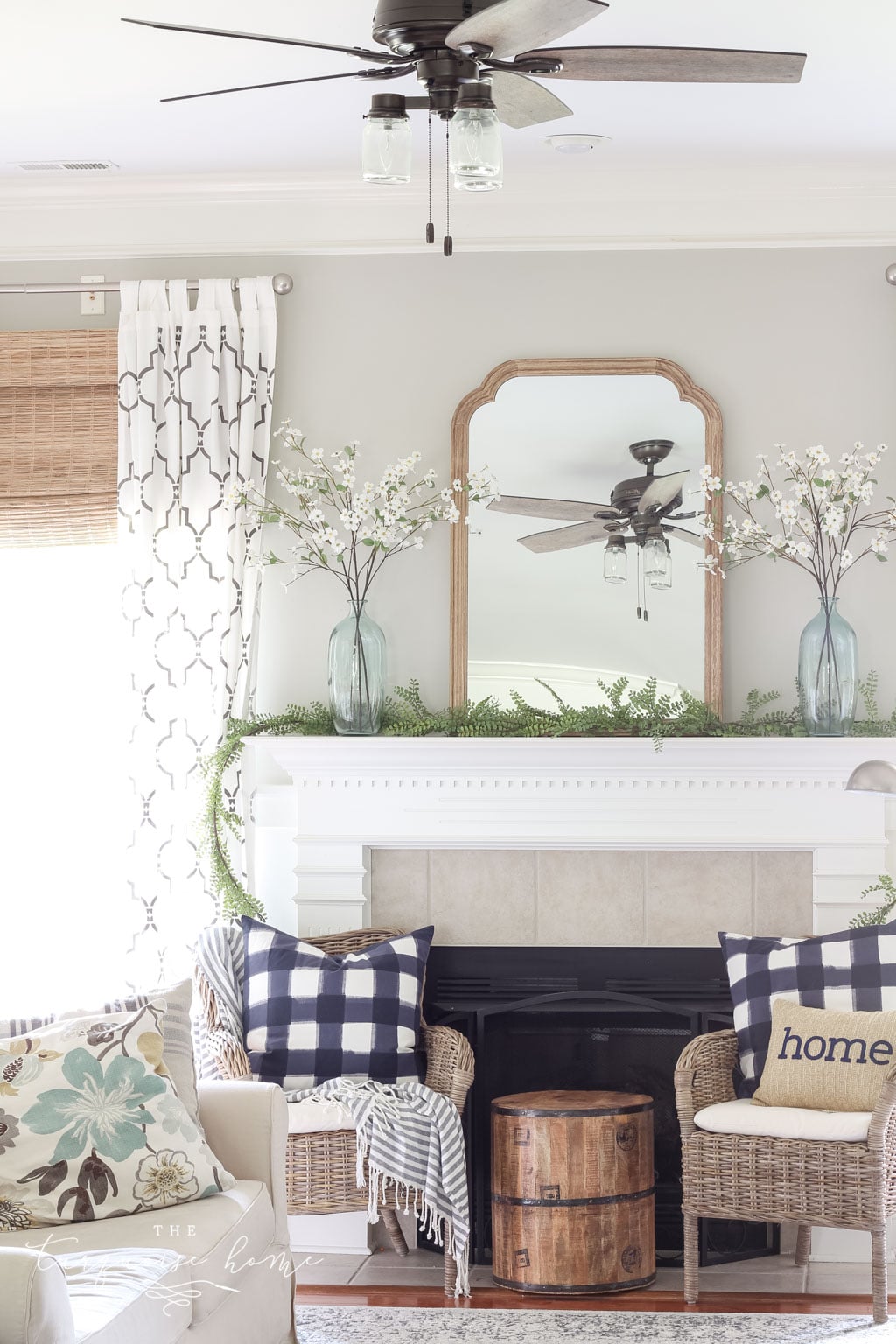 FREE BONUS!
5 Secrets Every Home
Decorator Knows
… to transform your home into your dream home!
Since I've always been on a budget, I used to walk into a store and buy all of the small little tchotchkes because they were cheap. I could get a little boost of happy and add it to my decor stash. Yay!
But, what did that mean for my home? It meant that I had a mantel full of knick-knacks. Or a a wall with tiny little frames on the wall. Let me show you an example: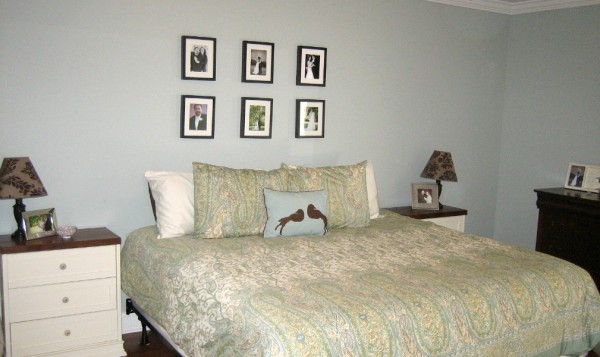 Oh my! The scale is so off. I could tell you that we had just moved from a much smaller home, which we had, and that these were on the wall at our old home, but that would be a lie.
I bought these IKEA frames for this exact wall! Why did I do that? They were cheap wall decor and I thought it would look great if they were all put up there together, but what I didn't take into account was SCALE.
But don't worry, it's not how my bedroom looks now. I still want to actually work on my bedroom, which has been neglected for the past four years, but thankfully my wall doesn't look like it has tiny little postage stamps on it anymore. This is what it looked like right before we moved out of that house …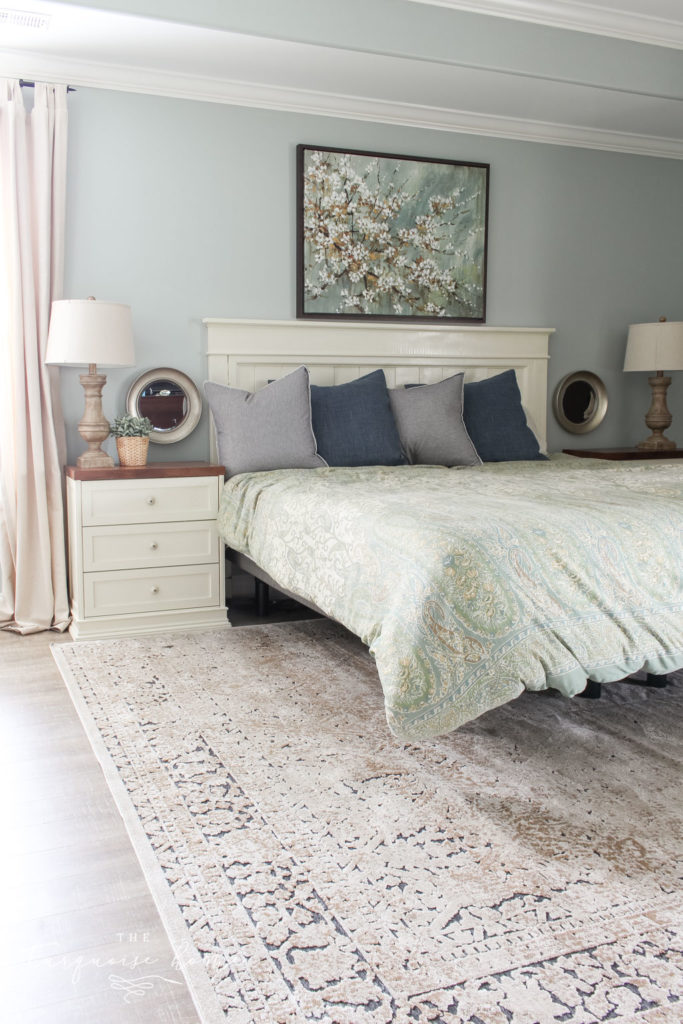 Since those early days of decorating my home, I've learned a lesson or two about proportion and scale. And, yes, size does matter. (I should have made that the headline, so you'd all be wondering what I'm talking about. 😉 )
I love having a large statement piece or even a large accent wall to give personality to a large, blank wall. That's the rule of "Go big or go home!"
I will also say that large wall decor doesn't have to be expensive. In fact, it can be super inexpensive, like my large abstract art that I made myself. Check it out here. So, check out these amazing ideas from some amazing women and get to decorating!!
This post contains affiliate links for your convenience. See my full disclosure policy here.
Large DIY Wall Decor Ideas (many are budget-friendly!)
I found several ideas for you from my blog and others' blog so that you can be inspired to create some beautiful wall decor ideas DIY style in your home!
The Gallery Wall
The most popular way to decorate a large wall is to create a gallery wall. I have done several gallery walls in my home and am currently working on another!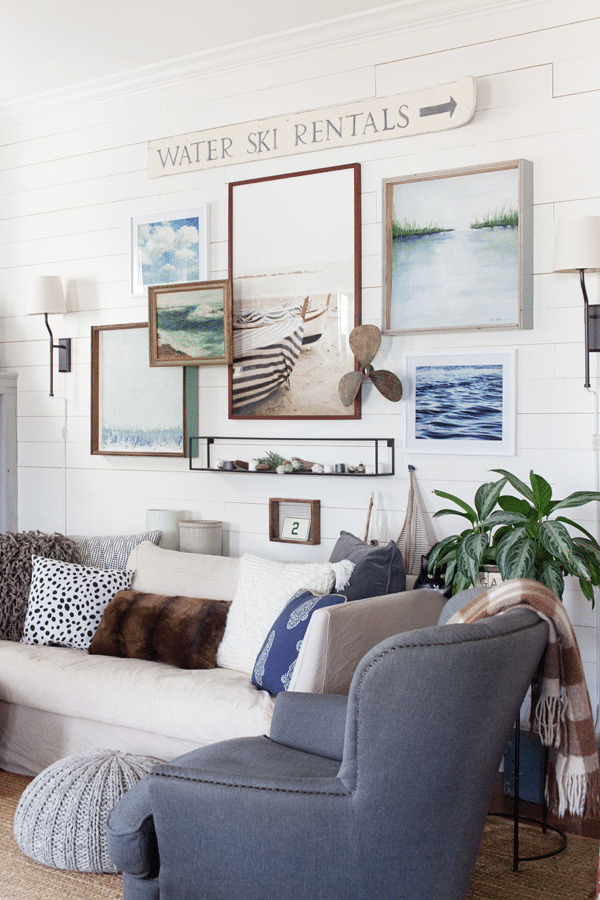 Gallery Wall from The Lettered Cottage
You can gather any and every frame in your home, as well as pick them up for cheap at thrift stores, for your an eclectic look. Just remember to have enough frames or other wall décor to fill the space and make a big impact together.
Or you can buy all of the same size frame and create a more streamlined gallery wall.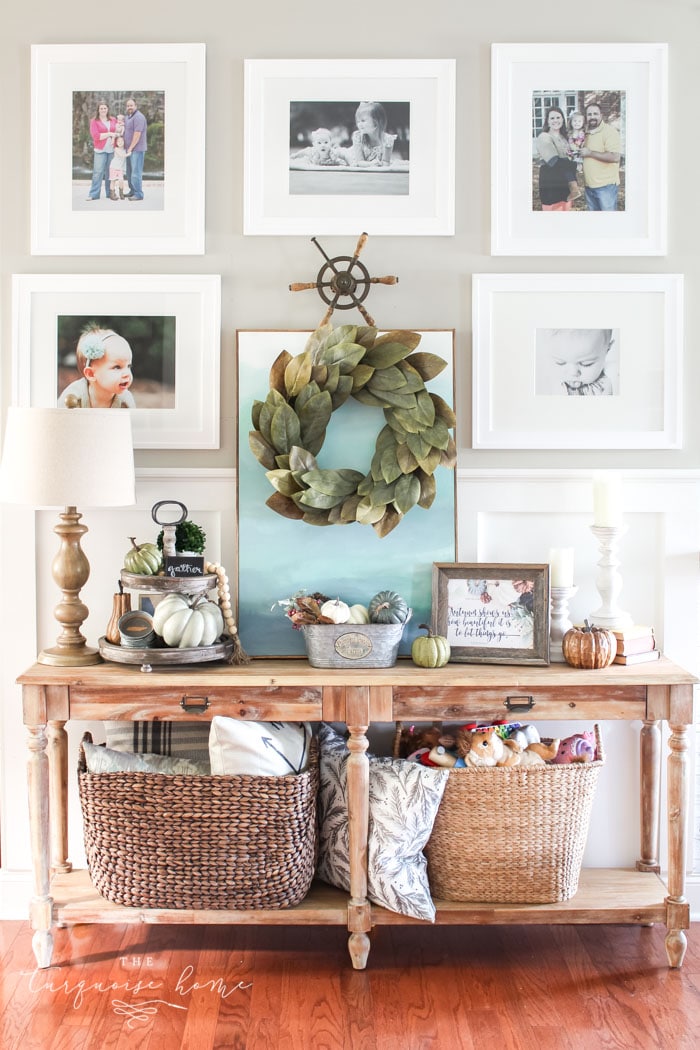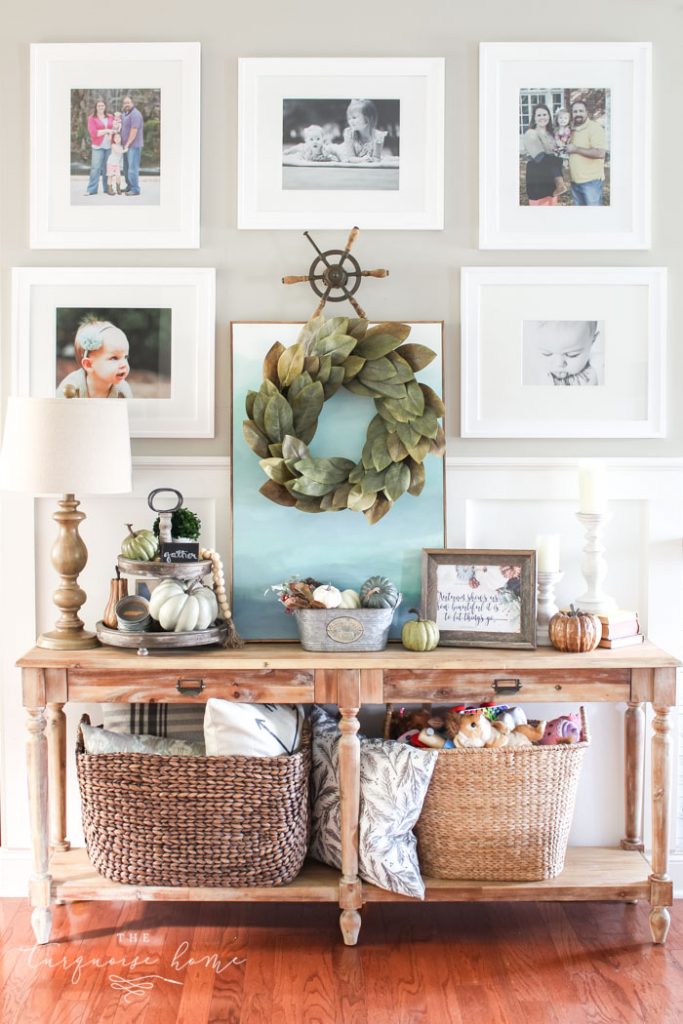 SHOP THIS LOOK:

Canvas Wall Art
A blank canvas and scrap wood is not only easy to find, but cheap, too! And a little creativity can go a long way in making an accent piece for your walls.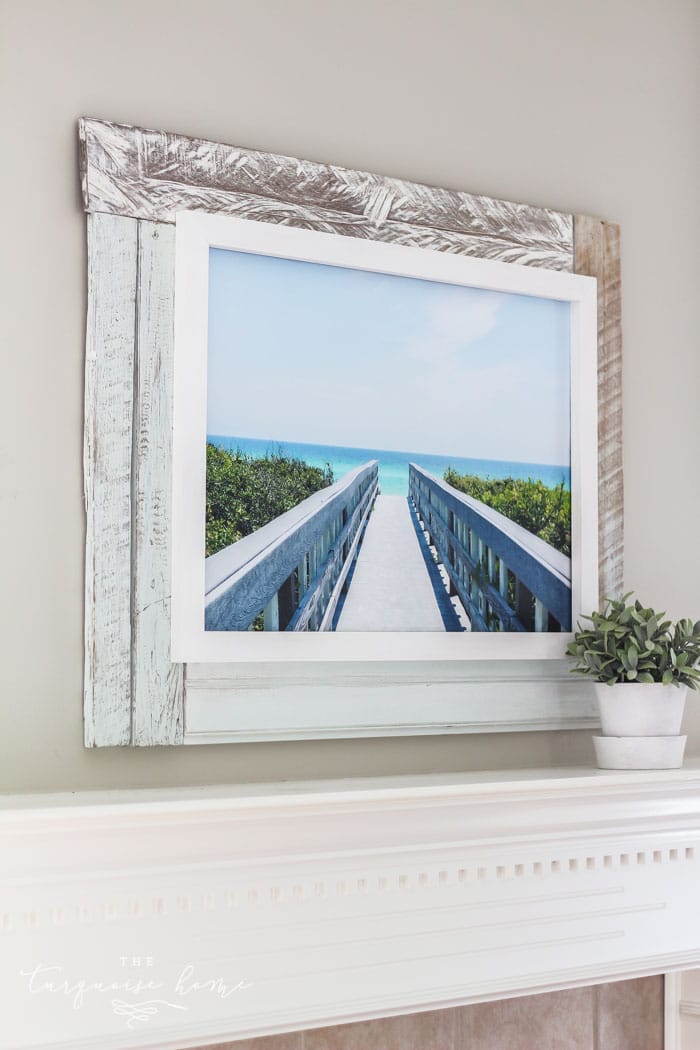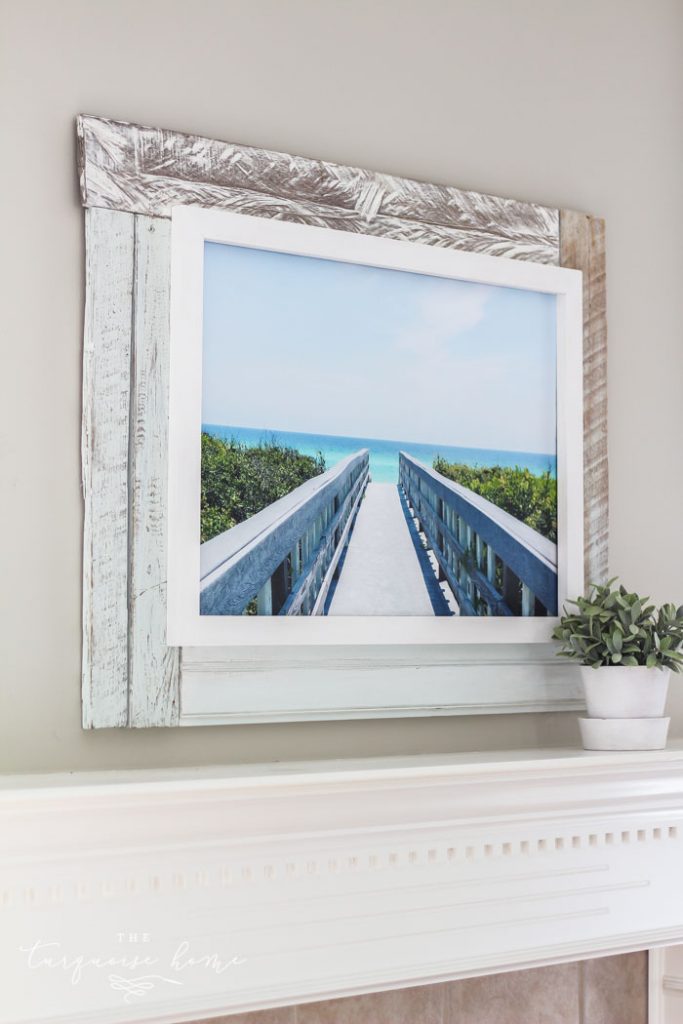 I created the above DIY canvas wall art with a photo, a canvas, Mod Podge, wood from my scrap pile and paint! It's a beautiful reminder that it doesn't have to be costly to have beautiful home decor.
DIY Engineer Prints
Did you know you can blow up printable art at places like Staples and Office Depot for super cheap and create beautiful, large wall art?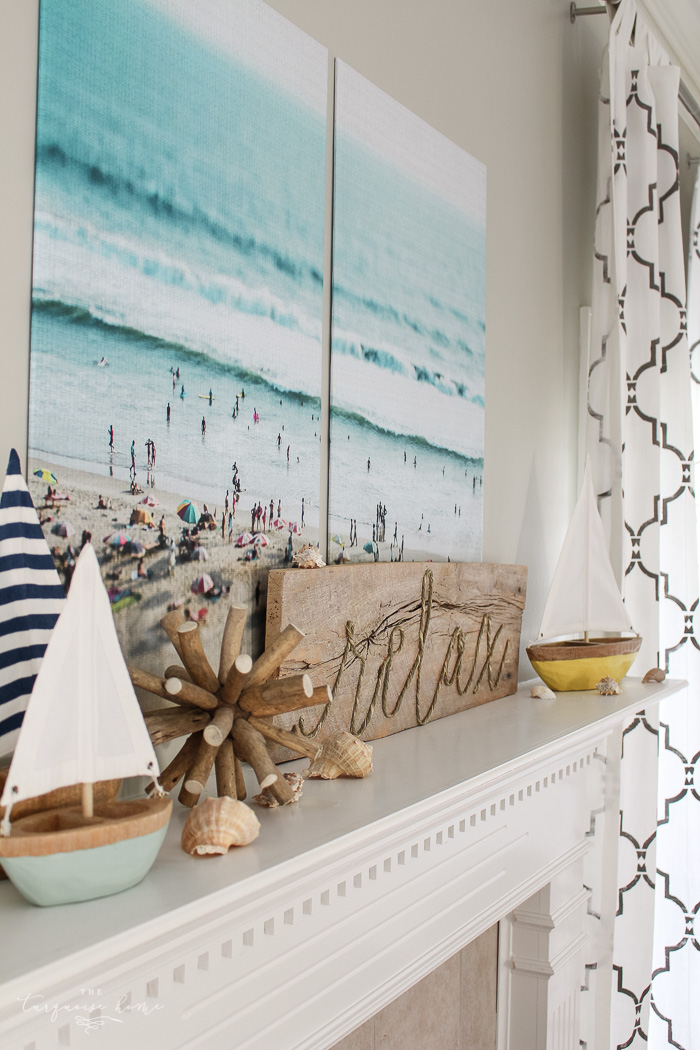 I took two prints of a photo I bought and downloaded and wrapped them around foam board for this beach scene wall decor. It's such a great, inexpensive way to make an impact!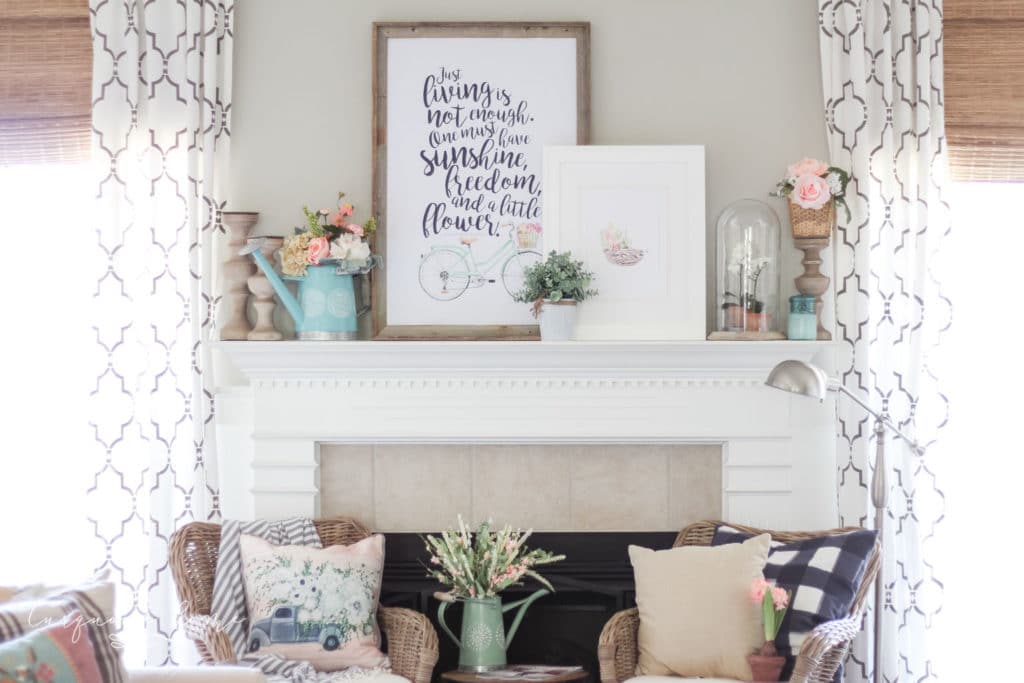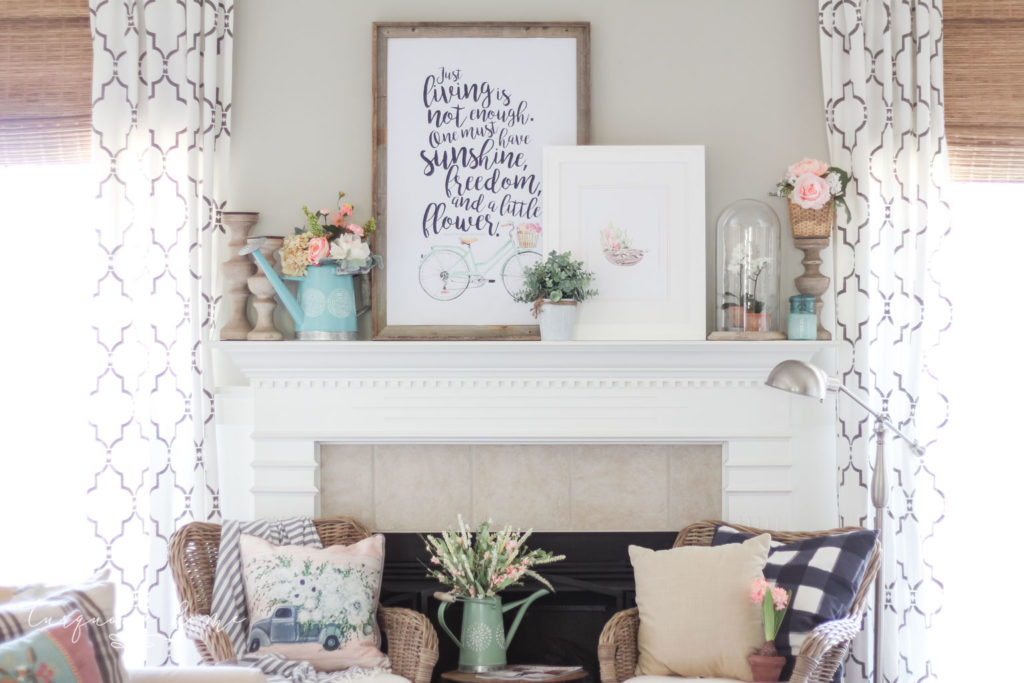 Last spring, I printed one of my spring free printable for my mantel decor and framed it with a huge frame from Hobby Lobby.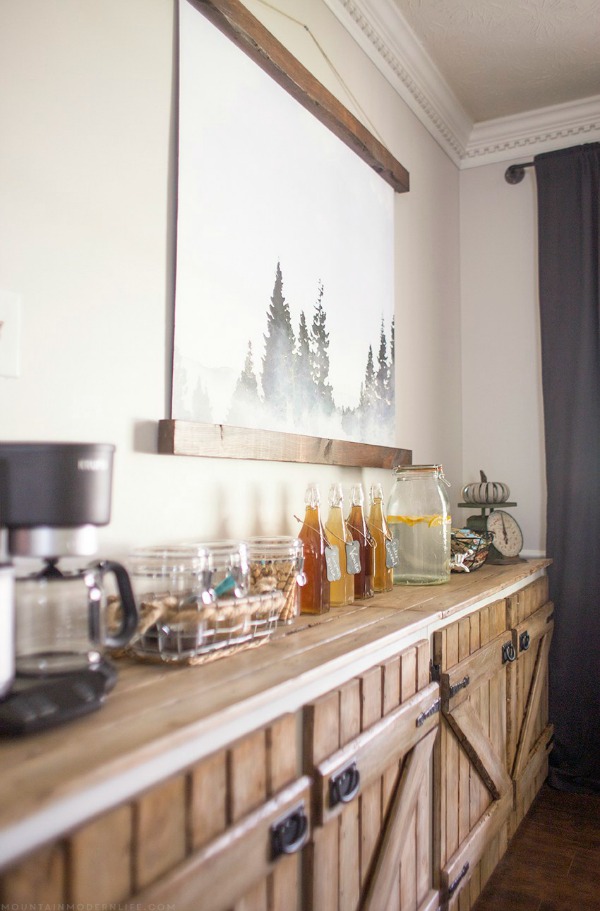 Budget Wall Art with an Engineered Print from Mountain Modern Life
When I wanted to fill this wall space in my kitchen, I grabbed two boards from the hardware store and some shelf brackets to make these easy, DIY shelves for less than $40!
Create a Windmill from Scrap Metal
By taking scrap pieces of metal, Lucy from Craftberry Bush created gorgeous windmill for her home!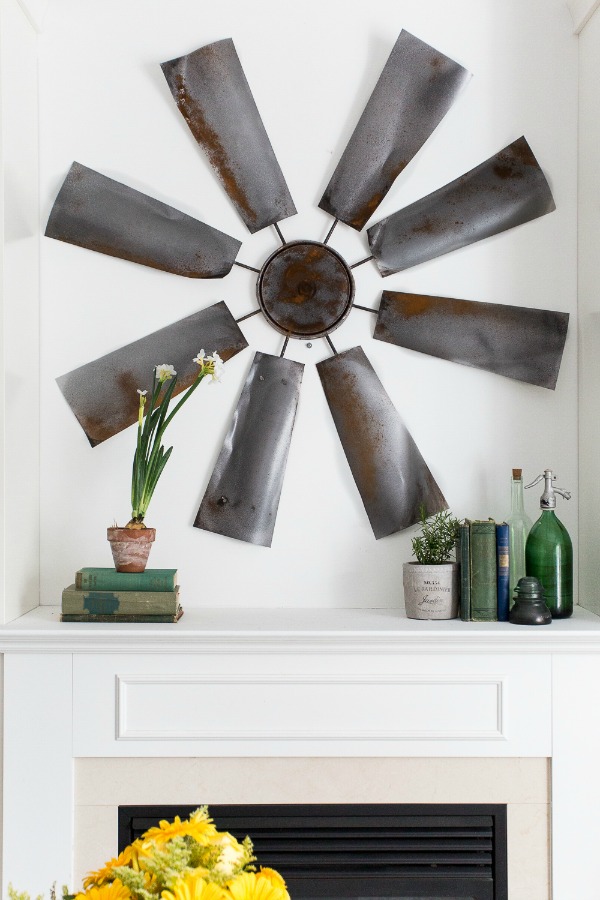 DIY Faux Windmill from Craftberry Bush
Make a Clock from Scrap Wood
How amazing that you can take some pieces of wood and make a wall hanging that is not only functional, but beautiful??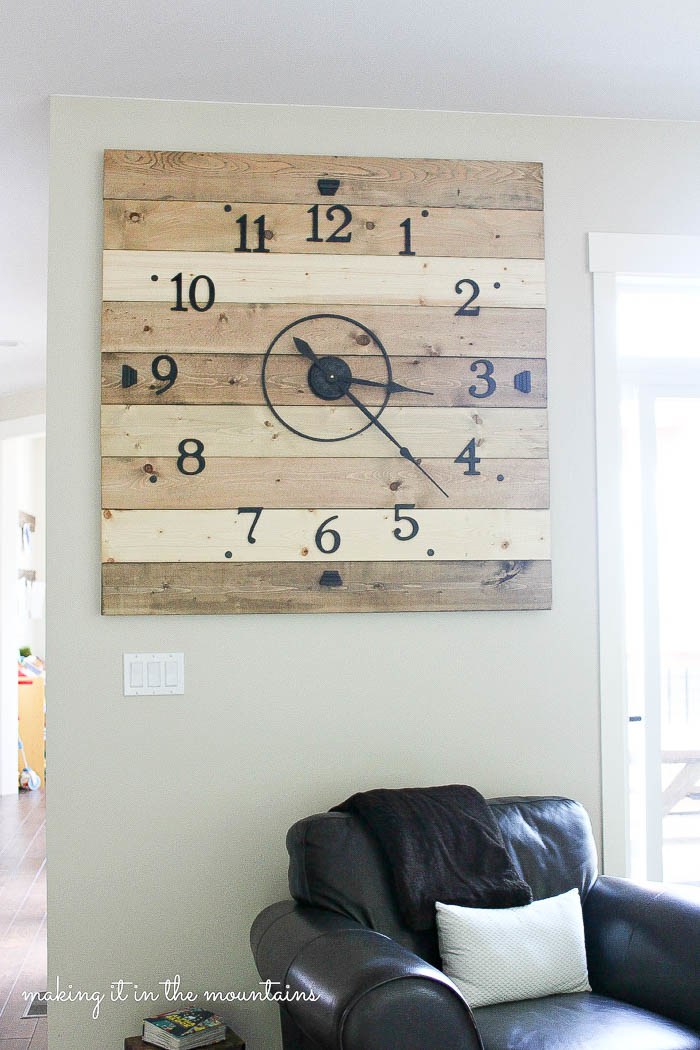 DIY Rustic Wood Plank Clock from Making it in the Mountains
Full DIY Wall Art Ideas
These ladies took wood scraps from a fence, scrapbook paper, fabric, pens and pencils to create full wall decor art! It's amazing what you can do with a little inspiration and creativity!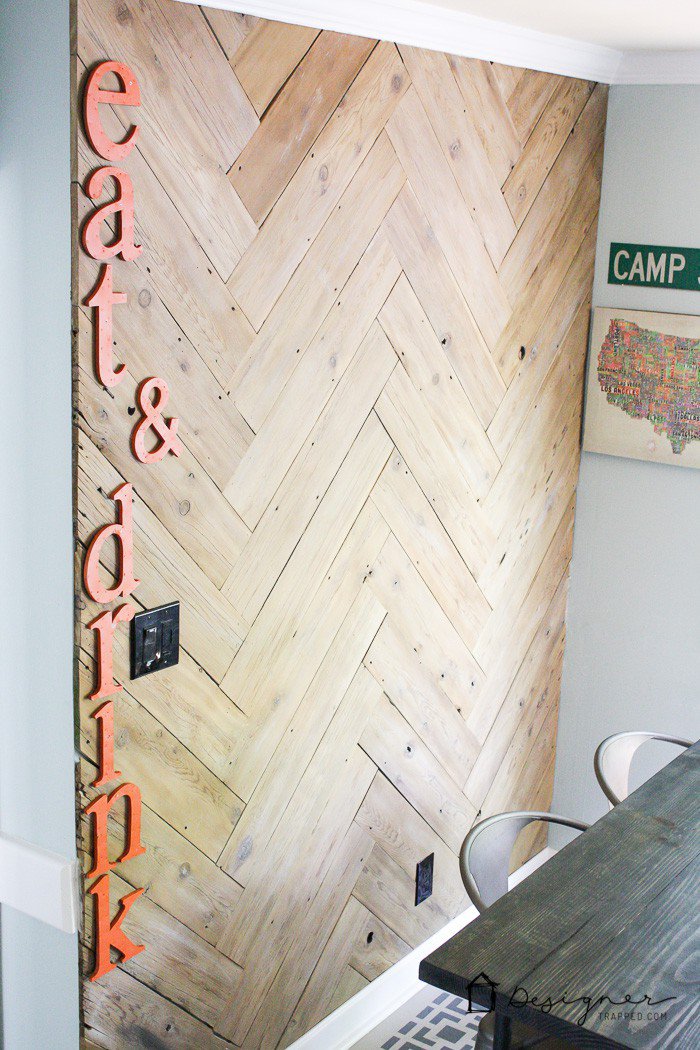 DIY Herringbone Planked Wall from Kaleidoscope Living (upcycled from an old, ugly fence!)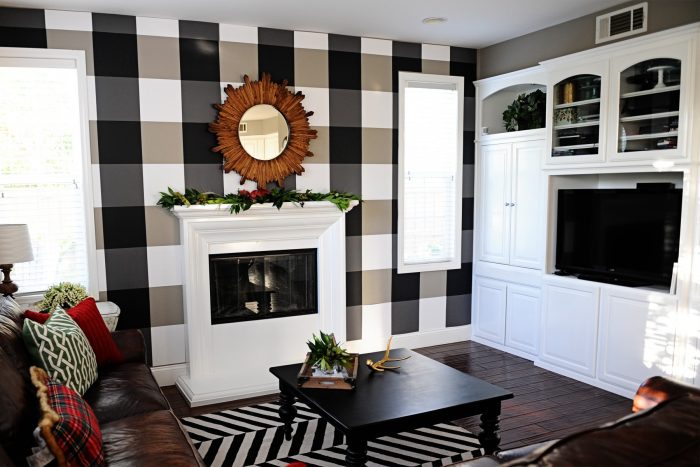 Buffalo Check Wall from Pink Peppermint Design
I absolutely LOVE this renter-friendly wall design. You'll never guessed how she made this gingham pattern without paint!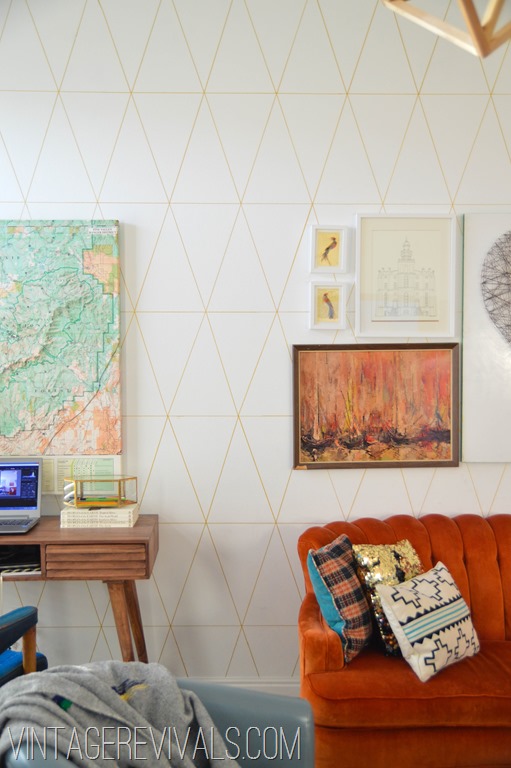 DIY Wallpaper Tutorial from Vintage Revivals
This is another one that will surprise you! It's not actually wallpaper!! 😜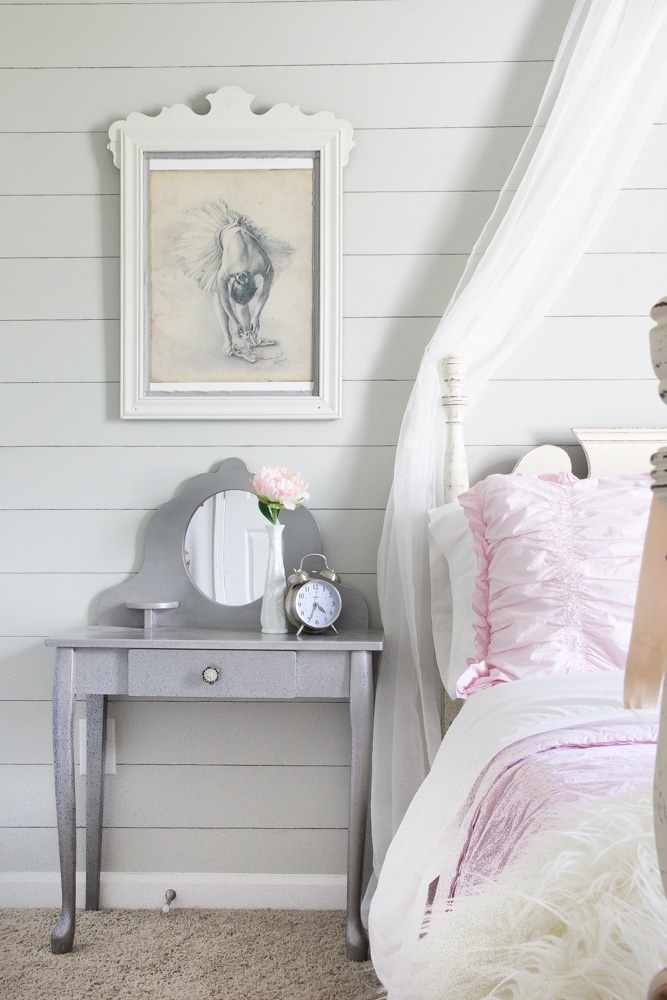 The Cheapest Way to Shiplap a Wall from Blesser House (That's not really shiplap!!)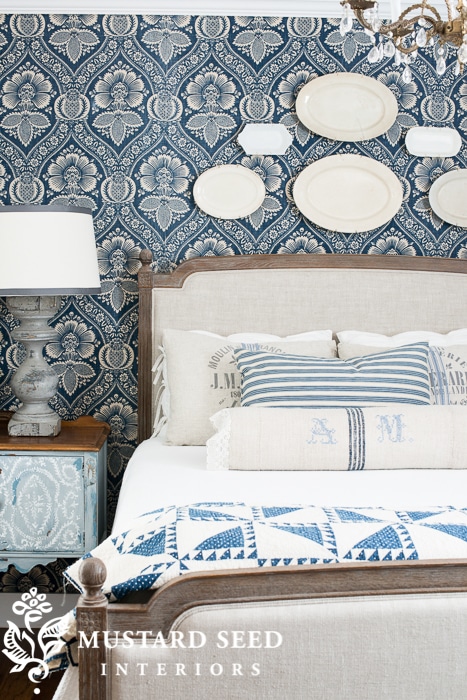 Fabric Wall Treatment from Miss Mustard Seed (that's not wallpaper!)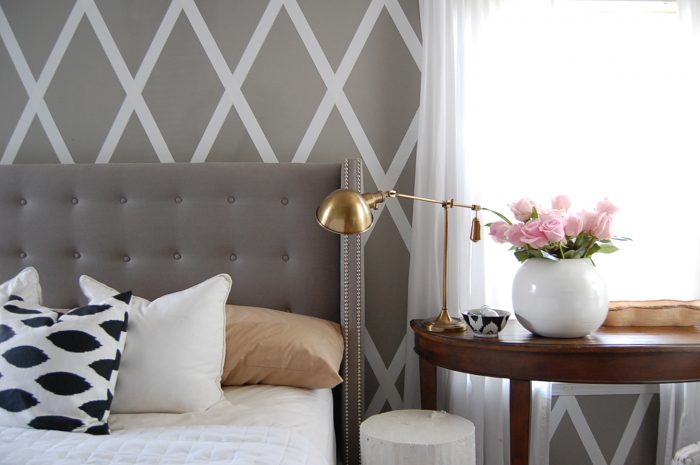 No Paint Diamond Wall by The Nester (you'll never guess how she did this without paint!)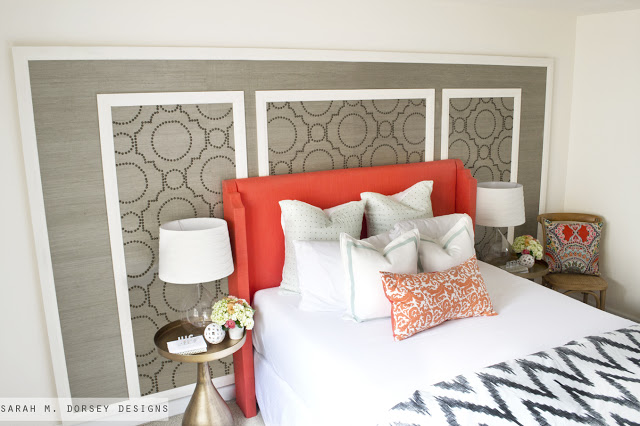 Grasscloth + Nailhead Feature Wall Tutorial from Sarah M. Dorsey Designs
Wooden Signs and Art
I'm a huge fan of taking a cheap piece of plywood or other wood material and turning it into large pieces of art!
I used a piece of plywood and some faux shiplap pieces to create this reversible Christmas sign for my living room mantel. On one side is this "Farm Fresh Christmas Trees" stenciled sign.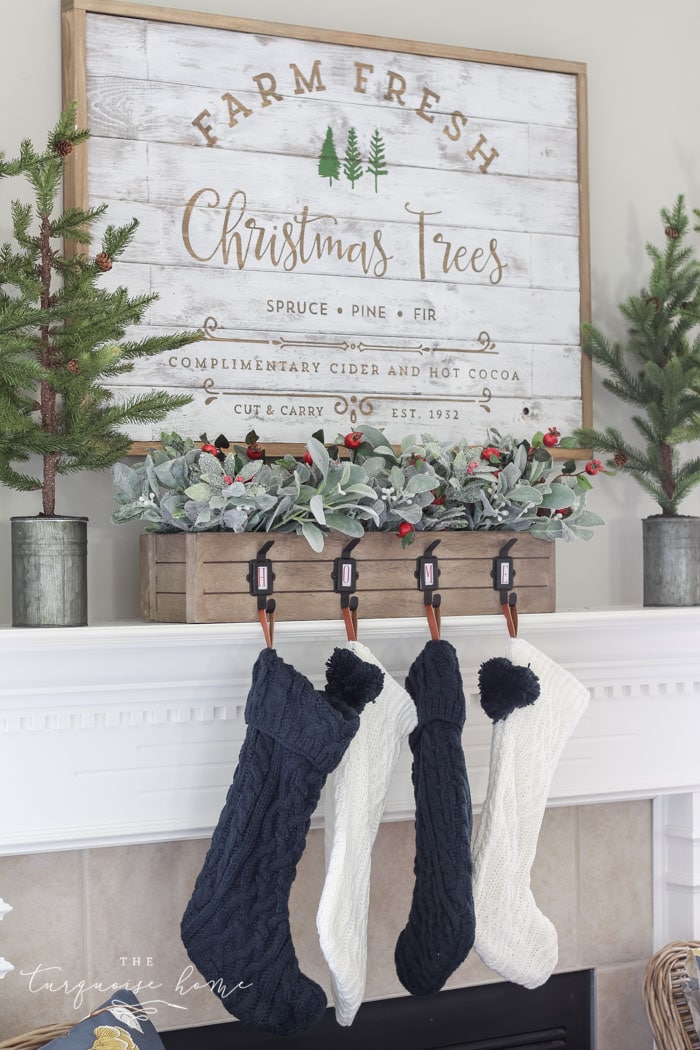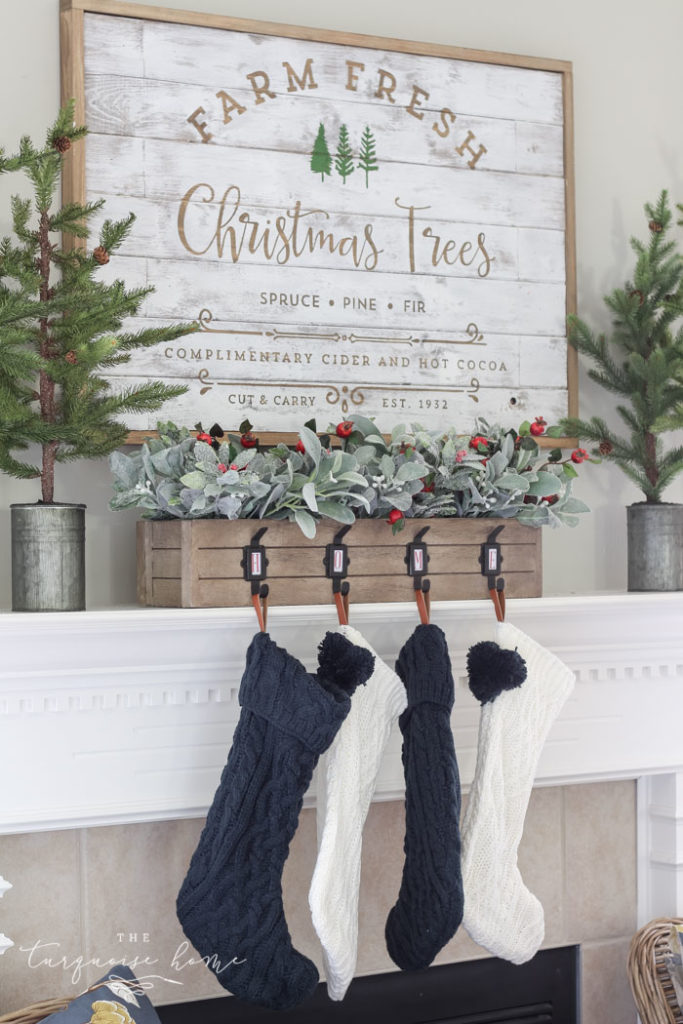 And on the other sign I stenciled the words to "O Holy Night," which I will leave up through January. (Learn more about how to stencil wooden signs here.)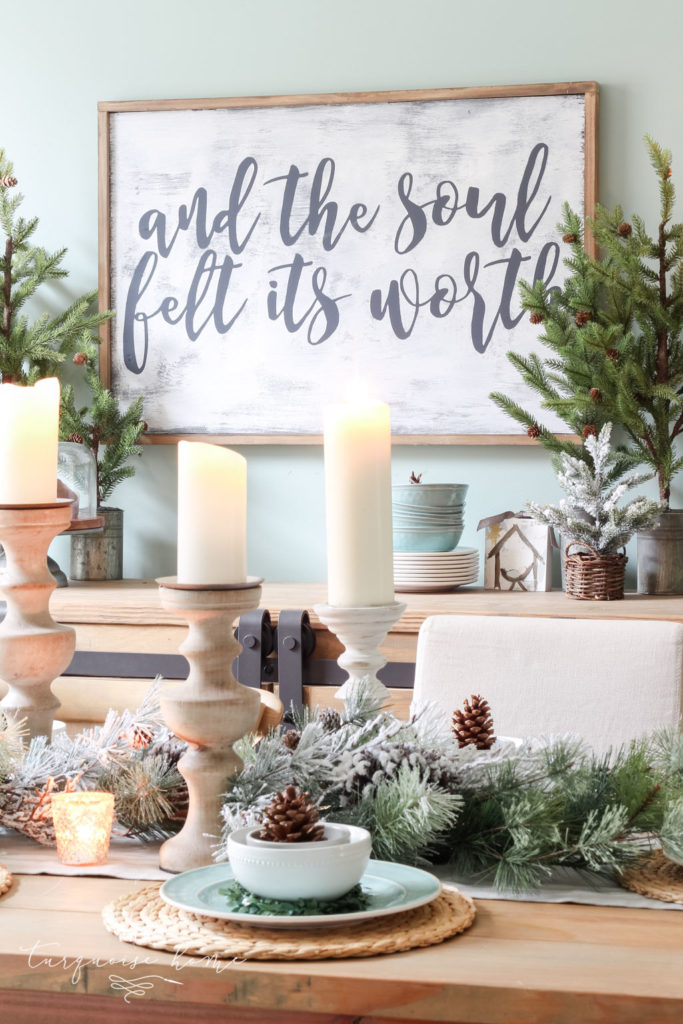 And here are a couple more large wooden sign ideas.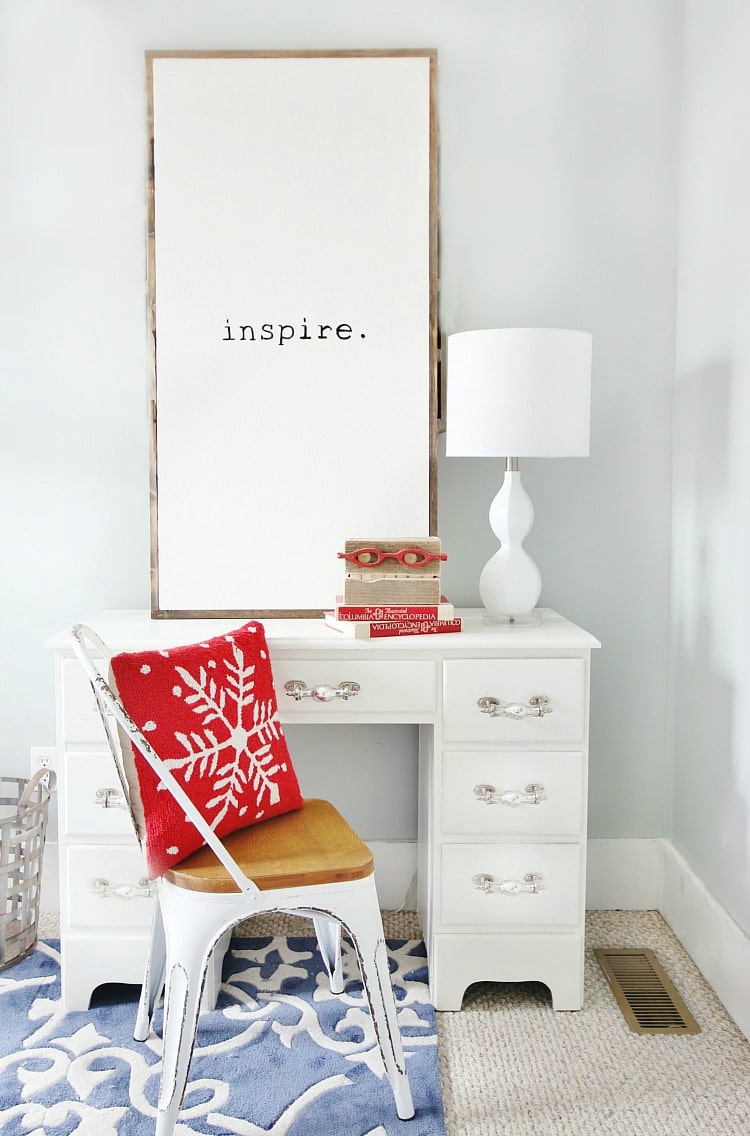 DIY Wooden Sign from Thistlewood Farms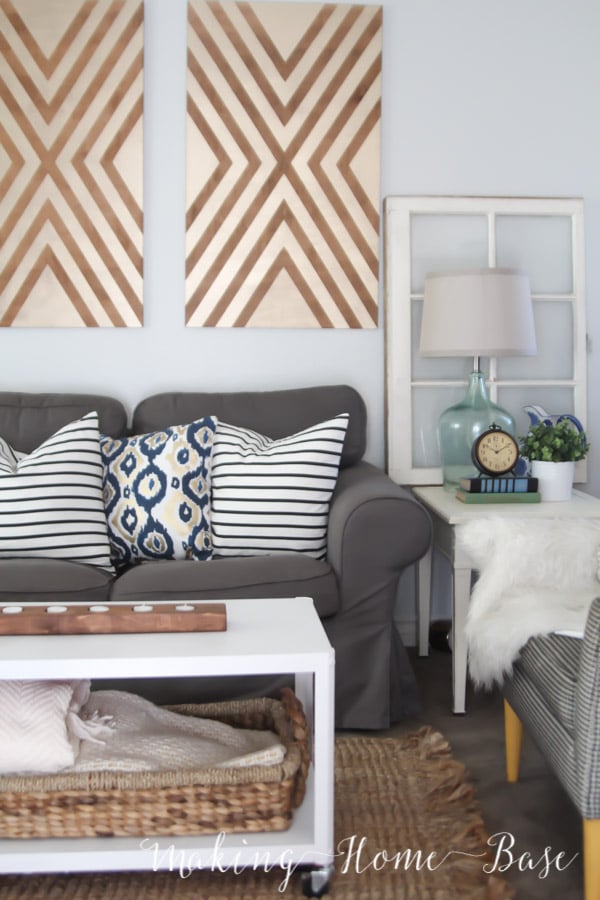 Oversized DIY Wall Art from Making Home Base
Don't you just love these fabulous ideas? The creativity of these women is just incredible to me! Slow clap for all the creative ladies. I hope you've found something to inspire you to tackle a large, blank wall in your home!


MORE FAVORITE POSTS YOU WILL LOVE:
SaveSave
SaveSave
SaveSave