A blank wall can sometimes be intimidating, so here are 5 simple gallery wall ideas to get your creativity churning!
I have a wonderful VIP group of readers who subscribe to my regular e-mails. (Hi VIP friends!!!) Not only do they get my posts right in their inbox, but they also have access to my printable library. (Sign up here if you want into the club.😊) I regularly ask my VIP friends to let me know their biggest decorating struggles and I LOVE hearing from each and every one.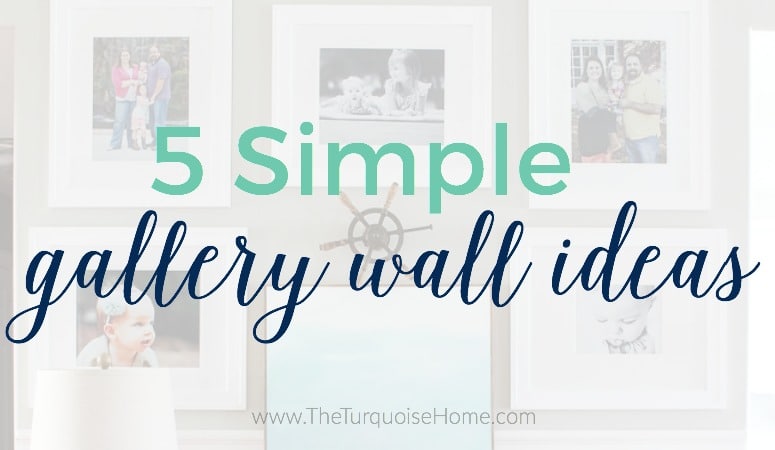 Recently, a sweet VIP e-mailed me and shared about a blank wall in her home. She said it needed a gallery wall, but she didn't know where to start! I thought, easy peasy! I've never met a gallery wall that I didn't love, so I thought I'd share 5 of my favorite gallery wall ideas. And hopefully it'll help you along the way if you have a blank wall that just needs a shot of personality!

1. Large, Uniform Gallery Wall
There are so many ways to go about creating a gallery wall, but one way to achieve a uniform look is to use large, oversized frames in the same size. You can add a variety of prints or art, but keep it all looking put together with matching frames.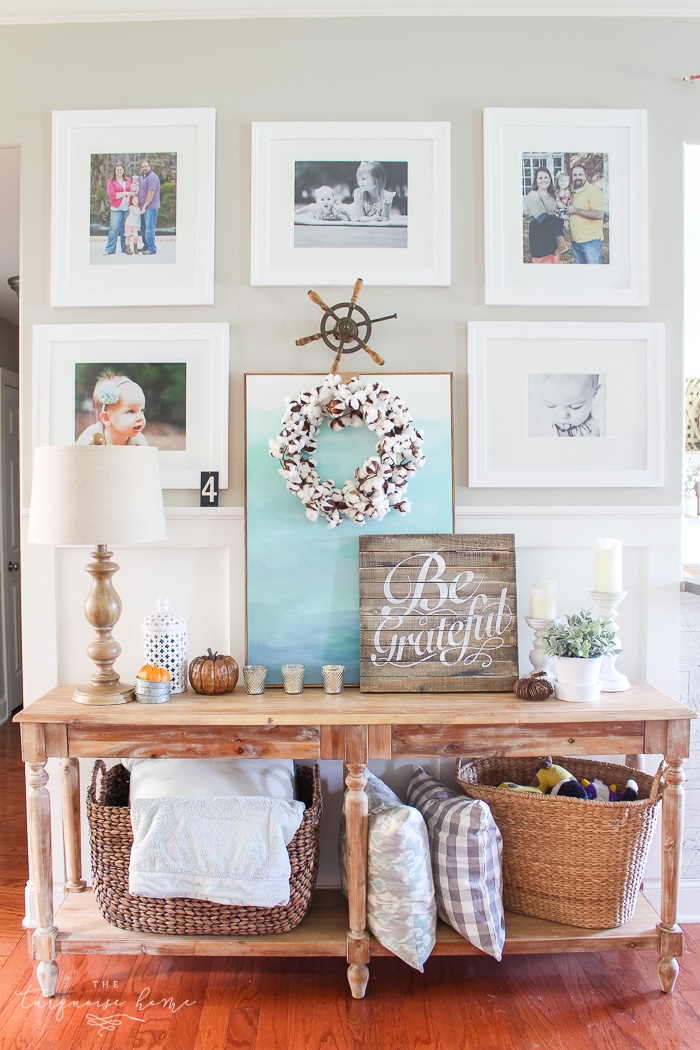 I love how Jenna from Rain on a Tin Roof made a huge impact in her living room with paint and these oversized frames with large mats. The size of the frames made this gallery wall a show stopper.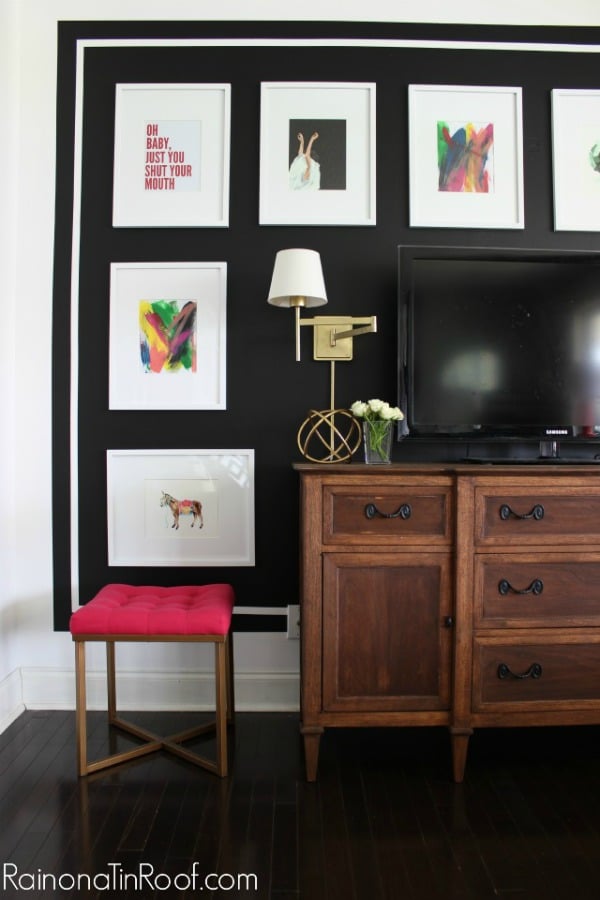 Gallery Wall from Rain on a Tin Roof
2. Full Wall Monotone Gallery Wall
This gorgeous gallery wall has a variety of frame sizes and a few non-frame items, but everything is streamlined with white. Using monotone frames or backgrounds is a great way to tie together a variety of prints and different art.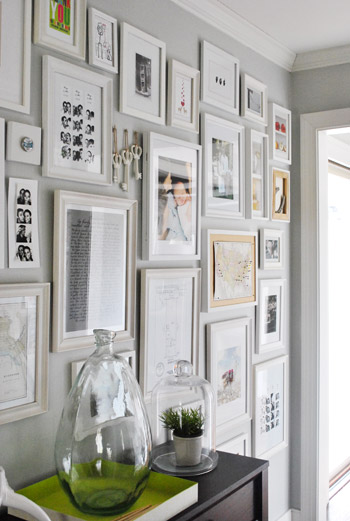 Gallery Wall from Young House Love
What if you don't have a ton of white frames laying around your home? Break out the spray paint, my friend! I did it in my laundry room with coral frames from the thrift store. Super cheap and packs punch!
3. Eclectic Gallery Wall
The eclectic gallery wall is one of my favorites! The idea is to take a bunch of different decor items and frames to create a focal point in your room. I love how Bre from Rooms for Rent mixes in frames of all kinds and other non-frame items like letters, antiques and trays. Keeping everything in the same farmhouse style is what unifies her space.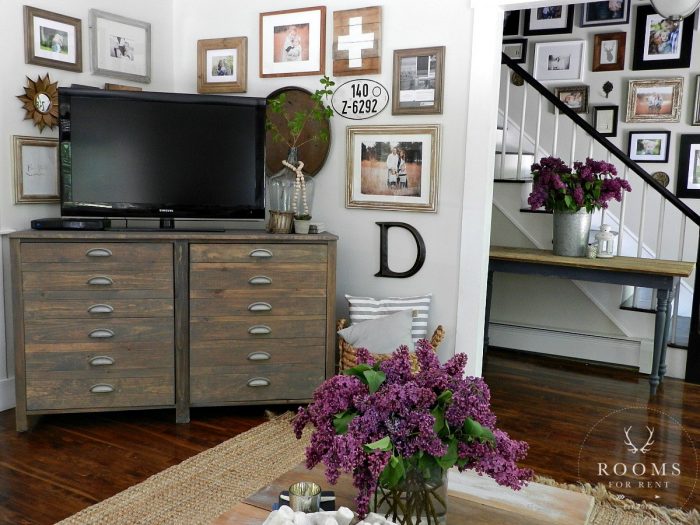 Farmhouse Corner Gallery Wall from Rooms for Rent
Go even bolder and more eclectic by adding larger 3-dimensional objects like plants or wreaths to your wall. I love this one with the lighting above to highlight the pretties on the wall!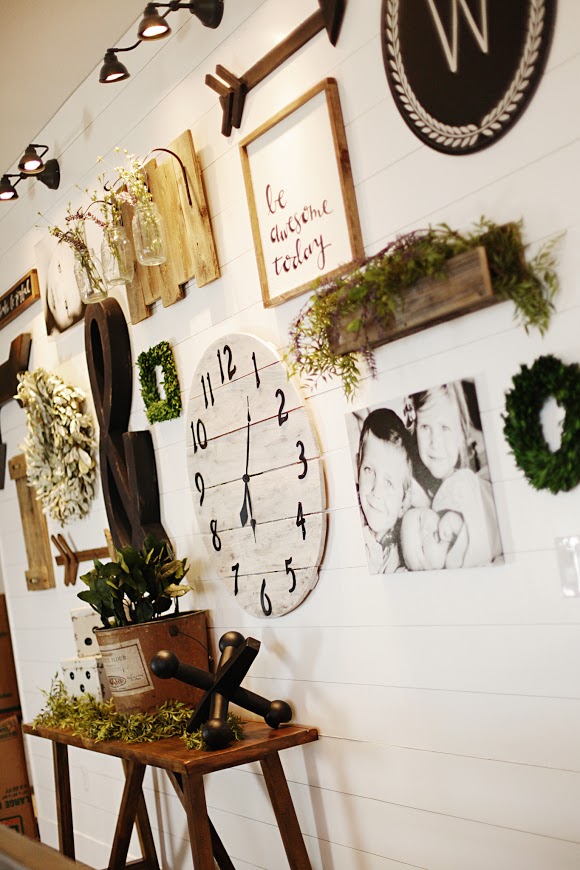 Modern Farmhouse Gallery Wall from Household No. 6
4. Gallery Wall with Shelves
A gallery wall with shelves is not the same thing as floating shelves in a wall. Well, maybe they are close cousins, but I think there's a slight difference. I think that gallery walls not only have items resting on the shelves, but have items hanging on the walls between the shelves and below, too. The little arrow below the bottom shelf is the perfect touch!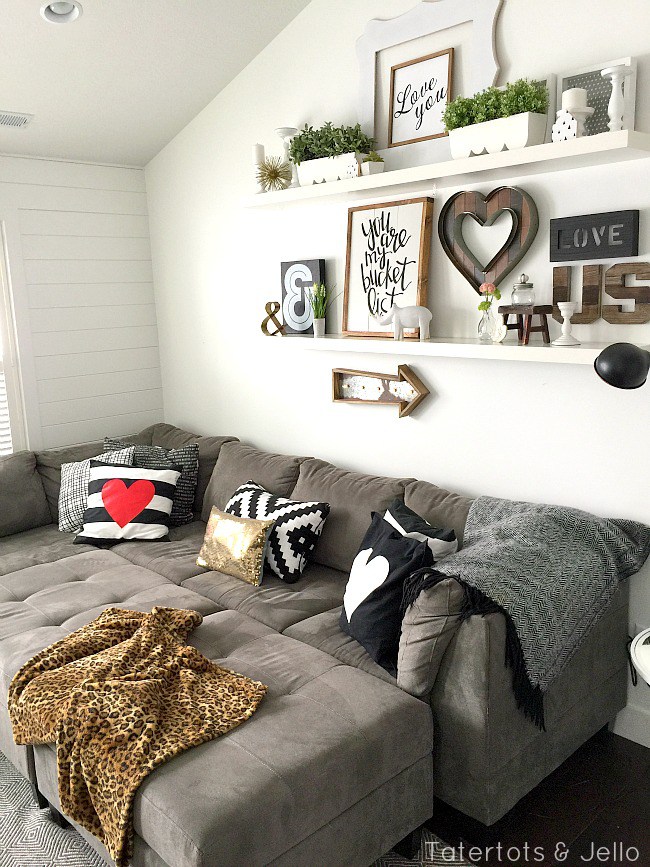 Gallery Wall from Tatertots & Jello
5. Gallery Wall with Uniform Art or Photos
One more way that you could create a cohesive gallery wall is by using the same style of art in each frame. They could all be from one painter or all images from the same book. You could also do black and white family photos or landscape photos to make it all uniform.
Botanical Gallery Wall from Emily A. Clark
Truly, these are just 5 of many ways you could create a gallery wall. The possibilities are endless, so just start creating your own. Pull some ideas from your favorite gallery walls and start hanging! Most of the fun is in the process anyway.
Don't be scared of putting holes in your walls. Paint and a little putty can fix that right up. Just start!
What is YOUR favorite gallery wall idea?