Photo Gallery Wall in the Living Room
I'm so excited to be sharing my long-awaited new photo gallery wall with you! Finally, the day is here. I started this project LAST August! Just in case you ever thought that this was HGTV or something equally as fancy. We go slow and on a budget around here.
Don't miss the giveaway at the end!! You can make your very own gallery wall, or get started on your Christmas shopping!
One of the most important elements of creating a space you love is to inject personal and sentimental items into your decor. A grandmother's handmade quilt, or a grandfather's whittled toy for your child. These precious treasures tell a story about your life and your journey.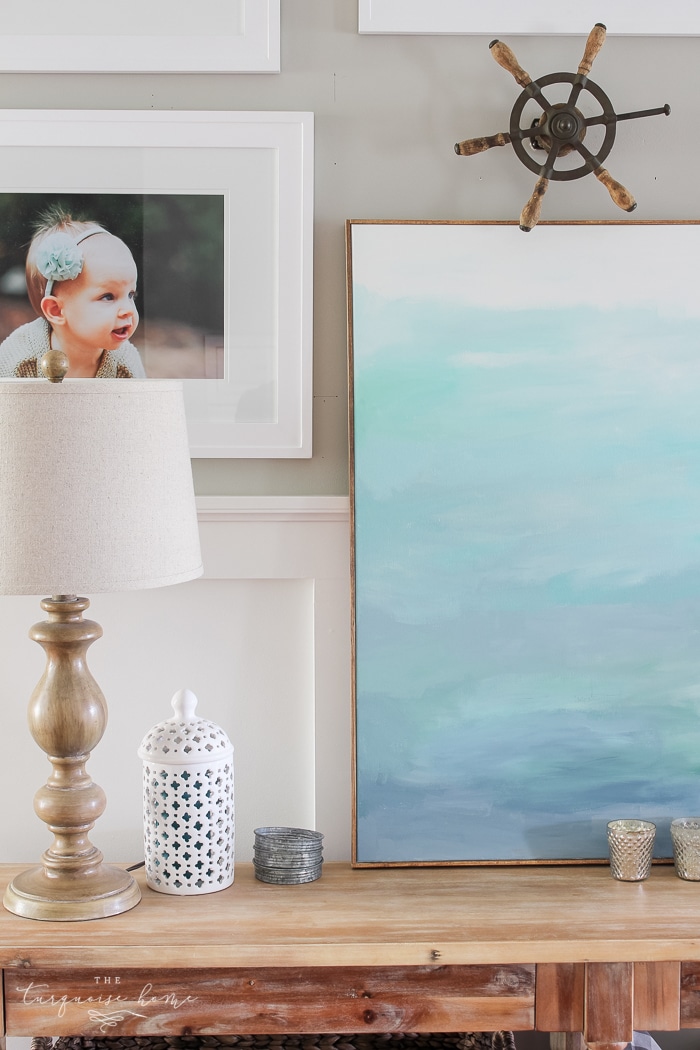 And in the same way, photographs play a huge part of telling our story. These days don't most photos sit in a drawer on a CD or a thumb drive? Or just take up space on our phones?

In this digital age, it's important to print out those memories and display them for all the world to see. But even more than that? It's important for you to see them. For your family to enjoy the reminders of the precious memories of time gone by.
I, for one, am guilty of not printing out and displaying my family photos. But I'm on a mission to remedy that, starting with the gallery wall in my living room.
This little wall space in the living room started with the Everett Console Table and my DIY abstract painting.
Well, originally it started out looking like this …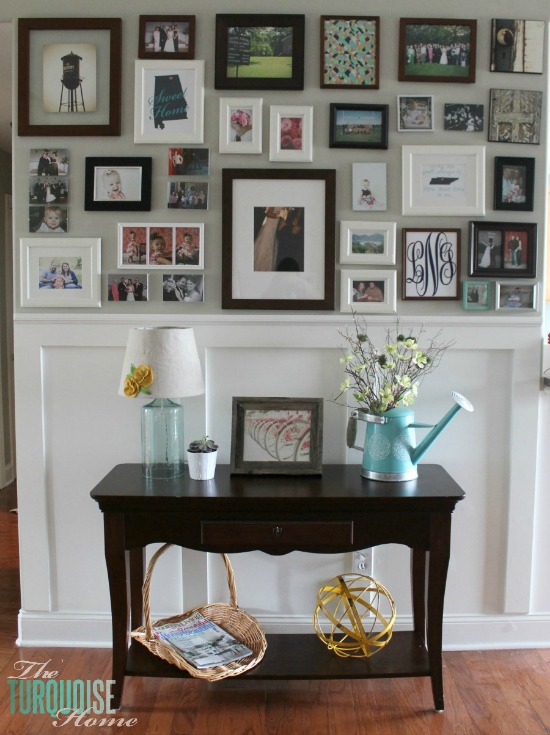 It was perfectly fine. I had arranged every photo album in my house on that wall and filled it with fun pictures, printables and pieces of art.
I was listening to my own advice and surrounding myself with pictures of precious family. But it just looked too jumbled to me. The table was a hand-me-down and not my style or the right size for the wall.
Then I bought the Everett Foyer Table from World Market. I dreamed and saved for this purchase and finally used my birthday money (I think) to buy it.
And I painted a pretty DIY abstract painting that I love.
I then bought 5 big, bold white frames to fill the space above it. And I thought I'd just order up some pictures to put in the frames, but it took me a loooong time to get them.
Like more than a year.
Last Christmas I filled the usually-empty frames with some Christmas printables and wrapping paper.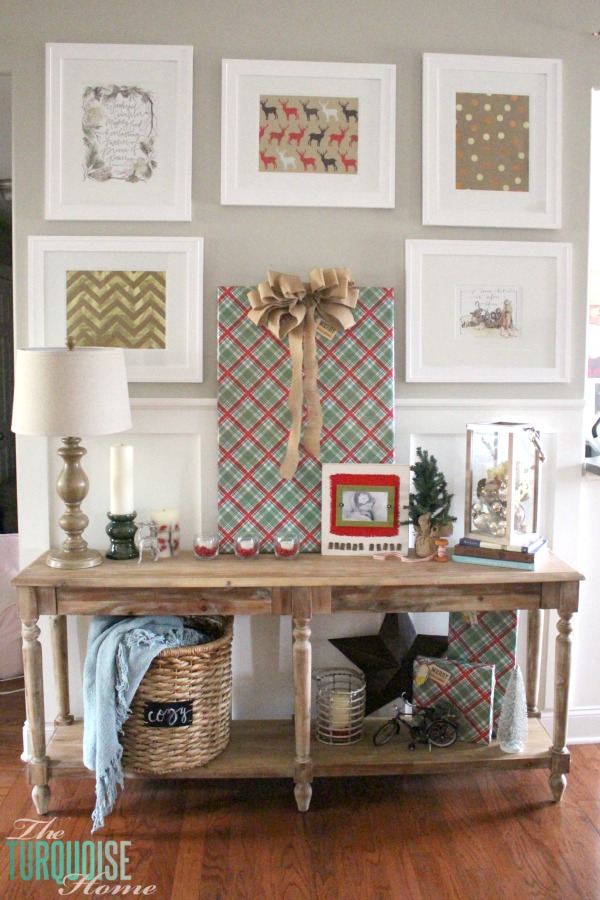 But then I took them down after Christmas and it looked like this …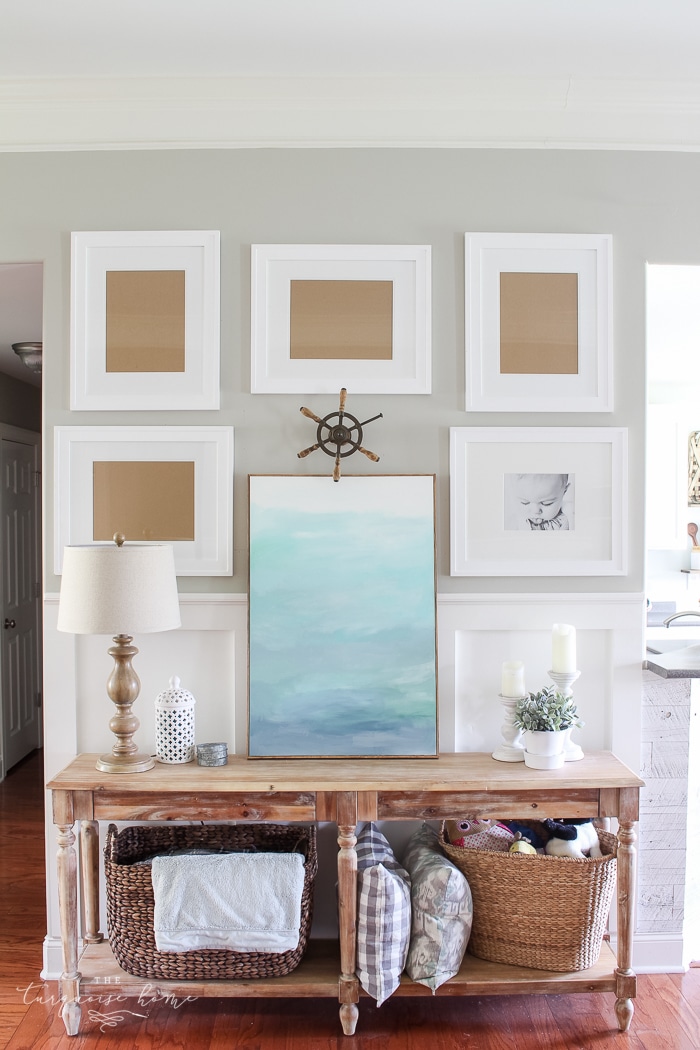 It's pretty, but I got tired of people coming over to my house offering to bring pictures of themselves to fill up my frames. Silly friends!
By the way, I finally found a new basket to fit under the left side to hold my blankets. The old basket was not wide enough and too tall, but this one fits perfectly. I just wish they had had two! (If you see one out there, let me know! I got this one from HomeGoods.)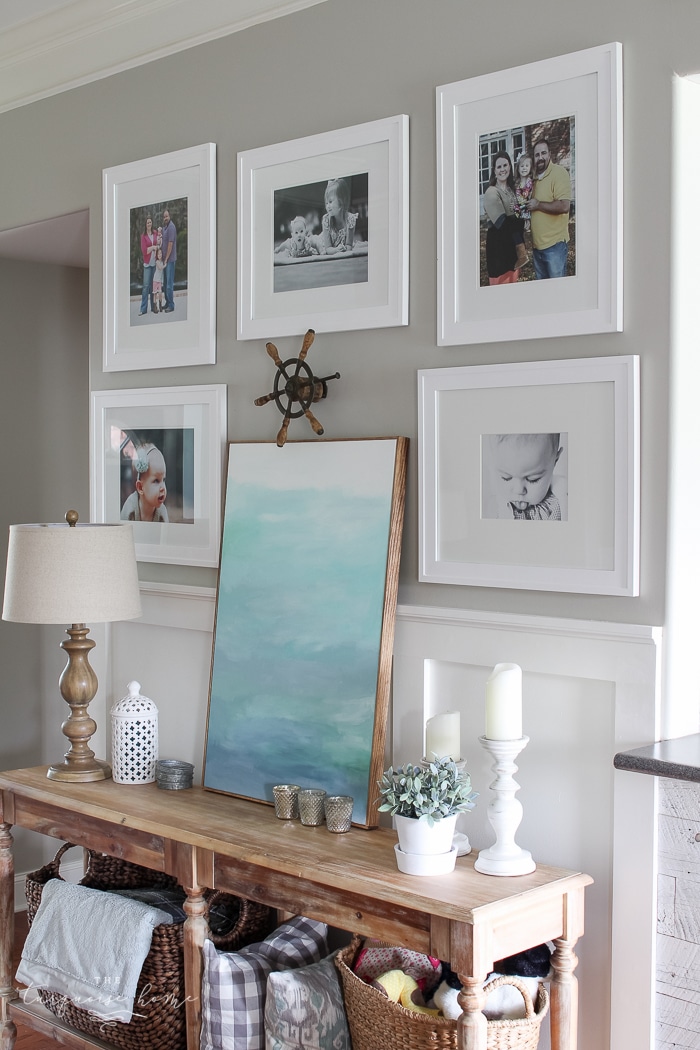 I really love the look of this wall now. I added the antique nautical wheel this summer after my trip to Franklin, Tennessee. Whenever I look at it, I think to myself, "Jesus, take the wheel." Because usually during the day I can be found muttering something like that while dealing with my almost 2-year-old. But really, I like how the art symbolizes the ocean and the wheel reminds me that while life may be full of waves, Jesus is my captain.
So, what a perfect thing to fill in the frames with pictures of our girls and us as a family. I ordered my prints from CVS. It's super easy to run by the kiosk at your local store while you're shopping, or you can shop online like I did (here). #shoppingonlineismyfavorite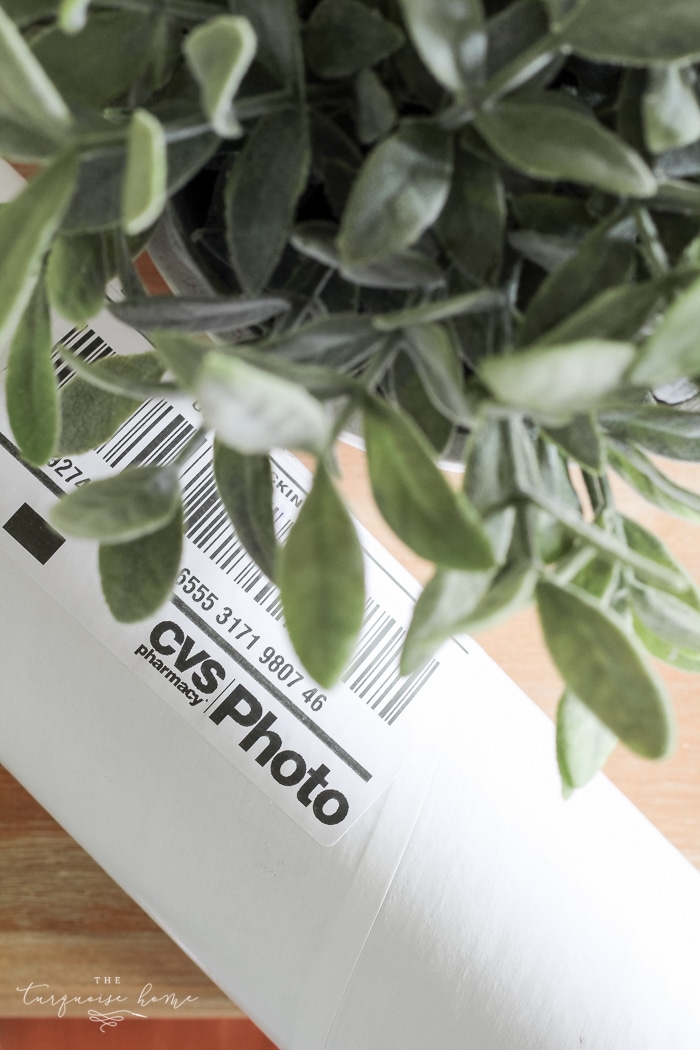 I needed an 11×14 size, so I ordered their poster size. I was worried at first that it wouldn't be nice paper, but it came on high quality, photo paper. They worked perfectly and arrived in less than a week after I ordered them.
By the way, you can also order prints directly from Facebook or your phone's photo album using their CVS app. So, there's no excuse to not bring photos into your home!
OK, back to the wall. I was super excited to get my package in the mail. Because remember, I've been waiting for more than a year to finish this wall!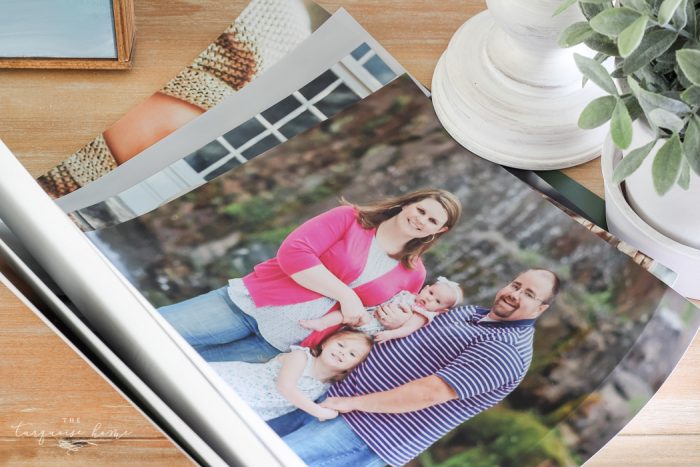 Yay! Super great quality and cute pictures of my family!
I popped the pictures in each frame and I had my completed wall! I only have one more tiny detail to finish before this area is done!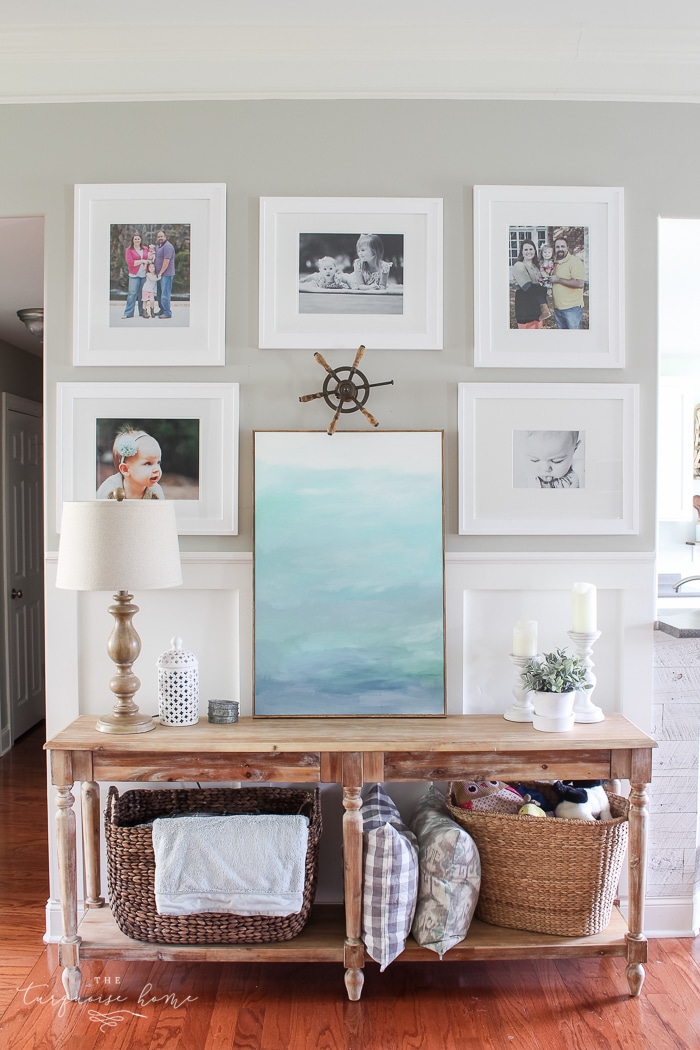 Oh, and there are like a bajillion ways to incorporate photos into your home decor, other than just regular prints! There are so many options these days! I personally love making a photo calendar each year. And I think I'm going to create some pretty photo Christmas ornaments.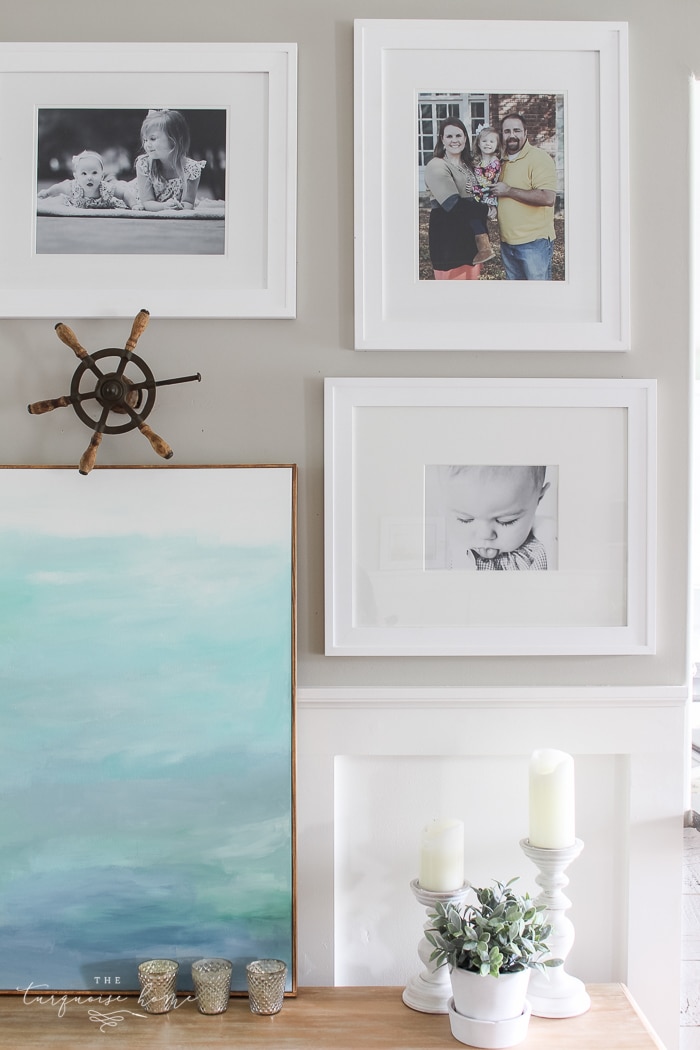 What do you think?
Are you someone who loves to print out photos and decorate your home with pictures of loved ones and memories? Or do you need a little kick to get back into the photo game, like me?
I can't wait to show you how I've added simple touches for fall! Coming soon!!