What, in fact, IS Grandmillennial Style? The term coined by Emma Bazilian back in 2019 in a House Beautiful, describes a resurgence to the traditionally classic styles of old.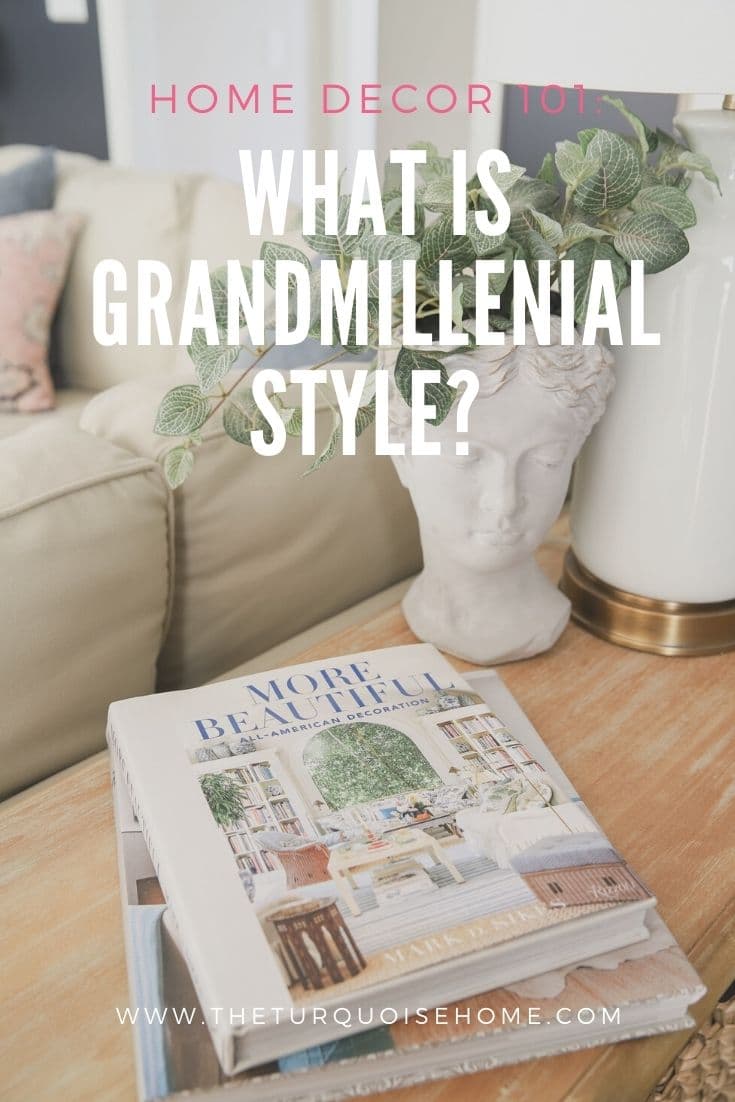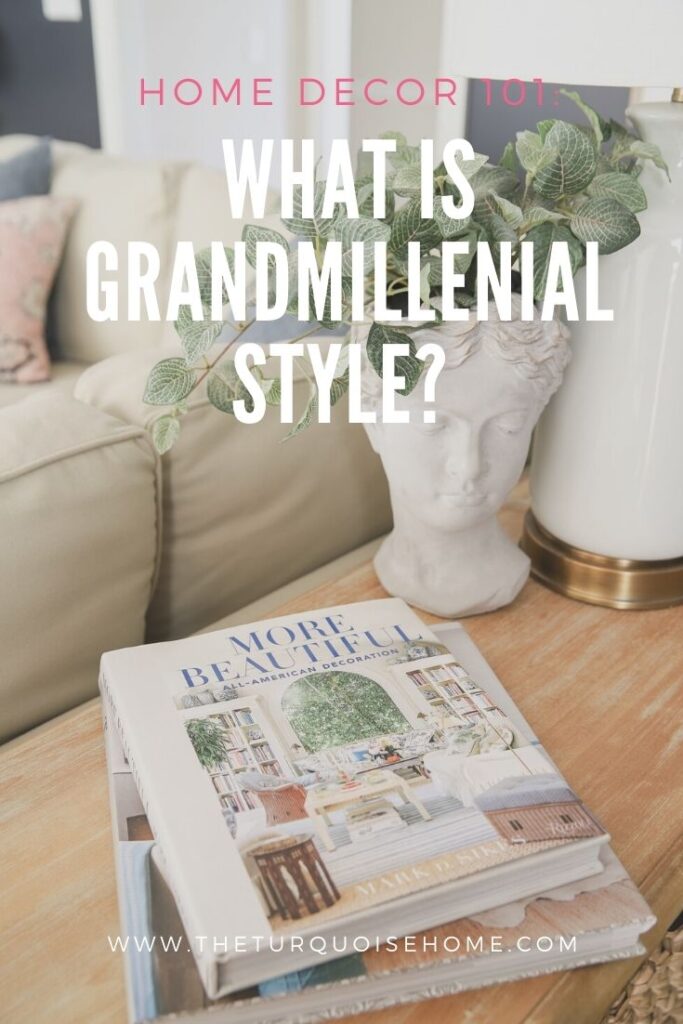 A Grandmillennial is someone "Ranging in age from mid-20s to late-30s, grandmillennials have an affinity for design trends considered by mainstream culture to be "stuffy" or "outdated"—Laura Ashley prints, ruffles, embroidered linens," shares Bazilian. Think back to the homes from Home Alone and Father of the Bride and you'll remember the styles well!
So while this style is nothing new, the fascination and re-emergence in popularity IS new. (I've long considered myself someone who loves traditional style, so this is super exciting for me!)
I'll share the why behind why I'm sharing about this style at the end of my post, but let's dive in a little bit, shall we?!
Grandmillennial Decor
It makes my heart so happy that this classic style is making a comeback. I've always been drawn to it, and I love that it encapsulates the feelings of comfort from our mother's, grandmother's and great-grandmother's homes, hence the nickname "Granny Chic."
I grew up with wonderful grandmothers and I loved their homes, but truly this style reminds me most of my maternal great-grandmother. She was the epitome of a sassy, independent Southern grandmother – all of 4′ 11″ tall.
She lived in a 3-story white home with many rooms, beautiful ornate furniture, landscape art and lots of collections, like silver, china and crystal. I recently inherited her crystal collection and I display it proudly in my butler's pantry. But this style encapsulates my feelings of being at her home as a child and it makes me feel connected to her.
Important Elements of Grandmillennial Style
What exactly represents this modern twist on an old style? You'll find all of these beautiful design elements:
floral wallpaper (like in my girls' bathroom)
blue and white
skirted tables
block print
needlepoint pillows
embroidered linens
mixed patterns
monograms
ornate chandeliers
collections (silver, china and crystal)
pleated lampshades
rattan, bamboo & wicker
toile, chintz & plaid
ruffles, pleats & fringe
lace
embroidered linens
slipcovers
chinoiserie
brown wood furniture, like walnut, cherry & mahogany
vintage brass
boxwood topiaries
and more!
These beautiful style elements may seem stuffy, but while they might give off a fancy, high end style, the truth is they are very livable and cozy. This is not the plastic-covered couches of our grandmothers', but rather a modern twist on the classic look.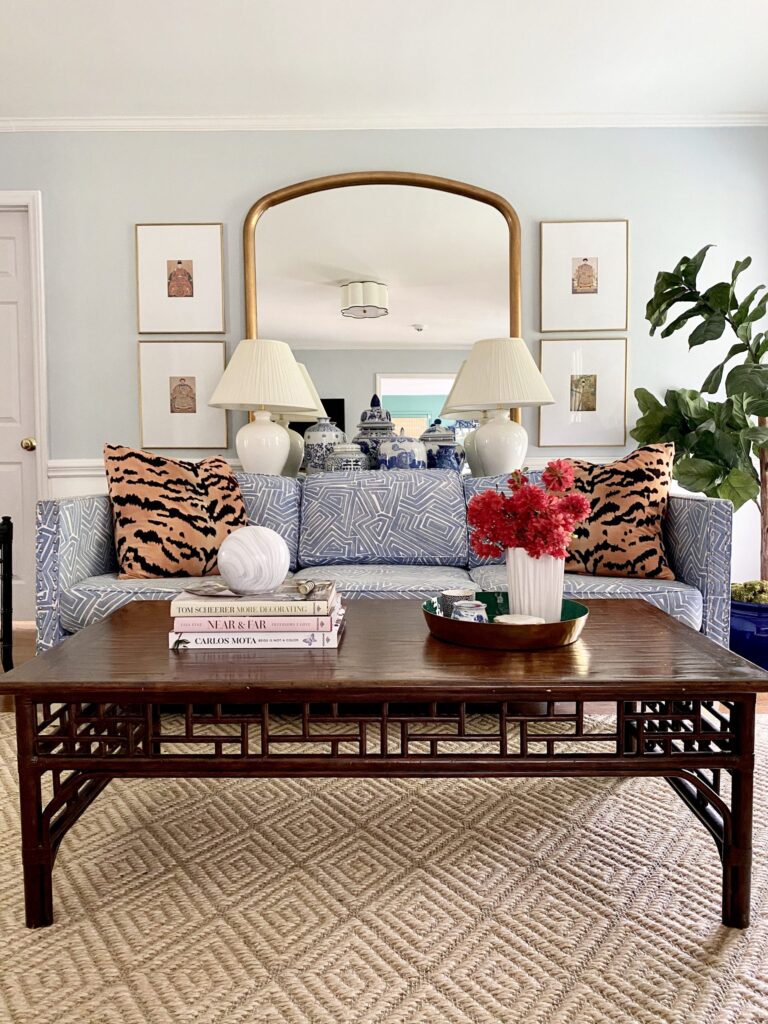 You may see abstract art mixed with inherited dark walnut furniture. Or maybe a modern framed mirror on a patterned wallpaper. It's the mixing of old and new that make this design choice feel fresh, timeless.
This style is known for collections that tell the story of its owner. It lends itself to a number of beautiful layers, but remember to edit so as not to be overly cluttered.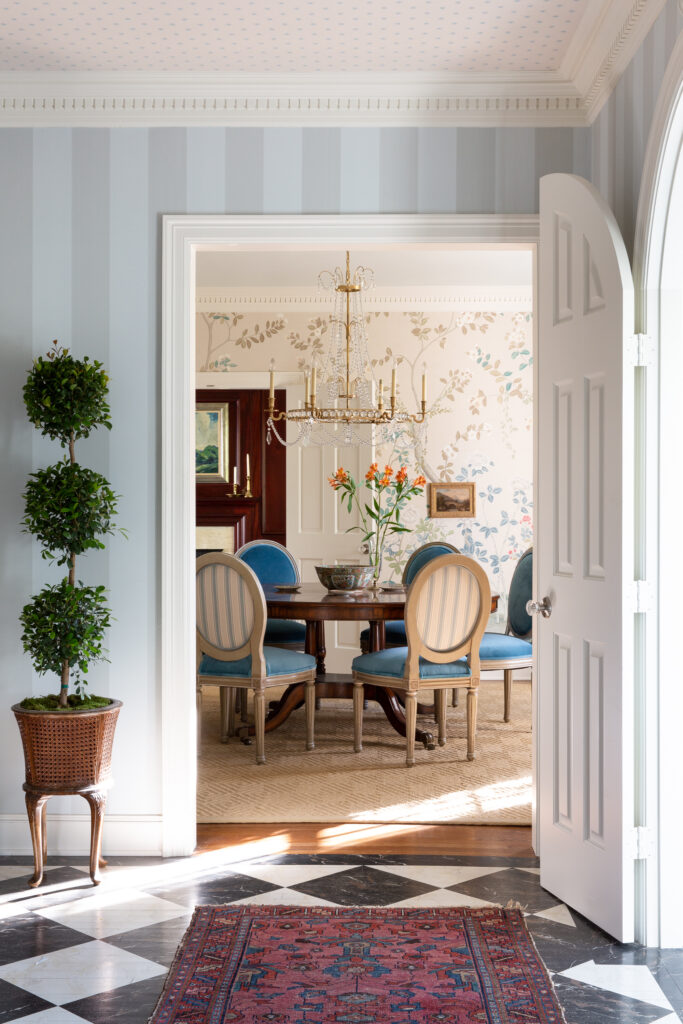 There is also shift away from the bleached wood look. And while light-colored wood is still beautiful in moderation (and at the beach house), this new wave is bringing back the antique, darker furniture from times of the past.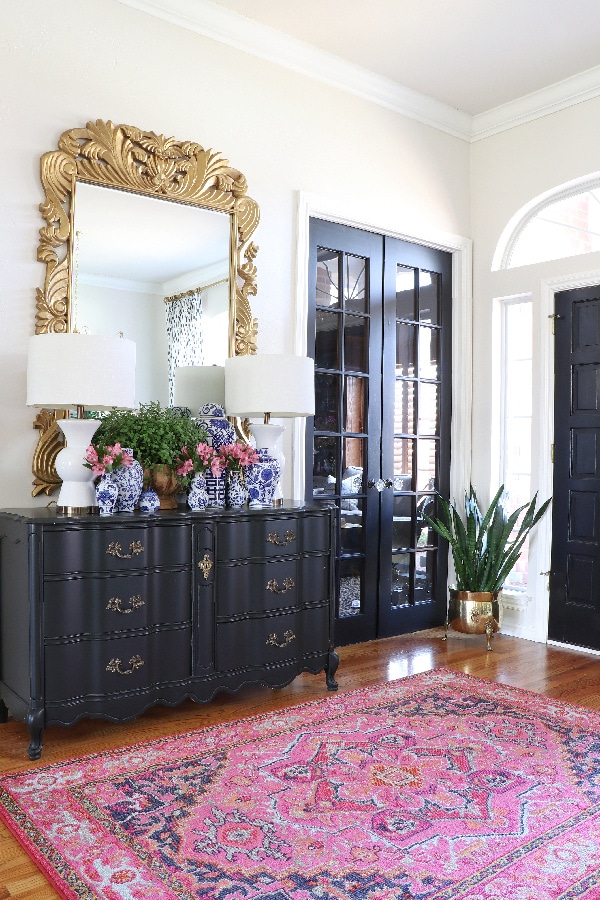 In the design world, trends tend to have about a 10-year lifespan. Since the farmhouse style really took off about a decade ago, it was time to see a shift in our decor.
The style incorporates traditional details on upholstery and cushions such as tape, trim, or tassels, in monochromatic or analogous color combinations.

– Stefani Stein
Popular design has been moving away from farmhouse for a couple of years now, but I'm excited to see what will most likely take its place. And since this is a classic, traditional style, it will never go out of style completely, just rise and fall in mainstream popularity.
As always, I say do what you love and listen to the bones of your home. Let it speak to you. It's taken me a little over a year to really live in and listen to my new home, as I share below.
Settling into a Home Slowly
Does it take anyone else a full year to feel like a new house is your home? It does me! I for sure feel like I'm coming home to someone else's house for quite some time after we've moved in.
It just takes me a while to get my current stuff situated, and then even longer to start putting my stamp on things. Sure there are the people who move in and seem settled in the first week. But it's just not me.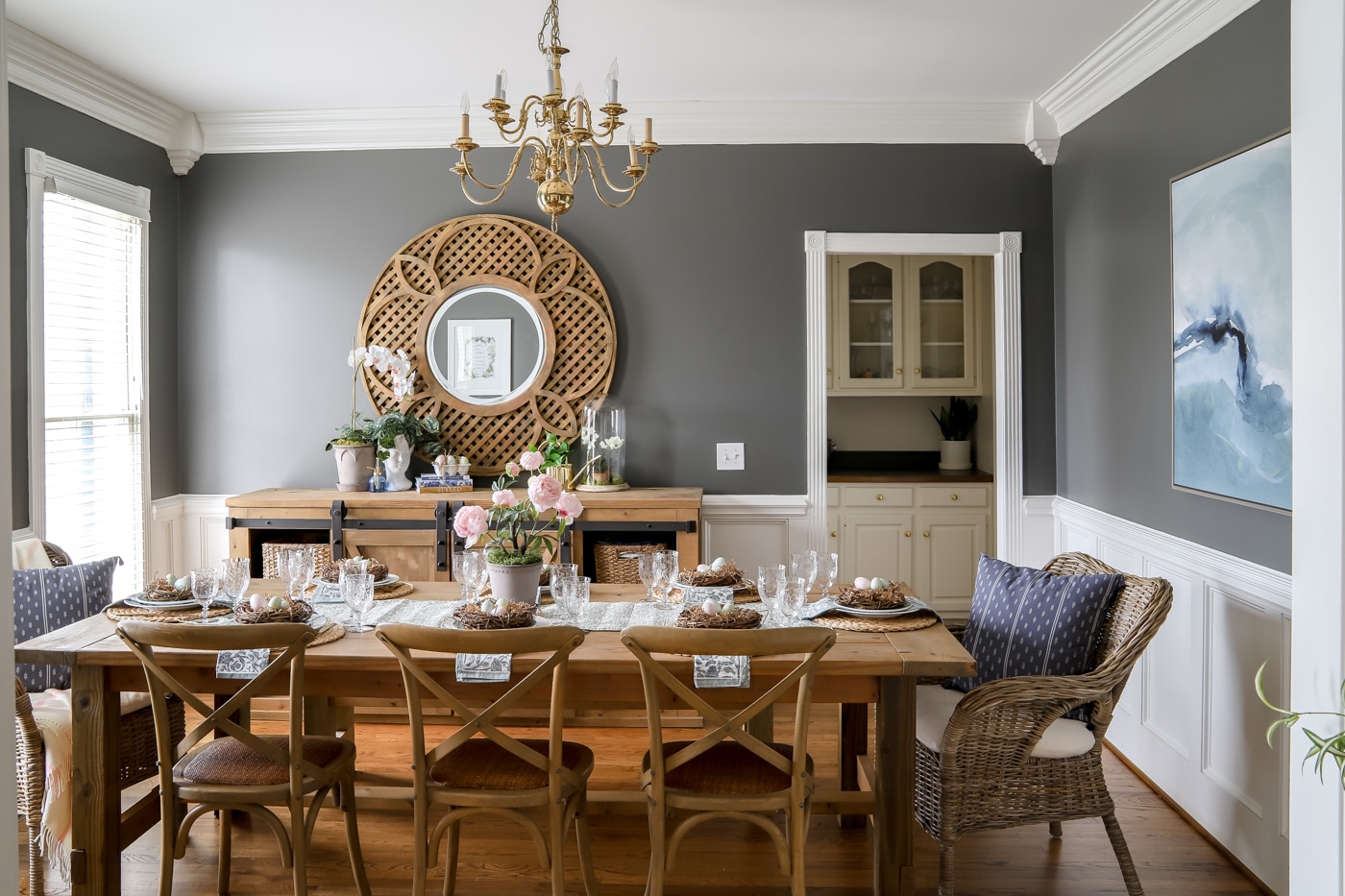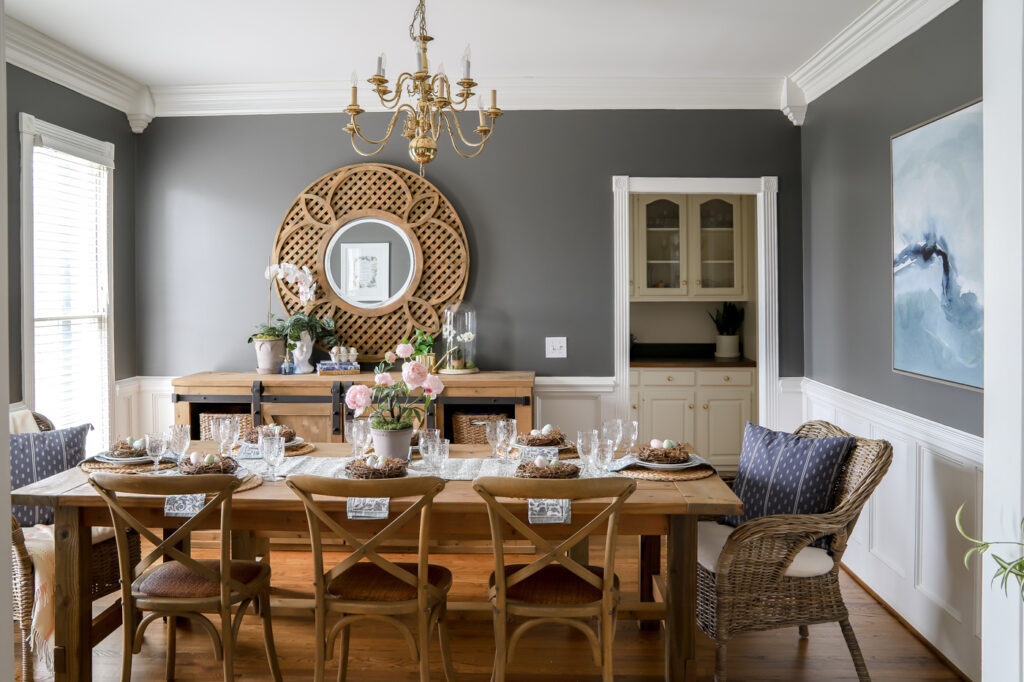 I know I felt like this was my home when I got almost all of the walls painted, but I still feel like I'm scratching the surface when it comes to really doing this house the way I'd like.
And even though my head says I'd like to move into a home a snap my fingers and it be perfect at every turn, my heart takes a bit longer to figure it all out. I like the practice of settling into a home slowly, listening to the walls and adjusting my style to meet its original aesthetic.
Over the past year I've spent hours and hours pouring over decorating magazines and books, trying to figure out the style I want to use in this home. It's not as blank of a slate as our last home. It's very traditional and calls to a more classic style vs. a farmhouse style or transitional style.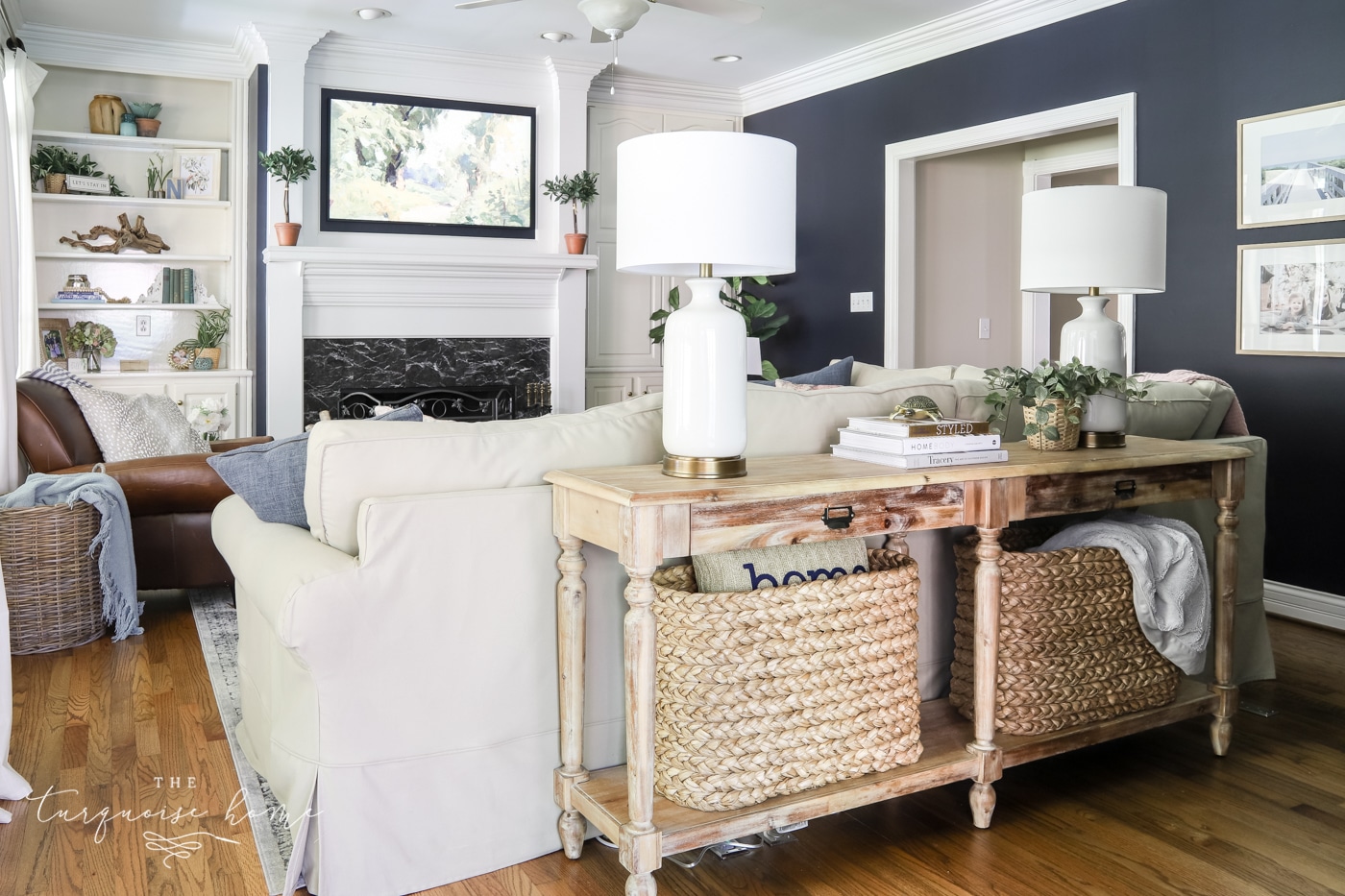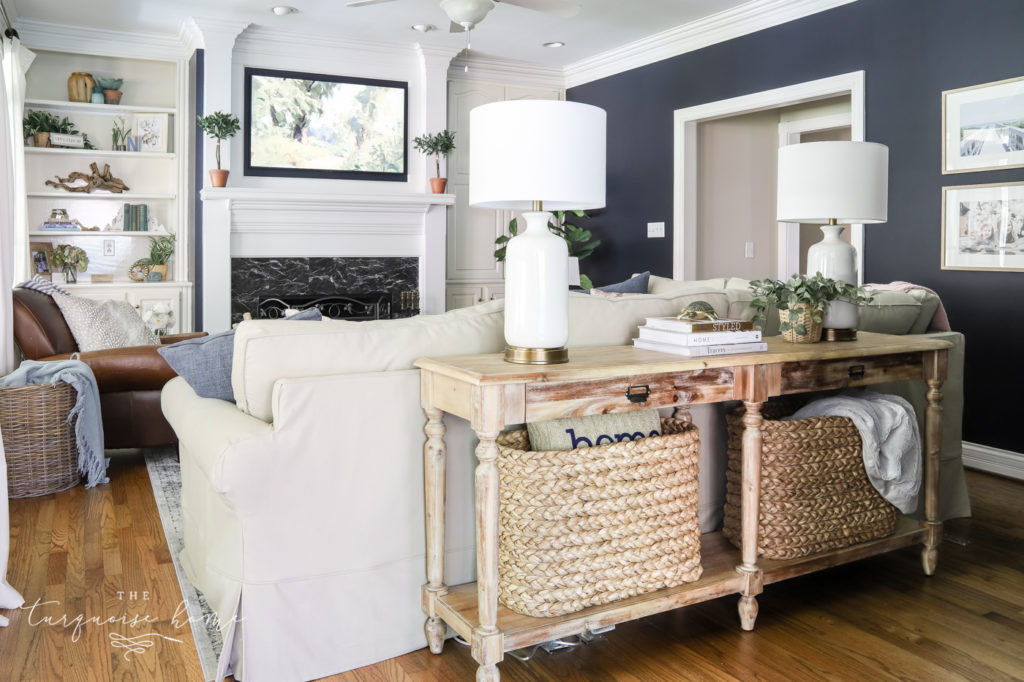 Side note: When we moved in, I felt like this house was the kind of house you give a name. And after discovering this house name generator (who thinks of these things?!), I settled on Elmwood Manor. (I think anyone can name their home, and if your home has a name share it in the comments!)
OK, back to the story. 🙂
This home boasts a lot of brass and ornate features with beautiful hardwood floors and at one point, I believe, every wall proudly displayed wallpaper. I want to be true to her roots and not bring in a bunch of other styles that don't feel cohesive in our Elmwood Manor.
So, like I said, I've spent hours looking at pictures and really researching how to decorate with what I love while also paying tribute to the original style of the home. Living here at Elmwood Manor makes me crave all things classic. It's been a fun adventure.
And recently when I discovered that this timeless style is making a comeback, I was so excited because it feels like my home's true self. And while I may not take it to the extreme, I feel like it gives me clearer direction to what I was trying to uncover this past year.
I'm here for all of it and I'm excited to continue decorating and styling this home with these Grandmillennial Decor ideas in mind.
And while I might not be matching my draperies to my wallpaper anytime soon (you never know), I will definitely be taking lessons from the past!
Coming from the South, it just feels like coming home. It's why I fell in love with our current home and I can't wait to be a part of the journey of infusing a modern twist in its original style.
What do you think? Do you love it, hate it, have decorated this way forever? Tell me in the comments below!


MORE POSTS YOU WILL LOVE: